How many lights should there be in a kitchen? Experts reveal all
These top tips illuminate everything you need to know about types of kitchen lighting – and how many of each style offers the perfect blend of form and function...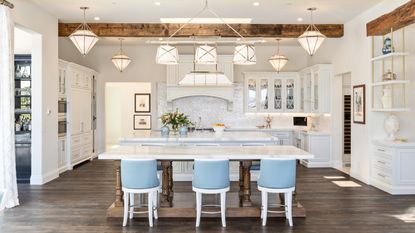 (Image credit: Kern & Co)
Sign up to the Homes & Gardens newsletter
Decor Ideas. Project Inspiration. Expert Advice. Delivered to your inbox.
Thank you for signing up to Homes & Gardens. You will receive a verification email shortly.
There was a problem. Please refresh the page and try again.
How many lights should there be in a kitchen? You might not realize how important that question is until you come to designing and planning your own kitchen.
Different sources of lighting will allow the kitchen to work in the multifunctional ways that we've come to need and expect from the space, including cooking, entertaining, relaxing, and working. There needs to be the perfect blend of practical and pretty, offering illumination for everyday tasks as well as mood and ambiance for hosting.
'The kitchen is truly the heart of your home and how you use it varies depending on the time of day and day of the week,' says Alice Arterberry, principal at Arterberry Cooke Architecture.
'Providing various forms of lighting will allow the space to be as flexible and inviting as you need it to be.'
And Sheva Knopfler, co-founder of Lights.com, agrees that layering is the key kitchen lighting idea for a versatile space, adding: 'The kitchen is not only a working space in the home but also a gathering space. Good lighting can help the room function for all of its purposes.
'The amount of light fixtures you should have varies on the size of your kitchen, but ultimately every kitchen should have three layers of lighting: general overhead lighting, accent lighting, and task lighting.'
How many lights should there be in a kitchen?
First of all, make sure that lighting is part of the kitchen layout ideas planning process from the very start, as retrospective planning can lead to compromise.
'There is nothing worse than not being able to work comfortably in the kitchen,' says Jo Plant, Head of Design at Pooky. 'Task lighting is incredibly important here and our top tips are to ensure all cooking and prep areas are well-lit to allow ease of movement and ensure you can easily find everything you need.
'Pendants are always a great option over an island as they not only look great but when grouped together offer sufficient light. Pairs or trios work best, especially when paired with a dimmer switch that allows for a variety of moods within the kitchen which can be beneficial as you move through the seasons.'
As kitchen layouts vary so much in size and shape, it may be more useful to think about how many layers or types of lighting you should include ensuring the space works for all its purposes.
As Sheva highlighted, your kitchen should include overhead or ambient lighting, task lighting, and accent lighting. But what exactly does that mean? Alice Arterberry explains each lighting type below:
Currently residing in Austin, Alice spearheads the firm's Texas headquarters where she executes masterful and functional residential spaces, interior and exterior architecture.
Ambient lighting: 'Ambient lighting is the overall illumination of the room, usually in reference to the lights that 'go away' such as recessed lighting,' says Alice, adding: 'We steer away from spotlighting and instead make sure your ambient lighting is sufficient then accentuate certain areas of greater use with decorative or task lighting such as under-counter lighting.'
Task lighting 'Task lighting is a light source that is used for particular areas of a room that may need a bit more illumination or you want to draw attention to focus the room around,' explains Alice. 'Pendant lights and some wall lights are task lights; the latter are great over windows with a counter and sink below (ie. an area you know you will be standing to complete a task). Undercounter lighting is a critical form of task lighting that is hidden and illuminates your kitchen countertop work surface that would otherwise be dark because of the cabinetry above. This is crucial for chopping and preparing meals.'
Accent lighting: 'Accent lighting is great for areas of your kitchen that might not be used for a lot of work but a nice area to draw attention to when the room is not in heavy use (ie. a wall sconce to the side of a window that can be left on overnight or during a cocktail party).' Accent lighting is the main source of light for creating mood and a relaxing ambiance in the room.
How much light do you need in a kitchen?
You want your kitchen to offer enough illumination for you to easily carry out everyday tasks, but you don't want it to be so bright that it's unpleasant to work in or spend time in.
'Kitchens generally require a stronger level of lighting than a sitting room or bedroom,' says Jo Plant, head of design, Pooky. 'The exact amount of light required will depend on the size and layout of the space, but as a general rule of thumb, a kitchen will normally need around 70-80 lumens (units of light) per square foot.
'You can work out roughly how much overall light you need in your kitchen, by multiplying the length and width of the room to get the square footage, and then multiplying this figure by the number of lumens.'
How many recessed lights should you have in the kitchen?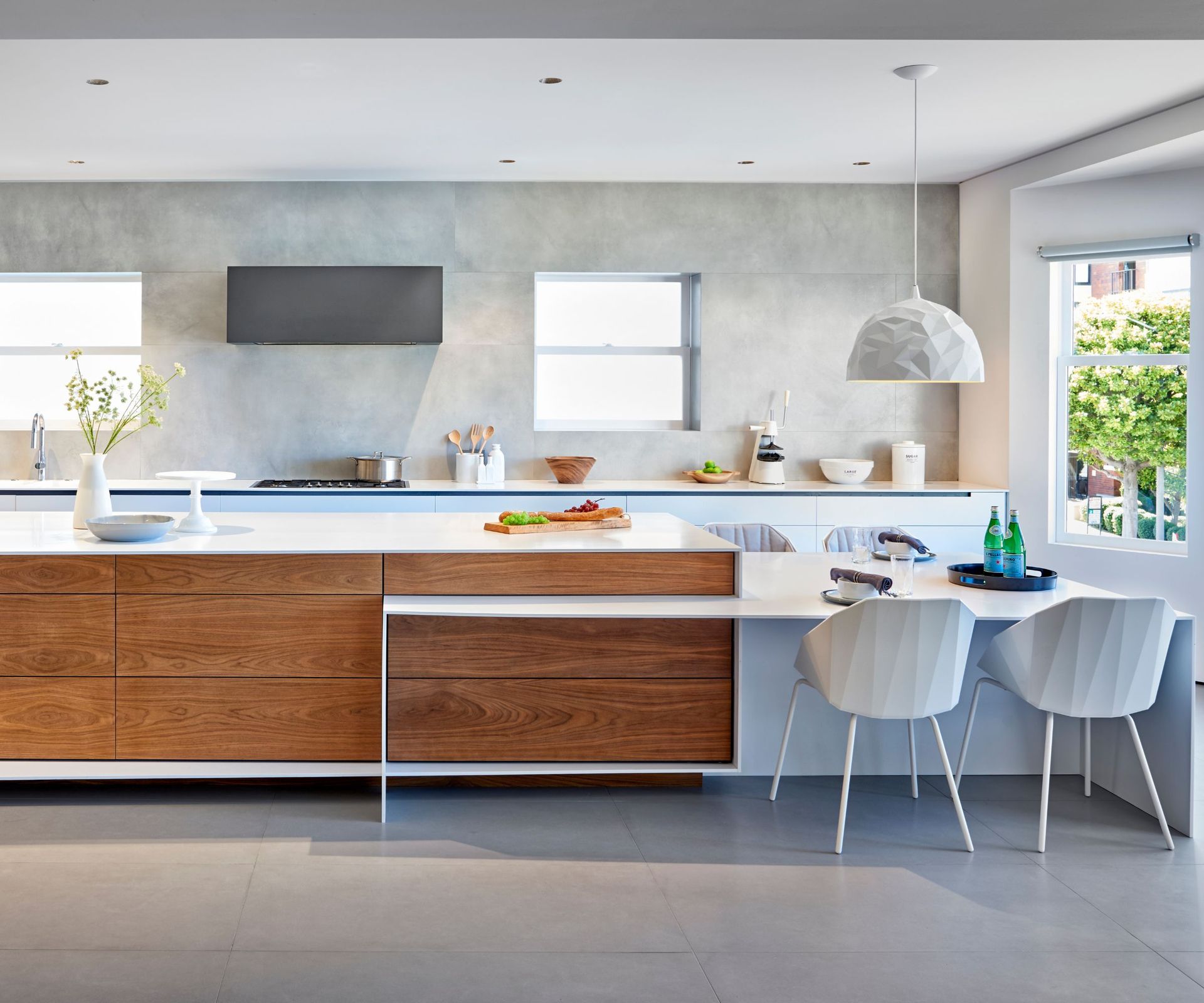 Recessed downlights are the most common and neutral form of kitchen lighting.
'Recessed lighting is a form of ambient lighting that is recessed into the ceiling and sits flush with your finish material,' explains Alice Arterberry. 'It's not meant to draw attention, but does most of the work to fully illuminate your kitchen.'
When it comes to working out how many you need, there is a general rule of thumb designers and architects use for the ideal light in the space.
Sheva Knopfler says: 'A rule of thumb is to install them 4-6 feet apart for optimal lighting throughout the room. It is important to align them with cabinets, countertops, doors and windows to work with the space. Install recessed lighting 12-18 inches from your cabinets, or the light may not reach the top shelves.
How many pendants should you have in a kitchen?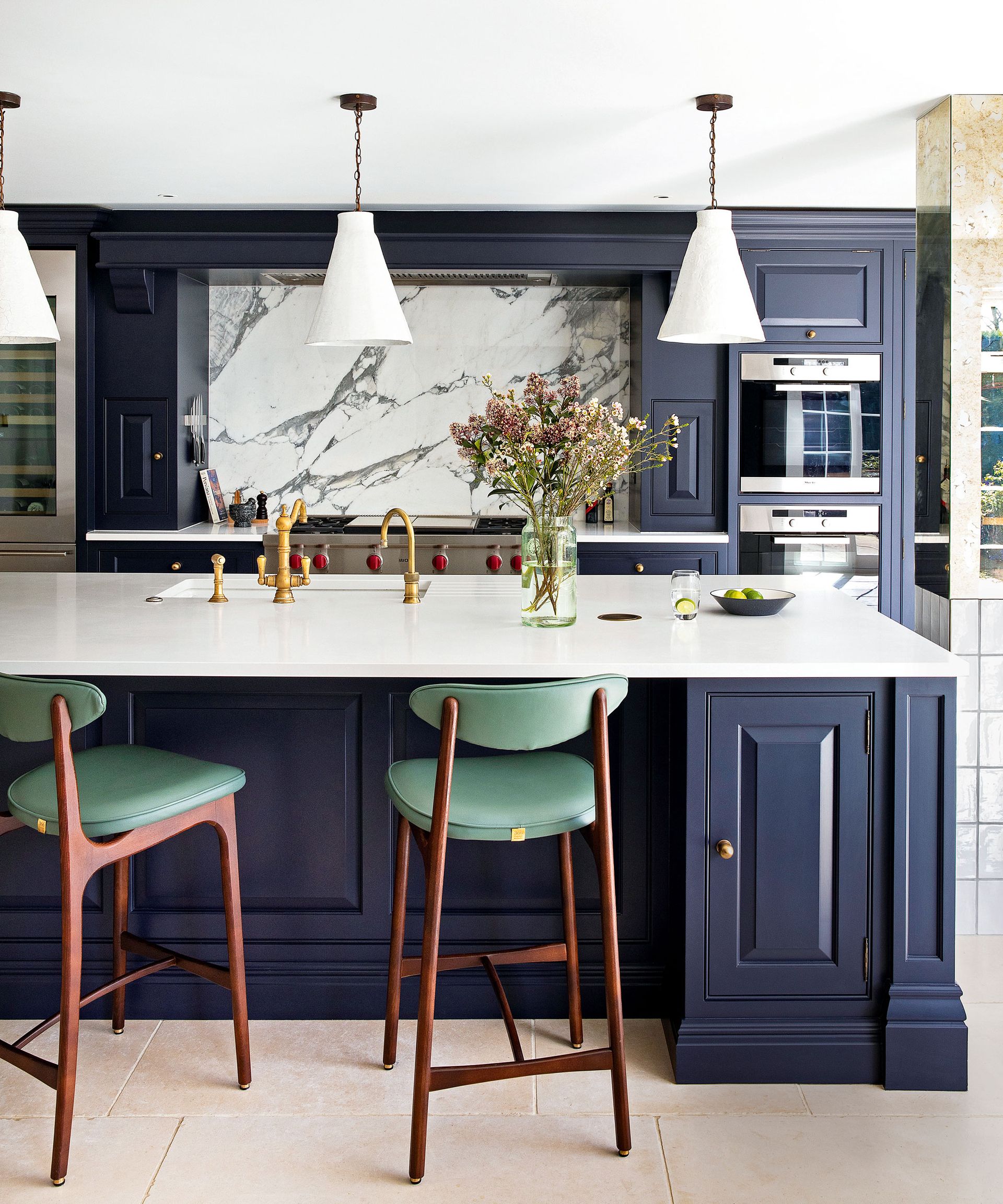 'We like to use three pendants over a kitchen island but two, or even one, is great, too, depending on the style of the pendant and size of the room,' says Alice Arterberry.
'If you're looking for lighting ideas for smaller kitchens, you can opt for a single pendant with a widespread and interesting form. If you have a larger room you can go for multiple pendants with a smaller spread and simple form that will create interest as a group.'
Alice adds: 'Just make sure if you use three that the middle light is centered on the island, the lights at the end are at least 12 inches from the edge and there are 24-30 inches between lights.'
Lights.com's Sheva Knopler comments: 'The most common way to use pendants in your kitchen is to hang them over your kitchen island.
'You should install the lights approximately 30 inches apart from each other, leaving some room at the edge of the counter so the pendants are centered. You can use this as a rule of thumb when deciding how many pendants you will need over your island.'
She adds that you can also use pendants in other spots in the kitchen, suggesting: 'You could have a pendant over your kitchen sink, for added task lighting.'
How many wall lights should you have in a kitchen?
Wall lights work to add character while adding to your lighting experience.
Sheva Knopfler says: 'We recommend installing wall lights over your kitchen windows for a classic farmhouse kitchen style.
'You could also flank them beside your kitchen windows, as long as the light is diffused with a shade or frosted bulb.'
Alice Arterberry adds: 'Wall lights work particularly well to accent windows, either centered above or on each side. Also, above open kitchen shelving to highlight decorative items you might have on display.'
Using the rule of three - which dictates that grouping items together in threes is visually appealing - is always a good idea in design and can also be applied to lighting. A pair of wall sconces are also always a safe bet.
How many lamps should there be in a kitchen?
Lamps are not a necessity in a kitchen but can provide a soothing source of accent lighting if you have the countertop space.
Sheva Knopfler says: 'Lamps are a cozy, unique way to add ambient lighting to your kitchen, not to mention it's very trendy right now.
'Because your lamp shouldn't be the main source of light in your kitchen, one lamp should suffice for your kitchen.'
How to create ambient kitchen lighting for mood and atmosphere
Your kitchen lighting ideas need to have the right blend of overhead ceiling lights and task lighting to ensure sufficient illumination for everyday tasks like chopping, washing and cooking.
However, as we also like to use the space for socializing, eating and entertaining, there are often times you may require a lower level of light to create a relaxing atmosphere.
Accent lighting, like wall lights and lamps, will help to create mood, but there are a few other kitchen lighting tricks you can use to switch from a bright to an inviting, warm atmosphere, including dimmers and separate switches.
'Dimmers are a must on all lighting,' says Alice Arterberry. 'Also be sure to have your various lighting types each wired to separate switches so you can tailor make your lighting scheme to the time of day and mood (think only island pendants on, dimly lit for that end-of-the-evening glass of wine).'
Sign up to the Homes & Gardens newsletter
Decor Ideas. Project Inspiration. Expert Advice. Delivered to your inbox.
Ruth Doherty is an experienced digital writer and editor specializing in interiors, travel and lifestyle. With 20 years of writing for national sites under her belt, she's worked for the likes of Livingetc.com, Standard, Ideal Home, Stylist and Marie Claire as well as Homes & Gardens.