Curtain ideas – 30 styles and tips for every room in the home
Our collection of curtain ideas are just what you need to dress your windows and enhance your space with style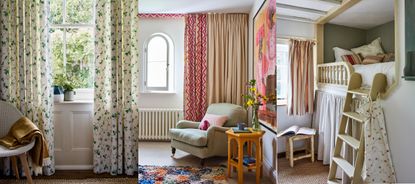 (Image credit: John Lewis | James Merrell | Future)
Curtain ideas are essential for most homes; practical as well as super versatile, your curtains can really make or break a scheme, so thinking carefully about the design, shape and style of the curtains in your space is important.
Curtains work brilliantly at pulling a scheme all together, they can hold colors and patterns found in the rest of the room and create a unified, cohesive look with one swift swish. They can also be used to help accentuate the height of a room, the appearance of average windows, and adding much needed texture to a plain and simple space.
When planning window treatment ideas, curtains can bring in beautiful texture, color and pattern, as well as act as simple and neutral coverings, so whether you want a subtle touch that no one really notices, or a stand-out focal point, there are many options for all.
Curtain ideas
From pencil pleat to eyelets, tab tops and box pleats, there are many different materials and types of curtains to choose from.
Natasha Painter, head of marketing at Curtains 2go says, 'when it comes to choosing curtains for your home the first thing to think about is why you need them. From delicate sheers and voiles to luxurious velvets and elegant linens, the possibilities are endless. To help narrow down the options, think about the function of the curtains. Are they to add privacy for an overlooked space, light blocking for a bedroom or simply to add some color and pattern to your room.'
You want your curtains to complement the style of your room as well as find practical solutions and designs for light-blocking, privacy and zoning.
Painter goes on to say, 'you should also consider the mood and decoration of the room, for example thicker linens and velvets suit more traditional spaces and voiles often look better in a contemporary, minimalist setting.'
Generally, curtains should be higher and wider than the window, so for working out how to measure for curtains, some key things to consider include the curtain length and width and the position of the curtain rod or rail.
To inspire your new scheme, and to help with the curtain ideas in your home, we have gathered a collection of curtain designs that show a range of styles across the home.
1. Create a contrast with your curtains
For a larger window space, using curtains of two different styles and colors can make for an elegant contrast and an eye-catching design feature in a room, a great look for modern curtain ideas.
In this colorful children's bedroom by Kate Guinness, the curtains combine a calming cream with a bright and unexpected use of color and pattern for the leading edge of the curtains. The Rick Rack fabric by Kit Kemp injects a playful element of fun to the space, and ties in with the pink and yellow palette used throughout the room, with the cream instilling a sense of balance and harmony.
2. Bring in the beauty of the outdoors
For a timeless look, a patterned curtain that takes inspiration from the beauty of the outdoors, and features a floral or botanical print, can effortlessly integrate into spaces both classic and contemporary.
Here, the John Lewis & Partners Oxlisa Readymade Eyelet Curtains elegantly frame the picturesque view from the window of the green garden, with the use of green for the delicate leaf pattern establishing a beautiful connection between the two spaces.
3. Use your curtains to uplift a neutral space
Your curtains can transform the look of a room with added color and texture, and can be a great way to uplift a neutrally styled space with an accent color - one to remember for neutral room ideas.
Emma Clarke, director at Warner House says, 'curtains can bring color, warmth, drama and joy to your room. More than just a finishing touch, they can be the focal point providing your scheme with charm and texture.'
In this modern dining room, designed by Susie Novak Interiors, the bright orange, patterned curtain ideas for French and patio doors work in unison with the colorful artwork to inject personality and eye-catching visual interest into the space, great for dining room curtain ideas too. With so many beautiful curtain prints and patterns to choose from, many curtains can be seen and appreciated as unique works of art throughout the home.
4. Embrace a maximalist look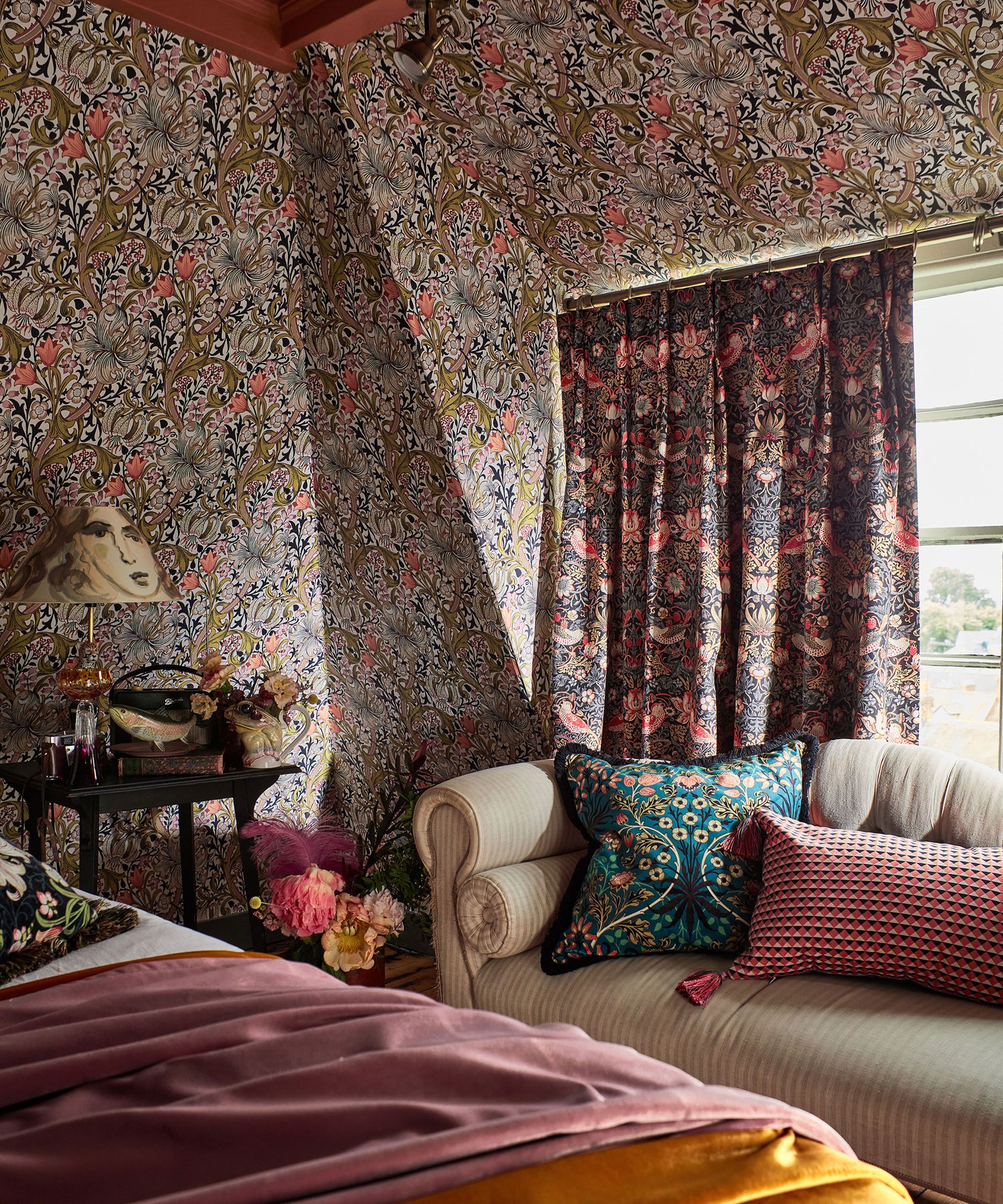 Layering pattern on pattern, and using a bold color palette can create an impactful and daring look for maximalist decor ideas, and your curtains can be an integral part of the design.
With maximalist botanical wallpaper proving to be quite the trend, why not extend this to your curtain ideas, as shown wonderfully in this stand-out bedroom space by Sanderson Design.
The William Morris printed curtains elevate the use of color, print and texture that radiates throughout the space. Creating a dynamic contrast with the Golden Lily wallpaper from Sanderson Archive, the curtains in this joyful bedroom demonstrate how more is more when it comes to maximalist design.
5. Combine the classic and contemporary
To unite different eras and design styles for a rich and eclectic look, why not use a modern print or color for your curtains in a more traditional, period property.
The Hummingbird Charcoal Curtains by Curtains 2Go add an eye-catching, tropical design to this elegant, vintage-style, traditional bedroom space. Perfectly complementing the dark green paint used on the walls, this patterned curtain design enhances this bedroom space with color, shape and flowing texture.
6. Use your curtains to zone
When many of us think of curtain locations, we think of windows, however, from doors to beds, to curtain closet ideas, curtains can be used throughout the home to make a room feel more private and cozy, as well as being used to help zone a space.
In this country bedroom, designed by Sims Hilditch, the wooden poster bed has been dressed with soft, sheer curtains. Adding a tactile element of texture to the room and helping to establish a tranquil and private sleep space, these curtains nod to a traditional canopy bed design but with a more simple and organic look, an inviting look for bedroom curtain ideas.
7. Coordinate with your wallpaper
Many similar patterns can be used across both wallpaper and curtains, with both features able to bring in a beautiful element of texture, color and character into a room.
For a statement, layered look, why not use a matching print and coordinate your curtains with your wallpaper.
As shown in this delightful study by Kate Guinness, an orange and green Seville wall fabric, installed by The Textile Wall Company, matches the curtains to establish a luxurious, plush look that feels both cozy and unique.
8. Opt for sill-length curtains
It is often perceived that floor-length curtains are best in interior design, however, sill-length curtains can be just as stylish and a practical option for many.
Creating a more casual look, sill-length curtains work well if you have a radiator below your window, or if you have a smaller sized room.
In this cozy children's bedroom, the short curtains integrate perfectly into the space, a great look for cottage curtain ideas. As additional curtains have also been used below the bunk bed, the shorter style window curtains leave room for these to be appreciated and easily drawn back. An inviting, comforting bedroom space filled with texture, shorter curtain designs such as this can be a more practical option when designing children's bedrooms.
9. Elevate your curtains with a pelmet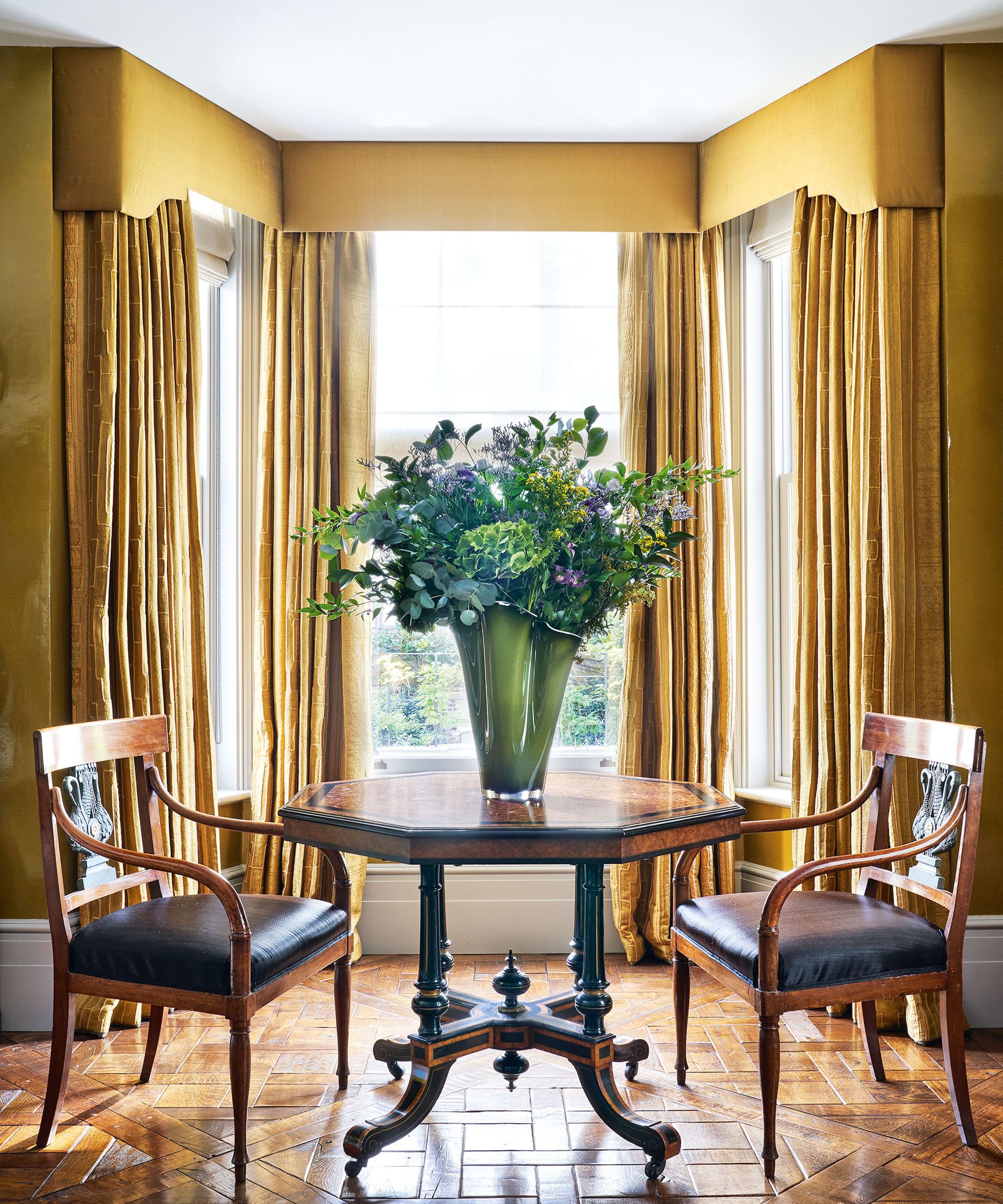 Curtain pelmets, often used in classic interior spaces, are used to conceal the top of the curtain. Adding a luxurious, decorative touch to your windows, pelmets can also be used for insulation around windows, great for older buildings and large window curtain ideas.
In this traditional home, interior designer Christiana Syrris has used a beautiful, deep mustard hue on the walls, curtains and pelmets. With the different materials used adding depth and interest to the singular color palette, the pelmet used on this window elevates the design with gorgeous grandeur and tradition.
10. Create a calming, all-white design
Pairing white curtains with white walls can establish a relaxed, understated look that can work in interiors of all ages and styles; a timeless look for bedroom window treatment ideas. Whether you want to open up a smaller bedroom, or just celebrate the timeless beauty and versatility of working with white, white curtains are guaranteed to grow with an interior space for years to come.
For this small master bedroom by Genna Margolis of Shapeside Design, she states of the design, 'the goal was to brighten up the space, keep it minimal but interesting where every piece serves a purpose, and overall give it a calming and open feel.'
The white curtains blend in beautifully with the painted walls in the bedroom, creating a light and airy feel that is both calming and comforting, great for white bedroom ideas.
11. There's nothing dull about neutral curtains
A neutral scheme is both sophisticated and stylish, and these beautifully hung drapes by Mark Alexander add a wonderful texture to this calming scheme. Not only do drapes work on a practical level, but they also have impact visually - even if they're in a soft shade.
This neutral living room has quite a low ceiling, so to combat that they've been hung from top to bottom with no gaps, and the taupe color allows the eye to flow around the rest of the space, a perfect look for living room curtain ideas.
12. Create a cohesive scheme by matching the curtain color
Your curtains should be integral to the rest of your scheme, and not 'jar' visually (unless that's the look you want). The trick is to stick to a palette, like this elegant but strong living room which works with blues and reds. Integrating these colors across all elements allows for distinct patterns to sit so closely together in harmony.
This charming living room shows how the colors can flow around the room: from the pale stripe curtain idea to the striped storage bench, along with the bold rug and fabric on the seating.
The window valance idea here also softens the space, creating a pretty, country style finish.
13. Make sure you get the fabric weight right
'When choosing the right fabric for a space you need to ask what you want from the fabric,' advises Hayley McAfee, design director at Villa Nova.
'If you are looking for warmth, heavier fabrics such as wool or velvet will reduce draughts. You could also use medium weight fabrics, if lined or interlined. On the other hand, lightweight fabrics will allow daylight to filter through in a living room like the one shown. If draughts are not a concern then try a sheer or unlined curtain, which you can then layer with a blackout blind to stop the light coming through.'
14. Opt for light and airy curtain ideas in a small bedroom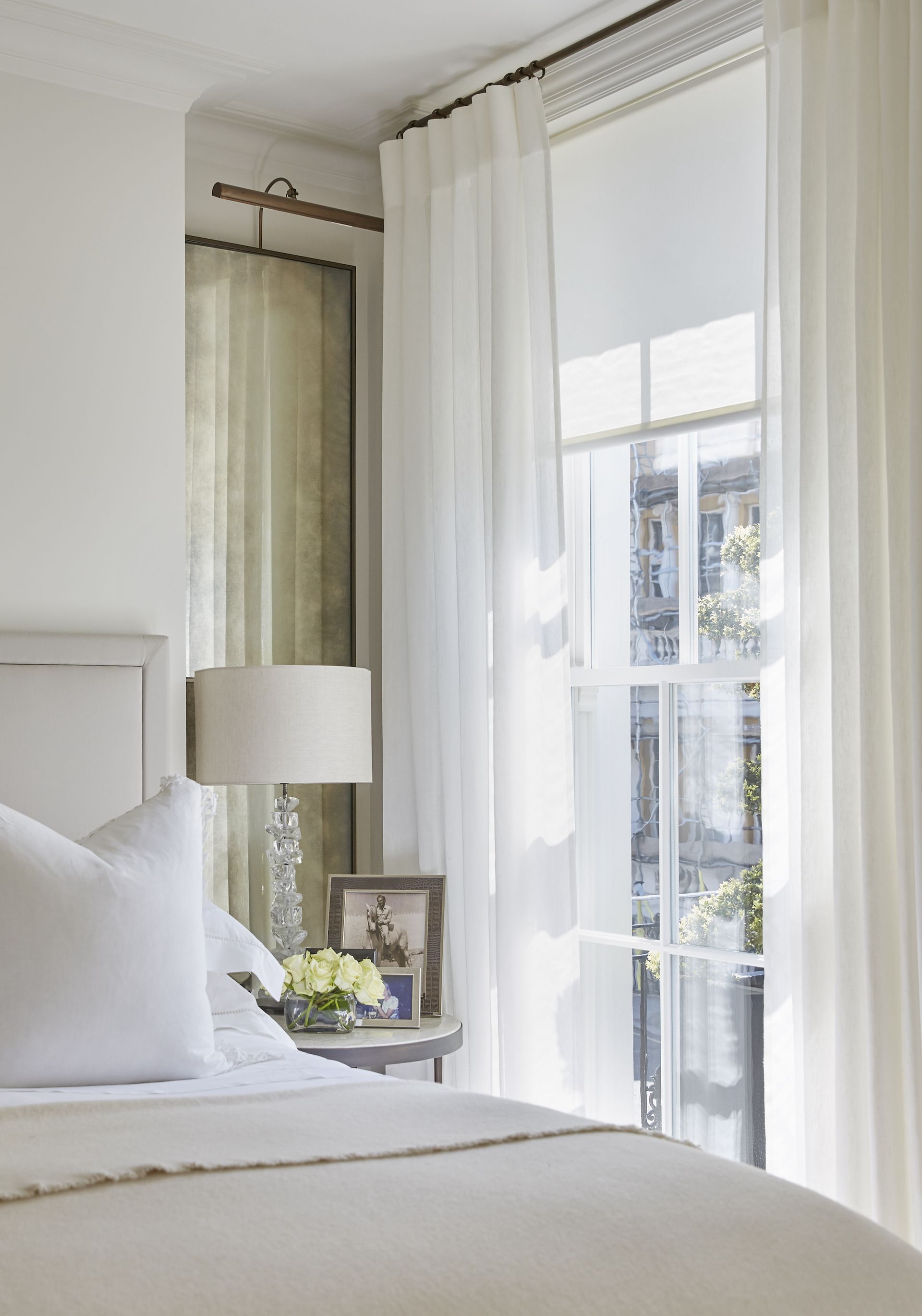 When choosing your drapes, you need to consider your space. In a small but perfectly formed bedroom that has a lovely airy feel with whites and off-whites, you really don't want to hang dark and heavy curtains, as London based interior designer Louise Bradley explains.
'In order to create a delicate yet tailored aesthetic, choose a softly textured sheer full length curtain. This will allow light to gently illuminate the space while also providing privacy and layering. For a comfortable night's sleep, add a roller blind within the window, where the level of transparency can be bespoke to your personal preference.'
15. Go for a layered look with a matching blind
Curtains and blinds are a perfect place to begin adding for creating cool color and pattern contrast into your space.
'Curtains are an opportunity to bring a layer of softness and coziness to every room, and when teamed with a blind you get a double layered effect,' says Harriet Sale, interior designer and head of product design at Penny Morrison.
'You can introduce color and pattern on a large scale, and from which you can choose a complementary paint color for the walls and coordinating fabrics for other upholstery in the scheme – plus a blind. I like to use loose floaty linens for a relaxed look, and for more formal settings I use silks and velvets.'
Think carefully too about how to hang curtains. 'Pay attention to the curtain headings for the look you are trying to create,' says Sale. '[Think about] whether you are hanging the curtains on a pole or on tracks, and whether you are going to have a valance or not.'
'Texture can be created in a design by pairing more delicately patterned floral curtain fabrics with small checks or block colors for the other soft furnishings, like the ottoman upholstery or scatter cushions,' says Emma Sims-Hilditch.
'Why not use two types of patterned fabric for your curtains? A larger scale print when seen from the outside and a smaller scale design on the inside adds interest to a design and provides a taster for what can be seen within.'
16. Add character with a bold, sumptuous print
Using a bold, sumptuous print for your curtain ideas can make for a stylish design feature and focal point in a room, as well as allowing for you to express your style and personality through a beautiful print.
Emma Clarke states, 'be generous with your widths to avoid lackluster, thin curtains and show off color and design with sumptuous fullness. One great curtain idea is to add character with headings and trims. We love the pinch pleat heading: triple pinch for a heritage look, double pinch for a sleeker finish.'
17. Choose linen for an airy feel
'I always think of window dressing as the final finishing touch to your room. The color is important, but for me the fabric and drape is at the top of my curtain list to get right,' says Molly Freshwater, creative director at Secret Linen Store.
'My first rule of curtains is that they should be long to the floor and in the case of 100% linen curtains, even longer.
'If it's an airy, bright feel that you want in the room, it has to be 100% linen. These curtains let the light dapple through, and give you privacy at the same time. They can be drawn back to almost nothing during the day, and if you want to tie them they are so light, you need only use a lovely ribbon.
'If you need to keep the light out completely, a blind behind the linen will do this job and leave your room looking light and airy as and when you want it.
'To make the room feel bigger, choose a color that disappears against your walls when drawn. Whatever you choose, if it's space you're after, avoid thick heavy drapes.'
18. Create an extra dimension with two different fabrics
'I love the contrast of using sheer and solid curtains together as it adds an extra dimension to an interior. It helps you to control the light and therefore the overall ambience of the space,' says multidisciplinary interior designer, Sara Cosgrove. With practices in both Dublin and London, Cosgrove's studio has a fluid house style and loves to integrate old and new into their spaces.
'When using a solid curtain fabric we love to add a trim to the leading edge to add an extra detail,' she says.
19. Use contrasting prints for curtain lining
If you're opting for country florals when having your curtains made, give them a fresh, modern look by adding the element of surprise with a contrasting print on the reverse.
'When mixing and matching prints in a scheme, it's vital they are in the same complementary color palette to ensure harmony throughout,' says Yasmin Smith, head of design, Blendworth.
20. Go two tone on curtain panels
Sometimes the most simple designs can be the most effective. On a large, floor-to-ceiling window or door, adding a two tone curtain brings energy into the room. For a sophisticated scheme, stick to a neutral on the majority of the curtain, and add in a contrasting shade for the top third to ensure you still benefit from the color without it distracting from the rest of the space.
21. Add a trim to plain curtain ideas
If you prefer plain fabrics to patterned but are concerned your drapes may 'disappear' against painted walls, or look a little drab, add a color block trim in a vibrant contrasting shade at the top (or at the bottom) of your curtains to make them pop, as shown here with this eye-catching fuchsia pink and soft grey combination.
22. Add decorative detailing for interest
Looking for curtain ideas to jazz up existing drapes? From pompoms and piping to fringing and braids, trims are a beautifully simple way to personalize plain fabrics and inject some individuality into your space. However, there are many more ways to use them than just on the edges of your curtains.
The placement of this charming tufty braid has transformed these neutral sheers. 'With plain fabrics you can have more fun by using the trim as a stripe effect, creating a design in its own right,' says Hayley McAfee, design director, Villa Nova.
23. Finish with a flop over frill
For rustic romance, consider a flop-over-frill at the top of your curtains. Popular in France, this detail looks best with ticking or a smart stripe in a contrasting color picked out from the main fabric and can be hung using curtain tape with positions for the hooks.
Having your made-to-measure curtains finished with a leading edge (along the vertical side) in a heavier, darker fabric will not only protect them, it's another way to introduce a contrasting shade.
24. Curtains in a bathroom? Of course!
It's a bit of a myth that you can't hang drapes for bathroom ideas, you simply need to be clever about how you do it. As with anywhere in the house, they can really enhance and add a decorative touch as you can see in this bathroom designed by Jessica Davis, founder of Nashville-based JL Design.
As bathrooms are generally the smallest room, you want to make sure you get the balance right with your bathroom curtain ideas – you don't want heavy dark drapes as they will suck the light out of the room, and leave it dark and dingy. Opt for curtains with a light feel and a simple pattern that won't take over. A bathroom is meant to be a restful place after all, not one that stimulates with bright color and pattern.
25. Incorporate a door curtain
A door curtain can help to create an enhanced feeling of coziness and warmth in a space. Adding texture, pattern and style to your doorway, a fabric curtain can also help with draft exclusion, preventing cold air passing through an entryway.
An elegant way to frame and add an element of softness to a doorway, a door curtain can help to create a more inviting entrance into your home.
As shown in this entryway, the Celeste Charcoal fabric curtain by Warner House uplifts the doorway with pattern and welcoming texture.
26. Make a dark corner feel vibrant with a mix of patterns
We asked Richard Smith, founder and creative director at Madeaux, how to integrate curtains with a scheme full of patterns.
'I love combining lots of different-scale patterns and prints to create a rich, dynamic and balanced scheme,' said Smith. 'By layering contrasting wallpapers and fabrics across your walls, upholstery, curtains and other decorative touches, you can create a maximalist interior full of personality and warmth, perfect for social spaces such as living or dining rooms.
'Create a visual link by choosing complementary tones and combine different weaves, embroideries and prints to add depth. Here, the greens on the wall and the chairs are elevated by the earthy tones seen on the rug and the sophisticated textural weave of 'Firenze' on the curtains, resulting in a seamless design scheme.
'Choose softer neutrals on the curtains to give the illusion of more light but experiment with texture and decorative trimmings here to add interesting detail and more of a design statement.'
27. Use curtains to trick the eye
'If you have windows at various heights, then I'd always use these to give the illusion space,' advises Emma Deterding, founder and creative director at London-based Kelling Designs.
'For the higher window, take your curtains right to the ceiling as this will make the room feel taller and make the most of the ceiling height. For lower windows, fit the curtain rail to above the window leaving the wall above exposed as this will help balance the space and give a sense of grandeur.'
This living room shows an elegant example of bay window ideas, with the colorful patterned curtains and soft green pelmet beautifully framing the window and the view outdoors.
28. Match curtains to a bed canopy
Don't stop at curtain ideas for windows when adorning a bedroom. In a neutral room, ensure visual interest by including layers and fabric and texture, like with this draped canopy which forms a focal point without overwhelming the room.
'The canopy was designed as a contemporary take on a more traditional style bed, creating a warm, elegant, inviting space,' says Riley Brooks, co-founder of Liberty Brooks, who worked with TR Studio on this project.
29. Use curtains to add a characterful touch to a kitchen space
When it comes to organizing which rooms in the home need curtains, kitchens are often very low down on the priority list - or not on the list at all! Depending on the design of your kitchen and your personal preference, there is no rule to say curtains cannot be brought into this hub of the home.
A great option for open-plan designs, or a kitchen-diner, kitchen window curtain ideas, can add a welcoming element of texture and softness to this functional space. With lighter, neutral designs proving popular for recent kitchen curtain ideas, you can be as subtle or as bold as you like.
30. Block light in bedrooms with blackout fabric
Fancy neutral hues and lightweight fabric in your bedroom but are concerned about morning light waking you?
You need curtain ideas with blackout lining, so you can snooze soundly however bright it is outside. This can be built into blinds if you'd rather keep the curtains filmy, but if your room gets good light during the day, and is spacious enough, a heavier curtain with blackout fabric will look fitting and offer insulation against the cold, too.
What curtains are in style?
Over the last few years we've seen a resurgence of beautiful blousy style curtains, ones that are full length and with stunning prints and weaves. However, simpler farmhouse curtain ideas and country curtain ideas are also very much en vogue. Try to find designs that make the room complete and are integral to the rest of the scheme, because curtains should be as important as the furniture and accessories, not an afterthought. They can make a neutral scheme suddenly feel uber stylish, or add that level of luxury that you can't achieve anywhere else.
For some more guidance on choosing and planning the curtain ideas for your home, our curtain mistakes to avoid guide has plenty of advice.
How do you choose curtain fabric?
Consider the style and period of your home, as well as the other colors, textures and patterns in the room. 'The best color for curtains is at least one shade lighter or darker than the walls,' says fabric designer Vanessa Arbuthnott.
Lining your curtains will gives a fuller, more luxurious look. Consider interlining too – an extra layer of insulating fabric (sometimes called bump) between the lining and surface material – as this will reduce chills, and even noise, from outside. Unlined curtains are also one of the things that makes a house look cheap.
Emma Clarke says, 'almost any fabric can be used as a curtain provided it has beautiful drape. Best quality curtain lining and interlining materials give a luxurious finish, enhancing the beauty of the fabric and accentuating shape and fullness.'
What is the best material for curtains?
The best material type is the one that suits your chosen room best. A big draughty house will benefit from heavy velvet curtains with lining to create that cosy feel during the cooler months and add a touch of luxury.
On the other end of the scale, linen in all its glory is perhaps one of the most popular choices and it's easy to see why – slubby and glorious, it hangs beautifully and comes in an array of subtle shades. Voiles are a good curtain idea for bathrooms, and if you fancy a spot of glamour in the bedroom opt for silk-lined drapes.
What are the different curtain styles?
Eyelets or pencil pleats are standard on ready-made curtains, so a decorative heading on made-to-measure curtains suggests quality, whatever your fabric. Choose from double and triple pleats, flop-over frills or informal gathers.
Clarke says, 'add character with headings and trims. At Warner House we love the pinch pleat heading: triple pinch for a heritage look, double pinch for a sleeker finish. And add luxurious brush fringe or smart animal print tape to the leading edge for a polished effect.'
Sign up to the Homes & Gardens newsletter
Decor Ideas. Project Inspiration. Expert Advice. Delivered to your inbox.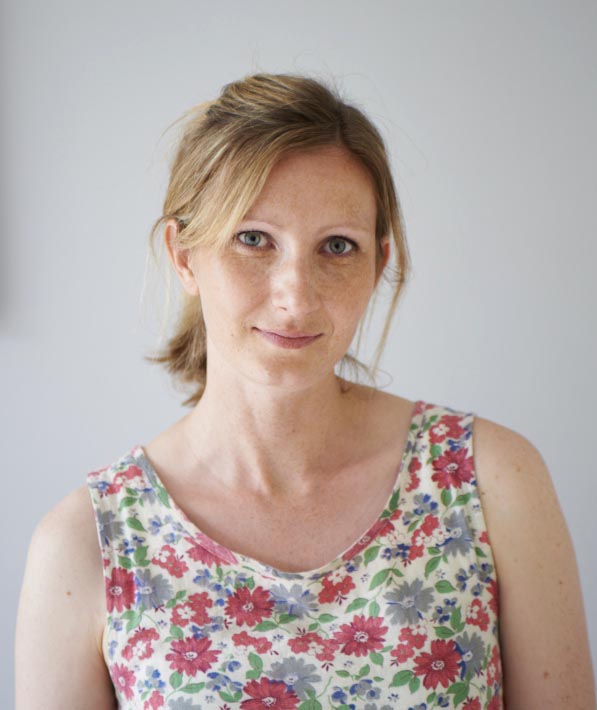 Sophie has been an interior stylist and journalist for over 20 years and has worked for many of the main interior magazines during that time, both in-house and as a freelancer. On the side, as well as being the News Editor for indie magazine, 91, she trained to be a florist in 2019 and launched The Prettiest Posy where she curates beautiful flowers for modern weddings and events. For H&G, she writes features about interior design – and is known for having an eye for a beautiful room.