Curtain ideas – 20 drape styles and tips for every room
These fabulous curtain ideas are just what you need to dress your windows and enhance your space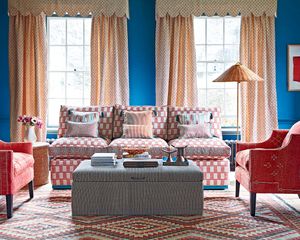 (Image credit: Future)
Curtain ideas are super versatile – they're practical of course, but can also make or break a scheme.
They can be the subtle touch that no one really notices, or the stand-out focal point that gives a room all the color and pattern it needs.
Believe or not, curtains can be like a work of art, they can hold all the colors from the rest of your scheme and pull it together in one swift swish.
Curtain ideas
Woven or printed, slubby or sheer, curtains are the perfect window treatment to accentuate the height of a room, enhance the appearance of average windows and add much needed texture to an otherwise standard-looking space . Use these curtain ideas to inspire your new scheme.
1. There's nothing dull about neutral curtains
A neutral scheme is both sophisticated and stylish, and these beautifully hung drapes by Mark Alexander (opens in new tab)add a wonderful texture to this calming scheme. Not only do drapes work on a practical level, but they also have impact visually - even if they're in a soft shade.
This neutral living room has quite a low ceiling, so to combat that they've been hung from top to bottom with no gaps, and the taupe color allows the eye to flow around the rest of the space.
2. Create a cohesive scheme by matching the curtain color
Your curtains should be integral to the rest of your scheme, and not 'jar' visually (unless that's the look you want). The trick is to stick to a palette, like this elegant but strong living room which works with blues and reds. Integrating these colors across all elements allows for distinct patterns to sit so closely together in harmony.
This charming living room shows how the colors can flow around the room: from the pale stripe curtain idea to the striped storage bench, along with the bold rug and fabric on the seating.
The window valance idea here also softens the space, creating a pretty, country style finish.
3. Make sure you get the fabric weight right
'When choosing the right fabric for a space you need to ask what you want from the fabric,' advises Hayley McAfee, Design Director at Villa Nova (opens in new tab).
'If you are looking for warmth, heavier fabrics such as wool or velvet will reduce draughts. You could also use medium weight fabrics, if lined or interlined. On the other hand, lightweight fabrics will allow daylight to filter through in a living room like the one shown. If draughts are not a concern then try a sheer or unlined curtain, which you can then layer with a blackout blind to stop the light coming through.'
4. Opt for light and airy curtain ideas in a small bedroom
When choosing your drapes, you need to consider your space. In a small but perfectly formed bedroom that has a lovely airy feel with whites and off-whites, you really don't want to hang dark and heavy curtains, as London based interior designer Louise Bradley (opens in new tab) explains.
'In order to create a delicate yet tailored aesthetic, choose a softly textured sheer full length curtain. This will allow light to gently illuminate the space while also providing privacy and layering. For a comfortable night's sleep, add a roller blind within the window, where the level of transparency can be bespoke to your personal preference.'
5. Go for a layered look with a matching blind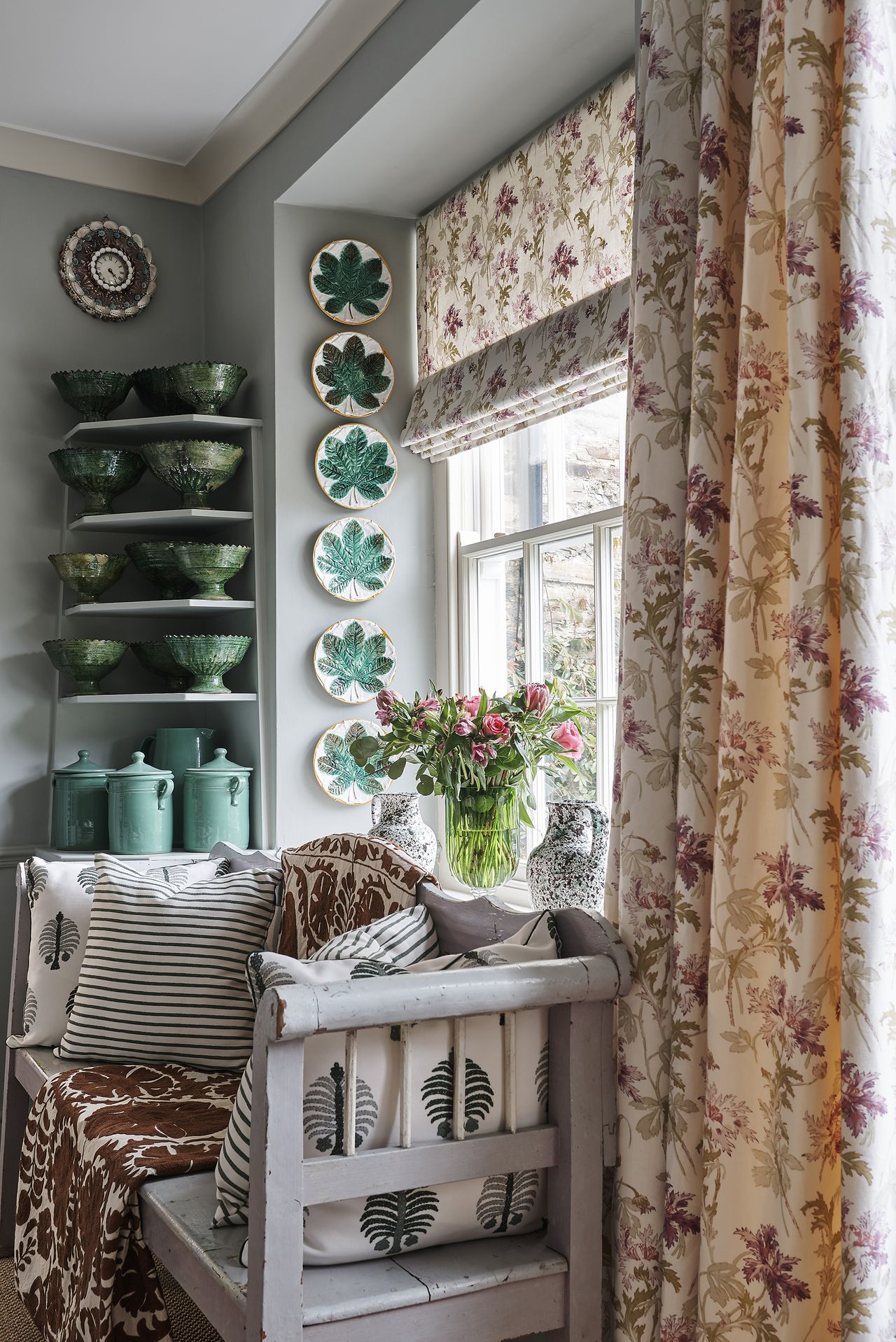 Curtains and blinds are a perfect place to begin adding for creating cool color and pattern contrast into your space.
'Curtains are an opportunity to bring a layer of softness and coziness to every room, and when teamed with a blind you get a double layered effect,' says Harriet Sale, interior designer and Head of Product Design at Penny Morrison (opens in new tab).
'You can introduce color and pattern on a large scale, and from which you can choose a complementary paint color for the walls and coordinating fabrics for other upholstery in the scheme – plus a blind. I like to use loose floaty linens for a relaxed look, and for more formal settings I use silks and velvets.'
Think carefully too about how to hang curtains. 'Pay attention to the curtain headings for the look you are trying to create,' says Sale. '[Think about] whether you are hanging the curtains on a pole or on tracks, and whether you are going to have a valance or not.'
'Texture can be created in a design by pairing more delicately patterned floral curtain fabrics with small checks or block colors for the other soft furnishings, like the ottoman upholstery or scatter cushions,' says Emma Sims-Hilditch (opens in new tab).
'Why not use two types of patterned fabric for your curtains? A larger scale print when seen from the outside and a smaller scale design on the inside adds interest to a design and provides a taster for what can be seen within.'
6. Add character with a bold, sumptuous print
'At Warner House, we love the 'more is more' philosophy and believe that drapes bring color, warmth, drama and joy to your room! More than just a finishing touch, they can be the focal point providing your scheme with charm and texture,' says Emma Clarke, Director at Warner House (opens in new tab).
'In almost every instance we would advise curtains should be full length: puddled for a traditional feel, or flush to the floor for a modern finish,' says Clarke, detailing the decisions you'll have to make when considering how to measure for curtains.
'Be generous with your widths to avoid lacklustre, thin curtains and show off colour and design with sumptuous fullness. One great curtain idea is to add character with headings and trims. We love the pinch pleat heading: triple pinch for a heritage look, double pinch for a sleeker finish.'
7. Choose linen for an airy feel
'I always think of window dressing as the final finishing touch to your room. The color is important, but for me the fabric and drape is at the top of my curtain list to get right,' says Molly Freshwater, Creative Director at Secret Linen Store (opens in new tab).
'My first rule of curtains is that they should be long to the floor and in the case of 100% linen curtains, even longer.
'If it's an airy, bright feel that you want in the room, it has to be 100% linen. These curtains let the light dapple through, and give you privacy at the same time. They can be drawn back to almost nothing during the day, and if you want to tie them they are so light, you need only use a lovely ribbon.
'If you need to keep the light out completely, a blind behind the linen will do this job and leave your room looking light and airy as and when you want it.
'To make the room feel bigger, choose a color that disappears against your walls when drawn. Whatever you choose, if it's space you're after, avoid thick heavy drapes.'
8. Create an extra dimension with two different fabrics
'I love the contrast of using sheer and solid curtains together as it adds an extra dimension to an interior. It helps you to control the light and therefore the overall ambience of the space,' says multidisciplinary interior designer, Sara Cosgrove (opens in new tab). With practices in both Dublin and London, Cosgrove's studio has a fluid house style and loves to integrate old and new into their spaces.
'When using a solid curtain fabric we love to add a trim to the leading edge to add an extra detail,' she says.
9. Use contrasting prints for curtain lining
If you're opting for country florals when having your curtains made, give them a fresh, modern look by adding the element of surprise with a contrasting print on the reverse.
'When mixing and matching prints in a scheme, it's vital they are in the same complementary color palette to ensure harmony throughout,' says Yasmin Smith, Head of Design, Blendworth (opens in new tab).
10. Go two tone on curtain panels
Sometimes the most simple designs can be the most effective. On a large, floor-to-ceiling window or door, adding a two tone curtain brings energy into the room. For a sophisticated scheme, stick to a neutral on the majority of the curtain, and add in a contrasting shade for the top third to ensure you still benefit from the color without it distracting from the rest of the space.
11. Add a trim to plain curtain ideas
If you prefer plain fabrics to patterned but are concerned your drapes may 'disappear' against painted walls, or look a little drab, add a color block trim in a vibrant contrasting shade at the top (or at the bottom) of your curtains to make them pop, as shown here with this eye-catching fuchsia pink and soft grey combination.
12. Add decorative detailing for interest
Looking for curtain ideas to jazz up existing drapes? From pompoms and piping to fringing and braids, trims are a beautifully simple way to personalize plain fabrics and inject some individuality into your space. However, there are many more ways to use them than just on the edges of your curtains.
The placement of this charming tufty braid has transformed these neutral sheers. 'With plain fabrics you can have more fun by using the trim as a stripe effect, creating a design in its own right,' says Hayley McAfee, Design Director, Villa Nova (opens in new tab).
13. Finish with a flop over frill
For rustic romance, consider a flop-over-frill at the top of your curtains. Popular in France, this detail looks best with ticking or a smart stripe in a contrasting color picked out from the main fabric and can be hung using curtain tape with positions for the hooks.
Having your made-to-measure curtains finished with a leading edge (along the vertical side) in a heavier, darker fabric will not only protect them, it's another way to introduce a contrasting shade.
14. Curtains in a bathroom? Of course!
It's a bit of a myth that you can't hang drapes with your bathroom ideas, you simply need to be clever about how you do it. As with anywhere in the house, they can really enhance and add a decorative touch as you can see in this bathroom designed by Jessica Davis, Founder of Nashville-based JL Design. (opens in new tab)
As bathrooms are generally the smallest room, you want to make sure you get the balance right – you don't want heavy dark drapes as they will suck the light out of the room, and leave it dark and dingy. Opt for curtains with a light feel and a simple pattern that won't take over. A bathroom is meant to be a restful place after all, not one that stimulates with bright color and pattern.
15. Use bathroom curtain ideas to add color
For a toile with a twist, this design in fresh zingy hues brings what is often regarded as a traditional pattern very much into the 21st century. Teamed with the oversized scale and color of the terrazzo-style tiles they combine to create a thoroughly charismatic bathing retreat.
Paired with an elegant freestanding boat bath painted in a soft plaster pink, and a sculptural side table, ideal for keeping toiletries within reach.
16. Make a dark corner feel vibrant with a mix of patterns
We asked Richard Smith, Founder and Creative Director at Madeaux, (opens in new tab) how to integrate curtains with a scheme full of patterns.
'I love combining lots of different-scale patterns and prints to create a rich, dynamic and balanced scheme,' said Smith. 'By layering contrasting wallpapers and fabrics across your walls, upholstery, curtains and other decorative touches, you can create a maximalist interior full of personality and warmth, perfect for social spaces such as living or dining rooms.
'Create a visual link by choosing complementary tones and combine different weaves, embroideries and prints to add depth. Here, the greens on the wall and the chairs are elevated by the earthy tones seen on the rug and the sophisticated textural weave of 'Firenze' on the curtains, resulting in a seamless design scheme.
'Choose softer neutrals on the curtains to give the illusion of more light but experiment with texture and decorative trimmings here to add interesting detail and more of a design statement.'
17. Use curtains to trick the eye
'If you have windows at various heights, then I'd always use these to give the illusion space,' advises Emma Deterding, Founder and Creative Director at London-based Kelling Designs (opens in new tab).
'For the higher window, take your curtains right to the ceiling as this will make the room feel taller and make the most of the ceiling height. For lower windows, fit the curtain rail to above the window leaving the wall above exposed as this will help balance the space and give a sense of grandeur.'
18. Match curtains to a bed canopy
Don't stop at curtain ideas for windows when adorning a bedroom. In a neutral room, ensure visual interest by including layers and fabric and texture, like with this draped canopy which forms a focal point without overwhelming the room.
'The canopy was designed as a contemporary take on a more traditional style bed, creating a warm, elegant, inviting space,' says Riley Brooks, co-founder of Liberty Brooks, who worked with TR Studio (opens in new tab) on this project.
19. Match curtains with shutters for a restful haven
For a bedroom, curtain ideas matched with shutters can solve all sorts of problems: from lack of privacy, invasive light and noise, and even cold wintry drafts. The layered look makes the space something of a retreat, too.
Dark grey walls are a wonderful choice for a sophisticated bedroom scheme. With an enveloping feel, the deep blue-grey walls offer a restful tone. The deep grey works well with the crisp white of the mantle, skirting and shutters, for a chic, tailored feel. Darker greys also pair well with rich blue tones, as here with the upholstered chair and ottoman.
20. Block light in bedrooms with blackout fabric
Fancy neutral hues and lightweight fabric in your bedroom but are concerned about morning light waking you?
You need curtain ideas with blackout lining, so you can snooze soundly however bright it is outside. This can be built into blinds if you'd rather keep the curtains filmy, but if your room gets good light during the day, and is spacious enough, a heavier curtain with blackout fabric will look fitting and offer insulation against the cold, too.
What curtains are in style?
Over the last few years we've seen a resurgence of beautiful blousey style curtains, ones that are full length and with stunning prints and weaves. Try to find Ddesigns that make the room complete and are integral to the rest of the scheme, because curtains should be as important as the furniture and accessories, not an afterthought. They can make a neutral scheme suddenly feel uber stylish, or add that level of luxury that you can't achieve anywhere else.
How do you choose curtain fabric?
Consider the style and period of your home, as well as the other colors, textures and patterns in the room. 'The best color for curtains is at least one shade lighter or darker than the walls,' says fabric designer Vanessa Arbuthnott (opens in new tab).
Lining your curtains will gives a fuller, more luxurious look. Consider interlining too – an extra layer of insulating fabric (sometimes called bump) between the lining and surface material – as this will reduce chills, and even noise, from outside.
What is the best material for curtains?
The best material type is the one that suits your chosen room best. A big draughty house will benefit from heavy velvet curtains with lining to create that cosy feel during the cooler months and add a touch of luxury.
On the other end of the scale, linen in all its glory is perhaps one of the most popular choices and it's easy to see why – slubby and glorious, it hangs beautifully and comes in an array of subtle shades. Voiles are a good curtain idea for bathrooms, and if you fancy a spot of glamour in the bedroom opt for silk-lined drapes.
What are the different curtain styles?
Eyelets or pencil pleats are standard on ready-made curtains, so a decorative heading on made-to-measure curtains suggests quality, whatever your fabric. Choose from double and triple pleats, flop-over frills or informal gathers.
Sophie has been an interior stylist and journalist for over 20 years and has worked for many of the main interior magazines during that time, both in-house and as a freelancer. On the side, as well as being the News Editor for indie magazine, 91, she trained to be a florist in 2019 and launched The Prettiest Posy where she curates beautiful flowers for modern weddings and events. For H&G, she writes features about interior design – and is known for having an eye for a beautiful room.