Small living room layout ideas – 10 essential designs rules to follow
Whether you are looking for small living room layout ideas that are modern and minimal, or laid-back and family-friendly, you'll find plenty of unforgettable design inspiration here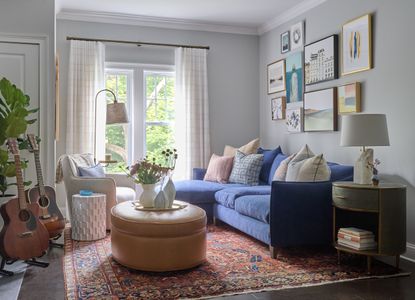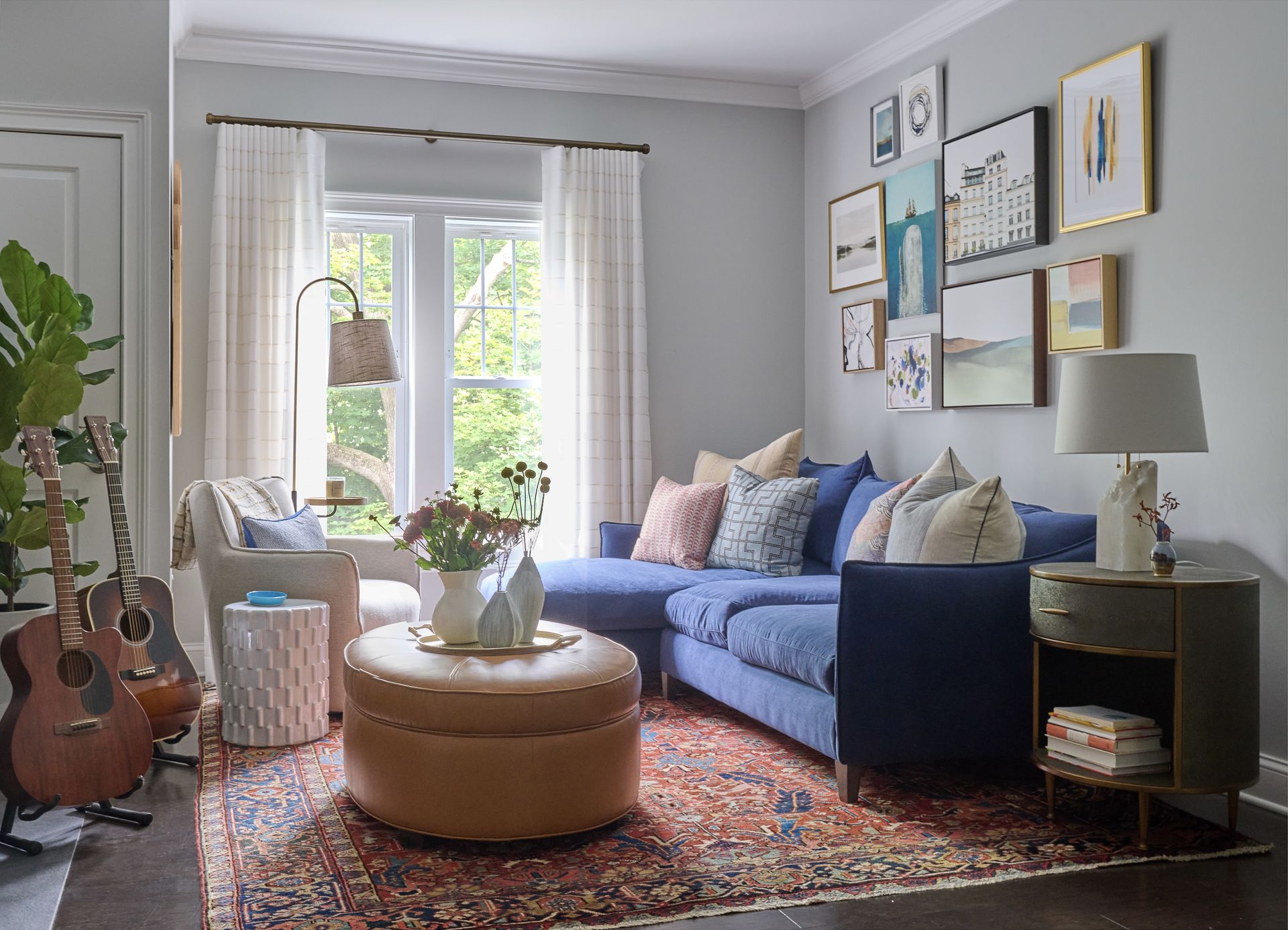 (Image credit: Georgia Zikas/Jane Beiles)
Our selection of the very best small living room layout ideas include traditional and modern layouts to suit every home's size and style – and we have included a ton of added-value design advice, too.
So whether your small living room design is open-plan, family-focused, a shared home office space or on the small side, there is a living room layout to suit your lounge and make the most of space in your small living room.
Small living room layout ideas
Functionality is key for living room ideas, and the layout you select should not only be able to accommodate your lifestyle, but enhance it. These expert small living room design tips should meet your needs – and make the most of your existing tiny living space.
1. Turn the window into a seated area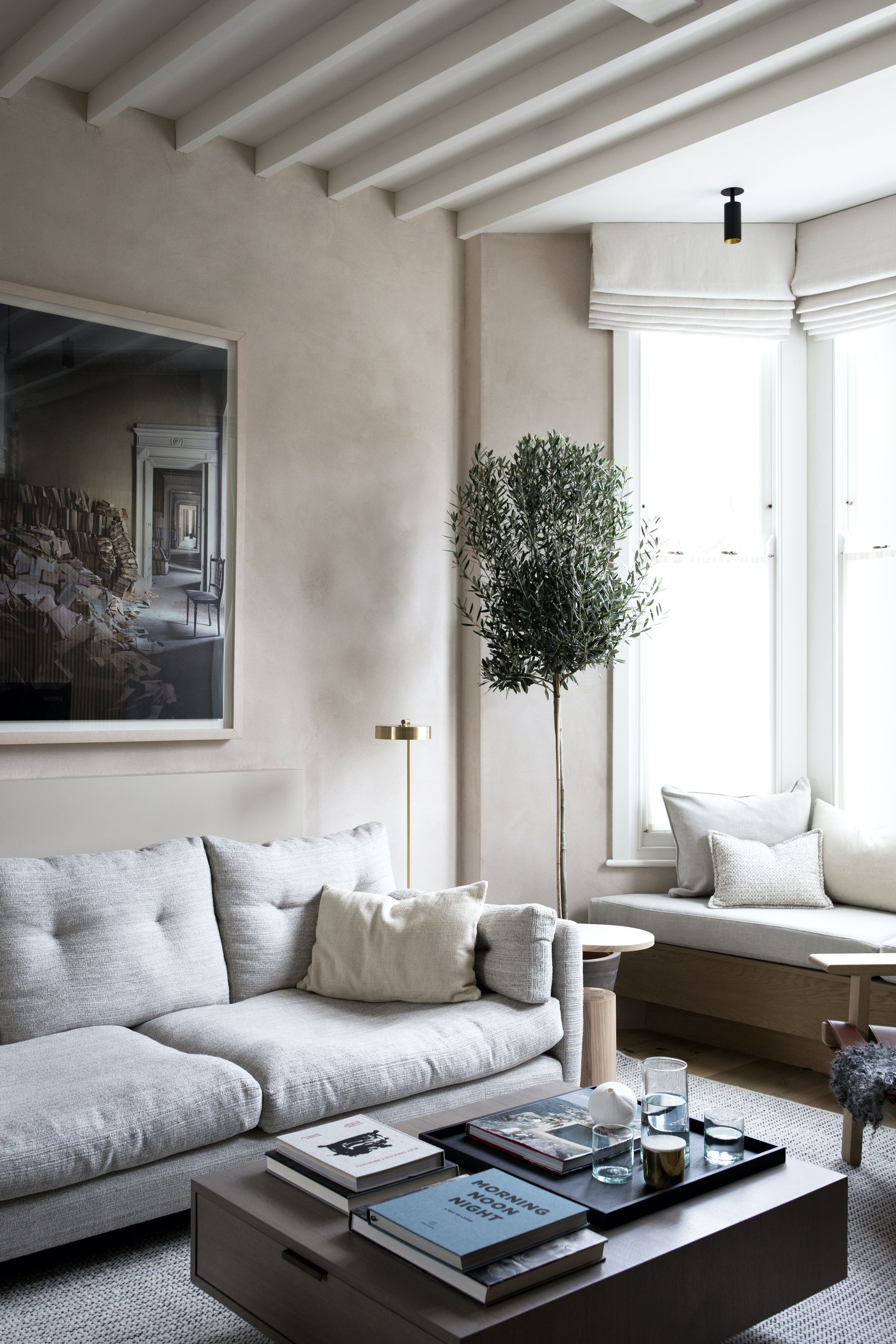 'If you have a bay window, creating a window seat is a great way to add additional seating for guests as well as creating a cozy corner for reading or watching the world go by providing an elevated view and bringing a sense of the outdoors in.
The base of the window seat can be used for storage with drawers or cupboard doors easily concealed. Adding a bespoke seat pad in a complementary material to a sofa or armchair will not only make the seating extra comfy but it will help bring together the interior scheme,' says Tom Rutt, director of TR Studio.
2. Make the most of corners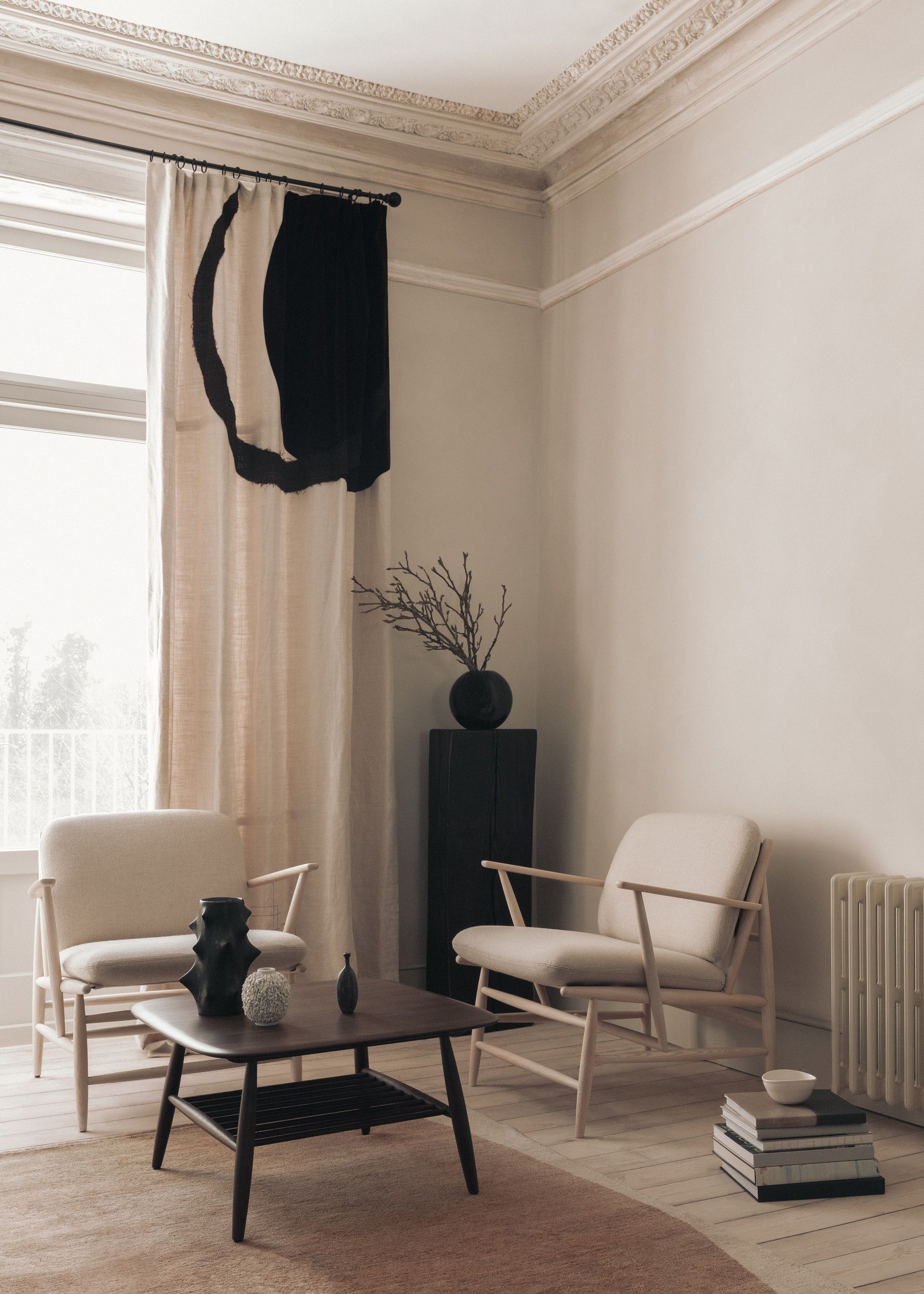 Minimalist living rooms might be tricky to get right, but done well, they are a godsend if you have a small living room layout,' says Jennifer Ebert, Digital Editor, Homes & Gardens.
'The best way to arrange living room furniture in a tiny space is to use low-level pieces in paler color schemes. 'You don't want furniture that is going to fill the entire space. You want pieces that that still leave a lot of room so size of pieces should be a little bit smaller than usual to get the look.'
3. Use pale colors throughout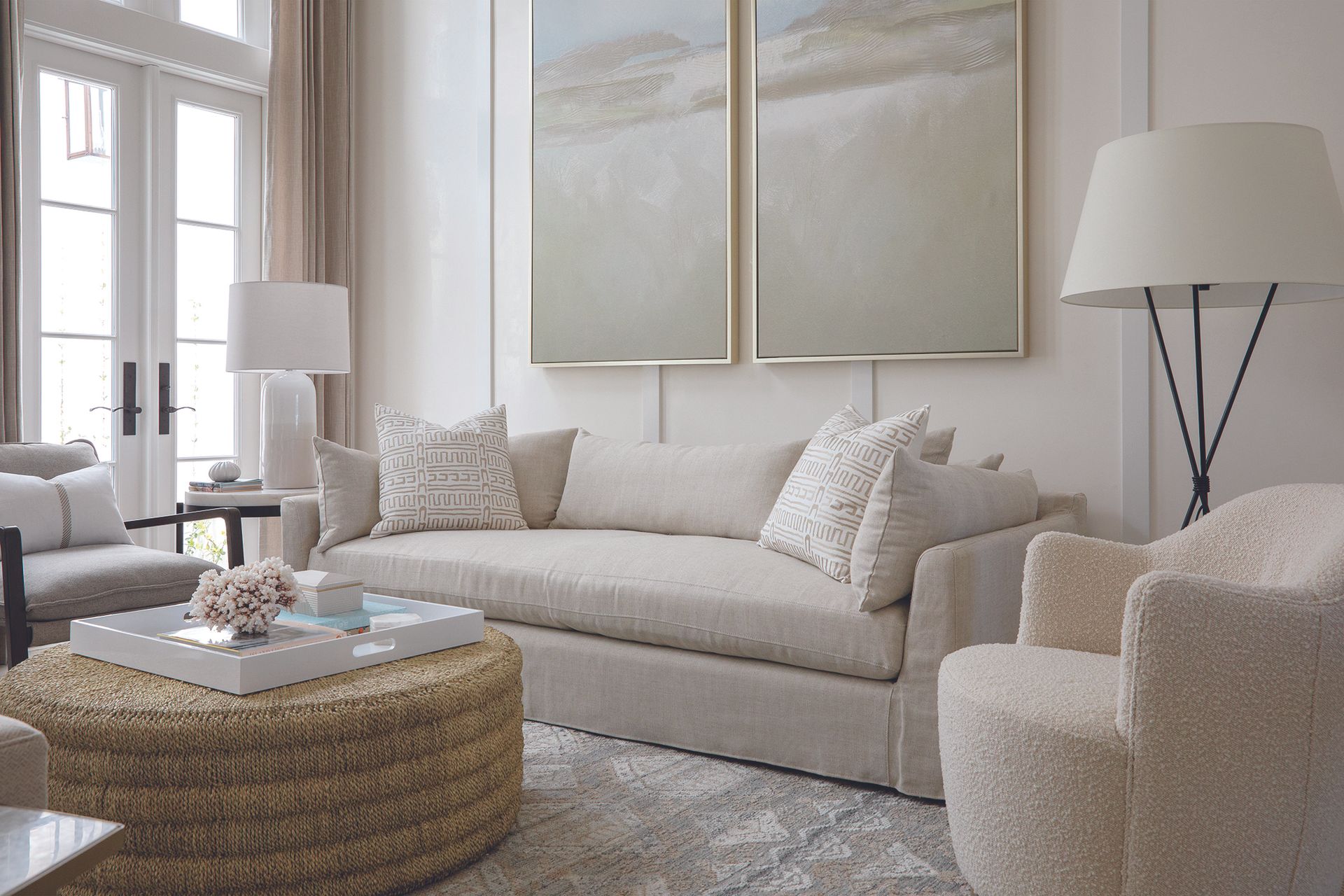 'We all know that light colored walls can help in small spaces, but choosing off white and pale gray furniture will create an even airier feel,' says Andrea Childs, editor, Country Homes & Interiors. 'This small living room layout makes the most of this compact area – and note the textures and shapes – the curvy rattan coffee table and boucle chair helps the room to flow visually and combats the angular corners of the couch and armchair.'
4. Utilize storage in a small space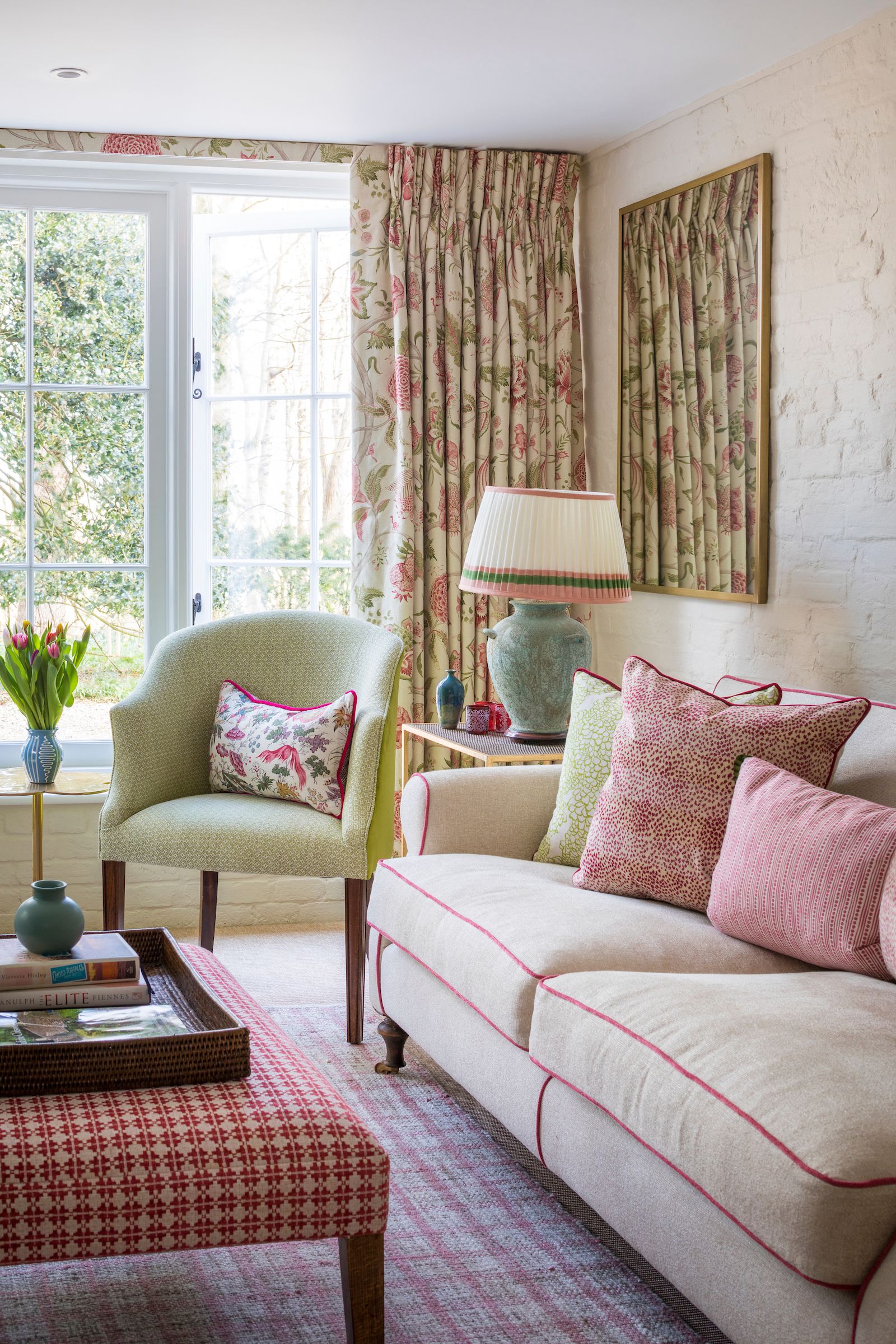 'With many homes becoming smaller and more compact, there are some key design considerations you should make to maximise on the space available, especially when it comes to the living room,' says Emma Deterding, founder and creative director of Kelling Designs. 'A room in which we spend a lot of time relaxing, socialising and living, it's really important to plan it to make sure it's equally practical as it is stylish. Consider who's going to use the space, how they're going to use it and plan your design around this. This will enable you to make easier decisions on elements like the size of sofa, other upholstery pieces such as armchairs and ottomans, as well as storage furniture.'
'In terms of color and pattern, my ethos is always to bring in as much color and pattern as you can. A compact space doesn't mean bland and neutral, color, pattern and print will make sure your living space is a true reflection of your personality.'
5. Place the couch across a rug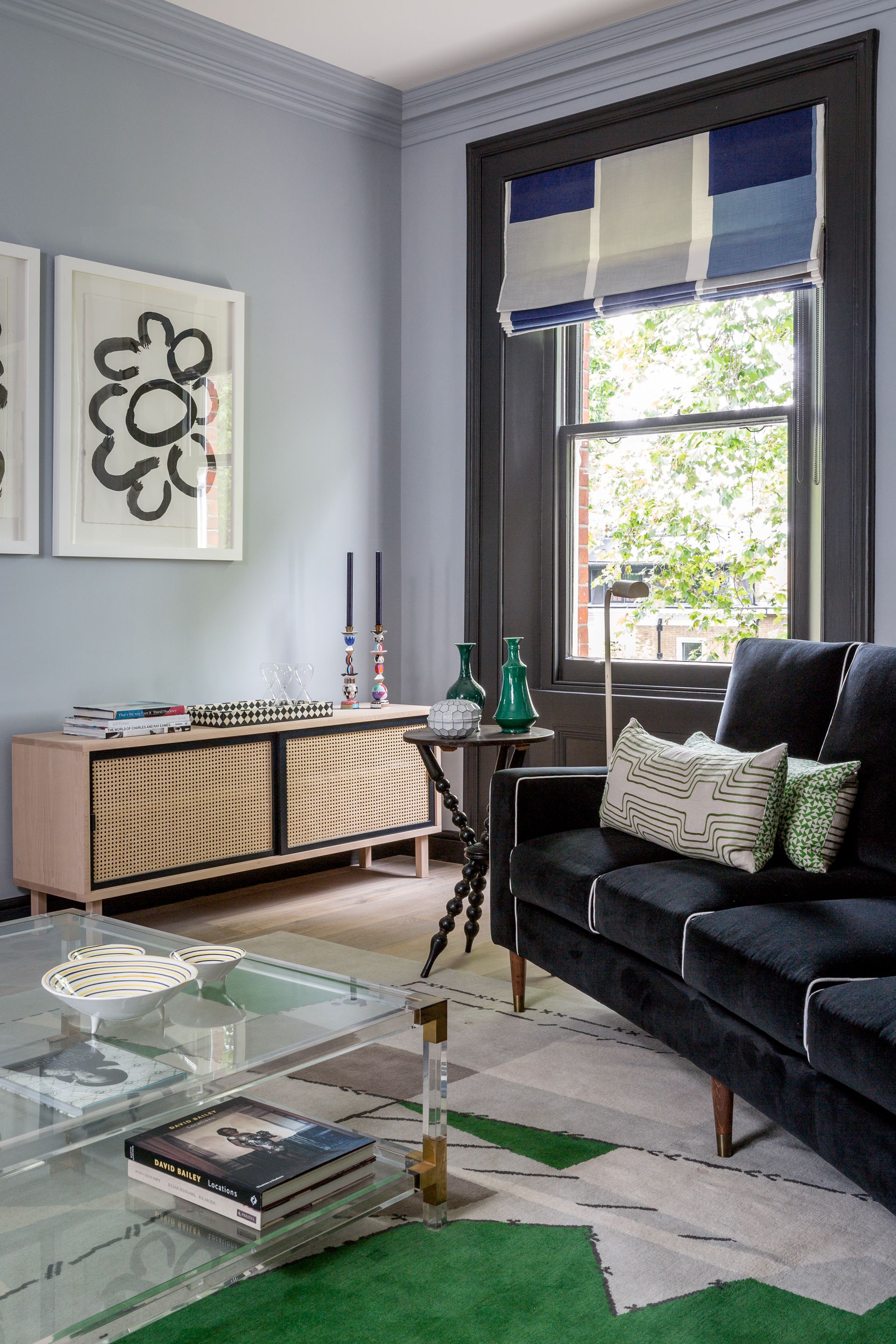 'The hand-knotted rug in the center of the room helps bring the different elements of the space together while adding warmth and comfort underfoot,' says Clara Ewart, head of design at Kitesgrove. 'The colors and shapes echo other features and forms within the room, and its larger size means that the living room sofa can be placed upon it for a luxurious feel. The darker paint used on the window surround draws the eye to the view outside and gives the room added depth and character.'
6. Use symmetry to your advantage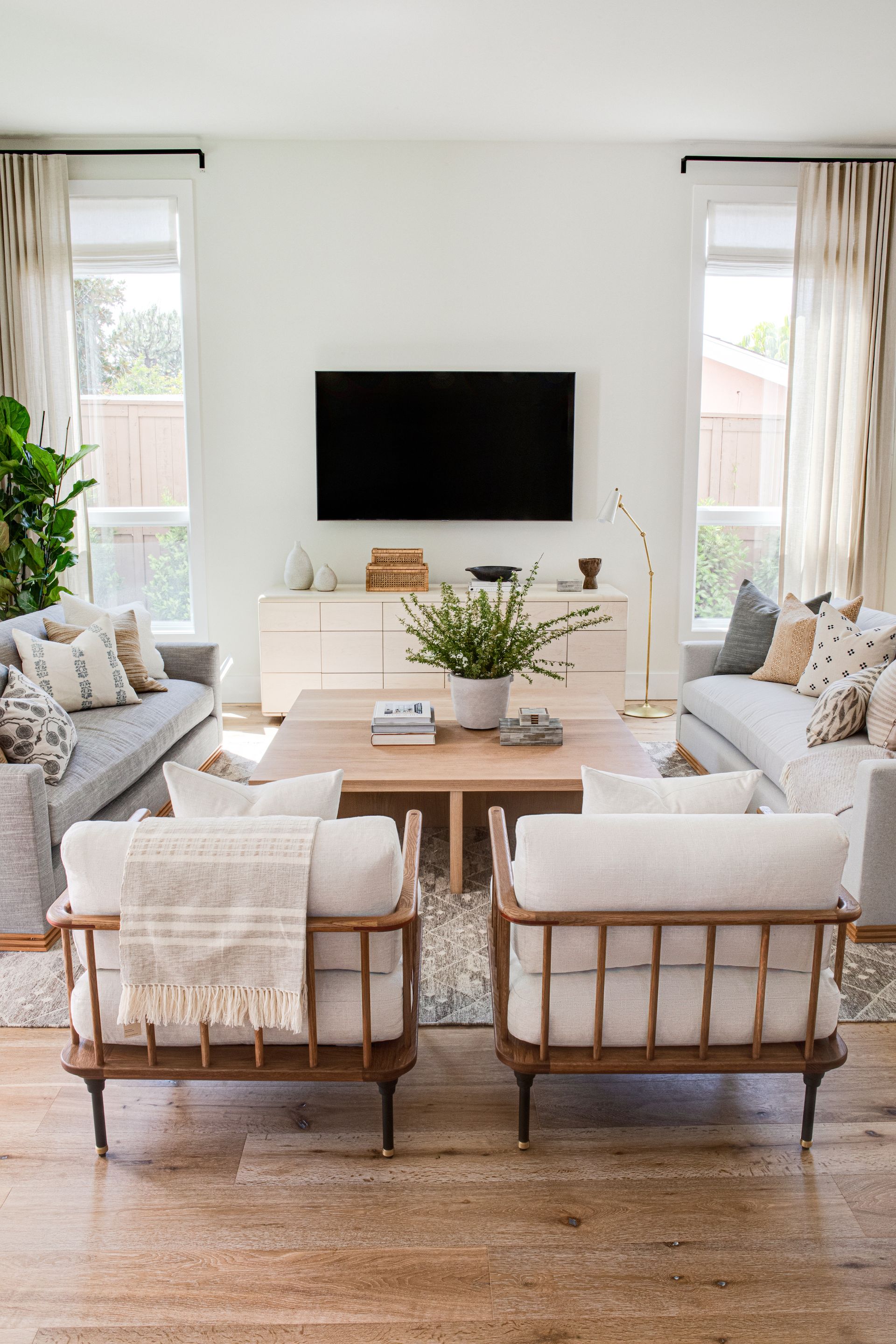 If you love a touch of order then let symmetry in interior design guide your small living room layout. There's something so pleasing about this space, it's easy on the eye and calming. Have two matching couches opposite each other and team them with a pair of armchairs. In this instance a square coffee table works best, soften it with books and a vase of blooms.
7. Chose slimline furniture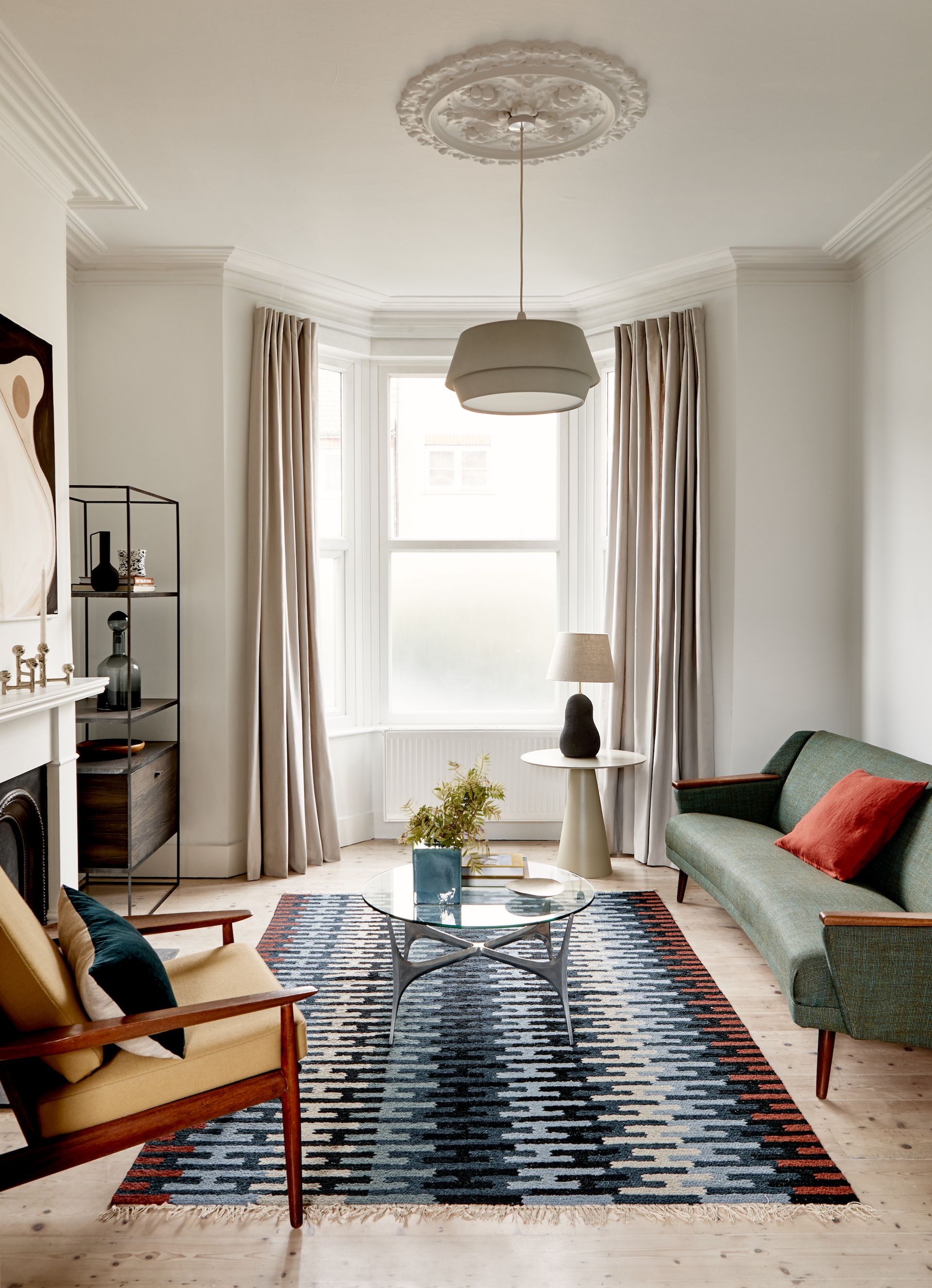 'If there's one thing that's going to create the illusion of more space in a small living room layout, it's investing in the right furniture,' says Jennifer Ebert.
'Mid-century modern living rooms tend to embolden an unfussy, utilitarian style that defined interior design for the post-war generation. Now its functional, fluid furniture with slimline legs has been adopted by the masses – especially those wanting small living room layout ideas that will give the illusion of space.'
8. Prioritize the placement of a sofa or couch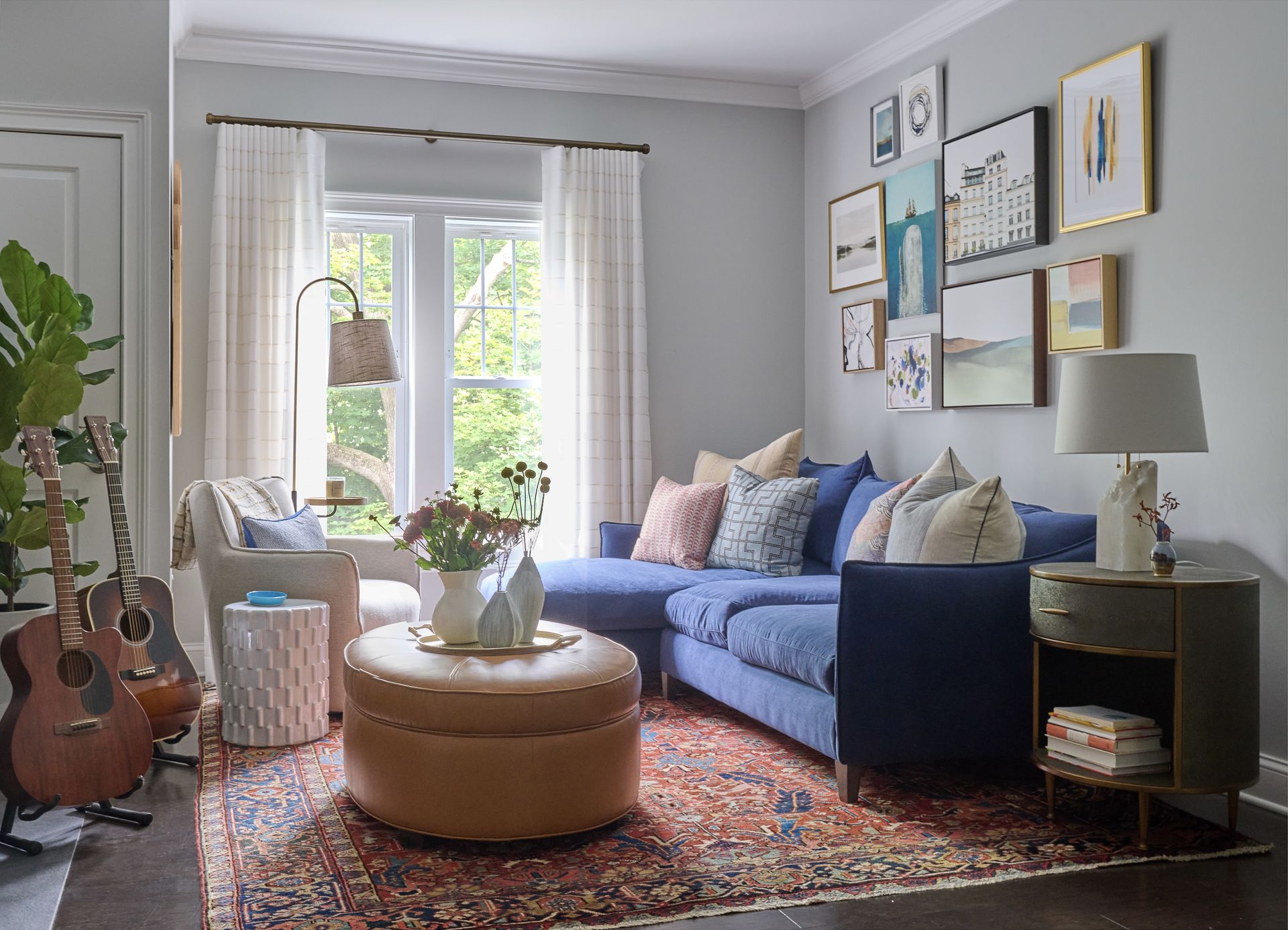 'When designing a small living room layout, make it as functional as possible,' says Georgia Zikas, founder and principal designer of Georgia Zikas Design. 'By anchoring the furniture on the wall, natural light is able to come through the larger windows. This multi-purpose space is used for lounging, entertaining, and even playing music with guests. The flow of traffic allows for space to move around as the couch is pushed against the wall instead of placed in the middle of the room like you would in a larger space.'
9. Make the most of every inch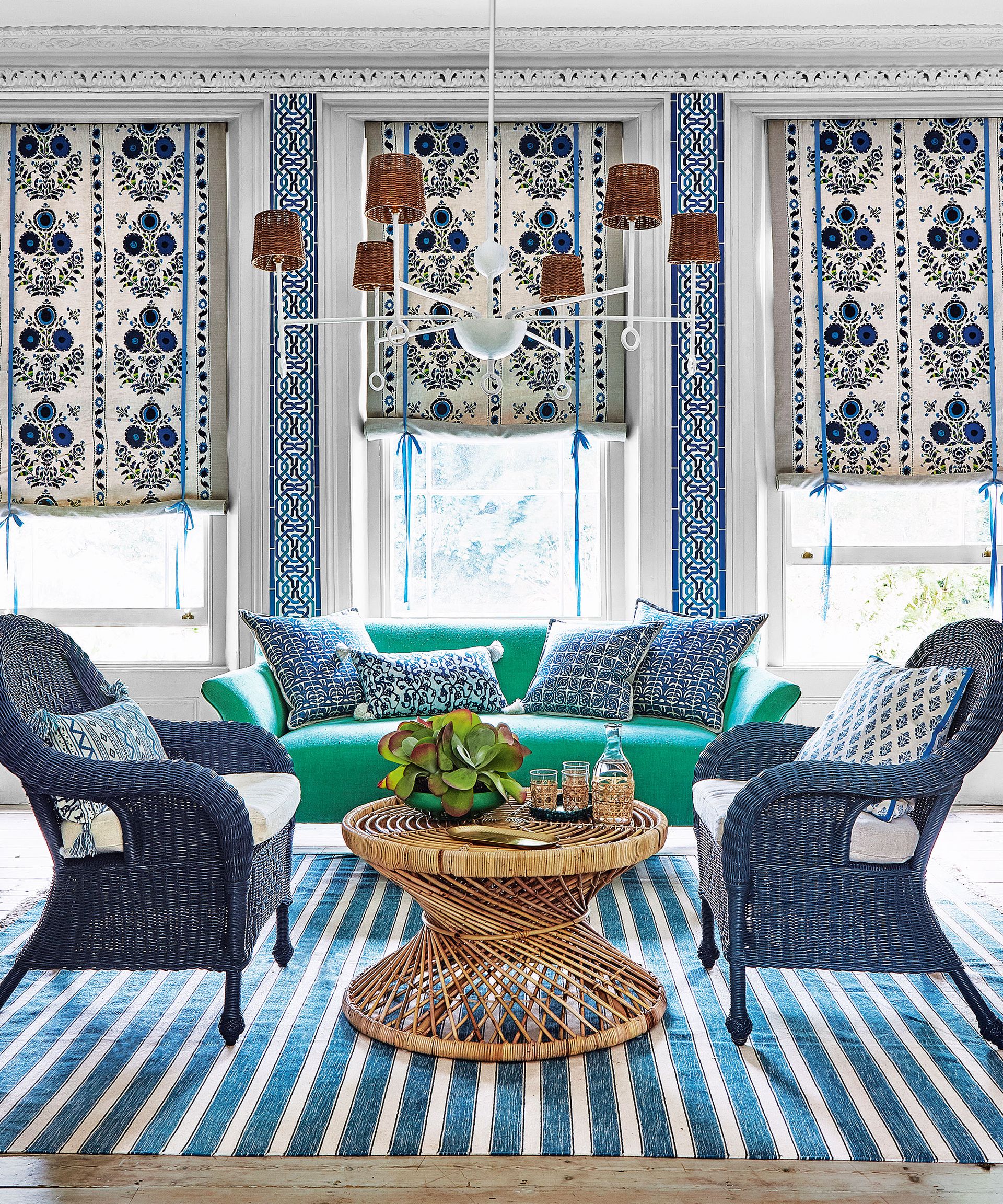 'When space is tight, it pays to make a feature of the furniture instead – this works especially well if you adore bright colors,' says Lucy Searle, global editor in chief, Homes & Gardens. 'Distract the eye from the space by matching everything – blinds, rug, couch and armchairs in once compact area – plus, it creates a great social hub if your small living room layout is open plan.'
10. Mix and match a couch, armchair and footstool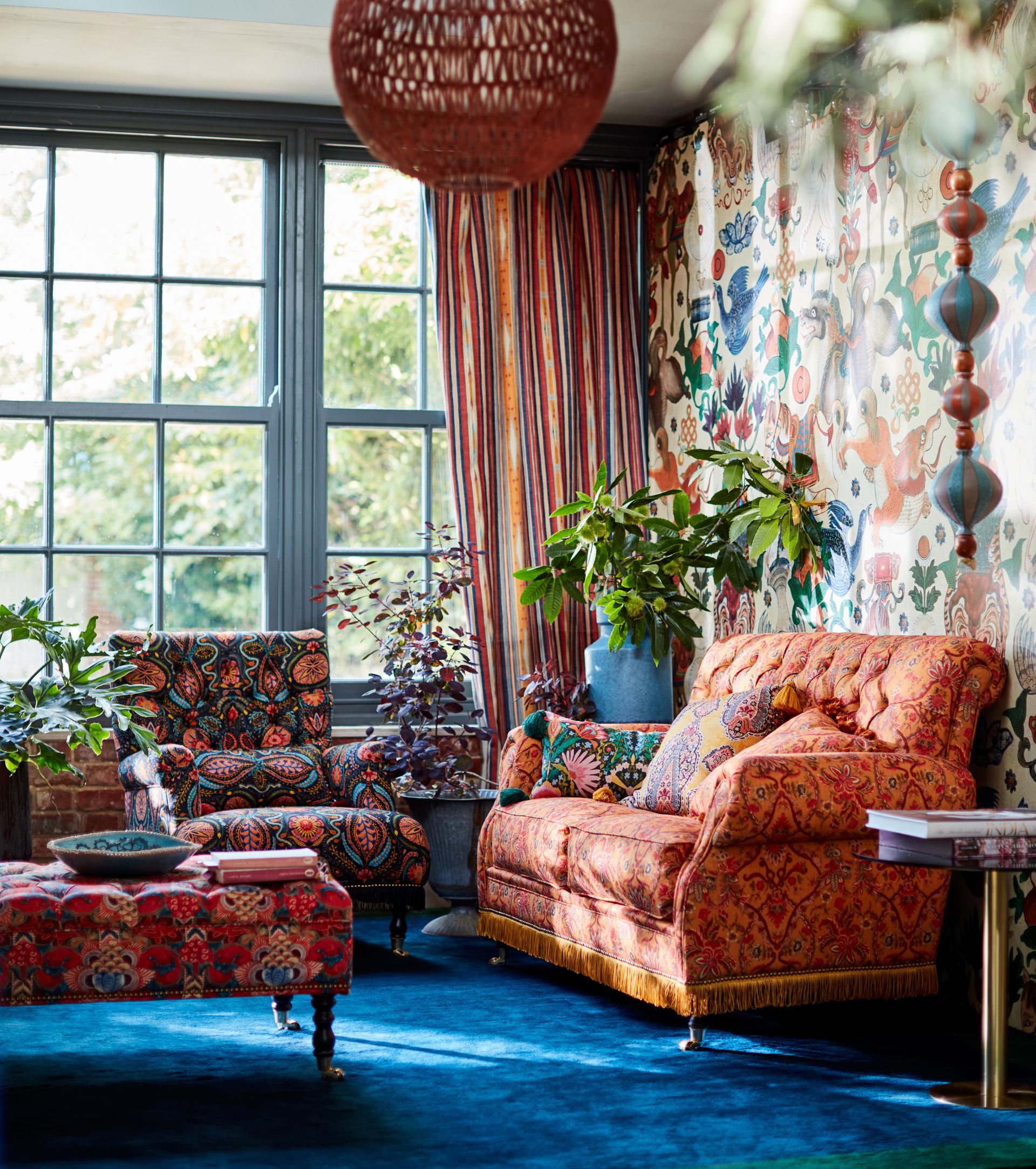 'Opting for clever furniture choices with versatile pieces will maximize on the space in smaller living rooms, creating a comfortable space that can be used to sit back and relax, as well as welcome guests,' says Stefan Ormenisan, creative director and founder of MindTheGap. 'For example, this combination of a smaller two-seater sofa and comfy armchair, rather than one larger sofa in a straight line, creates a more welcoming and sociable dynamic, and the upholstered ottoman is a brilliant space saving option, doubling up as seating or as an additional surface for favourite books and magazines, or trays with drinks if entertaining.'
'It is often thought that pattern and color cannot work in smaller spaces, but on the contrary creating layers of interest and detail with a mix of both can give a room a wonderful, enticing jewel box feel, drawing you into the space and bringing a smile.'
How can I arrange a small living room?
If you have or have ever had a narrow room at home, then you'll be more than aware of the tricky task of making it look wider than it actually is, while desperately trying to make every corner look cozy. You've probably spent hours rearranging furniture in a frenzied attempt to make your rectangular space look more square, but in the back of your mind you know that unless you knock down the walls and rebuild the room from scratch, there's just nothing you can do.
When it comes to the layout, the general advice is not to place all of your furniture too close to the walls. 'To make the room feel more spacious, move your sofa away from the wall, and put a console or a shelf behind it and bring the sofa in,' says interior designer, Kelly Hoppen.
Look for a table with simple or delicate lines. The table should seem to 'disappear,' so it gives your room the illusion of more space in a small living room. And steer clear of ornate furnishings that will overpower the space.
Sign up to the Homes & Gardens newsletter
Decor Ideas. Project Inspiration. Expert Advice. Delivered to your inbox.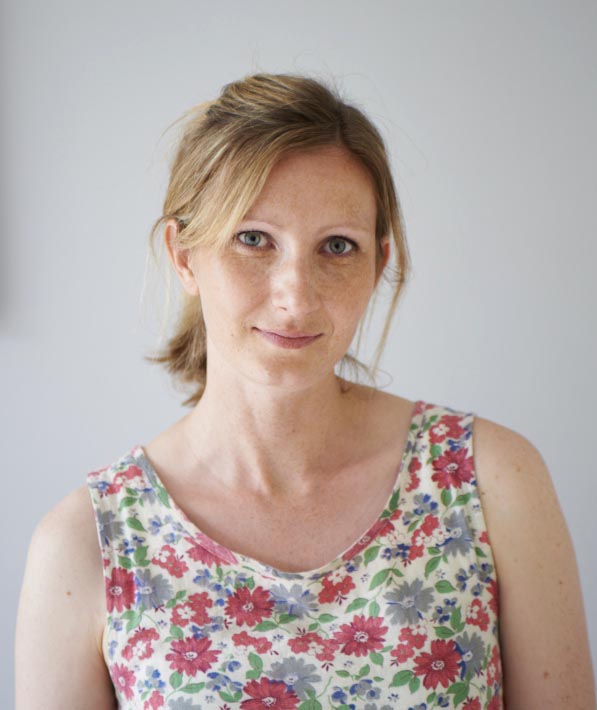 Sophie has been an interior stylist and journalist for over 20 years and has worked for many of the main interior magazines during that time, both in-house and as a freelancer. On the side, as well as being the News Editor for indie magazine, 91, she trained to be a florist in 2019 and launched The Prettiest Posy where she curates beautiful flowers for modern weddings and events. For H&G, she writes features about interior design – and is known for having an eye for a beautiful room.