Small living room ideas – 38 clever ways to plan and decorate a compact space
Use our top small living room ideas to make the tiniest of spaces feel perfectly proportioned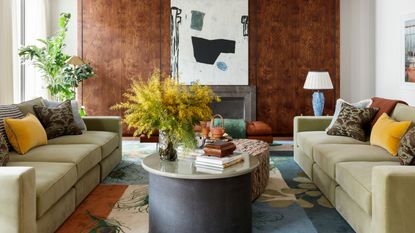 (Image credit: Studio Ashby)
Small living room ideas may be short on volume but they can be big on style. Our favorite interior designers share their top tips and tricks for tiny living rooms.
Though small living rooms can present challenges, there are several benefits to compact living. A well-designed scheme can feel just as comfortable as a larger space, with all the coziness and comfort associated with family living.
One of the main advantages is the convenient accessibility of everything that's needed. Easy maintenance is another bonus.
In a small living space, zoning is key. So here are our favorite living room ideas for smaller sitting rooms and how to design and decorate a compact space with our best small living room ideas.
Small living room ideas – 38 compact designs for a lounge
Make the most of a small living room by planning a hard-working layout, keeping accessories to a minimum and picking the right color scheme.
There are tons of small living room ideas and tricks of the trade to help turn that awkward, small living room decor into something stylish and sophisticated, whatever its shape and proportions and make the most of space in your small living room. So whether you're working with a small apartment living room or a compact sitting room in a family home, you can make the space work best for you.
1. Use the same color on walls, woodwork and furniture
When a single living room color scheme is used on both walls and woodwork, a room suddenly feels bigger, because having no contrast means that you are less aware of the confines of the space. 'The eye does not stop to register a second color and glides straight out of the window to the view, blending the garden and room together,' says Joa Studholme, color curator, Farrow & Ball.
2. Expand a small living room by introducing nature
We mention below how utilizing mirrors can really open up a small living room, and you can see how well it works here. However, other key elements combined with this design trick will also help.
Choosing light and airy living room color schemes – including a pale wooden floor – with an accent shade will lift a small room.
'As well as the mirrors making the room feel bigger, they also reflect the greenery outside and bring it in,' explains Henriette Von Stockhausen, founder and creative director at UK-based VSP Interiors.
'So I have used botanical fabrics with green and a bright white background for a fresh spring feel. The emerald velvet green cushions create a contrast against a soft white backdrop, while the ottoman makes for a subtler distinction, then we used accents of green, inspired by the artwork, to help unite this elegant scheme.'
3. Opt for a neutral scheme based around symmetry
Symmetry in interior design is introduced to create balance and a feeling of calm. This works perfectly in long living rooms and is ideal for enhancing a small living space. Max the feeling of serenity to the limit if you use calm neutrals to decorate.
The beautiful brass accents that are a major design feature in this space help to distract the eye from the size of the living room. Sara Cosgrove, owner of Sara Cosgrove Studio which has bases in both Dublin and London, explains how this luxurious scheme was put together.
'Our client wanted to create a more formal reception and entertaining space, but at the same time keeping it light and airy so it could be used throughout the day.
'Our solution was to keep the walls fresh and light in tone and bring in a more elevated feel through the antique brass accents, antique mirrored elements and a stunning Chesneys fireplace.'
4. Cut the clutter
If there's one thing that's going to create the illusion of more space, it's decluttering – it can actually make a room feel wider in seconds. Make sure you keep your room tidy and organized by removing toys, plants, knickknacks and other unnecessary items, and your space will instantly feel bigger and more pleasant to be in.
And, of course, brilliant small living room storage ideas are key to maintaining this clutter-free, space-enhanced feel.
With accessories and essentials neatly arranged and out of sight, the space will soon feel orderly and open. A room that's crammed full of 'belongings' takes up space, making it feel disorderly, busy and small. Try and keep the floor as clear as possible, too, as it's one of the easiest ways to maintain a sense of spaciousness, so remove any oversized rugs.
5. Use pattern as accents to perk up plains subtly
This small, yet perfectly formed living room in a stucco fronted townhouse in London's Chelsea was created by interior designer Henry Prideaux for an American client. He wanted Henry to bring a flavour of 'the English country in the city' to his London residence.
Henry says, 'Don't be afraid to go for bold color and pattern in a small space. It's all about balance. A scheme featuring cleverly selected furniture pieces layered together with textured rugs and tactile fabrics can create a really inviting and comfortable space even if square footage is compromised.
'Sophisticated artwork and eye catching accessories can be displayed to provide lots of interesting little vignettes throughout.'
Henry also explains that clever small living room lighting ideas can not only make a room lighter, but feel larger too: 'A lighting scheme that includes light sources at varying levels enhances the room and helps to create mood at different times of the day.'
6. Light up a small living room
Light helps to brighten up a room instantly, so first and foremost allow any natural light to stream indoors by taking down heavy, dark window coverings. Try sheer window treatments or install white wooden blinds or shutters to let the natural light flow into your room during the day, while simultaneously providing nighttime privacy.
Plus, wide horizontal slats help to magnify the illusion of a wider room. Dark corners can make a room appear small and cramped so position a floor or table lamp in a bare corner to visually expand the area, while recessed ceiling lights can illuminate an entire room without taking up much space.
7. Use a color-blocking trick to detract from a living room's size
Finding the perfect couch for a small living room is key to the feel of your space.
If you can't find a brand new sofa you love, but your old couch looks a little tired and a little tatty round the edges, then why not have it re-upholstered instead of investing in a new one? It's more sustainable and if you love the comfort and style of it then give it a new lease of life.
And this is where the trick comes in – if you make your sofa the focal point of your living room it will detract the eye from the size of your space. A bold and vibrant shade will give your living room impact – then accessorize accordingly to pull the key colour throughout the rest of the scheme.
8. Be fussy with furniture
Furniture can be a cumbersome business, especially in narrow rooms, so it pays to arrange and buy items correctly.
One great way to make the most of a smaller space is by using multi-function furniture, like a chest that can be used as a coffee table, nest of tables, and folding chairs that can be tucked away when you don't need them.
Another important pointer is to place large pieces of furniture against walls so the open space in the middle is not broken up.
9. Use mirrors to expand a compact space
Not surprisingly, mirrors can make a room look a lot larger. When decorating small spaces, hang a mirror on a wall opposite a window or very near one to reflect the outdoors, broadening the feel of your room.
You can also try using a focal point and angle your mirrors towards it, which will give the illusion of depth.
Mirrors reflect both natural and artificial light to make a room brighter during the day and night and they bounce light deep into the room, making it appear larger. Mirrors on the walls and glass tabletops will make it seem like there's a more open flow. You can also use mirrored cabinet doors to make spaces feel large and uncluttered.
10. Balance the ying and yang in your small living room decor
We love the design contradiction between this beautiful feminine shade called Nancy's Blushes and the visually heaviness of the mahogany sofa and eye-catching Old Master's style portraits in the bohemian living room pictured above.
Keeping the floor the same color as the furniture also helps to blend the room together – if nothing stands out, then your eye will flow around a space and in a small living room this can be key to making it feel larger.
11. Get creative with paint
You can visually widen a rectangular-shaped room with clever living room paint ideas such as painting the two end walls a darker color than the other two walls.
The gradation of shade and color of paint on opposing walls can either lengthen distance by using a lighter shade or shorten a distance with a darker shade.
Light colors such as creamy white or light grey help to brighten a room, making it appear larger and wider. Satin paint finishes tend to reflect more light.
You can also paint horizontal stripes on a wall to make a room feel wider. Use two alternating colors to paint each stripe about 12 inches wide.
12. Mimic the symmetry of the room's architecture
Smaller living rooms benefit from order and a more de-cluttered feel. This is where symmetry can be your best friend. Keeping furniture in line eases the mind as Liv Wallers from British design studio, Yellow London explains:
'Symmetry provides balance within a room and it often starts from a focal point like a fireplace or windows in the sitting room. It brings a sense of comfort and rhythm to a space which is an integral part of our design approach. It can be used right down to the smaller details of the room, cushions on the sofa to lamps on a dresser.'
13. Repeat a pattern to enhance space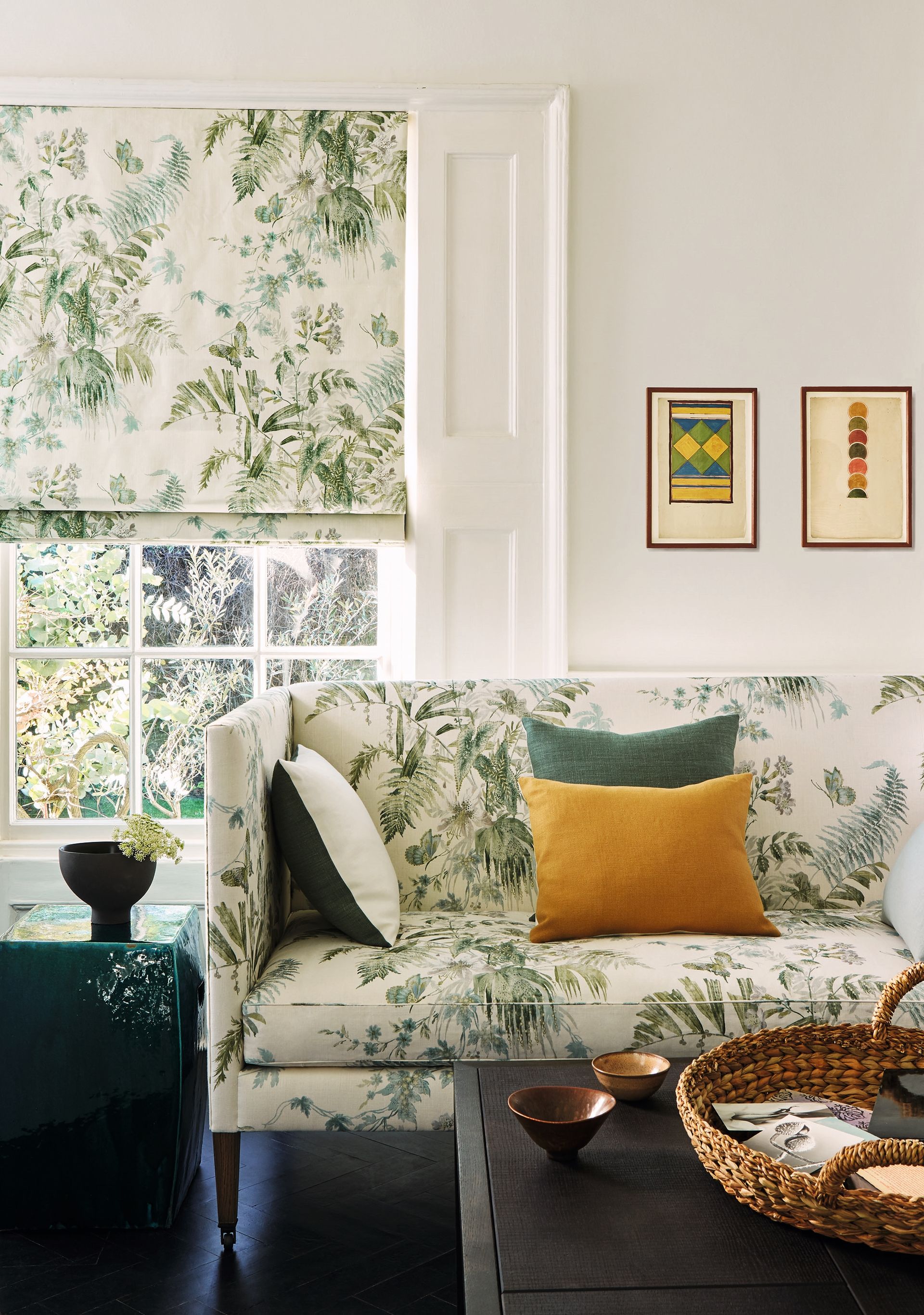 Matching your blind or curtain fabric to your sofa is becoming a trend we love, especially when pattern and print is really to the fore in the design world currently.
It works in a smaller living room when the background color to the print is pale, and in this instance with Colefax & Fowler's Callista fabric it also brings the outside in so that helps to create an airy feel in tandem with the white painted walls that act like a blank canvas.
14. Zone a narrow but long living room
Long living room ideas rarely feel homely, but there are tricks you can use to zone the space to make it feel far cozier. A rug can visually draw together the furniture in a space, giving a room focus and adding comfort.
While a focal point that contrasts with the rest of the scheme can be visually interesting, disguising the awkward layout, something like quirky piece of art, coffee table or striking lampshade.
15. Be inventive with color
Painting ceilings in a color is huge right now, and you can make a room feel cozier by painting it in a warming shade, great for living room ceiling ideas.
Another design trick is to paint the same color outside of the room – like the hallway here for example. It plays on the visual aspect and draws your eye through to another space – and not having a door helps to make a room feel large too.
16. Hang art in a small space
When it comes to planning a living room feature wall, quite often, bigger is better. Walls that are covered with pictures and other wall hangings tend to make a room feel closed in, narrow and busy, so simply hang one or two large pieces of artwork on your walls to make the room feel wider and more spacious.
Avoid hanging pictures high on the longer wall as they will just highlight the imbalance in the proportions, instead choose art that can sit wide but low over the couch for example, to bring the eye level down and help make the room seem wider.
17. Think: scale and proportions
Select furniture pieces that are in proportion to the size of your room – oversized cabinets, living room sofas and chairs can make a small room feel narrow.
Living room furniture that is the same color as your walls tends to blend into the wall, making it look wider.
Make sure you arrange your furniture at an angle to create a sense of depth to the room, otherwise if you place all furniture against the walls you might end up with a narrow 'bowling alley' look.
18. Create a focal point in a small living room
When decorating a small living room, create a focal point – one area or feature that will draw the eye, so there's less emphasis on the room's layout. In the living room, the focal point will most likely be the coffee table, so make sure that focal point is the star of the room.
19. Unite two rooms
If you've got a long narrow room that's divided in two – like a living room one end and a dining room the other – it might be worth picking a favorite color and using it as a key tone to coordinate the one space. This also works to make a small dining room feel bigger, too.
For example, linking navy blue walls in the dining room end with the same wall color in the living room for a space that feels united and cozy.
20. Decorate with a light color palette
It's always effective to use a palette of light living room colors, but in different materials and textures. A common misperception is that the less furniture and features you have in the space, the bigger it will look.
But in fact, multiple zones and features create a perception of different spaces within one room. It's all about the right furniture size, the right swatch and the right small living room lighting ideas. Try to stick to a neutral living room scheme in smaller spaces, introducing splashes of color with accessories.
21. Paint the fifth wall in a small living room
The fifth wall is often an afterthought when it comes to redecorating, but done right, it can make a real difference to a small room. As long as your ceiling is painted in a paler color than your walls, no matter what the color, your ceilings will feel higher, helping a narrow living room feel more spacious.
22. Keep a small living room organized
The key to compact living is to be exceptionally well organized. In my experience, small spaces can actually transform personal habits for the better, as they require careful editing and storage.
'Open up the space as much as possible to allow for comfortable circulation. Every centimeter of a small studio has to be cleverly utilized, so that it doesn't look cluttered, yet provides a functional layout with optimized living room storage,' says Irina Townsend, interior designer at Keir Townsend.
23. Make it monochrome
A monochromatic color scheme, using different tones of the same color, will help to make the furniture and other features recede and appear to take up less space. You can soften the palette by adding a warm grey-blue rather than a harsh black or white.
24. Play with scale in a narrow scheme
Choose one large-scale piece – a huge cabinet, an oversized lampshade or a wall to ceiling mirror for a small living room. By choosing carefully these large accessories will draw attention away from the lack of space and focus the eye onto other things.
25. Swap curtains out for blinds
Curtains can look bulky, so it is worth considering swapping them out for blinds instead. These, in this lovely small living room designed by Stefani Stein, allow daylight to filter through, too, which will help the room feel still larger and brighter.
26. Choose dark colors but balance them with light
There's no rule that says you can't have dark colors in a small living room – in fact, if the room is lit well and has large enough windows and a south- or west-facing aspect, dark colors on small living room walls can look beautiful and make the space feel really welcoming.
However, if the living room lacks warm daylight, you can create plenty of impact with dark colors on the focal wall and beyond, but that it's a wise move to balance that with paler shades, both on walls and furnishings.
27. Draw the eye to a focal point
This small living room is a busy space, but still, the living room fireplace wall is drawing all the attention, and, as we all know, having a strong focal point within a room can make it feel larger than it really is.
'The lines created by the area rug, the trunk coffee table and the bookshelves all direct the eye to the fireplace wall,' says H&G's Editor in Chief Lucy Searle. 'The huge main picture and those around it accentuate the width of the wall, uncomplicated by a fire surround. This creates a simple visual trick of making a really quite (beautifully) cluttered room feel very well planned – its size isn't even an issue.'
28. Accentuate the vertical
Another useful visual trick has been created in this living room, with floor-to-ceiling curtains creating a panel of color that emphasizes the height of the room. The height of the picture and of the pots sat at ceiling height further exaggerate the room's proportions.
29. Keep the scheme neutral – but add bursts of color
Decorating with primary colors is a wonderful way to add to create a successful small living room scheme because it allows you to create a space-stretching neutral room, but with more exciting pops of color in accessories that you can swap in and out depending on your mood.
30. Decorate with stripes to make small living rooms feel bigger
Decorating with stripes is another clever way to make small living rooms feel larger. The direction the stripes run will have distinct effects – vertical stripes, like on these armchairs above – will make a room with a low ceiling feel taller. Run the stripes horizontally and it will feel longer or wider, depending on your perspective.
31. Create a sense of infinity
Paint is a great tool when you need to maximize the feeling of space in a small room. Matching the clean white paint – used on the walls – of this compact living room with the same color on the ceiling helps to blur the lines between the different surfaces, pushing them back so that the room feels more spacious and lofty.
Use dark, richly colored furniture, flooring and statement artwork to add depth and interest to an otherwise simple scheme.
32. Stick to a simple palette
Channel this contemporary take on a classic look by making bold and vibrant patterns the stars – even in a small living room. Combing a variety of prints but all in greens and whites ensures this room feels calm and not overwhelming.
33. Opt for compact furniture – upholstered in patterned fabric
A sense of scale is a key principle for successful interior design – try mixing it up to have fun with your small living room.
Be guided by the room's proportions and architecture when setting the scale for furniture. They key to good living room seating ideas in small spaces is to avoid a couch that is too large. Instead, invest in a compact design, then have it upholstered in a gorgeous fabric for instant appeal.
34. Instil coziness with a taupe color scheme
Go for a more understated style with a timeless taupe color scheme. Not quite a brown, not a grey, either, taupe falls somewhere between the two. Go for warmer taupes in rooms where you want to create coziness, and cooler taupes where you need a calm feel.
To avoid colors merging into one and looking bland, layer on the texture with lots of tactile finishes and weaves with plush damasks and chenilles on curtains and upholstery. Invest in good-quality lighting to highlight different textures, sheens and finishes.
35. Keep furniture away from the wall
A common misconception in a small living room is to push furniture against the wall. Give the room space to breath by leaving gaps between the furniture and the walls. Enlarge a small living room by pulling the furniture away from he walls, even by just a couple of inches, creates bathing space that will make your room appear bigger.
36. In a dark living room, choose a light furnishings
It's important in any scheme to have a good balance between light and dark. Choose a lamp that is paler in