Living room pictures – 30 ways to create a new look for your lounge
Take inspiration from our showcase of sitting rooms, family spaces and snugs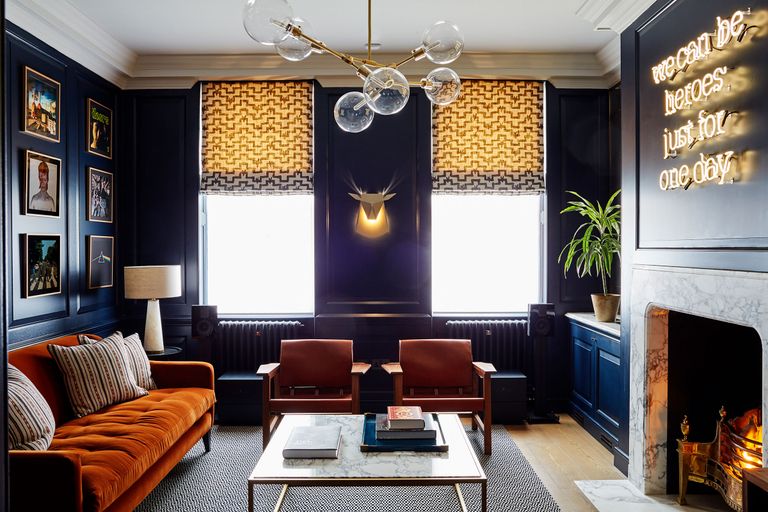 (Image credit: Future)
The best way to inspire a new look for your lounge? Browse living room pictures – and save them on to your phone, desktop, Pinterest board – whatever – so that you can start to build a moodboard that will eventually be the starting point for your room's new look. 
These living room pictures have been photographed by some of the world's best known interiors photographers – and they're packed with details to copy. So, enjoy – then hop to our living room ideas feature for many more inspiring rooms and expert interior design advice.
1. A living room with a fashionably elegant look
This smart living room scheme, which mixes different-sized checks on upholstery, blinds and cushions in a dashing combination of black, white and yellow, gives traditional gingham a refreshing contemporary twist.
Photography/Paul Raeside
2. Living room with vivid shades and bold pattern
When using a lot of hot, spicy shades, introducing a crisp, black and white pattern will act as a focal point and keep the look modern.
Photography/Polly Wreford
3. Classic living room with soft shades of pale sky blue
Opting for bold, block colour, such as azure, denim or sapphire, on upholstery and in rugs allows depth to be added with pattern. 
Here, a fine ticking stripe and geometric print fabrics provide lively highlights that catch the eye.
Photography/Emma Lee
4. Quintessential English country-style living room with artwork
Subtly toned chinoiserie curtains and an antique rug define this seating corner, which features a mix of textural fabrics including velvet, linen and hessian, creating an elegant living space with timeless allure.
Photography/Paul Raeside
5. Contemporary living room with geometric patterns
To ensure patterns work comfortably together, choose designs from a similar tonal palette and complement them with plain walls and upholstery. 
Adding sculptural pieces of furniture and lighting brings an additional layer of interest to the scheme without overpowering it.
Photography/Damian Russell
6. Horticultural living space with mismatched furniture
In this country living room idea, simple utility is given a light and pretty dimension with horticulturally themed decorative flourishes and happily mismatched pattern. It's a scheme that embodies relaxed charm.  
Photography/Emma Lee
7. Classic living room with graphic simplicity
Softly striped sheers and a rug in a chalky pink palette harmoniously balance with the bolder circular designs of the rattan chair, table and floor light – all with fine black metal frames to keep the look light.
Photography/Emma Lee
8. A crisp, fresh living room with denim tones
From indigo to navy and cobalt, blue hues sit particularly well together, so offer great scope for pattern mixing. In this fresh yet cozy living room, cushions with small-scale motifs are successfully combined with robust striped blinds and a bold indigo geometric on the screen.
Photography/Jake Curtis
9. A simple country living room with verdigris finishes
For a pared-back scheme, upholstered furniture should have a simple silhouette and minimal detailing. To achieve this look, opt for a neat sofa in a plain linen with no buttoning, while loose covers can be made for existing armchairs. Hints of subtle pattern and colour can be introduced with soft furnishings.
Photography/Michael Sinclair
10. A living room corner with global influences
Using fabrics with patterns in different scales gives curtains a beautifully tailored finish, while contemporary furniture in the palest leather keeps the look fresh.
Photography/Simon Bevan
11. A classic living room with natural elements
A timeless scheme offers a respite from the whirlwind of modern life – and with the neutral elements in place, it is easy to play with the balance of your palette as seasons change.
Photography/Davide Lovatti
12. A statement living room with mural and muted colour palette
Intriguing and subtle, this architectural mural adds a lighter decorative touch to this scheme in which neutral, muted furnishings allow it to take centre stage. 
A ledge of rustic wood echoes the horizontal lines of the print and creates display space for elegant accessories.
Photography/Jake Curtis
13. A modern monochrome living room with graphic artwork
Panelled walls painted soft grey provide a sophisticated backdrop for this scheme, which artfully balances black and white upholstered furniture. 
Blocks of pattern, in the form of tailored cushions and artwork, add interest and personality to the modern look.
Photography/Michael Sinclair 
14. A contemporary living room with abstract artwork
A sofa upholstered in a multicoloured graphic print takes centre stage in this contemporary living space. Additional blocks of colour work well with the strong linear shapes of dark furniture, while walls in pale grey allow the abstract artwork to sing out in this confident look.
Photography/Davide Lovatti
15. A tropical living room with botanical overtones
Blending fresh tones of ocean blue and lush botanical green with natural materials strengthens this scheme's affinity with the outdoors. A delicately coloured sheer provides privacy while filtering harsh sunlight for a softer look.
Photography/Jake Curtis
16. An emerald-green living space with a botanical theme
This series of foliage prints set against a vibrant emerald-green wall offers modern take on the botanical theme. Sparse accessories and the clean lines of the furniture add to the contemporary flavour of the space.
Photography/Emma Lee
17. A tribal style living room with monochrome pattern
Concentrating furniture and accessories featuring strong pattern and brightly coloured plains in a confined space is a good way to define a seating area within an all-white room.
Photography/Emma Lee
18. A living room with the vibrant tones and textiles of South America
Upholstering a sofa in a lively combination of plain and patterned fabric creates instant character. Pair with walls in clashing hues and finish with a riot of colourful cushions.
Photography/Polly Wreford
19. A dramatic living room with brass elements
The lustre of brass elements shine brightly when set against a calm backdrop of cool greys. A deep emerald green velvet sofa adds to the sense of drama and richness.
Photography/Damian Russell
20. A living room with delicate designs and bold motifs
Using a variety of motifs in one hue and keeping pattern to the upholstery, while walls and floors remain plain, brings depth to a scheme without it feeling too busy. In this room, a striking wave design on the sofa offers a contrast to the more subtle prints elsewhere.
Photography/Chris Everard
21. A classic living room with paisley embroidery
From subtly textured embroidery to richly decorative designs, Indienne-style motifs can be used to bring depth and interest to a simple, contemporary scheme. Softly coloured paisley chairs sit well within a pale grey living room scheme that blends linen, taupe and charcoal. 
Photography/ Catherine Gratwicke
22. A verdant living room with trellis wallpaper
This trellis wallpaper speaks of blissful summer days in the garden. Working geometric motifs into the scheme gives the finished look a modern edge.
Photography/Polly Wreford 
Related: Wallpaper ideas – gorgeous decor for every room
23. A floral living room with an Italian flair
Opting for curtains and walls in the same pastel shade creates a subtle backdrop, allowing a choice abstract upholstery print to sing out.
Photography/Simon Bevan
24. A living room with a mix of ancient and contemporary style
A daybed layered with mattresses gives an Eastern flavour to this reading corner where a sense of adventure is suggested by books and maps.
Photography/ Paul Raeside
25. A modern living room with vibrant abstract wallpaper
A feature wall in a striking wallpaper was the starting point for this vibrant hallway idea. Plain upholstery and curtains in complementary shades prevent the look from overpowering, while a textured rug adds depth.
Photography/Davide Lovatti
26. A summer living room with seagrass and bamboo furniture
Washed linens and the eye-catching open design of the rattan sofa bring a relaxing mood to this inviting space, which is enhanced by unlined curtains that gently filter the sunlight. 
Taking inspiration from the room's palette of raspberry and citron, our moodboard offers further ideas for creating a fresh, stylish look.
Photography/ Emma Lee
Related: Creative curtain ideas for a timeless living room
27. An exotic living room with dark-wood flooring
A black cane sofa arranged with palm leaf-motif cushions against plain ochre linen lends an elegant exotic feel to a classic scheme. Dark-wood flooring and a table of leafy plants complete the look.
Photography/Simon Bevan
28. Deep green and blue living room with a global artisan feel
We embrace our inner nomad with a considered mix of Eastern, African and South American patterns with natural materials, rich textures and bold hues for an elegant, worldly look at home.
Photography/ Damian Russell
29. A calm, relaxed living room scheme with a neutral colour palette
Serene greens, monochrome patterns, tactile weaves and rich textures combine to deliver an inviting colour palette for a considered living space. 
As seen in Japanese homes, a freestanding wall acts as a divider, 
zoning a large room. Natural flooring and delicate paper lights complete the look.
Photography/ Damian Russell
30. A classic living room with simple linens and silk furnishings
Polished concrete flooring offers a smooth, subdued contrast to organic-shaped furnishings, while a smart grasscloth wallcovering lets dramatic artwork do the talking.
Photography/Damian Russell
31. A modern living room with powdery pastel colour palette
Decorating with pastel shades needn't mean going entirely pale. An accent wall in a darker colour, such as the deep blue used here, serves to balance lighter tones. To add depth, introduce subtle textures with wool upholstery and curtains and rugs in patterned weaves.
Photography/ Paul Raeside