Living room color ideas – 15 beautiful color schemes to inspire a fresh, new look
From soothing, soft pastels to fiery reds, explore how you can transform your living room with color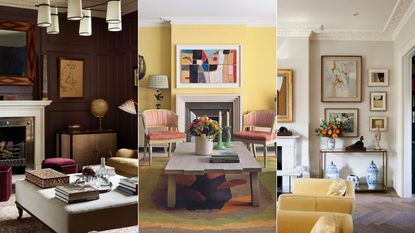 (Image credit: Studio Indigo / Luke White / Kit Kemp / Future)
Color really can be transformative in interior design, whether that be through paint on the walls or from a beautiful piece of furniture or artwork, and choosing your living room color ideas will be one of the most important decisions you face in your home.
For many of us, the living room is where we spend most of our time, from relaxing and watching TV to socializing and entertaining with friends, and getting the color choice spot on for your living room ideas is vital to ensure you create a comfortable and inviting space that truly celebrates your style.
Choosing which colors to decorate with for any room color ideas can be a daunting process as there are so many to choose from, but becoming your own color consultant is easier than you think, and we are on hand to help inspire you with a range of colorful ideas for your living room.
Living room color ideas – the best color schemes for your lounge
Whether you're exploring living room paint ideas to give your existing space a colorful refresh, or are in need of color inspiration for a whole new design scheme, it's time to get creative with color and transform your space with the help of our collection of inspiring living room color ideas.
1. Pick a palette of primaries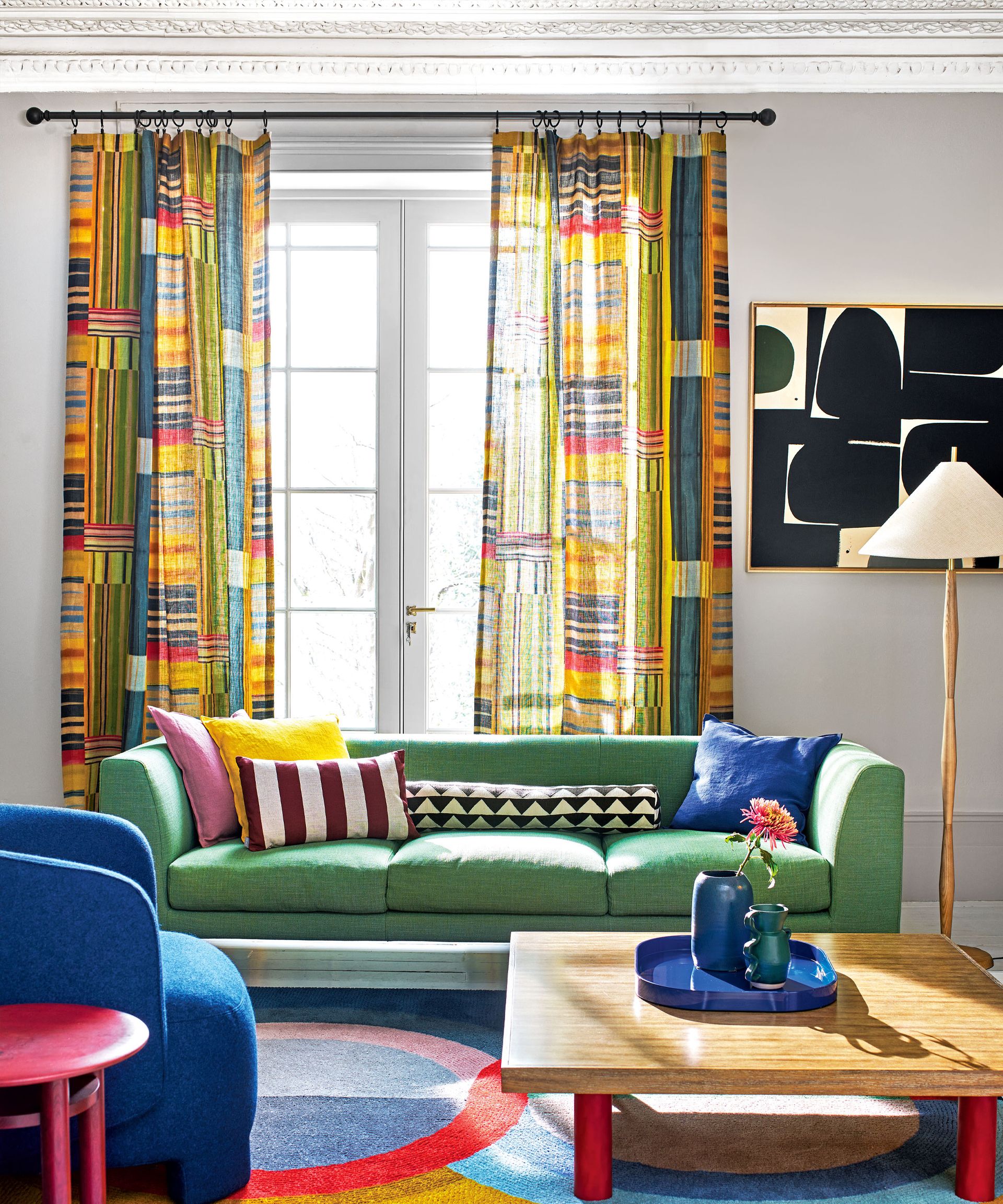 For a sophisticated room full of fun and energy, create a living room color scheme that hinges on decorating with primary colors.
Look to design movements of other eras, such as Bauhaus, from which you could choose from primary colors such as blue and mustard yellow, or lavender purple and tomato orange.
The colors need to be bold but not too bright, so choose hues that are paired back to give them a more authentic tone.
2. Go for a grounding and cozy look with brown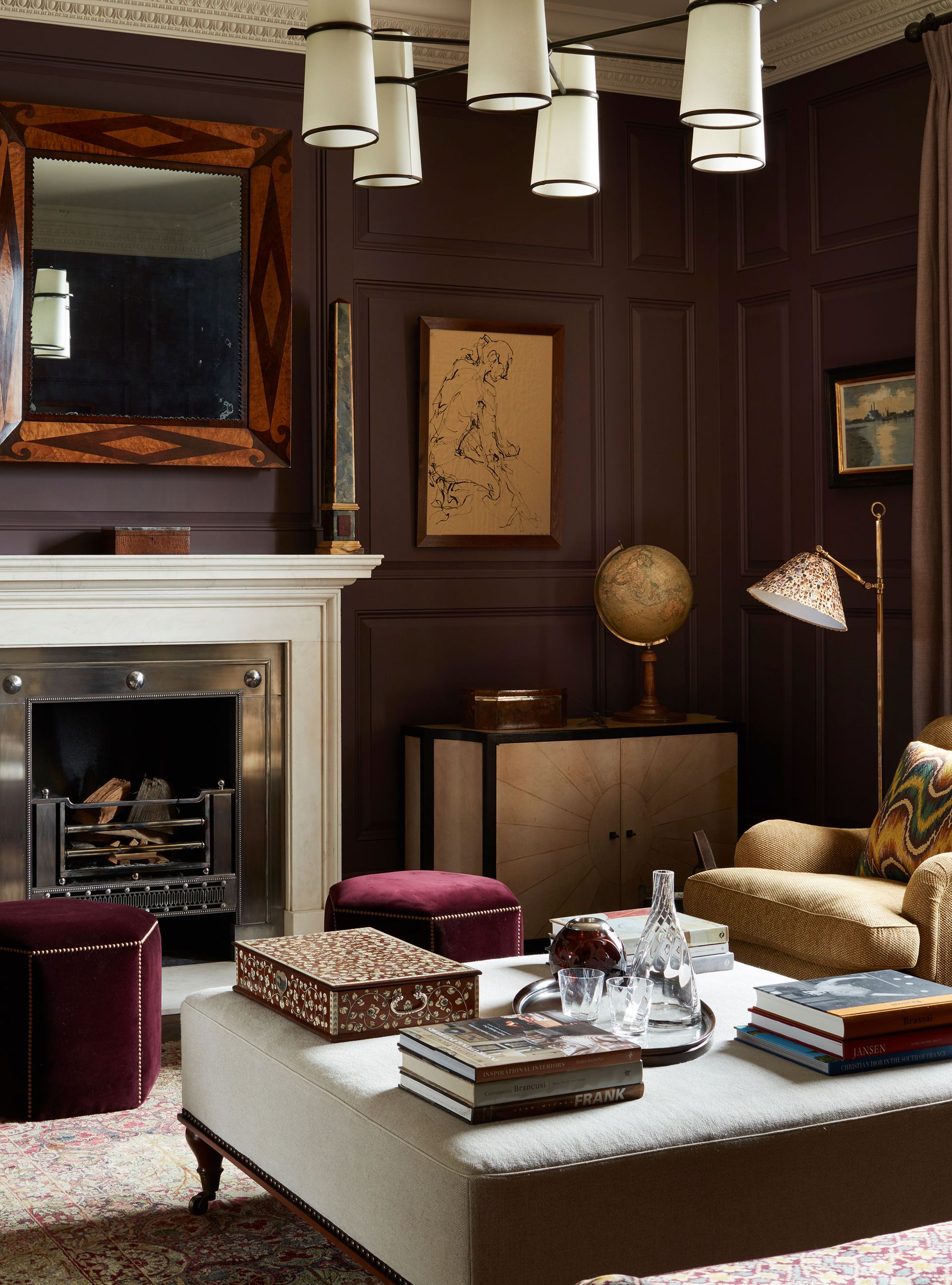 Looking to the colors of nature remains a timeless color trend in interior design, and choosing an earthy, brown palette is perfect for cozy living room ideas.
Whether you choose an enveloping, moody brown, as shown in the elegant living room above, designed by Studio Indigo, or opt for a lighter shade, decorating with brown can be incredibly versatile.
Pair with a deep navy blue or gold for a more traditional living room look or unite with a more impactful accent shade, such as a burnt orange or mint green.
Brown room ideas can sometimes be seen as boring, but when used in the right way, brown can be an incredibly inviting, warming, and sophisticated color choice for the home.
3. Create a soothing space with soft pastels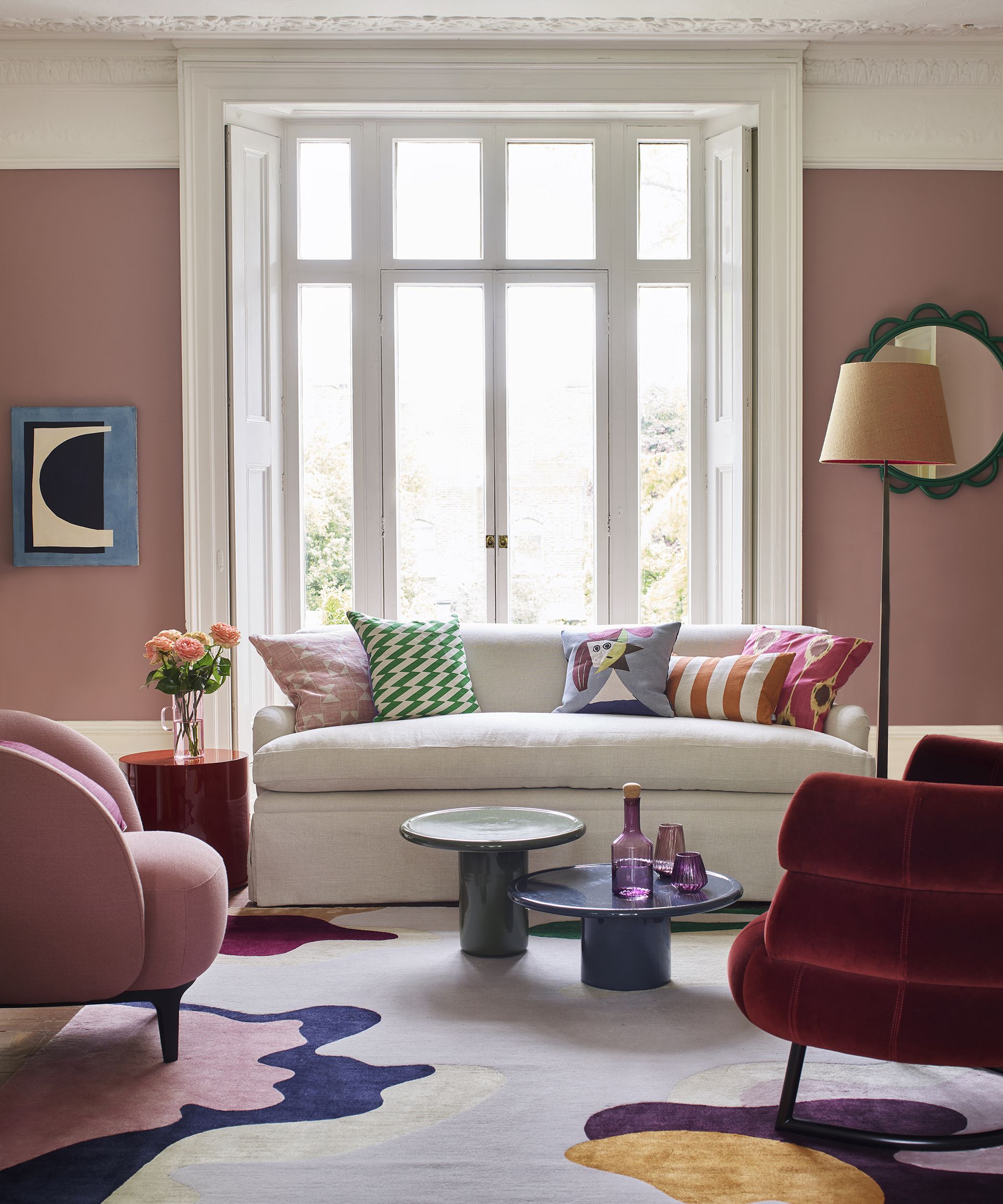 Chalky, pale tones have always been an attractive choice for interiors, giving rise to delicate, light rooms that are easy to live in. Create relaxed, elegant schemes by pairing these hues with bold accent colors, or opt for impact with one sugary shade.
Pale shades of rose are becoming firmly established as the new neutral of choice in the most stylish of schemes, yet it is in combination with bolder pastels that its delicate allure really comes to the fore, perfect for pink living room ideas.
'Neutral pink is best in living rooms; it's surprising yet subdued,' says paint expert Annie Sloan. Pairing with deep burnt reds it will create a sophisticated tonal palette with a lot of warmth; alternatively, bright oranges and turquoises with neutral pinks give more of a tropical, jungle intensity.'
In their Spring Summer Homes & Interiors 2023 trend round-up, trend forecasters, TrendBible have said that there will be a rise of chalky pastel shades, they say, 'gentle combinations of sophisticated pastels are perfect for a delicate layering of color, and this color palette naturally lends itself to tonal gradients and elegant compositions.'
4. Keep things simple yet striking with black and white
Sarah Lloyd, senior brand manager at Valspar says, 'a need for long-lasting harmony is expressed by the choice of a white shade, a universal and timeless color that never goes out of style, designed to grow effortlessly alongside your interiors without ever feeling dated.
White is perfect when paired with marble and glossy surfaces, mirrors and white textiles to color-drench the whole house. To add a touch of color, think about including metallic or black details, as well as raw wood pieces to avoid a cold and sterile finish.'
Black and white living room ideas are always a winning combination and can be both cool and calming, and striking and confident. Create a perfect balance of the two neutrals, by using equal amounts of each. It will give a bright and fresh look for the day, together with a dramatic and tailored look for the night.
5. Create contrast with your color choices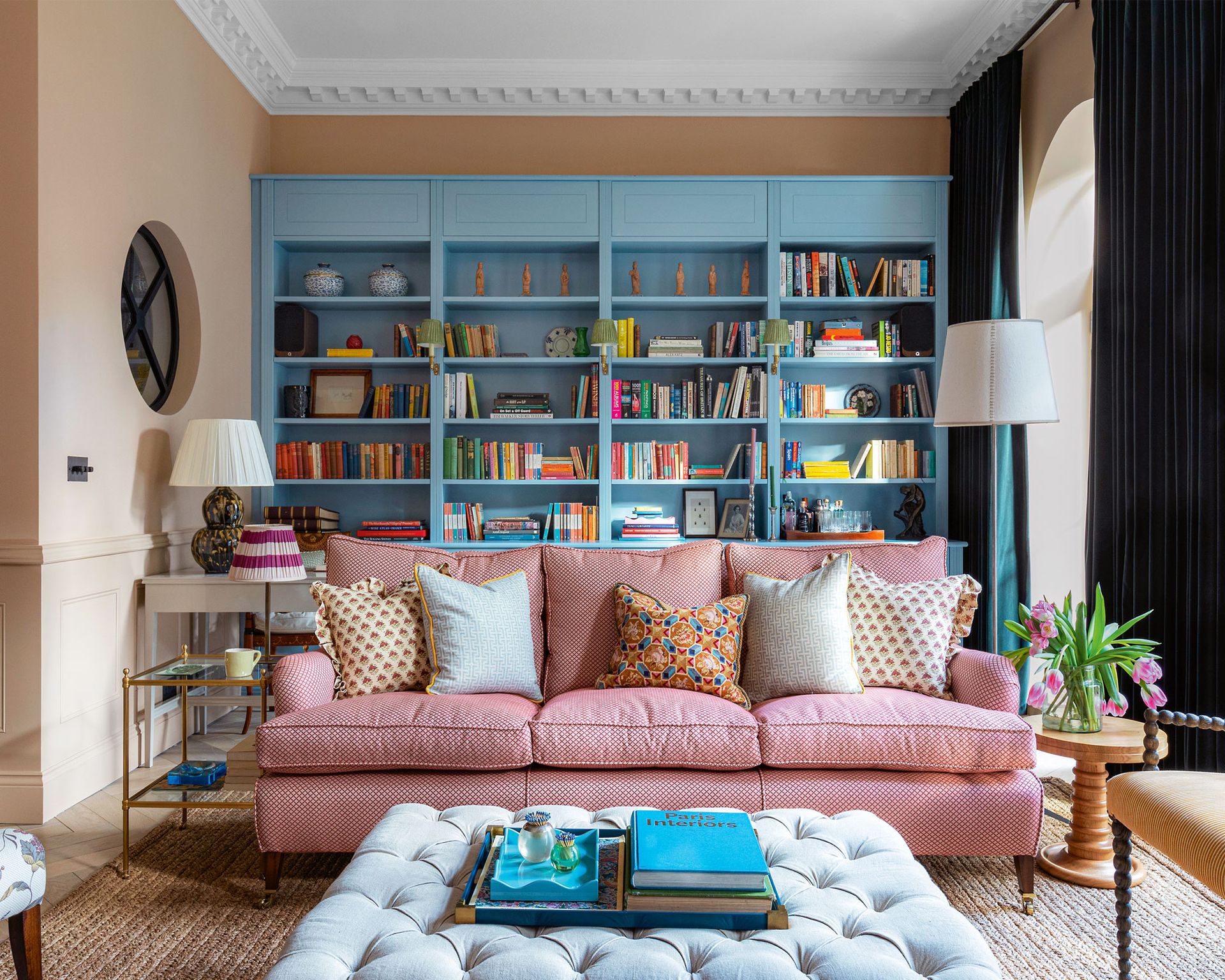 Lucy St George, co-founder of Rockett St George says, 'we believe that life is too short to take home design too seriously, instead, styling your home should be a fun and freeing journey where you can experiment with color, pattern and anything else that makes you happy along the way.'
As one of the main rooms in the home, your living room should be treated as a canvas for an exciting and uplifting design that celebrates your favorite colors and design ideas.
Establishing a space rich in colorful contrast will not only create an interior design that feels more unique, but it can also make for a bolder, statement look, uplifting the room with energy and striking visual interest.
If you're unsure where to start when using contrasting complementary colors, always consult the color wheel, Kate Guinness also advises, 'if nervous about using a bold hue, painting woodwork adds a color shot without overwhelming' as shown with the bright blue shelving in this colorful living room above, designed by Sarah Brown Interiors.
6. Choose a beautiful blue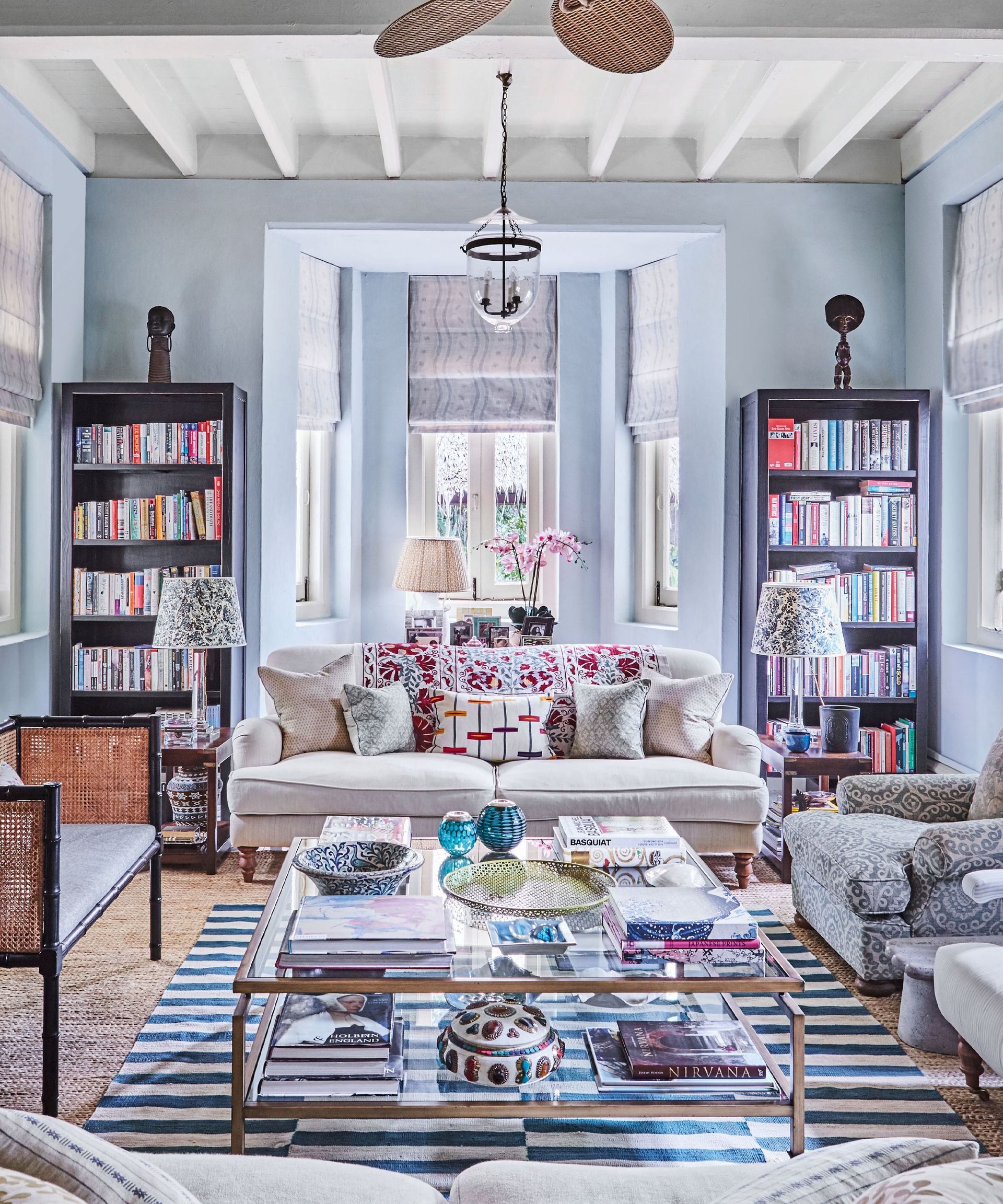 Blue is one of the most popular colors to use throughout the home, and blue living room ideas can come in a variety of beautiful designs. From deep, dark navy to serene sky blue, there are so many different shades to choose from.
Whether you opt for dark blue painted walls, complemented by warm wooden furniture, a more relaxed, coastal living room theme, or establishing a beautiful contrast with palettes of blues and yellows, this versatile color can coordinate seamlessly with spaces both traditional and modern.
Clara Ewart, head of design at Kitesgrove says that 'blue is universally loved in interior design, due to its calming, tranquil tones. Deep rich dark blue is a popular choice for productive rooms such as kitchens and home offices, whilst the softer, paler tones are chosen for bedrooms and sitting rooms to achieve a relaxed and soothing setting.'
7. Go for a variety of soothing green tones
Green has been named one of the best colors to paint a living room by color experts, with its roots in the natural world often creating spaces that make us feel more calm, grounded and connected with the outside world.
Daniela Boleto, design director at Camomile London says, 'green combines beautifully with a whole spectrum of colors from bold and bright to soothing pastels. We love the pairing of green with cream for a timeless color scheme that can create so much depth and texture across two key colors. It is also beautiful with house plants to bring a sense of nature into your living space.'
Green living room ideas promise to renew your connection to nature, and the color green is said to evoke feelings of serenity, vibrancy and good fortune.
When decorating with green, you'll find the color available in a whole host of shades, it's easy to find decor and living room color ideas that will suit your look and give your scheme a seasonal lift.
8. Instill calm with a neutral color scheme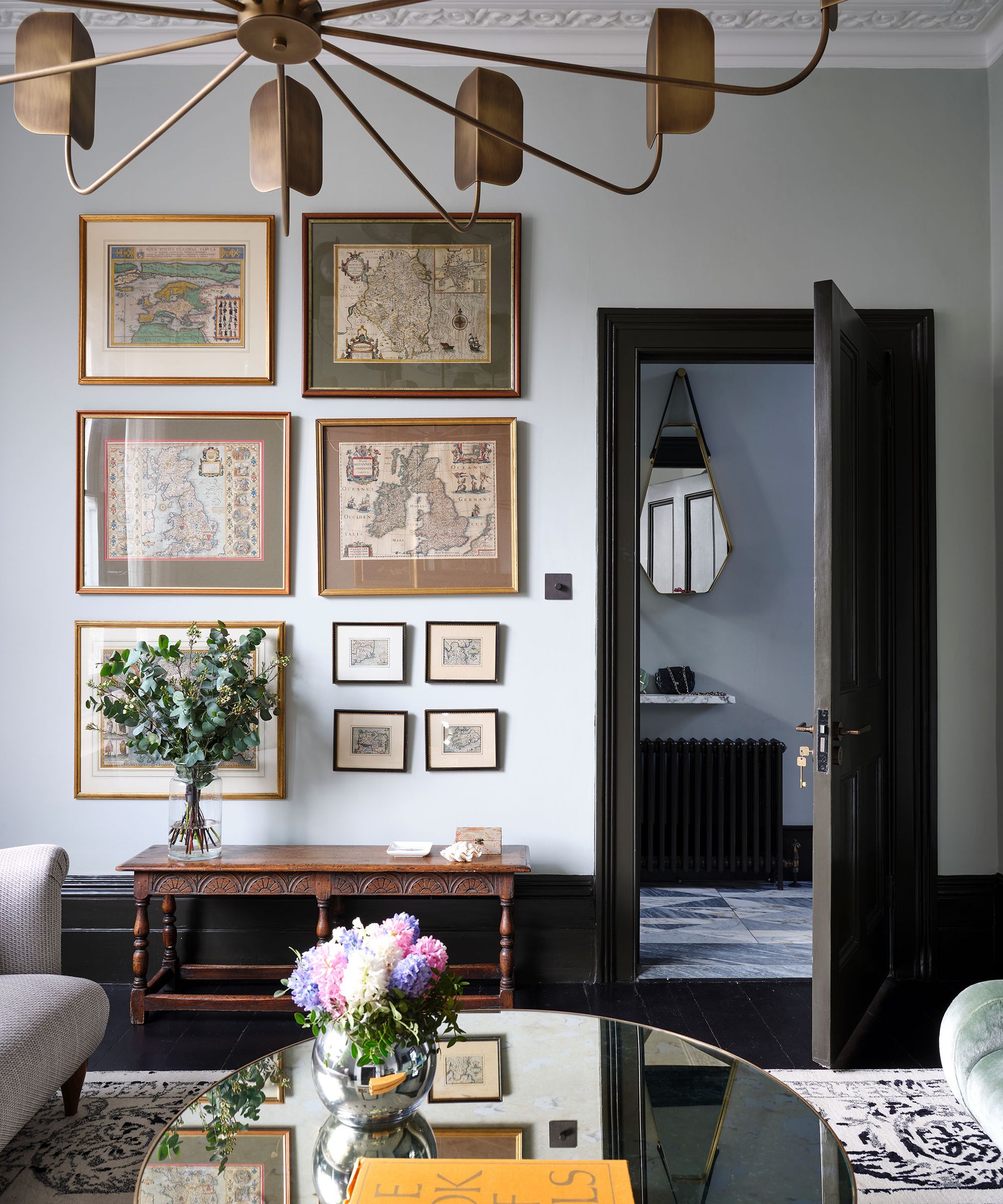 'I love the calmness that you create when you have a neutral living room palette in a room,' says interior designer Tamsin Johnson. But this choice definitely doesn't have to mean boring: you can create an interesting and exciting space by layering different tones, such as off-whites and beige, then introducing a range of caramels and even accents of black.'
'Natural textures, whether they are stone or wood or linen, can help to anchor a beige living room color scheme. It means that the overall look doesn't feel too contrived or uptight or overly designed. They bring a laid-back quality that always works well.'
9. Build up a layered color palette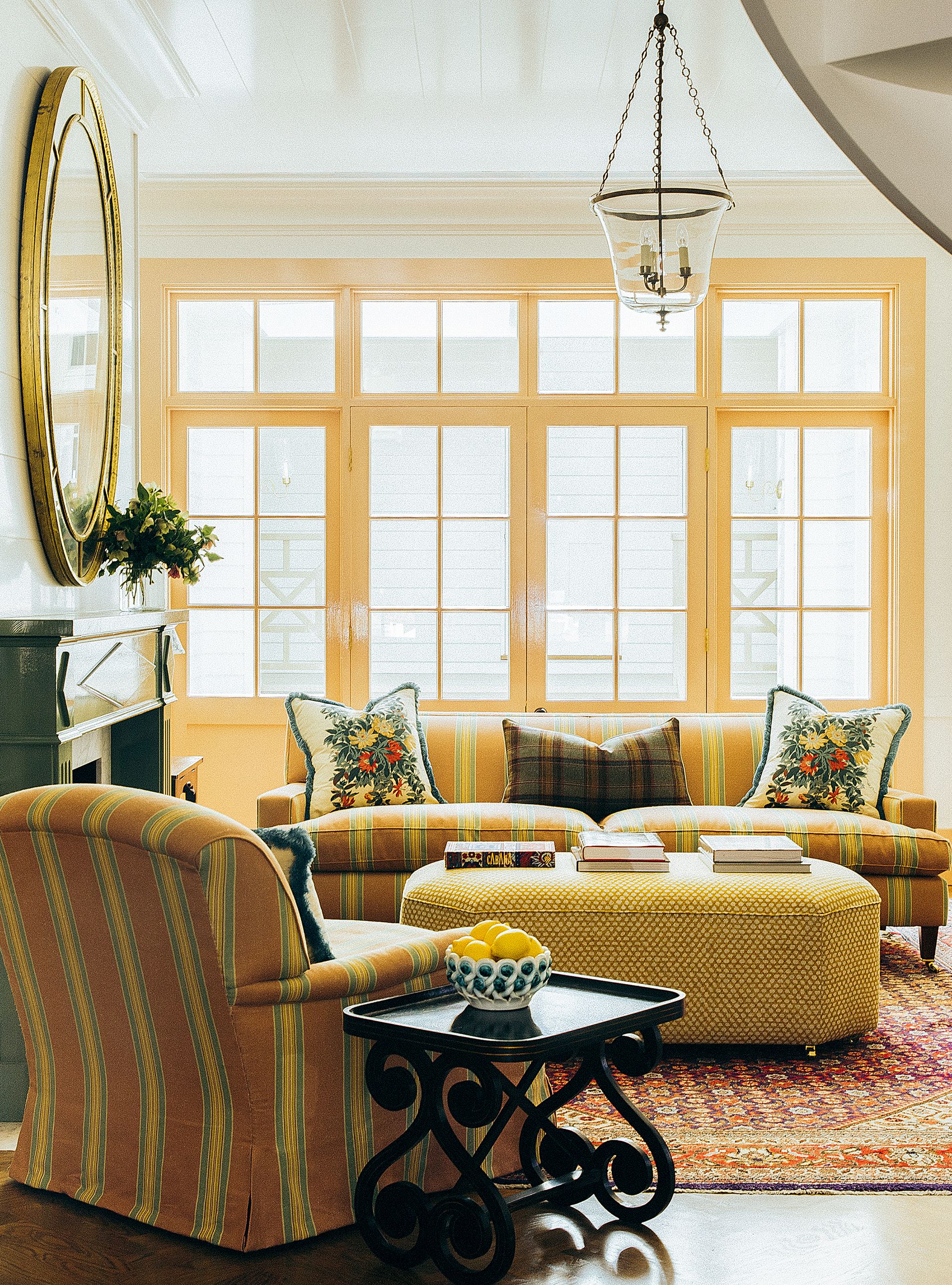 When you typically consider using paint ideas to create impact in a room, the first thought tends to be drenching the walls in a bright hue. While this is a tried and tested way of creating a statement, there are more delicate ways to achieve just as much of an impact.
In this yellow living room from interior designer Anna Spiro, a high-gloss white paint on the walls bounces around a light, making the surfaces nearly appear liquid with shine. Architectural details have been picked out in a beautiful deep yellow, adding not only color but an excellent grounding element. Furniture and accessories in similar but not quite matching tones create a warming spectrum of sunshine across the space.
10. Mix up colors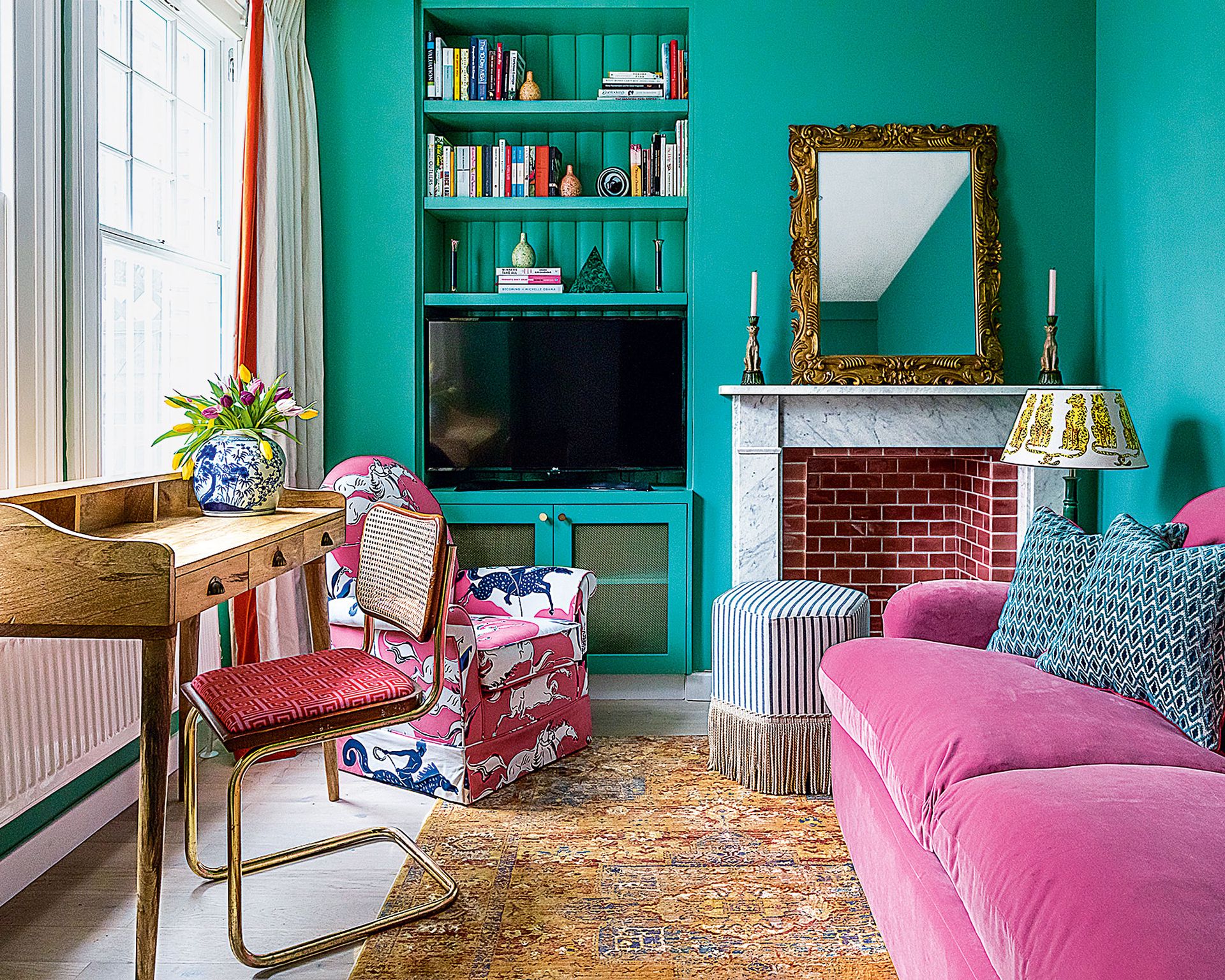 For a living room that sings with joy, try colorful living room ideas full of clashing combinations. This is a space for both socializing and retreat, so you want shades that both enliven and comfort you.
'Pink and green is one of my favorite color combinations – they play really well off each other and it's a great way to cheer up a room,' says Lucy Barlow, founder, Barlow & Barlow.
Balance is key when using a mix of colors. Integrating more neutral tones to offset your bold hues can help bring calm when you need to focus, but then you can turn around and be energized when it's time to switch off for the day and allow the room to return to its primary function.
11. Amplify with intense hues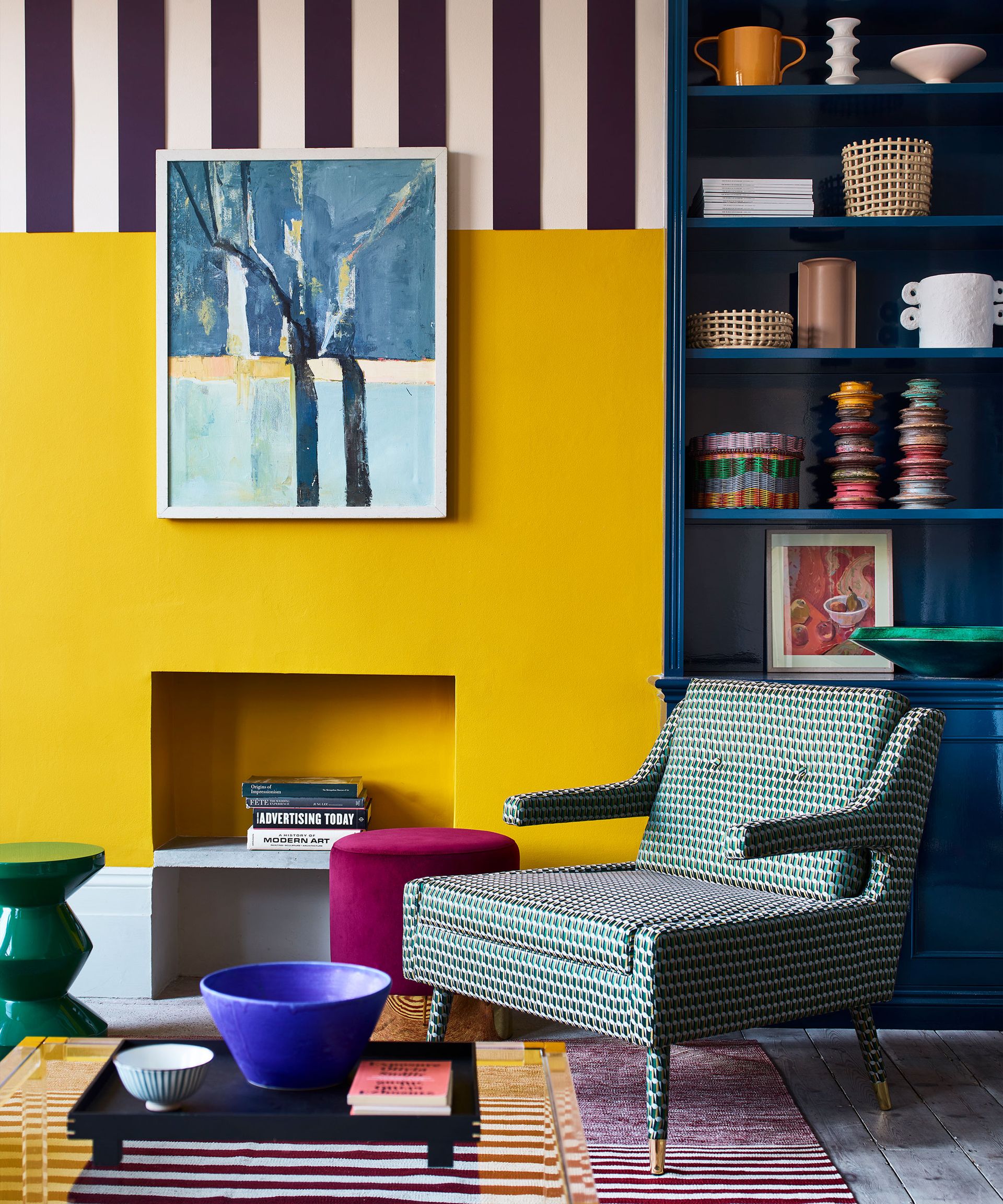 For a really bold look, combine a collection of bold, bright hues to establish a truly immersive and one-of-a-kind living room color scheme.
Clara Ewart from Kitesgrove says, 'don't be afraid to choose bright, bold hues in rooms that are regularly used for entertaining, the joyous burst of color will add to the ambiance and enjoyment of the space. Walls of bright color can also be broken up with artwork and mirrors to soften the impact of the hue.
Trusting your instinct is really important when working with color. You should surround yourself with colors you are drawn to and make you happy – just as you do with your wardrobe.'
12. Go for full color in a small space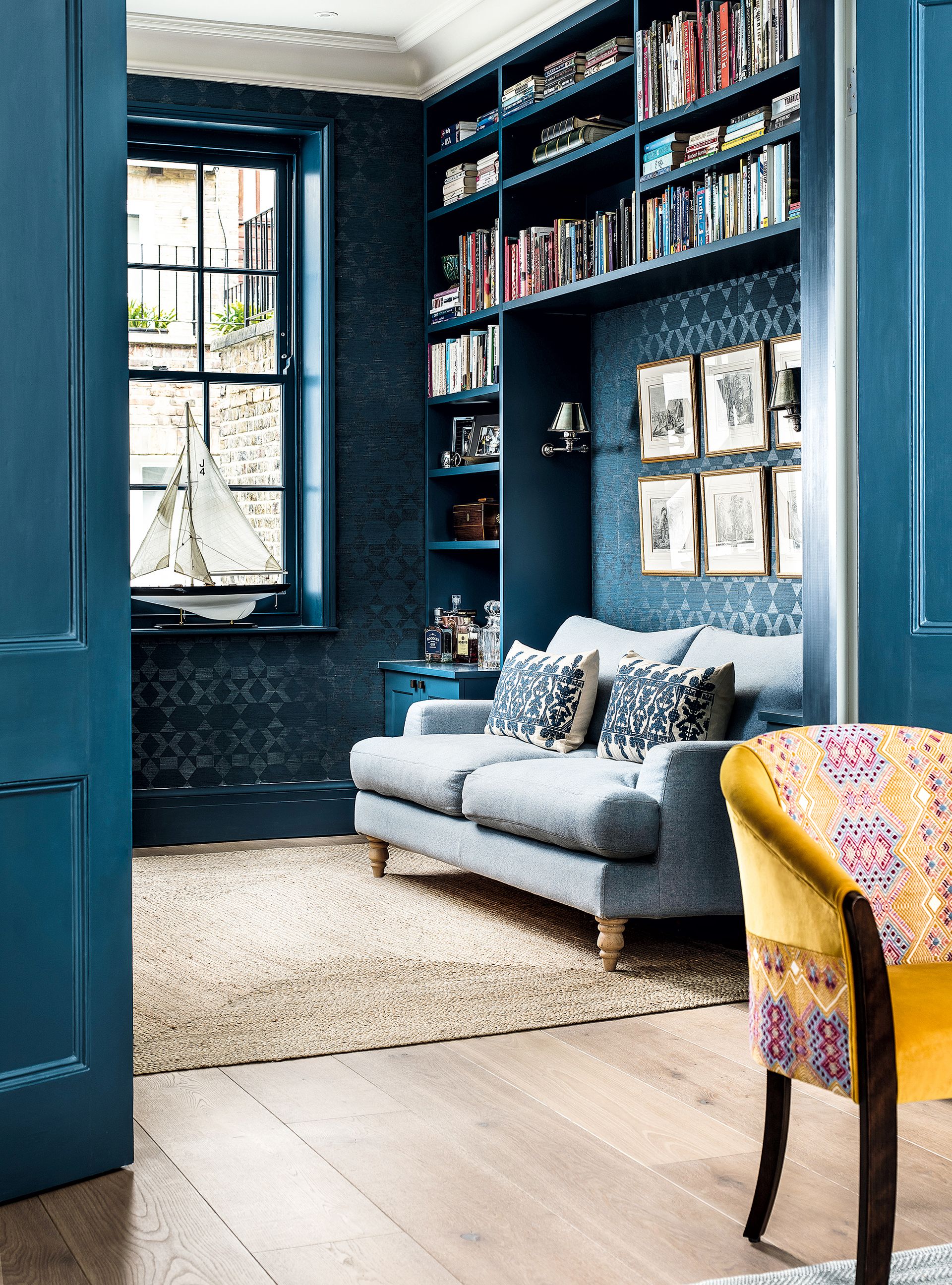 Sophisticated, tonal color schemes are great for adding interest and intrigue to a dark living room or small living room.
Often, we are advised to only use white paint for rooms that lack a presence of natural light or are of smaller size, but the way we use color in the home is rapidly changing, and there are so many other paint tricks and colors to use that can transform the look and feel of these spaces.
'I like painting a small living room in a dark color to make them feel cozy,' says interior designer Amelia McNeil, who designed this cozy corner shown above. 'I even painted the window and architrave in the same blue so that the Phillip Jeffries wallpaper could be the main focus.
13. Embrace the warmth of red
Contemplating red living room ideas? While the color might sound like a dramatic choice, it's actually a hue that's easy to live with. Its warmth, the ability to make the room feel cocooning, and its appearance under artificial light make it a wonderful choice for many living spaces.
One of the leading reasons why you might prefer a red living room is because of the color's heat, and in cold climate areas, it can create a sought-after atmosphere, perfect for cozy living room ideas.
14. Create a calming space with an earthy color scheme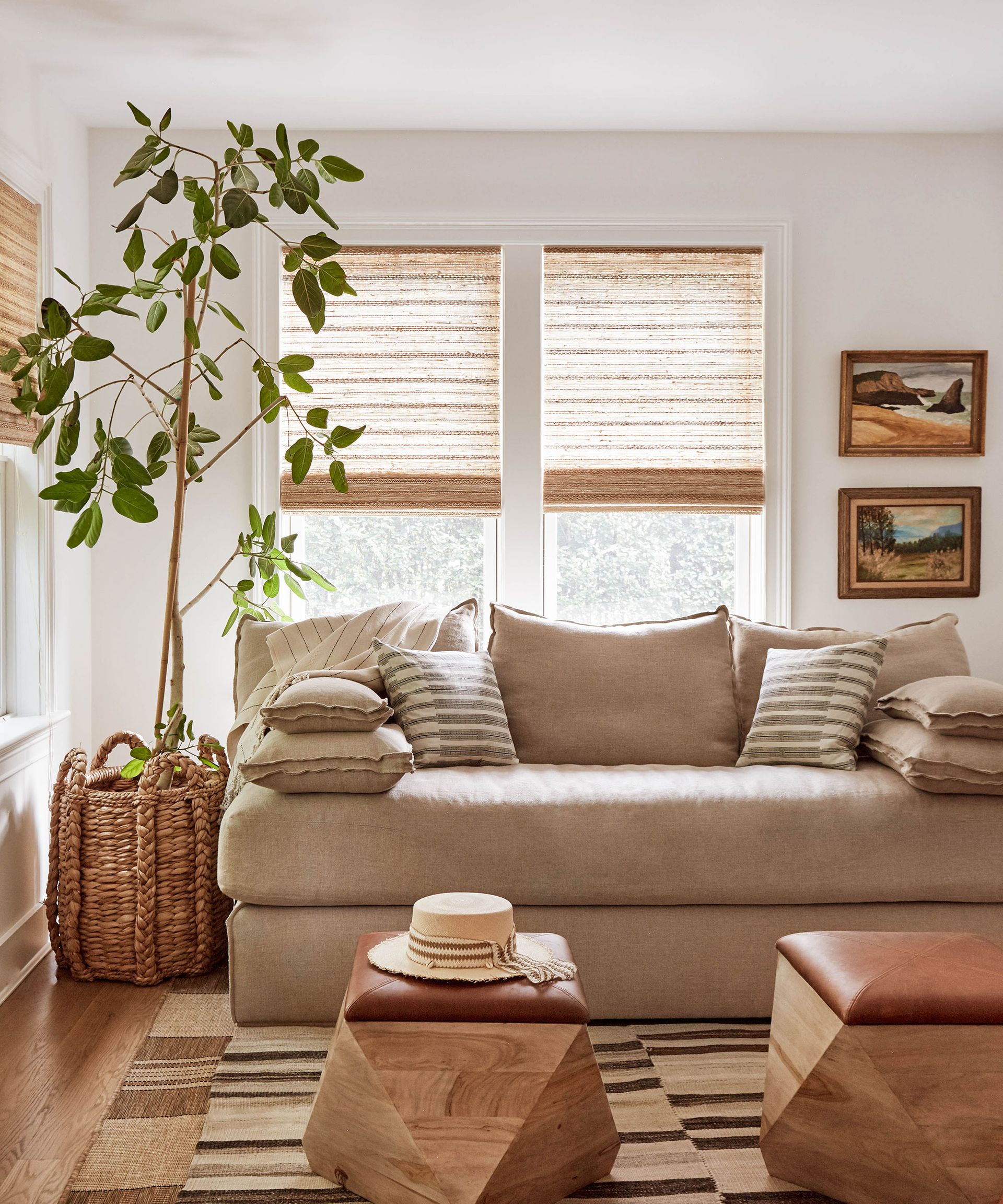 Reinvigorate your living room with a fresh and soothing color palette of limestone, lichen and sage. Choose a subtle shade of limestone for walls, then layer different but tonal shades of creams or greens on furnishings to create a restful scheme.
A patterned couch will add a punchy highlight to a neutral living room; layer it with cushions depicting foliage and forest scenery.
Finally, bring the garden indoors: mix plants and cacti with fresh spring blooms and accessorize with striking botanical prints, faux coral and crystal geodes for a scheme that is at one with nature.
15. Embrace a modern costal feel
Start with creating a blue scheme with tones taken straight from a sea view. The easiest way to create a space with a coastal feel is by adding cool shades of ocean blues. Then bring in an eye-catching, contrasting accent color, such as red, yellow, or purple.
A more contemporary take on classic coastal decor, the use of these accent colors will not only bring in an element of contrast but will also ensure the room won't feel too cold.
How do you choose the right living room colors?
Knowing which color combinations are guaranteed to look beautiful together and being able to select the best hues are not mysterious, secret arts – they are simple skills that we can all learn in just a few steps.
Always start off your room color ideas by building a complementary palette of timeless tones and classic shades, then add accent hues to create bold effects on a mood board. Think of it like cooking, with colors representing ingredients and flavors.
Explore living room paint ideas and collate images, swatches, fabric, and photographs to paint a picture of your desired scheme. This allows you to marry all of your finishes together to ensure all ideas work as one.
Once you've mastered the basics of the color wheel – a tool professional interior designers use to put together stunning schemes that never fail to impress.
What is the best color scheme for a living room?
'The best color scheme for a living room will always be a color that you simply love and want to look at all day, every day,' says Dominic Myland, CEO of Mylands.
'It is one of the rooms in your house that you're likely to spend the most time in, so deciding the final scheme shouldn't be rushed.
'Research living room pictures for inspiration, then paint large sample areas that will catch different light throughout the day and live with it for a few days or weeks before going ahead and painting the whole room.
'That way you can be sure that no matter what you go for, be it dark and moody, bright and light, or calm and sophisticated, you'll be making the right decision for your space.
'As a general guide, rooms with a cool North-facing light benefit from warmer colors, but rooms with warm South-facing light can take most colors.'
What are good living room color combinations?
Good living room color combinations can be achieved in various ways.
Contrasting colors – split contrast mixes of two closely related and one unrelated color, and for impact use the brightest tone as an accent in cushions or accessories. Ensure you choose colors of a similar depth for bold impact. Indigo blue always works well with sunny yellow, for example.
A monochromatic palette using different shades of the same color can also be effective. Try transferring these applications to door and wall panels, cornices and dado rails. Play with patterns too. Stripes, squares and spots are all eye-catching effects and adding coordinated wallpaper ideas build in texture.
A tonal scheme can be created by mixing different tones of the same color together for a multi-layered scheme with lots of depth. For example, use a dark navy blue, pretty cornflower blue, and rich royal blue in equal amounts for a balanced result. Or combine moody blues with fresh greens for an elegant scheme that channels colors found in the natural world – think of plants and water. Try zesty lime green with rich indigo blue for an up-to-date look.
A three-color scheme is a basic but effective approach; try combining no more than two or three colors in a scheme, focusing either on primary or secondary tones. To create eye-catching contrasts, study the color wheel and look at opposing shade combinations, such as canary yellow and grey, or electric blue and hot pink.
Neutral color blocking, combining monochromes and soft tones, such as black, white and gray is also effective, but be prepared to edit a scheme strictly for maximum effect. Accessories are also an important color-blocking tool – vibrant, block-colored living room seating ideas against a contrasting block panel will set off a scheme.
'Combining color is a perfect and affordable way to create an impressive design statement, achieved by applying a modest amount of color for maximum impact. It's an easy trend to assimilate but does require bravery.
'We all experience color differently from one another and each will have an energy that appeals. Work with your instincts. Assert your whims, and look at the clothes in your wardrobe for color inspiration,' advises interior designer Andrea Maflin.
How do you combine colors in a living room?
For anyone designing a living room, it's tempting to play it safe when it comes to injecting color. However, interiors that experiment with bold tones are often the most striking. The key is to do your research, and test contrasting palettes out before decorating and using color and fabric with confidence.
Color can have a profound effect on mood, and a bright scheme can uplift the senses as well as add depth to your interiors. Unexpected color combinations, such as blues and reds or oranges and pinks, can work well, but try to provide relief with some neutral touches, like white woodwork, or introduce patterns to break up the look and add texture.
Before decorating walls, try painting the inside of a shoebox with your preferred hue. That way, you'll see how the light falls into the corners too, which will give a truer representation of how the color will look in a room.
If you prefer to keep walls more neutral, a large living room rug is a great way to inject vibrancy, complemented by colorful accessories such as cushions and fabrics, whether a single throw or a brightly upholstered ottoman.
Consult a color wheel to find daring hues that will work well together. Remember that color changes with its surroundings. The tone is never quite the same depending on the surface material you choose.
The right paint finish will also transform the final look. Matt and eggshell produce a soft sheen, and gloss and oil are both shiny finishes that reflect light. Test paints first using sample pots to see how they will look before you decorate. Inspiration can be found in the latest trends.
What colors make a living room feel bigger?
When decorating small spaces, the colors that make areas feel larger are pale shades that reflect light. However, making a small living room feel bigger is slightly more nuanced than color scheming alone.
Lean towards off-white shades when working with neutrals, over stark whites: off-whites will deliver more character than a pure white, distracting the eye from the size and more towards to the color.
'Another trick is to carry the wall color onto all of your woodwork, avoiding all the horizontal framing and creating the illusion of more space,' advises brand ambassador at Farrow & Ball, Patrick O' Donnell.
'Finally, be aware of your ceiling color – most people default to a generic white, but if you choose an off-white that shares similar tones to your wall color, you will become less aware of where your wall height stops and the ceiling starts,' he says. This is also a great tip for apartment living room ideas that sometimes have lower ceilings.
'Traditionally, wisdom has been that rooms in bright tones of white or off-whites will give the best feeling space,' says Dominic Myland.
'However, we're increasingly seeing customers take much bolder steps with bright colors, such as yellow, which, when paired with contrasting trims, moldings, and ceilings in lighter colors, will trick the eye into thinking the walls are spaced further apart to make the room feel bigger.' You can even use paint to play with proportions when planning long living room ideas.
'White and neutral shades are always the go-to color as they make a room look bigger, airier, and more open,' explains David Harris, design director at Andrew Martin.
'However, for small space living, you can be more daring. Don't be afraid of dark and rich colors, like coffee or dark gray, or try teal or even orange for a braver burst of color. These hues bring richness, intimacy and extra depth whilst allowing you to show personality and flair.
'Layering deep rich colors with artwork also adds fantastic texture and interest.' Be sure to incorporate small living room lighting ideas into your scheme too, to make the most of your chosen color schemes.
Sign up to the Homes & Gardens newsletter
Decor Ideas. Project Inspiration. Expert Advice. Delivered to your inbox.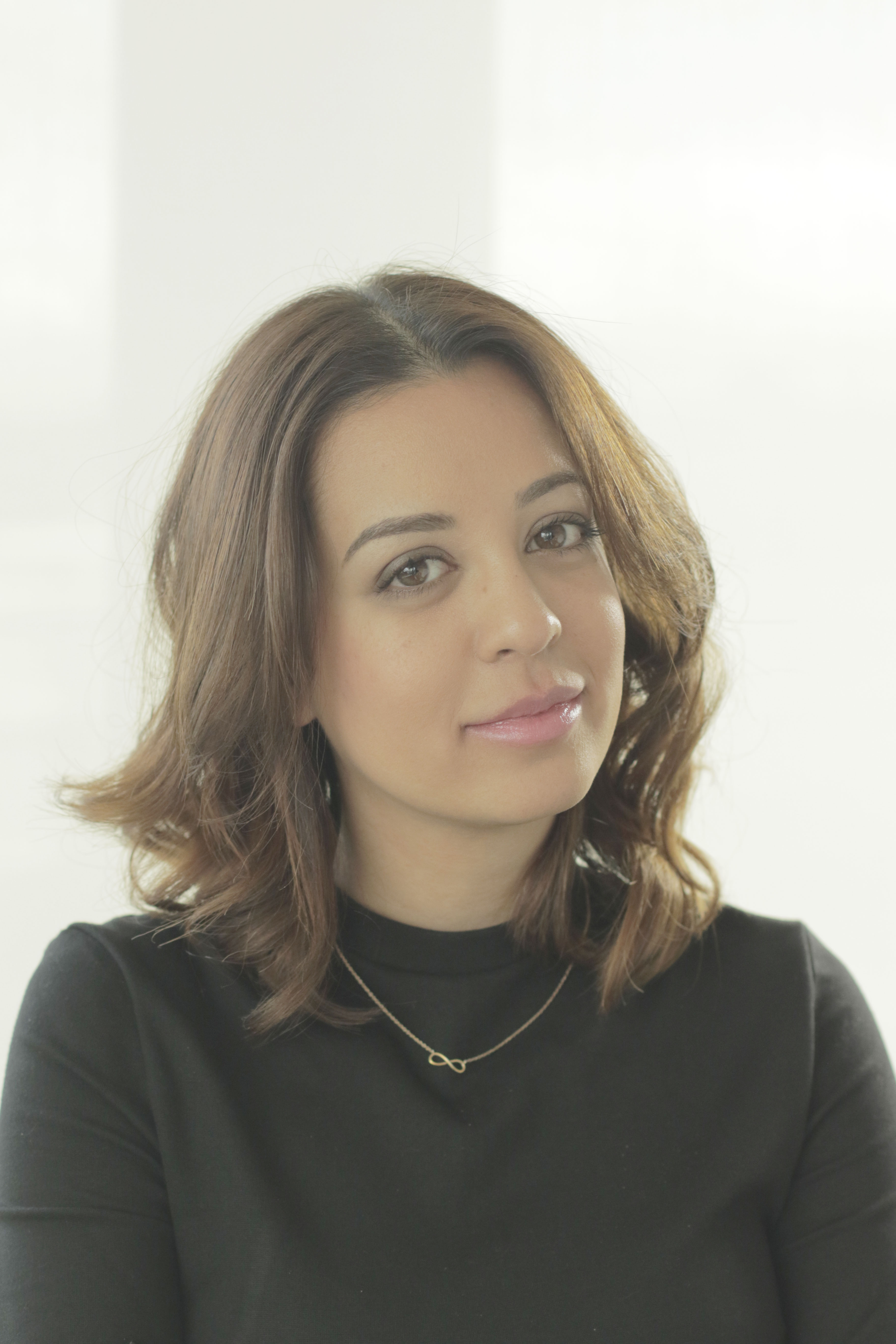 Jennifer is the Digital Editor at Homes & Gardens. Having worked in the interiors industry for a number of years, spanning many publications, she now hones her digital prowess on the 'best interiors website' in the world. Multi-skilled, Jennifer has worked in PR and marketing, and the occasional dabble in the social media, commercial and e-commerce space. Over the years, she has written about every area of the home, from compiling design houses from some of the best interior designers in the world to sourcing celebrity homes, reviewing appliances and even the odd news story or two.