Which is the best white paint? How to choose the right white
Are you struggling to find the best white paint for your home? Experts reveal their top tips to help you choose the perfect shade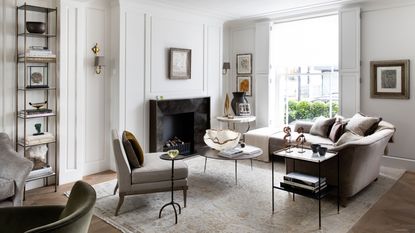 (Image credit: Future)
Sign up to the Homes & Gardens newsletter
Decor Ideas. Project Inspiration. Expert Advice. Delivered to your inbox.
Thank you for signing up to Homes & Gardens. You will receive a verification email shortly.
There was a problem. Please refresh the page and try again.
White may seem like the simplest of colors to decorate with, after all, it is the most popular color to use in the home, but it can actually be one of the most complex, as there are hundreds of different shades to choose from.
From whites with cool and warm undertones, to picking a shade that works with the light levels and the other colors present in the rest of the room, there is a range of different factors to consider before you start decorating with white.
So, we have spoken with a collection of paint experts who have shared their advice on how you can choose the best white paint for your white room ideas.
How to choose the best white paint
White is one of the most timeless and popular colors to use for paint ideas in interior design, and judging exactly the right shade that you need requires careful consideration, so our paint experts are on hand to help you with your journey to find the best white paint for your home.
1. Check your white against a pure white to judge its tones
Joa Studholme, color curator at Farrow & Ball shares her expertise on the nuances of sourcing the right white paint shade, with Farrow & Ball white paints in mind.
'Choose your white depending on whether you want a subtle, muted feel or a fresh, graphic scheme. The best way to "read" a white is by putting a pure white like magical All White behind it so you see the underlying color. It is impossible to judge the color bias without this contrast.
'White can indeed be dramatic if it is used in a very single-minded way on both walls and woodwork or if it is contrasted with a really dark tone like Railings. White full gloss on walls or ceilings creates a really strong statement that is right on trend.
'The cooler whites like Wevet, Blackened, and Strong White pack more of a punch than the warmer tones which are designed to soften spaces. Red- and yellow-based whites like Dimity and White Tie are always deemed to be gentler and pretty, so are often popular in bedrooms, while simple Pointing and Wimborne White never fail in kitchens, which most people want to be the lightest space in their house.'
2. Test your white paint against all light levels
'The wrong white can look stark, drab or can have undertones that simply don't work with your chosen wall color,' says Helen Shaw, UK director at Benjamin Moore. 'It's also important to understand how the appearance of colors tends to shift throughout the day with the changing tones in natural daylight, as well as with different artificial light sources.
White paint colors are especially prone to taking on different tonalities from morning to evening. Be sure to test your color before taking the plunge. Our US pint-size tester pots are deliberately large – it means you can paint a large area out on several walls (or on some lining paper) and check the color at different times of day, in different weather conditions and with your particular artificial lighting, too.
Choosing a warmer hue works particularly well in a dark shaded space, thanks to the pink undertones, especially when layered with natural colors and textures in throws, pillows and fabrics. In rooms with a lot of natural light, any underlying warm tones in white paint - like yellow, red, or brown - will be amplified to create a creating a soft, calming feel.'
3. Don't assume one white paint suits all your rooms
Marianne Shillingford, creative director at Dulux shares her expert advice; 'white is one of the most popular colors in the world and so it's no wonder there are so many to choose from. The simplest white of all is just called White and you can buy it at all DIY stores. If you want your simple white crisp and zingy, opt for Pure Brilliant White or Absolute White.
'The best advice on finding the perfect white is to remember that the same white will look different in other rooms and so you may have to choose more than one if you want white throughout your home.'
4. Check the room's orientation to judge its warmth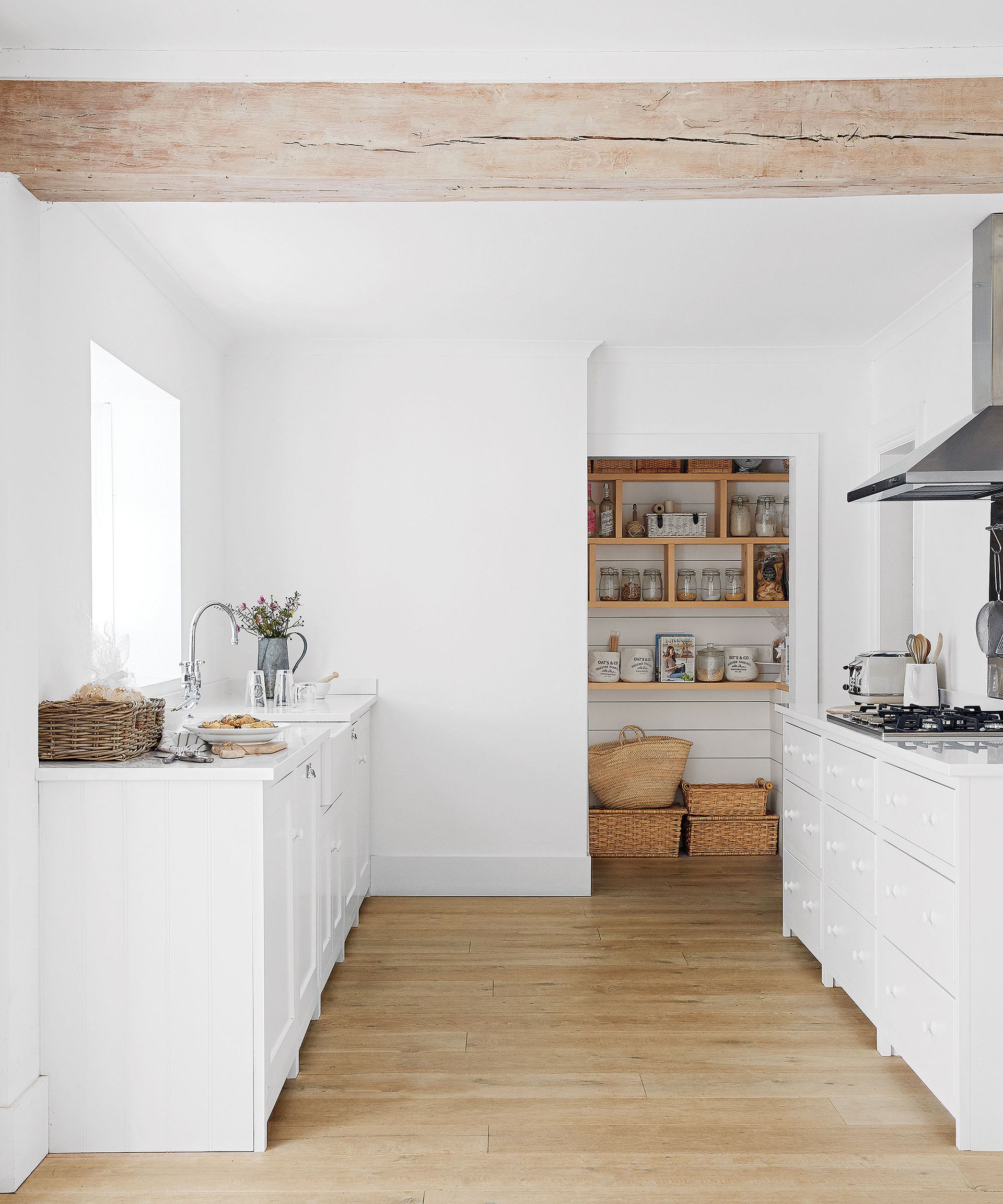 'There are no rules when it comes to white paint,' counters Jane Ryder, European marketing director at Valspar. 'White is an incredibly versatile color, perfect for any room – you can pair it with literally any other color for a fresh but striking aesthetic.
'When you think of white paint you probably think of a brilliant, bright shade, but the truth is there are so many different hues that you'll be spoilt for choice.
'For lighter, south-facing rooms, cooler white hues such as Fresh Beginning and Spring Respite are perfect to reflect the sunlit environment and enhance an airy feel. Alternatively, soft whites with hints of pink and gold like our shade Milk and Honey are brilliant for adding warmth, and depth and opening up smaller rooms, particularly in white bedrooms. For larger spaces, I'd recommend opting for a neutral white like Seven Sisters to help to lift the space without making it feel too sterile.'
5. Understand the importance of undertones
Ruth Mottershead, creative director at Little Greene advises, 'when selecting a white shade, firstly, consider the undertones within the color as this may not be immediately obvious and yet will have an impact on the overall finish.
A blue-based white will make a room feel brighter and cooler, a brown-based white or a white with a hint of yellow will bring warmth and coziness to a space, a green-based white will bring a fresh feel to a room and an off-white will provide a more subtle, muted tone.'
6. Take into consideration the other colors and materials in the space
Andy Greenhall, head of design at Paint & Paper Library says, 'always take into account other colors you will be using within the room and of course existing tones, you can then choose a complementary white.
For example, if you are looking for a warm scheme to sit in a room with existing pinks and dark woods then a white with a pink, and red oxide base will be most suitable. If the room has natural materials such as oak floors or sisal, then a warm white would be most appropriate. If a room has concrete floors, a warmer white also will ensure the room does not feel too harsh.'
Sue Wadden, director of color marketing at Sherwin-Williams also supports this and says, 'if your accessories are on the warm side of the spectrum, choose a white with warm undertones like creamy buttery or beige shades.
'White paints also work well with other neutrals. Cool whites have blue or gray overtones and pair well with shades like blue, gray and violet. Pure whites have little to no undertones meaning they can work well with all colors but are usually reserved for trims, doors, shelves and other architectural elements.'
Shop our picks of the best white paint below
7.
Sherwin Williams Pure White SW 7005
One of the most popular white paints to use in the home, Sherwin Williams' Pure White is a bright white that has a subtle yellow undertone.
8.
Wevet by Farrow & Ball is a versatile white shade with delicate hints of gray, establishing a barely-there effect that can work in rooms across the home.
9.
Benjamin Moore White Dove OC-17
A classic, soft white, Benjamin Moore's White Dove is a great choice for use on moldings and trims, creating a fresh and luminous effect.
10.
Valspar Tidy White L17EW35A
A cool white with soft gray undertones, Tidy White can create a crisp and clean white painted finish.
11.
A sophisticated and warming off-white, Flint by Little Greene is an adaptable shade that can easily combine with a whole host of other colors.
12.
Paint & Paper Library Stone 201
Stone by Paint & Paper Library is part of their Architectural Collection of colors, inspired by historical, traditional and contemporary interiors for a timeless finish.
What kind of white should I paint my walls?
To decide what kind of white you should paint your walls, first you need to ask yourself the following questions:
How do I want the room to feel? Cool and modern, you might choose a blue-toned white; warm and cozy and you'll pick one with yellow tones.
What type of light does my room get from the sun? North- and east-facing rooms get cool light; south- and west-facing rooms get warm light. The white paint you choose can help warm or cool down the room further.
What are my accent colors? If yours are warm, pick a warm white; if they're cool, choose a cool white.
The best white paint for walls depends very much on how much natural light your room gets, the tone of the natural light (warm or cool), and the other colors you will be introducing into the room.
It also depends on the effect you want to create when you paint a wall, for example, warm whites will make a space feel cozier than cooler whites which look more formal.
If in doubt, pick a Pure White, such as the shade by Sherwin Williams; or a shade such as White Dove by Benjamin Moore, which is a warm white that suits both cool and warm daylight.
Sign up to the Homes & Gardens newsletter
Decor Ideas. Project Inspiration. Expert Advice. Delivered to your inbox.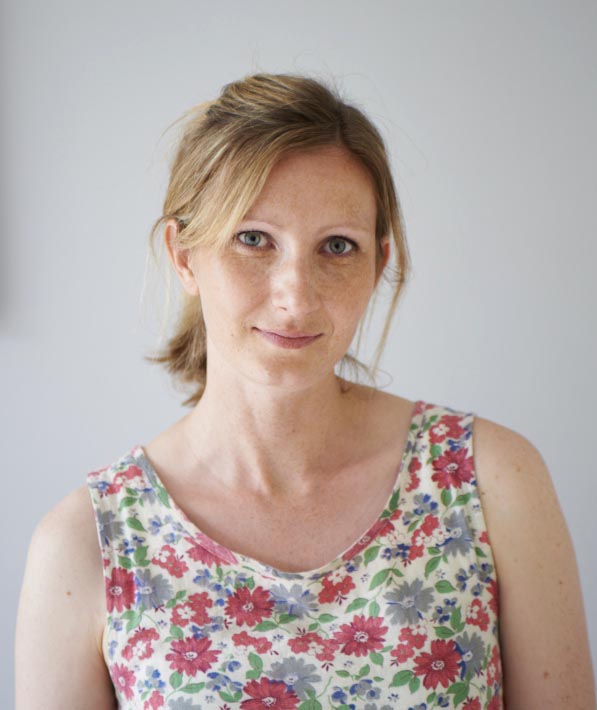 Sophie has been an interior stylist and journalist for over 20 years and has worked for many of the main interior magazines during that time, both in-house and as a freelancer. On the side, as well as being the News Editor for indie magazine, 91, she trained to be a florist in 2019 and launched The Prettiest Posy where she curates beautiful flowers for modern weddings and events. For H&G, she writes features about interior design – and is known for having an eye for a beautiful room.