Best coffee makers 2022: tested by the experts
Find the best coffee maker for your home for espresso, easy drip coffee and gourmet pours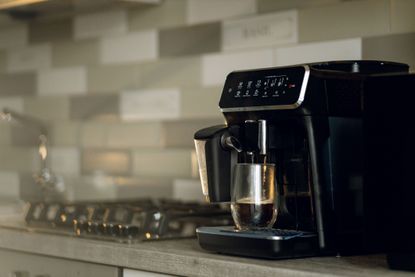 (Image credit: Getty/ Nazar Rybak)
For some, the best coffee maker is just the way to a caffeinated morning. However, those who are fussier about their espresso or americano will be willing to sacrifice a bit more time for something that can achieve a smooth, Italian-style crema. We find that these coffee makers will require a bit more maintenance, but they can make a great morning ritual that offers an easy way to indulge at any time of the day.
Depending on how you like to prepare your coffee, from barista-quality espresso machines to unfussy drip coffee makers that deliver great-tasting coffee fast, we've evaluated the best coffee makers across a variety of types. Our clever price widgets constantly update to serve you the best price, and for the holiday season, most of our favorite models are on sale.
We have been careful to feature machines of all shapes, sizes, and prices, but if you know exactly what type of coffee machine you're looking for, we also have more curated guides for the best drip coffee makers, best espresso machines, best single-serve coffee makers, and other expert coffee makers, complete with hands-on reviews.
Best coffee makers holiday deals
Why you can trust Homes & Gardens Our expert reviewers spend hours testing and comparing products and services so you can choose the best for you. Find out more about how we test.
(opens in new tab)
Philips 3200 Series Fully Automatic Espresso Machine with LatteGo was $999.99, now $775.00 at Amazon (opens in new tab)
Save on our favorite espresso machine. It achieved a perfect 100% score in my expert test thanks to a wide range of features. It grinds fresh beans, froths directly into your mug, and brews delicious espresso, lattes, macchiatos, americanos, and coffee at the press of a button.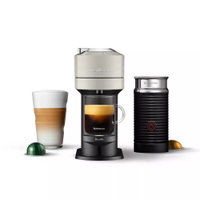 (opens in new tab)
Nespresso Vertuo Next Coffee and Espresso Machine by Breville with Aeroccino Milk Frother | was $219.99, now $172.46 at Target (opens in new tab)
The exact same model as above, but in an incredible value bundle deal with an Aeroccino Milk Frother thrown in. This effective frother makes it easy to make lattes and cappuccinos at home - and it's great with alternative oat and coconut milks, too.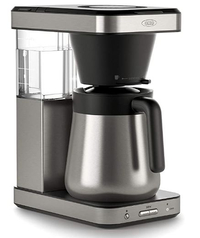 (opens in new tab)
OXO Brew 8 Cup Coffee Maker | was $199.95, now $159.95 at Amazon (opens in new tab)
Our favorite drip coffee maker under $200 is now an even better bargain. I think it makes one the best mugs of drip coffee in the world, and it has a perfect 100% score.
The best coffee makers of 2022
Our favorite espresso machine for one-touch beverages
Specifications
Coffee type: Espresso, Coffee, Hot Water, Cappuccino, Latte and Americanox
Dimensions: 9.6"W x 17"D x 14.6"H
Pressure: 15 bar
Warranty: 2- years
RRP: $799.99
Reasons to buy
+
Easy to clean
+
Fully automatic
+
Adjustable settings and cup size
+
Brilliant milk frother
The Philips 3200 Series LatteGo makes any type of coffee you could wish for, with just the touch of a button. It has an in-built milk dispenser that takes the effort out of making your own latte or cappuccino, and the bean-to-cup design means you'll end up with the perfect dose of fresh ground coffee every time.
It's truly luxurious, with the ability to make coffee shop-worthy brews without any real effort on your part. We loved the LatteGo milk frothing system, which has markings to show you how much milk to add for different types of coffee. This cuts down on waste, and you can put it through the dishwasher to keep it perfectly clean.
It's modern without being garish, and while no bean-to-cup machine is small, this one is easy enough to store. It sits perfectly under cabinets with some extra clearance that makes it easy to top up on coffee beans.
You can change the temperature, strength, and quantity of your drinks using the smart touchscreen control panel. Pre-heat is needed, but it doesn't take too long and the machine flushes any water that may have been sitting in the system overnight before doing a brew.
Our Philips 3200 Series Fully Automatic Espresso Machine review has more information
The best coffee maker with tons of programming options
Specifications
Coffee type: Drip coffee
Dimensions: 12.4" x 6.7" x 15.7"
Cups: 12
Warranty: 2 years
RRP: $329
Reasons to buy
+
Beautiful design and slim shape
+
6 preset brewing modes
+
2 filter baskets
+
Temperature control
+
3 flow rates
+
LCD screen
+
Stainless steel carafe
Reasons to avoid
-
Water tank is not removable
True coffee lovers who want to experiment with their coffee will have their routines transformed with Breville's Precision Thermal Brewer. The coffee maker has six pre-set brewing modes, including Strong, Gold (meets SCA requirements for a Golden Cup Standard), Fast, Over Ice, and Cold Brew, but the real magic is you can even customize (and save) settings for temperature, bloom speed, and flow rate.
Everything is precisely down to your desired specifications, and it's easy to operate with the LCD screen and control dial. It's programmable too, so you can set it to start brewing before you wake up.
The machine itself is made with quality stainless steel parts for added durability. It uses a Thermo Coil Heating System that delivers water that is purer than typical brewing systems that use aluminum.
In addition, the thermal carafe keeps the coffee hot for a longer time. Depending on the amount of coffee you choose to brew (up to 12 cups), there are also two filter baskets: a cone-shape and a flat-bottom filter, which is recommended to use when brewing more than 8 cups.
Our Breville Precision Brewer Thermal Coffee Maker review has more information
3. OXO 8 Cup Coffee Maker
Best drip coffee maker under $200
Specifications
Coffee Type: Drip
Dimensions: 13.5" x 10.5" x 7"
Cups: 8
Warranty: 2 years
RRP: $199.95
Reasons to buy
+
Brew a single cup or a full carafe
+
BetterBrew precision brewing meets SCA Golden Cup Standard requirements
+
Space efficient
Reasons to avoid
-
The water tank isn't removable
-
Not programmable
With its 8-cup coffee maker, OXO forgoes complicated settings, and instead focuses solely on the coffee. It still is one of a handful of home coffee makers that meet the Specialty Coffee Association's Golden Cup Standard and can brew a whole pot in less than six minutes.
Brewing is extraordinarily simple, just indicate brew size and power on, and you'll have one of the best cups of drip coffee you've ever tasted. And if you want just a single cup, OXO incorporates an attachment that makes it simple to make single-serve coffee without pods. OXO's BetterBrew precision brewing system does all the magic, with automatic controls for water temperature, volume, and brewing time, all of which contributed to its Golden Cup Standard rating Finally, a rainmaker showerhead evenly distributes water over the grounds.
Once brewing is complete, OXO nixes the hot plate for a leak-proof double-wall, vacuum-insulated thermal carafe that keeps your coffee's temperature for hours.
Best coffee maker for coffee purists and design aficionados
Specifications
Coffee type: Drip coffee
Dimensions: 6.5 x 12.75 x 14 inches
No. of cups: 10
Warranty: 5 years
RRP: $349
Reasons to buy
+
Very quiet
+
Built to last, with a long warranty
+
Easy to use
+
Brews very fast
Reasons to avoid
-
Lacking in extra features
-
Simple design for an expensive machine
The Dutch-made Technivorm Moccamaster KBGV Select is the best coffee maker for true coffee lovers. What it lacks in a multitude of extra features, it more-than makes up for with smooth and speedy brewing, and a quality design that is backed by a five year warranty.
This coffee maker is certainly easy on the eyes, with a large and striking build that puts function first. It's available in a selection of colors though, so you will be able to fit it into any kitchen design you wish. You'll find this coffee maker in our guide to the best drip coffee makers, where we noted that it's as close as you'll get to a pour-over coffee from a home machine.
The Moccamaster has a cone-shaped coffee filter to allow a full flavor profile to develop when you brew. It has a shower-style pour-over design that automatically works, and takes only a minute to come to the right temperature. This uses copper brewing technology to reach 196°F - 205°F, the ideal temperature range for the full extraction of ground coffee. We found that the entire process took around four minutes, and was whisper-quiet throughout.
Our Technivorm Moccamaster KBGV Select review has more details
Best single-serve coffee maker
Specifications
Coffee type: Single-serve
Dimensions: 16.97in. x 5.5in. x 12.52in.
Brew sizes: 5oz, 8oz, and 14oz
Warranty: 1- year
RRP: 189.99
Reasons to buy
+
Smallest Nespresso maker yet
+
Made with sustainable materials
+
Can brew five different cup sizes, plus an 18 oz. carafe
+
Can be purchased with or without milk frother
+
Many color options
Reasons to avoid
-
Pods create waste
-
Smaller pod capacity
For when you quickly want the perfect cup of espresso or coffee for one, without the fuss, and at the touch of a button, Nespresso is the way to go. With 16 standard coffee blends and dozens of specialty recipes, plus the countless third-party pods now available, Nespresso remains one of the best pod coffee brands, and Nespresso's latest iteration of its Vertuo line is slimmer and has more options than ever. That's why it takes the top spot in our best single-serve coffee makers guide.
The 37oz. water tank capacity is enough to get you through a few espressos before having to refill, but the pod capacity is 8, which is less than most Vertuo models. Unlike other Nespresso models, the Next can also brew an 18oz. carafe for when one cup isn't enough, as well as the standard 5oz., 8oz., and 14oz. options and single and double espresso shots.
The magic of the Vertuo system and its one-touch brewing technology is how the machine is able to scan a capsule-specific barcode to deliver the optimal in-cup, taking into account cup size, pressure, brewing time, and temperature. Rather than utilizing bar pump pressure, the Nespresso Vertuo uses a Centrifusion brewing system to extract its flavor. Together, this technology helps develop a perfect, silky crema.
Our Nespresso Vertuo Next review has more details
Most versatile coffee maker
Specifications
Coffee type: Espresso, drip
Dimensions: 17.5in x 14in x 12.25in
Pressure: 15 bar
Warranty: 1- year
RRP: $299.95
Reasons to buy
+
Variety of coffee and espresso options
+
Run both drip coffee and espresso maker at the same time
+
Superb value
+
24-hour programmable timer
Reasons to avoid
-
Wider than a standard coffee machine
If you're the type of person who loves a cappuccino over breakfast, filter coffee during the day, and an espresso mid-afternoon to keep you awake, the DeLonghi All in One Combination Coffee Maker is your perfect machine.
It comes with attachments that allow you to brew up to 10 cups of filter coffee, as well as a portafilter for single and double shots of espresso. Even better, you can accomplish both at the same time. Recent additions to the latest edition include a digital touchscreen control, a Bold brew setting, an updated front-loading water tank, and a spillproof glass carafe.
The De'Longhi All in One Combination Coffee Maker conveniently replaces the need for you to invest in both an espresso maker with an advanced milk frothing steam wand and a drip coffee machine, though it is particularly wider on your countertop than a typical drip coffee maker to accommodate for the dual settings.
Our De'Longhi All-in-One Combination Coffee Maker and Espresso Machine review has more information
An automatic espresso maker that promises a transformative experience
Specifications
Coffee type: Super-Automatic Espresso
Dimensions: W11" x H13.6" x L16.5"
Pressure: 15 bar
Warranty: 2-years
RRP: $1,899
Reasons to buy
+
Quiet grinding
+
Fully adjustable settings
+
Sensitive to different water hardness
+
Works with grounds or beans
+
Removable water container
Reasons to avoid
-
Awkward power button placement at the back of the machine
-
Small bean container
-
Milk dispenser costs extra
The Jura ENA 8 brings coffee consumption to a whole other level. The fully-automatic machine can whip up 10 coffee beverages at the press of a button and has a sleek, sophisticated design with a full-color LCD display screen that only adds to its premium nature.
'Never sour, never bitter, always quietly ground and luxuriously poured into my mug,' is how our Head of Reviews Millie described her overall experience with this premium machine.
The ENA 8 has a slightly smaller footprint than other Jura machines, making it more friendly for home use without compromising on any features. It can hold up to 37 oz. of water, and 4.4 oz of beans. Once you select your drink, the coffee quietly grinds before brewing. The milk frother feature incorporates a tube design that can be dipped into a glass of milk or a Jura milk jug (sold separately) that then froths directly into your mug. Depending on your chosen drink, the milk froths either before or after the espresso. It's all very fool-proof while creating amazing-tasting coffee.
Our full Jura ENA 8 review goes into more detail.
Best looking espresso machine
Specifications
Coffee type: Espresso
Dimensions: 7.09" W x 16.1" D x 12.48" H
Pressure: 20 bar
Warranty: 1-year
RRP: $729
Reasons to buy
+
Stylish design
+
Very powerful
+
Precise built-in grinding
+
Five beverage choices
+
App-compatible
Reasons to avoid
-
Can only adjust temperature via app
-
Only backed by a one-year warranty
The Café Affetto Automatic Espresso Machine achieves barista brilliance with a chic and relatively compact frame that's perfect for brewing single-serve espresso-based drinks. It's a treat to look at, with white, black or silver finishes and those bold rose gold accents that bring a uniquely modern take to the traditional espresso machine.
With a built-in grinder, the Café Affetto Automatic Espresso Machine has five different settings to allow you to adjust based on the specific beans. Note that espresso should be made with much more finely ground beans than pour-over coffee, so limiting you to five settings makes sense for the range of ground sizes you could need to make espresso in this machine.
The controls are simply laid out on the top of the machine, with a pre-set mode for espresso, americano, steam, and hot water, as well as a custom 'my cup' setting that can be set up in the paired app.
Our Café Affetto Automatic Espresso Machine review has more details
9. Espro P7 French Press
Best French Press
Specifications
Type: French Press
Size: 18 oz., 32 oz.
Warranty:
RRP: $119.95- $149.95
Reasons to buy
+
Makes a killer cold brew
+
No risk of broken glass
+
Easy to use
+
Insulated design keeps coffee hot
+
Double filter minimizes graininess
Reasons to avoid
-
Tight seal makes it more difficult to pull plunger out
-
Pricier than alternatives
For those all about exploring craft brewing methods, the Espro P7 makes a delicious cup of coffee and is truly one of the most luxurious French Presses you can buy.
How so? Well, with expert attention to detail, ESPRO's unique brewing system uses a two-stage filter with an extra tight seal that will leave you with a smooth sipping experience, you may have thought you're drinking pour-over.
The durable stainless steel body is shatterproof and can also keep beverages hot for longer periods of time, compared to glass. The brewing vessel is hefty, yet sturdy, with a handle that is comfortable to pour from, and a spout that doesn't dribble.
10. Chemex Eight Cup Classic Pour-Over Glass Coffee Maker
Best Pour-Over Coffee Maker
Specifications
Type: Pour Over
Size: 40 oz.
RRP: $41.99
Reasons to buy
+
Creates ultra smooth coffee
+
Easy to use and clean
+
Carafe can be refrigerated and reheated without altering flavor of coffee
Reasons to avoid
-
Must use Chemex filters, which aren't readily available at retail stores
Chemex by far is a fan favorite within the industry when it comes to the best pour-over brewing methods. It's available in a number of sizes, so whether you want to brew a single cup or a few, the Chemex can accommodate, and it makes a pretty presentation when serving.
The design is un-fussy and straightforward. Chemex uses non-porous Borosilicate glass, claiming that this will not retain odors or chemicals from your coffee. Meanwhile, the wooden cuff is comfortable to hold and doesn't get hot. It's also stylish. Our only critique of Chemex is that in order to get the best experience, you'll want to stock up on their filters, which aren't as readily available in supermarkets as standard designs.
---
Where to buy the best coffee maker?
How we selected the best coffee makers
We put a lot of thought into how we test the best coffee makers before featuring them in our guide and have included a range of coffee makers from top brands like Breville, Nespresso and Technivorm to make sure that there is a coffee maker for everyone in our roundup.
Each and every one of the best coffee makers in our guide has been tested by a member of the Homes & Gardens team. You can also click through to read more thorough reviews of coffee makers, including how easy they are to set up, our thoughts on the user experience, and that all-important cleaning process.