Best French press coffee makers 2023 for delicious, full-bodied coffee
Authentic and inexpensive, a cafetière from Espro, Bodum and Le Creuset will deliver flavorful cups of coffee each and every morning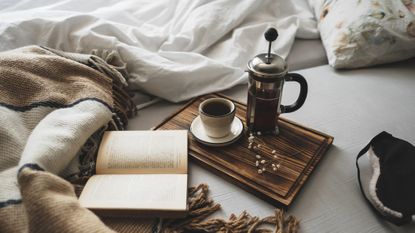 (Image credit: Getty)
You can't beat a French press, also known as a cafetière or coffee press, for rich and full-bodied coffee in the morning. With a lightweight design that won't take up any extra space on your kitchen counters, the only power you need to operate a French press is a bit of muscle.
This style of brewing has been popular for around a hundred years, but French presses never go out of style. Because the best coffee makers will need to be plugged into a power socket to make your morning brew, they won't be the most suitable choice for those who want to make coffee as they travel, or who simply don't need another wire cluttering their counters.
Lovers of strong, rich coffee will find that a French press is a perfect choice for them. By opting for immersion brewing over the infusion method used in pour-over coffee lovers, you'll end up with an unimpeded flavor and a say in how long your grounds bloom and steep, giving you complete control.
The best French press coffee makers 2022
You can trust Homes & Gardens. Our expert reviewers spend hours testing and comparing the latest products, helping you choose the best for you. Find out more about how we test.
Espro P7 French Press
Best luxe French press option for smooth, bold coffee
Specifications
Size: 18 oz., 32 oz.
Material: Stainless Steel
Filter: Double Filter
Dishwasher Safe: Yes
RRP: $119.95- $149.95/ £109.90 – £129.90
Reasons to buy
+
Makes a killer cold brew
+
No risk of broken glass
+
Easy to use
+
Insulated design keeps coffee hot
+
Double filter minimizes graininess
Reasons to avoid
-
Tight seal makes it more difficult to pull plunger out
-
Pricier than alternatives
For all you coffee aficionados out there, the Espro P7 won't disappoint. Consistently brewing up the perfect cup of coffee, it is the ultimate splurge and one you won't regret.
Thoughtfully designed with a two-stage filter and extra tight seal, the Espro P7 French press makes an exceptionally tasty cup of coffee. Available in 18 and 32 ounces, your morning routine will appreciate this upgrade!
Shatter-resistant material
The durable stainless steel body won't break if dropped, making the Espro P7 French press an awesome traveling companion and perfect for those with kids. Stainless steel is also known to keep beverages hot for long periods of time. If you're used to reheating your coffee twelve times a day (guilty) this may be the solution you've been looking for.
Double filtered
I'm sure there are people out there who don't mind a mouthful of coffee grounds, but I am not one of them. With its signature double filtration system, Espro promises a smooth cup of coffee every time. The double lip seal does a great job keeping grittiness at bay.
Easy to clean
Is there a single person who enjoys cleaning their coffee maker? Not that I'm aware of, and that's why this is worth mentioning. The Espro is super simple to clean, dishwasher safe, and the seal doesn't loosen with washes.
2. Bodum Chambord French Press
A French press worth raving about
Specifications
Size: 12 oz. 17 oz., 34 oz., 51 oz.
Material: Stainless Steel and glass
Filter: Double Filter
Dishwasher Safe: Yes
RRP: $20-$55 / £18-£50
Reasons to buy
+
Contemporary design
+
Easy to use
+
Double filter minimizes graininess
Reasons to avoid
-
Glass is thin and doesn't retain heat well
The Bodum Chambord French press takes the cake for the 'Most Beautiful' coffee maker, and in my opinion, is beautiful enough for a permanent place on your countertops. Aesthetically, it's almost too pretty to use. Scratch that – please use it, because it makes delish coffee. Dating back to the early 1900s, Bodum is a founding father in the coffee world. Still going strong, their coffee makers and accessories are truly one of a kind. Perfect for a gift or to treat yourself, this is one of my favorites!
Classic design
Don't let the intricate design fool you, this French press is actually quite simple to use. Comprised of a glass carafe that sits snug in a stainless steel frame, it is less likely to break than most glass counterparts. Sleek and thoughtfully designed, I think the Bodum Chambord is worthy of permanent counter space!
Notably flavorful coffee
French press-style coffee is consistently more flavorful than other brews. The Bodum, however, produces an unrivaled rich and silky cup. The instructions specify the user uses coarsely ground beans, and perhaps that is the difference. Finely ground beans produce less flavor, and oftentimes make their way through the filter.
Environmentally friendly
I don't plan on attending the UN Climate Change Summit anytime soon, but if there's an opportunity to go green, why not take it? Bodum as a brand utilizes entirely natural products. They incorporate glass, steel, wood and bamboo into their beautiful pieces, and they're all ethically sourced.
3. Fellow Clara French Press
A French press that improves upon the craft coffee experience
Specifications
Size: 24 oz.
Material: Stainless Steel
Filter: ultra-fine mesh filter
Dishwasher Safe: Only mesh filter
RRP: $99/ £99
Reasons to buy
+
Attractive design
+
Non-stick interior for easier cleaning
+
Includes fill lines for less precise measuring
+
Stays hot for longer than other products
Following on the heels of the best coffee grinders, Fellow products are built to reignite how you feel about your morning caffeine. Enter the Clara French Press, designed to improve upon everything we know and love about French press coffee with smart upgrades to the experience like a 360-degree pour spout, non-stick interior for easier cleaning, ratio aid lines, and don't even get me started on its design-forward looks.
Unique design
Truly more cylindric in nature, this modern-looking French Press is available in a matte black, or with a wood accent. The design looks good without being fussy. The top can be placed on at any angle, and the ultra-fine mesh filter helps brew smooth and rich flavors.
Coffee stays hot for longer
The Heat Lock Double Wall Vacuum body is made of 304 18/8 insulated stainless steel keeps coffee hot and consistent long after the coffee is brewed. Not to mention, the design is durable against accidental drops.
Fool-proof prep
While measuring is typically considered a required component of making French Press Coffee, Fellow incorporates subtle ratio aid fill lines to take out the measuring guesswork. Though if you still want to properly measure, the recipe calls for 60 grams of coffee and 840 grams of water. The non-stick interior and one-piece mesh filter also make clean-up easier. It even includes an agitation stick, to serve as a good reminder to agitate coffee for better extraction.
4. Le Creuset Stoneware French Press
Best stoneware French Press
Specifications
Size: 32 oz.
Material: Stoneware
Filter: Single Filter
Dishwasher Safe: Yes
RRP: $84.95/ £65
Reasons to buy
+
11 classic Le Creuset colors to choose from
+
Extremely easy to clean
+
Stonewear has strong insulating properties
+
Microwave, dishwasher, freezer, fridge safe
Reasons to avoid
-
Stoneware breaks easily if dropped or hit on hard surface
Timeless design with a ten year warranty, Le Creuset is always a great choice and has a rich history of high-quality products. The kind of products that are handed down from grandma and stay in the family for years. Definite investment pieces, this is one brand you will be happy you splurged for. Not only do they have a chic aesthetic, but they're also durable and can withstand temperatures up to 500°F.
Classic Le Creuset look
I can spot a Le Creuset Dutch oven from a mile away, and the French press is no different. With its beautiful glaze and vibrant colors, this coffee maker is a timeless classic. This particular model is available in 11 colors, and they're all equally eye-catching.
Versatile
In addition to being ultra heat-resistant, Le Creuset stoneware is also safe to pop in the fridge. Reviewers swear by this for cold brew coffee, and naturally, we had to test their theory. It's confirmed, Le Creuset French press makes an irresistible cold brew. Just make sure you use coarsely ground beans, as they yield the tastiest results!
Durable
Stoneware is great because it's non-porous and strong. This provides protection against any funky odors and staining. The non-porous material is advantageous for anyone who may switch up flavor profiles in their French press. Perfect for hopping between coffee and teas, the floral notes and seasoned beans will not absorb into the stoneware.
5. Mueller Double Insulated French Press
Best affordable French Press
Specifications
Size: 34 oz.
Material: Stainless Steel
Filter: Triple Filter
Dishwasher Safe: Yes
RRP: $34.97
Reasons to buy
+
All stainless steel
+
Double insulated design keeps coffee piping hot
+
Affordable
+
Triple filter won't let any grains slip through
Reasons to avoid
-
Difficult to disassemble
-
Tough to see water level
Globally top-rated, Mueller delivers top-notch coffee every time. This Mueller French press has over 25,000 and counting five-star reviews. That's nearly 85% of their total Amazon reviews, which I'd consider massively impressive. For those of us who aren't very technically inclined, included in the packaging is a very easy-to-understand guide on how to use this French press. Read it and you'll be a pro in no time, and we're not just talking about coffee. There are tons of alternative uses for this gadget (i.e. tea, frothing milk, etc.) Affordable and reliable, this is by far my most 'cost-effective' pick!
Double layered
You'll be thanking Mueller for its double-layered design as you sip your hot coffee. Made of professional-grade stainless steel, it is also long-lasting and will never rust.
Great for alternative uses
The multi-layer design of the plunger makes this French press a good replacement for milk frothers and infusing teas and oils. To froth milk, simply pour hot milk in the press and move the plunger up and down quickly. Because you'll be creating bubbles and moving fast, don't fill the carafe up too full!
6. Brim 8 Cup French Press
A French Press that is actually easy to clean
Specifications
Size: 34 oz.
Material: Stainless steel and borosilicate glass
Filter: Single Filter
Dishwasher Safe: Yes
RRP: $29.95
Reasons to buy
+
Borosilicate glass is stronger than typical glass
+
Spare filter included
+
Easy cleaning
+
Compact and easy to store
Reasons to avoid
-
Reviewers claim handle is flimsy
-
Doesn't keep coffee as hot as stainless steel alternatives
I love this Brim French press. It's a well-designed kitchen gadget that produces a solid cup of coffee, quickly. Compared to other glass models, this one is much sturdier. Borosilicate glass has special properties that make it less likely to break, and much less likely to crack with sudden temperature changes. The extra filter was a nice touch, too, as regardless of use, any filter can get icky as time goes on. Cleaning this French press was also a breeze, which I can appreciate.
Great for cold brew
Did you know cold brew is nearly 70% less acidic than its hot coffee counterpart? Word on the street is this Brim French press makes a delightful cup of cold brew, extra smooth and rich in flavor.
Dishwasher safe
Most French presses say they're 'dishwasher safe' when referring to the carafe. This model is completely dishwasher safe, though. Including the filter lid and plunger! Testers claim the Brim 8 Cup French Press is by far the easiest to clean, a time saver for sure.
7. Stanley Stay Hot French Press
A very durable French press that's great for the outdoors
Specifications
Size: 48 oz.
Material: Stainless Steel
Filter: Single Filter
Dishwasher Safe: Yes
RRP: $70
Reasons to buy
+
Double-wall insulation keeps beverages hot up to 4 hours
+
Lifetime warranty
+
Unbelievably durable
Reasons to avoid
-
Coffee grounds make their way into coffee
Stanley is perhaps most well-known for camping equipment, but this French press is literally so good you may find yourself using it every day. Unlike glass beakers, the double-wall insulation of this French press keeps coffee hot for up to four hours and is incredibly straightforward to use.
Lifetime warranty
When a company offers a lifetime warranty, you know they stand behind their product. This stood out to me and just screams quality. You can feel confident if anything goes awry with your French press, Stanley will work to make the situation right.
Durable
I'm convinced if I ran this French press through my washer and dryer, it would survive. I didn't test this theory, but I'm certain it's true. Stanley builds tough products for the rugged outdoors, and this coffee maker is no exception. Made of stainless steel with double insulation, this French press travels well and won't break on you anytime soon!
How we selected the best French Presses
We put a lot of thought into how we test the best coffee makers, especially specialty makers like French Presses. Our team has had hands-on experience with each
We consider factors like how easy they are to set up, the quality of the coffee they're able to produce, our thoughts on the user experience, the all-important cleaning process, and of course any noteworthy design features that set them apart from the competition.
How to use a French press
Starbucks has nothing on the flavor or convenience a fresh cup of French press coffee can offer.
Sleek and straightforward, a French press is perfect for anyone with limited time or counter space. Similar to the best single-serve coffee makers, French presses also typically brew smaller quantities, only what you need. Additionally, they don't rely on a heating plate to stay warm, so you never have to worry about burnt beans (yuck). All of the above picks can whip up fresh coffee in under four minutes and require no paper filter or electricity. To prevent any confusion, a European 'cup' is about half of what Americans are used to, weighing in at a mere 4 oz.
What many people don't realize is traditional brewing loses flavor in the filter. Oils are lost in the paper and never make their way into the coffee. The steeping process coffee goes through using French press results in a rich and bold profile you won't find anywhere else.
Follow these tips for how to use a French press below, and you'll be sipping away in no time:
Measure your coffee grounds (freshly ground coarse beans offer the best flavors, and we have several thoughts on the best coffee grinder)
Add coffee to carafe
Carefully add hot water, not boiling, into carafe and stir gently
Put plunger in carafe slowly, and follow directions to properly seal the unit
Steep for roughly four minutes, depending on your preferred strength
Lower the plunger steadily until you can't press any further
Open the spout, pour and enjoy
Don't forget to store your coffee grounds properly, and in a coffee canister. If this will be going on your countertop, you'll want to make sure this coffee canister is pretty, too.