Best induction pans – the top pans for induction hobs
Here's an introduction to the best induction pans for your new hob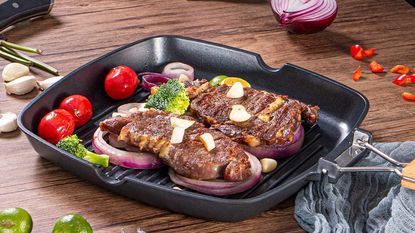 (Image credit: SKY LIGHT)
If you've just replaced your hob, you might be shopping for the best induction pans to use on it. We can help.
Induction hobs are very smartly designed, creating a magnetic field between the hob and the pan so that only the pan will heat up and not the cooking surface. This can save you money as the hob only uses the energy required. The other positive is, of course, induction hobs are super easy to clean.
The downside, however, is that not all pans work on induction hobs, so you may need to shop for new ones. This guide explains why induction pans are different and shortlists the best on the market.
See more: Best kitchen knives – perfect picks to sharpen your culinary skills
What is different about induction pans?
You can trust Homes & Gardens. Our expert reviewers spend hours testing and comparing the latest products, helping you choose the best for you. Find out more about how we test.
Induction pans need to be tailored to work for an induction hob. These cooktops have a copper wire coil which allows for electrical energy to pass into the cooking vessel, which is ferromagnetic.
Induction pans will need to have high ferrous metal content at the bottom in order to work on the induction hob and so have to be magnetic in order to conduct heat.
That's not to say that induction pans can only work on an induction hob, however, as most are all-rounders that can work across a variety of cooktops.
What happens if you use a normal pan on an induction hob?
It simply won't work, as the cooktop doesn't react if the pan is not magnetic or induction compliant.
However, the good news is that a number of frying pans will now work across the board, but in order for the hob to switch on and start cooking there needs to be a magnetic reaction.
There has to be contact between the pan and the cooktop in order for the hob to turn on. Some stainless steel pans will work (provided they have a magnetic base), while cast iron pans and any black metal or iron pans will work on the induction surface.
The best induction pans
1. Gotham Steel 12" Nonstick Fry Pan with Lid
Best induction pan for durability
Specifications
Type: frypan
Size/diameter: 18 x 10 x 2 inches
Non-stick coating: ti-cerama
Guarantee: 10 years
Reasons to buy
+
Durability
+
Elegant design
+
Comes with a glass lid
+
Dishwasher and oven safe up to 500°F
Reasons to avoid
-
Handle can get hot
-
Not very compact for storage
Kicking off this review is the elegantly designed Gotham Steel pan by manufacturers E Mishan & Sons.
This 12-inch pan features a hammered copper coating and, despite the name, it's sadly not related to Batman in any shape or form, yet it is a smart piece of kitchenware. It passes the induction test, as it's compatible for all types of cookers.
Importantly this product is non-stick and features a combination of ceramic and titanium coating for a strong durable experience. Such is the confidence in the durability the manufacturers give the product a 10 year warranty.
It's a smartly designed pan that also comes with a lid and is both dishwasher and oven safe, up to 500°F. Although one criticism is that the handle can get uncomfortably hot on occasions.
2. Le Creuset Toughened Nonstick 8-Inch Shallow Fry Pan
Best induction frying pan for everything
Specifications
Type: fry pan
Size/diameter: 5.00 x 8.30 x 1.80 inches
Non stick coating: hard-anodized stainless stee
Guarantee: lifetime guarantee
Reasons to buy
+
Lifetime guarantee
+
Handle stays cool
+
Perfect for cooking various food types
+
Durable
The price for this next non-stick frying pan might make your pockets hurt, but it's worth the investment.
Le Creuset is a premium French cookware brand that specializes in these sorts of products and this non-stick eight inch shallow frying pan is no exception. It's forged together with hard-anodized stainless steel and works a charm with induction hobs.
Accompanied with the pan is a hollow-cast stainless steel handle that stays cool, even if the food you're whipping up doesn't. The fact it's non-stick will help cut down on the cleaning time and also makes sure even tougher items like eggs don't stick to the pan.
Appearance wise it might look simple, like any ordinary pan, but it will look perfectly at home in any kitchen. It's not a bulky piece of equipment that will take up room in your cupboard. Plus it's got a lifetime guarantee for good measure.
3. STAUB Cast Iron Square Grill Pan, 12-inch
Best griddle induction pan
Specifications
Type: griddle
Size/diameter: 14.96 x 10.24 x 1.85 inches
Non-stick coating: cast iron and stainless steel
Guarantee: 30 years
Reasons to buy
+
30 years guarantee
+
Durable cast-iron
+
Chip resistant
+
Oven safe
The price might be the first thing you see when looking at this product, but for $200 it's worth it, because this will be one of the best premium non-stick griddle induction pans around.
Square in shape, this pan is designed to provide a real experience when whipping up some delicious food, with deep grooves on the base of the pan. These grooves can be very useful for those looking to cook a bit healthier, as this allows for some distance between the food and any fat.
More significantly these grooves enable you the chance to add some charred stripes on the meat, fish or veg you're cooking.
The only real drawback worth a mention is that this pan weighs 11 pounds, which should be expected, given it's made from cast iron. However it comes with a whopping 30 years guarantee, so it's an investment for the long-term.
4. IAXSEE Egg Frying Pan
Best induction frying pan for egg lovers
Specifications
Type: egg frying pan
Size/diameter: 17.5 x 9.5 x 1.8 inches
Non-stick coating: Teflon non-stick
Guarantee: not stated
Reasons to buy
+
Efficient
+
Multi-use
+
Cheap
Eggs are likely to be a part of most people's staple diet, and so it's only right to feature an egg-specific non-stick frying pan in this guide.
Cooking eggs can be a pain if the pan is not non-stick, as it can create a mess and also rob you of that delicious fried egg you've made. This particular 4-in-1 frying pan by IAXSEE is designed to deliver efficiency and works on induction hobs.
It's made from Teflon so you know it's the real deal and is designed for those who seek to cook multiple eggs at the same time. It features a simple design that can be appreciated by cooking enthusiasts with four separate circular bases.
Admittedly the handle is a bit of a weak point, as it's not the strongest, but for the price it's worth the punt and can be stored easily enough, while also dishwasher safe.
5. SKY LIGHT Grill pan, 11 inch Portable Nonstick Frying Pan
Best induction frying pan for on-the-go
Specifications
Type: griddle pan
Size/diameter: 14.1 x 12.8 x 2.7 inches
Non-stick coating: cast aluminium 2-layer non-stick coating
Guarantee: 1 year
Reasons to buy
+
Compact design
+
Cheap
+
Foldable handle, easy to carry
+
Lightweight
Reasons to avoid
-
Not dishwasher and oven safe
-
Not built for the long-term
For those that might not want to spend a fortune on a frying pan, this SKY LIGHT griddle is perfect. At just under $30 this induction-hob compatible pan has been designed to be as compact as possible with its folding wooden handle.
It's made from cast aluminium so it's a sturdy piece of cookware that passes the non-stick test and is also free from toxic chemicals such as PFOA and PFAS.
On the inside of the pan there is also a stripe design and an oil draining filter, which makes your food look better and also healthier.
Its compact design makes it a dream to take out on the go and for storage in the kitchen. However, one drawback is that it's not dishwasher safe, but often the best way to clean and prolong these non-stick pans is by hand anyway.
6. Chantal Induction 21 Steel 3 qt. Stainless Steel Ceramic Nonstick Saute Pan
Best induction saute pan
Specifications
Type: saute
Size/diameter: 20.75 x 3.25 x 10 inches
Non-stick coating: ceramic non-stick coating
Guaranteee: limited 2 year warranty
Reasons to buy
+
Compatible with all cooktops
+
Made from durable stainless steel
+
Comfort grip handle
+
Can cook a lot with this large pan
Reasons to avoid
-
Not the longest guarantee
-
Takes up a fair bit of space
This non-stick ceramic saute pan by Chantal is ideal for those looking to cook for a large crowd.
It ticks the requirement of working on induction hobs and is made from strong stainless steel, making this a heavy-duty pan. There is a comfort grip handle, plus a heat-resistant handle to ensure no hot surprises.
Heat is conducted quickly and evenly through copper melted into the steel, with the ceramic non-stick coating perfect for those wishing to make a stir fry. There is also a dripless pouring rim on the side to help limit spillages.
One sticking point is that the guarantee only covers two years, while the fact it's a big pan might make your organized kitchen a bit harder to arrange.
7. TECHEF - Onyx Collection, 12-Inch Wok/Stir-Fry Pan
Best induction wok
Specifications
Type: wok
Size/diameter: 18.00 x 12.00 x 2.00 inches
Non-stick coating: Teflon
Guaranteed: not stated
Reasons to buy
+
Price effective
+
Durable stainless steel stay cool-handle
+
Dishwasher and oven safe
+
Quite light for the size
Strictly speaking this isn't a frying pan as such, but what sort of kitchen doesn't have a wok? This TECHEF wok is both reasonably priced and induction hob ready, so you can cook a stir fry with no worries at all.
The non-stick coating on this wok is Teflon, but importantly PFOA free, for those with any environmental or safety concerns. The base of the wok is made from stainless steel, while the double-riveted handle is also made from this material.
A plus side is that the handle stays cool, even when on the cooktop, while the stainless steel gives it added durability. The wok is also quite deep so cooking copious amounts of food shouldn't be an issue.
One drawback is that you have to pay a bit extra for it to come with a glass lid, but it's elegantly designed and not a bad wok to get if you're a beginner cook.
When should you throw away induction pans/how long will they last?
It's important to know when to replace your non-stick induction pans and there are some key signs to look out for that make this a relatively simple process.
Although it must be said that the best way to prolong the life of your pans is to regularly clean them.
Key signs of aging to look out for will be how scratched the pan is, as you won't want to see the non-stick coating become compromised. Other obvious signs will include warping, cracked or melted handles, which could be very dangerous if ignored.
For induction pans specifically, you'll want to make sure the copper lining of the frying pan is intact, and watch for any cracks which could potentially be dangerous. While it's hard to give an exact time frame, vigilance and care should be applied for the best results.
Sign up to the Homes & Gardens newsletter
Decor Ideas. Project Inspiration. Expert Advice. Delivered to your inbox.