Best Dutch oven: 6 designs for classic home cooking
Find the best Dutch oven for your kitchen with the top 6 enameled cast iron and aluminum pieces from Le Creuset, Staub, Lodge and more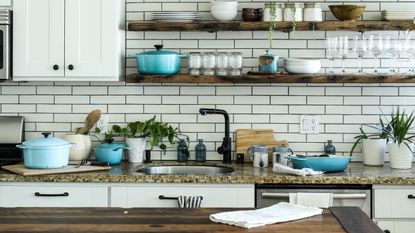 (Image credit: Unsplash/Edgar Castrejon)
The best Dutch oven is a cookware investment that will last you an entire lifetime. Designed to be a one-pot hero in the kitchen, Dutch ovens tend to be made of enameled cast iron and can withstand incredibly high temperatures inside your oven, perfect for making your own bread or slow-cooking a chili for a low-effort dinner.
Dutch ovens have excellent insulation properties that enable them to maintain internal temperatures while cooking, which is why they can be used to make all manner of dishes both inside the oven and on the stove. The appeal of a Dutch oven is at least partially an aesthetic one though, with a seemingly infinite range of colors and sizes to choose from. Brands like Le Creuset will allow you to invest in a range of matching pans, pots, and even mugs to complete the look in your kitchen. After all, any cast iron cookware advocate will detail just how important it is for every kitchen to be stocked with a Dutch oven, and perhaps a cast iron skillet too. And while it's not cast iron but aluminum, the Our Place Perfect Pot is the ultimate accompaniment to the iconic Always Pan.
Here are our top six picks for the best Dutch ovens you can buy right now, along with some of our thoughts from when we tested these kitchen heroes in our own homes.
Best Dutch Oven
You can trust Homes & Gardens. Our expert reviewers spend hours testing and comparing the latest products, helping you choose the best for you. Find out more about how we test.
1. Le Creuset Enameled Cast Iron Signature Round Dutch Oven, 5.5 qt
Best Dutch Oven
Specifications
Material: Enameled cast iron
Capacity: 5.5 qt.
Dishwasher safe? : Yes
Oven safe? : Yes
Reasons to buy
+
5.5-qt size is the most popular size and feeds 4-6 people
+
Tons of color options
+
Excellent heat retention
Reasons to avoid
-
Light interior may stain
When someone refers to a Dutch Oven, our minds defacto drift to Le Creuset, and its rainbow of color options. A Dutch Oven is the hallmark of any Le Creuset collection, praised by home chefs, celebrities, and professionals alike as one of the most versatile pieces you can own. And also, it's simply fantastic for transitioning from stovetop to oven to serving at the table.
The 5.5-quart round size is one of Le Creuset's most popular sizes, and can comfortably feed 4-6, followed by the 6.75-quart oval that also feeds about 5-6 people. Round vs oval can come down to a personal preference, but the deeper round typically stores easier and fits on a burner better, but the oval will be wider and shallower and offers more cooking surface area when cooking long pieces of meat or even a whole chicken.
Whether you cook up a slow-cooking stew, roast a chicken or try your hand at homemade bread, Le Creuset's signature design offers even heat distribution and solid heat retention. The heavy-duty lids create a solid seal to retain heat and moisture and integrated cast iron handles ensure easy transport.
Each Dutch oven is sand-cast, polished and finished by hand, then sprayed with two coats of enamel and fired twice. The enamel is durable enamel resists dulling, chipping, and cracking. The light interior makes it easy to monitor the progress of your food, but note, it is subject to staining.

2. Staub 5 1/2-Qt. Round Coquette
Best Dutch oven for moisture retention
Specifications
Material: Enameled cast iron
Capacity: 1.5 qt. 3.75 qt., 4 qt., 5 qt.,7 qt., 8.75 qt., 13.25 qt.
Dishwasher safe? : No
Oven safe?: Base up to 900 degrees, Lid up to 500 degrees
Reasons to buy
+
Glossy enameled colored exterior and nickel knob
+
Lid design keeps 10% more moisture inside
+
Spikes on the lid assist with a richer flavor
If you're planning to use your Dutch Oven for meats, stews, and other hearty meals, you already know how key excellent moisture retention can be to your recipes turning out just right.
Like the Le Creuset above, Staub's Coquettes are made of enameled cast iron and provide exceptional heat retention. They do have some subtle differences, however. Staub's tight-fitting spiked lid creates a self-basting environment when making a browned or braised dish and prevents any moisture from escaping. It also has a matte black textured interior that won't show stains or rust over time. Staub is safe to use on all types of stovetops, including induction and halogen. They are safe up to 900 degrees Fahrenheit (the lid is oven safe up to 500 degrees).
The Staub's Cocottes are also especially beautiful, and something to leave on display and use The French brand handcrafts each piece which results in a glossy colorful exterior, often available in darker dramatic colors, variety of sizes, and in round and oval shapes.
3. Great Jones The Dutchess
Best Dutch Oven for a modern twist
Specifications
Material: Enameled cast iron
Capacity: 6 3/4 qt.
Dishwasher safe? : Yes
Oven safe? : Yes, up to 500 degrees
Reasons to buy
+
Gray interior is light enough to see butter brown, but dark enough to hide stains, and easy to wipe clean
+
Oval shape gives ample space for browning and searing
+
Beautiful design with a matte enamel finish
+
Dishwasher-safe
The internet seems to be royally obsessed with The Dutchess, a Dutch oven from DTC company Great Jones, that brings a new look to the traditional cooking vessel. If you aren't oohing over the matte emerald green above, we're sure you'll fall in love with any of the seven other colors named after food from the new bubblegum Taffy to an on-trend Mustard.
Colors and aesthetics aside (note the stylish copper knob), let's talk about how The Dutchess takes the lead in preparing your main course. The roomy 6.75-qt. oven has an oval shape for ample space for browning and searing, while a gray interior is light enough to see butter brown but dark enough to hide stains, and it's easy to wipe clean. The handles are surprisingly roomy and easy enough to lift from the oven to the table, while the top fits nice and snug to help retain moisture. It's also dishwasher safe, which is rare for cast iron. We haven't dared to try that just yet, but if you're in a rush, it's a convenient feature.
Great Jones recently answered the demand for a smaller version and released the Dutch Baby, a 3.5qt. size that conveniently nestles inside The Dutchess.
Now, we do have to note that during transit, the handle crumbled, an issue which the customer experience team hadn't really seen before (freak accident, perhaps). They quickly replaced the unit and made things right, so we could get to baking bread and roasting chicken.
4. Our Place Perfect Pot
Best non-stick Dutch Oven
Specifications
Material: Hard anodized aluminum
Capacity: 5.5 qt
Dishwasher safe? : Yes
Oven safe?: Yes, up to 450 degrees
Reasons to buy
+
Surprisingly lightweight
+
Replaces 8 pieces of cookware
+
Ceramic non-stick is non-toxic
Reasons to avoid
-
Spoon rest placement a little awkward
-
Can't withstand as hot temperatures as cast iron
It's not a requirement for Dutch Ovens to be cast iron, though it seems the majority are. Our Place's newest release, the Perfect Pot amps up the versatility with the ability to replace eight common pieces of cookware including a Dutch oven, stockpot, saucepot, roasting rack, steamer, strainer, braiser, spoon rest.
The addition of a circular roasting rack creates a delightful crisping effect that also doubles as a steamer, and the pour spout makes it even easier to strain with minimal effort. In, totality, you can use your Perfect Pot to crisp, bake, braise, roast, steam, strain, pour, serve, and store.
Plus, it's incredibly lightweight, just 4 pounds, so you'll likely be reaching to use this a lot more than you may have even thought for easy one-pot meals. The Perfect Pot also utilizes non-toxic ceramic nonstick coating made without potentially toxic materials like PFOAs, PTFEs, other PFAs, lead, cadmium, toxic metals, and nanoparticles.
The 5.5-qt. pot is oven-safe up to 425 degrees, which should be adequate for most people, but it is more temperature-sensitive than other Dutch ovens on this list. It also comes with a versatile Beechwood spoon that can store two different ways, though it takes a moment to figure out the ideal placement, and can not be stored on-board.
5. Chantal Cast Iron Round Dutch Oven
Best value Dutch Oven
Specifications
Material: Cast iron
Capacity: 5 qt, 7 qt
Dishwasher safe?: No
Oven safe? : Yes, up to 450 degrees
Reasons to buy
+
Safe to use with metal utensils
+
Black enamel hides staining
+
Great price
Proof that a great Dutch Oven can cost under $100. Chantal did it, and it even compares in looks, though you are limited to four color options, including a sunny Marigold, Sea Blue, Cobalt Blue, and Fade Gray.
Chantal has been producing cast iron for over 40 years, and they've truly perfected the art of the Dutch oven with the use of sand-cast molds to ensure consistent thickness and shape, and an enamel glass coating that will not leach metals into food or react with or alter flavors. The black interior is especially helpful for hiding any stains that come from braising meat or baking bread.
It's oven-safe up to 450 degrees, dishwasher safe, and okay-ed to use with metal utensils, though for erring on the protection side, we'd suggest handwashing and opting for silicone or wooden cooking utensils.
6. Lodge Pre-Seasoned Cast Iron Double Dutch Oven With Loop Handles, 5 qt
Best cast iron Dutch oven
Specifications
Material: Cast iron
Capacity: 5qt.
Dishwasher safe? : No
Oven safe? : Yes
Reasons to buy
+
Arrives pre-seasoned
+
2-in-1 design with skillet lid
+
Excellent heat retention
Reasons to avoid
-
Not the best looking
-
Lid can be difficult to lift
Yes, many of the picks thus far have been made of Cast Iron, but they featured enameled coating that requires no seasoning and requires minimal maintenance. For cast iron purists, try the Lodge Pre-Seasoned Cast Iron Double Dutch Oven With Loop Handles, which arrives pre-seasoned, with a rugged 2-in-1 designed lid that can also convert to a skillet.
We love the fact that the lid multi-functions as a skillet, but some users have mentioned that it's harder to lift because it doesn't have a knob, so you'll need two hands to remove the lid. Lodge also makes a Cast Iron Dutch Oven with a more traditional knob design, if that's your dealbreaker.
The Lodge arrives pre-seasoned, but you will want to continue to care for it as you do with other raw cast iron products. You soon may find that your pre-seasoned Dutch oven offers better non-stick than its enameled counterparts. Raw cast-iron cookware is safe for use at any oven temperature as well as for outdoor cooking on a grill or over a campfire, making it a solid and durable choice.
---
---
What is a Dutch oven?
A Dutch oven refers to a heavy, thick-walled cooking pot with a tightly fitting lid that makes them an excellent option for slow cooking, braising, and soups. They're suitable for both stovetop and oven use and can notably withstand high heat. Raw cast iron can even be used for outdoor cooking.
You'll typically see them available in cast iron, enameled cast iron, or ceramic varieties. Cast iron cookware actually originated in the Netherlands, hence the name 'Dutch Oven'. Around the 1600s, it was found to be much cheaper to make than copper and brass cookware found across Europe, and a production solution was found: sand-cast molds.
You may also find the term 'French Oven', which actually refers to enameled cast iron, but the terms are actually used interchangeably, with 'Dutch oven' having the most recognition.
They differ from stockpots, which are typically taller, may not be oven safe, usually lighter, and the lids don't seal as tightly.
What size Dutch oven is best?
Dutch ovens come in many different sizes from tiny 1-qt portions (great for personal desserts) to massive 15-qt. vats that could cater to a crowd. As a Dutch oven is an investment into your cookware, and something designed to last you the decades, you'll want to make sure you have the right sized pot that takes into account what you are cooking and how much you cooking. Usually, a 5-6qt. Dutch oven is more than enough for making at least four servings of a recipe, while you can opt for smaller sizes for side dishes.
What to cook in a Dutch Oven?
The question here should be, what can't you cook in a Dutch Oven? Dutch Ovens are revered for their excellent heat retention, and are optimal for cooking activities like baking, browning, and braising. You're really only limited by your imagination, but some suggestions:
No-Knead Bread
A pot roast
Chili
Stew
Soup
Casserole
Risotto
Pot Pie
Pasta
Jaclyn is H&G's eCommerce editor and oversees all things shopping. She's also a bonafide sleep expert, and previously managed all sleep content on Homes & Gardens and Real Homes– in fact, she has passed our five-step certification process to become a verified customer advisor on mattresses. She regularly scouts out the best of the best for buying guides to help you fill your home with only the best. She joined the team in January 2021. She has previously worked with Apartment Therapy, The Kitchn, The Spruce, The Spruce Eats, and MyDomaine. When Jaclyn's not working, she loves browsing real estate listings, unwinding with a chilled glass of Rosé, and entertaining her Cavapoo, Reese.