Best non-stick frying pans: 8 top skillets for cooking eggs, vegetables, and more with ease
Sick of food sticking to the pan? The best non-stick frying pans minimize mess and cook food to perfection.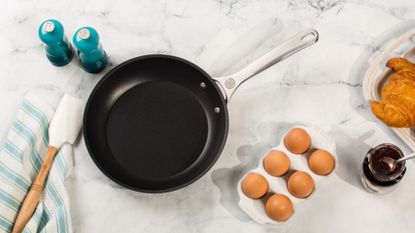 (Image credit: Le Creuset)
For quick and easy cooking and clean-up, a non-stick skillet is an essential must-have in your kitchen whether you're an amateur chef or a well, a real amateur. We can't stress enough how after a long day, an easy-to-clean pan is a priceless feeling, especially when you also have a stack of dishes to put away.
That's why you need one of the best non-stick frying pans in your cookware collection so you can whip up omelets, flip pancakes, saute veggies, and even sear filets with ease... with no aggravating clean-ups. And bonus... non-stick's slick coatings perform just as well without copious amounts of oils, making it easier to cook healthier, without added fats and oils.
Not every frying pan is created equally, so it's been our mission to find the most premium quality designs that may just exceed your performance expectations. We've spent a considerable amount of time researching and testing out the best non-stick frying pans so you can make an informed decision the next time you're looking to upgrade a pan or two to go with your new kitchen ideas.
Cooking on an induction cooktop? You'll want to consult our guide of Best induction pans to round out your cookware collection.
1. All-Clad HA1 Hard Anodized Nonstick Frying Pan with Lid
Best nonstick fry pan, overall
Specifications
Material: Hard Anodized Aluminum
Size: 12"
Warranty: Lifetime
Reasons to buy
+
Comes with a lid
+
Oven-safe to 500 degrees
+
Induction compatible
+
Large cooking surface
All-Clad's HA1 non-stick collection offers chef-style quality with the ease of non-stick. The All-Clad HA1 Hard Anodized Nonstick Frying Pan is sure to become your kitchen workhorse, thanks to its roomy design, excellent heat retention, and durable construction.
It's made with heavy gauge aluminum with a bonded stainless steel base that makes it compatible with induction cooktops, as well as standard gas or electric burners. The interior is made up of three layers of high-performing, PFOA-free nonstick coating to keep sticky or delicate foods from sticking to the surface, and the pan itself is durably built to resist scratches, abrasion, and stains. It has a large, flat base for foods to have maximum contact with heat and flared, mid-sized sides for flipping and tossing. A helper handle, which feels essential for a skillet of this size, provides a stable hold. And to maximize your cooking potential (i.e. sealing in moisture when needed) it includes a glass lid.
2. Le Creuset Toughened Nonstick PRO Fry Pan
Best non-stick frying pan for durability
Specifications
Available sizes: 8", 9.5", 10", 11" or 12"
Materials: Forged Hard Anodized
Warranty: 90-day "PRO Promise" and limited lifetime warranty
Reasons to buy
+
Works with all cooktops (including induction)
+
Oven-safe up to 500°F
+
Stay-cool handles
+
Safe for use with dishwasher and metal utensils
We already know and love Le Creuset for their heirloom quality enameled cast iron cookware, but the French brand has also devoted considerable research into developing the toughest non-stick coating for superior marathon-cooking level performance, built to stand up against time (and daily use).
Their new and improved textured triple-reinforced PFOA-free coating with hard-anodized aluminum construction for quick and even heating is ideal for browning and searing, with or without oil, and easily wipes clean. Whip it out for everything from searing fish on weeknights to easy omelets on Sunday mornings.
It's also rated as dishwasher safe (though handwashing is recommended). And if only your metal turner is on hand, no sweat... it's safe to use that too, though silicone, wood, and plastic tools will protect the non-stick coating.
3. OXO Good Grips Non-Stick Pro
Editor's pick: best nonstick frying pan
Specifications
Available Sizes: 8", 10",12"
Material: Hard Anodized Aluminum
Warranty: Limited Lifetime
Reasons to buy
+
Sturdy construction and stay cool-handle
+
Provides excellent heat conduction and scratch resistance
+
Oven safe up to 430°F/220°C
+
Dishwasher-Safe
Reasons to avoid
-
Not suitable for induction cooktops
The OXO Good Grips Non-Stick Pro Pan is the type of pan you'll be reaching for all your cooktop recipes. Eggs release like butter. Vegetables saute with finesse. And chicken comes out golden and tender. Bottom line: it's a competitively priced, smartly-designed non-stick fry pan that is durable, high performing and kicked the other pans off my cooktop.
Since we're on the subject of non-stick, you probably want to know about it. It features a triple-layer PFOA-free, non-stick coating with excellent food release, even easier cleanup, and reduces the amount of oil you'll use in your recipes. It's made with hard-anodized, heavy-gauge aluminum for increased durability and thermal efficiency. It's also scratch-resistant.
This particular OXO's non-stick frypan also excels in its user experience. The stainless steel ergonomically-contoured handle feels sturdy in your hand and doesn't get hot when cooking. Meanwhile, thoughtful rolled edges for drip-free pouring make it simple to plate food without extra mess.
Now, the only downside? It's not induction-compatible.
4. HexClad Hybrid Pan
Best hybrid non-stick frying pan
Specifications
Available sizes: 8", 10", or 12"
Materials: Tri-Ply Stainless Steel and Aluminum
Guarantee: Lifetime
Reasons to buy
+
Patented hexagon top layer design combines best qualities of cooking with non-stick and stainless steel
+
Easy to clean
+
Non-stick
+
Safe to use with metal utensils
+
Oven safe up to 500 degrees
Reasons to avoid
-
Does contain traces of PTFE (Teflon) in coating
-
Still need to cook with oil or butter
Backed by culinary icon Gordon Ramsay, there's a lot to love about HexClad's unique design which combines the best features of non-stick and stainless steel to create proprietary peaks and valleys cooking surface. The stainless steel peaks stainless help with that great golden-brown sear and also protect the pan against peeling and flaking, while the non-stick valleys offer easy cleanup and the ability to cook with less butter, grease, or oil. Though, you still want to make sure you use at least some oil.
It's constructed with a tri-ply clad design with a layer of magnetic stainless steel that makes it safe on all ranges, including induction cooktops, followed by a middle layer of aluminum for easy, even heating finished with one more layer of steel.
Even better, it's prepared for however you treat it. Metal utensils? Fine! Oven Safe? Up to a steamy 500 degrees Fahrenheit! Toss it in the dishwasher? If you insist! Digging further into what makes this pan so durable, we've come across that the coating does contain trace amounts of PTFE aka Teflon, which they assert is nontoxic and helps the non-stick last longer. However, it is completely free of PFOA, which can release fumes if heated above a certain point.
5. Hestan ProBond Forged Stainless Steel Nonstick Skillet
Best non-stick frying pan for high temperature cooking
Specifications
Available Sizes: 8.5", 11",12.5"
Material: Triple bonded stainless steel, ProCoreTM aluminum
Warranty: Lifetime
Reasons to buy
+
Tolerant of cooking with high heat
+
TITUM Nonstick System is 20X more durable than other nonstick
+
Textured nonstick makes for excellent searing, browning, and deglazing
+
Thinner sidewalls for lighter weight maneuverability, but thick rims for easy pouring
+
Compatible with all cooktops
The common caveat of cooking with non-stick is that in order to protect your pan's non-stick coating, low to medium heat is what is recommended. In fact, overheating a pan is what can even void a warranty. If you like to turn up the flames when you cook, or can't be bothered with remembering to restrain yourself to certain temperatures when you cook, Hestan's ProBond with Titum Nonstick has extreme tolerance to high heat.
Using a 5-layer system consisting of 3 layers of PFOA free nonstick reinforced with diamond particles (known as Titum nonstick), anchored to the pan with durable titanium plasma technology, the textured interior is optimized for searing, browning and deglazing performance. Hestan rates its surface as 20X more durable than other nonstick and extremely resistant to abrasion, wear, and scratches.
Its thoughtful design and manufacturing process (each pan is handcrafted in Italy) optimizes the metal to create thicker bases for even heat distribution, thinner sidewalls for lighter weight, and thicker rims for increased durability. As far as care, you can knock this thing around in the dishwasher, break out the metal tools, and yes, transfer it to the oven. The only drawback to its design seems to be that the handles get hot when cooking.
6. GreenPan Valencia Pro Ceramic Non-Stick Frypan
Best ceramic nonstick frying pan
Specifications
Available Sizes: 10", 11", 12"
Material: Thermolon Ceramic/ hard anodized aluminum
Warranty: Limited Lifetime
Reasons to buy
+
Made with non-toxic ceramic non-stick coating
+
Induction-compatible
+
Dishwasher, oven safe to 600 degrees, and metal-tool safe
Reasons to avoid
-
Ceramic coating prone to chipping along rim
-
Must cook over low to medium-low heat
Those looking for a greener, 100 percent non-toxic nonstick pan, should look for ceramic-coated pans. GreenPan's Valencia Pro fry pan features its signature healthy Thermolon ceramic coating, and it's also induction capable, dishwasher safe, metal utensil safe, and oven-safe up to 600 degrees — one of the highest temps on this list. At just over 2 pounds, it had some heft to it, and the handle stays nice and cool.
In our tests, it released food particles with ease, and clean-up was an absolute breeze.
GreenPan's gray Thermolon ceramic coating is made from a sand derivative that is transformed into a sprayable solution and infused with diamonds. In addition to its non-stick properties, it heats evenly and emits no toxic fumes when heated. All GreenPan ceramic cookware contains no PFAS, PTFE, or PFOA compounds. From an environmental standpoint, the production also produces 60% less CO2 emissions compared to traditional non-stick!
When cooking with ceramic, however, we did notice that the ceramic coating is more prone to chipping and should be handled with care, especially when storing.
7. Great Jones Large Fry
Best-looking non-stick frying pan
Specifications
Available Sizes: 10.25"
Material: Ceramic/ stainless steel
Warranty: Limited Lifetime
Reasons to buy
+
Ceramic non-stick coating offers easy food release
+
Ergonomically-designed copper handles
+
Oven safe to 500 degrees Fahrenheit
+
8.5" Small Fry available too
Reasons to avoid
-
Handle does get a little warm
For those who select their cookware based on appearance, we don't blame you. We want all our cookware to look as good as its cooks, and Great Jones seems to have mastered that with their Large Fry pan. The great-looking design utilizes a rivetless, clad construction topped up with a slick ceramic coating for easy food release and clean-up.
It works like a charm for frying up eggs or flipping pancakes. Others poured in cheese, the real test, and rather than it creating a goopy mess, melty goodness just slides right out.
We did discover two pain points when cooking, however: the gleaming stainless steel exterior was more likely to show accumulated dirt that had transferred from the cooktop, and the copper handle did get warmer the closer you moved your hand to the base of the pan.
8. T-Fal E93808 Professional Nonstick Fry Pan
Best nonstick frying pan for beginners
Specifications
Materials: Hard anodized aluminum
Size: 8", 10" or 12"
Warranty: Limited
Reasons to buy
+
The thick center core creates evenly distributed heat
+
Thermospot Indicator to show when the pan is preheated and ready to cook
+
Dishwasher and oven safe
Reasons to avoid
-
Not safe to use with metal utensils
-
Pan is slightly convex
If you're just starting out your cooking journey, you don't need to spend a fortune on a great pan, which is why we're partial to the T-Fal E93808 Professional Nonstick Fry Pan, which offers exactly what you need in a pan, like evenly distributed heat. It features T-Fal's signature heat indicator that turns solid red to show when the pan is properly preheated as a signal to begin cooking.
The silicone handle stays cool to the touch and offers a comfortable grip, and it's both oven-safe up to 400 degrees Fahrenheit and dishwasher safe. And yes, whatever your stovetop, this little workhorse is compatible to play.
The pan is cadmium-free, and warp-resistant, which is perfect for anyone looking for longevity. And it comes with a lifetime guarantee, so you can cook using T-Fal for years to come.
---
What frying pans do professional chefs use?
You can trust Homes & Gardens. Our expert reviewers spend hours testing and comparing the latest products, helping you choose the best for you. Find out more about how we test.
Professional chefs unsurprisingly use a range of different frying pans for varying needs.
These include your standard frying pans made from a range of materials such as cast iron, stainless steel, copper, and carbon steel.
While other pans include skillets which are made up of an alloy or iron and carbon. There are also the higher capacity brazier pans, plus sauté pans which are used as they heat up quicker.
Non-stick griddle pans are used and are usually square-shaped and made from either cast iron or Teflon. Another common type of pan is the wok, which is ideal for those that wish to whip together a stir-fry.
How long do non-stick pans last?
We won't deny that non-stick frying pans don't last as long as say, stainless steel or cast iron, but with proper care and maintenance, you will truly feel like you've gotten your money's worth. Plus, most brands offer some sort of warranty should your cookware not perform as expected.
Typically non-stick pans will have a shelf-life of a few years, but like everything in life it comes down to how they're maintained.
For instance, non-stick pans are going to last longer if they're washed by hand, rather than by dishwasher. While some non-stick pans are dishwasher safe, they will deteriorate in condition after a certain amount of time if continuously washed that way, due to the high temperatures involved.
That said, continuous cooking with high temperatures can also damage the non-stick coating on your pan. High temperatures can cause damage to the non-stick coating, so stick to cooking on low or medium heat.
In short, if maintained well and cleaned by hand where possible, a non-stick pan could last as long as five years.