Best cast iron skillets: 8 cast iron pans for perfect sears, braises and bakes
Whip up better meals with one of the best cast iron skillets from Lodge, Le Creuset, Field Company, Staub and more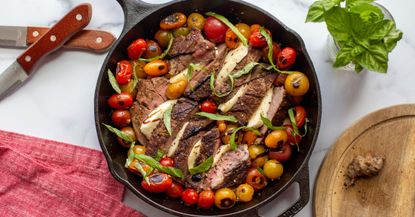 (Image credit: Lodge)
Your kitchen is not complete without the best cast iron skillet within easy reach. Cast iron offers some of the best-unparalleled heat retention, natural, non-stick properties that only get better with use, and provides one of the best sears for meats to the perfect golden crusts in the oven.
Cast iron is suitable for all cooking instances: on any type of stovetop, in the oven, on the grill, and even over a campfire. It also helps meats achieve a perfect browning or sear and breads and other baked goods develop a coveted golden outer crust. Perhaps of most interest, when maintained correctly, it could be the last cast iron skillet you ever buy.
Beyond that, consider the health benefits: cast iron is free of any chemically produced coatings, can add iron to your food, and is considered more sustainable and eco-friendly.
While having one of the best non-stick frying pans in your repertoire is essential for acidic recipes or quick meals in a rush that requires minimal clean-up, you'll find you make your best meals in a cast-iron skillet. There's a reason cast iron has been a beloved cookware choice for hundreds of years, and its resurgence over the last decade attribute to its reliability and longevity.
We set out to find the highest performing cast iron frying pans among the best-cast iron cookware to suit all needs and experience levels, taking into account how evenly they heat and do what cast iron needs to do: brown, braise and sear, ease of handling, and of course, their design.
From cast iron stalwarts to new entrances who have revolutionized the industry with lighter, smoother processes, we pinpoint the best cast iron skillets you should be considering.
Best cast iron skillets of 2021
You can trust Homes & Gardens. Our expert reviewers spend hours testing and comparing the latest products, helping you choose the best for you. Find out more about how we test.
1. Lodge Chef Collection Skillet
Best cast iron skillet
Specifications
Best for: New and seasoned cast iron users
Available sizes: 8", 10", 12"
Weight: 6lb (12" model)
Reasons to buy
+
Wide spouts on both sides
+
Pre-seasoned with 100% natural vegetable oil
+
Comfortable to hold, and a helper handle
When it comes to pre-seasoned cast iron cookware, Lodge is a household name that proves you don't have to spend a fortune or compromise on quality. Whether you're a newbie to cooking with cast iron or know how to season your cookware like a pro, Lodge appeals to cooks of all backgrounds and skill levels.
The Lodge cast iron pans are unfussy and durably made, and the non-stick improves with use. They arrive pre-seasoned, though you are responsible for their upkeep. They're great for everyday use from searing steaks to frying eggs, though it is a slightly more shallow design, making it not as ideal for deep frying.
The Chef Collection skillet has upgraded features including larger pour spouts, sloped sides for easier turning, and is 15% lighter than classic Lodge cast iron. For comparison, the roomy 12-inch pan weighs 6.5 lbs. compared to 8.5 lbs. for the classic Lodge pan.
2. Field Company Field Cast Iron Skillet #8
Best heritage quality cast iron skillet
Specifications
Best for: easy, everyday use
Available sizes : 10 1/4"
Weight: 4.5 lb
Reasons to buy
+
Inspired by vintage cast iron, for modern-day
+
One of the lightest options available
+
Comes pre-seasoned
+
Eco-friendly
Reasons to avoid
-
Only available in US
-
No pour spout
Field Company molds a nostalgia for vintage heirloom-quality pieces with modern engineering after two brothers, inspired by a vintage Wagner pan, setout to understand the secrets to amazing cast iron.
The #8, Field Company's original and most popular size, is a 10 1/4" fry pan that weighs just 4.5 lbs. A smooth machined polish during manufacturing helps reduce the weight of the cast iron, increases the fineness of the form, and provides a smooth cooking surface. It also arrives ready to go and fully seasoned with two coats of grapeseed oil seasoning.
This particular size handled dishes with ease from searing steaks then transferring them directly to the oven to whipping up a portion of hash browns with just the right amount of crisp. Clean-up wasn't too tough either, and it will only get easier over time since cast iron builds up its non-stick over time with use.
Another reason to love Field Company? Field Company also remelts scrap iron for future pours, with each pan featuring recycled iron.
3. Le Creuset Signature Skillet
Best enameled cast iron skillet
Specifications
Best for: chic chefs
Available sizes : 6.33", 9", or 10.25"
Weight: 6.1lb.
Reasons to buy
+
Available in tons of colors
+
Dishwasher safe
+
Black satin enamel doesn't require a full seasoning
+
Easy pour spouts on both sides
Reasons to avoid
-
Not as durable as (complete) cast iron skillets
-
Shallow rims are not great for deep frying
Cast iron collectors looking to add a pop of color (and convenience to their kitchens) will want to stock up on every size (and complementary colors) of the Le Creuset Signature skillet. Honestly, if there is one cookware brand that has achieved cult status, it's truly Le Creuset, where form and function go hand in hand.
Hand-casted in France, the enameled Signature Skillet incorporates the beloved heat retention and induction capabilities of cast iron, but the slick, chip-resistant enamel does not require seasoning like traditional raw cast iron. The strong enamel interior requires minimal oil use and resists staining, dulling, and wear and tear. The matte black enamel is also specially formulated for searing and browning. Plus, it won't react with acidic ingredients like tomatoes, which can make food taste metallic.
You can even put this enameled cast iron skillet in the dishwasher for faster cleanup, but to keep it lasting longer, we're sticking to handwashing.
4. Vermicular Cast Iron Frying Pan with Lid
Best lightweight cast iron skillet
Specifications
Best for: super lightweight
Available sizes : 10.2"
Weight: 2.4lb
Reasons to buy
+
Extremely lightweight
+
Beautiful design
+
Excellent searing performance
+
Easy to clean
Reasons to avoid
-
Not oven safe
-
Lid sold separately
Has Japanese cookware brand Vermicular perfected the cast iron pan? Their enameled cast iron design is absolutely stunning and performs at a pro-level of ease. The non-toxic enameled cast iron pan is rust-proof with no seasoning required, and food releases with little effort while attaining that perfect sear we're all after with cast iron.
Upon unboxing, it also comes with a detailed guide to using the pan as well as a recipe guide for inspiration. For instance, pre-heating is one of the most important steps, but it also only takes about 90 seconds, compared to traditional cast iron. Then, you're instructed to turn off the heat source as the pan is still hot enough to cook your food.
You also have the option to buy a lid, which you'll want to add on for the full cooking experience, that conveniently stands up vertically on its own with a cast iron handle
Our only drawback? The slick wooden handle means the skillet is not suitable for oven use, which means you won't be making any cookie skillets or finishing off any steaks in the oven. But goodness, the choice between walnut and oak sure is a stunning design choice, and the handle stays cool for easy handling, and contributes to its overall lightweight design.
5. Staub Grill Pan
Best cast iron grill pan
Specifications
Best for: grilling meats and veggies
Available sizes: 12"
Weight: 10.79lb.
Reasons to buy
+
Enameled surface doesn't require seasoning
+
Oven safe up to 500 degrees
+
High grilling ridges result in grill marks and allow fat to drain
+
Dishwasher safe
Reasons to avoid
-
Oil may splatter
-
Not fun to clean
Achieve that fresh-off-the-grill experience indoors with Staub's square grill pan. High grilling ridges result in perfect grill marks and allow fat to drain for healthier cooking, while the enameled cast iron surface creates excellent heat retention and doesn't require any extra seasoning. From grilled steak cuts and burgers, it's also pretty nifty for grilling veggies and making toasty paninis. And those gorgeous grill marks.
The 12-inch size is perfectly roomy for cooking multiple pieces at once.
Almost everyone we know loves their Staub grill pan but the biggest downfall, is almost unavoidable... those ridges make it a little bit more involved to clean.
6. FINEX 10" Cast Iron Skillet with Lid
Best design forward cast iron skillet
Specifications
Best for: showing off your cooking skills
Diameter : 8", 10" or 12"
Weight: 11.1lb
Reasons to buy
+
Eight pour spouts
+
Ingenious spiral handle design cools faster
Reasons to avoid
-
Lid sold separately
-
Heavy
The Finex Iron Skillet is sure to be a conversation starter when you tote it from stovetop to oven to table. Yes, it's attractive enough to use as a serving vessel, but the industry-upending design features serve a purpose.
The octagonal shape is actually a multi-pour design with eight points to pour whether you're draining a sauce or grease, which provides you with ample control (and extra comfort).
The striking spiral handle is actually a Speed cool handle that keeps the handle cooler for a longer period of time and helps it quickly cool off once heated. It was inspired by vintage wood stove door handles for a stylish flair that blends form and function. You'll still want to keep a mitt nearby, however, to protect your hands, and the bronze tip can still get hot.
For first use, the Finex arrives with a satin-smooth, easy-release cooking surface that is pre-seasoned with Flaxseed oil. It has a thick-wall design that provides even heat distribution and better retention for searing performance. However, it is on the heavy side to maneuver.
Be sure to carefully follow care instructions, as our lid started to show signs of rust after it wasn't dried thoroughly enough.
7. Stargazer Cast Iron Skillet
Best unseasoned cast iron skillet
Specifications
Best for: those who want to start their cast iron from scratch
Diameter : 10.5" or 12"
Weight: 5.2lb.
Reasons to buy
+
Available bare or seasoned
+
Flared rim to pour from anywhere
+
Amply sized helper handle
+
Grip stays cool
Reasons to avoid
-
Will eventually lose its golden color with use
-
Not for beginners
Call yourself a cast iron purist, or perhaps you've already mastered your own seasoning recipe. If you like to start your cast iron from scratch, Stargazer's bare cast iron pan lets you have all the control over how you season your pan.
The skillet is dipped in food-grade mineral oil to protect it in transit and can simply be rinsed to be seasoned just how you like it. From there, the Stargazer is one of those pans that cook better with use.
The Stargazer pan forgoes pour spouts for a drip-free flared rim that lets you pour from any angle. The handle will also stay cooler for longer, and it heats evenly and rather quickly. In short, the Stargazer, which has only been around since 2015, has inspired a fanbase in its short timespan that calls it a "work of art" and the "best pan they've ever cooked with."
Just note, don't choose the Stargazer pan because you like its golden color, as it blackens with use. Though, the pan stays as slick and smooth as the day you season it the first time for perfect non-stick performance.
8. Staub Heritage All-Day Pan with Glass Domed Lid
Best cast iron skillet for maximum versatility
Specifications
Best for: versatile cooking
Available sizes: 3.5 qt.
Weight: 11 pounds
Reasons to buy
+
Replaces skillet, sauté pan, roaster, gratin, casserole, and baker
+
Great for easy, one-pot meals
+
Glass lid retains moisture and lets you monitor food
Reasons to avoid
-
Bulky to store in small kitchens
Staub's All-Day pan (also known as the Staub Cast Iron Braiser with Glass Lid) is the perfect in-between for a Dutch Oven and a skillet, making it ideal for those who want to do more with fewer supplies. In fact, this multi-purposed pan functions as a skillet, sauté pan, roaster, gratin, casserole, and baker, and like, any cast iron product, goes from cooktop to oven to table with ease. The design is a heritage design from the vault, created in partnership with chefs. It features curved vintage "ear" handles for a secure, comfortable grip
The 3.5 qt. the vessel has a deep rim for cooking up casseroles and stews, or even a deep-fry, but is also just as handy excellent for braising and searing, and a wide, flat base for maximum food contact. Staub's signature dark enamel interiors slightly textured for better browning and requires no seasoning to maintain. Finally, a tight-fitting domed glass lid retains moisture and lets you monitor food as you cook.
The only tradeoffs we can imagine with the All-Day pan is that's it's kind of bulky to store and at 11 lb., it is certainly heavy.
Cast iron vs enameled cast iron
Both cast iron and enameled cast iron offer some of the very best in heat retention and can be used on both the stovetop and the oven up to very high temperatures. However, they have some very distinct differences in terms of care.
Enameled cast iron involves a coating of porcelain enamel to the surface that does not need to be seasoned and is relatively easy to clean with soap and water. It will be naturally non-stick and does not react at all to acidic foods. Porcelain enamel however can be more prone to chipping or staining, and you should avoid using metal utensils with it.
Meanwhile, traditional or bare cast iron requires much more upkeep (i.e. seasoning) to maintain its non-stick properties. They do need to be cleaned after each use, but to avoid rusting, do not soak in water, and soap can strip the seasoning. Overall, bare cast iron is extremely durable. With proper care, it can last for decades, even centuries.
You can cook almost anything in cast iron, however, you should avoid acidic foods like lemon juice, tomato sauce, vinegar, or wine which can strip seasoning on your cast iron and even cause food to taste metallic.
Maintaining a cast iron skillet
Perhaps the biggest drawback to a cast-iron skillet is the care and attention it requires for keeping it in top shape. Of course, with a little practice and patience, your cast iron pan could last you years, generations even. Cleaning a cast iron skillet is quite different than other types of cookware: too much soap can erase a built-up, seasoning and dry out the iron, soaking can cause rust, and metal tools can scratch even the most heavy-duty surfaces.
And yes, expert chefs have many different preferences as to how to clean and care for their cast iron pans. Some avoid soap completely, while others don't find harm in a little soap. However, the general rule of thumb is to wait for the pan to cool, rinse with water, and wipe out any food build-up with a soft cloth, pat dry, and oil. It's also recommended to dry it on the stovetop on low, as water will dry out the iron if you allow it to air dry.
How to reseason cast iron?
Most of the skillets on our list already arrive with a base seasoning that is ready to use right out of the box. Over time, you'll want to season, such as after a thorough deep clean, to keep the non-stick qualities in top shape. A visual indicator that it's time to season again is that a once shiny cast iron pan has gone dull.
Reseasoning is not as labor-intensive as it sounds. To get that perfect coating, you'll coat the pan with the oil of your choice —vegetable oil, flaxseed oil, grapeseed oil, sunflower oil, etc—then let it bake upside down in your oven for at least 20 minutes at 400°F/220°C and let cool in the oven.