Best cast iron cookware: cast iron pans, skillets, Dutch ovens and more
The best of the best to round out (or start) your cast iron cookware collection, from skillets to Dutch ovens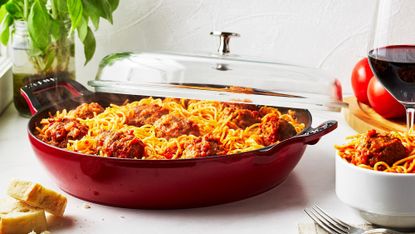 (Image credit: Staub)
Working with the best cast iron cookware can feel daunting at first. How do I season it? How do I clean it? It's so heavy! But anyone who has cooked with cast iron, immediately notices its unparalleled heat retention, natural, non-stick properties that only get better with use, and ability to sear and brown your meats to a Michelin-star quality perfection.
For the last decade or so, cast iron's popularity has been surging as people rediscover the benefits of cooking with cast iron that other cookware just can't provide. Cast iron is free of any chemically produced coatings, can add iron to your food, and is considered more sustainable and eco-friendly. It also helps meats achieve a perfect browning or sear and breads and other baked goods develop a coveted golden outer crust. Perhaps of most interest, when maintained correctly, it could be the last cast iron skillet you ever buy, giving debate to new versus old cast iron.
We've even noticed a cult following surrounding cooking and collecting heirloom quality cast iron. Now, if you can't get your hands on vintage cast iron, the following cast iron cookware pieces from skillets to Dutch ovens will bring your recipes to new heights. Alongside the best non-stick frying pans, consider your kitchen officially well-stocked for all your cooking endeavors.
Best cast iron cookware 2021
Why you can trust Homes & Gardens Our expert reviewers spend hours testing and comparing products and services so you can choose the best for you. Find out more about how we test.
1. Le Creuset Enameled Cast Iron Signature Round Dutch Oven, 5.5 qt
Best Dutch Oven
Specifications
Best for: an investment in your cookware collection
Available sizes: 5.5 qt.
Weight: 11.5 lb.
Reasons to buy
+
5.5-qt size is the most popular size and feeds 4-6 people
+
Tons of color options
Reasons to avoid
-
Plastic knob has less heat resistance in oven
The classic Dutch Oven is the hallmark of any Le Creuset enthusiast's collection, pleasing home chefs and professionals alike as one of the most versatile pieces you can own, as you move from stovetop to oven to serving at the table.
The 5.5-quart size is one of Le Creuset's most popular sizes, and can comfortably feed 4-6, followed by the 6 3/4 Qt.
A Dutch oven is essential for everything from slow cooking stews to roasting chicken with Le Creuset's signature design offers even heat distribution and solid heat retention. The heavy-duty lid helps seal in heat and moisture.
Each Dutch oven is sand-cast, polished and finished by hand, then sprayed with two coats of enamel and fired twice.

These stylish, durable Dutch ovens offer the reliable results of enameled cast iron while doubling as a fun and festive serving dishes. Perfect for slow cooking everything from soups and sauces to chili and chowder. With a wide range of sizes and vibrant colors, you're sure to find just the right one–whether you're making dinner for two or serving a holiday feast.

Heavy-duty lids create a solid seal to retain heat and moisture and integrated cast iron handles ensure easy transport.
2. Great Jones The Dutchess
Best Dutch Oven for a modern twist
Specifications
Best for: family-sized dinners
Available sizes: 6 3/4 qt.
Colors: Blueberry, Broccoli, Mustard, Marinara, Taffy, Earl Gray, Pepper, Salt
Weight: 15 lb.
Reasons to buy
+
Gray interior is light enough to see butter brown, but dark enough to hide stains, and easy to wipe clean
+
Oval shape gives ample space for browning and searing
+
Beautiful design with a matte enamel finish
+
Dishwasher-safe
Reasons to avoid
-
Handle shattered during transit
-
Only available in the US
-
Only one size option
Have you met The Dutchess, the internet's new Dutch Oven darling from DTC company Great Jones? If you aren't oohing over the matte emerald green above, we're sure you'll fall in love with any of the seven other colors named after food from the new bubblegum Taffy to an on-trend Mustard.
Colors and aesthetics aside (we love the adorable copper knob), let's talk about how this thing bakes. The roomy 6 3/4-qt. oven has an oval shape for ample space for browning and searing, while the signature gray interior is light enough to see butter brown but dark enough to hide stains. Plus, it was insanely easy to wipe clean. The handles are surprisingly roomy and easy enough to lift from the oven to the table, while the top fits nice and snug to help retain my dish's moisture. It's also dishwasher safe, which is rare for cast iron. We haven't dared to try that just yet, but if you're in a rush, it's a convenient feature.
Now, we do have to note that during transit, the handle crumbled, an issue which the customer experience team hadn't really seen before (freak accident, perhaps). They were swift to replace the unit and make things right, so we could get to baking bread and roasting chicken.
3. Staub Heritage All-Day Pan with Glass Domed Lid
Best cast iron for everyday use
Specifications
Best for: versatile cooking
Available sizes: 3.5 qt.
Colors: Black, Gray, Red, Dark Blue, Turquoise
Weight: 11 pounds
Reasons to buy
+
Replaces skillet, sauté pan, roaster, gratin, casserole, and baker
+
Great for easy, one-pot meals
+
Glass lid retains moisture and lets you monitor food
Reasons to avoid
-
Bulky to store in small kitchens
For a kitchen workhorse that can handle a range of recipes, the Staub All-Day pan (also known as the Staub Cast Iron Braiser with Glass Lid) multi-purposes as a skillet, sauté pan, roaster, gratin, casserole, and baker, and like, any cast iron product, goes from cooktop to oven to table with ease. The design is a heritage design from the vault, created in partnership with chefs. It features curved vintage "ear" handles for a secure, comfortable grip
The 3.5 qt. the vessel has a deep rim for cooking up casseroles and stews but is also just as handy excellent for braising and searing and a wide, flat base for maximum food contact. The All-Day pan features Staub's signature dark interior enamel that is slightly textured for better browning and requires no seasoning to maintain. A tight-fitting domed glass lid retains moisture and lets you monitor food as you cook.
It's really the perfect in-between for a Dutch Oven and a skillet, making it ideal for those who want to do more with fewer supplies. The only negative response we've seen is that some found it too big to store easily, and well, at 11 lb., this pan is heavy.
4. Lodge Pre-Seasoned Cast Iron Skillet with Assist Handle Holder, 12"
Best cast iron skillet
Specifications
Best for: New and seasoned cast iron users
Available sizes: 8", 10", 12"
Weight: 8.5 lb (12" model)
Reasons to buy
+
Includes silicone handle holder (oven safe up to 500° F)
+
Pour spouts on both sides
+
Pre-seasoned with 100% natural vegetable oil
Reasons to avoid
-
Heavy
-
Rough texture
-
Shorter handle
When it comes to pre-seasoned cast iron cookware, Lodge is a household name that proves you don't have to spend a fortune or compromise on quality. Whether you're a newbie to cooking with cast iron or know how to season your cookware like a pro, Lodge appeals to cooks of all backgrounds and skill levels.
The Lodge cast iron pans are unfussy and durably made, with the non-stick improving with use. They arrive pre-seasoned, though you are responsible for their upkeep. They're great for everyday use from searing steaks to frying eggs. It's even deep enough for frying.
Those accustomed to smooth, vintage cast iron may be taken back by Lodge's rough, textured finish. The textured surface is a byproduct of today's manufacturing standards that dropped the polishing process in exchange for a more affordable process. Advocates of the rough surface however claim that it helps seasoning oils adhere better to improve its non-stick properties.
It does have a slightly shorter handle than we're used to, but the helper handle makes carrying easy, as does the addition of the silicone handle holder to prevent accidentally burning yourself.
5. Field Company Field Cast Iron Skillet #8
Best lightweight cast iron skillet
Specifications
Best for: easy, everyday use
Available sizes : 10 1/4"
Weight: 4.5 lb
Reasons to buy
+
Inspired by vintage cast iron, for modern-day
+
One of the lightest options available
+
Comes pre-seasoned
+
Eco-friendly
Reasons to avoid
-
Only available in US
-
No pour spout
Inspired by a vintage Wagner pan, two brothers set out to understand the secrets to amazing cast iron, which led to the founding of Field Company and a cast iron skillet that molds a nostalgia for vintage heirloom-quality pieces with modern engineering.
The #8, Field Company's original and most popular size, is a 10 1/4" fry pan that weighs just 4.5 lbs. Comparatively, a pan of a similar size from say Lodge or Le Creuset will weigh over 5 pounds. A smooth machined polish during manufacturing helps reduce the weight of the cast iron, increases the fineness of the form, and provides a smooth cooking surface. It also arrives ready to go and fully seasoned with two coats of grapeseed oil seasoning.
This particular size handled dishes with ease from searing steaks then transferring them directly to the oven to whipping up a portion of hash browns with just the right amount of crisp. Clean-up wasn't too tough either, and it will only get easier over time since cast iron builds up its non-stick over time with use.
Another reason to love Field Company? Field Company also remelts scrap iron for future pours, with each pan featuring recycled iron.
6. Staub Pure Grill Pan
Best Cast Iron Grill Pan
Specifications
Best for: grilling meats and veggies
Available sizes: 10.5"
Colors: Black, Gray, Red, Dark Blue, Turquoise
Weight: 6 lb.
Reasons to buy
+
Enameled surface doesn't require seasoning
+
Oven safe up to 500 degrees
+
High grilling ridges result in grill marks and allow fat to drain
Reasons to avoid
-
Oil may splatter
-
Not fun to clean
Bring that outdoor flavor indoors for grilling up burgers and chicken filets with ease. Staub's Pure Grill Pan features high grilling ridges result in perfect grill marks and allow fat to drain for healthier cooking, while the enameled cast iron surface creates excellent heat retention and doesn't require any extra seasoning. It's also pretty nifty for grilling veggies and making toasty paninis.
Handles on both sides enable you to get a firm grip on what you're cooking while the round 10.5" size fits comfortably on burners and is large enough to cook pizzas and grill. Plus, the grill pan stores easily due to its almost flat design.
Almost everyone we know loves their Staub grill pan and how well it prepared their meals, but the biggest downfall, is almost unavoidable... those ridges make it a little bit more involved to clean.
7. Chasseur Cast Iron Rectangular Au Gratin Dish
Best cast iron roaster
Specifications
Best for: baking and roasting
Available sizes: 2'' x 12.5" x 8''
Colors: Red
Weight: 5 LB
Reasons to buy
+
12.5 qt. capacity
+
Dishwasher and freezer safe.
For all your baking and roasting needs, Chasseur's Au Gratin Dish is oven safe up to 600 degrees Fahrenheit and delivers the perfect top layer of crisp crust and a thoroughly, even heated dish cooked to perfection. Like the rest of the historical brand, it's constructed with a double layer of enamel cast iron, black on the edges to protect from corrosion, with a glossy finish on the inside.
Because cast iron retains heat so well, baking with cast iron for everything from casseroles to dinner rolls, and even sweet treats will make sure your recipe is evenly cooked throughout, while the slick enameled surface keeps food from sticking, and is easier to wipe clean. Plus, since it can move so easily from oven to stove, you're open to a new realm of possibilities.
8. Lodge Pro-Logic Wok With Flat Base and Loop Handles
Best cast iron wok
Specifications
Best for: stir frys, deep frying, and braising
Available sizes: 14"
Weight: 10.8 lb
Reasons to buy
+
Large handles and flat base for easier handling
+
Round and deep for less splatter
Reasons to avoid
-
Doesn't come with a lid
-
Heavy
For some households, a wok is just as essential as a skillet or a pot for killer stir frys, deep-frying, or fresh veggie steams and sautes. So, why not go the cast-iron route?
Lodge's roomy 14" wok from its Pro Logic line uses large handles with a flat base for easier handling, but with a deep design to minimize splatters and to easily mix ingredients. It can hold up to .68 qt. Like Lodge skillets, it comes pre-seasoned out of the box, offers excellent heat retention, and is safe on induction cooktops and the oven. It can be on the heavier side to maneuver, and some reviewers comment that they wish it came with a lid.
9. Le Creuset Enameled Cast Iron Signature Saucepan
Best cast iron sauce pan
Specifications
Best for: simmering sauces
Available sizes: 1.75 qt, 2.25 qt.
Colors: Marseille, Cerise, Indigo
Weight: 6.4 lb.
Reasons to buy
+
Excellent for simmering and moisture retention
+
High, gently curved sides for easy stirring and a sturdy, ergonomic handle.
Sauces made lovingly from scratch deserve an equally beloved saucepan for you to craft your magic. The Le Creuset Enameled Cast Iron Signature Saucepan is available in two sizes ( 1.75 qt. and 2.25 qt.) and its extensive color options.
The high, sloped sides will reduce opportunity or spills onto your cooktop, and the tight-fitting lid is handy for locking in moisture and heat. Whether you're simmering the perfect pasta sauce, reducing a broth, or putting together a gravy, choose a cast-iron saucepan for its versatility and even heating.
While acidic foods like tomatoes and wine tend to react poorly with cast iron after prolonged exposure and can leach the metal food taste into your food, you're safe to make marinara and wine-based sauces to your heart's content with Le Creuset's saucepan. The enamel coating protects against acidic properties, but still brings out the very best qualities of cooking liquids in cast iron. Though, at over six pounds, a full saucepan could be heavy to lift over for pouring.
10. Cuisinart Cast Iron Grill Press
Best Cast Iron Press
Specifications
Best for: paninis and grilling
Available sizes : 4.25" x 9"
Weight: 2.8lb.
Reasons to buy
+
Wooden handle is comfortable to hold and doesn't get hot
+
Grill faster and healthier
+
Can press two burgers at once
Reasons to avoid
-
Might be too big to use on pans, best for using on open grill
-
Needs to be seasoned
For perfectly grilled burgers and steaks, or crafted panini sandwiches, a grill press is useful for adding attractive grill marks and more importantly, reducing cooking time. This Cuisinart press weighs nearly 3-pounds with diagonal grill markings and the comfortable wood handle makes it easy to move around your grill. The weighted design helps ensure that food will cook evenly, without squishing a sandwich to pieces.
To use, you'll heat the press on your grill and use it to grill the top side of your food.
While it can be used inside on your existing cast iron, the large size is optimized on open grills. It also will need to be seasoned over time.
What's the difference between cast iron and enameled cast iron?
Cast iron and enameled cast iron are very alike and offer some of the very best in heat retention and can be used on both the stovetop and the oven. However, they have some very distinct differences in terms of care.
Traditional or bare cast iron requires much more upkeep and a constant routine of seasoning to build up and maintain its non-stick properties. They do need to be cleaned after each use, but to avoid rusting, do not soak in water, and soap can strip the seasoning. Overall, bare cast iron is extremely durable. With proper care, it can last for decades, even centuries.
You can cook almost anything in cast iron, however, you should avoid acidic foods like lemon juice, tomato sauce, vinegar, or wine which can strip seasoning on your cast iron and even cause food to taste metallic.
Enameled cast iron, typically what you may see from Le Creuset or Staub, is typically more expensive than traditional cast iron, due to the nature of applying porcelain enamel to the surface.
The biggest distinction is that enameled cast iron does not need to be seasoned, it will be naturally non-stick, and does not react at all to acidic foods. They're also much easier to clean. Porcelain enamel however can be more prone to chipping or staining, and you should avoid using metal utensils with it.
Is Le Creuset or Staub better?
Both Le Creuset and Staub are legacy brands of cast iron with large devoted fan bases. Both are exceptional and have mastered the art of crafting cast iron. We think it comes down to personal choice and the factors that matter most to you when choosing between a Dutch oven and other popular products.
Both Le Creuset and Staub are produced in France, available in a range of shapes and sizes, and hit similar price points.
A key difference between the two is Le Creuset has a white interior that makes it easier to see browning progress, and perhaps stains, while that Staub uses a matte black interior enamel that some think yields a better browning and helps build up a good non-stick layer overtime.
Both Le Creuset and Staub have tight-sealing lids that help retain the moisture of a dish, but the Staub lid has special bumps that help baste your food by concentrating condensation to fall back over the center food instead of running towards the sides, as a special proprietary feature. When it comes to lids' hardware, Staub's metal knob is hardier than Le Creuset's plastic under the oven, but when cooking on the stove, the plastic lid does not get hot. We also think Le Creuset's handles are a little more comfortable to hold over Staub's.
Le Creuset color options are usually more bright, while Staub tends to be darker and more muted.
How to season cast iron cookware
Seasoning is an important part of caring for and maintaining your cast iron. Seasoning forms a natural, non-stick cooking surface and as well as prevents your pan from rusting. While many cast iron skillets will come pre-seasoned, over time, you will need to season on your own. The good news is that the more you cook in your cast iron, the thicker your seasoning becomes, and will begin transforming your pan into the perfect cooking vessel. For instance, beginners might not want to start with fried eggs their first time using the pan, but overtime, as the surface develops its non-stick, will find an easier time.
To season, you'll spread a thin layer of shortening or oil, (vegetable, grapeseed, and canola oil are all popular choices) inside and out of the skillet. Then, let it sit in the oven at 375° for one hour upside down on the center rack. Don't forget to place aluminum foil underneath to catch any drips of oil.
How to clean cast iron cookware
Learning how to properly care for and clean a cast-iron skillet is essential for the longevity of your pan. Directions seem to vary from manufacturer, but the rule of thumb is to never use the dishwasher or submerge your skillet into the water, and to avoid using harsh irritants like dish soap, which can dry out your pan and strip it of its seasoning. Instead, rinse with hot water, wipe out any food particles, and dry with a soft cloth before reaching for your favorite seasoning oil.
Jaclyn is H&G's eCommerce editor and oversees all things shopping. She's also a bonafide sleep expert, and previously managed all sleep content on Homes & Gardens and Real Homes– in fact, she has passed our five-step certification process to become a verified customer advisor on mattresses. She regularly scouts out the best of the best for buying guides to help you fill your home with only the best. She joined the team in January 2021. She has previously worked with Apartment Therapy, The Kitchn, The Spruce, The Spruce Eats, and MyDomaine. When Jaclyn's not working, she loves browsing real estate listings, unwinding with a chilled glass of Rosé, and entertaining her Cavapoo, Reese.