I compared Our Place's new Cast Iron Perfect Pot to my trusty Le Creuset - here's how it went
The Our Place Cast Iron Perfect Pot looks great, but how does it compare to leading brands like Staub and Le Creuset? Our reviews editor puts it to the test.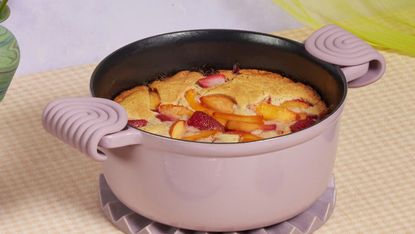 (Image credit: Our Place)
While a fraction of the price of alternatives from Le Creuset, the Our Place Cast Iron Perfect Pot still offers high-quality construction and, thanks to the enameled finish, easy cleaning.
Reasons to buy
+

Surprisingly good value

+

Comes in a fun range of colors

+

Fun, retro-style design

+

Enameled finish for easy cleaning

+

Family-friendly capacity
Reasons to avoid
-

Only available in one size

-

The grips and spatula aren't too useful

-

Not dishwasher-safe
You can trust Homes & Gardens. Our expert reviewers spend hours testing and comparing the latest products, helping you choose the best for you. Find out more about how we test.
Sign up to the Homes & Gardens newsletter
Decor Ideas. Project Inspiration. Expert Advice. Delivered to your inbox.
Thank you for signing up to Homes & Gardens. You will receive a verification email shortly.
There was a problem. Please refresh the page and try again.
I'll confess: I was well and truly sucked in by the Always Pan's charm when it first launched. The colorful finish and versatility had me thinking I'd be using it for breakfast, lunch and dinner.
In truth, however, it's been quite a limiting piece of cookware. Although the 2.0 version can be used in the oven, and withstand much higher heats, the initial version I had in my kitchen was limited to stovetop use, and users were advised to keep heat low in order to keep the non-stick intact. Fine for steaming dumplings or frying an egg, but more challenging for those who want to achieve a crispy salmon skin either on the stove or under the grill.
Enter the brand's cast iron range: available in those same fun colours, but with a glossy enamel finish and (supposedly) pre-seasoned interior. Unlike the world of frying pans, however, we've already got some pretty attractive options in the best Dutch ovens on the market. Should you invest in the likes of Staub or Le Creuset, or opt for the latest Our Place Cast Iron Perfect Pot?
I took it home to truly put it through its paces on Thai style-curry, burgers, and much more. After a few weeks of testing, I found a pretty good cast-iron pan, but pretty good isn't the best. Unless you're working with a tighter budget, I'd still go for a Le Creuset over this.
Millie Fender is Head of Reviews at Homes & Gardens. A lover of home cooking, she's tested leading cast iron cookware from the likes of Le Creuset, Made In, and Staub. Millie put the Cast Iron Perfect Pot to the test alongside the Cast Iron Always Pan and the Cast Iron Hot Grill. She used them all for over a month of day-to-day use.
Our Place Cast Iron Perfect Pot specifications
Swipe to scroll horizontally
| | |
| --- | --- |
| Capacity: | 5.5 quart |
| Material: | Enameled cast iron |
| Temperature: | 95-450°F |
| Size: | 14" length, 10.5" diameter, 4.6". depth, 7.7" height |
| Weight: | 13.8 lbs |
| Cleaning: | Hand-wash advised |
First impressions of the Cast Iron Perfect Pot
The combination of shiny pink enamel and the dome lid gives the Cast Iron Perfect Pot a retro touch. However, while I enjoy the matte finish on the exterior of the original Perfect Pot, it's an absolute nightmare to keep clean. Maintaining the finish on this cast iron iteration proved a lot easier.
This pan is hefty, but no more so than alternatives from other leading brands. It weighs in at 13.7lbs, and in theory that curved lid will be self-basting, meaning that moisture will circulate inside the pot to help with baking bread.
The RRP is $175. It's definitely not cheap, but it's significantly cheaper than many options from Le Creuset or Staub at a similar size, which cost $420 and $379, respectively. Even Made In's closest alternative is $249, which makes this a surprisingly reasonable option from a brand that charges $150 for a non-stick pan.
What the Cast Iron Perfect Pot is like to use
I love cooking with enameled cast iron. Care and daily maintenance is a lot easier than with a non-enameled cast iron, which requires seasoning, but it's capable of the same high heat and can go in the oven or on the stovetop.
When testing this pot, I made a Thai-style curry by first browning some onions and cooking off spices before adding my coconut milk, vegetables, and prawns and cooking in the oven. I first noticed that the pan took a long time to come to heat - much longer than my Le Creuset. When heated enough for me to brown the onions though, the pot maintained heat well to prevent them from burning. There was a little sticking when I added my spices, which is to be expected, but once I added stock and coconut milk I was able to scrape this from the bottom of the pan and get my sauce bubbling.
As with the Always Pan, you get a nesting beechwood scraper that sits on the handle of the pot. It's not the most useful when cooking on higher heats, because there's a good chance it'll scorch when sat on the handle. It'll also sit across the pan, but I personally preferred just using my own silicone spatula for cooking. There's also no built-in resting place for the scraper, so I don't think it's particularly useful with the Cast Iron Perfect Pot.
To transfer the pot to the oven, I tried to use the included sillicone hot grips to protect my hands from the hot handle. They look groovy, but proved a little bit fiddly to get into and remove from place on the handles. I've been defaulting to my regular oven gloves for moving in and out of the oven, but the grips are still great for moving your hot pan from the stove to the dining table.
I can't fault how my curry cooked in the oven. It performed pretty similar to my other cast iron pots from Staub and Made In, but the weight is definitely more of a problem. It's 13lbs, 2lbs heavier than its equivalents from Le Creuset and Staub, so when it's full of sauce or stew it makes for a serious arm workout.
Launched alongside the Cast Iron Perfect Pot, the hot grill can slot on top of the pot in the place of the lid (Lodge bread oven-style) and also be used as a skillet. You can also use the lid of the perfect pot to create some steam, perfect for melting the cheese on a smashburger. I've got my current skillet to a well-seasoned place where I can achieve grill lines on everything from steak to aubergine without sticking. Perhaps I went in a little too confidently with the cast iron hot grill, but in my defence, it does claim to require no pre-seasoning. I segmented some peaches and added a little oil to the hot grill while it pre-heated. After a few minutes of grilling I was disappointed that the peaches were sticking to the grill surface, meaning I didn't get any lovely sear-lines for my finished salad. I was definitely less Insta-worthy than intended.
After scrubbing away the residue from my peaches and doing a little extra seasoning to the hot grill, I was back in business for dinner. Burgers fared a lot better than my soft fruit had, achieving some nice deep grill lines.
I also enjoyed being able to use the lid of the Perfect Pot when adding a little water to steam the burgers and melt my cheese slices. It's a clever addition to the pot, but when you add it into the equation it'll set you back an extra $95. The Le Creuset Enamelled Cast Iron Signature Square Skillet is closer to $200, although it does come with a handle, which is definitely easier for cooking steak as you'll need to tilt your pan for basting.
Cleaning the Cast Iron Perfect Pot
Another thing in favor of this pan is the lifetime warranty. Cast iron really should last a lifetime if you use it right. If you dig a little deeper though, this only covers chips and cracks. Anything resulting from not following the care instructions won't be covered, and as with the Perfect Pot, these are pretty restrictive.
They include advice to 'use low-medium heat to preserve the enamel coating - never heat an empty pot'. I have a bit of an issue with this, seeing as the pan is technically capable of getting up to 500 degrees Fahrenheit. Presumably, the guidance is to prevent warping at sudden changes in temperature, but these instructions are a little prissy for something that's designed to be a kitchen workhorse.
You're also advised to not use the dishwasher, which is something you can and should be able to do in a fully enamelled piece of cast iron. I always put my Le Creuset in the dishwasher, and frequently use metal utensils when cooking with it. If you opt for this pan, you'll have to use it with extreme care if you want your warranty to remain intact.
Should you buy the Our Place Cast Iron Perfect Pot?
There are a lot of pros and a fair few cons at play here, but if you're someone on a limited budget who does want to invest in a cast iron pan, I think you get what you pay for with the Cast Iron Perfect Pot. Combine with the Hot Grill and you've got a four-in-one piece of kit, at the price of a single really good Staub cast iron.
With only one size to choose from, you'll be lumped with quite a hefty piece of cookware with this pot. It's 5.5 quarts, meaning you'll likely get more use if you've got a family to feed or you enjoy bulk-cooking things such as soups and curries.
If you can spare the extra cash and want something not quite so high-maintenance, I'd pick my Le Creuset over the Perfect Pot. It also comes with a lifetime warranty, and it's a little more forgiving on daily wear and tear. And if you want something a little smaller at around the same price, I'd opt for the Staub cocotte in a smaller size. It's also a lot lighter, which makes it better for those who might not be able to lug around a 15-pound piece of cooking equipment. With that being said, I wouldn't blame you for opting for the Perfect Pot to match your Always Pan. It's a really pretty pot, and it absolutely does the job without being too much of a pain to keep clean or in good condition.
Sign up to the Homes & Gardens newsletter
Decor Ideas. Project Inspiration. Expert Advice. Delivered to your inbox.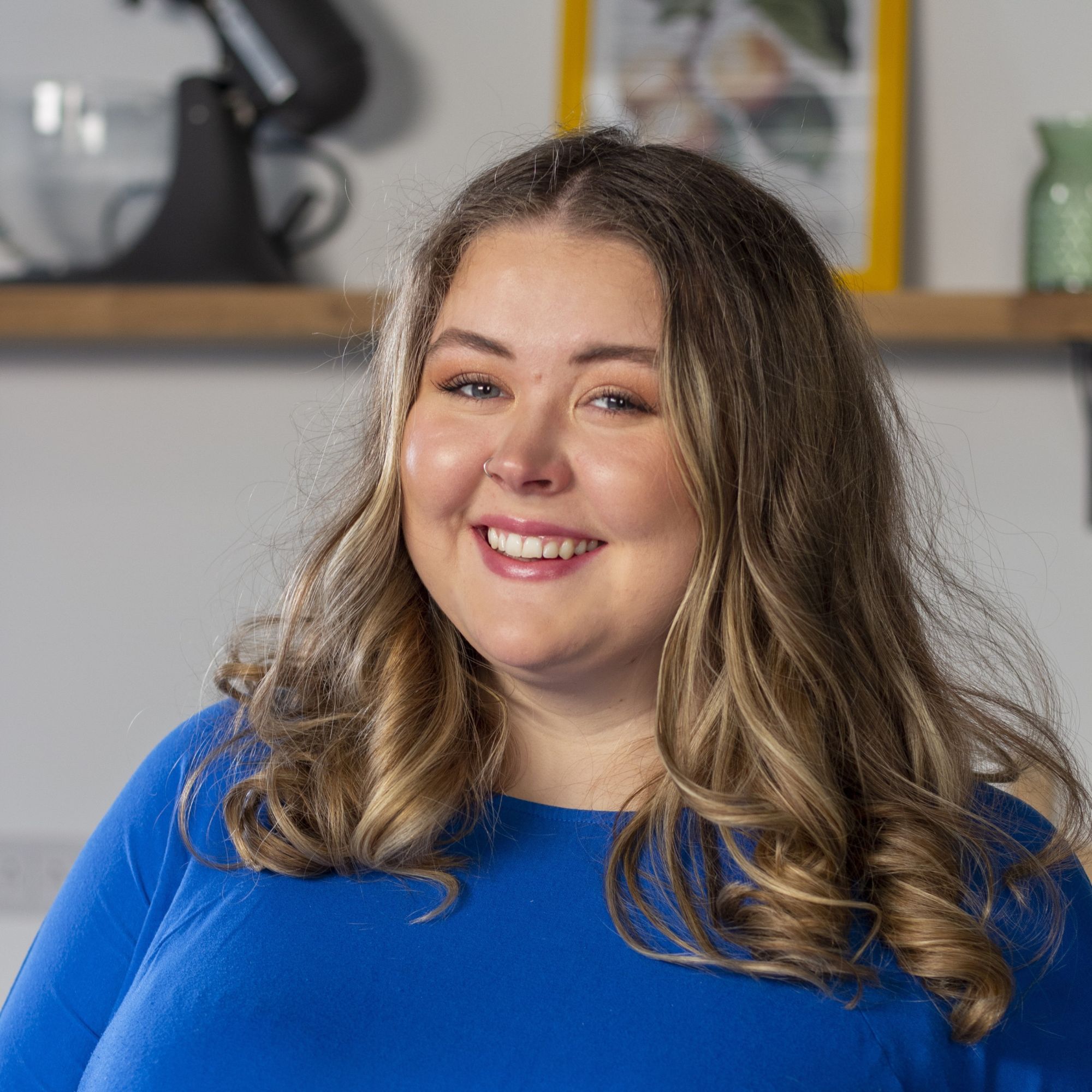 Millie Fender is Head of Reviews on the Homes and Gardens Ecommerce team. She specializes in cooking appliances, such as the best kettles, and also reviews outdoor grills and pizza ovens. Millie loves to bake, so she will take any excuse to review stand mixers and other baking essentials. When she's not putting products through their paces in our dedicated testing kitchen, Millie's reviews are conducted at home, meaning she uses these products in her own day-to-day life.