8 Dutch oven alternatives – pans and appliances to use instead
What to use instead of a Dutch oven? These buys will serve you just as well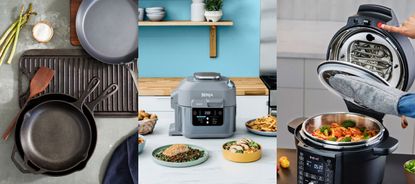 (Image credit: Sur La Table | Ninja | Instant Pot)
Are you contemplating if your kitchen is in need of a Dutch oven? To help with your decision-making, we have curated a collection of the very best Dutch oven alternatives, recommended by a team of cooking and appliance experts.
Of course, a Dutch oven is, for many, an essential piece of cookware, and sometimes you just cannot go wrong with an enduring, classic design, but with so many similar options to consider, it is always worth exploring other products available on the market.
From slow cookers to casserole dishes, skillets and multi-cookers, these versatile Dutch oven alternatives can really transform how you cook in the kitchen, helping to create delicious home-cooked meals with ease.
What is a Dutch oven?
A Dutch oven is a heavy, rounded cooking pot, usually crafted from coated cast iron, that can be used on both a stovetop and in the oven. Accompanied by a matching, tight-fitting lid, these traditional pot designs have been used for cooking for hundreds of years, often used for stews and soups – but really, they can be used to create all manner of recipes, from sauces, to meat dishes and more.
Iconic kitchenware brands such as Le Creuset (opens in new tab) are renowned for their luxurious and colorful Dutch ovens, and having put many of their products to the test here at Homes & Gardens – with the Le Creuset Enameled Cast Iron Signature Round Dutch Oven (opens in new tab) (see below) voted our best Dutch oven overall, we can confirm that this pretty pot is definitely worth the hype.
However, Dutch ovens from brands such as Le Creuset and Staub can be quite expensive, so before you commit to a purchase, we're here to take you through our list of the very best Dutch Oven alternatives that can work just as well in your kitchen.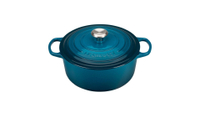 (opens in new tab)
Le Creuset Enameled Cast Iron Signature Round Dutch Oven, 5.5 qt | $419.95 at Amazon (opens in new tab)
Voted our best Dutch Oven overall, the Le Creuset Enameled Cast Iron Signature Round Dutch Oven is a true icon of the culinary world.
What can I use instead of a Dutch oven?
Whether you've been put off by the price tag of a traditional Dutch oven, only have so much space in kitchen cabinets, or have been using the same Dutch oven for years and are ready to switch up your cookware, our experts take us through their favorite Dutch oven alternatives so you can make the right decision for your kitchen and cooking habits.
1. Slow Cooker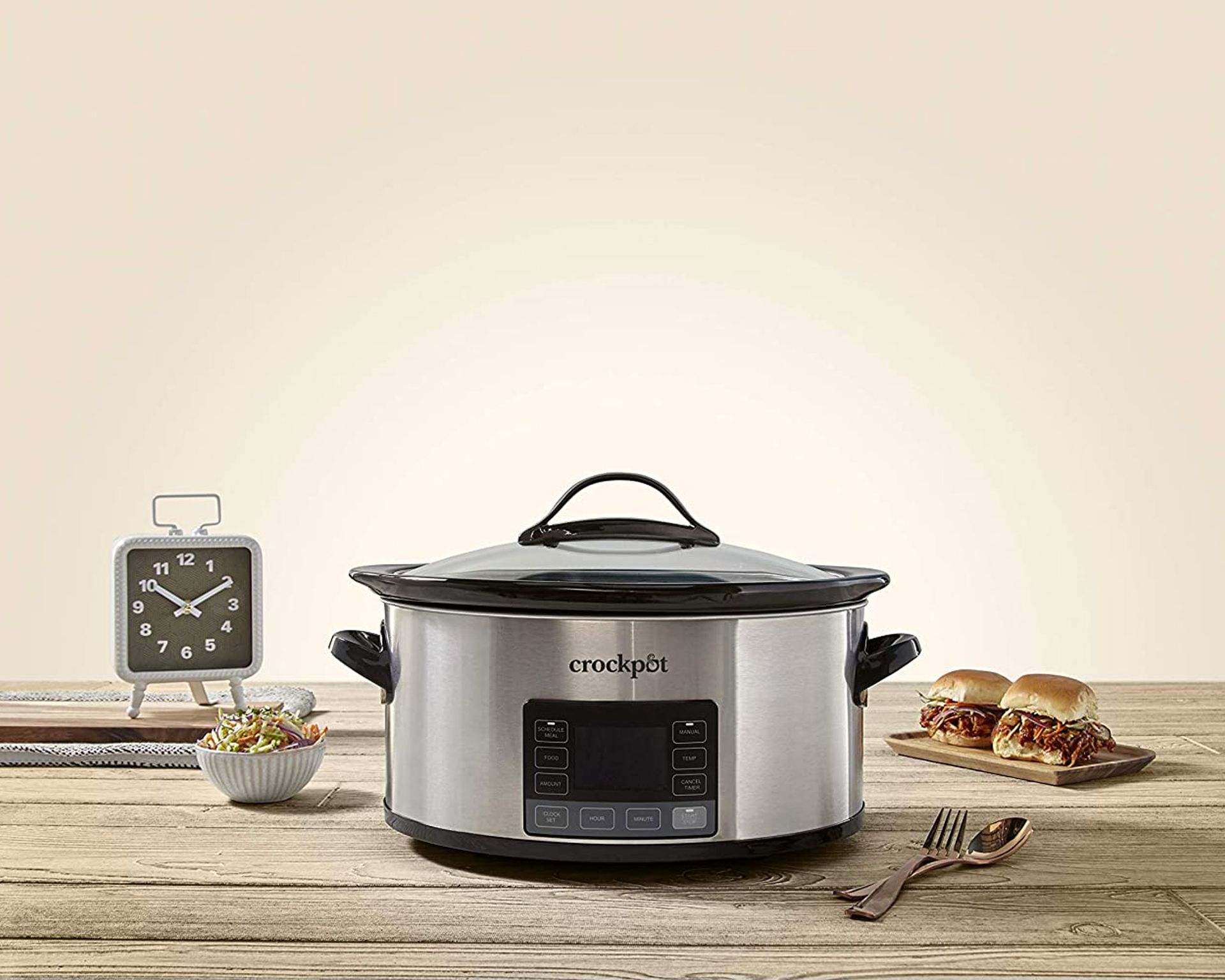 'A slow cooker is a great time-saver; you can quickly chop up your ingredients, throw them in the cooker, and forget about them for a few hours, returning to a perfectly-cooked meal,' says Alex David, head of ecommerce at Homes & Gardens.
'Slow cookers can't perform as many functions as a multicooker, but they're much cheaper, and definitely much, much cheaper than a Dutch oven. You can cook exactly what you would in a Dutch oven – a slow cooker is perfect for stews, soups, curries, chillies and slow-cooked meat dishes like beef bourguignon and coq au vin.
'I think your best bet is a basic but effective Crock-Pot, available at Target (opens in new tab) (below). It's inexpensive and gets the job done without any fuss.'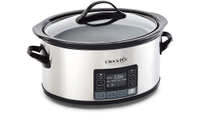 (opens in new tab)
Crock Pot 6qt My Time Slow Cooker - Silver | $64.88 at Target (opens in new tab)
Embracing unique My Time technology which can automatically adjust the cooking style for perfectly cooked meals, the Crock Pot My Time was voted the best slow cooker overall by our reviewers.
Alex is head of ecommerce at Homes & Gardens, and has expert appliance knowledge, having tested and reviewed a wide range of household products for our reviews. Before joining H&G, Alex worked at Prima, Red, Mens' Health and Womens' Health and BBC Gardeners' World Magazines.
2. Multicooker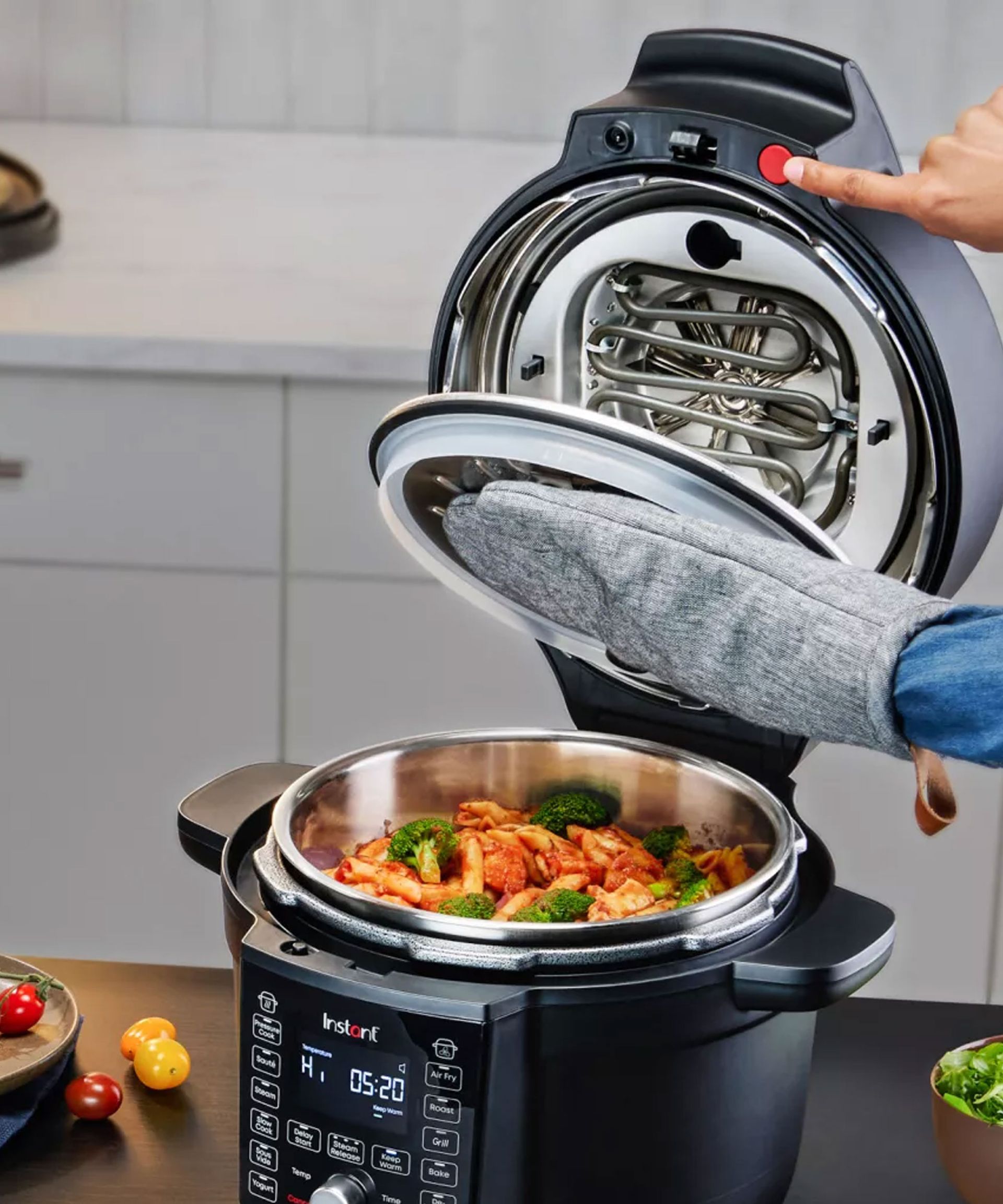 'Multicookers are exactly as their name implies. These handy appliances can slow cook, sauté, air fry, steam, and in some cases, even sous vide. My recommendation is the Duo Crisp with Ultimate Lid (opens in new tab) (below), currently ranking #1 in our tests of the best Instant Pots,' says Alex David from Homes & Gardens.
'This pot can genuinely do it all – in her review, our expert tester Helen used it to roast a chicken, pressure cook a curry, and air fry crispy bacon. It's not as nice to look at as a Le Creuset or a Staub, but while it doesn't have the same caché, it's a little cheaper and infinitely more versatile when it comes to pure cooking.'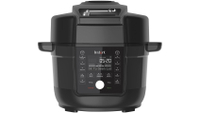 (opens in new tab)
3. Oven-Proof Skillet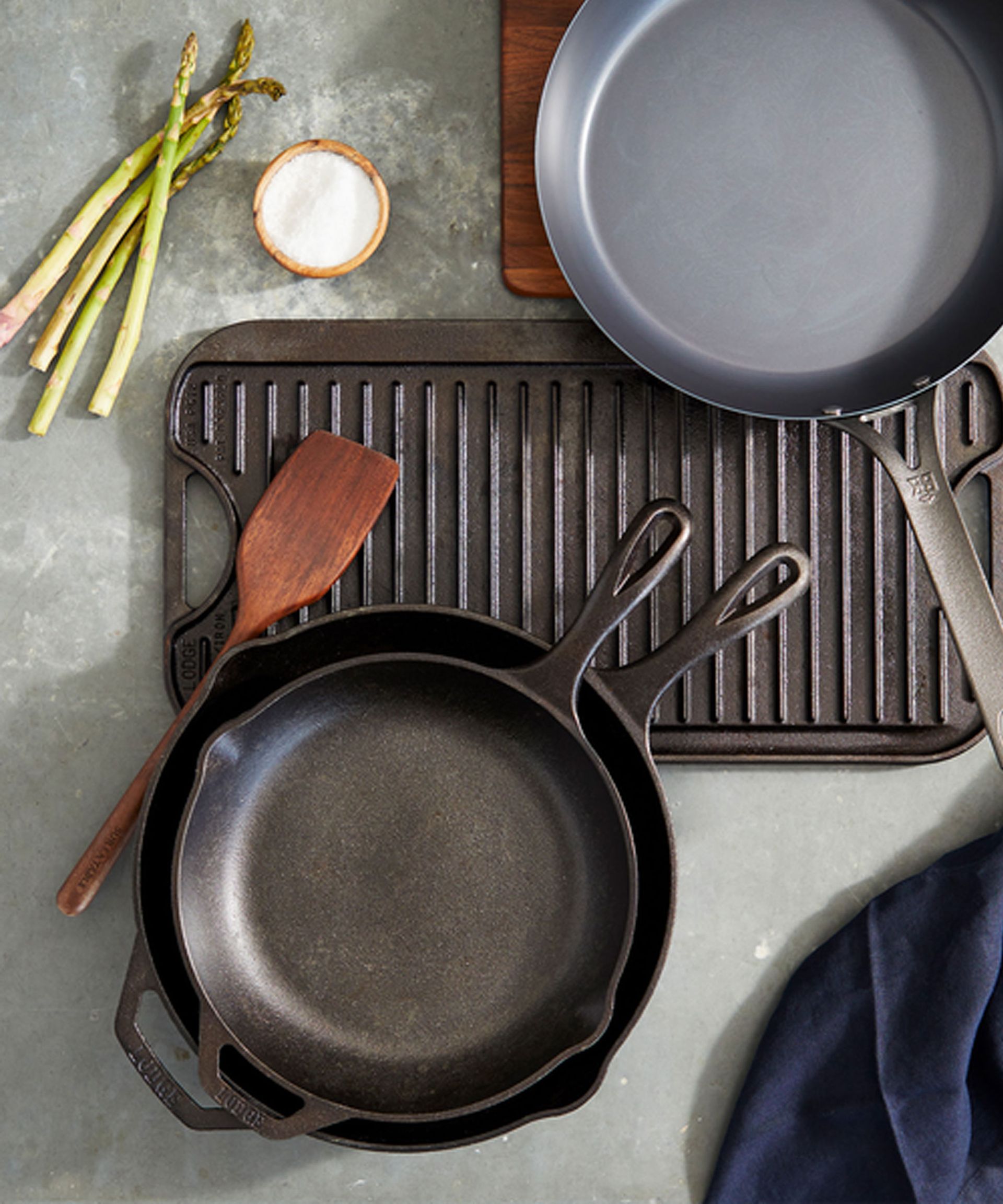 Cooking expert, Laura Bais (opens in new tab), (opens in new tab) owner of Julie Cafe Bakery says, 'Many of the recipes I make require a Dutch oven, so it's a staple dish in my kitchen. However, I only purchased one less than a year ago. Before, I used an oven-proof skillet, and it is a really good alternative – especially if you need it for stews. You just have to slightly adjust the temperature so it is a tad lower, and ensure that the skillet you use is oven-proof, deep, and on the heavier side.'
For further guidance and inspiration, our buying guide on the best cast iron skillets is a useful read.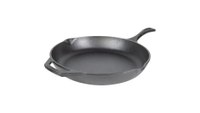 (opens in new tab)
Lodge Chef Collection 12-Inch Cast Iron Skillet | From 24.95 at Sur La Table (opens in new tab)
A household name in pre-seasoned cast iron cookware, Lodge pans are perfect for both seasoned chefs and newbies, with the Lodge Chef Collection 12-Inch Cast Iron Skillet voted our best cast iron skillet.
Laura Bais is a cooking expert and owner of Julie's Cafe Bakery. Her love of cooking and food started from a young age, influenced by the recipes taught to her by her Grandma, which she now shares with the world.
4. Tagine Pot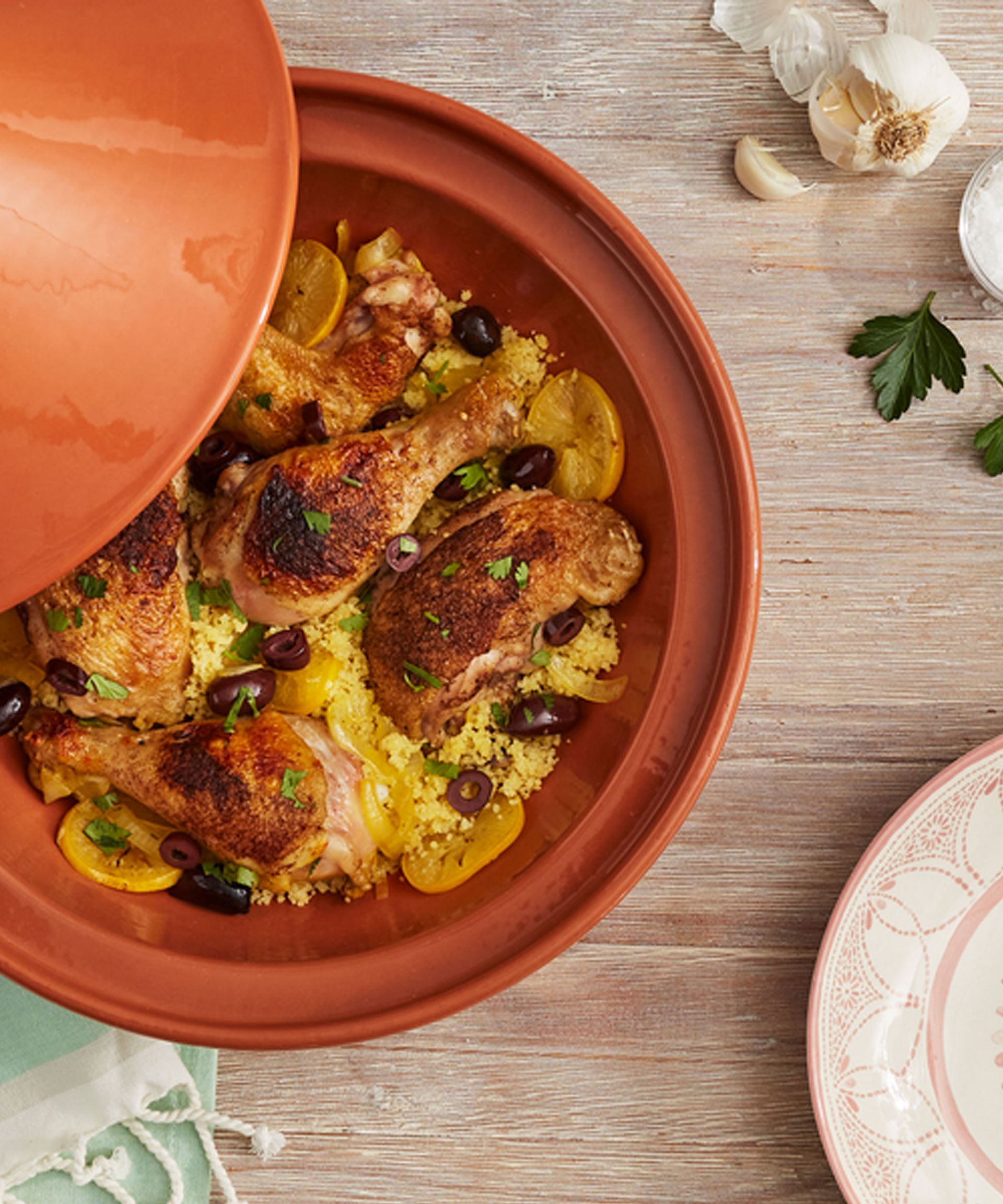 Traditional tagine pots can not only sit beautifully on a stove or on kitchen shelving, bringing in beautiful charm and character to a space, they have been designed to cook ingredients just like a Dutch oven.
Featuring a rounded base with a tall, cylindrical lid, they are perfect for stews and sautéing meat and vegetables.
Synonymous with Moroccan cuisine, a classic tagine pot is usually crafted from earthenware, finished with a beautiful, colorful glaze or pattern. However, you can also purchase more modern designs, made from metals such as aluminum.
Below, is our favorite tagine pot.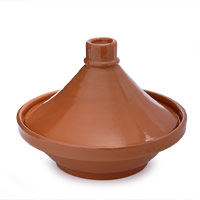 (opens in new tab)
Glazed Terracotta Tagine | From 29.95 at Sur La Table (opens in new tab)
Create a variety of tasty Moroccan meals with a traditional tagine pot. This design is oven and stovetop safe.
5. Air Fryer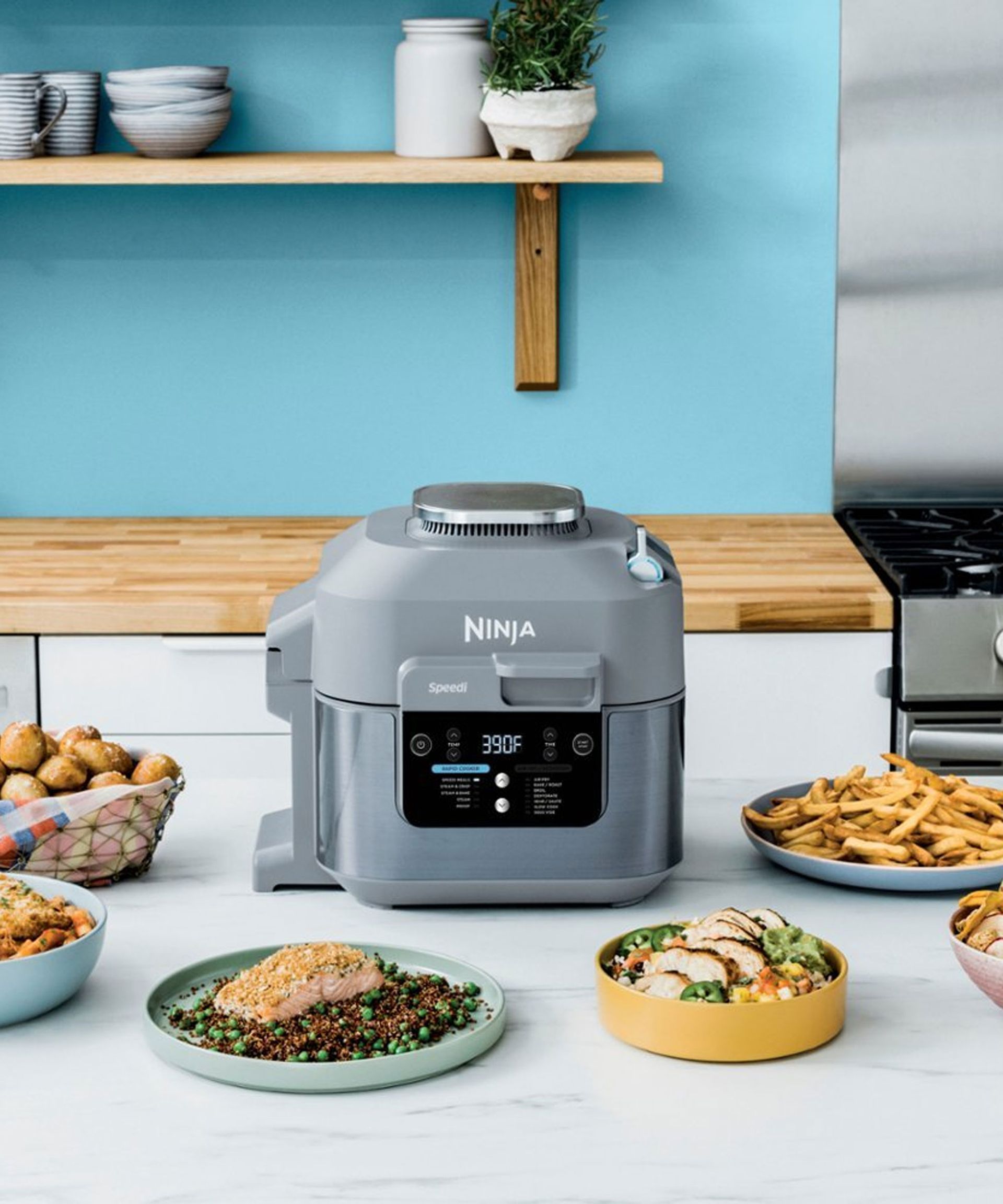 Air fryers are now one of the most popular kitchen appliances to have in the modern kitchen – and for many, they are a day to day essential when cooking at home. Affordable, quick and easy to use and often more economical than turning on the oven or stove, the best air fryers can really cook all manner of meals, with many able to fry, roast and bake – and more – with ease.
Millie Fender, appliance expert and head of reviews at Homes & Gardens says, 'We are currently testing the Ninja Speedi (opens in new tab) (below) and it does a great job of replicating a Dutch oven without the need to fire up your stove. Much like a Dutch oven, you can use it to sweat off onions or sear your meat before popping the lid on and slow-cooking for a delicious casserole.'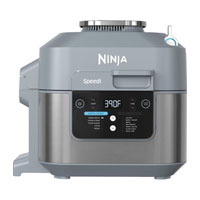 (opens in new tab)
Ninja Speedi Air Fryer & Rapid Cooker | $199.99 at Best Buy (opens in new tab)
A rapid cooker and air fryer all in one, the Ninja Speedy can cook a complete 3-part meal in as little as 15 minutes.
Millie has been reviewing products for Homes & Gardens since the beginning of 2021, covering all things product-related. A lover of al fresco dining, Millie is a big fan of useful home appliances and has established herself as a consumer expert on everything from air fryers to stand mixers.
6. Roasting Pan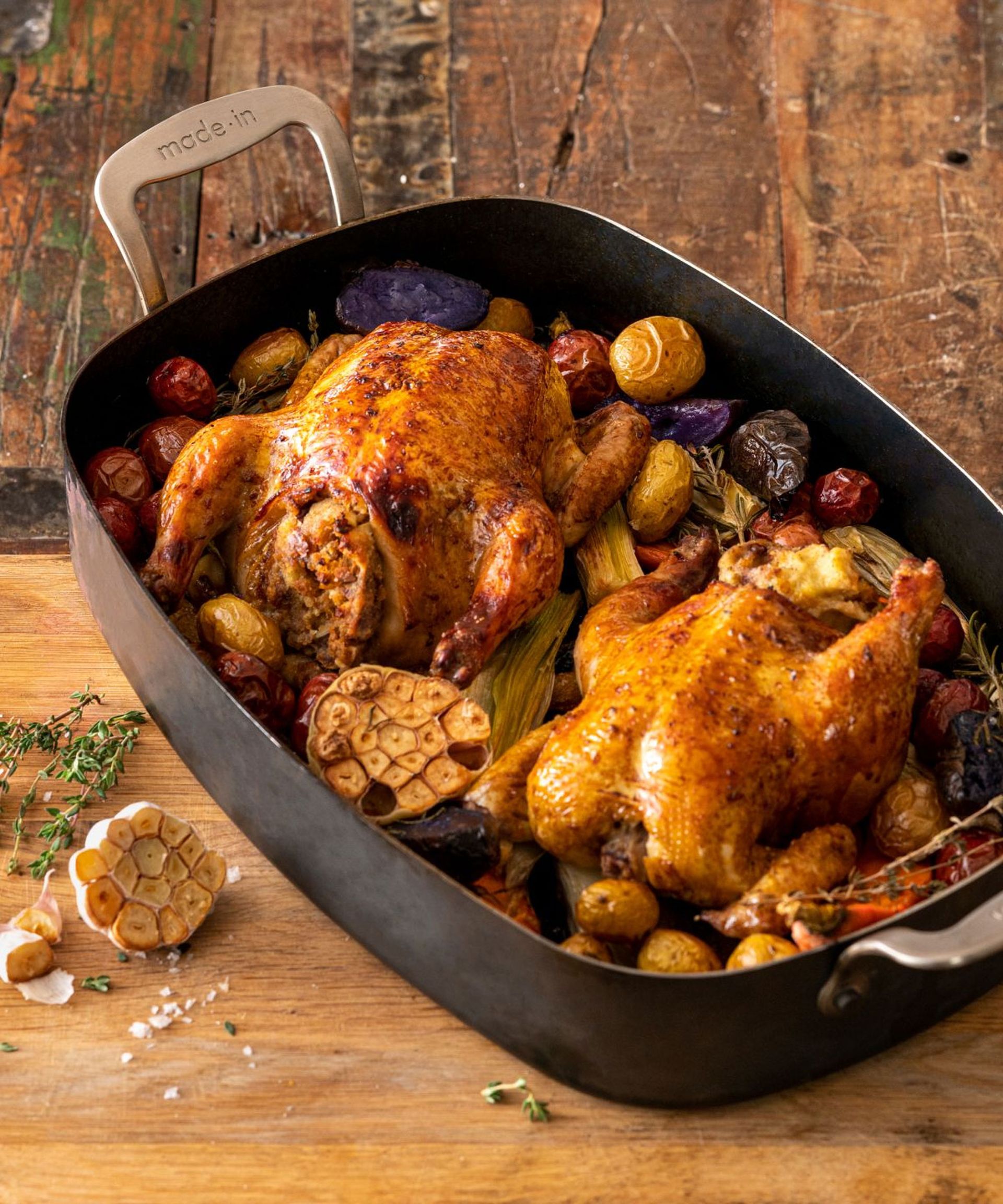 Alex David, Head of Ecomms at Homes & Gardens, says, 'when it comes to meat, a roasting pan is a better option than a Dutch oven. While it's not as versatile, whole birds, hams, and joints of beef are all much tastier in a good roasting pan thanks to hot air circulating around the whole cut of meat.
They're also lighter, and therefore easier to move around and store, and tend to cost a little less. One of our favorites is Made In Design's Blue Carbon Steel Roasting Pan (opens in new tab) (below), which is naturally non-stick and cooked delicious meals on test.'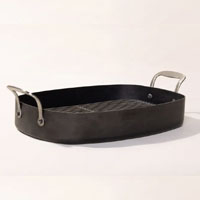 (opens in new tab)
Blue Carbon Steel Roasting Pan | $139 at Made In Cookware (opens in new tab)
Designed in collaboration with chef Tom Colicchio (opens in new tab), this classic roasting pan design has been crafted from durable carbon steel.
7. Casserole Dish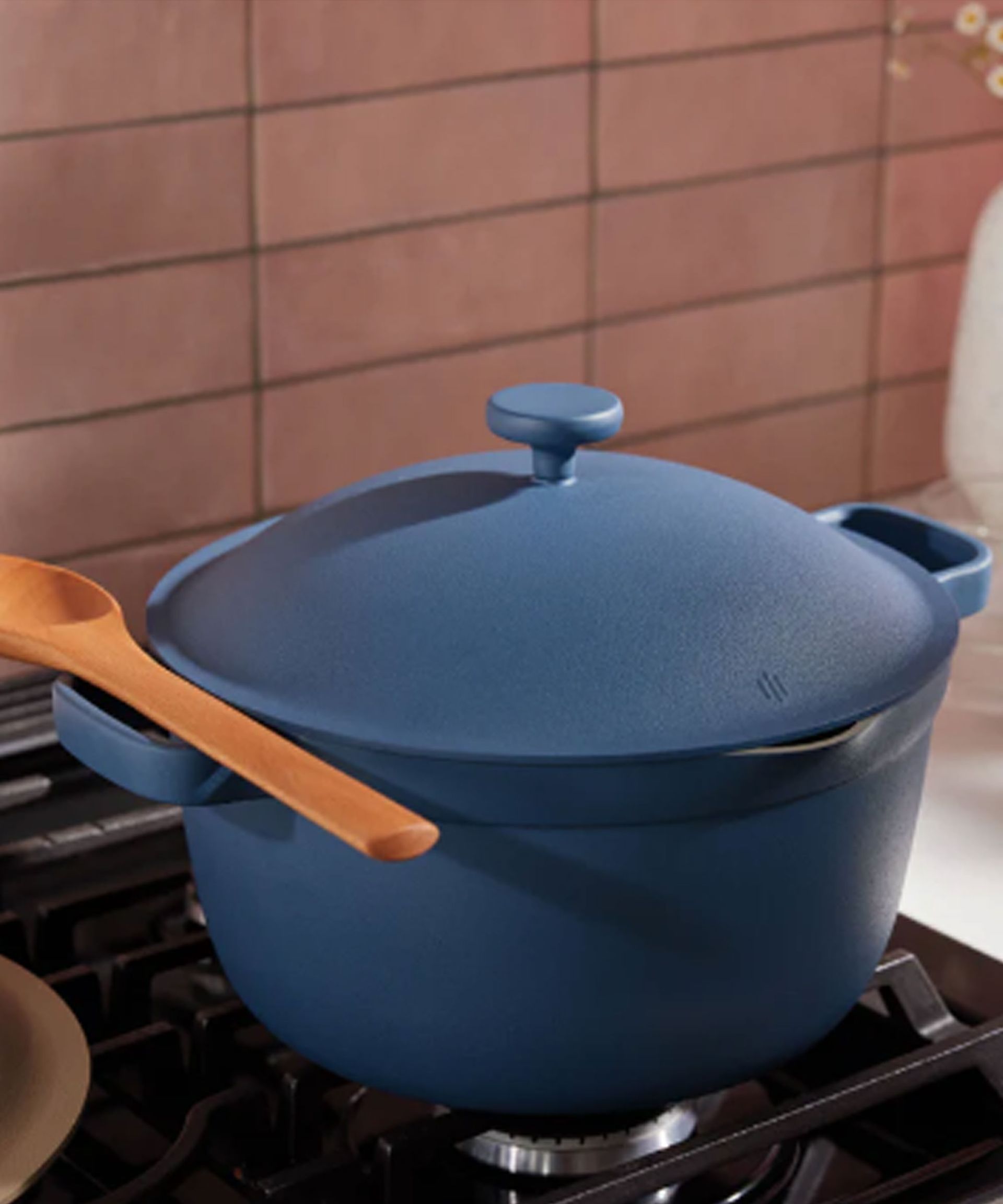 Casserole dishes are perfect for cooking oven-baked dishes such as hearty casseroles, pasta bakes and pot pies, but unlike Dutch ovens, many traditional casserole dishes, crafted from glass or ceramic, cannot be used on the stove.
However, products such as the Our Place Perfect Pot (opens in new tab) (below), crafted from cast aluminum with a ceramic non-stick coating, works pretty much the same as a Dutch oven, and can be used on the stove and in the oven for boiling, baking, steaming and braising – a more modern alternative to consider over a traditional Dutch oven.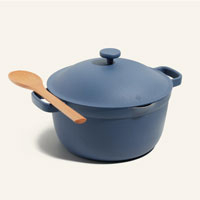 (opens in new tab)
Our Place Perfect Pot | $165 at Our Place (opens in new tab)
This versatile pot is a stock pot, Dutch oven, saucepot, roasting rack, steamer, colander, braiser and spoon rest all in one!
8. Stock Pot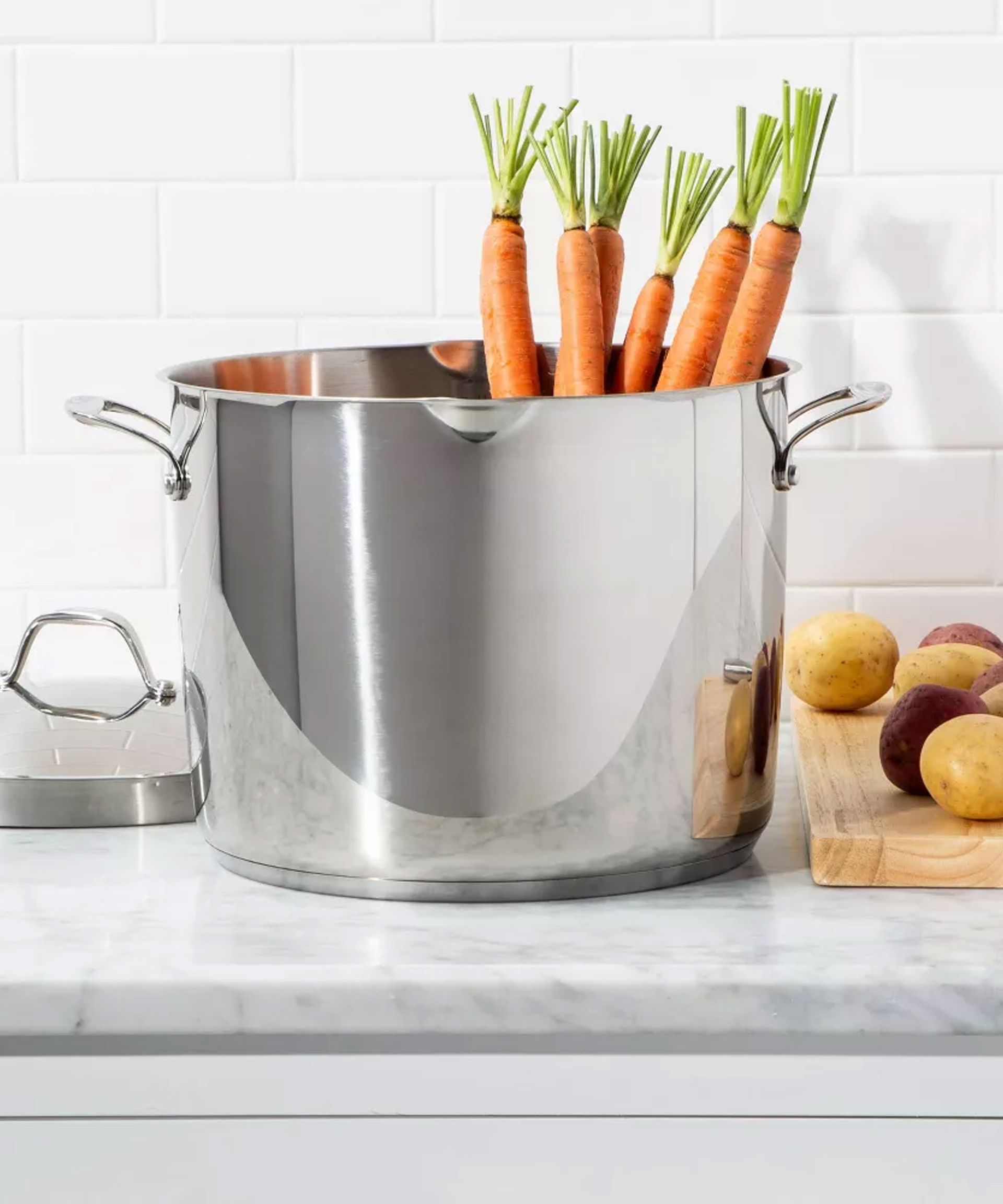 A stock pot, also known as a soup pot, is a great Dutch oven alternative to consider for stove-top cooking, ideal for making larger quantities of soups, broths and sauces. You can even use a stock pot to instead of a Dutch oven to make bread.
Depending on the material, not all stock pots can be used in the oven, but their similar structure and design featuring high sides and a lid, make them one of the most popular substitutions for a Dutch oven.
This basic stainless steel stock pot (below) is our best buy.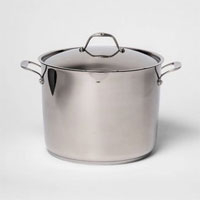 (opens in new tab)
14qt Stainless Steel Stock Pot with Lid | $47.00 at Target (opens in new tab)
Featuring a study, stainless steel design, this stock pot is perfect for soups, sauces, stews and more. This design is oven safe, dishwasher safe and induction compatible.
FAQs
Does using a Dutch oven make a difference?
A good-quality Dutch oven can be a real investment piece, and if treated and used properly, can last in your kitchen for a lifetime.
Due to the quality of the coated cast iron material used to create Dutch ovens by brands such as Le Creuset, the designs are often regarded as more successful than other pots and appliances, as the material embodies superior insulation properties that can maintain internal temperatures while cooking, allowing for the pots to create a wide range of delicious, different dishes with ease.
However, as we have explored in this piece, there are several Dutch oven alternatives that have been expert-approved to provide similar results. If you love to cook and spend a great deal of time in the kitchen, it is always worth testing a variety of products to see which ones match up with your cooking habits and recipes the best.
---
Although a traditional Dutch oven will always be regarded as a more luxurious, one-pot-does-all kitchen appliance, there are many other designs that offer just as much versatility for cooking at home.
Zara joined Homes & Gardens in February 2022 as a Content Editor. After studying English Literature at University, she worked as an Ecommerce Website Editor, Content Writer and Buying Intern at multiple independent businesses within the luxury retail and lifestyle sectors. Her role at Homes & Gardens unites her love, experience and passion for the world of design and desire to create inspiring written content. She enjoys nothing more than discovering new trends, brands and products, whether that be in fashion, interior design or lifestyle.