Le Creuset vs Staub: which cult classic cast iron oven is best?
Choosing between a Le Creuset vs Staub? We discuss all the crucial pros, cons and differences after cooking with both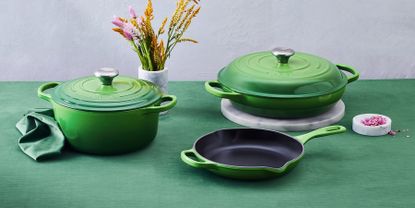 (Image credit: Le Creuset )
If you're stuck between bringing home a Le Creuset vs Staub Dutch oven, then we'd say you're in a pretty good position. These two titans are by far the superior brands to be deciding among, especially when it comes to the best cast iron cookware. Lucky you that you're ready to delve into creating a collection. The good news: investing in a cast-iron Dutch oven or Cocotte from either of these names will make your cooking and the decor of your kitchen shine. We put them both to the test so that we can explain exactly why that is.
Whichever brand you eventually decide to buy, with one of the best Dutch ovens, you'll be able to reach new culinary heights, as this type of cookware can withstand exceptionally high temperatures and make the perfect vessel for any slow cooking recipe. To give you a taste of both, below we establish, after reviewing them both, what we love about each of these brands, and what makes them different.
Le Creuset Signature Round Dutch Oven
Weight of 5.5 Qt. 11.5 lbs.
Sizes: 2-qt., 3.5-qt., 4.5-qt., 5.5-qt, 7.25-qt., 9-qt., 13.25-qt.
Shapes: Oval or round
Colors: 22
Dishwasher safe: Yes
Temperature range: up to 500°F/ 250°C
Warranty: Limited Lifetime
RRP: $260-$625 / £195 - £455
For
Light interior allows you to monitor cooking
Vibrant and expansive color palette
Safe to be used on all heat sources
Made in France: sand-cast polished and finished by hand, then sprayed with two coats of enamel and fired twice.
Slightly lighter build
Against
The light interior may stain
Take care when using metal utensils to avoid scratching enamel
Staub La Cocotte Round Oven
Weight of 5.5 qt. 12.57 lb.
Other sizes: .5-qt, 2.75-qt., 4-qt., 5.55-qt., 7-qt., 9-qt., 13.25-qt.
Shapes: Oval or round
Colors: 14
Dishwasher safe: Yes
Temperature range: up to 500°F/ 250°C
Warranty: Limited Lifetime
RRP: $130-$600/ £109- £429
For
Textured, dark interior is great for braising and browning
Tight-sealing and self-basting lid locks in flavor and moisture
Hold temperatures better
Made in France, a single cocotte takes a week to make and is touched by over 20 people from start to finish.
Against
Fewer color options
Heavier
Dark interior hides leftover food bits and can be more difficult to clean
Le Creuset vs Staub: the similarities
Both Le Creuset and Staub have become household names and are highly sought-after. To start with the similarities, both of these are premium French brands that have roots dating back to the 20th century, meaning they know exactly what they're doing when it comes to cookware. The essential thing to know is: enameled cast iron Dutch ovens are the specialty across the board here.
Le Creuset vs Staub: the differences
Obviously, they've got cast iron in common, but what sets these two Dutch oven offerings apart? One distinction is the color of the enamel inside the ovens I tried. While the Le Creuset Dutch Oven features a light shade for 'easy clean-ups', my Staub cocotte of choice has a black interior, 'ideal for crisp searing'.
Le Creuset has a similar Satin Black range, which they also designate for higher surface temperature cooking, such as frying, grilling, and searing. If flavor is important to you, then it's good to know the particular surface used for this range creates a surface patina that develops after multiple uses and can enhance the flavor and experience you get as you cook.
During everyday cooking, I found that opting for the white enameled Le Creuset drastically helped me to monitor exactly what was going on in the pan, and meant that it was easier to prevent any scorching incidents. The enamel is exceptionally good at stopping foodstuff from sticking, and the white color means you can't afford to be anything but militant when it comes to cleanups.
The weight and lid fit of these ovens also varies. The Staub I tested was heavier, with a tight-fitting lid and a spiked underside that creates a self-basting environment. Inside, with the lid on, any dish that you cook should emerge perfectly braised and browned, with none of the moisture able to escape the confines inside. Meanwhile, the Le Creuset is noticeably lighter, a thing to note if you have to walk a fair distance to transfer your dish into your oven.
Another difference is cost, with Le Creuset pieces typically costing more its Staub counterpart. A 5.5 quart Dutch oven from Le Creuset retails for $420, which is no small fee. Comparatively, a Staub of the same size costs around $380.
Cooking with a Le Creuset vs Staub Dutch oven
I've learnt that cooking with a Le Creuset white enameled Dutch oven requires patience. Think one-pot meals, casseroles, stews and braising recipes as your go-to. The design means that low to medium heat is king and that once the surface is hot, it'll stay that way for absolutely hours, which is perfect for all-day slow cooking.
Or, need a place to chill your wine during dinner parties? After a stint in your refrigerator, the Staub and Le Creuset ovens can also cool contents inside for long periods too. Another excellent idea is using your pot to present iced desserts too.
With the Le Creuset, you can steer clear of lengthy preheating sessions, which I found can actually cause foods to stick during cooking. Instead, make sure to cover the base with a layer of oil, and get started with just that low to medium temperature.
Meanwhile, cooking with the black enameled Staub requires very little oil. If you prefer to steam, then you only need minimal water for that task too, as the flat lid that we mentioned earlier has those contours which ensure that moisture is always fed back down into the pot below. Staub claim that this helps to recirculate moisture nine times more effectively than competitors, and makes this an absolutely ideal Dutch oven for braising meat, a fact we found when trying this oven at home too.
The Le Creuset Dutch oven can be used on "all heat sources including gas, electric solid plate or radiant ring, vitro-ceramic glass, induction, and ovens fired by gas, oil, coal or wood". The Le Creuset I tested had a stainless steel knob, which deems that it can be used in a conventional oven up to 500 degrees Fahrenheit. Not to be beaten, the Staub cocotte I tried can similarly withstand temperatures of 482 Fahrenheit in the oven.
Le Creuset vs Staub: Cleaning
As you might expect with cast iron of this value, the key thing with maintaining your pot is to be careful to avoid marking or scratching it. I've found it's easier to run into problems with the white enameled Le Creuset compared to the black interior of the Staub, but with the right aftercare, it's likely you'll be able to restore your purchase to its initial condition.
The golden rules for cleaning your Le Creuset? Always allow your pan to cool for a few minutes before beginning to handwash, and never (ever!) plunge your pan after cooking into cold water. This might result in the dreaded thermal shock effect, which can crack your pan in two. Any pan with a stainless steel knob can technically be placed into the dishwasher, but Le Creuset wouldn't strictly advise it if you want to keep the integrity of the enamel finish.
I've learned the soak method will present you with the results you want with the Le Creuset, which involves leaving the pan to soak for half an hour while cleaning the rest of my kitchen. I then use a non-abrasive handheld brush to remove any leftover residue.
The same rules mostly apply to the Staub, though I have found that the black interior is more forgiving when it comes to cleaning if you give it time to soak. All Staub ovens except those with wooden handles are dishwasher safe, but Staub also recommends handwashing to preserve the interior.
Which is better? Le Creuset vs Staub
While I reached for the Le Creuset pan more for everyday dinners, like stews or refried beans, the power that the Staub holds with the black enamel means it was my go-to vessel for grilling and searing.
The affordability of the Staub also means that if I was purchasing a Dutch oven myself, I would likely opt for it, as I found the quality remarkably similar to the Le Creuset, though you may lose some prestige points. Whichever brand you opt for, the lifetime guarantees applied to both will go a long way when it comes to peace of mind about parting with that much money, and the fact that these ovens can last for decades certainly makes me more mindful when cleaning and storing.
Another point of view
Another point of view
Millie Fender
Our Head of Reviews Millie Fender, who's reviewed the top-rated cookware on the market, from Le Creuset's bread oven to viral frying pans. weighed in on her experiences using both Le Creuset and Staub cookware saying "There's no denying that the Le Creuset cast iron is iconic, especially if you want a matching cookware set to go alongside it. It is a hefty choice, not suitable for those who struggle with lifting weighty pots in and out of the oven, but because of the color and size options available I think this is the top choice for those who want to start a coordinated cookware collection."
So though Le Creuset is Millie's overall top choice, she does counter that "the Le Creuset does lack a few of the features you'll find with the Staub Cocotte, including the uniquely-shaped lid that makes sure your food never goes dry. If you're a sourdough fanatic, this could make a big difference when it comes to baking bread".
How we tested
As part of our commitment to how we test, I tested both of these cast iron ovens at home for a number of weeks to learn more about the brand histories and the designs, and to see how they fared after everyday use. Both have become staples in my cooking routine, with different benefits to cooking in either the black or white enamel encasing. These samples were kindly provided by Le Creuset and Staub.
---
Sign up to the Homes & Gardens newsletter
Decor Ideas. Project Inspiration. Expert Advice. Delivered to your inbox.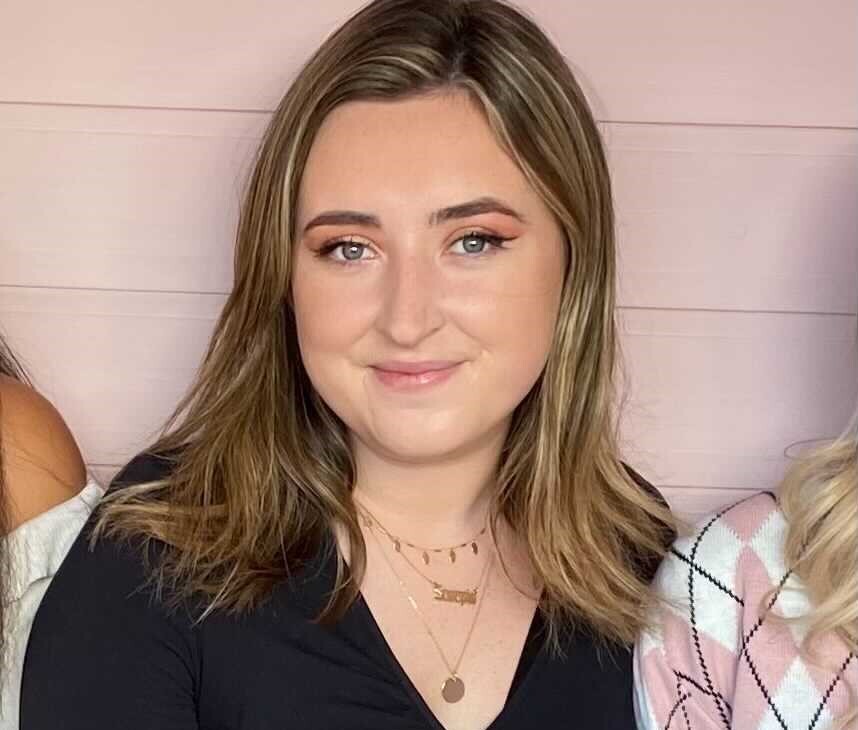 Molly is the Ecommerce Writer for Homes & Gardens and spends her time searching the internet for the next best thing for your home, with a focus on shopping edits and buying guides. Before joining Homes & Gardens, Molly graduated from the University of Exeter with a degree in English Literature, with previous internships undertaken at The Economist in her summer breaks.