Best turkey roasting pan: 5 fabulous finds to secure before the holidays
This holiday season, get the best turkey roasting pan for your Thanksgiving and Christmas dinners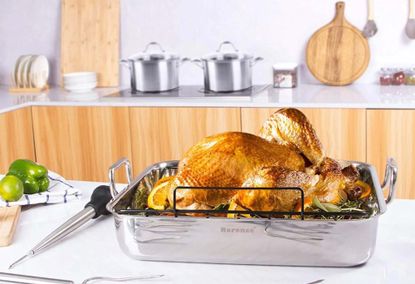 (Image credit: Wayfair)
When it comes to celebrating Thanksgiving and Christmas, how good (or bad) your turkey turns out either makes the holiday or ruins it.
The best turkey roasting pan is essential for roasting – but also deep-fat frying and grilling. And, while these pans come in all shapes and sizes, a perfect turkey roasting pan will evenly distribute heat and help retain moisture through the meat.
Now, how to separate the best turkey roasting pan from any old pan? That's where the Homes & Gardens team comes into play. We've done the hard work for you and found the five best turkey roasting pans on sale today.
The 5 best turkey roasting pans on the market
1. All-Clad Stainless Steel Roasting Pan With Nonstick Rack
The best turkey roasting pan: a heavy-duty stainless steel selection marked down
Specifications
Capacity: 6.3 quart
Exterior Finish: Stainless Steel
Oven Temperature Threshold: 600 Degrees
Product Type: Roaster
Reasons to buy
+
Heavy-duty stainless steel
+
A non-stick roasting rack is ultra-durable
+
Warp-resistant strength
The All-Clad large roaster with a rack is an essential buy for those looking to cook a larger-sized turkey. With the capacity to hold up to 25 pounds, the heavy-duty stainless-steel model is ultra-durable.
Why do we love it?
This turkey roasting pan is exceptional for holiday cooking but also could work on a regular basis. Suitable for use with electric and gas stoves, the lidless model has a V-shaped nonstick rack that promotes even heating and makes it easy to collect natural juices.
Plus, when not in use it will safely and seamlessly store in any cabinet or shelf due to its smart shape.
The design
As we previously mentioned, the stainless steel construction gives this roasting pan a strong, durable base that's elevated with tall V-shaped sides to prevent spilling and upright handles to ensure secure holding. With wrap-resistant strength and a polished finish, it is a terrific investment for anyone.
2. Cuisinart Chef's Classic 16-Inch Stainless Steel Roaster
The best turkey roasting pan: a no-lid stainless steel selection that works remarkably
Specifications
Exterior Finish: Stainless steel
Set Size: 1 piece
Lid type: No lid
Cookware Handle Construction: Riveted
Reasons to buy
+
Evenly distributes heat
+
Stainless steel construction
+
holds up to a 20lb turkey
When it comes to the Cuisinart Chef's Classic 16-inch Stainless Steel Roasterm, versatility reigns supreme.
Why do we love it?
Unlike traditional models, this turkey roasting pan is sensational when used for Thanksgiving use, but it is exceptional when used in day-to-day life. Users can cook meat or kinds of pasta, large roasts, and casseroles anytime, anywhere.
With its stainless steel construction, like All-Clad's roasting pan, this model also fits into standard ovens and can hold a turkey up to 20lbs.
The design
This Solid cast stainless steel side handles are contoured for comfort and balance and riveted for strength. Its durable construction is microwavable-safe and Includes a U-shaped stainless steel rack. With a lifetime warranty guaranteed, it's a low-lift risk when opting for this roasting pan.
3. Rachel Ray Hard-Anodized Nonstick Roaster
The best turkey roasting pan: A perfectly polished pan that is budget-friendly
Specifications
Item weight: 3.4lbs
Shape: Rectangular
Baking cooking surface: nonstick
Features: Riveted Handle, Nonstick
Care & Cleaning: Hand Wash, Oven-Safe up to 450 Degrees
Reasons to buy
+
Rectangular shape
+
Nonstick surface
+
Safe up to 450-degrees
Bring on big family roasts, turkeys, hams, and more with this super functional and easy handling Rachael Ray Nonstick Roasting Pan with Reversible Rack.
Why do we love it?
We love how this model proves you don't have to break the bank for the best turkey roasting pan; all you have to do is opt for this budget-friendly version. Instead, it reviews a near-perfect 4.75-rating, and reviewers continuously praise this "perfect purchase" for how "high-quality" it is.
The design
This versatile turkey roasting pan can be used in more ways than one; sure, it will cook your Thanksgiving turkey, but it's also suitable for large cuts of meat and poultry on any night. Featuring a reversible rack, this pan keeps food from falling, and creates a crisp, even brown layer.
Here, both the roasting pan and rack feature high-quality nonstick for easy food release and fast cleanup. Safe for up to 450-degrees, the wide handles offer comfort and control; this model is a top contender without the hefty price tag.
4. Anolon Triply Clad Stainless Steel Roaster
The best turkey roasting pan: An investment pan worth every single cent
Specifications
Item weight: 10.54 pounds
Product dimensions: 20.3 x 16 x 5.95 inches
Material: Stainless steel
Reasons to buy
+
Durable three-ply construction
+
Aluminum Core
+
Easy grip handles
There's a lot to love about the Anolon Tri-Ply Clad Stainless Steel roaster, but primarily that it prides itself on optimal heat distribution and comfort.
Why do we love it?
Compared to most turkey roasting pans, this model is broiler and oven safe up to 500-degree, making it 50-degree higher than the rest. With a nonstick roasting rack to release roasts effortlessly, we also are privy to the easy-lift handles.
The design
This turkey roasting pan features durable triple-layer construction, with an aluminum core surrounded by layers of stainless steel for optimal heat distribution; ideal for all stovetops, including induction. With comfortable stainless steel handles (for long-lasting durability and comfort) with stain-proof stainless steel rivets.
5. Range Kleen 17 in. Steel Broiler Pan
The best turkey roasting pan: A fan-favorite choice that's under $25
Specifications
Type: Broiler pan
Shape: Rectangle
Material: Steel
Nonstick: Yes
PFOA free: yes
Reasons to buy
+
Under $25
+
A nonstick rectangle pan that is PFOA free
+
Constructed from durable steel
Naturally, we saved the best for last, the Range Kleen 17-inches Steel Broiler Pan. It's cost-efficient, highly rated, and is compatible with electric coil cooktops and gas stoves.
Why do we love it?
Durable and reliable, this nonstick pan will seamlessly cook any holiday meal and do so fearlessly, thanks to its nonstick features. Suitable for up to 20 pounds, this pan can serve larger-sized gatherings without issue. Plus, with an easy-to-clean model and one-year warranty, it's risk-free.
The design
This turkey roasting pan measures 17-inches; crafted from durable stainless steel, and weighs no more than 2.8 pounds. While there isn't an included rack, customers still claim it's "one of the best options on the market." With a 'heavy gauge' and 'combination baking pan and broiler', it's a no-brainer that this under $25 is worth every penny.
How to pick the best turkey roasting pan?
It's not that finding the best turkey roasting pan is difficult, the issue is finding one that's worthwhile and lives up to your expectation. To find the 'best' model boils down to nothing more than what your specific needs are and will be.
For instance, if you are hosting a larger-sized family fathering over the holidays, you'll want to consider the thickness of the roasting pan's walls and the height of its handles. The reason for this? This is to ensure that you can maintain a firm grip when putting the turkey in and taking it out of the oven.
How do you decide what turkey roasting pan size is best for you?
A small (14-inch) roasting pan works for birds up to 12 pounds.
A medium (16-inch) roasting pan is ideal for birds up to 16 pounds.
A large (18-inch) roasting pan can fit turkeys up to 20 pounds.
What type of turkey roasting pan do you need?
The most important factor when selecting the best turkey roasting pan is finding the proper type of material. The two best materials for a roasting pan are copper and stainless steel. These materials are durable and remain light enough to get the turkey in-and-out of the oven.