Best Keurig alternatives 2023: café-quality coffee makers
Keurigs are convenient, but they don't always make great coffee. These cost-effective alternatives make much better brews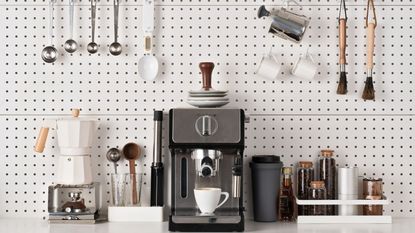 (Image credit: Getty Images)
Best Keurig alternatives 2023: Jump Menu
There's no denying that Keurig coffee makers are super convenient. All you need to do is fill up your water tank, pop in a pod, and press a button to make a brew in less than a minute.
But it isn't always great coffee. Keurig K-Cups contain just seven to eight grams of coffee granules, only half as much as you need to make a standard-size cup. Keurig beans are grown, processed, and roasted with quantity in mind, rather than quality. Since Keurig coffee makers are only compatible with K-Cups, you're unlikely to get a good brew.
There's so much more to making coffee than convenience. The best coffee makers are customizable, allowing you to control the process from grind to brew. Like a Keurig, these machines are slick, quick, and easy to use: they just make much better quality coffee.
Each of these coffee makers is tried and tested by the expert team at H&G. We've ranked them based on capacity, convenience, and appearance, as well as the all-important price.
The quick list
These are the best Keurig alternatives at a glance. Scroll down for more specifics.
The best Keurig alternatives, in depth
You can trust Homes & Gardens. Our expert reviewers spend hours testing and comparing the latest products, helping you choose the best for you. Find out more about how we test.
The best overall coffee maker
Best Keurig alternative overall
Specifications
Coffee type: Espresso, Coffee, Hot Water, Cappuccino, Latte and Americano
Dimensions: 9.6"W x 17"D x 14.6"H
Accessories: Coffee oil remover tablets
Dishwasher-safe: Drip tray and LatteGo
Reasons to buy
+
Fully automatic
+
Excellent milk frother
+
Easy to use and store
Buy it if:
✅ You like lattes: this coffee maker comes with LatteGo, which froths your milk and funnels it right into your mug.
✅ You hate spills and splatters: the adjustable coffee spout raises or lowers to meet your cup.
✅ You hate washing up: the coffee grounds container and the drip tray are dishwasher-safe, and only need to be emptied once a week.
Don't buy it if:
❌ You're sensitive to noise: like most bean-to-cup machines, this coffee maker whistles while it works.
❌ You like to brew in bigger batches: this machine is best for quick shots of espresso.
❌ You're on a budget: this is a premium coffee maker, with a premium price tag.
The bottom line
🔎 Philips 3200 Series Fully Automatic Espresso Machine with LatteGo was the best on test.
Whatever kind of coffee you're craving, you can make it in the Philips 3200. This coffee maker incorporates a brand-new built-in milk system, known as LatteGo, which uses cyclonic frothing technology to produce thick layers of foam. It's fully compatible with dairy milks or your favorite plant-based alternatives.
This coffee maker contains durable ceramic grinders that can be adjusted in 12 steps to create anything from fine powder to coarse shavings. You can set and save your favorite strengths and quantities of coffee for a quick and easy brew in the morning. You'll save time cleaning, too, since the milk system, the drip tray, and the coffee ground container are all dishwasher-safe.
If you want to batch-brew, this is not the machine for you. The Philips 3200 is most suitable for single servings. There's an option to make two cups at a time, but they'll brew consecutively, rather than simultaneously.
But it's easy to use, simple to store, and makes café-quality coffee at the touch of a button. That's why the Philips 3200 is our best coffee maker of the year.
You can find more detail in our Philips 3200 Series Fully Automatic Espresso Machine review.
Swipe to scroll horizontally
Test results

| Attributes | Notes | Rating |
| --- | --- | --- |
| Capacity | Large waste container | ★★★★★ |
| Convenience | User-friendly interface | ★★★★★ |
| Appearance | Sleek and chic | ★★★★★ |
| Price | On the more expensive side | ★★★★ |
The best drip coffee maker