Nespresso Vertuo Pop coffee maker – small but mighty
The Nespresso Vertuo Pop is the company's smallest and cheapest pod machine. I put it to the test to see if the best things really come in small packages.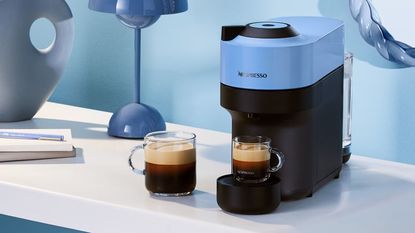 (Image credit: Nespresso)
If you lack space, time and spare brain capacity, this compact, quick, and easy-to-use pod-based machine could be the perfect tool to achieve a speedy caffeine fix. You won't have to sacrifice on taste either, the Nespresso Vertuo Pop pushes out impressive depth and flavor that's on par with any decent coffee shop. The water tank is a tad small and there's not much room for all but the smallest coffee cup on its drip tray, but don't let that put you off, the Nespresso Vertuo Pop really is an excellent little machine.
Reasons to buy
+

Space-saving size

+

Colourful (depending on model)

+

Fast heat up

+

Great tasting coffee

+

Great price
Reasons to avoid
-

Limited mug size

-

Small water tank
You can trust Homes & Gardens. Our expert reviewers spend hours testing and comparing the latest products, helping you choose the best for you. Find out more about how we test.
Nespresso is renowned for producing some of the best single serve coffee makers on the market, and the global brand's coffee pods are unsurpassed in terms of both flavour and choice. One of the main reasons for Nespresso's success is undoubtedly convenience. If you invest in this pod coffee machine, you'll never have to deal with messy coffee grounds ever again.
This new addition to the Nespresso family is notable for its size – it's the smallest model that takes Nespresso's largest Vertuo pods – and brightly colored livery. If you're looking to add a pop of color to countertops, the four zesty shades will certainly wake you up in the morning.
I also loved the simplicity of this pint-sized machine. One button is all you need to enjoy a really delicious brew, and it's so speedy too. Rich coffee with a thick crema will be headed your way just 30 seconds after you press that button.
I tested the Vertuo Pop for a month, trying out all manner of mouth-watering flavours in an array of cup sizes, both caffeinated and decaffeinated. It's a tough job. Read on to find out how the Nespresso Vertuo Pop rated, but spoiler alert: if you're an espresso-only type, a best espresso machine could prove a better fit.
Nespresso Vertuo Pop Specifications
Swipe to scroll horizontally
| | |
| --- | --- |
| Dimensions: | 5.3" x 16.7" x 9.8" |
| Weight: | 7.7 lbs |
| Colors: | Liquorice Black, Spicy Red, Coconut White, Aqua Mint, Pacific Blue, Mango Yellow |
| Water tank capacity: | 20 fl oz |
| Coffee sizes: | Espresso, Double Espresso, Gran Lungo, Mug |
| Warranty: | 2 year |
Nespresso Vertuo Pop design
Overall, this is a sleek looking machine, minimalist in design and nicely proportioned. I was sent the Liquorice Black version to test, but I wouldn't have minded any of the more vibrant color options available, the Pacific Blue is especially lovely.
Measuring a slender 5.3 inches wide, you won't need to sacrifice a lot of space on your countertops to accommodate this small-scale machine. Although it's only 9.8 inches high, the shortest of Nespresso's three Vertuo models, it's worth noting that you'll need a 14 inch clearance to pop new pods inside. The water reservoir is also right at the back, so you may need to pull it forwards to fill if you have a shelf or wall cabinet above.
Oh, and the pod bin is at the side, so you'll need to be able to access that, too. Luckily, it's a very lightweight machine and no effort at all to pull forward, as long as you have the space on your counters to do so. You could also store it in a cupboard quite easily, if you don't drink coffee on a daily basis, but like to be able to produce decent coffee when friends come over.
Is it easy to set up the Nespresso Vertuo Pop?
There's really nothing to the set-up process, besides plugging the machine in. The power cable is not very long but is surprisingly stiff and unyielding, so you'll need to position this coffee machine near a socket.
You can download the Nespresso app and pair the Vertuo Pop with your phone or device but there's really no obligation to do this – you will still be able to enjoy the exact same tasty coffee without linking to an app. Downloading the app doesn't allow you to control the machine from your phone, it's more about maintenance tutorials and ordering pods, but you can do that just as easily online. You can also check current water levels using the app, although I generally found using my eyes to check the water was perfectly sufficient. The app was a tad glitchy, freezing every so often and I soon turned notifications off.
I was delighted to discover the Vertuo Pop comes with a taster menu box of 12 Vertuo pods, which meant I could try out lots of different flavours before committing to buying a box of 10 capsules.
What's it like to use the Nespresso Vertuo Pop?
User ease is incredibly intuitive and couldn't be simpler. I didn't need to look at any instructions, even my 81-year-old mother-in-law who doesn't have a mobile phone or computer sussed it without any guidance. She was babysitting, her desperation for caffeine was probably a good incentive.
For those interested in instructions, to make a coffee just unlock the lid by pushing the small lever in the top to the right, put a pod in the pod-shaped hole, and lock it again by closing the lid and pushing the lever back to the left. Press the one and only button, making sure you have a mug in position, and the coffee will arrive in about the same time it takes to get milk out of the fridge.
The water tank is at the back, which made it slightly awkward to reach as we have a shelf above, but at least it was out of sight. It pops off easily if you want to take it to the tap, or you can fill in-situ using a jug. Be warned that the water tank is not very big, which means you'll have to refill multiple times if you are entertaining. The benefit of a smaller tank is you're much less likely to end up with stagnant water if you don't often drink coffee.
Once the pod bin is full of empty capsules, it is easy to empty by simply pulling the bin out from one side. It has a solid tray on the bottom, so you won't trail water on the way to the waste bin.
For environmentally friendly disposal, Nespresso offers a free recycling service for old capsules, just order a recycling bag when you buy new capsules direct from Nespresso and request a collection. Rather disappointingly the collection service is operated separately to delivery, which feels kind of counterintuitive from a carbon footprint stance. There is an option to drop empty capsules off at your nearest Nespresso Boutique (and pick up another bag while you're there).
What does the coffee taste like?
When it comes to the actual coffee experience, I have to say I was very, very impressed. I have happily owned a Nespresso machine for several years, but it is one of the first generation machines, which takes the small 'original' capsules. The coffee is tasty enough and, as the only coffee drinker in the house, it suits me not to have to buy large bags of coffee beans or grounds that potentially go stale before I get through them. I've also had a French press in the past but the mess…it's just too much bother for one person.
Anyway, the point is, while I wasn't unhappy with my Original machine or its pods, the Vertuo capsules knock them out of the park. The flavor is deeper, the crema thicker and the aroma filled my kitchen in a way I have never experienced before. Nespresso says this is achieved by its trademarked Centrifusion Technology, which judging by the mad whirring sound emitted from the machine, means the pods are spun around very quickly to ensure every drop of flavor is extracted from each capsule.
However it is done, it works. It is massively superior to any coffee I have achieved from my Nespresso Original capsule machine and I happily slurped my way through all the Vertuo capsules supplied. The special edition Infiniment Gourmand Saveur Noisette by Hermé was a clear favorite but I even enjoyed the more obscure choices like Vanilla Custard Pie and Toccano, which is described as Berry & Winey. If you need serious waking up, the double espresso capsules definitely do the job, but beware, you'll only need one in 24 hours!
Rather cleverly, the Vertuo Pop doesn't have any buttons to adjust the size of drink required, instead it uses Automatic Blend Recognition, which essentially uses barcode scanning to find out the right amount of water according to the type of pod you put in. Make sure you don't put an espresso cup underneath if you have used a Gran Lungo pod.
Speaking of cups, the Vertuo Pop delivers up to 230ml of coffee, but I was a bit disappointed by the fact you have to remove the drip tray to get normal size mugs under the spout. It lifts off easily enough but then you are left with coffee drips on your countertops once you've taken the drink away, unless you are a ninja and can get the drip tray back on before it drips. I tried and failed. You could buy an especially short-wide mug (no doubt Nespresso sell just the thing), but otherwise the drip tray is really only suitable for espresso-size cups.
The machine will power off automatically after two minutes of inactivity, to save electricity, which is a useful feature given the current fuel crisis.
Cleaning and maintenance
As the coffee grounds are so neatly contained in the capsules, most pod machines don't require much cleaning at all and the Vertuo Pop is no exception. If you are using it regularly, you will only need to empty the pod receptacle bin, and give that a rinse, and rinse the drip tray every so often – use hot water and mild, odorless detergent.
If you are not a regular coffee drinker and the machine has been left unused for a while, it's wise to flush water through the pipes before you use it again. Just fill the tank with fresh water, open and close the lock (no pod), and press the button three times within two seconds.
Descaling is a slightly more complex but still easy process, requiring Nespresso descaling agent in the water tank, and more pressing of the button and locking and unlocking in sequence. The 12-step process is covered in the instruction booklet and on the App or you can watch a video on the Nespresso site.
Nespresso Vertuo Pop vs Nespresso Vertuo Next
The H&G team has also tested the Nespresso Vertuo Next coffee maker, which shares many of the features of the Vertuo Pop, including Centrifugal Technology and App connectivity, takes the same size Vertuo capsules, and is just as easy to use.
The main advantage of the Vertuo Next is it can accommodate one extra cup size, a carafe, which is perfect for those who don't leave home without a travel mug filled to the brim. And, blissfully, it is taller than the Vertuo Pop, so you can sit standard size mugs on the drip tray. This height advantage will cost you but you may be able to bag a bargain if you keep an eye on sales.
Is it worth it?
Retailing at around $150, the Vertuo Pop is the most affordable option in Nespresso's Vertuo range and there's no doubt it delivers coffee that's far superior to many I have bought at so-called 'boutique barista'. For that reason, we think it's definitely worth the money. However, bear in mind that the coffee capsules are not cheap. Prices range from 98¢ to $1.65 per capsule, but you can save money by signing up to Nespresso's subscription service. You should also look for subscription deals before buying, as I've seen it on sale for under $130.
Money aside, the Vertuo Pop produces great coffee without any hassle and is certainly much easier, and less messy, than learning how to use a French press. Sure, it doesn't have a built-in milk frother, but if milky coffees are your thing, you can always buy a separate Aeroccinno for $99.
Sign up to the Homes & Gardens newsletter
Decor Ideas. Project Inspiration. Expert Advice. Delivered to your inbox.
Linda graduated from university with a First in Journalism, Film and Broadcasting. Her career began on a trade title for the kitchen and bathroom industry, and she has worked for Homes & Gardens, and sister-brands Livingetc, Country Homes & Interiors and Ideal Home, since 2006, covering interiors topics, though kitchens and bathrooms are her specialism.