Keurig vs Nespresso – which coffee maker is best for taste, variety, and your wallet
The two brands have got the single-serve market totally cornered - but which is best?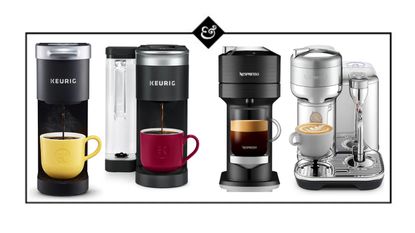 (Image credit: Future)
Single-serve coffee is rapidly growing in the United States and two coffee makers dominate the market: Keurig and Nespresso. Both have big ranges of similar-sounding coffee makers, so it can be tricky to work out which to buy.
When it comes down to it, Nespresso make better machines. I've compared both brands based on reviews from our expert testers. I also have a lot of personal experience with Nespresso products, having used a Nespresso Vertuo Next at home for the past couple years. In the end, Nespresso's coffee makers are cleaner, faster, simpler to use, and they make much better coffee.
However, they're more expensive, and are designed for espressos and Americanos. They don't have the range of a Keurig. If you aren't chasing an espresso shot with a perfect crema, but want a machine that can make sweet coffee inspired by name brands like Starbucks, Krispy Kreme, or Dunkin', a Keurig is the way to go.
Before we get into the nuts and bolts, a warning. Coffee snobs will tell you that neither tastes as good as a French press or stovetop coffee pot, and they're right. These other methods simply taste better. They also create a lot less waste, and if you're particularly keen to reduce plastic waste I would buy a different type of coffee maker all together. However, not all of us have the time, space, or budget to spend on a full-sized espresso machine or bean-to-cup coffee maker. If you want a cheap, fast, simple coffee maker, these are the way to go.
Which should I buy?
TLDR: Nespresso for speed and taste, Keurig for cheapness and variety; neither for a café-quality cup of coffee.
Keurig K-Mini vs Nespresso Vertuo Next
The K-Mini makes surprisingly good coffee for a cheap single-serve, but it's slow, messy, and has a limited capacity.
All the detail is in our full Keurig K-Mini Plus review.
For
Extremely compact
Available in cute colors
Makes good coffee
Button for stronger brew
Includes storage container for K-cups
Against
Slow brewing
Splatters a lot
Single-serving water reservoir
A stylish, sleek coffee maker that makes great espressos for a single-serve machine, but not without its quirks.
There's more information in our full Nespresso Vertuo Next review.
For
Sleek & stylish design
Easy to use
Smartphone connectivity
Brews a wide range of coffee types
Against
Only compatible with Nespresso Vertuo pods
Swipe to scroll horizontally
| Header Cell - Column 0 | Keurig K-Mini Plus | Nespresso Vertuo Next |
| --- | --- | --- |
| Coffee type: | Any | Espresso, double espresso, mug, Gran Lungo and Carafe |
| Settings | Regular or strong | Automatic |
| Water tank capacity: | 12oz | 37oz |
| Dimensions: | 4.5 x 12.1 x x 11.3 inches | 5.5 x 16.8 x 12.4 inches |
| Weight: | 4.6 pounds | 8.8lbs |
| Materials: | BPA-free plastic | ABS, Plastic (PBT-PET) made with 40% recycled plastic |
To keep this comparison fair, I've decided to match the coffee makers like-for-like. Two of the most affordable options are the Keurig K-Mini and the Nespresso Vertuo Next.
On paper, the Nespresso is obviously better. First of all, it's faster, making you a coffee in around thirty seconds rather than a few minutes. This is a fantastic feature – I've mentioned it before in other articles on the site but I relied on a Nespresso Vertuo Next during long, busy hours covering last Black Friday. Being able to grab a pretty decent Americano in 30 seconds in between articles massively improved my day if I was starting early or working late.
The Nespresso also has a larger water reservoir, which means fewer trips to refill before you use it. The K-Mini can only hold 12oz, which is only about a mug's worth of coffee at a time. From experience, you can get three or four cups out of the Nespresso Vertuo Next before you have to refill. It's also cleaner, with much less splashback than the Keurig, which our tester Camryn found makes a mess all over a countertop.
The Nespresso also simply makes better coffee than the Keurig. It tastes stronger and less bitter and unlike the Keurig, espresso shots have a crema (the little layer of cream on top of the coffee you get on an espresso). By comparison, the Keurig is weak and bitter. It's not bad by single-serve standards, but there are better options out there.
However, over a year of using the Nespresso I noticed that it slowly drips after you make your coffee. If you take your coffee cup away as soon as the machine stops whirring, it will drip a couple drops of coffee onto the tray. This isn't a huge problem, but builds up over time. The Nespresso also only uses a single button. This is really easy to use 90% of the time, but it's pretty frustrating to troubleshoot any issue. It also means you can't really customise your coffee. The Keurig has the choice of regular or strong coffee, but the Nespresso will pull the same coffee every time.
Keurig K-Supreme SMART vs Nespresso Vertuo Creatista
A pretty great single-serve coffee maker, but ignore the 'Smart' title - you're better off just using the buttons.
There's more information in our full Keurig K-Supreme SMART review.
For
Brews quickly
Highly adjustable brew settings
Automatically recognizes K-cups
Special setting to brew iced coffee
Two reservoir positions
More compact than many Keurig models
Against
Doesn't work properly without Wi-Fi connected
Limited app functionality
Nespresso Vertuo Creatista
Our barista Laura thinks this is the best single-serve coffee maker she's ever used, but it's expensive.
There's more information in our full Nespresso Vertuo Creatista review.
For
Looks professional
Easy to use
Makes good coffee
Excellent steam function
Against
Sometimes milk is too hot
Expensive
Wasteful rinse process
Large footprint
Swipe to scroll horizontally
| Header Cell - Column 0 | Keurig K-Supreme SMART | Nespresso Vertuo Creatista |
| --- | --- | --- |
| Coffee type: | Any, including iced coffee | Espresso, double espresso, mug, Gran Lungo, Carafe, Cappuccino, Latte, iced coffee |
| Settings | 6, 8, 10, or 12 ounces | Automatic |
| Water tank capacity: | 66oz | 67oz |
| Dimensions: | 12.2 x 7.9 x 12 inches | 9.6 x 16.4 x 12.7 inches |
| Weight: | 5.8lbs | 15lbs |
Jumping up in price a little, we can compare the Keurig K-Supreme SMART and the Nespresso Vertuo Creatista. It's not quite a fair fight, because the Nespresso is hundreds of dollars more expensive, but they have similar functionalities.
Again, the Nespresso is better. Everything I mentioned above still stands. It's faster, easier to clean, and the coffee is just better. The Keurig is smart, sure, but our tester Camryn found that the app connectivity isn't actually that helpful, and you're much better off controlling it manually. The Nespresso is also capable of making more types of coffee, with the ability to steam milk and make iced coffee, where the Keurig can only make iced coffee or black coffee.
However, if you don't want to make cappuccinos or lattes at home, I'd go for the Keurig. It's hundreds of dollars cheaper and there's a much bigger range of iced coffee options than the Nespresso, which only has three options to the Keurig's dozens. Both coffee makers have around the same capacity, so can cater to the same number of people, yet the Keurig takes up less room on a countertop.
Which makes better coffee?
It depends how you define it. My call is Nespresso machines make better coffee, because they make actual espresso. Keurigs tends to be a little weak and bitter where Nespresso is relatively flavorful, rich, and aromatic. Nespresso's Vertuo pods come in a wide range of different roasts and flavors. My recommendation is the Stormio, a serviceable Americano that will work for most people. They also do seasonal pods, which are a bit of a gimmick but can be genuinely delicious. I pretty much replaced my water intake with their Gingerbread coffee last Christmas.
However, this comes with a huge caveat: there are a bewildering number of K-Cups. There are more than 40 brands with official K-cups, including Starbucks, McCafé, Dunkin', Cinnabon, and more. Each of these brands has a few different K-cups, so there's a lot on offer, and that's before you get onto all of the less-than-official K-cups. There are literally thousands of different pods for a Keurig machine, so while in our experience Keurig coffee is pretty middling, there could be the perfect coffee lurking out there somewhere.
Which is cheapest?
Keurig is the clear winner here. The K-Mini Plus costs around $100, which is incredibly good value. I've seen a K-Express Essentials, at Walmart, available for under $60, too. The cheapest Nespresso, by comparison, is the Nespresso Pop, available at Walmart, which usually retails for around $120, twice as much as the cheapest Keurig. Nespresso prices rise to nearly $850 for a original Nespresso Creatista Pro, which is hundreds more than the K-Café SMART, available at Target, which retails for around $250.
This is also true when it comes to the cost of the coffee. Comparing two similar types of coffee, 30 Nespresso Stormio pods will cost you $37.50. You can get 72 Green Mountian Dark Magic pods for $37.12. Keurig wins hands down.
Which is worst for the environment?
There is no avoiding it: these products product a lot of plastic waste. You should be very skeptical about any claims that they're recyclable. In the case of Keurig, while the K-cups are technically recyclable, it's only the plastic pod. What's more, though this plastic is largely recyclable, it depends on local recycling policies, so your local refuse collection might not take your pods. It gets even more complicated when you consider that you have to separate the foil, grounds, and filter from the plastic part and throw them away (though you can compost the grounds and filter). Let's be honest – very few of us can be bothered to do to this. Even if you are, there will be times you're late to sort your trash and you simply won't have time to pick through all the spent K-Cups and prep them for recycling. There are other ways of making coffee that don't need so much effort to be green
Nespresso are more environmentally friendly, but that isn't saying much. Their Vertuo capsules are made with aluminum, which is more easily recycled than plastic, but it takes a little effort. You have to remember to bag up all your old capsules outside of your main trash and recycling and either drop them off at a collection point, drop them off at a Nespresso Boutique, or hand them to your mail carrier when they drop off your Vertuo pods. If not, the pods will take hundreds of years to biodegrade. Sure, it's not a huge effort, but it's more than other methods of making coffee.
What should I get instead?
I think both Nespresso and Keurig are good options for inexpensive, fast, compact coffee makers. However, for better-tasting coffee, I'd recommend a French press, like the Espro P7, available at Crate & Barrel, or a moka pot. I recently bought a Bialetti moka pot, available at Amazon and not only is it cheaper, but there's an unbelievable difference in quality between that and the Nespresso. It's almost like the coffee is a different type of drink altogether. Don't get me wrong, the Nespresso is still pretty good – I've had far, far worse coffee in my life – but it's simply not as nice, with a noticeable hit of acidity. The Keurig tastes much worse than this, too.
The problem, of course, is that the Moka pot takes a few minutes, and needs monitoring so it doesn't boil over onto your stovetop. Similar is true with a French press. It doesn't need monitoring, but you need to wait five minutes before your coffee. It feels like an age compared to the 30 seconds of a Nespresso. The Nespressos and Keurigs are is also just simpler to use. If you can't be bothered to measure out ground coffee and calibrate your water temperature, pressing a single button on one of these coffee makers is much easier.
They're also much cheaper than other types of coffee maker. A good bean-to-cup coffee maker starts at around $600, and an espresso maker starts at $300. That's not too bad for the espresso maker, but you'll have to learn how to properly pull an espresso shot and steam milk, which can be pretty frustrating and again takes time.
Best value French press
Decidedly delicate, this inexpensive cafetière is a classic. The timeless design is also really functional: it pours smoothly, filters nicely, and lets you check on your coffee without too much disruption.