Coffee bar essentials: a barista-approved coffee nook
These barista-recommended coffee bar essentials will transform your kitchen into your own personal café. These are all the tools you need to unlock the perfect brew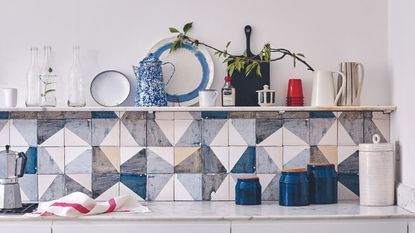 (Image credit: Future)
Sign up to the Homes & Gardens newsletter
Decor Ideas. Project Inspiration. Expert Advice. Delivered to your inbox.
Thank you for signing up to Homes & Gardens. You will receive a verification email shortly.
There was a problem. Please refresh the page and try again.
At home, we make space for our rituals. You have a breakfast bar for morning meals, a bathroom for relaxing baths, and if you're lucky, a gym for working out. I'm a firm believer that coffee - arguably the most important ritual of them all - also should have its own space too.
You don't need much to make a coffee bar. You probably already own most of essentials, but a few flourishes will make all the difference. With a tray, canisters, and a chic set-up, you'll no longer have to relegate your best coffee makers to the dusty corners and cupboards in your kitchen. In fact, your caffeine station will be better than the set-ups at most cafés.
Even though I have a relatively small kitchen, as a former barista I simply let go of my favorite coffee gadgets. For the sake of own sanity, I've created coffee station in my home. It's a neat space where I can keep best grinder, favorite coffee maker, espresso cups, cappuccino cups, and tastiest coffee beans (at Amazon)s. It's tidy, it's geeky, and – if I may say so myself – it's very chic too.
There are two aspects that you need to consider for a coffee bar. I'll give you the practicalities: the essential items you need in your coffee bar. Then, our interiors experts have written about how to design a coffee station in five simple steps. Armed with both of these, your favorite café just got a whole lot more local.
The Quick List
Further down, I'll give you options and explanations of what you need in your coffee bar and why you need it. I even explained the psychology behind your coffee mug. However, if you just want a quick list of the coffee bar bare necessities, here's everything you need.
Espresso machine
This is an obvious one - you can't have a coffee bar without an coffee maker. When I put this to the test, I found an affordable and extremely capable espresso machine, understandably popular with baristas and home coffee lovers alike.
Coffee Grinder
It's inarguable that beans taste better when they're fresh. This sturdy and chic grinder is incredibly compact, and our tests found that its flat burrs make the most consistent coffee grounds on the market.
Coffee beans
These are my beans of choice. Medium-roast beans like these suit almost any coffee drinker, not too dark nor too light. You can adapt them to most styles, from Italian to Turkish to American.
Coffee Canister
You need a place to keep your coffee, so why not store it stylishly? This is Le Creuset's debut in my coffee bar essentials (you'll see them again further down).
Milk frother
This stylish milk frother makes the most velvety milk. It can froth to a range of temperatures and textures, so you can enjoy your coffee in different ways.
Electric kettle
Perfect for pour-over, this kettle has a really precise flow. It looks sleek, delivers precise temperatures, and is ideal for every coffee lover.
Coffee cup
Le Creuset makes its second appearance, this time as one of my favorite coffee mugs of all time. It comes in a range of colors, keeps my coffee warm, and has a great 12oz capacity, so I'm never left wanting more.
Syrup Dispenser
Perfect for putting your coffee syrups in, these custom made models are versatile and sturdy. They keep your coffee bar tidy and have printed labels for a professional touch. One pump is the equivalent of a teaspoon.
Coffee Tray
A tray is like the frame of a painting. You might not notice it immediately, but it brings everything together when you take a step back. This marble base will ensure all your spoons and canisters look organized.
Bluetooth Speaker
Marshall Middleton Portable Bluetooth Speaker
Nothing sets the atmosphere at a coffee bar like the perfect playlist. This dust and water resistant speaker is stylish as well as portable and easy to use. I don't know why I didn't buy one sooner.
Cotton napkin
People say that cleanliness is next to godliness, so I'll throw tidiness in for the trinity. This smart napkin is made for entertaining as well as cleaning, so use it to impress customers at your coffee station.
Coffee book
How To Make The Best Coffee At Home
Books make some of the best décor. They're beautiful to look at, but as your coffee brews, you can peruse the pages too. Who knows, you might learn a thing or two.
Coffee Maker
You won't go far at your coffee station without a coffee maker. Thankfully, I've tested the best (and the worst) on the market, so I can recommend which ones to invest in. Whether you want a French press for acidic brews, or an espresso machine for supercharged shots, I'll tell you which ones to invest in.
If choosing between each model has you stuck, I have written a guide to the different types of coffee makers. Once you've established which machine you need, you can get started on your caffeinated journey.
These six coffee makers are my favorites. There's something for everyone. The Philips 3200 Series is an independent and competent machine; the Breville Bambino Plus is every barista's dream; and the Espro P7 French Press takes everything back to basics.
This is our favorite coffee maker overall. In a matter of minutes, you can have five different types of coffee in your cup. Our expert reviewer was particularly impressed with the LatteGo milk system, which made silky smooth milk every time.
You can read more in our full Philips 3200 Series review.
I recently spoke to Alex Spampinato, coffee trainer for 200 Degrees coffee. He told me this is 'one of the best espresso machines on the market. It's the one that all the baristas, including myself, use in our homes'.
You can read more in my full Breville Bambino Plus review.
If you like your coffees a different way every day, this machine is the one for you. It can make incredible drip coffees, milky coffees, and espressos. It won't leave your wallet empty either.
You can find out more in our De'Longhi All-in-One Combination Coffee Maker review.
With a small footprint, the Nespresso Vertuo line is perfect for small spaces. This petite machine is made from recycled plastics and offers a versatile range of coffee flavors.
You can read more in our Nespresso Vertuo Next review.
This viral Moccamaster is everywhere,. If you like drip coffee, but you care about quality as much as style, this is the perfect balance of the two. It's won countless awards and you'll taste why.
Our Technivorm Moccamaster KBGV Coffee Maker review has more details.
This French press is top-quality, even if it is at the top of our price range. It has a re-usable, double filter press and insulated walls, so really, you get what you pay for.
You can read more in our roundup of the best French presses.
Coffee Grinder
Experts are unanimous in saying that the fresher coffee is, the better it will taste. With that information in grind - sorry - you'll need some good quality coffee beans and an expert grinder.
It doesn't have to be expensive. In fact, Alex Spampinato, the barista trainer who I mentioned earlier, has been using the Breville model for 12 years. He said 'there are plenty of geeky, techy models on the market, but what you really need is a good quality burr grinder. You can pay more than $200, but you won't notice the difference'.
I've tested the best models on the market, from manual to electric, and these are the ones that I would recommend.
Flat burr grinders are the best of the best. They'll make a consistent, flavorful, and smooth cup of coffee without being too loud or taking up too much room. Chic and sturdy, it'll last you a lifetime.
This is the grinder that professional barista, Alex uses. It's known for making excellent espresso grinds, but really, it's great all-round. This is one of my favorite models.
Compact and cordless, this manual grinder is one of the easiest models to store and use. It produces really consistent grinds and you can take it with you wherever you go.
Coffee Beans
A key ingredient for good coffee is investing in the best beans. Ashley Palmer-Watts, Michelin Star Chef and founder of Artisan Coffee Company, says 'beans are the basics of coffee. You don't need to get drawn into appetising packaging and pictures of mountains and forests in the store, just keep it simple. Buy the beans that you like and always try to buy the best'. I've tried all of his coffee beans and would highly recommend them. His decaf coffee is especially incredible; I wouldn't be able to tell the difference. If you want good caffeinated coffee, I'd recommend his rich and chocolatey blend, The Heroine.
The best place to start is with medium roast beans. These will meet the needs of the average coffee drinker. I always look for organic beans, where possible, and try to go for blends rather than single roasts. These tend to have more well-rounded flavors, because they draw on notes from a range of bean types.
Union Organic Medium Roast
Union's organic coffee blend is zesty and rich. The medium roast beans give a bold and full-bodied taste, perfect for every coffee drinker. Union are all about coffee ethics. They're a certified B Corp company too.
Methodical Coffee Belly Warmer
Not only do these beans taste good, but if you decide not to store them in the fridge, the packaging will look beautiful in a coffee nook. A crowd-pleaser, these are at their best when making drip coffee.
Coffee Cannister
There's no point buying good beans without storing coffee grounds properly. We have a roundup of the best coffee canisters on the market. These all cover the basics: air-tight, cool, and opaque, but they go above and beyond for style.
These cannisters are all about luxury. Once you put a cluster of canisters in your coffee bar, they'll add organization as well as style. I'd always buy them in threes. The rule of three is one that lots of designers follow, but it's also the perfect number for coffee beans, tea, and cookies. The cookie jar is an essential purchase, so don't skip it out. It's not a proper coffee break without some sweet treats.
Le Creuset Stoneware Canister with Wood Lid
Perfect for coffee beans, sugar and biscuits alike, this canister has a silicone gasket seal to keep its contents fresh at all times. It's made to last, with an enamel exterior and range of colors to choose from.
West Elm Stoneware Kitchen Canisters
This stylish, ceramic container is an easy option for any kitchen. With an exposed clay rim that draws on organic decor, there's a whole collection - including mugs - so you could co-ordinate your entire kitchen.
Milk Frother
Most people like their coffee with a splash of milk. However, if you want to get really barista-ey and make lattes and cappuccinos, you will need to get steaming. Adding some silky, thick foamed milk will enhance your coffee's texture and the sweetness of milk naturally balances any acidity that you might taste in an Americano or espresso.
Some machines have milk frothing functions, but not all of them will. If you want to make a range of different frothed milks, hot and cold, thick and fine, you'll want a milk frother. If that sounds like you, these tried-and-tested milk frothers, will be your next favorite appliances. Your coffees will taste velvety smooth, every time.
This is the best milk frother on the market. It's approved by professionals and our team of expert testers. It's versatile, easy to use, and makes the silkiest, smoothest milk.
When I took this to our test kitchen, it was love at first froth. This can make both hot and cold milk at a range of different temperatures and froth qualities. It's my personal favorite.
Possibly the most simple milk frother, the Aerocinno is a household staple for many people. Our Head of eCommerce Alex David found that it's great on alternative milks. It can make hot and cold foam and it's easy to clean up after too.
Electric Kettle
If you drink pour-over coffee or tea, you'll want an electric kettle. Tea leaves, coffee grounds, and matcha powder can be really sensitive to temperature, so you want to make sure that you can reach the perfect level of heat to extract all their delicious flavors. Every degree counts. That's why all of these kettles have variable temperature options, so that you can get serious about your coffee.
I've also included a delicate gooseneck kettle, which is a must-have for pour-over coffee. It can create a precise stream of hot water, so that you don't oversaturate your coffee beans or disgruntle your filter paper.
Perfect for pour-over, this kettle has a really precise flow. It looks sleek, delivers precise temperatures, and is ideal for every coffee lover. It feels premium too, so it will last you for years.
This is the kettle that I use in my home. I love it. Mine is in the shade almond cream and it looks really luxurious. Not only is the retro-design stylish, it gives a precise variety of temperatures in minutes.
Breville The Smart Kettle
With five temperature pre-sets and a range of premium features, this is high-up in our buying guide for best electric kettles. It feels like a quality design and build, so will last you a long time too.
Mug Set
You'd be surprized at how much psychology and science lies behind your serveware. Coffee mugs are no exclusion. In studies conducted by Dr George Van Doorn, Dianne Wuillemin, and Charles Spence, white mugs enhanced the 'intensity' of the coffee flavors, but transparent coffee mugs make you perceive less 'sweetness' in your coffee.
Porcelain and double-walled glass mugs make the best containers for your coffee. At home, you might have an eclectic collection of mugs, marking various occasions and trips, but a uniform set will keep your coffee bar looking smart. When it comes to storage, our Homes & Gardens Solved expert, Millie Hurst has written a whole article on how to organize your coffee mugs neatly. There are plenty of options, all of which will keep your countertops looking tidy.
This is our Section Editor, Millie Hurst's, favorite mug. She loves it for it's excellent capacity and because it keeps her coffees warm too. You can buy these in a range of colors, suited to any décor.
Bodum Bistro Double Walled
It can be really beautiful to watch milk marble through your coffee. I love using glass coffee mugs for all of the visuals. They're harder to keep clean, but I think it's worth it.
Spoons and stirrers
When you add milks, creams, and sweeteners to your coffee, you'll want to give them a stir. Specialist spoons will suit longer, taller cups, but you can also buy some cuter, small spoons that you can balance on your saucer.
These spoons are long, so if you have slim coffee mugs, or make iced tea, they're an excellent option. Gold is supposed to be the least reactive metal to use for cutlery, so it's worth trying with your coffee.
ReaNea Silver Coffee Spoon
When I use teaspoons, I often wish they had deeper bowls. That way, when I'm scooping and stirring, I know that they're doing a thorough job. This stainless steel set are exactly what I imagine for the ideal spoon.
Syrups, Spices, and Extras
If you like adding some extra flavor to your coffee, having syrups can be the key to a whole new world for your tastebuds. Lots of these bottles are ugly and messy, so make sure that you buy aesthetic-looking pumps. Simple jars and containers can make a world of difference. They'll keep your coffee bar looking uniform and smart, as well as ensuring that all your extra flavors stay fresh and delicious.
MoliMoli Syrup Dispensers
Perfect for putting your coffee syrups in, these custom made models are versatile and sturdy, Made from BPA-free plastic and stainless steel, one pump is the equivalent of a teaspoon.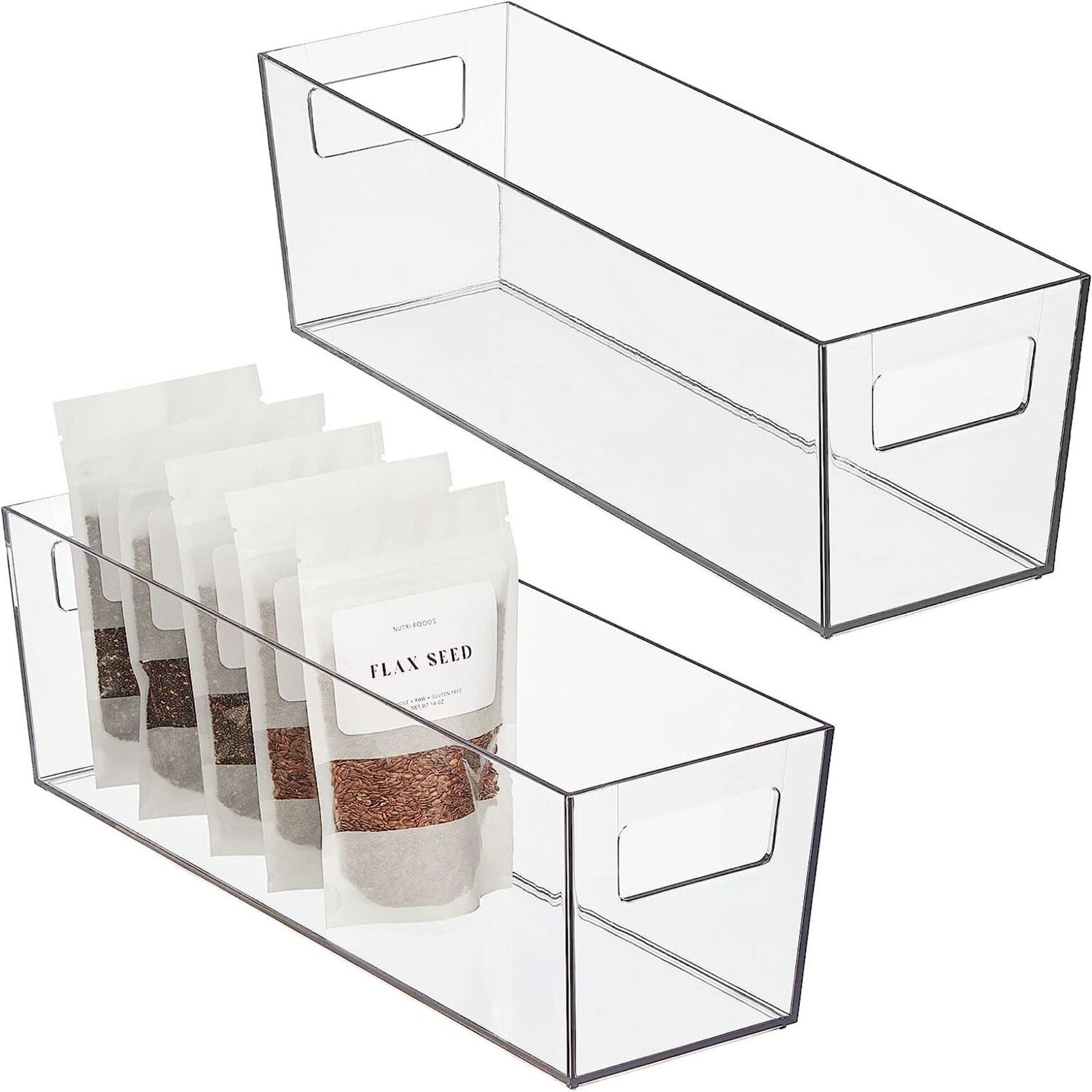 Slim Plastic Bins with Handles
We covered these simple bins a few months ago and they were unbelievably popular. From interiors icon Nate Berkus, these elegant but inexpensive bins are perfect for storing bags of coffee beans and bottles of syrup.
Napkins and Dishcloths
Whether you're likely to make a mess or want to throw a dish cloth over your shoulder for a true barista flourish, it's good to have the right kit to hand. These are my favorite, cotton products that will keep you clean as well as looking exceptionally stylish too. I've included practical microfiber cloths, but I would recommend looking at MINDTHEGAP's kitchen linens. They're all ultra-premium and really eye-catching.