What is a butler's pantry? Everything you need to know
The butler's pantry is making a comeback. We answer the key questions surrounding this multi-functional space to help plan your design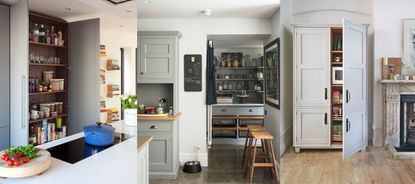 (Image credit: Future)
Have you ever wondered what is a butler's pantry? A common feature of historic and period homes, the pantry is making a come-back helping support our modern kitchens and lifestyles, but what is the difference between a pantry and a butler's pantry?
Today the modern pantry has evolved into a multi-functional space used for everything from food storage to additional space for meal preparation, but historically the pantry and the butler's pantry served separate functions. If you are thinking of adding a pantry then knowing the difference between the two can be handy to help establish what role your pantry needs to fulfil.
In this article we explain the difference between the two and answer the key questions surrounding the butler's pantry as well as touch on the history of the space. Read on to find out what is stored in a butler's pantry along with advice on how to set one up to help with your pantry ideas.
What is a butler's pantry?
A common feature of the home until the 1920s, the traditional butler's pantry was one of the many ancillary service rooms that adjoined a kitchen in the traditional Victorian upper and middle class household. As the name suggests, 'the butler's pantry would be the main workroom of the butler and contained the main kit and equipment necessary for him to perform his role,' explains Susanne Gronnow, property curator at the National Trust's Erddig in Wrexham.
As well as a space to store china, fine linens and silver, it was used by the butler to carry out his duties which included putting the final preparations to meals before they were served and the preparation of alcoholic drinks. Located between the kitchen and the dining room, the butler's pantry was a buffer between formal dining and service areas.
Today the way we use our homes has very much changed, but the pantry and butler's pantry are returning to modern homes explains Richard Moore, design director of Martin Moore.
'Today we are seeing a return not only of large walk-in pantry ideas but also butler's pantries or back kitchens due to our busy lifestyles and open-plan, multi-use kitchens. They are perfect for storing table and glassware as well as kitchen appliances and serveware. We are also seeing butler's pantries being used to house extra appliances, such as fridges, wine coolers and dishwashers, making large scale entertaining much easier and more efficient.'
What is the difference between a butler's pantry and a regular pantry?
Today the role of the pantry and the butler's pantry are often combined into one multi-functional space to support the main kitchen, but historically they would have served separate functions.
'The pantry – from the latin 'panna' – was originally a room for storing bread, whereas today the walk in pantry is used for all types of food storage – think open pantry tables with worktops and artisan shelving above. Some food preparation may be undertaken but it's more a storage room,' says Louisa Eggleston, creative director at Humphrey Munson.
'A butler's pantry on the other hand, is much more a space for food prep so they typically include more closed cabinetry storage below the worktop as well as a prep sink, integrated bin and a dishwasher. The butler's pantry is often located adjacent or near to a dining room, for preparing things like desserts and cheese boards. The best ones include coffee and tea making facilities, and if space permits additional refrigeration and oven capacity.'
What is stored in a butler's pantry?
Originally the butler's pantry was used to store anything the butler was in control of, including silverware, china and fine table linen and glassware, whereas the pantry was used for storing food. However, 'the modern pantry has many more functions, from keeping wine cool to stashing kitchen gadgets so that the kitchen worktop remains clutter free,' says explains Charlie Smallbone founder of Ledbury Studio.
'In fact, the pantry has become a kitchen storage essential precisely because of its flexibility. As well as its multiple uses, it can also adapt to many spaces – it can be anything from a built-in double-door cupboard or a freestanding cabinet to walk-in storage space that doubles as a second prep or chef's kitchen.'
Richard Moore, design director of Martin Moore adds that, 'with a much larger number of us now cooking and entertaining more at home, it has become increasing important for our clients to have a place to store all the necessary ingredients, spices, and kitchenware.'
'We are regularly commissioned to design purpose-built larders and pantries as part of the main kitchen ideas. In addition to storing food and provisions a pantry is used to store platters, silverware, linens and china,' adds Richard Moore.
Modern pantry ideas are also a good place to store large appliances that are not used everyday and may take up alot of valuable surface space in the main kitchen, such as bread-makers, stand mixers, fryers and sous vides. 'With a greater shift towards keeping worksurfaces clear of clutter, to give a more minimalist feel and allow for more prep space, the pantry serves as an excellent solution for concealing appliances,' says Tom Howley, design director of Tom Howley kitchens.
Pantries can also house a supplementary fridge for food or a freezer or a below-counter wine fridge.
Why is it called a butler's pantry?
Historically a butler's pantry was a service room used to house anything he was in control of including china, fine linens, glassware and silverware.
'Work the butler would commonly be in control of included: care and cleaning of silver; glass; cutlery (expensive and fine). The butler was also in charge of the alcohol. Commonly found in butler's Pantry inventories are glassware; cutlery; silver; barrels/bottles etc (related to drink),' explains Susanne Gronnow, Property Curator at the National Trust's Erddig in Wrexham.
'Commonly butler's pantries would also have a sink – usually this would be lead-lined because it's soft and would protect the fine glassware from getting knocked when washed,' she adds.
'The room would sometimes have easy access to a safe; and sometimes easy access to a cellar or a room where alcohol was kept (and lockable).'
The butler's pantry was usually located between the kitchen and the dining room and would act as a buffer between the two areas, screening the smells and the noise of the kitchen from the formal dining room. It would also be located close to the front door so that the butler would be aware of arrivals, and with easy access to the pantry and cellar. Sometimes it could be built into a corridor area laid out like a galley kitchen.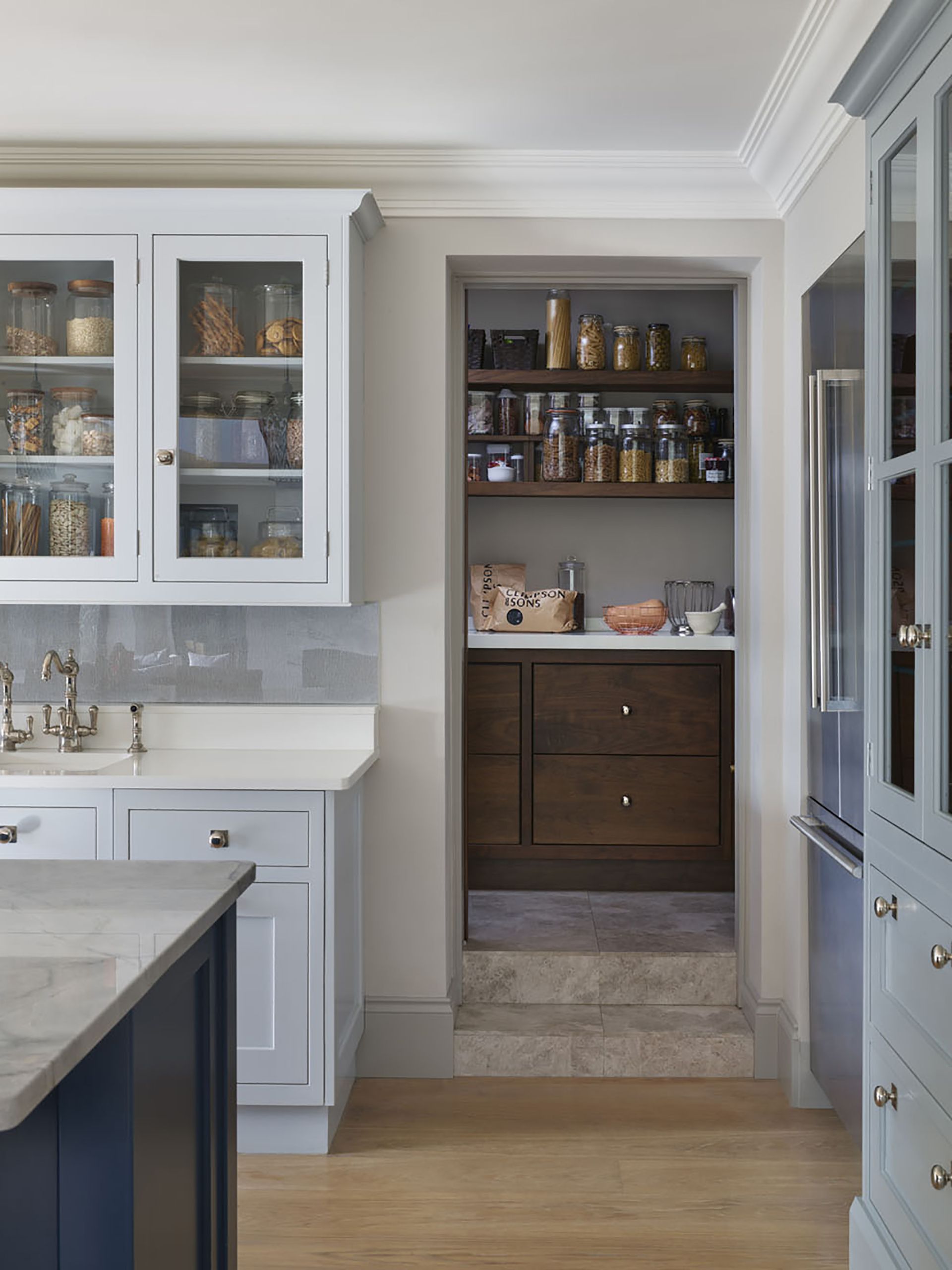 How do you set up a butler's pantry?
If you are thinking of adding a modern walk-in butler's pantry there are many design factors to consider, from layout and pantry organization ideas to lighting. To make the most of your space consider working with a kitchen designer to design bespoke fitted shelving, cabinetry and kitchen storage ideas.
'Effective storage is of course the primary function of the pantry. With a bespoke kitchen designer, you will be able to design floor to ceiling units that give maximum storage as well as being able to tailor the internal components to your storage needs,' says design director Tom Howley.
'The first port of call when planning a walk-in pantry is to consider how much space can be allocated to it. This will determine the overall layout of the design – straight line, L-shape or U-shape,' he adds. 'If you're tight for room, opt for pocket or sliding pantry door ideas, this will maximize floor space and create easy access to essential zones. Walkway and appliance clearances should also be considered to ensure there's plenty of room to manoeuvre.'
To ensure your pantry fulfils your needs it's important to create a comprehensive list of all the items you will need to store and to examine how you use your kitchen. If you love to bake a then butler's pantry can be tailored to house large mixing bowls, baking trays and a stand mixer, while a marble kitchen countertop can be useful for kneading dough or resting pastry. For those that love to entertain it can be tailored to include a wine rack and wine fridge, plus a mini bar area to store liquors and space to prepare drinks. A sink may be useful for those that love to cook offering space to prep vegetables or defrost meat.
If you are thinking of using your pantry to store food and ingredients then you will also need to consider location, too.
'A pantry is ideally located off the kitchen itself and close to the fridge so that all your ingredients are in one convenient zone, minimizing time you spend walking around the kitchen,' says Richard Moore design director, Martin Moore.
It is important that large walk-in pantries have open shelving in order to keep provisions easily accessible and to bring order to the space. A marble cool shelf is a great place to store eggs and cheese and willow baskets keep vegetables fresh,' he adds.
Is a butler's pantry worth the cost?
While a walk-in butler's pantry tailored to your needs can be expensive, planned correctly it can make a huge difference benefits to your lifestyle. 'Similarly to your main kitchen, when designing a walk-in pantry, you should think about its everyday practical requirements, how it will function, and what you will store there. You should also draw up a list of elements that you may need in the future, ensuring your walk-in pantry has longevity,' says Tom Howley. 'You might involve more drawers or put an emphasis on shelving, all orderly contained behind doors.'
Often the key to a successful pantry is making the space flexible and adaptable so that it stand the test of time.
'Think about how the pantry can adapt to suit you but always consider easy access,' adds Allison Lynch, senior design consultant at Roundhouse. 'For instance, shallow shelves ensure that items don't get lost, and a work surface to allow small machines to be stored and used without moving them into the kitchen.'
Sign up to the Homes & Gardens newsletter
Decor Ideas. Project Inspiration. Expert Advice. Delivered to your inbox.
Pippa is Content Editor on Homes & Gardens online contributing to Period Living and Country Homes & Interiors print issues. A graduate of Art History and formerly Style Editor at Period Living, she is passionate about architecture, creating decorating content, interior styling and writing about craft and historic homes. She enjoys searching out beautiful images and the latest trends to share with the Homes & Gardens audience. A keen gardener, when she's not writing you'll find her growing flowers on her village allotment for styling projects.