Galley kitchen ideas – for a super-efficient layout that maximizes every inch of space
Galley kitchens, with their linear simplicity, have a timeless appeal no matter how big or small your space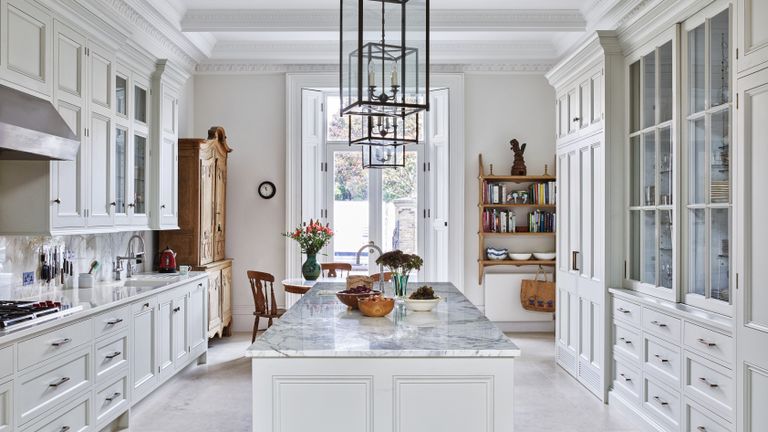 (Image credit: Future / Davide Lovatti)
If you are after galley kitchen ideas, then you've come to the right place. 
So much has changed in the way in which we design and use our kitchens over the last decade or so, but there is something reassuring in how the galley kitchen has adapted to the new-found  sense of space, and has thrived. 
Named after a ship's kitchen, it was originally associated with simplicity and tight spaces – there's not much room for superfluous detail on the average ship. But the  reason that a galley kitchen works is that it is ergonomically sound, and it's easy to place everything so it is to hand.
See more kitchen ideas in our dedicated feature.
1. Go for a galley layout in an open-plan kitchen
Open plan kitchens and spacious islands are partly to blame for wall units falling out of fashion – when you've got oodles of space to play, it's easy to see why you would want to keep the look open and save reaching overhead. 
But wall units will always have a valid place in a narrow room where you can make the most of the height and  still have usable worksurface. 
Popular options include lift up doors and tall, sleek flat-fronted doors in a striking material but, if you are really not a fan, consider open shelving or perhaps cubby holes if you need to make use of more height.
If you really want to make a statement in a galley space, paint you unit in an entirely different color to the rest of the room to make them sing out. 
2. Create a modern interpretation of the galley kitchen
In recent years, a third galley scenario has evolved. 
'Modern galley kitchens can be part of a much larger space featuring a wall-hugging galley run with a long island running parallel, separating a living or dining area beyond,' explains Paul O'Brien, director, Kitchens International. Although following the double galley footprint, it feels different, as it is a lighter, more open and more  sociable space. 
3. Declutter with the right storage 
Good storage is perhaps the most important element to consider when planning a galley kitchen. 
Choose a kitchen scheme that includes plenty of storage, and where wall units aren't possible in all areas, go for an abundance of floor units with drawers. 
Also, natural light is key in helping to create space, so if possible, include a window and door in your galley kitchen. A neutral color scheme in all areas will help to give the feeling of space.
A simple color scheme doesn't mean that you have to go for an all-white design. Here, a tonal palette of subtle blues, greys and taupes blend beautifully. 
4. Keep it open and bright
Galley kitchens have a tendency to look small and cluttered, but there is one way to negate this issue. 
Give your kitchen the illusion of space by going for shelves rather than wall units. 
Keep them the same colour as the rest of the cabinetry below, for a seamless look,  and have fun displaying colorful glass bottles, storage containers and too-pretty-to-hide-away teapots.
5. Trick the eye with light, color and minimal cabinetry
This style of layout is particularly suited to smaller spaces as it ensures you have the worksurfaces and appliances you need while still providing storage space for kitchen essentials. The trick is to make the space work for you – make it look bigger by using light colors and reflective surfaces.
'Try not to have tall units on both sides in a double galley kitchen as it will become  overbearing,' advises Tim Higham, Higham Furniture. 'If possible, try to avoid wall cabinets on one side, opting for open  shelving where feasible. This will help to make the space feel larger.'
6. Work a narrow room
To make the most of a tall narrow kitchen use a mixture of wall cabinets and open shelving, base cabinets and drawers to vary your design and keep the outlook as open as possible.
Make sure you have enough room to move around the kitchen easily without  bumping into other people; check there is enough space between opposite runs of  units to open drawers, cupboards and appliances, and if it's a bit of a squeeze  consider reduced depth cabinets.   
And last, but certainly not least, it's essential to get the lighting  right, especially in a narrow room, and this really has to be planned at the start of the project. Overhead natural light is always a bonus if you are planning an  extension, think about where you can position skylights.
7. Embrace a single galley kitchen
A single run is kitchen design as its most essential. 
If you only have a single run –  one row – of cabinets, worktop space may be limited so it makes sense to create  different zones for food preparation, serving and cleaning up, often divided by  the key points of hob, sink and refrigerator.
Whatever the size of your room, try to keep the mix of colors and/or textures to two or possibly three – and that includes the walls, floor and ceilings as well as the cabinets. 
It is cheaper to change the walls five years on than it will be to buy and install new cabinets – so  if you're not sure, neutral cabinets may be the best option. 
8.  Work a galley layout into a large kitchen
The galley layout can work just wonderfully in a large kitchen. 
The presence of two runs of units provides an architectural frame to a dining table or island in the centre, while in open-plan areas an island or run of units provides the cut-off between living and cooking zones.
Introduce a small dining area into a galley kitchen by opting for a compact dining table, which can be pushed against an unused wall. 
9. Light up a small galley space
Lighting can make or break both the aesthetics and function of a galley kitchen. 
'Keep your galley kitchen as uncomplicated as possible – a simple layout and  cleverly placed lighting will completely reinvent the space,' says Naomi Dean, furniture and showroom designer, Harvey Jones. 
'Opt for worktop spot-lights that will not only brighten your workspace but will illuminate the rest of the kitchen, this will instantly brighten your kitchen and add the effect of more space.'
10. Opt for handleless cabinetry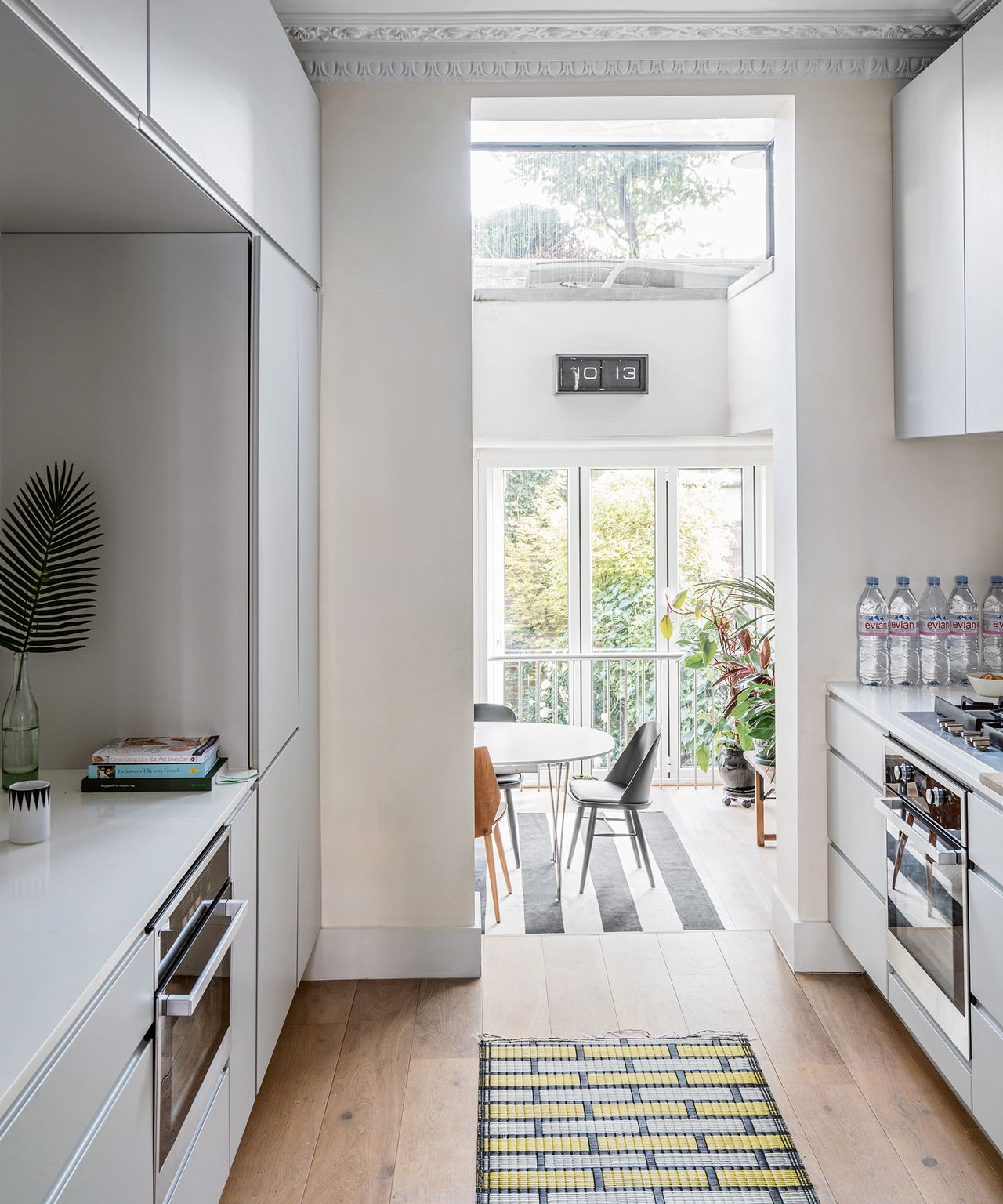 To make the most of available space without overwhelming a compact open-plan  room, consider a kitchen with handleless doors.
Technological advances in push-open and close doors means that it has become possible to dispense with handles in both wall and base cabinets.
A handless scheme, particularly one in a cool white, can appear clinical and adding a few natural materials will give it a softer edge. Think about including  a colourful rug or patterned backsplash. Stone or wood  floors are also a practical solution for a kitchen that will help to create a layered, texturized effect. 
What can I do with a galley kitchen?
Perhaps you're thinking, what can I do with a gallery kitchen? Well, they are designed to be both compact and ultra-efficient, maximizing every inch of space for both storage and preparation.
Professional kitchens also follow a similar linear plan with lines of ranges or hobs divided into specific stations for the preparation of different types of dishes.
Where there is room for a parallel run of units – a double galley – you can introduce the classic work triangle, arranging the key task zones of fridge, cooker and sink in this pattern to cut down on the footwork between them.
This is not only successful in narrow rooms that have enough width to take two rows of units, its exactly the format that is so popular in open plan spaces, with a long island providing the second leg, often creating a sociable casual seating area and a natural boundary for the kitchen space at the same time.
How do you maximize a galley kitchen?
To maximize a galley kitchen you simply need smart ideas. A good kitchen designer will be able to come up with solutions for the trickiest of spaces but, if you feel, you want to explore the room's  potential further, and are perhaps considering structural work, it is worth consulting an interior designer or architect. 
In double galleys, storage 'walls' or 'banks' are a great solution for both open-plan and closed schemes, giving over the whole wall to a  combination of storage and appliances. 
Storage can be organised in pull-out larders or the increasingly popular pantry cupboard – both have narrow shelving which makes products easily visible. 
See: Pantry ideas - from designing walk in spaces to organizing counter top pieces
A mix of both drawers and cupboards can serve you well in any kitchen and can be designed in such a way that any handles and all the cabinetry lines align.  
Drawers are great for pots, pans, chinaware and ingredients as you can pack a lot into the space and still access it easily. Fitting drawers under the hob also puts the maximum range of utensils, dishes and ingredients such as herbs to hand. 
Cupboards excel at hiding larger pieces of kit including food mixers and perhaps even a trusty countertop microwave.