Open-plan kitchen ideas – 11 clever ways to create a hub for your home
These open-plan kitchen, dining and living spaces offer great versatility for the way we live today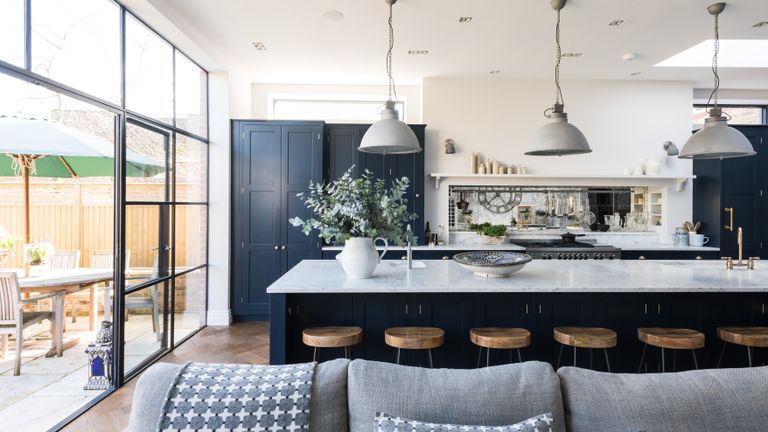 (Image credit: Future / Veronica Rodriguez)
Open-plan kitchens are all about space. Space to cook, space to entertain and space for the whole family to gather, to chat and to just be. In response, the average kitchen project has become so much more than new look cabinetry and appliances. 
The big appeal of going open-plan is for the kitchen and cook to be part of the action when entertaining and, on a day to day basis, for the whole family to be together – in this time-pressed age, it's a real boon to be able to offer help with homework while preparing the evening meal; and to be able to keep one eye on children while managing other tasks.
'People have become generally less formal and so are more willing to share cooking, dining and relaxing areas,' says Tim Higham of Higham Furniture. 'When throwing a party or entertaining friends, it is seen as sociable to cook and entertain at the same time. Families also want to share the space so that they can multi-task while preparing food.' 
And in summer, an open-plan space really comes into its own. The majority of open-plan kitchens include large amounts of glass to let in the light and have easy access to garden, which vastly expands living and entertaining space.
Read on to see our gorgeous open-plan kitchen ideas. For more kitchen ideas to suit every space, cabinetry choice and budget, don't miss our dedicated feature.
Is an open plan kitchen a good idea?
An open-plan kitchen is often considered a good ideas, especially in a modern home.
One of the big surprises can be just how little space you need to add to gain enough useable room for a dining area in your existing kitchen – sometimes a mere matter of feet is all you need to fit a compact solution such as banquette or bench-style seating. 
1. Get the layout right first time
The rise of the open-plan space has had a huge impact on kitchen furniture design. What used to be a simple choice of base cupboards and wall units has exploded into hundreds of permutations.
Paradoxically, layout seems to have got simpler. The old stalwarts of galley, double galley, U and L-shaped designs were designed to get the maximum storage into the room and to cut down on the distance  travelled to get from sink to fridge to hob – the work triangle. 
These days we are used to seeing huge banks of storage with a parallel island not only defining the zone of the kitchen but, essentially, creating a double galley and  maintaining that triangle, as shown above.
2. Use furnishings to create balance
The very nature of the furniture – kitchen cabinetry, table and chairs, sofa – denotes the use of an area, but each area needs to feel comfortable, have it's own identity and be an integrated part of the whole – it can be a tricky balancing act to pull off. 
A good lighting system, as seen here, will let you move the focus from zone to zone. Build up layers of light including separate pendants in the living/dining area and make it all fully dimmable so you can change the mood on demand. 
Also – don't stint on soft furnishings and window treatments, matching curtains or blinds to an accent color in the kitchen or dining area. 
3. Extend into a side return
One of the most popular extensions is the side return which steals little-used alley space from the side of Victorian semi-detached and terraced housing. These are rarely more than a few feet wide but the resulting kitchen will be bright and airy, and it's a great way to gain space without encroaching on the garden, especially in cities where outdoor space is at a premium.
4. Make space for entertaining
This spacious kitchen is part of a larger living area that was made by extending and combining the ground floor rooms at the back of house. A huge pivot door and windows offer views of the backyard, while light streams in through the skylight above. Don't get too matchy-matchy with the furniture in an open-plan kitchen but make sure the overall look is cohesive.
5. Create zones but also a sense of unity
An open-plan kitchen and living space depends on a combination of form and function. Before you plan your layout, think about exactly how you may use the space and how to define specific zones. 
Clever use of lighting, accent colors, where you position your cooking appliances and introducing a central island are all factors that will help you distinguish cooking and dining zones in a social kitchen. Complete the look with splashes of color, as they lead the eye around the room and make this space flow, creating a sense of unity.
See: Kitchen island ideas – guaranteed to make a statement
6. Design a social open-plan kitchen
Opt for an island that can function as a showpiece as well as a multi-functional space, with a breakfast bar, high-performance induction hob and integrated appliances. If there isn't room for an island, a peninsular will often create an area where people can gather round.
'Noise can also be an issue when family members are cooking and relaxing in the same room, so make sound-dampening choices such as wooden worktops, soft-close drawers, and choose appliances for their quiet operation. Ideally the washing machine should be in a separate utility space – with a door,' says Nick Clayton, Clayton Cabinets.
7. Pare back materials in small open-plan kitchens
Not all open-plan kitchens are huge, but even small spaces can shine. This compact open-plan kitchen benefits from a neat layout with all mod cons close to hand. Classic cabinetry painted in a dark shade is a sophisticated choice, especially when teamed with a beautiful wood floor. The parquet running throughout gives this room the air of a Parisian apartment, and shows that small can indeed be beautiful.
See: Small kitchen ideas – to turn your compact kitchen into a smart, organized space
8. Create a pleasing backdrop for diners
If you love to entertain, a kitchen-dining room is a practical solution, allowing you to be part of the action with your guests, not shut away in a cramped kitchen. Design your space accordingly. Here, super-sleek units conceal most of the working elements of the kitchen, providing a smart and uncluttered backdrop to a modern rustic dining area.
9. Be influenced by your home's architecture
Modern warehouse spaces and loft apartments are ideal candidates for an open-plan kitchen. Follow the lead of existing finishes such as exposed-brick walls or vast utilitarian windows, choosing an oversized island in proportion to the space. Blocky designs and work-like materials such as stainless steel can be softened with muted colors and touches of wood to create a sensitive design that can hold its own in the space and feel inviting.
10. Choose curves to improve circulation
An important consideration in open-plan space is flow. Curves are great at subtly directing traffic, keeping children away from danger spots and stopping guests from getting under your feet. The curved end of the Shaker-style unit also ensures there are no sharp corners to knock into. Heating a large space can also be costly. The best solution is to install underfloor heating for all-round ambient warmth.
11. Provide a place for guests to perch
Think about where people will sit while you cook and where you would like to  eat once the food is served. 
'Short stay seating, such as breakfast bars, needs to be situated away from the area where you will be working, so that no one  gets in the way, but close enough so that conversation can flow easily,' says Stephanie Dedes, Design and Marketing manager, Charles Yorke.
How do you make an open-plan kitchen? 
It is a lot easier than you think to make an open-plan kitchen in your home.
An expensive extension is not the only option for gaining space. A first step should always be to see if there is more potential in the space you already have for instance, a little-used dining room, part of a hallway, a garage. It's worth calling in the professionals at this early stage as a trained eye will see solutions you simply won't, and will have the experience and know-how to get the very best for the space.
A hard-working space will need the right framework in place – again something that needs addressing at the start of the project and where a good designer can help.
'An interior designer is different from an interior decorator who chooses colors and cushions,' says designer John Osborn. 'A good designer should understand the technical aspects of drainage, electrics, water supply and waste, pipework, plumbing, cables and lighting circuits – all the structural elements required to realise the best design.
An electrician will put sockets and switches wherever is easiest, not necessarily where they look most attractive while an interior designer will create something that works functionally and aesthetically.' This is especially challenging in an open-plan kitchen where a range of services are required.
Does an open-plan kitchen add value?
In a nutshell, yes. One of the most popular home transformation projects to add value to a house is knocking through between an existing kitchen, dining and living room to create an open-plan kitchen space. 
Improving the spatial flow or maximising the views to the garden can add value if done right, but do take structural advice before you start. An architect or builder can offer suggestions for improving an open-plan kitchen layout.
With so many owners reconfiguring space for the sole purpose of creating an open-plan kitchen, many kitchen designers are very experienced at seeing the bigger picture and often have good contacts with local builders. 'Your kitchen designer may also know of an architect who has  undertaken a similar project,' suggests says Katy Paul, designer at Richard Baker Furniture. 
Does an open-plan kitchen need planning permission?
While knocking down walls is relatively simple (rarely requiring planning  permission but still needing building regulations), many extensions now qualify for permitted development, so there's no need for planning permission but there may be Party Wall issues. 
Always check with your local planning office. Part of the big appeal of an extension lies in adding  glass doors and skylights to flood the area with light and these are subject to building regulations relating to thermal efficiency. Your glass supplier, builder or architect will be able to advise here.