Traditional kitchen ideas – 20 classic ways to create a characterful feel
Create timeless charm in your kitchen with these beautifully traditional design ideas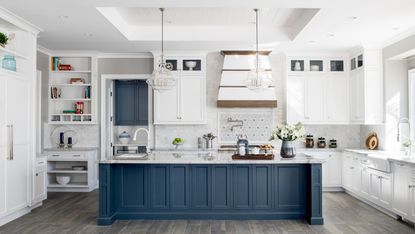 (Image credit: Nicole Michael Designs / Lauren Pressey)
A traditional kitchen is the heart of the home, a warm, welcoming space that is not only for cooking but also for entertaining, relaxing and even working. Therefore, it is vital to ensure that you get its design just right, both from an aesthetic and layout point of view.
There is no standard template for a traditional kitchen – however, your personality and unique style are both integral to its design. Be sure, though, that it will feature plenty of natural materials, a social space to gather and accessories to make it feel loved and lived in. These kitchen ideas will help you create a period space of your dreams.
Traditional kitchen ideas
Traditional kitchen ideas incorporate lots of warm, natural materials, such as real wood cabinetry and work surfaces. Cabinetry might well be painted in a soft, muted color, such as cream, taupe or gray – although more contemporary takes are often more brightly colored. Door furniture on cabinetry tends to have a traditional look and might be in hammered metal or tarnished copper. Traditional kitchens often include butler or Belfast sinks, ornate faucets and range ovens.
Your kitchen may complement other traditional decorating ideas in your home, or stand alone as a classic centerpiece to your family life.
1. Focus on the details
With traditional kitchen ideas, the parts really do make the whole.
'In a traditional kitchen, the most important aspect is the small details, especially when we're looking at the cabinet fronts and the color scheme,' explains Hanieh Pace, founder Ivy House Interiors.
'Typically, I like to use light and airy when it comes to traditional kitchens. A lot of my clients love white but with this one we wanted a pop of detail, which was the blue island.' If blue isn't your choice, then there are countless island paint color ideas to bring your space to life.
'The cabinet moldings lean more traditional. It's not heavy but it's also not flat. With the hardware, the polished nickel is always a timeless material to use throughout.'
2. Look to the past for inspiration
The beauty of traditional-style kitchens is that they are inspired by the aesthetics of the past but function perfectly for today.
'Historically, the kitchen has always been a room with the sole function of food preparation. For this reason, the classic kitchen was rarely extravagantly decorated, or even finished with beauty in mind. Instead, function lay at the heart of good, plain kitchen design,' explains Rebecca Noakes, Head of Design & Brand Creative, John Lewis of Hungerford.
'This doesn't mean that your traditional-inspired kitchen needs to abandon aesthetics altogether. Instead, take this tradition and transform it into a beautiful design feature.
'Practical touches, like open shelving and hanging storage, can add both function and a certain charm to kitchen design. Exposed cookware and culinary equipment, when curated with care, creates a warm and welcoming look and feel.'
This kitchen, created by Pasadena-based Nicole Michael Designs, exemplifies the look.
3. Center the design around an island
Originally used as food preparation spaces for cooks and servants in the kitchens of historic homes, kitchen islands can serve a multitude of functions today, while still evoking traditional charm.
'Just as they were once the traditional hub for kneading bread, chopping vegetables, or making jam, modern kitchen islands are now a hub for family life,' suggests Rebecca Noakes, Head of Design & Brand Creative at kitchen design company, John Lewis of Hungerford.
'These are surfaces to gather around, whether that's for a quick breakfast, a chat and a cup of tea, a homework session, or a glass of wine while dinner's cooking.'
4. Major on natural materials
The harmonious combination of expert craftsmanship, functionality and classic design make the traditional style an obvious choice when renovating your kitchen.
'Traditional kitchens have always been fashionable, and their endless appeal lies in the warmth and character this aesthetic instantly gives to any home,' says Rebecca Noakes from John Lewis of Hungerford.
'To get that traditional kitchen feel, the use of natural materials is really important – think wooden countertops or beautiful stone flooring. Color-wise, go for warming, natural colour palettes or opt for traditional white kitchen ideas.
Designing a traditional-style kitchen is all about selecting honest, natural materials and pairing them with simple finishes.'
5. Invest in a range cooker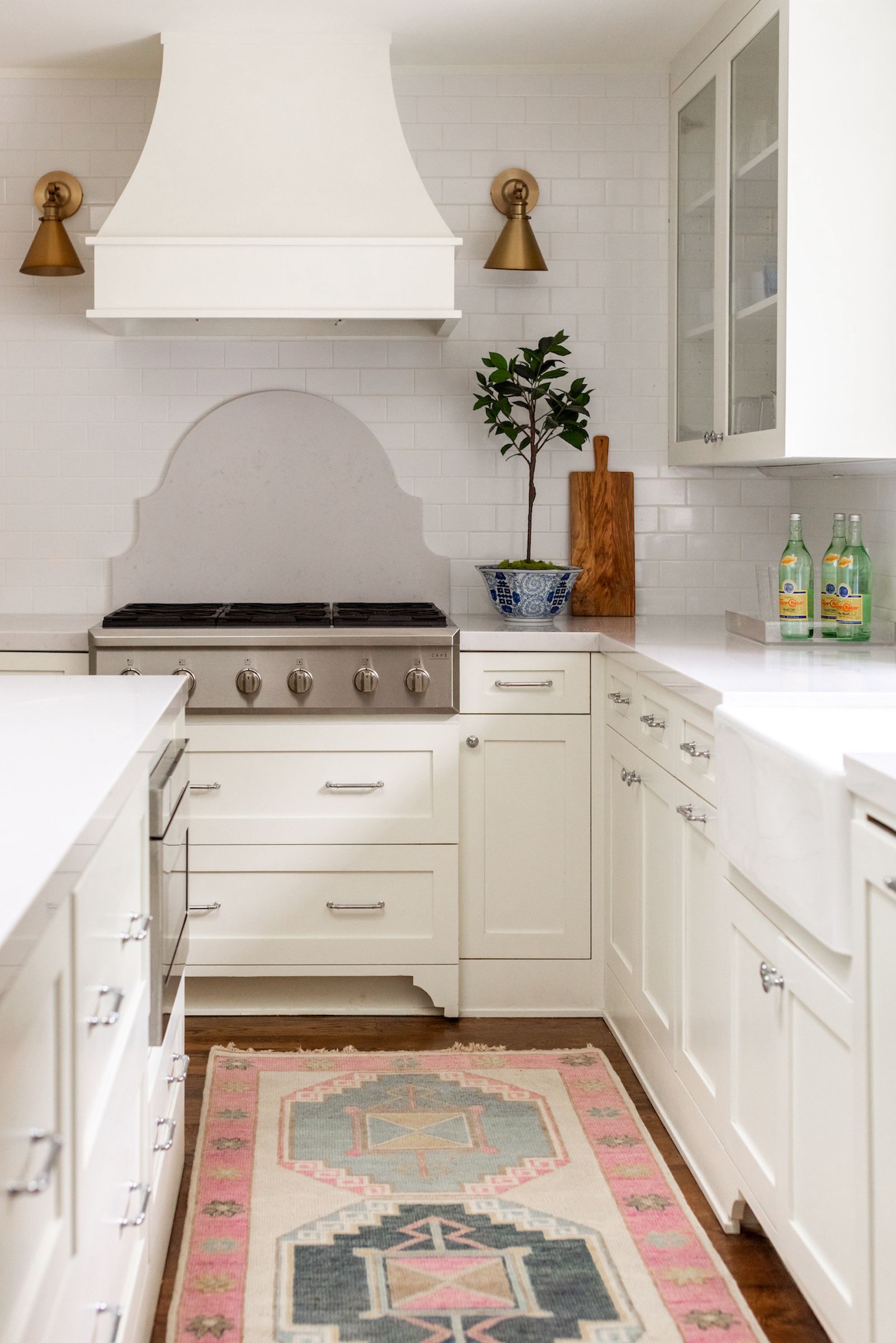 Range cookers can be considered the jewel of a kitchen because they instantly bring a traditional feel to your space. A range cooker will not only communicate a functional yet straightforward aesthetic, but also serve as a workhorse in your daily cooking adventures.
If energy costs are a concern, take heart in knowing that cast iron ranges don't need to be on all the time these days; newer models come in various formats that include energy-saving features, such as state of the art induction hobs and fan ovens. There are also lots of sustainable kitchen ideas that will help you to ensure that the kitchen of your dreams doesn't cost the earth.
6. Update the traditional farmhouse look
While farmhouse kitchen ideas could be considered the most traditional of kitchen design schemes, the look doesn't have to be stuck in the past – as Michelle Salz-Smith of California design firm, Studio Surface.
'In this property, the kitchen became the focal point of the home's great room, which includes a dining space with custom wood shelves floating across the back windows and a living area with a 20-foot-tall, split-face stone fireplace.
'On the back side, a butler's pantry contains a sink for prep work and provides more countertop work surface as well as more storage space, all of which opens to the outside gardens via a Dutch door.
'We didn't want the ubiquitous "modern farmhouse" white kitchen, so opted for a complex sage-y taupe on the cabinets that shifts throughout the day. It couples nicely with the honed Caldia marble, bronze hardware and wood accents.'
As a balance between all-white and a green scheme, why not try both, as in these green and white kitchen ideas.
7. Fit appliances beautifully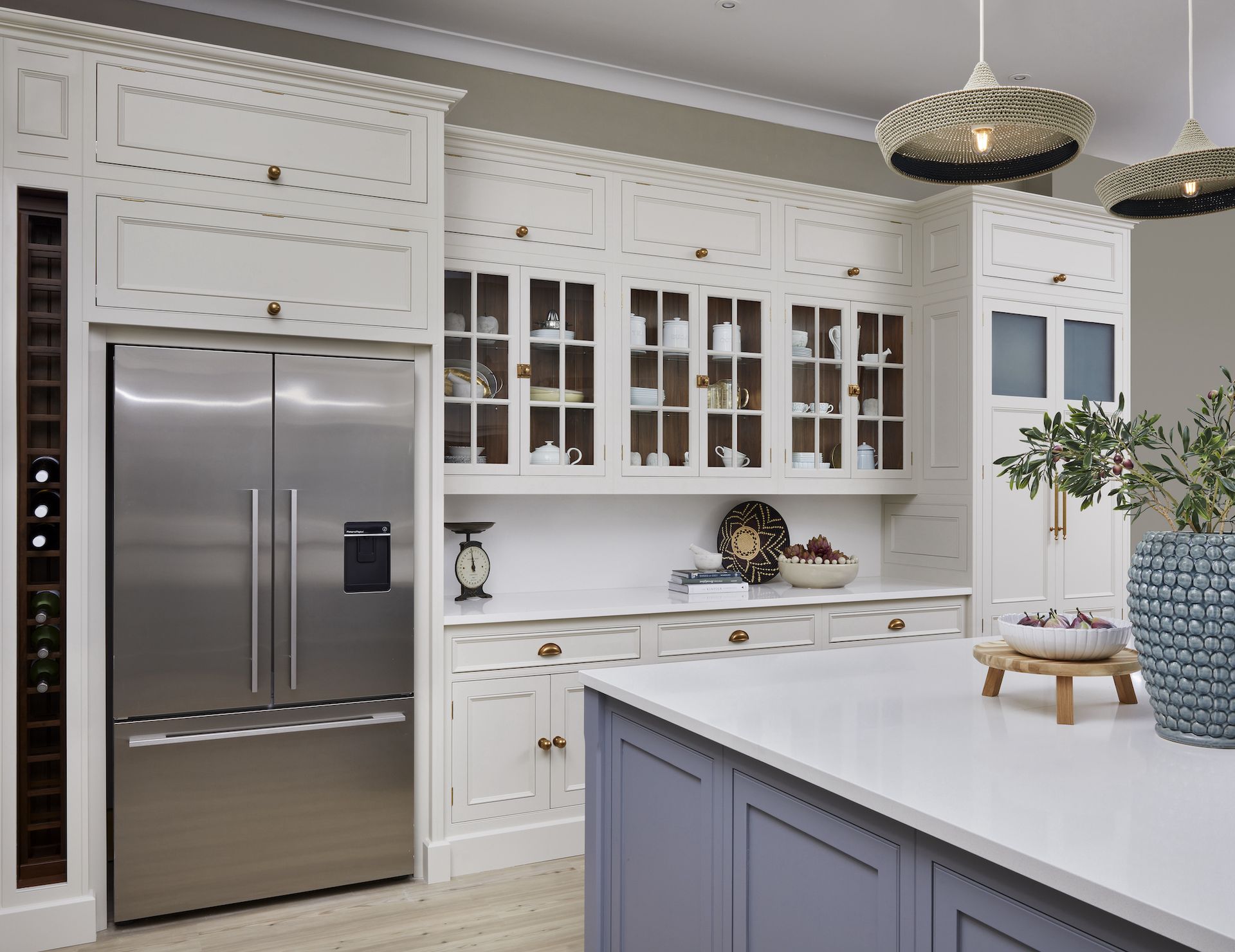 Built-in and bespoke cabinetry is the best way to incorporate large appliances into a traditional kitchen scheme.
'Bulky good such as refrigerators and freezers can dominate a traditional kitchen if not fully integrated into the overall design plan,' agrees Andrea Childs, Editor of Country Homes & Interiors magazine.
'Consider building out cupboards to surround the appliance, especially if choosing not to hide it behind cabinet doors.
8. Pair colored cabinets with rustic furniture
Painted kitchen cabinet ideas are a great way of imbuing your traditional kitchen with unique personality. When paired with a rustic oak table and chairs, it also serves to give a contemporary twist to farmhouse kitchen ideas and design.
If your cabinets are in good condition but you want to give them a new lease of life – or change your color scheme – painting kitchen cabinets is an easy project.
'With a partner on hand to help and no interruptions, kitchen cabinets can be revamped in a weekend,' suggests designer and chalk-paint expert Annie Sloan.
9. Use contrasting colors to make your island stand out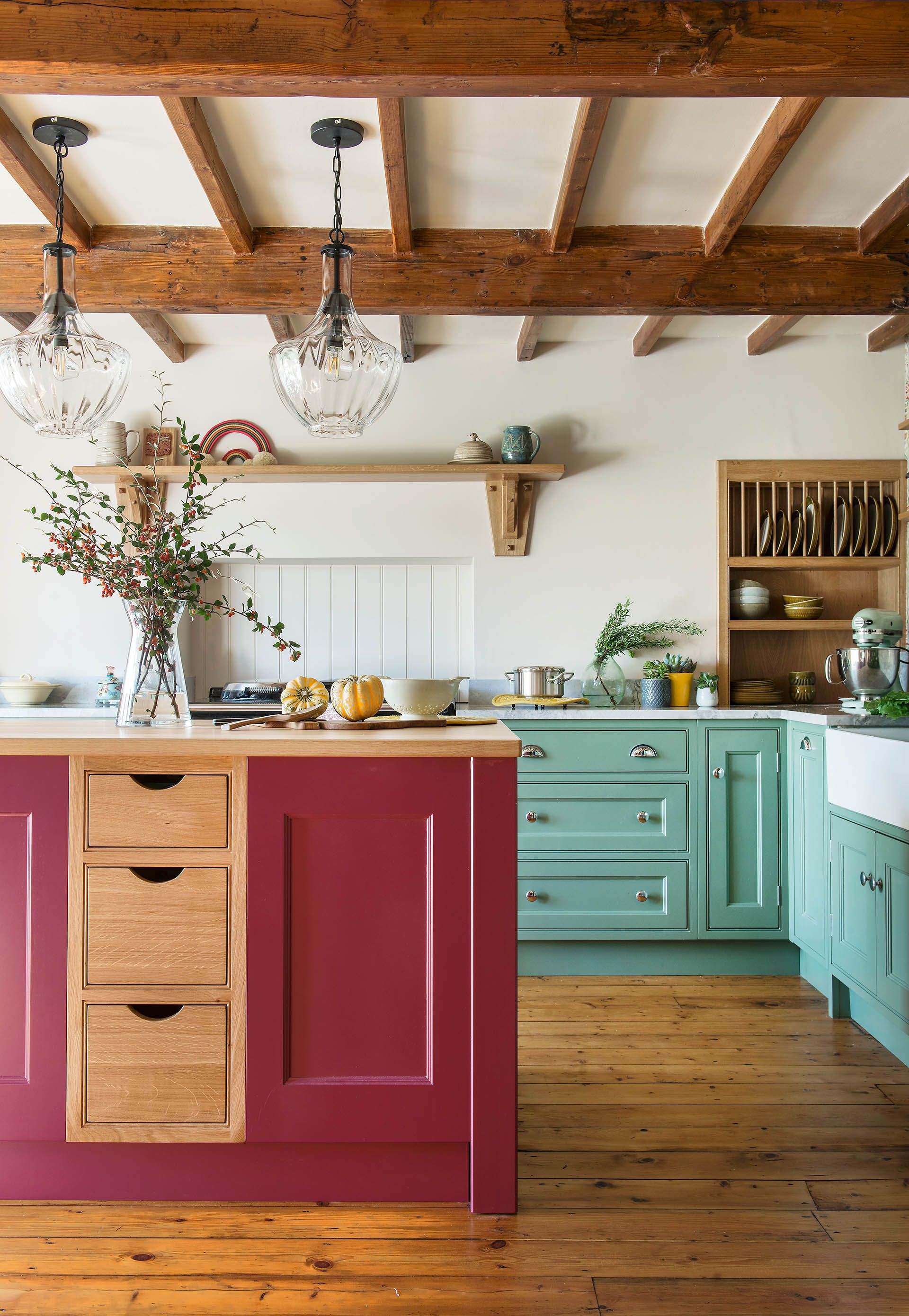 Color blocking is on-trend at the moment and if you use it correctly, it will add a contemporary flair to a traditional design.
Your island is focal point of a traditional kitchen, so make it stand out. Try painting your kitchen island in a contrasting color to your base cabinets as an easy way to to add interest and depth to your space.
If you're unsure which colors to choose, using the color wheel provides a helpful guide to which shades will work. For a traditional kitchen scheme, choose matt hues in heritage tones such as this berry and mint combination.
10. Put a range cooker in pride of place
A range cooker is the essential heart of any traditional kitchen but often carrying a high price tag, this is not an impulse purchase.
When it comes to adding new pieces to your home, Graham Duke of range cooker company Everhot advises homeowners follow the old adage of 'buy once and buy well'.
11. Consider materials when buying new
When combining traditional and contemporary elements in a kitchen, it's important to ensure that they harmonize well in order to prevent the space feeling disjointed. To prevent this, be mindful of the materials you choose.
'A modern kitchen will feel so much more at home in a traditional house if it's made from proper timber – it will still retain its up-to-date aesthetic but will have a sense of lasting solidity that reflects the building itself,' advises Fred Horlock, head of store design, Neptune.
12. Incorporate marble for a luxe look
A pared-back design allows statement materials to shine through. Here, cabinetry painted in a beautiful soft blue offsets the magnificent marble backsplash and countertop. The scheme is perfectly complemented with a traditional butler's sink, while Perrin & Rowe's Athenian mixer tap in aged brass with porcelain handles adds a warm accent.
If marble isn't for you, you can still bring a luxe look to your kitchen countertop ideas with stone, granite or composite materials. In fact, the best kitchen countertop materials include all of these.
13. Use wallpaper to layer a traditional kitchen
While hanging wallpaper in the kitchen was once an unconventional choice, it's become a firm favorite in both contemporary and traditional kitchens as an easy way to update your space. Playful prints will also bring charm to any country wallpaper ideas for kitchens.
Nina Tarnowski founder of wallpaper designer Woodchip & Magnolia, suggests 'transforming an outdated kitchen by introducing an eye-catching patterned wallpaper. Avoid anything too overpowering. A charming print in calming shades such as taupe, off-white or blush will give an instant and affordable refresh to tired walls, while keeping the space light and airy.'
14. Include a traditional butler's sink
Kitchen sink ideas can be used to set the tone of a traditional kitchen. The timeless design of a butler's sink makes it a veritable traditional kitchen icon. Originally designed for use by the staff in grand households, they are renowned for their durability, elegant looks and generous size. We love this double-bowl butler sink with patterned exterior from Villeroy & Boch.
While you wouldn't generally use a butler's in a bathroom, a deep porcelain basin is also a key element of traditional bathroom ideas.
15. Pick a bold color for a contemporary twist
The simple squared panel style of Shaker cabinetry is one that suits almost any kitchen. Painted in a deep forest green shade and paired with oak worktops and brass accessories, this design by John Lewis of Hungerford creates a warm and cozy heart for a Victorian home.
If you want to explore green kitchen ideas but you are searching for a paler shade, olive, mint, sage and apple may suit you better.
16. Choose a traditional kitchen dresser
The humble dresser started life as a practical kitchen storage solution, but has now become a statement piece for a classic kitchen. Mirroring the elegant style of the room's cabinetry, this dresser from Sustainable Kitchens features large glazed doors to show off crockery and cookware, transforming storage into décor.
17. Choose a farmhouse table
Prioritizing flexibility and practicality, and brimming with warmth and character, the farmhouse look takes inspiration from centuries of kitchen designs. Covering the walls with a heritage print in a warming colour lends a homely feel to the space.
Ben Pentreath's recoloration of William Morris' designs sees the Willow Bough wallpaper given a new life in Tomato and Olive. Its red hue brings out the rich tones of the wooden furniture, while mismatched fabrics, also from the collection, give a laid-back look to upholstered chair seats.
18. Don't overlook lighting
When you are redesigning your cookspace, kitchen lighting ideas can often get overlooked. However, effective illumination is critical to both the atmosphere and functionality of a space.
An industrial metal pendant, such as the Brooklyn flat light in a pewter or copper finish from Industville makes a striking feature over an island or dining table, and adds to the authentic personality of the space .
19. Create a bright and airy space with patio doors
Small, dark kitchens are often the curse of traditional homes. However, adding patio doors floods the room with light, while positioning your kitchen island facing towards the back yard provides an ever-changing view while cooking.
Pick a nature-inspired shade for cabinetry to create harmony between the outside and in. This kitchen is by Herringbone.
20. Create an eat-in kitchen
Traditional kitchens in homes always had the dining table at the center and this is something you can easily recreate to create a homey, inviting feel. This type of kitchen layout idea is particularly useful in smaller rooms, since the kitchen table can double up as prep space, too.
In this kitchen by Henriette von Stockhausen of VSP Interiors, which specializes in decorating traditional interiors, the dresser is given priority, too, with practical cookware kept behind closed doors and prettier china and cookware on display behind the doors.
What is traditional kitchen style?
Traditional kitchen ideas are informed by the kitchens and pantries of the past. Think solid wood framed cabinets, stone or wooden countertops and flooring, and details such as coving and molding.
'Solidity and functionality are key, but with a level of design and craftmanship that speaks to the skills of the past,' says Andrea Childs, Editor of Country Homes & Interiors magazine.
How can I make my kitchen look traditional?
Even in a modern house, a kitchen can be given a more traditional look. Painted cupboards, thick wood countertops, brass or ironwork handles and knobs, will all help to create the look.
'How you accessorize is also key,' says Andrea Childs. 'Think about adding a dresser or open shelves and displaying vintage china or copper pans to give a traditional look.'
Sign up to the Homes & Gardens newsletter
Decor Ideas. Project Inspiration. Expert Advice. Delivered to your inbox.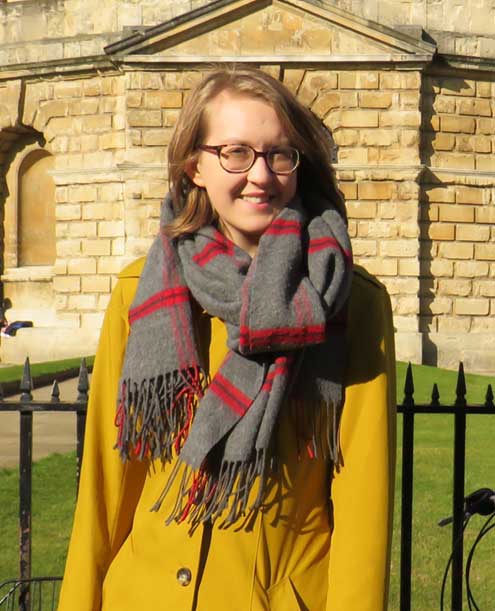 Content Editor and Sub-editor
Having graduated with a first class degree in English Literature, Holly started her career as a features writer and sub-editor at Period Living magazine, Homes & Gardens' sister title. Working on Period Living brought with it insight into the complexities of owning and caring for period homes, from interior decorating through to choosing the right windows and the challenges of extending. This has led to a passion for traditional interiors, particularly the country-look. Writing for the Homes & Gardens website as a content editor, alongside regular features for Period Living and Country Homes & Interiors magazines, has enabled her to broaden her writing to incorporate her interests in gardening, wildlife and nature.
With contributions from