Traditional kitchen ideas – classic looks for cabinets, countertops and more
Create rustic charm in your kitchen with these beautifully traditional design ideas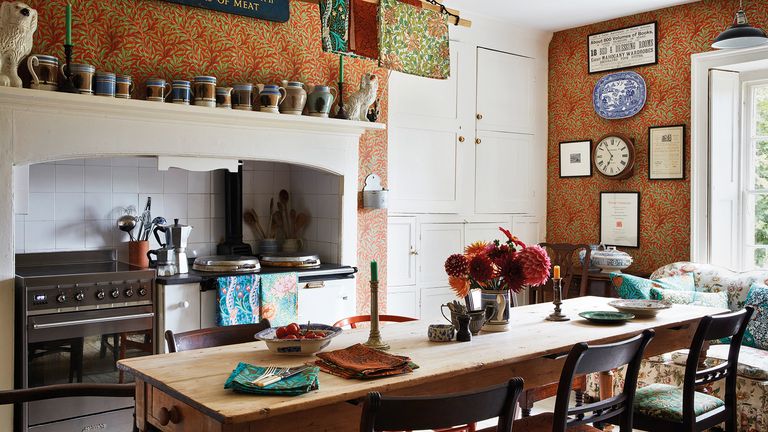 (Image credit: Sanderson Design Group)
By Holly Reaney published
A traditional kitchen is the heart of the home, a warm, welcoming space that is not only for cooking but for entertaining, relaxing and even working. Therefore, it is vital to ensure that you get its design just right, both from an aesthetic and layout point of view.
There is no standard template for a traditional kitchen – however, your personality and unique style are both integral to its design. Be sure, though, that it will feature plenty of natural materials, a social space to gather and plenty of accessories to make it feel lived in. These traditional kitchen ideas will help you create the space of of your dreams.
You can find more kitchen ideas on our dedicated page, too.
What is a traditional kitchen style?
A traditional kitchen style is one that features lots of warm, natural materials, such as real wood cabinetry and work surfaces. Cabinetry might well be painted in a soft, muted color, such as cream, taupe or gray – although more contemporary takes are often more brightly colored. Door furniture on cabinetry tends to have a traditional look and might be in hammered metal or tarnished copper. Traditional kitchens often include butler or Belfast sinks, ornate faucets and range ovens.
See: Traditional decorating ideas – inspiration for stylish, timeless interiors
1. Pair colored cabinets with rustic furniture for a timeless look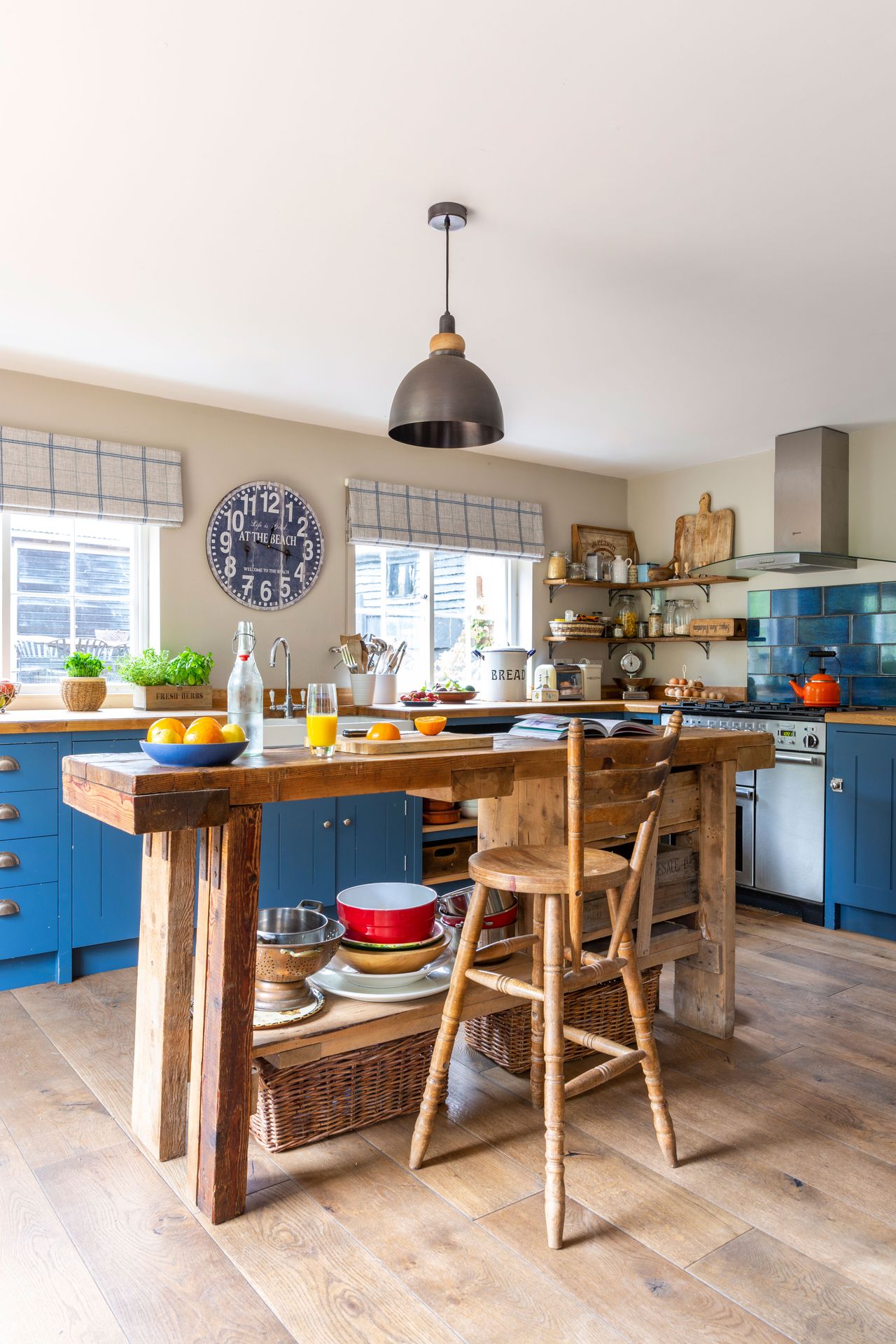 Colored cabinets are a great way of imbuing your traditional kitchen with unique personality. When paired with a rustic oak table and chairs, it also serves to give a contemporary twist to a farmhouse design.
If you're cabinets are in good condition but you want to give them a new lease of life – or change your color scheme, painting them is an easy project.
'With a partner and no interruptions kitchen cabinets can be revamped in a weekend,' suggests designer and Chalk-paint expert Annie Sloan.
2. Use contrasting colors to make your island the heart of a traditional kitchen
Color blocking is on-trend at the moment and if you use it correctly, it will add a contemporary flair to a traditional design.
Your kitchen island is focal point of the room, so make it stand out. Try painting your kitchen island in a contrasting color to your base cabinets as an easy way to to add interest and depth to your space.
If you're unsure which colors to choose, using the color wheel provides a helpful guide to which colors will work. For a traditional kitchen scheme, choose matt shades in heritage tones such as this berry and mint combination.
3. Put a range cooker in pride of place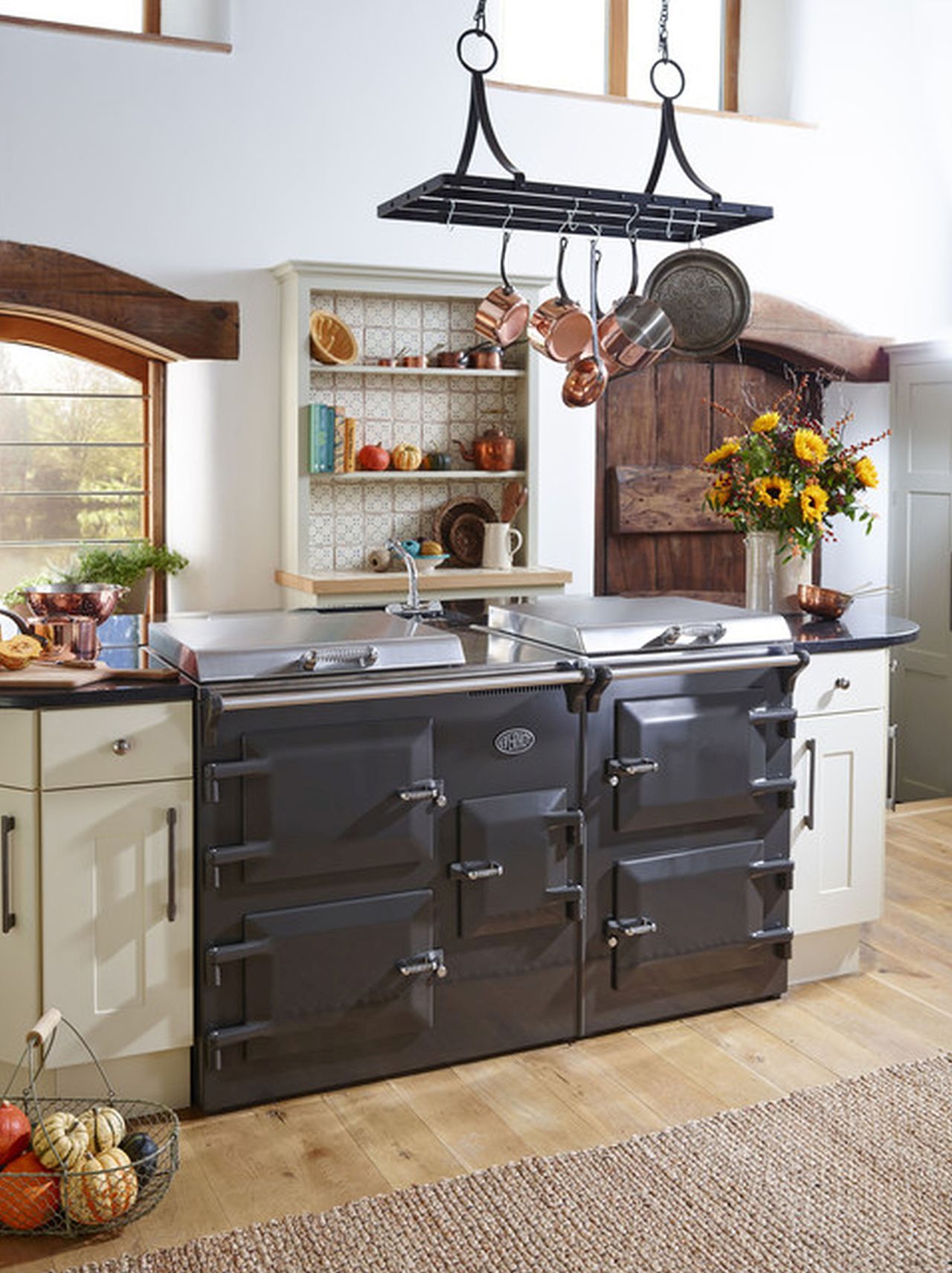 A range cooker is the essential heart of any traditional kitchen but often carrying a high price tag, this is not an impulse purchase.
When it comes to adding new pieces to your home, Graham Duke of range cooker company Everhot advises homeowners follow the old adage of buy once and buy well.
4. Consider materials when buying new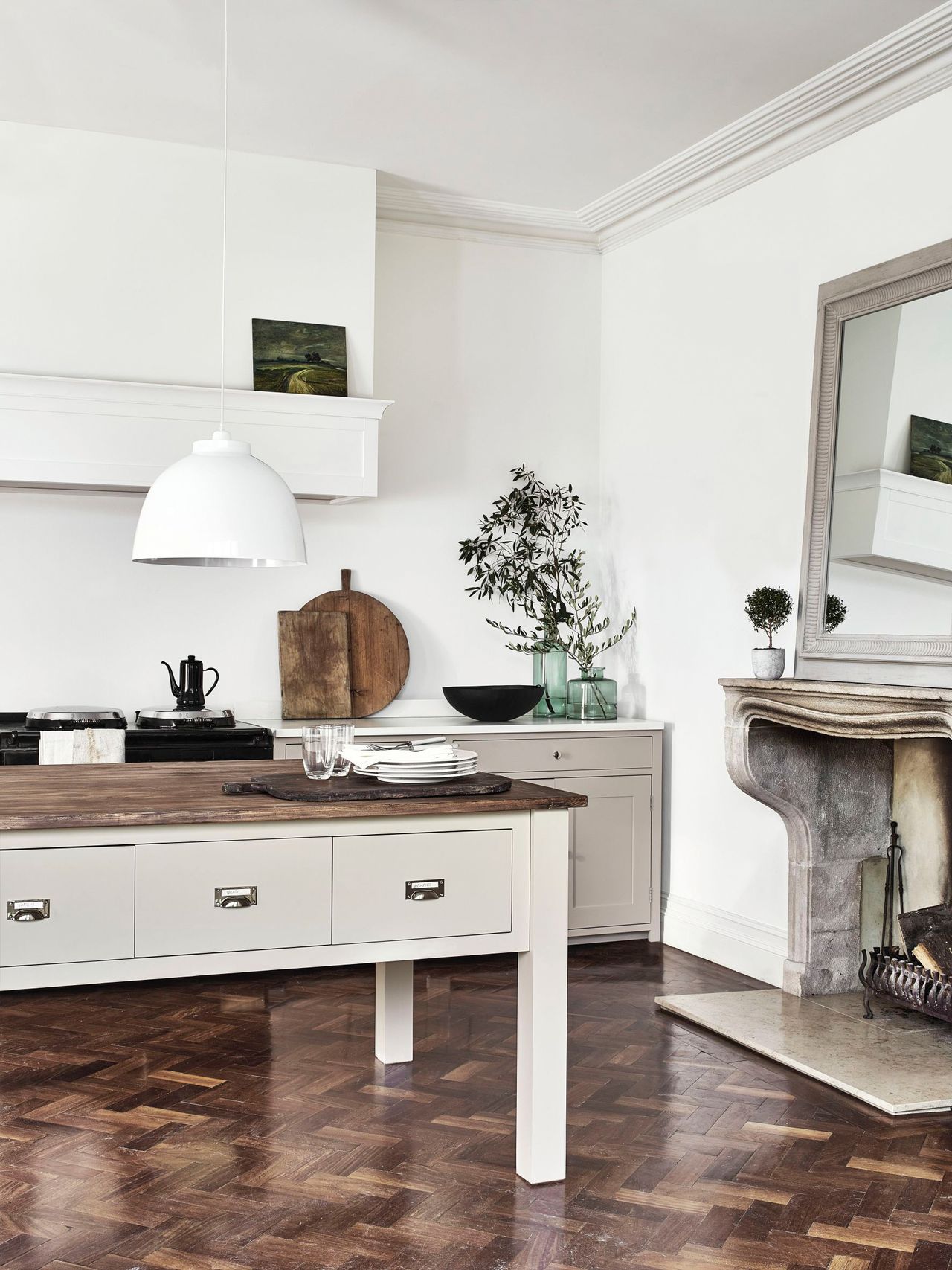 When combining traditional and contemporary elements in a kitchen, it's important to ensure that they harmonize well in order to prevent the space feeling disjointed. To prevent this, be mindful of the materials you choose.
'A modern kitchen will feel so much more at home in a traditional house if its made from proper timber – it will still retain its up-to-date aesthetic but will have a sense of lasting solidity that reflects the building itself,' advises Fred Horlock, head of store design, Neptune.
See: Traditional white kitchen ideas – pure shades for classic schemes
5. Incorporate marble for a luxe look
A pared-back design allows statement materials to really shine through. Here, cabinetry painted in a beautiful soft blue offsets the magnificent marble splashback and worktop. The scheme is perfectly complemented with a traditional butler's sink, while Perrin & Rowe's Athenian mixer tap in aged brass with porcelain handles adds a warm accent.
6. Use wallpaper to layer a traditional kitchen
While hanging wallpaper in the kitchen was once an unconventional choice, it's become a firm favorite in both contemporary and traditional kitchens as an easy way to update your space.
Nina Tarnowski founder of wallpaper designer Woodchip & Magnolia suggests 'transforming an outdated kitchen by introducing an eye-catching patterned wallpaper. Avoid anything too overpowering, a charming print in calming shades such as taupe, off-white or blush will give an instant and affordable refresh to tired walls, while keeping the space light and airy.'
See: Country wallpaper ideas for kitchens – cover your walls in playful prints
This feature was created by H&G's sister brand, Period Living magazine
Subscribe to Period Living for more inspiration
Period Living is the UK's best-selling period homes magazine. A subscription provides you with all you need to know about caring for and improving a traditional house and garden.
7. Include a traditional butler's sink
The timeless design of a butler sink makes it a veritable traditional kitchen icon. Originally designed for use by the staff in grand households, they are renowned for their durability, elegant looks and generous size. We love this double-bowl butler sink with patterned exterior from Villeroy & Boch.
See: Traditional bathroom ideas – for inspiration and more ways to decorate
8. Pick a bold color to give a traditional kitchen a contemporary twist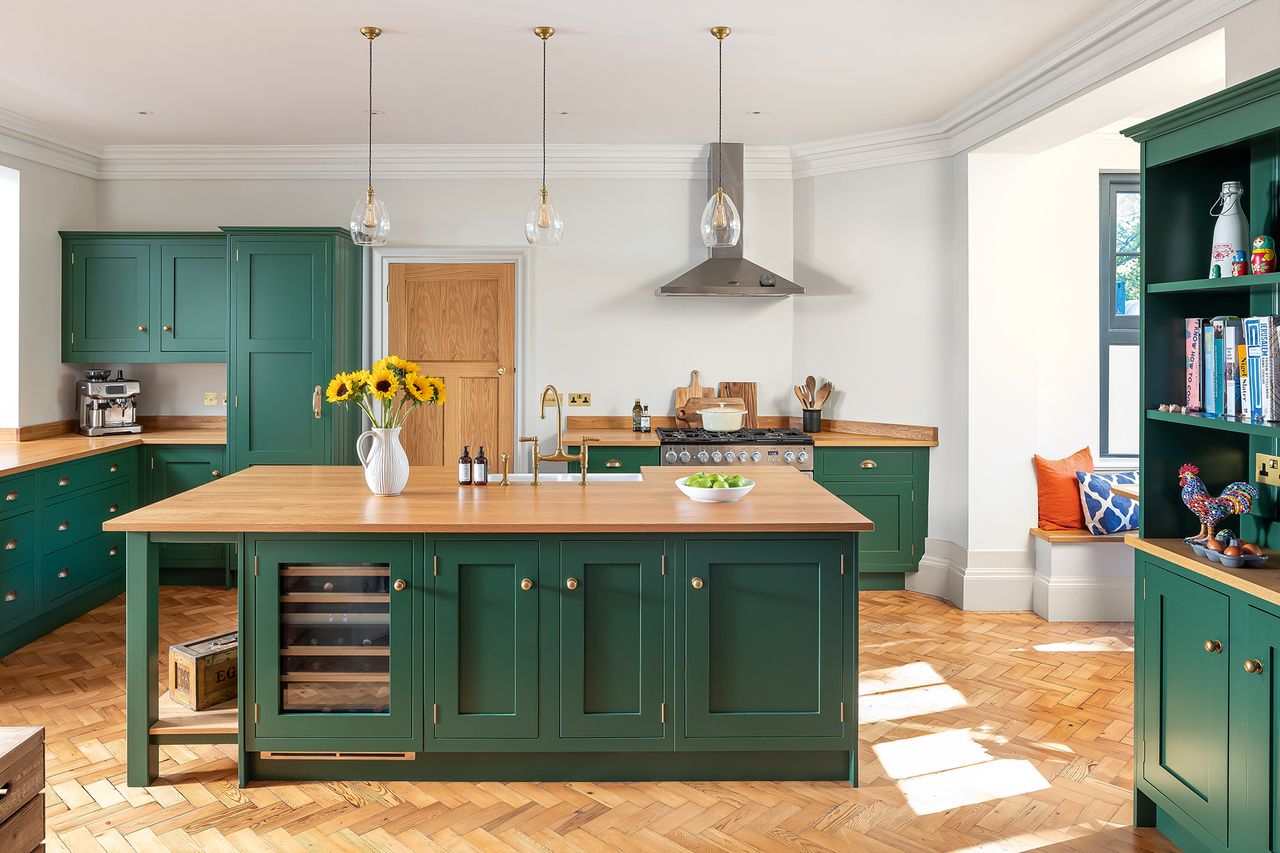 The simple squared panel style of Shaker cabinetry is one that suits almost any kitchen. Painted in a deep forest green shade and paired with oak worktops and brass accessories, this design by John Lewis of Hungerford creates a warm and cozy heart for a Victorian home.
9. Choose statement storage with a traditional kitchen dresser
The humble dresser started life as a practical storage solution, but has now become a statement piece for a classic kitchen. Mirroring the elegant style of the room's cabinetry, this dresser from Sustainable Kitchens features large glazed doors to show off crockery and cookware, transforming storage into décor.
10. Choose a farmhouse table to create a heart for a traditional kitchen
Prioritizing flexibility and practicality, and brimming with warmth and character, the farmhouse look takes inspiration from centuries of kitchen designs. Covering the walls with a heritage print in a warming colour lends a homely feel to the space.
Ben Pentreath's recoloration of William Morris' designs sees the Willow Bough wallpaper given a new life in Tomato and Olive. Its red hue brings out the rich tones of the wooden furniture, while mismatched fabrics, also from the collection, give a laid-back look to upholstered chair seats.
11. Don't overlook lighting
When you are redesigning a kitchen, lighting can often get overlooked, even though it is critical to both the atmosphere and functionality of a space. An industrial metal pendant, such as the Brooklyn flat light in a pewter or copper finish from Industville makes a striking feature over an island or dining table, and adds to the authentic personality of the space being the true engine room of the home.
12. Create a bright and airy space with patio doors
Small, dark kitchens are often the curse of older homes. However, adding patio doors floods the room with light, while positioning your kitchen island facing towards the back yard provides an ever-changing view while cooking. Pick a nature-inspired shade for cabinetry to create harmony between the outside and in. This kitchen is by Herringbone.