Traditional white kitchen ideas – 20 timeless period spaces
This round up of the best traditional white kitchen ideas will inspire your own design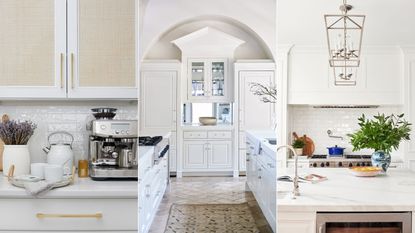 (Image credit: Sho and Co & Ryan Shapiro Photography/Lauren Pressey/Lisa Sherry/Photo Stacey Van Berke & /MBC Interior Design/)
No matter which color is on trend at the moment, traditional white kitchen ideas will always be highly sought-after.
White kitchen ideas are loved for their timeless appeal and endlessly versatility and can transform a tired looking kitchen into a bright, reinvigorated space.
'A white kitchen can be the perfect blank canvas to really let your creativity shine. There are endless possibilities when it comes to designing a white kitchen. You can go bold with your choice of countertop or backsplash, or keep it simple and classic. The important thing is to have fun with it and make it your own.' says Los Angeles interior designer, John Linden.
Below, we showcase our favorite traditional white kitchen ideas.
Traditional white kitchen ideas
White kitchens provide the perfect base for a myriad of traditional kitchen ideas. Think farmhouse kitchen ideas and rustic kitchen ideas at one end of the scale, and more formal Shaker kitchen ideas at the other. Add a splash of white and you have a space-enhancing design that will suit any room. Below, we showcase our favorite traditional white kitchen ideas.
1. Balance a white kitchen with darker accents
Traditional white kitchen ideas provide the perfect starting point when designing your kitchen, however, they are just a starting point. It is also vital that you incorporate character and personality into your kitchen remodel ideas.
'A white kitchen can be made memorable by adding contrast to produce a dramatic effect. Choose a part of your kitchen to add dark accents to, such as by opting for hardwood floors or when designing a kitchen island. This will help to balance out the white walls and countertops' neutral color scheme and for a more dramatic effect. To make the cabinetry more timeless, utilize furniture style cabinetry and consider the style of the cabinet doors to add interest,' says Karen Wolf of Karen B Wolf Interiors.
Tie the look together by accessorizing with pieces in the accent color, for example the white and blue spotted vases and blue cookware in this sleek kitchen.
2. Play with texture to add character to your traditional white kitchen
Decorating with white is an art form. It can offer a light, airy feel to a space, however, it can also the risk of feeling cold and clinical. Prevent your traditional white kitchen ideas from feeling clinical by accenting with pops of color, such as with kitchen backsplash ideas, and warm wooden furniture – these colorful and textural details will sing all the more sweetly against the white backdrop.
'The best way to avoid a one-dimensional all-white kitchen is to bring in texture. My top design advice: Do not do flat, builder-basic subway white kitchen backsplash ideas. Instead do something with depth, texture and a more organic surface. Handmade white tiles will break up the blahs, as will white marble with its veining. One of my favorite ways to elevate an all-white kitchen is with a visually compelling hood – think metals, woods, tile!' says interior designer Mary Jo Major.
3. Let your countertop be star of the show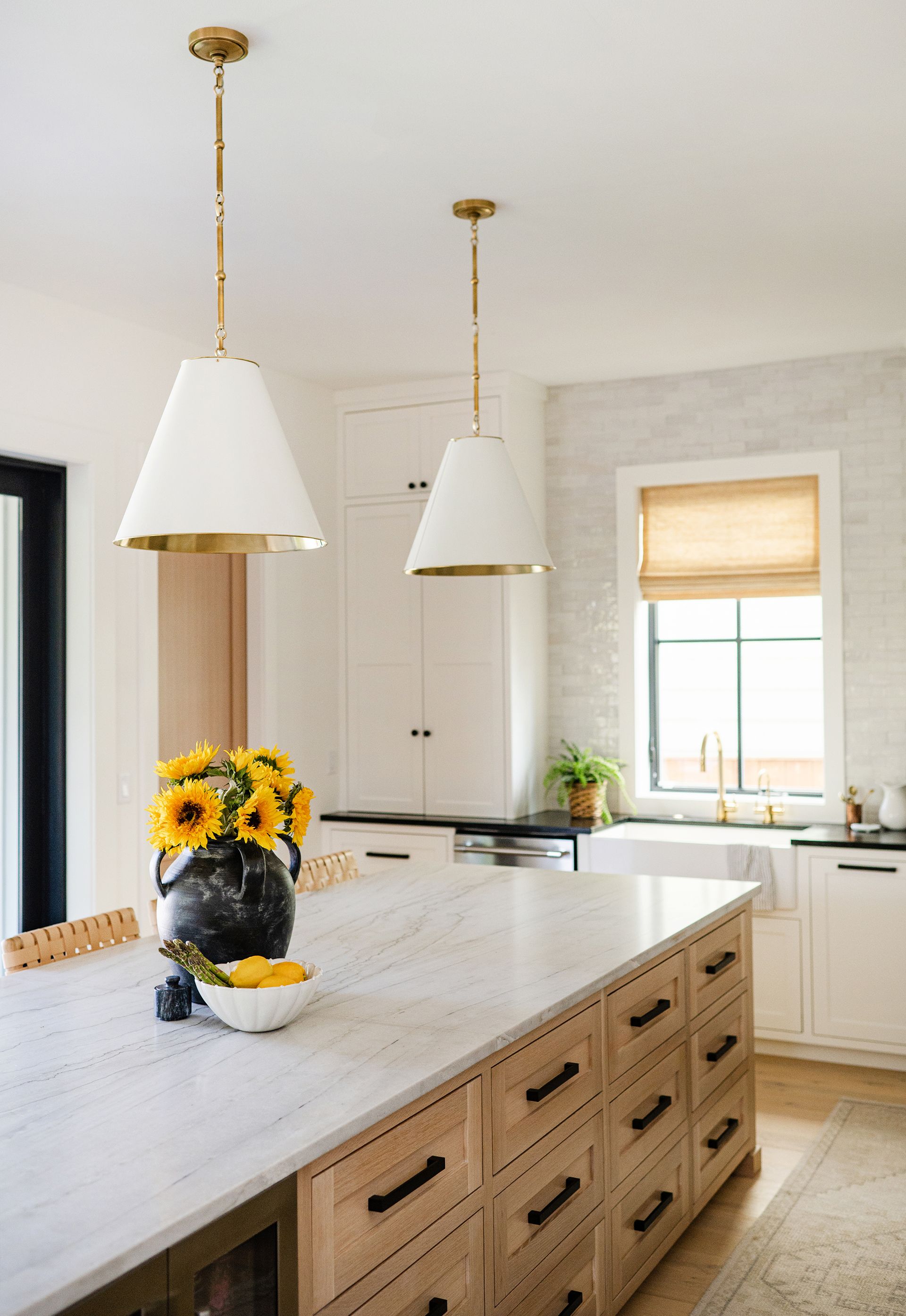 If you've opted for white kitchen cabinets and white walls, then you need to ensure that the other details – such as island countertop ideas – in your kitchen are brimming with character.
'A white kitchen is always going to be timeless, and with small touches, you can give it lots of personality. I love the veined kitchen countertop trend. Marble is still my go-to countertop choice for a white kitchen, but primarily for the island. Then use a deeper charcoal gray soapstone with white veining for the surrounding counters to keep it visually engaging,' says interior designer Mary Beth Christopher, founder of MBC Interior Design.
4. Think about flooring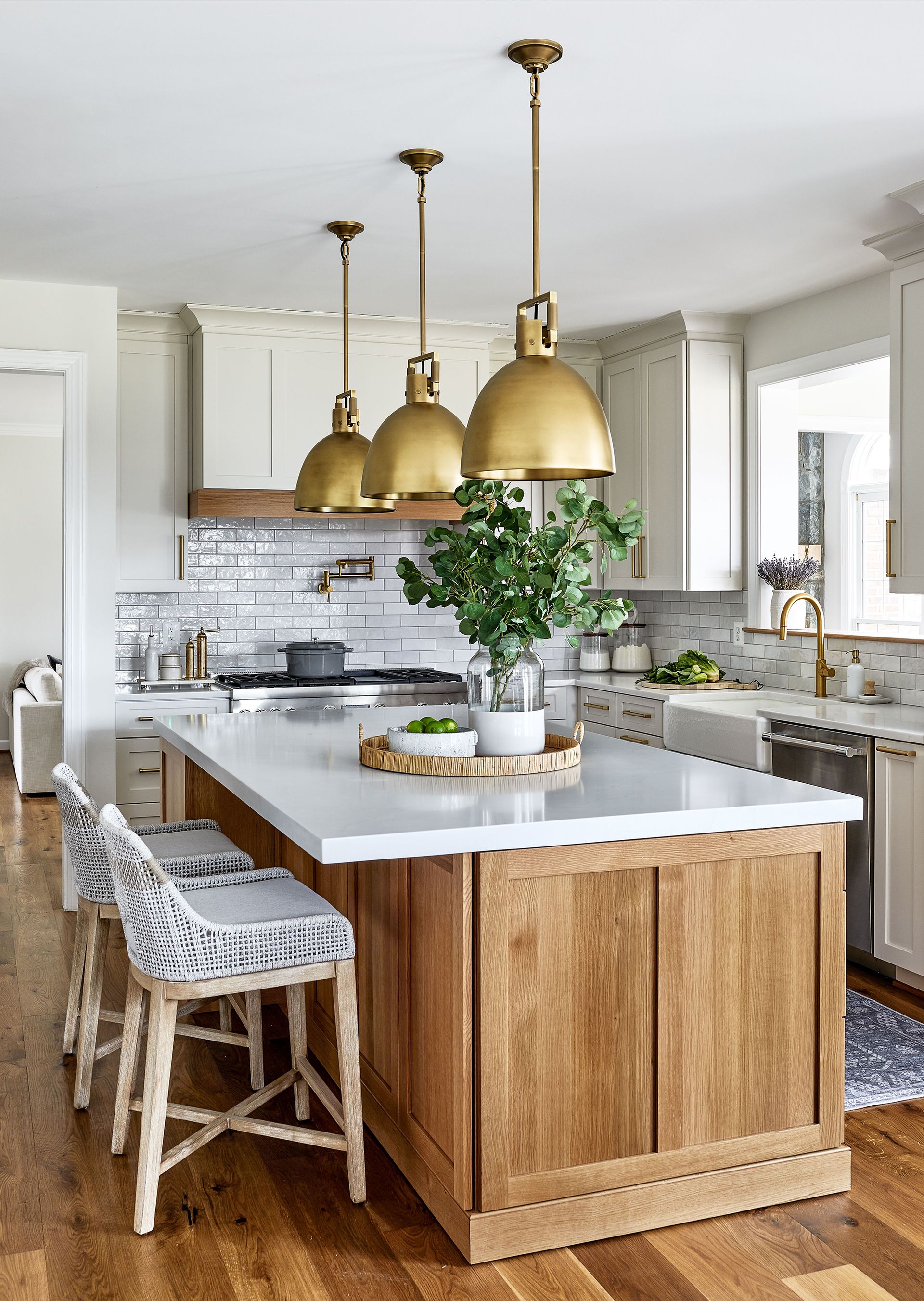 A floor to ceiling totally white kitchen will inevitably feel clinical and soulless, therefore, if you're opting for white cabinetry, walls and ceiling, then opt for kitchen flooring ideas that are abound with color and texture.
'With full white cabinets, the floor color will also play a role in how we proceed with pulling in color. With light hardwood, we tend to keep things in that light to med neutral tone color range. With dark hardwood, we play up the contrast a bit and may want to consider incorporating some black and white kitchen ideas into the space. With a tile floor, you really must be careful that the white does not feel too cold. Tile floor can feel cold as well so the cabinet color would weigh heavily on the color and style of the floor. If the tile has an earthy feel such as terracotta does, white cabinets can still work but the white will need to have a warm undertone and lean more towards an off-white,' advises Shoshanna Shapiro of Maryland-based Sho and Co.
Of course when choosing flooring ideas to use in the kitchen, you also need to think about its durability as well as its aesthetic so ensure you know how to choose the best kitchen floor.
5. Be wary of lighting a white kitchen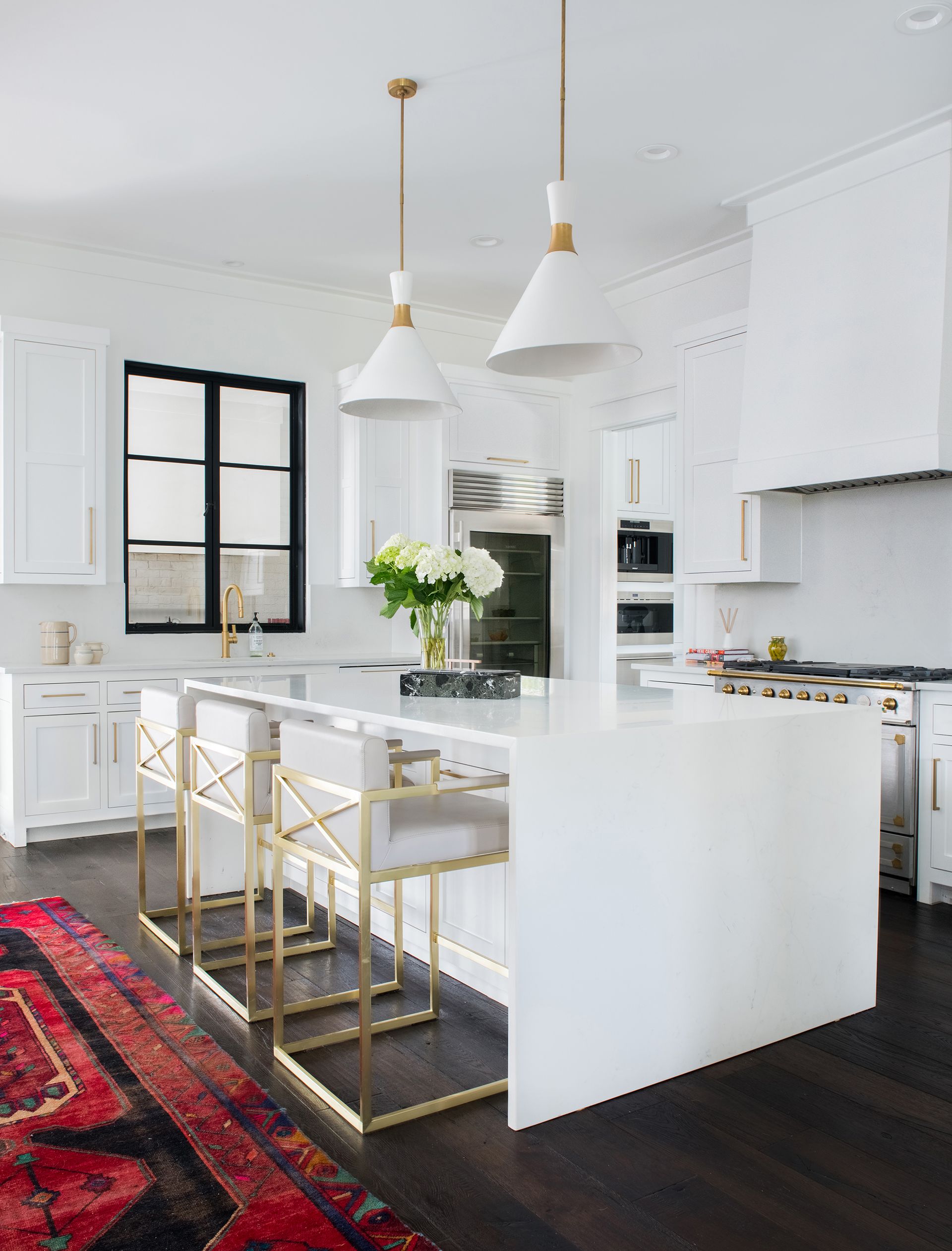 Traditional white kitchen ideas are guarantee to brighten your kitchen, however, wall and cabinet color can only go so far in illuminating your space. This is where kitchen lighting ideas come into their own, especially kitchen ceiling lighting ideas.
'Being aware of the lighting in a room with white cabinets is essential; this is because, with a certain LED or wattage of the lighting, it could be quite easy to obtain a sterile, cold mood in a room, which would not be ideal for any kitchen or living area,' advises Lance Thomas of Louisiana-based Thomas Guy Interiors.
It is also important to learn how to plan kitchen lighting to ensure it enhances the look and feel of the space.
6. Opt for white in open plan kitchens
A white color scheme is the perfect partner to open plan kitchen ideas, especially in traditional homes.
'White kitchens work well in open-concept floor plans because they don't compete with other elements in the space for attention. White cabinetry becomes the backdrop and allows other items in the kitchen or in neighboring spaces to be the focus. Although they're a blank canvas, it's important to integrate elements that contrast the white such as dark counters or floors so that it's not boring or sterile. Another twist to enliven the look is to anchor an all-white space with a contrasting color on the lower cabinets,' says Sarah Cole, founder of Sarah Cole Interiors.
7. Accessories are vital in a white kitchen
When considering how to bring character to your traditional white kitchen ideas, draw inspiration from traditional decorating ideas.
'When working with white cabinets, they will not play the role of being the star of the show in the space. The purpose would be to capture a feeling. Keeping things light and bright invokes a fresh productive feeling for a great majority of our clients. Especially if they tend to be morning people. However, you need to add interest with textures of various sheens for the eye as well as texture that provides a more natural quality. Warm greys are nice to pull into the backsplash. And the backsplash should feel handmade with some variation in color and texture. Flat white subway does not do the trick in most spaces when working with white cabinets,' advises Shoshanna Shapiro.
8. Opt for white to maxmimize a small kitchen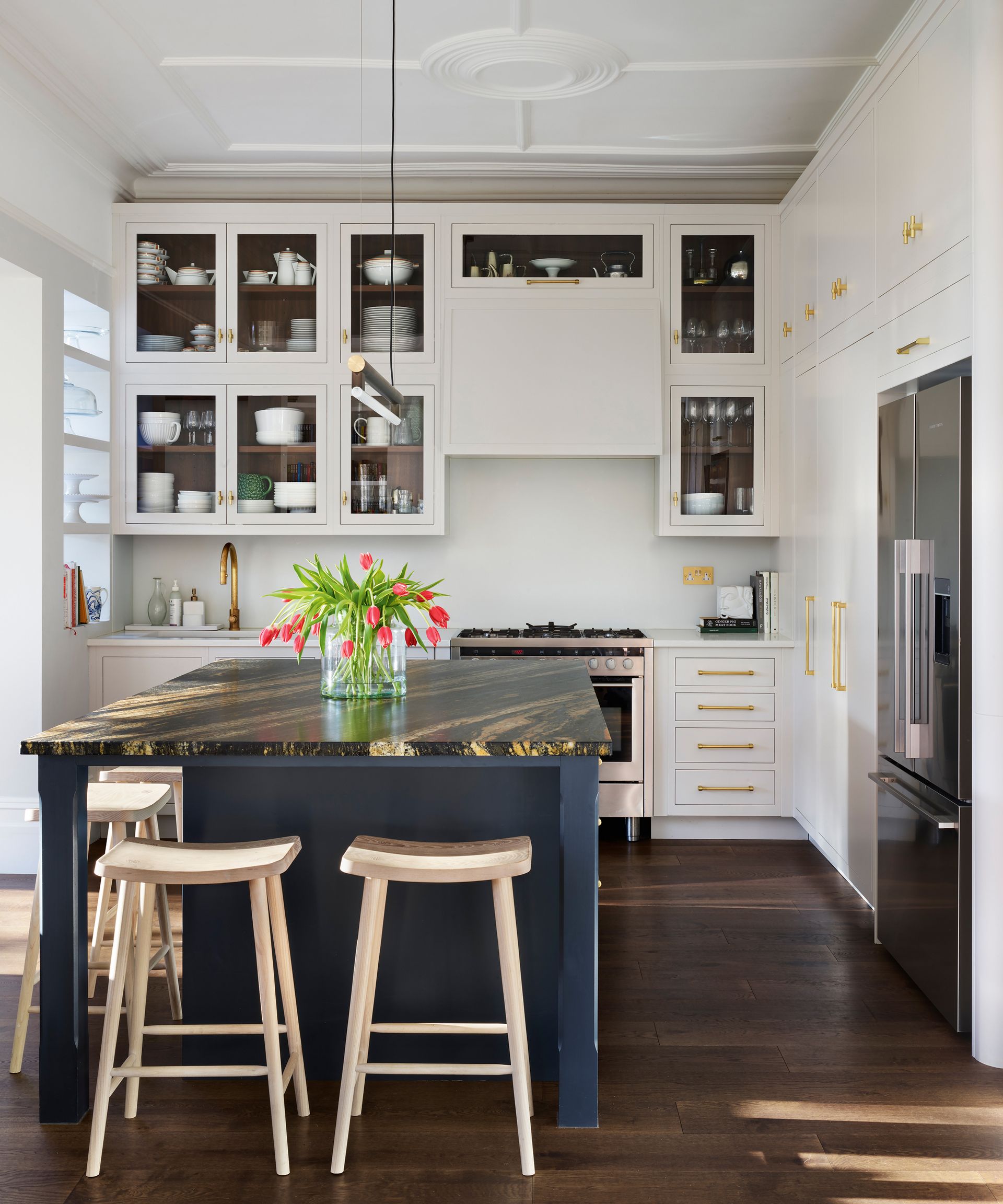 Traditional kitchens have a reputation for being small, especially if they have not been expanded. In a small kitchen, every design decision will be orientated around maximizing space and increasing natural light. While you can opt for bold colors, small white kitchen ideas are a great pairing for traditional spaces.
'Colors and materials are important in any kitchen, but especially in compact spaces. Strong patterns can make the room look crowded, so for smaller kitchens, simplicity is key; opt for a clean and simple color palette with lots of white to help open the room and add pattern and texture in the form of splashbacks and soft furnishings,' says Matt Baker, Harvey Jones kitchen designer.
9. Take an all-white approach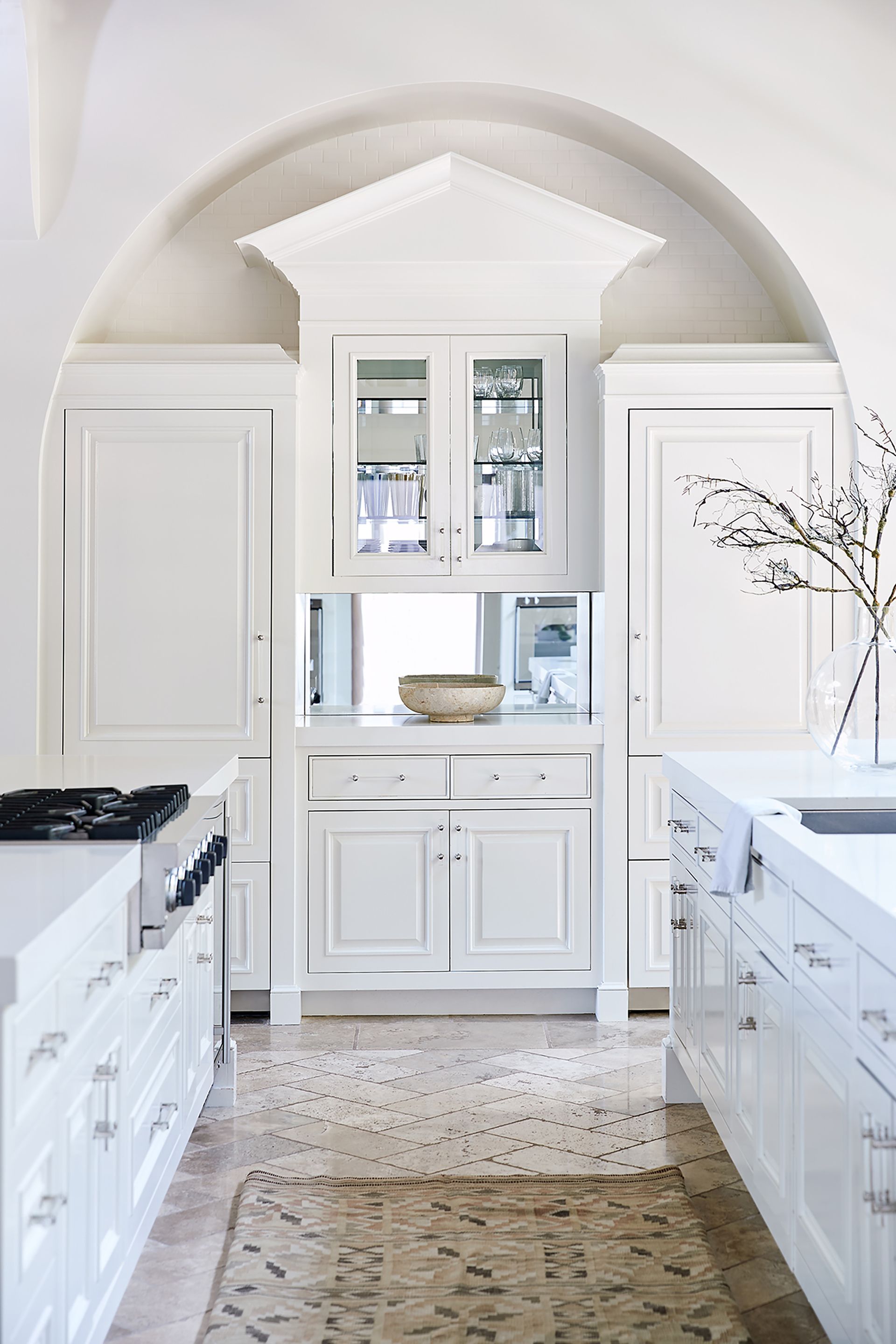 When designing a traditional white kitchen view the space holistically to ensure every element works harmoniously together. As well as drawing inspiration from these traditional white kitchen ideas, also look further afield to broader white room ideas to bring more a lifestyle element to these functional rooms.
'A neutral white palette is an amazing point of creative debarkation in a kitchen design. It's where I start. My kitchens must cook. It's a prerequisite. A white ground creates openness and clarity. High marks for aesthetics and functionality.
Light is essential, even in a white kitchen. Sunlight is my favorite source. Whenever possible, I eschew draperies and shades. Let the sun shine in. The view out the windows is like a piece of art.
And let's not forget art. Wall space can be at a premium in a kitchen, but I always make room for art. Open shelving is an opportunity to turn everyday dishes into objet d'art!
Task and pendant lighting make a white kitchen shine. Pools of light can be very dramatic and direct attention. They're also opportunities to add more texture. I love converting woven baskets into pendant lights.
There is no such thing as too much white, however it's important to be intentional. I love white cabinetry and almost always specify paneled appliances. It makes my day when someone asks, where's the refrigerator?' says says Lisa Sherry, Charlotte-based interior designer and principal of the design firm Lisa Sherry Interieurs.
10. Opt for shades of white to avoid a clinical feel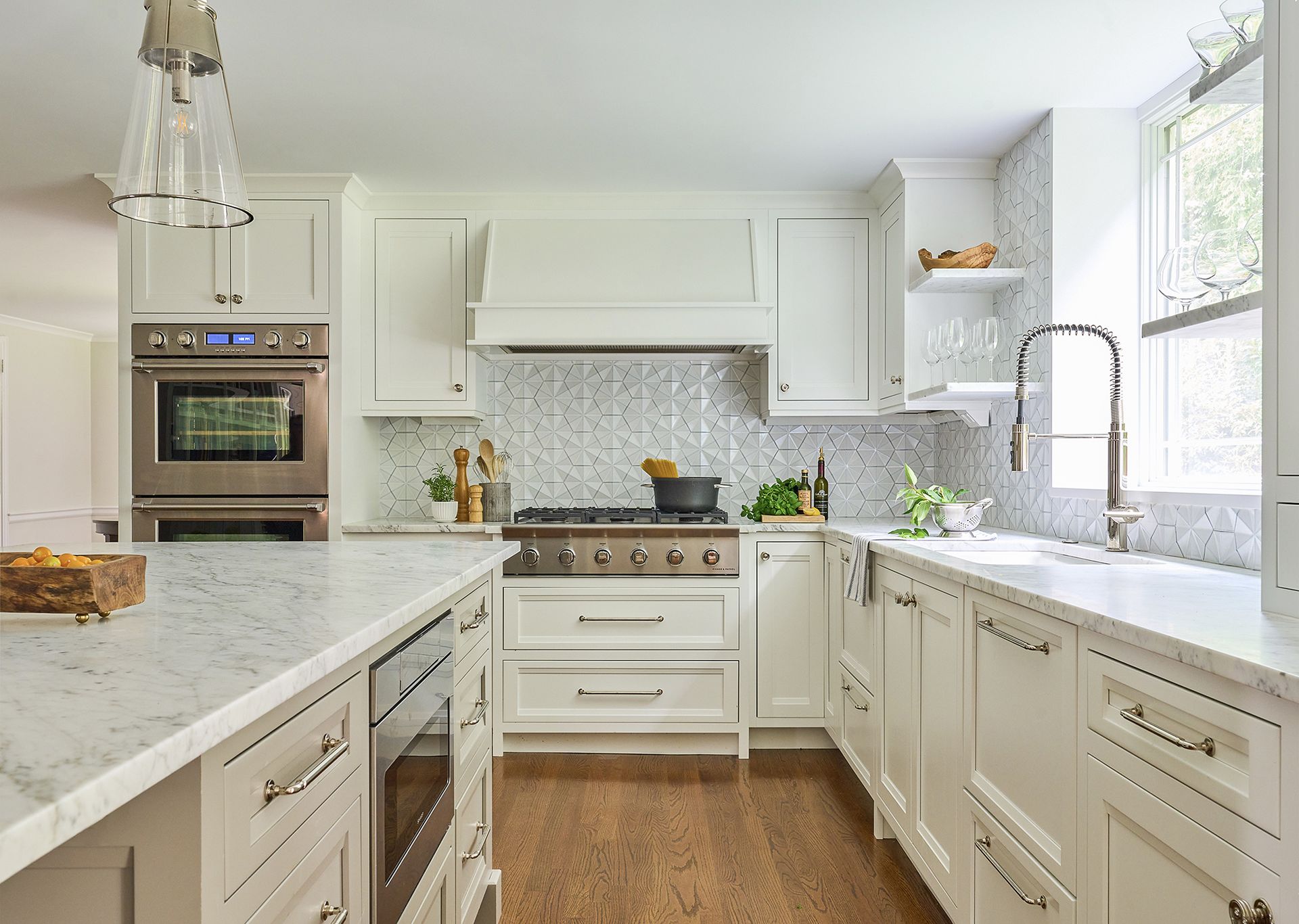 If you've ever looked at a color chart, you'll know that there's not just one shade of white. 'I love an all white kitchen, but it's important to play with tonality of color to create a softer, more elegant space. Stark white can look very fresh but also a bit clinical - think about warming up your kitchen with a more neutral, ivory shade of white, and then adding texture through elements like an interesting backsplash, cabinet hardware, and countertops so that there is no shortage of engaging design details to enliven the room,' advises Georgia Zikas.
11. Paint your kitchen white to increase saleability
If you are looking for kitchen color ideas that will flatter a small space, think white.
'White kitchens will never go out of style. It is a clean and fresh look for almost any kitchen, remains timeless and is great for resale value. With that said, adding some personality to your white kitchen is a great way to bring your personal design style through. Consider adding an accent color through less permanent methods, such as colorful bar stools, lighting or even a great runner. That way your all white kitchen will have some dimension and interest,' says Amy Leferink.

12. Use white cabinets to make your home's original features the star
Original features create a natural centerpiece in any room, so if you're lucky enough to have them in your kitchen then make sure they shine.
Take inspiration from cottage kitchen ideas and barn conversion kitchen ideas and let your home's original features take the lead. Opting for just base cabinets means they don't distract from the stunning wooden beams in this beautiful cottage while the warm white shade makes the room feel light and airy.
13. Opt for open shelving to add interest to your white space
The adage 'out of sight, out of mind' used to be a driving force in kitchen design but too many matching cabinet doors and empty countertops can make your space feel unlived in. 'Storage doesn't have to be about closing items away in cabinets. Bespoke joinery can be designed to display personal belongings in their best light' says architect Amos Goldreich.
Opting for a traditional white kitchen provides a neutral backdrop that is ideal for pairing with open kitchen shelving ideas, as it lets your kitchenware or other trinkets take center stage without feeling cluttered or overwhelming.
If opting for open-shelving, then its important that your walls make a statement, so why not consider wall paneling ideas – this kitchen with its wooden paneled walls, has a distinctly coastal feel.
14. Contrast white cabinets with a colorful range cooker
In north-facing kitchens, natural warmth (both temperature and aesthetic) will be lacking. Therefore you must that you factor in ways to augment the sense of warmth to the space. One way to do this is by adding a touch of color with your appliances. Not only will the warmth from the range will make a traditional white kitchen feel cozy and welcoming but the bright color make your space warmer all year round.
15. Add a pop of color to a traditional white kitchen with a pretty blind
If gray and white kitchen ideas appeal for their timelessness but you want a way to add color and pattern, then look no further than soft furnishings. One of our favorite decorative kitchen ideas, they are cost-effective and straightforward to change making for an easy way to completely reinvent the look and feel of a space.
Traditional white kitchen ideas give you total freedom in the colors of your soft furnishings as it goes with any color, pattern and texture – so you can choose blinds, cushions and throws that not only complement your kitchen but also reflect your personality.
16. Find the right paint for a traditional white kitchen
'White shades appear to vary depending on what they are seen next to' says Ruth Mottershead, the creative director at Little Greene. 'So it's important to sample in situ, next to one another and alongside other surfaces and decorative elements in your kitchen, in order to compare the different effects this produces.'
'For kitchens, it's essential to choose the right finish too. Select a hard-wearing, washable finish such as Intelligent Satinwood for cabinets which providing protection as well as a smooth satin feel without being 'too glossy'.
17. Make a traditional white kitchen feel warmer with terracotta tiles
Capture the laid-back essence of Mediterranean style by pairing traditional white kitchen ideas with terracotta decor. Working well with clean white interiors, their copper tones evoke the warmth of the sun – perfect for brightening up a cold kitchen. A great choice for floor tile ideas, terracotta tiles can machine or handmade and offer an affordable flooring choice. Look for pretreated versions, which are treated with a primer and durable sealant to give them longevity and durability, especially if you are planning to lay in high-traffic areas.
18. Create a rustic feel with a tiled backsplash
Kitchen wall tile ideas are a great way to add color and texture into traditional white kitchen. Reclaimed or artificially aged tiles are a great way choice of farmhouse kitchen wall decor which will help you to achieve that signature, artfully distressed look. Setting the delicately patterned Antic Décor tile alongside the white backdrop of the Antic Blanco tiles both by Life Ceramica, creates a band of color that pops against a traditional white kitchen. Pair kitchen backsplash ideas with dark-toned grout to add to the time-worn feel.
19. Create an on-trend Scandi kitchen with white cabinets
Scandinavian kitchens are all about creating bright and airy spaces that are as light as possible, and that means white features heavily. 'The typical colors in Scandi kitchens are white paired with azure blue,' explains interior designer Nina Edwards Anker of nea studio. 'I used to work in Oslo for many years and if you walk by traditional 'hytte' along the Norwegian coastline, you may see white kitchens with azure glassware placed in the window frames to catch light.'
You can use this image as the starting point for your kitchen's moodboard – if you've never tried this before, ensure you learn how to make a moodboard before you start. Try incorporating glass-like backsplash tiles in a bright blue shade to bring a hint of Scandi to your traditional white kitchen ideas. Decorating with blue and white in this way will certainly enhance a kitchen, making it feel welcoming but also bright and airy.
20. Choose Shaker-style cabinets in matte white for timeless charm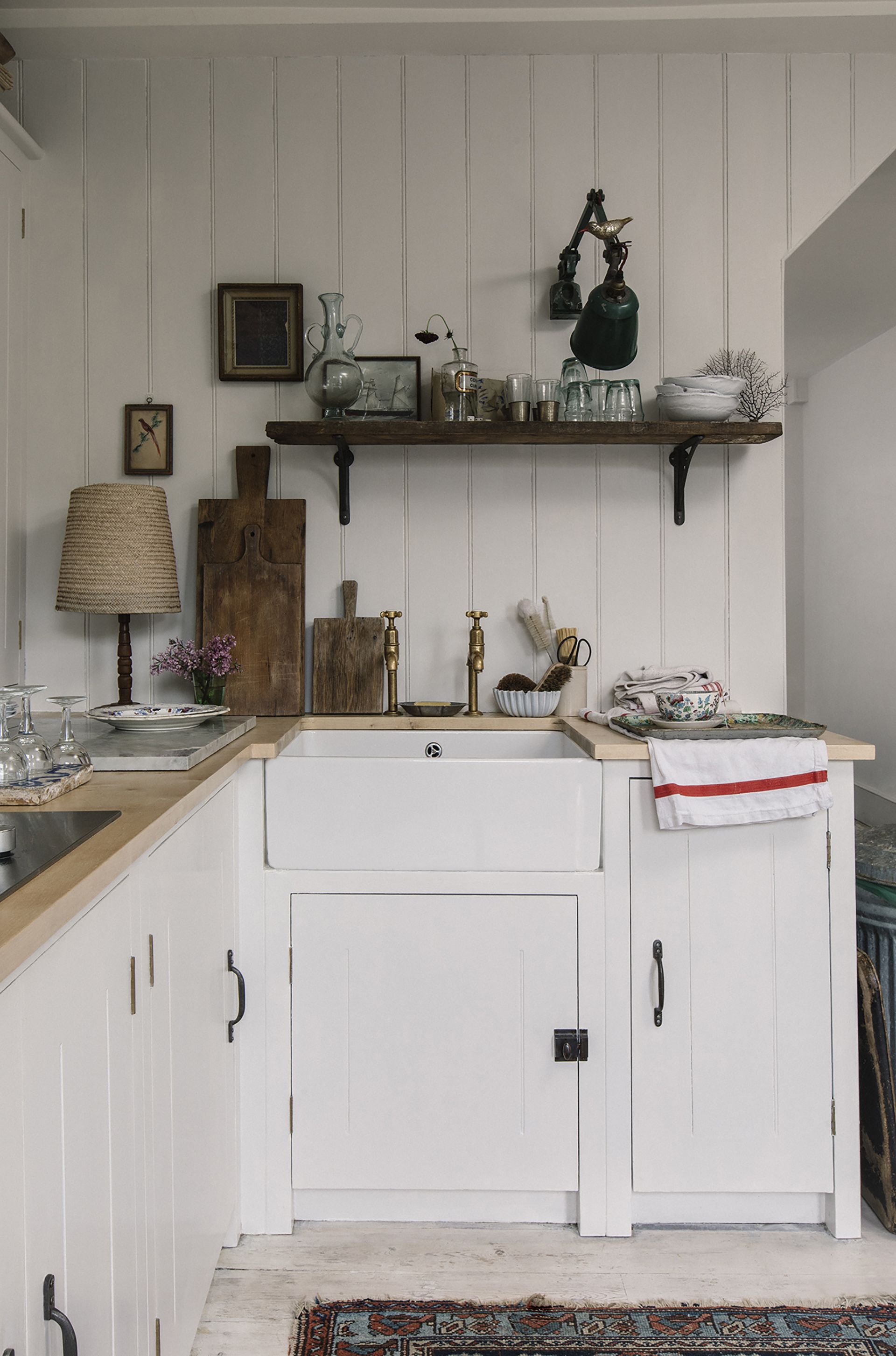 Team traditional Shaker-style cabinets with wainscotting ideas for the perfect amount of rustic charm, as in this kitchen by British Standard. Paint cabinets and paneling in a matching pale, neutral shade to emphasise detailing and make the space feel fresh and airy.
Is a traditional white kitchen a good idea?
A traditional white kitchen is definitely a good idea. Whether you love farmhouse chic, minimalist elegance or Scandi-style it provides the perfect versatile backdrop for your interior style – whatever that may be.
Traditional white kitchen ideas are guaranteed to look great no matter what color you decide to pair with them. Create a bold statement with primary colors which looks great when used on appliances or accents. Alternatively, opt for aquatic greens and turquoises for a more natural inspired feel that works brilliantly with patio doors leading straight on to the garden.
If you're a lover of vintage, then white is the perfect foil to pastel shades, for this, paint an accent wall in your favorite color to add a touch of charm to your space.
What is the best backsplash for traditional white kitchen?
Ceramic or porcelain tiles and natural stone are all great backsplash ideas for a traditional white kitchen. The backsplash provides the ideal opportunity to add a splash of color to your kitchen and you have the entire rainbow to choose from - everything will go. If you don't want to make a bold statement, the veining in natural stone like marble or granite can add subtle interest without overwhelming the space.
If you're struggling to select a color for your backsplash, let yourself be influenced by the other colors in your room. 'I like to pull colors from any veining in the counters. Generally, natural stones have grey, brown and sometimes blue shades that can be incorporated into the backsplash, walls or window treatments,' says Kristina Phillips of Kristina Phillips Interior Design.
Are white kitchens going out of style?
No, white kitchens will never go out of style. White kitchens are a timeless choice that work well with so many different styles and schemes. They are also a versatile base for a new kitchen as it will enable you to change your look without having to invest in new cabinetry and accessories.
How do I make my white kitchen not boring?
The easiest way to make your white kitchen not boring is to add character with accessories such as rugs, chairs, lights and kitchenware.
'White doesn't have to be antiseptic and cold, by any means. Embrace a white palette. Thoughtfully, layer in textures, ideally in neutral hues. I love converting rough-hewn baskets into overhead pendants. Tile and flooring are additional ways to elevate the space. Open shelving makes cookware and collectables part of the design – and always within reach,' says Lisa Sherry.
Sign up to the Homes & Gardens newsletter
Decor Ideas. Project Inspiration. Expert Advice. Delivered to your inbox.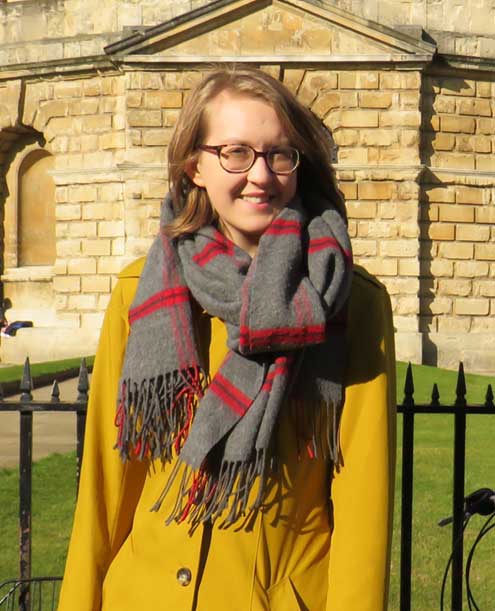 Content Editor and Sub-editor
Having graduated with a first class degree in English Literature, Holly started her career as a features writer and sub-editor at Period Living magazine, Homes & Gardens' sister title. Working on Period Living brought with it insight into the complexities of owning and caring for period homes, from interior decorating through to choosing the right windows and the challenges of extending. This has led to a passion for traditional interiors, particularly the country-look. Writing for the Homes & Gardens website as a content editor, alongside regular features for Period Living and Country Homes & Interiors magazines, has enabled her to broaden her writing to incorporate her interests in gardening, wildlife and nature.