20 white kitchen ideas – bright and stylish decorating ideas for white kitchens
Traditional or contemporary, white kitchen ideas are a timeless option, suitable for open-plan kitchens and small galleys alike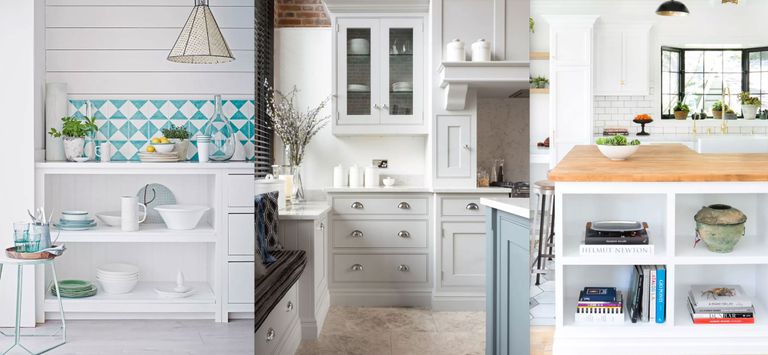 (Image credit: Future)
If you're looking for white kitchen ideas, you are obviously already set on a timeless and versatile choice for your new kitchen design. And as our white kitchen design ideas below prove, they are adaptable to any style of space, from dark rooms challenged by a lack of light, to vast extensions crying out for character.
There's nothing cleaner or crisper than a pure white kitchen, whether that's a high gloss design or a traditional country one, it's a look that lasts, no matter what the latest craze is. If you're minimalist at heart and love a clutter-free kitchen then this is the look for you.
Right now, many designers are favoring this kitchen color idea, where white cabinetry is combined with white tiling, white walls, and the palest of marble or composite countertops.
But if you need to add warmth – or want to add personality to your space, using timber or flashes of strong color will bring vitality to the look. Below, we show you how.
Is a white kitchen a good idea?
If you're debating whether a white kitchen is a good idea, a key selling point is its timeless nature.
'There are lots of reasons why white kitchens are so popular,' says Daniel Bowler, Director of Eggersmann. 'They are sleek and modern and perhaps the best thing is that white is a timeless color that won't date or go out of fashion.'
'Opting for white furniture also presents a blank canvas for elsewhere in the kitchen, enabling pops of color to be added, perhaps for a backsplash or accessories and making it easy to incorporate a mix of materials.'
'A white color scheme can make a small space appear bigger and equally won't clash with the décor in a large, open-plan space,' adds Daniel. 'Creating a sense of light and natural freshness, a white kitchen will sit as comfortably in a contemporary home as it will in a country cottage.'
White kitchen ideas: the H&G edit
These are our favorite white kitchen ideas – they all offer brilliant ideas and clever tricks to inspire your remodel.
1. Pick exotic stone in white to create impact
Using exotic stone in a white kitchen is a great way to create impact. This kitchen by Day True has dark cabinetry offset by white marble-effect countertops and wall panels, the latter book-matched for space-enhancing symmetry.
The wood cladding on the extractor fan adds a much-needed touch of warmth to the space, while emphasizing the vertical.
2. Play with texture
Go all white in a kitchen and you could fall into the trap of creating a cold, clinical room. But there are some simple ways to avoid this. 'To ensure the space has character and feels inviting it's important to incorporate a variety of textures and finishes,' says Ben Burbidge, Managing Director at Burbidge.
'Consider contrasting painted matte cabinets with a high-shine backsplash or pair an industrial stone worktop with contemporary gloss cabinets. When it comes to accessories and lighting add texture by mixing materials, such as rustic copper pendants and wooden furniture, for a modern look that will stand the test of time.'
In this case iridescent tiles and touches of timber bring the matte cabinetry to life.
3. Use open storage to create a laid back appeal
This white kitchen by LA-based designer Stefanie Stein is a wonderful example of how to create a live-in kitchen that's incredibly practical and functional, welcoming and warm, but neat, too.
The use of wood and mixed tile materials creates plenty of interest and layering of patterns, while maintaining a feeling of calm. While two different kitchen shelving ideas – one within the island and one on the back wall – allow everything crucial to be to hand.
4. Add in contrast with raw materials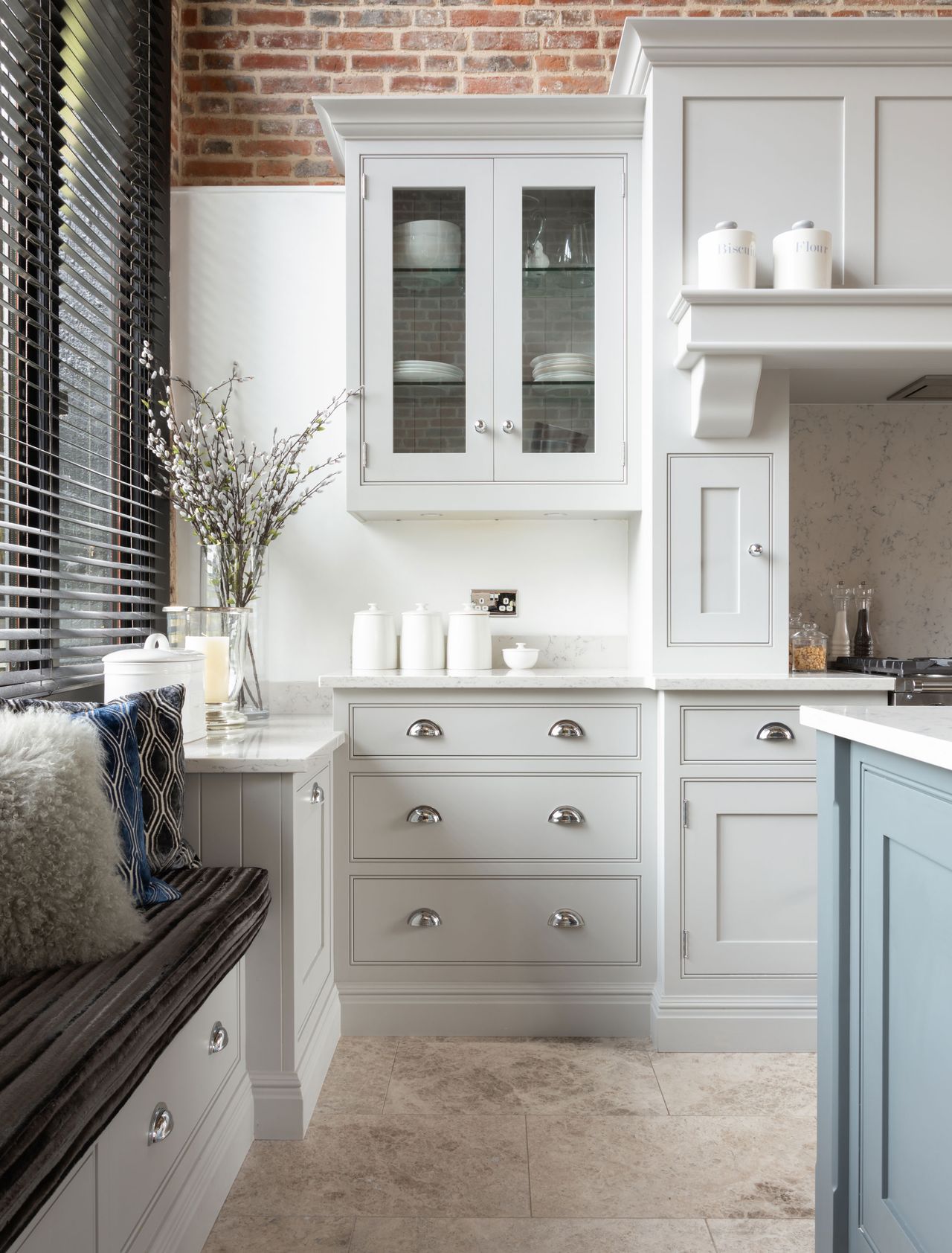 'The key with a neutral kitchen is to pair cabinetry with contrasting walls and textural elements. This will give the design an edge and create appealing visual interest.
'If your cabinetry is crisp white or cream, you could opt for a contrasting walnut finish for the racks and shelving within. Choose a smoky wood finish for the internal shelving for a stylish edge,' says Tom Howley, design director at Tom Howley.
5. Light up the dark
A kitchen with little natural light – or perhaps dark-painted walls you love – really benefits from white cabinetry.
Pale stone flooring accentuates the room's height, and pendants add plenty of artificial light and lots of character. But the ultimate saving graces are the simple Shaker cabinetry and crisp concrete countertops.
Interior designer Henriette von Stockhausen of VSP Interiors made the concrete worktops in this kitchen herself using wooden crates lined with bin bags. The results were so successful that she is now using the same technique in clients' homes.
See: Kitchen countertop ideas – worktop inspiration in marble, granite and composite materials
6. Choose a warm white to make grey welcoming
Tom Howley, Design Director at the eponymous kitchen company, explains: 'Sorrel and Orchid are our most popular whites. Our slightly warm white paint color Orchid works wonderfully with a light grey island adding depth to a space.'
See: Grey kitchen ideas – for timeless, classic designs you will love forever
7. Let the tiles do the talking
Create an artful contrast between simple white handleless units and hand-crafted, artisanal tiles and ceramics. The former will allow the latter to take centre stage, and the modern door styling will elevate the look. Beautiful marble countertops provide a link between the two contrasting elements.
See: Kitchen tile ideas – to inject personality into your space
8. Mix white kitchen ideas with warm metallics
White kitchens can lack warmth and focus, especially if the room is open plan or north-facing. However, you can use accent materials to add both warm tones and character. Blonde wood makes for a subtle finish that creates a pared-back Scandi style in this kitchen by Blakes, but the addition of warm gold in the extractor hood is both dramatic and clever, lifting the restrained design immeasurably.
9. Work white into a two-tone kitchen
'Soft shades of warm whites and earthy beige work well on their own but even better when used in a two-tone scheme,' says Tom Howley. 'Two of our most loved shades are Tansy and Willow, beautifully understated, they create truly stunning kitchens enhancing architectural interest, all without the need for bold color.
If you're using lighter colours to enhance your space then try painting your walls in the same shade, this will focus your eye on the whole area, allowing it to feel larger and lighter.'
10. And breathe...
'If you're somebody who appreciates quiet, simple settings, then white is undoubtedly a color that will help to achieve both of these things,' says Christina Parsons, Kitchen Designer at Neptune.
'White is innately crisp – even more so when there's something it can be contrasted against. Even without, in a kitchen with white walls, white cabinets, a quartz work surface and pale flooring, the room will take on a pure, clean character that's much harder to create when using pigmented shades.'
11. Consider light levels
'Timeless neutrals are susceptible to change, depending on the light available. We consider where natural light is coming from and how task lighting will create varying shades.
'Use lighting to your advantage and choose a combination of colors that look fresh in the day but warm and inviting at night,' advises Tom Howley.
12. Accentuate the view
This cleverly designed, galley-style kitchen has been designed to draw one's gaze down the room and towards the garden. White units that blend into the architecture of the extension offer minimal distraction, and work in unison with wide floorboards laid down the room.
13. Head to the coast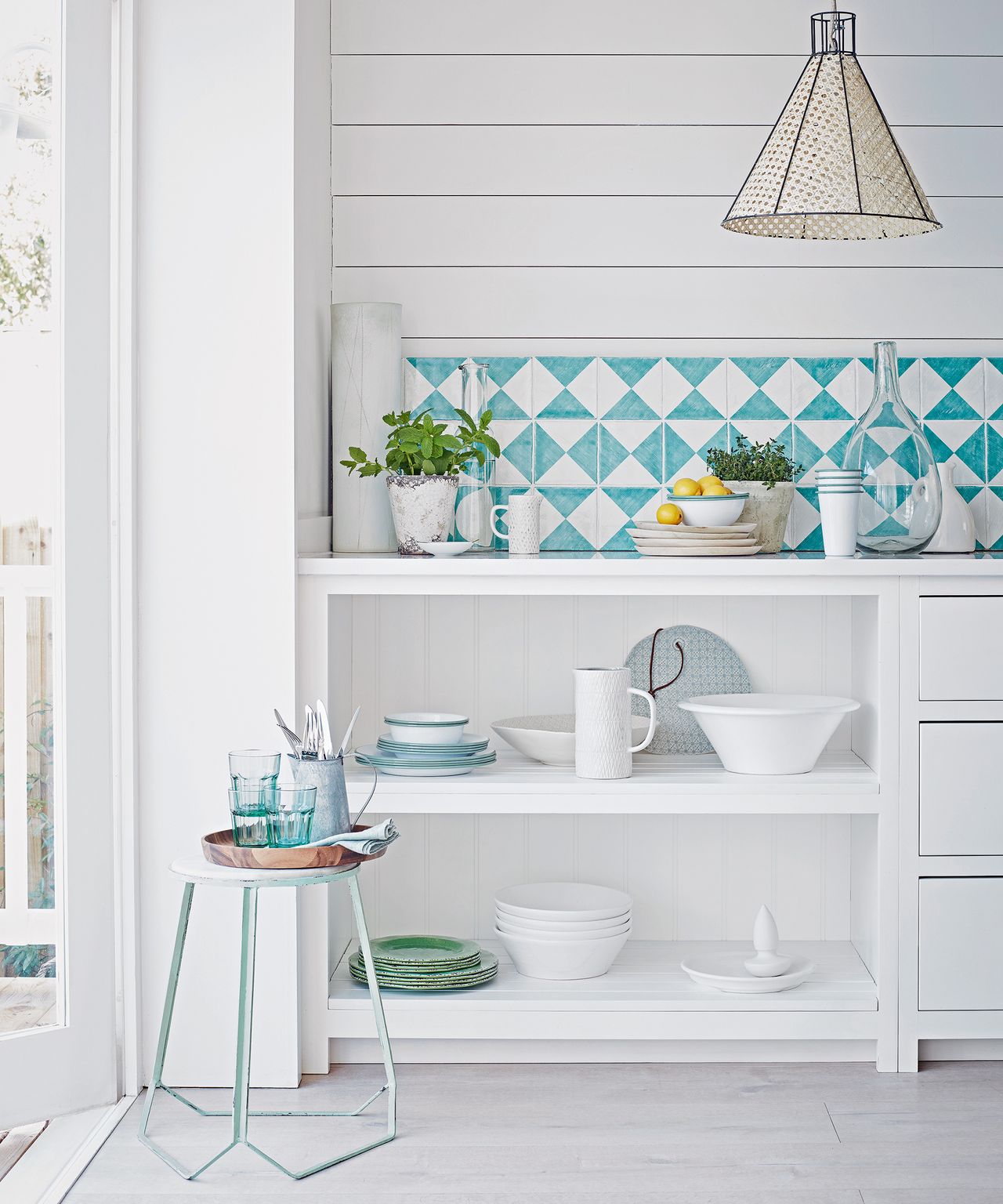 You can almost feel the sea breeze blowing into this fresh scheme, which hits peek coastal chic with its combination of tongue-and-groove wall panelling, aquamarine tiles and rustic open shelving.
Tiles are great for introducing a splash of color to an all-white space. This geometric motif can be laid in numerous ways to create different designs. Add crockery in complementary tones for an attractive display on open shelves.
14. Warm up with wood
Our cravings for the slick and minimalist has inevitably waned. One way to cosy up white is to combine it with a soft timber – a very pale ash or oak is ideal. We like the way the two have been fused together, with white worktops and wooden furniture, and the cabinetry in a soft, off-white.
15. Run through to the dining area
Continue the monochrome theme through to your seating area, as these style savvy homeowners have done. Do be thoughtful in your choices of materials, however. Wipeable leather upholstery is ideal and also practical. Similarly for the tabletop – consider a treated finish that's impervious to scratches, or your sleep white look could soon start to look tired and tatty.
16. Let other elements pop
When it comes to introducing pops of color, white is by far the safest choice as a backdrop. Here, units in Paper White by Benjamin Moore, white marble tops and a classic metro tile backsplash are boosted by a Caribbean Blue Water island (also Benjamin Moore) and a mustard yellow door.
17. It's all about the accents
Here's another elegant white kitchen, with a neutrality that showcases some rather more quirky features. Like the coffee machine ingeniously tucked into the side of the larder cabinet. Transparent Philippe Starck stools don't break the flow of the look.
18. Use glazed cabinetry to add depth
Glazing in cabinetry doors rather than solid doors creates various effects that are beneficial, particularly in a small kitchen.
First, the glazing itself reflects light – a real bonus in a dark room. Then, it allows the eye to travel further than solid cabinetry, which can make a narrow or galley kitchen feel wider.
Next, if lit from within, it adds depth, character and warmth when daylight fades. And, finally, it allows you to show off your best kitchen buys.
19. Look for sleek handleless cabinetry
A white kitchen is a definite 'lifestyle' choice – there's no denying that a white kitchen will always look fresh, stylish, and sophisticated.
However, be realistic about the amount of care and attention it will need. From a practical point of view, go for non-white work surfaces to cut down the cleaning and wiping down.
The latest contemporary designs are all about a multi-tasking, free-flowing design with a paired-back look. Creating a fuss-free design is easy with handleless cabinetry.
Available in a variety of finishes, from hi-gloss white to textured woods and ceramics, it's a style that works beautifully in both modern and period properties.
20. Layer fabrics for a country feel
White kitchens lend themselves to a traditional country style, but these rooms tend to look their best when dressed with pattern and color. An easy way to do so is to layer fabrics in accessories – from window dressings to tablecloths, seat cushions to accessories, all easily replaced and updated with the seasons.
You can see more traditional white kitchen ideas in our dedicated gallery.
What color white is best for a kitchen?
'For many kitchens, white is often the base colour that is accented by brassware, contemporary appliances and accessories or furniture that will add color and texture,' says Helen Shaw, director at Benjamin Moore.
'When it comes to choosing the perfect white, it's important to ensure the correct hue feels warm and maintains a bright and spacious feeling without being too stark. We would recommend a muted white, which has a subtle grey undertone and gives a softer, more contemporary feel.'
What colors go with a white kitchen?
The good news is that most colors go with a white kitchen. 'Consider painting lower cabinets or your kitchen island in a darker, bold hue,' advises Helen Shaw at Benjamin Moore. 'This adds a point of interest to the space while maintaining a feel of openness by keeping the top cupboards in a muted white.
'As homeowners become bolder with color choices and look to add accent colors, we have seen a trend for deep navy blues such as Hale Navy. They work particularly well on cabinetry and looks striking when anchored with white walls.'
What countertops go best with white kitchen cabinets?
When planning your space, it's important to think about what countertops will go best with white kitchen cabinets.
'Combining white furniture with a metal or timber worktop will help take the edge off, ensuring that a white kitchen doesn't appear too cold or sterile,' says Eggersmann's Daniel Bowler.
How do you make a white kitchen interesting?
There are a number of ways to make a white kitchen interesting. 'The easiest way is with texture and pattern – what you choose largely depends on the style of the cabinetry,' says Lucy Searle, Homes & Gardens Editor in Chief.
'I have a white kitchen with fairly traditional, Shaker style cabinetry, and have chosen white/grey marble countertops and a rustic wooden dining table and a wooden parquet floor to complement it. The rest of the room – and the majority of the accessories – are black or white, although I have added a splash of color and pattern with a rug I bought in Turkey when I was in my twenties. I love the mix of old and new – and that is what makes a white kitchen interesting to me.'