White kitchen ideas – 40 ways to use this favorite shade
Choose a white kitchen for its enduring style, versatility, and the color's space-stretching effect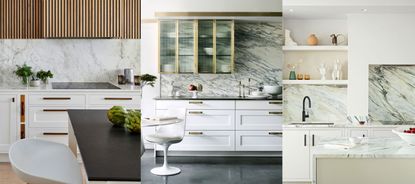 (Image credit: Roundhouse / 318 Design and Samantha Todhunter / Sola)
White kitchen ideas are a favorite, but the looks that can be created with it are fabulously various.
For fans of contemporary kitchen ideas, it's the ultimate clean and minimalist shade, but white also suits traditional, transitional, farmhouse, and Scandinavian kitchens, and more equally well.
With matte or gloss finishes on offer, whites can look strikingly different, and there's huge variety in its shades from the crispest of pure whites to those with subtle warm or cool undertones. And white is also the perfect partner to other colors and materials, whether used as major elements or accents.
White kitchen ideas
Be inspired to explore the versatility of white in the kitchen with these ideas. Deserving its status as one of the most popular kitchen color ideas, it's packed with potential.
1. Choose a transformative surface
This modern kitchen is both timeless and elegant, graphic and edgy in equal measure. The soft color of the cabinetry, Farrow & Ball's Mole's Breath, is given intensity with the Calacatta Manhattan marble kitchen countertop and backsplash, and smart black handles. 'It was designed for a large Victorian terrace and the client wanted it to be contemporary and functional, while acknowledging the period nature of its surroundings,' says Craig Matson, managing director of Roundhouse.
2. Mix white with other materials
Add other materials to enjoy all the benefits of a white kitchen – plus gentle warmth. 'White kitchens continue to be hugely popular, despite the reputation that they can be too clinical for a home environment,' explains Richard Atkins, design director of DesignSpace London. 'White can be used in design schemes no matter what the size of the space. It reflects light and allows small areas that lack natural light to appear more spacious.
'There are many ways to warm up the design, one of which is by introducing different materials into the design scheme. Natural materials with texture and/or grains such as wood or stone work particularly well, as do metallics like brass and copper.'
3. Shake up the shine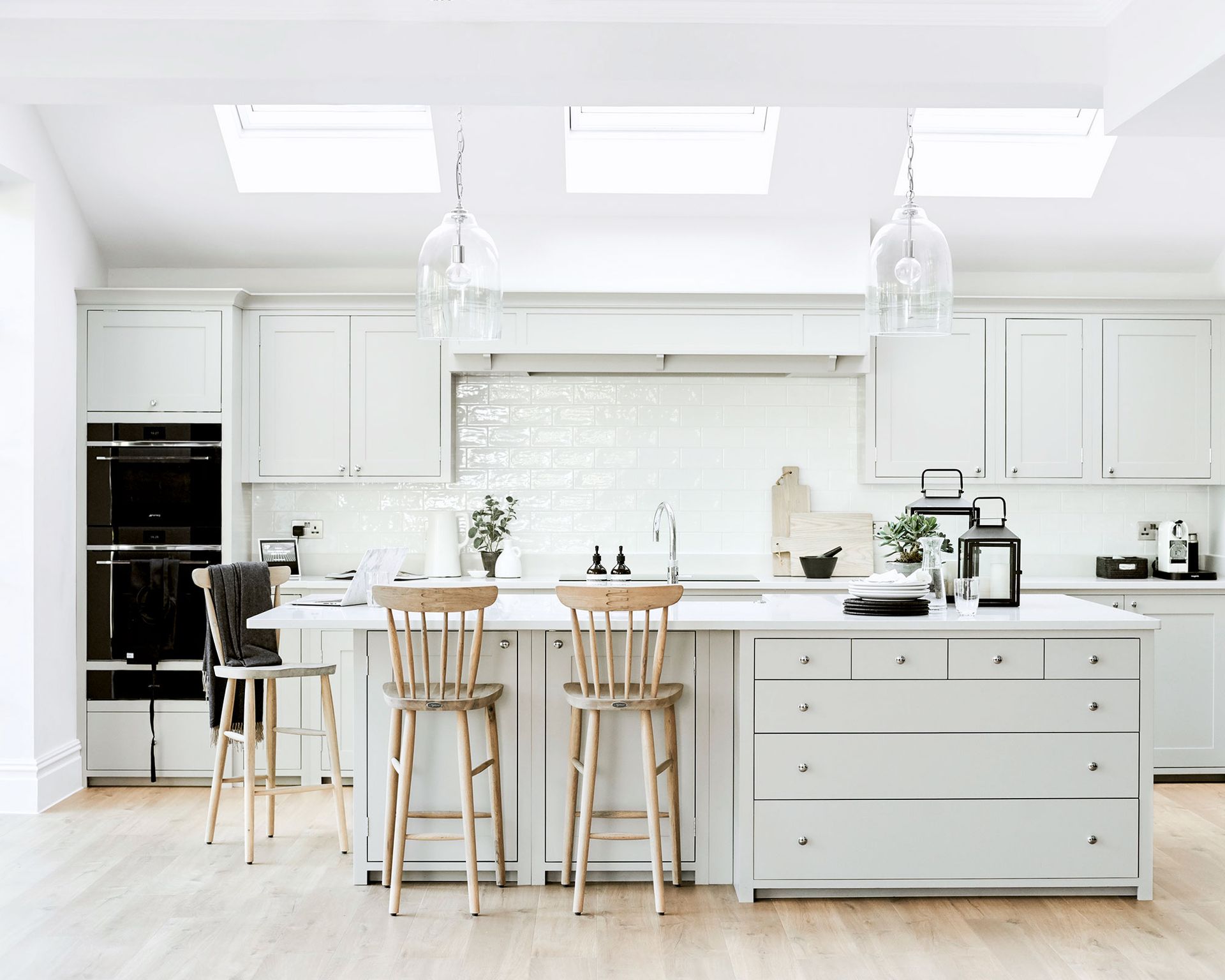 Mix up sheen levels to create layers of interest without diluting the purity of a crisp white color palette. In this kitchen, glazed zellige-style tiles on the backsplash catch and refract the light, providing a dynamic contrast against low-sheen painted cabinetry.
'Glossy tiled kitchen backsplash ideas have the additional practicality of being easy to keep clean and looks fresh and hygienic,' adds Stephanie Nix, kitchen designer at Neptune. 'For work surfaces, you could opt for a cool polished marble for a sophisticated, contemporary feel.' Additional shininess can be introduced via chrome or nickel taps, glass light pendants and polished steel appliances.
4. Add drama with a contrasting floor
If you want to create a fabulous contrast, white is the ultimate color to use. This stunning dark wood parquet flooring is eye-catching and you wouldn't get the same result with any other color. The texture is key, too, as it balances against flat white cabinets and walls.
Also note the leather straps holding up the pendant light above the island, what a clever idea – and they match the wood floor. These are the design details that make a scheme stand out.
5. Make it modern
When decorating with white, use similar tones for the worktops and cabinetry to provide a contemporary, modular look that's particularly effective when pairing modern kitchen ideas with handless design.
'Most homeowners appreciate the benefits of testing paint colors in location but, with whites, it is crucial as they can be altered beyond recognition by light and shadow,' says Ben Hawkswell, senior designer at Roundhouse.
'Here on the cabinets we used Hardwick White by Farrow & Ball, which is a clean off-white that can look like a traditional grey in some lights. But it has chalky undertones that, in a sun-filled room like this, appear much brighter and more contemporary.'
6. White doesn't have to be the star of the show
The white you use in your kitchen can be the support, rather than the focal point – that's why it's such a good choice – and in this modern space it lets the plywood kitchen stand out.
It also brightens what could be a dark space. Yes, it has a huge window on the right, but the ceiling above the island is low. Use white tableware, jugs and vases to bring the white through to the table top.
7. Mix in metal
A bright metallic trim brings a touch of glamor to this crisp white kitchen belonging to interior designer Alison Henry.
'I wanted a kitchen that would look and feel like a glamorous space for entertaining guests – the brushed nickel looks so pretty when lit up at night and lifts the matt white finish on the stainless steel kitchen cabinets by day,' she says.
When combining white with metallic finishes in the kitchen, avoid golden tones like brass or copper, which cast a yellowy tinge. Instead, follow Alison's lead and opt for brushed nickel, which shares white's cool undertones and boasts an elegant quality.
8. Enjoy adding pops of color
White is a blank canvas, which is why it's such a great color to use. It means you can change up the look as often as you like, whether that's through kitchen art ideas or statement accessories and ornaments.
'There are lots of reasons why white kitchens are so popular,' says Daniel Bowler, director at Eggersmann UK. 'They are sleek and modern and perhaps the best thing is that white is a timeless color that won't date or go out of fashion.
'Opting for white furniture also presents a blank canvas for elsewhere in the kitchen, enabling pops of color to be added, perhaps for a backsplash or accessories, making it easier to incorporate a mix of materials.
'Creating a sense of light and natural freshness, a white kitchen will sit as comfortably in a contemporary home as it will in a country cottage.'
9. Use light effectively in a white kitchen
White kitchen ideas continue to be hugely favored, despite notions that they can be too clinical for a home environment.
'There are many ways to "warm up" the design, one of which is to consider the quality of artificial kitchen lighting ideas in the room,' says Richard Atkins, design director, DesignSpace London.
'Cool white LED lighting can have a blue appearance when shone on a white surface, making it appear cold and uninviting. We always recommend warm or neutral white LEDs integrated in and around the cabinetry to enrich white surfaces and create definition.'
10. Blend cabinets and countertops perfectly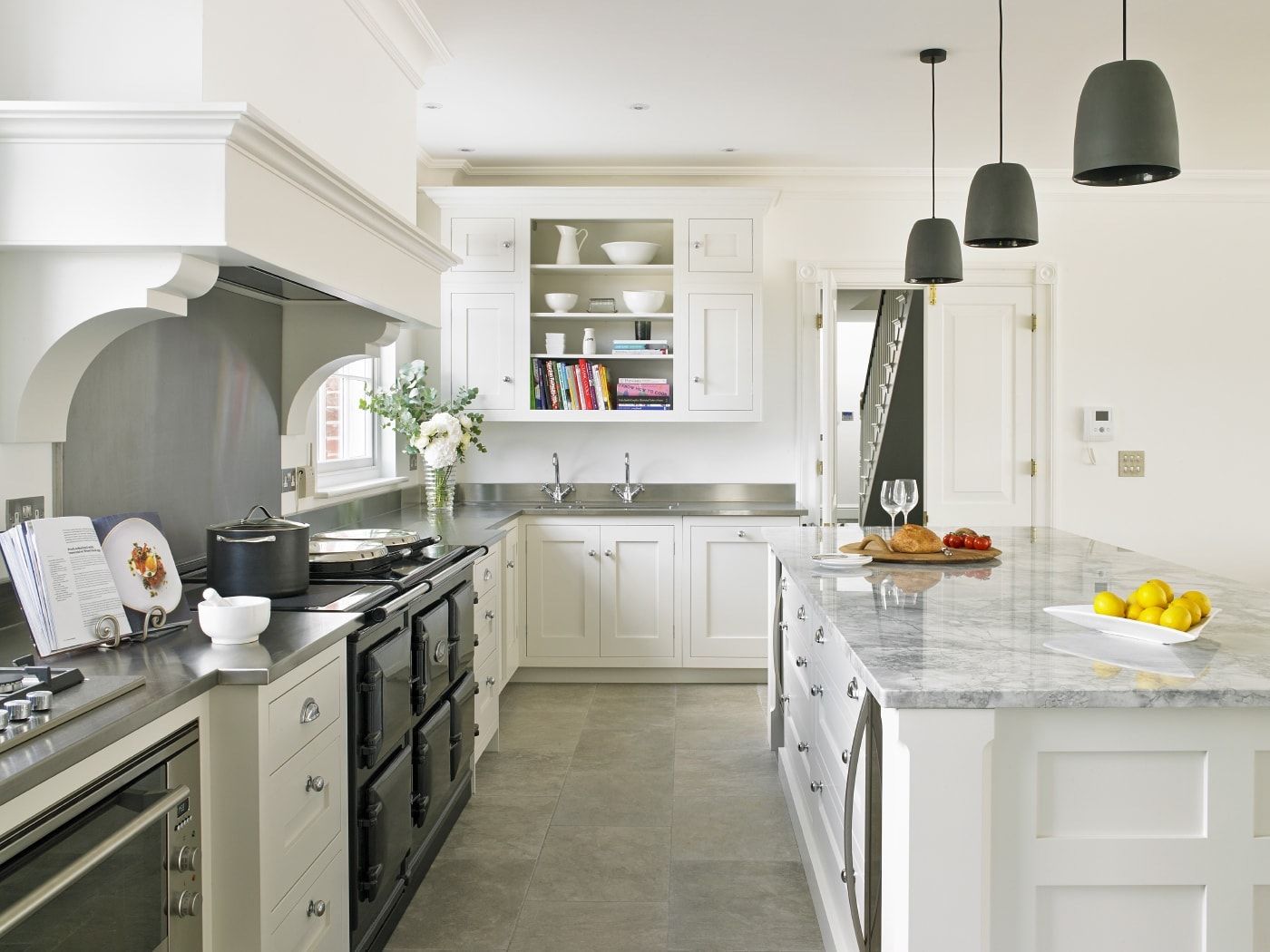 Opt for a bespoke hand-painted kitchen and the exact choice of white is yours. This room features cabinets painted in Farrow & Ball's Strong White, which has light gray undertones that complement the stainless steel countertop on the double sink side of the room and the tones of the quartzite on the island.
It tones beautifully with cabinet handles and knobs, too.
11. Set the scene with a contemporary combination
Plain white kitchen backsplash ideas will bring interesting materials into sharp relief. The striking grain of natural elm wood on this island really stands proud against the crisp white units behind.
'White alone can look a touch stark. Pairing wood with white cabinetry brings warmth to this scheme, alongside texture and depth,' explains Pluck's co-founder Leila Touwen.
'The warm timber also accentuates the subtle undertones that exist in all whites.' It's worth understanding how undertones work before committing to a white kitchen. Cool whites have hints of blue undertone, while warm whites have more yellow. Use this intel to help coordinate other materials and colors on your mood board.
12. Keep it classical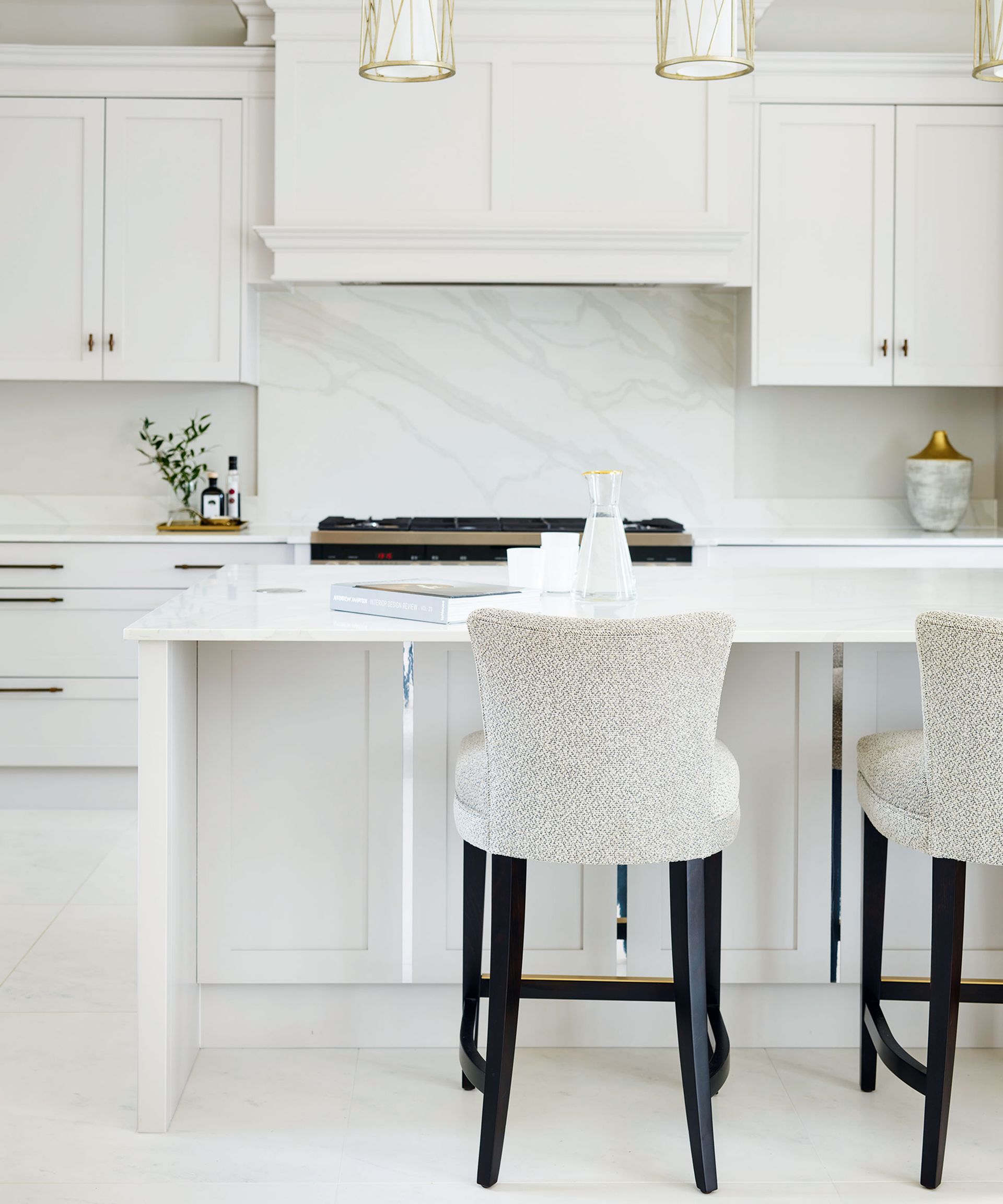 Beautiful craftsmanship and simple lines are the hallmarks of a traditional white kitchen.
The pale tones of this kitchen, painted in Farrow & Ball's Cornforth White, are broken up and softened with elegant details such as brushed aged brass handles and warm grey veining in the worktop and backsplash. Mirrored strips punctuate the panelling for a subtle touch of sophistication.
13. Contrast white with an elegant splash of black
White dominates this light and airy kitchen by California Shutters, and it's pretty dreamy with its Shaker style units and bistro window seating.
What we love is the blackboard area that adds an extra dimension. The beauty of it is, that if you later want to add in more black and white kitchen ideas you can, and turn your kitchen from white to a monochromatic scheme. White kitchen ideas really are a blank canvas.
14. Make white kitchens glamorous with metallic touches
You can always rely on interior designer Jonathan Adler to add perfect, modern American pizazz to a space, and this luxe pale gray kitchen is no exception.
Although the base is gray – which is a great color to team with white – the main emphasis is on white and gold. It turns a potentially average kitchen into one that's modern and exciting to look at; the pendant is the focal point and one that the whole design builds on.
Source white and gold accessories, door knobs and seating that follows the theme for an all encompassing and stylish result.
15. Go all white to maximize the light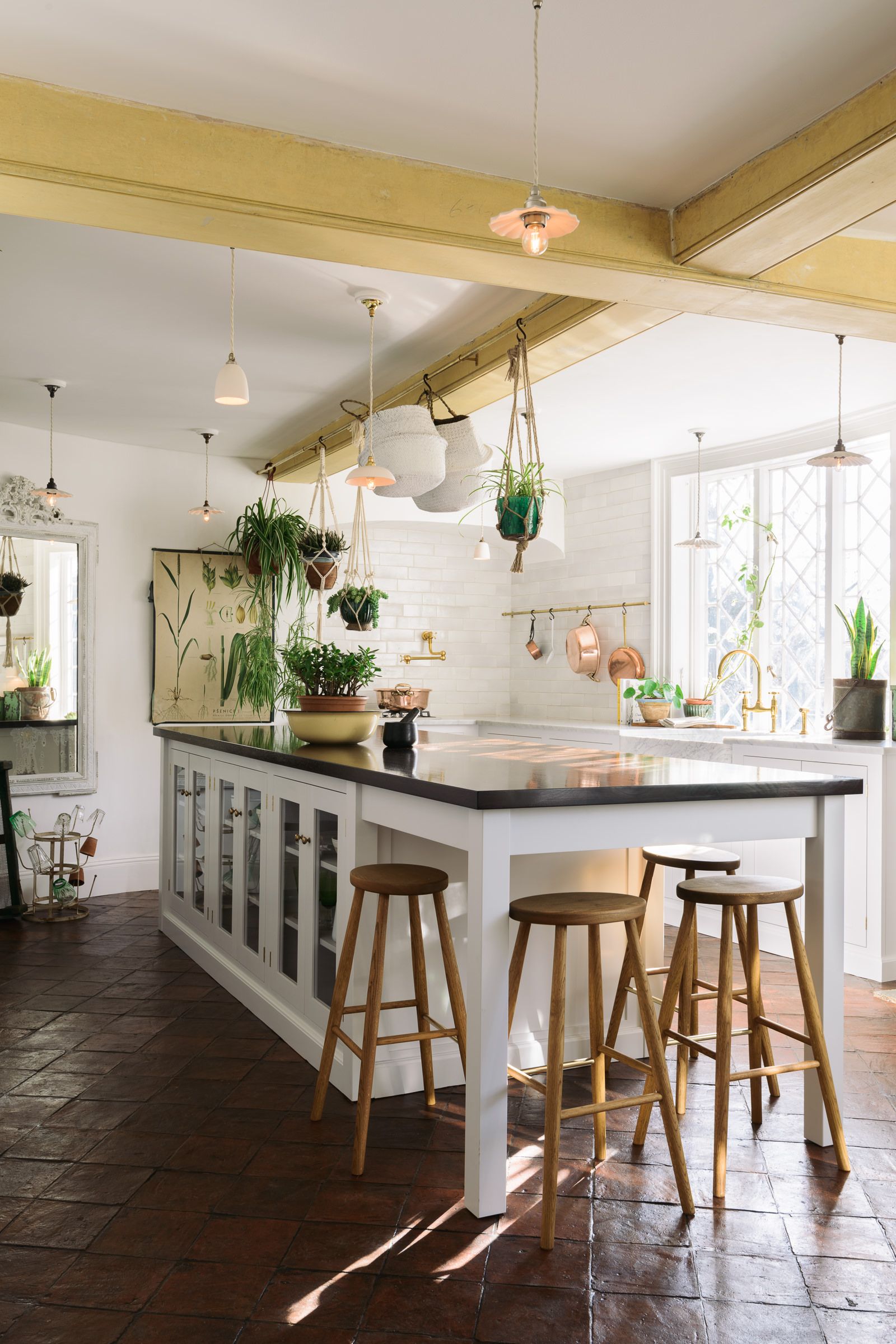 When your kitchen is part of an open plan space you can zone it by the color you choose – in this case, all white.
'Neutral and white painted kitchens are perfect for creating a classic, uncluttered space, and are particularly suited for use in a kitchen where the space has many moods and functions,' explains Richard Moore, Design Director at Martin Moore.
'Whatever the time of day or the mood you want, using a white color palette helps create a feeling of calm and gives the room a feeling of elegance and space.
'White tones are also perfect for smaller, more compact kitchens, helping to keep the space feeling light and airy.'
16. Add neutrals and textures to enliven a white kitchen
If the thought of an all-white kitchen scheme doesn't appeal, but there's a part of you that knows it will lighten and brighten your space, then adding in layered neutrals and texture is a great compromise.
Taupe is a good neutral color to consider – it's warming, which will combat the brilliant white and, as we've mentioned above, a spot of black adds drama. But what we love about this kitchen by Paint & Paper Library is the use of marble to tie it all together, and it adds a fabulous decorative touch.
17. Pick exotic stone in white to create impact
Using exotic stone in a white kitchen is a great way to create impact. This kitchen by Day True has dark cabinetry offset by white marble-effect countertops and wall panels, the latter book-matched for space-enhancing symmetry.
The wood cladding on the extractor fan adds a much-needed touch of warmth to the space, while emphasizing the vertical space.
18. Play with texture
Go all white in a kitchen and you could fall into the trap of creating a cold, clinical room. But there are some simple ways to avoid this.
'To ensure the space has character and feels inviting it's important to incorporate a variety of textures and finishes,' says Ben Burbidge, Managing Director at Burbidge.
'Consider contrasting painted matte cabinets with a high-shine backsplash, or pair an industrial stone worktop with contemporary gloss cabinets.
'When it comes to accessories and kitchen lighting ideas, add texture by mixing materials, such as rustic copper pendants and wooden furniture, for a modern look that will stand the test of time.'
In this case iridescent tiles and touches of timber bring the matte cabinetry to life.
19. Use open storage to create a laid back appeal
This white kitchen by LA-based designer Stefani Stein is a wonderful example of how to create a live-in kitchen that's incredibly practical and functional, welcoming and warm, but neat, too – thanks to cleverly incorporated kitchen storage ideas.
The use of wood and mixed tile materials creates plenty of interest and layering of patterns, while maintaining a feeling of calm. Two different kitchen shelving ideas – one within the island and one on the back wall – allow everything crucial to be to hand.
20. Add in contrast with raw materials
'The key with a neutral kitchen is to pair cabinetry with contrasting walls and textural elements. This will give the design an edge and create appealing visual interest.
'If you have crisp white or cream kitchen cabinetry, you could opt for a contrasting walnut finish for the racks and shelving within. Choose a smoky wood finish for the internal shelving for a stylish edge,' says Tom Howley, design director at Tom Howley.
21. Light up the dark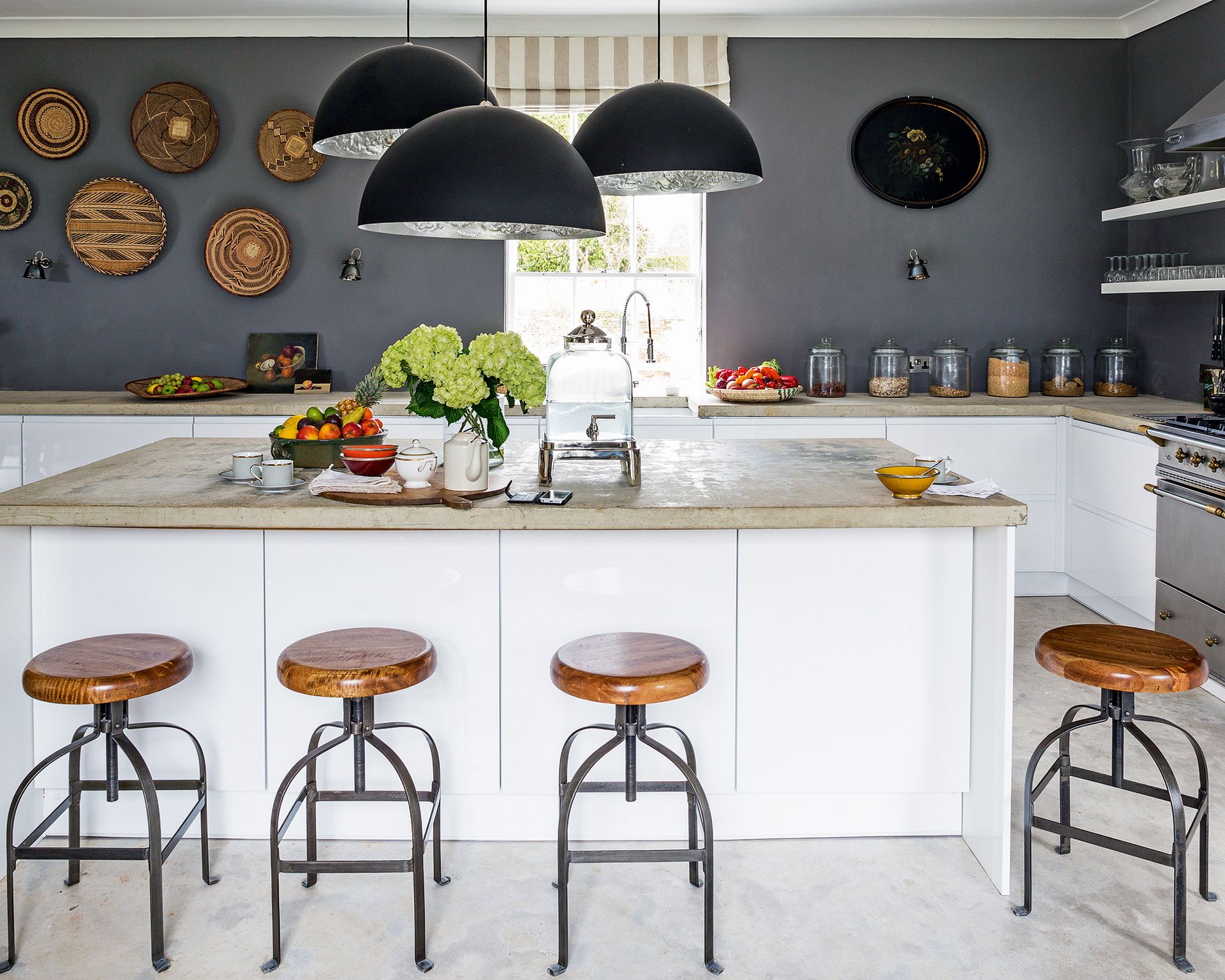 A compact kitchen with little natural light – or perhaps dark-painted walls you love – really benefits from white cabinetry.
Other ways to boost space in small white kitchens include: pale stone flooring which accentuates the room's height, and pendants that add plenty of artificial light and lots of character. But the ultimate saving graces are the simple Shaker cabinetry and crisp concrete countertops.
If you are looking for kitchen countertop ideas, be inspired: interior designer Henriette von Stockhausen of VSP Interiors made the concrete countertops in this kitchen herself using wooden crates lined with bin bags. The results were so successful that she is now using the same technique in clients' homes.
22. Choose a warm white to make gray welcoming
If you are finding it difficult to choose between white and gray in your kitchen, why not combine to create the best of both worlds. A smart approach is to use the white on the perimeter cabinetry and the gray as a highlight color, perhaps as part of your kitchen island ideas.
Tom Howley, Design Director at the eponymous kitchen company, explains: 'Sorrel and Orchid are our most popular whites. Our slightly warm white paint color Orchid works wonderfully with a light gray island adding depth to a space.'
23. Let the tiles do the talking
Create an artful contrast between simple white handleless units and hand-crafted, artisanal tiles and ceramics.
Eclectic kitchen tile ideas will allow the ceramics to take center stage, and the modern door styling will elevate the look. Beautiful marble countertops provide a link between the two contrasting elements.
24. Mix white kitchen ideas with warm metallics
White kitchens can lack warmth and focus, especially when you have a north-facing or open plan kitchen. However, you can use accent materials to add both warm tones and character.
Blonde wood makes for a subtle finish that creates a pared-back Scandi style in this kitchen by Blakes, but the addition of warm gold in the extractor hood is both dramatic and clever, lifting the restrained design immeasurably.
25. Work white into a two-tone kitchen
Green kitchen ideas work beautifully with white. 'Soft shades of warm whites and earthy beige work well on their own, but are even better when used in a two-tone scheme,' says Tom Howley.
'Two of our most loved shades are Tansy and Willow. Beautifully understated, they create truly stunning kitchens enhancing architectural interest, all without the need for bold color.
'If you're using lighter colors to enhance your space then try painting your walls in the same shade. This will focus your eye on the whole area, allowing it to feel larger and lighter.'
26. Evoke a sense of wellbeing with a white kitchen
'If you're somebody who appreciates quiet, simple settings, then white is undoubtedly a color that will help to achieve both of these things,' says Christina Parsons, Kitchen Designer at Neptune.
'White is innately crisp – even more so when there's something it can be contrasted against. Even without, in a kitchen with white walls, white cabinets, a quartz work surface and pale flooring, the room will take on a pure, clean character that's much harder to create when using pigmented shades.'
27. Consider light levels
'Timeless neutrals are susceptible to change, depending on the light available. We consider where natural light is coming from and how task lighting will create varying shades.
'Use lighting to your advantage and choose a combination of colors that look fresh in the day but warm and inviting at night,' advises Tom Howley.
28. Accentuate the view
This cleverly planned galley kitchen has been designed to draw one's gaze down the room and towards the garden beyond.
White units that blend in to the architecture of this stunning kitchen extension offer minimal distraction, and work in unison with wide floorboards laid down the room.
29. Head to the coast
You can almost feel the sea breeze blowing into this fresh scheme, which hits peak coastal chic with its combination of tongue-and-groove wall panelling, aquamarine tiles and rustic open shelving.
Tiles and kitchen backsplash ideas are great for introducing a pop of color to an all-white space and is a great addition to coastal kitchen ideas. This geometric motif can be laid in numerous ways to create different designs. Add crockery in complementary tones for an attractive display on open shelves.
30. Warm up with wood
Our cravings for the slick and minimalist have inevitably waned. One way to cozy up white is to combine white kitchen ideas with a soft timber – a very pale ash or oak is ideal, great for wood ceiling ideas.
We like the way the two have been fused together here, with white worktops and wooden furniture, and the cabinetry in a soft, off-white.
31. Run through to the dining area
Continue the monochrome theme through to your seating area, as these style savvy homeowners have done. Do be thoughtful in your choices of materials, however. Wipeable leather upholstery is ideal and also practical.
Similarly for the tabletop – consider a treated finish that's impervious to scratches, or your sleek white look could soon start to look tired and tatty.
32. Let other elements pop
If you are looking for kitchen painting tips and want to introduce pops of color or contrasting neutrals into your scheme, white is by far the safest choice as a backdrop.
Here, units in white are contrasted with the freestanding kitchen island in black. Texture and warmth are introduced with herringbone wooden kitchen flooring.
33. It's all about the accents in a white kitchen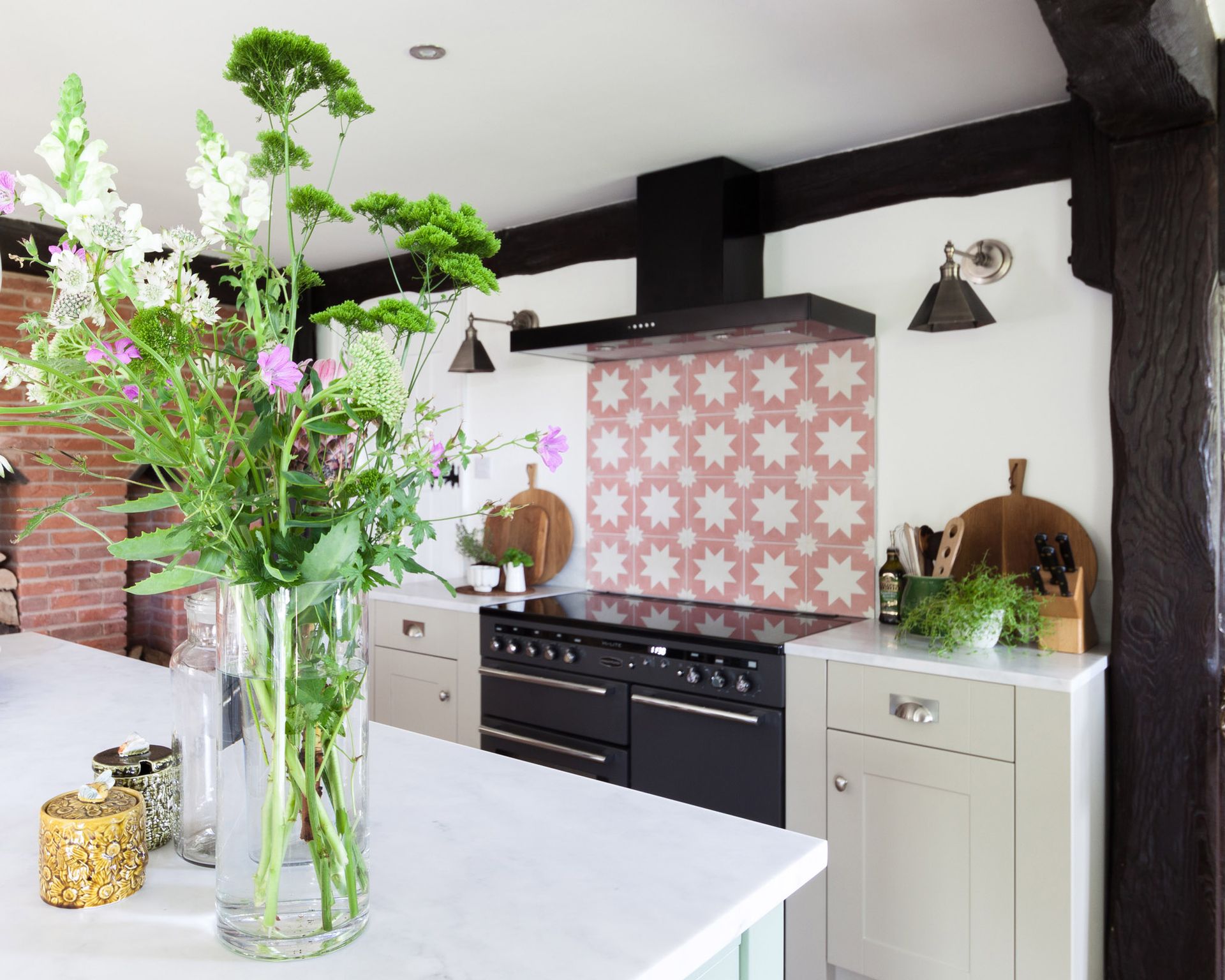 This elegant white kitchen showcases how important white kitchen backsplash ideas are for adding character and color to an otherwise all-white space.
Backsplash tiles needn't run around the whole kitchen – using them to color block, as they have been here, can be more than effective.
34. Use glazed cabinetry to add depth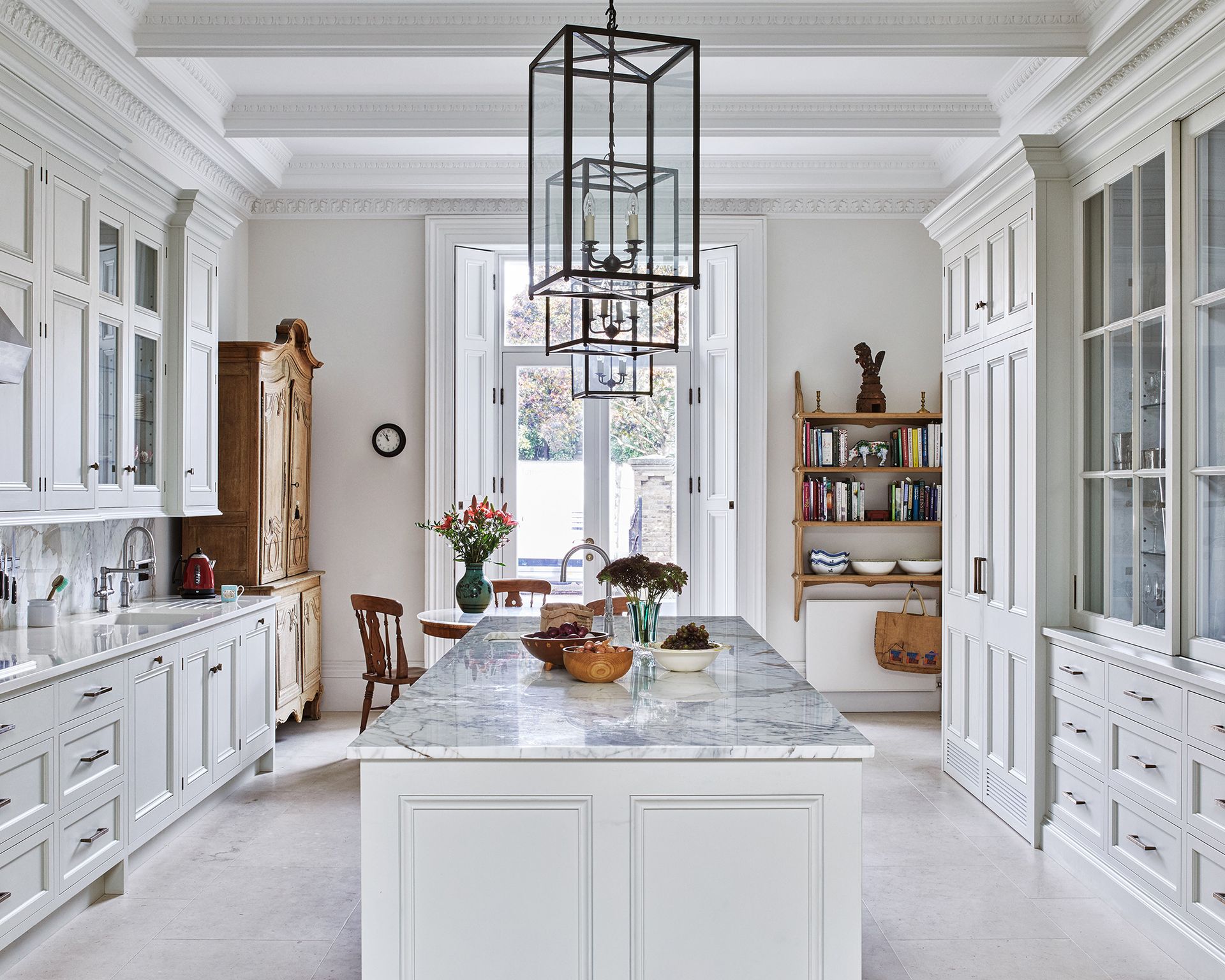 Glazing in cabinetry doors, rather than solid wooden doors, creates various effects that are beneficial, particularly if you are looking for small kitchen ideas.
First, the glazing itself reflects light – a real bonus in a dark room. It also allows the eye to travel further than solid cabinetry, which can make a narrow or galley kitchen feel wider.
Next, if lit from within, it adds depth, character and warmth when daylight fades. And, finally, it allows you to show off your best kitchen buys.
35. Look for sleek handleless cabinetry