Wood kitchen cabinet ideas – the best new ways to use timber
The wooden kitchen is right on trend and these are the latest design styles to take note of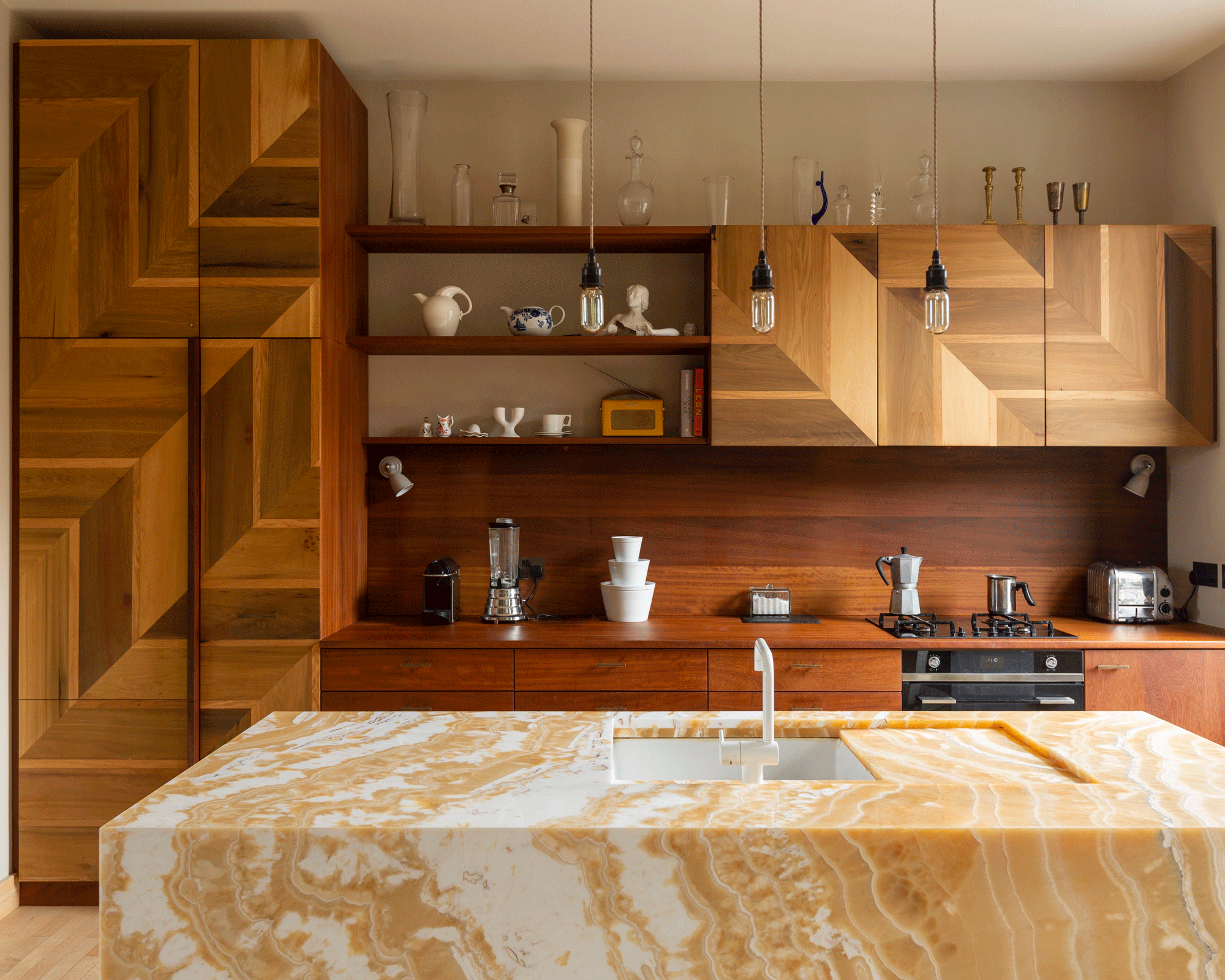 (Image credit: Tom Fallon)
Wood kitchen cabinets are nothing new – they have been a popular choice for years because of their timeless appeal, not to mention the fact wood is a durable material that gets better with age. But if you think that a wooden kitchen will feel too traditional in a contemporary home, think again.
In recent years, there have been a number of new and interesting techniques which have reinvigorated the style, and made this old staple a modern favorite. If wood kitchen cabinet ideas are high on your list, here are the key ways to put a fresh spin on the look.
See: Kitchen ideas – decor and decorating ideas for all kitchens
1. Give it a modern farmhouse twist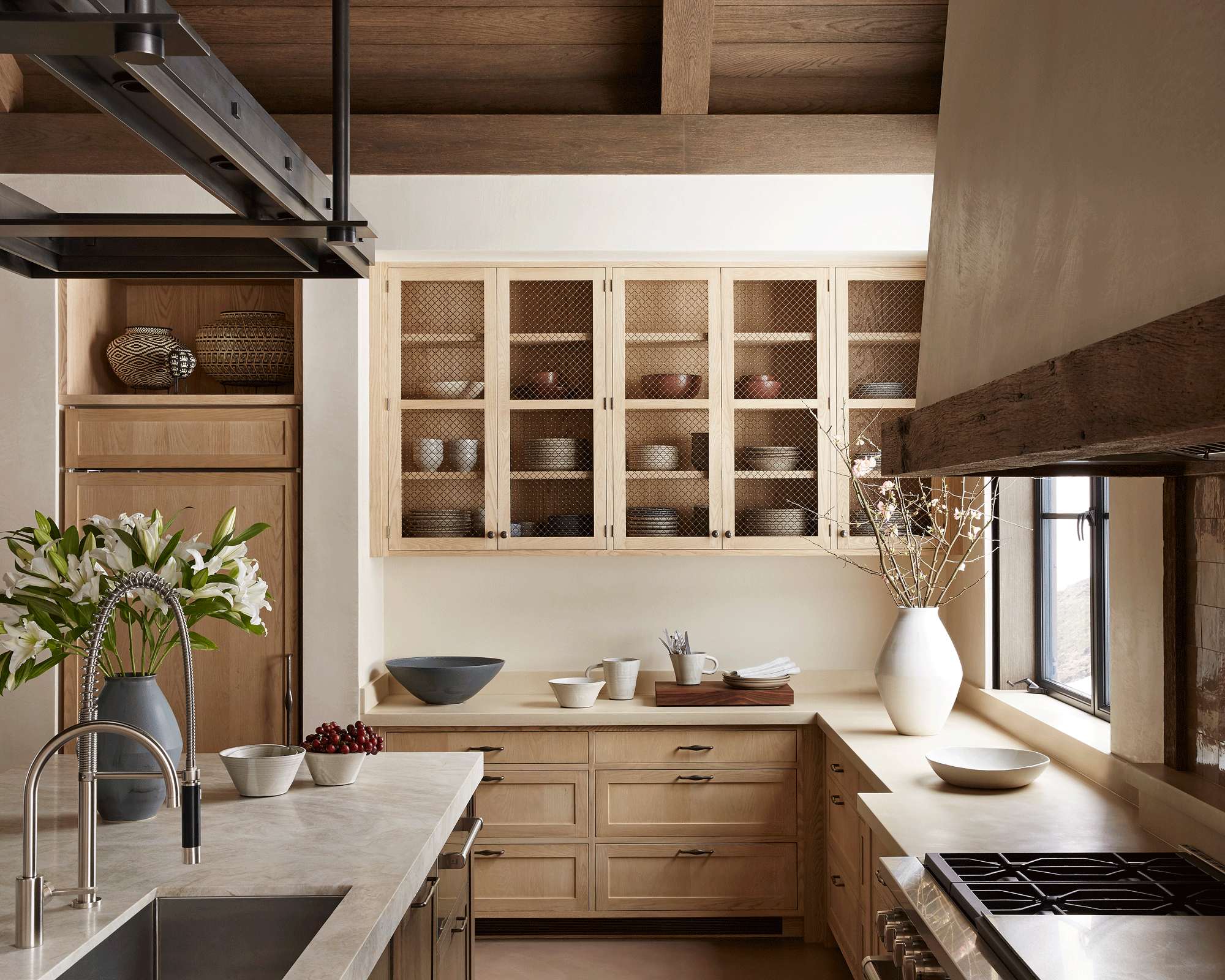 Honest materials and raw finishes lend natural charm in this calming space. Created by California-based designer Brad Krefman, a warm, neutral backdrop – Dulux's Brave Ground is similar – tones serenely with unstained oak cabinetry.
Copper mesh brings a modern farmhouse vibe to wall cabinets, while the perimeter countertops in creamy pre-cast concrete are a practical choice. A rugged slab of reclaimed oak links the bespoke cooker hood with the salvaged ceiling beams above, helping to achieve a smooth transition from new oak to ancient timber.
On the kitchen island, delicately veined Taj Mahal quartzite adds subtle pattern to the mix.
2. Choose a dark wood for drama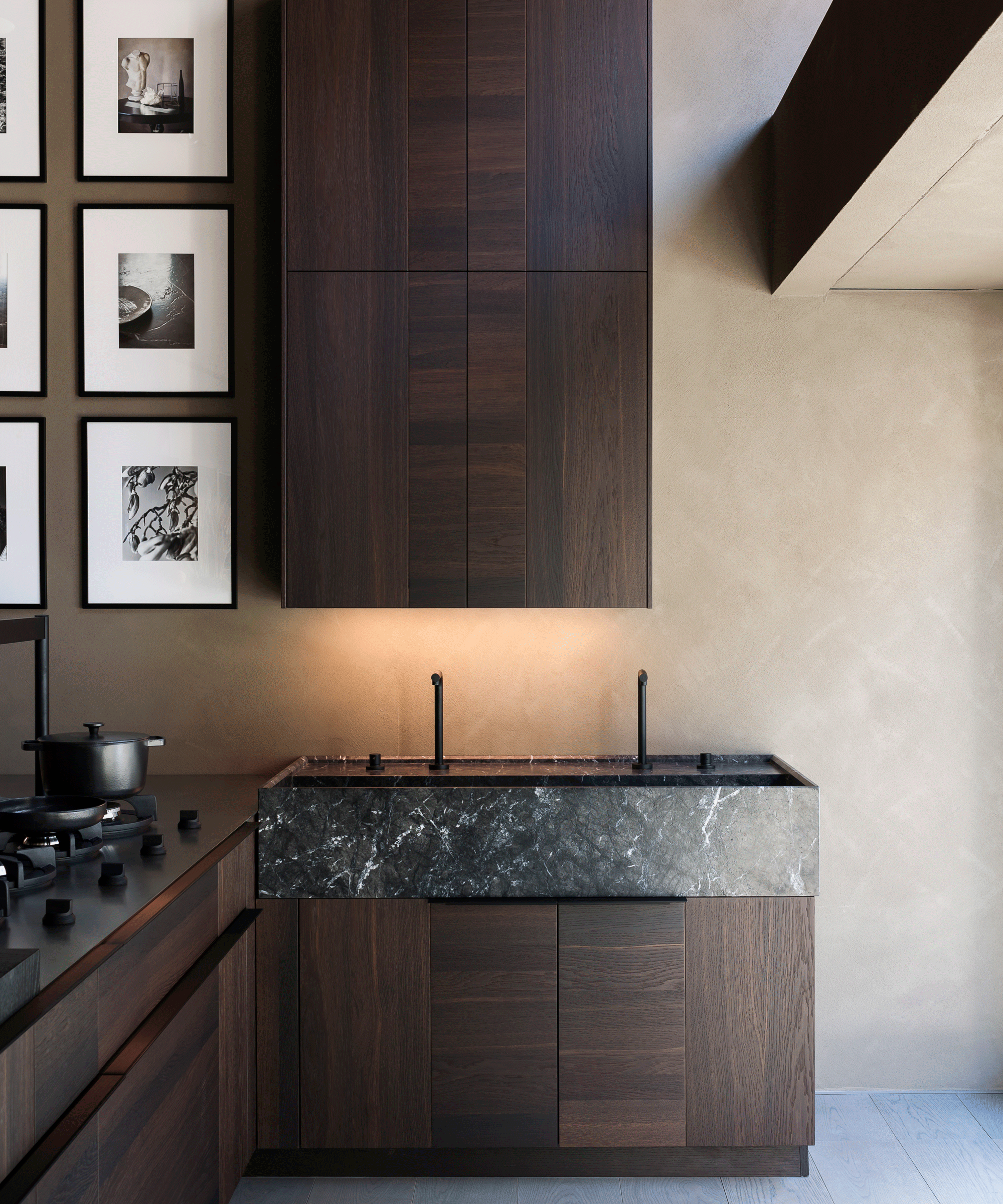 Dark timber designs have stepped into the light. The traditional hues and craftsmanship of antique furniture have been deftly brought up to date with the introduction of contemporary lines and detailing that bring drama and almost-sculptural luxury.
'Combining darker tones with lighter finishes allows our designers to balance the feeling of solidity and depth, whilst still making the most of any natural light,' explains Andrew Hamilton Barr, director, Espresso Design.
Here, Cesar's Intarsio range takes its inspiration from traditional marquetry to create doors with distinctive cross direction veneers that are paired with dark marble and other luxury materials to create a unique kitchen.
3. Add a fluted finish for texture and depth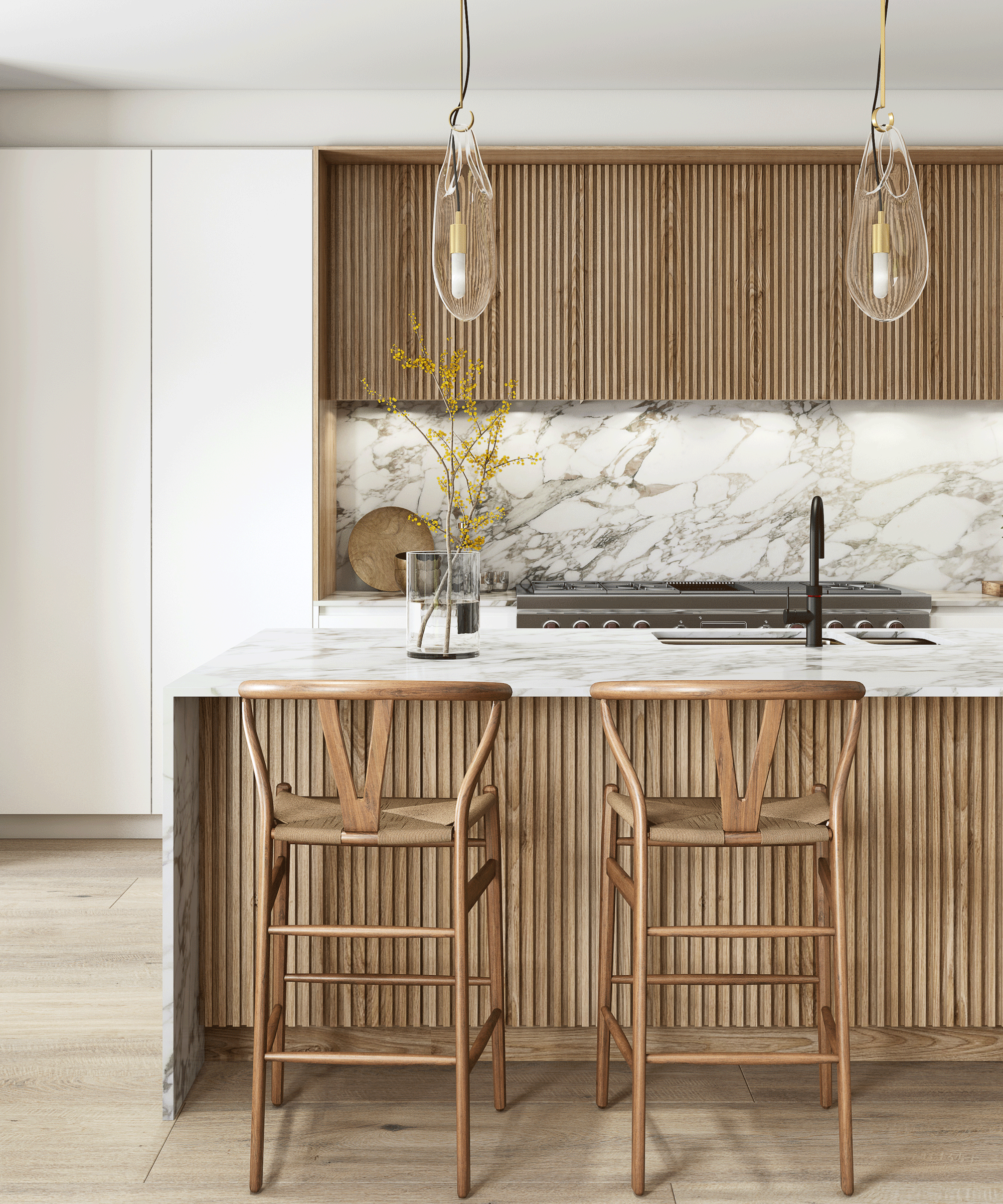 Three-dimensional surfaces that shift with the light bring a modern twist to wood in the kitchen. 'Combined with sleek flat-fronted doors in crisp white, thin vertical wood slats provide texture and depth, enhancing the tension between plain and pattern,' explains Sofia Bune Strandh, CEO, Sola Kitchens.
SKOG, meaning 'forest' in Swedish, is the name given to this striking new wood-focused design from Sola Kitchens. 'It's called SKOG partly because the wooden slats resemble the outlines of trees, but also the name reflects the embracement of natural materials – a typical quality of Scandinavian design,' she adds.
4. Mix different styles of timber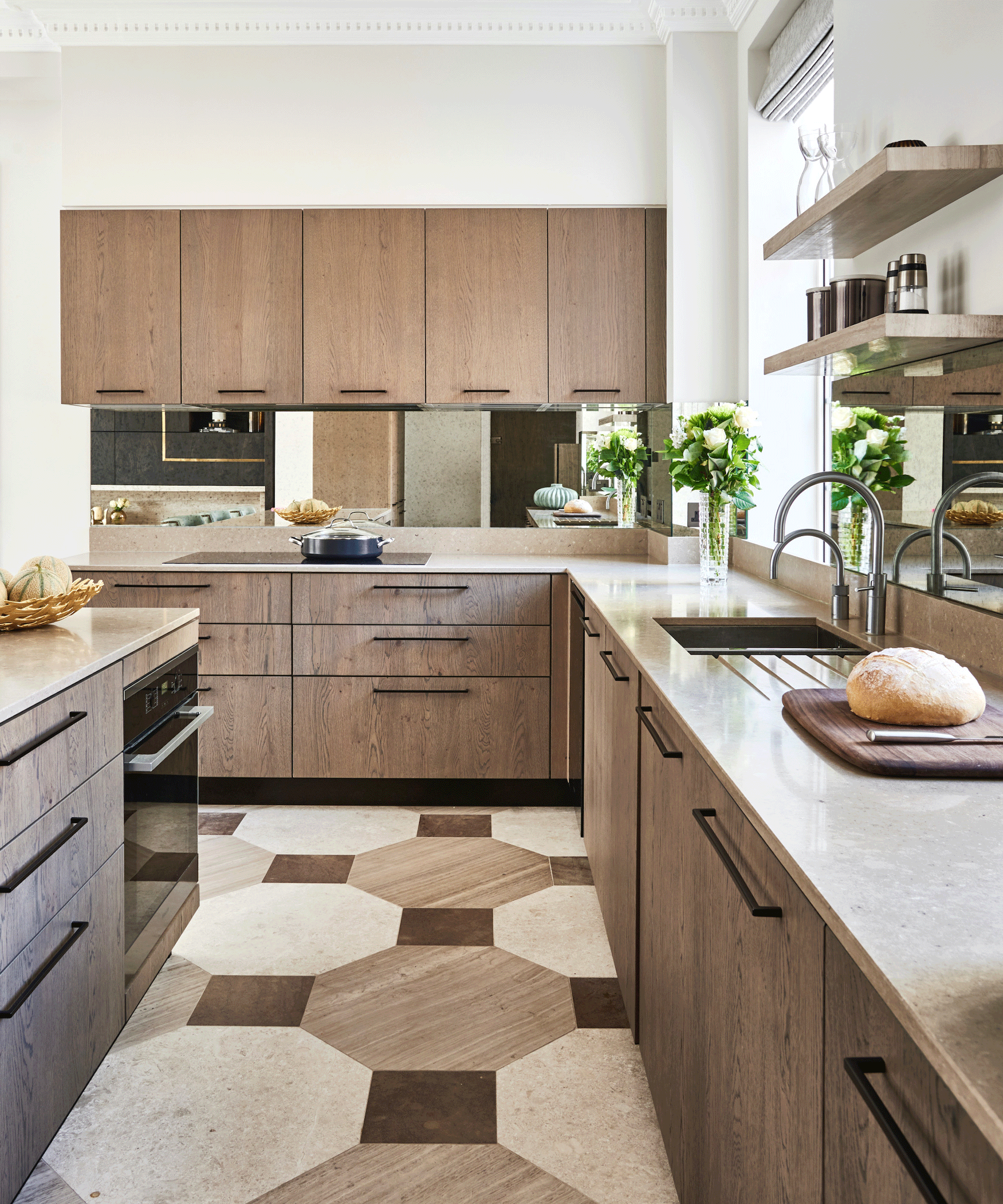 'If you want to introduce two or more species of timber in the same room, it's wise to ensure there's enough contrast between each one. You can just see the media wall shelving, in a much darker stained oak, reflected in the backsplash here,' explains Deborah Bass, director, Base Interior.
The hexagonal flooring is cut from natural marble in similar tones to both timbers, helping to unite the two. 'Whatever timbers you use in the kitchen, the key to avoiding a heavy 'wall' of wood is to balance out the other finishes in the room – such as pale painted walls, simple handles and antique mirror backsplashes.'
5. Take a modern approach with sleek surfaces
Taking timber in a contemporary direction requires a considered approach to avoid missing out on wood's natural beauty. TR Studio chose deVOL's Sebastian Cox range, featuring cabinetry in black stained beech.
'We really like to use wood in a very calm way in kitchens. You can maintain clean lines and use sleek surfaces, but wood itself brings craft and texture, both visual and tactile,' says Tom Rutt, founder, TR Studio.
'We love how this kitchen strikes the balance between traditional and contemporary. It is clearly a real solid timber door, but the colour makes it abstracted and adds a modernity.'
6. Turn to reclaimed for a more unique and sustainable look
Reclaimed wood has clear environmental benefits, not to mention unique historic appeal. Often associated with very rustic, timeworn kitchen styles and designs, this version by salvage specialists Retrouvius demonstrates a more sophisticated approach. Made from old timber shelving, the geometric door fronts are beautifully executed for maximum impact.
'Our salvaged tropical hardwoods were used in the areas where the main cooking action takes place,' says Maria Speake, founder, Retrouvius. 'Brilliant for backsplashes and countertops, the wood is innately water resistant, hardwearing and the odd splash of oil from cooking all adds to the timbers own natural oiliness and is absorbed to help protect the wood.'
7. Mimic freestanding furniture
Keeping timber use below eye level is more peripheral so won't overpower. It can also appear less 'kitcheny'.
'Using oak worktops and wrapping the drawer units in the same oak creates a modular look, more akin to a living room sideboard,' explains Jayne Everett, co-founder, Naked Kitchens. 'We wanted each wood section to mimic a piece of freestanding furniture – far removed from a standard fitted kitchen.'
White American Oak was chosen for its robust, tightly knitted grain and soft washed tones. The timber was finished in a specialist Nano coating to provide resilience without altering the wood's natural look.
8. Pick flat-front cabinetry for mid-century appeal
If your aim in designing your kitchen is to create a space that feels less like a cook station and more like a living space – where you happen to create meals – a pared-back approach to design might appeal.
Flat-fronted wooden kitchen cabinetry is easy to live with, enduringly timeless – and can come with a ton of character if you choose a timber or finish with a noticeable grain or texture. Handleless cabinetry will work best with flush door designs – and can even set the scene for a subtle, mid-century feel.
9. Combine wood kitchen cabinetry with antique wood furniture
If you want to create an eclectic look that focusses on wood kitchen cabinet ideas, one way to do so is to combine new cabinetry with antique furniture. This eclectic kitchen by Bert & May has freestanding wooden units with a hand-crafted quality, combined with a mahogany cabinet with a glass front that creates a further unique dimension in this kitchen.
10. Focus on the kitchen island
The kitchen island is inevitably the center of a kitchen's layout – and you can draw further attention to it by contrasting its color or material with the rest of the units in the room.
Melissa Klink, Creative Director at Harvey Jones explains why wood is a wonderful choice for the kitchen island:
'Using reclaimed wood adds an interesting story to the kitchen space. Any material that has an organic influence helps to ground the room and provide an instant sense of calm, and reclaimed wood is warm and full of rich detail. The look is beautifully unique and something you cannot recreate using new material.'
Are wood kitchen cabinets out of style?
Wood kitchen cabinets are enduringly stylish, and designs using sustainably produced or reclaimed woods are more popular than ever. What has changed is the design of wood kitchen cabinetry: fluting, unusual, textured finishes and inlay are at the forefront of kitchen trends right now.
What goes with wood kitchen cabinets?
Wood cabinets are wonderful with a wide array of complementing materials and colors. You can use both dark and light woods with pale marble countertops for a contemporary appeal, and combine wood cabinetry with other woods to create a richly textured space. Our advice: don't choose colors or materials that compete with the tones and texture of the wood – let them be the star of the show.
What is the most popular wood for kitchen cabinets?
The most popular wood for kitchen cabinets include: oak; cherry; hickory; pine and maple. The best choice for your kitchen might, however, be a locally sourced wood, which will really complement your home and the other materials within your kitchen.
Kitchens in mixed woods are also a popular trend for the year ahead – both within the cabinetry, and cabinetry/countertop combinations.