Kitchen cabinet color trends 2023 – 10 desirable colors for the heart of the home
We reveal this year's top colors for kitchen cabinets. Now is the time for a kitchen refresh with our line-up of colorful ideas and inspiration from the experts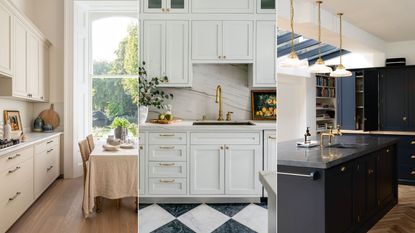 (Image credit: Davonport / Jaclyn Christensen Design / deVOL)
Sign up to the Homes & Gardens newsletter
Decor Ideas. Project Inspiration. Expert Advice. Delivered to your inbox.
Thank you for signing up to Homes & Gardens. You will receive a verification email shortly.
There was a problem. Please refresh the page and try again.
Choosing a color for your kitchen cabinets is a huge commitment. Should we play it safe with neutrals, create impact with jewel shades or pick out one of the new pastel hues to freshen things up? Experts agree that the right kitchen cabinet color can completely change the look of your kitchen.
'The most popular kitchen cabinet colors will provide your kitchen with personality and depth in a space, which can otherwise feel quite clinical,' says COAT's color curator, Aaron Markwell. 'Choose kitchen cabinet paint colors that bring you joy. This room is the heart of the home, and if you spend most of your time in the kitchen, it's important to immerse yourself in things you love.'
'Painting kitchen cabinetry is a number one, transformative project,' enthuses Annie Sloan, color and paint expert. 'Forget stressful and time-consuming refits: freshen up the heart of your home simply with a lick of paint. The colors you choose should be geared around how different colors make you feel, how you use your kitchen, and what looks best in the space. In that order!
'Two strong trend families are emerging – empowering, strong brights and reassuring, earthy folk favorites. We look to color to recharge and give us what we may be lacking elsewhere in life, and at the moment, I think what we most need is joy.'
Classic, neutral hues will never date but bolder options for kitchen cabinet paint colors are becoming increasingly popular – from inky black and earthy green to mustard and even pale lilac. The color palette is hugely varied so take time with paint and material swatches so you can achieve the perfect look.
'Colored cabinets can completely transform the look of a room,' adds Melissa Klink, creative director at Harvey Jones. 'When deciding on your shade of paint, make sure you consider your space first – kitchens with lots of light can take a bolder, darker color, while in a more enclosed room, bright cabinets will help create the illusion of a bigger space. Bold statements are not for everyone though. Bursts of bright shades, such as tangerine or indigo, on a kitchen island or pantry work incredibly well in plain designs. By keeping the rest of the cabinetry in muted tones, it avoids a confused appearance and instead blends perfectly to create a stylish space.'
So what colors are topping the wishlists of interior insiders for 2023? Is our love affair with dark navy over and how do we work the trend for pink in our preparation zones? We reveal the top 10 color trends for kitchen cabinets.
Kitchen cabinet color trends
Prepare for a kaleidoscope of color as the latest kitchen color trends for cabinets are set to overhaul your space. From pale sage green to inky black and blush pink, there's a color (or colors) to suit every style and size of the kitchen.
'deVOL began over 30 years ago by offering its consumers apple greens and sky blues for their kitchen cupboards, soft and gentle but natural,' says Helen Parker, creative director at deVOL Kitchens.
'But styles change and we went into a white and cream phase over the next decade or two and then onto blacks and deep blues. As always, the cycle of fashion and design moves in a circle and we are back to the beginning – a refreshing need for something to take us back to nature and the uplifting joy of color.'
We've selected the most stylish kitchen cabinet ideas and color palettes so that you can find out the advantages of all the possible kitchen cabinet color trends with advice from the experts.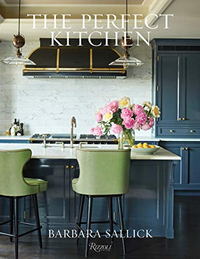 The Perfect Kitchen, Barbara Sallick | From $21.87/£30.45 at Amazon
Learn more about the fundamentals of kitchen color trends and design in this bestselling book. Find practical advice as well as hundreds of images to inspire your own remodel
1. Bring back black
Black-painted walls and woodwork, particularly in the entryway and living spaces, have been an interior design favorite for a few years. Next up, our love for the dark side is moving into the kitchen with cabinets overhauled in midnight and inky black for a theatrical mood maker. Elevate with dark wood and patterned marble for a sophisticated look that's more grand than gothic.
Black kitchens are our new love,' declares Helen Parker, creative director of deVOL Kitchens. 'We introduced it a couple of years ago and I think people were a bit scared, but they've become so popular. Think late-night bars, speakeasies, and restaurants in New York City. Try grand, spacious kitchen cabinets and big kitchen islands painted black, with marble kitchen ideas, statement brass hardware, and plenty of textural elements used elsewhere for a soft, subtle look.'
'Black is most certainly back,' adds Elizabeth Sherwin, creative director at Naked Kitchens, 'as we continue to see an increasing demand for dark, moody and dramatic kitchens. For a warmer, homely ambiance, balance out black interiors by embracing soft earthy tones and natural materials, reducing the drama but still holding impact.'
2. Cozy up with cashmere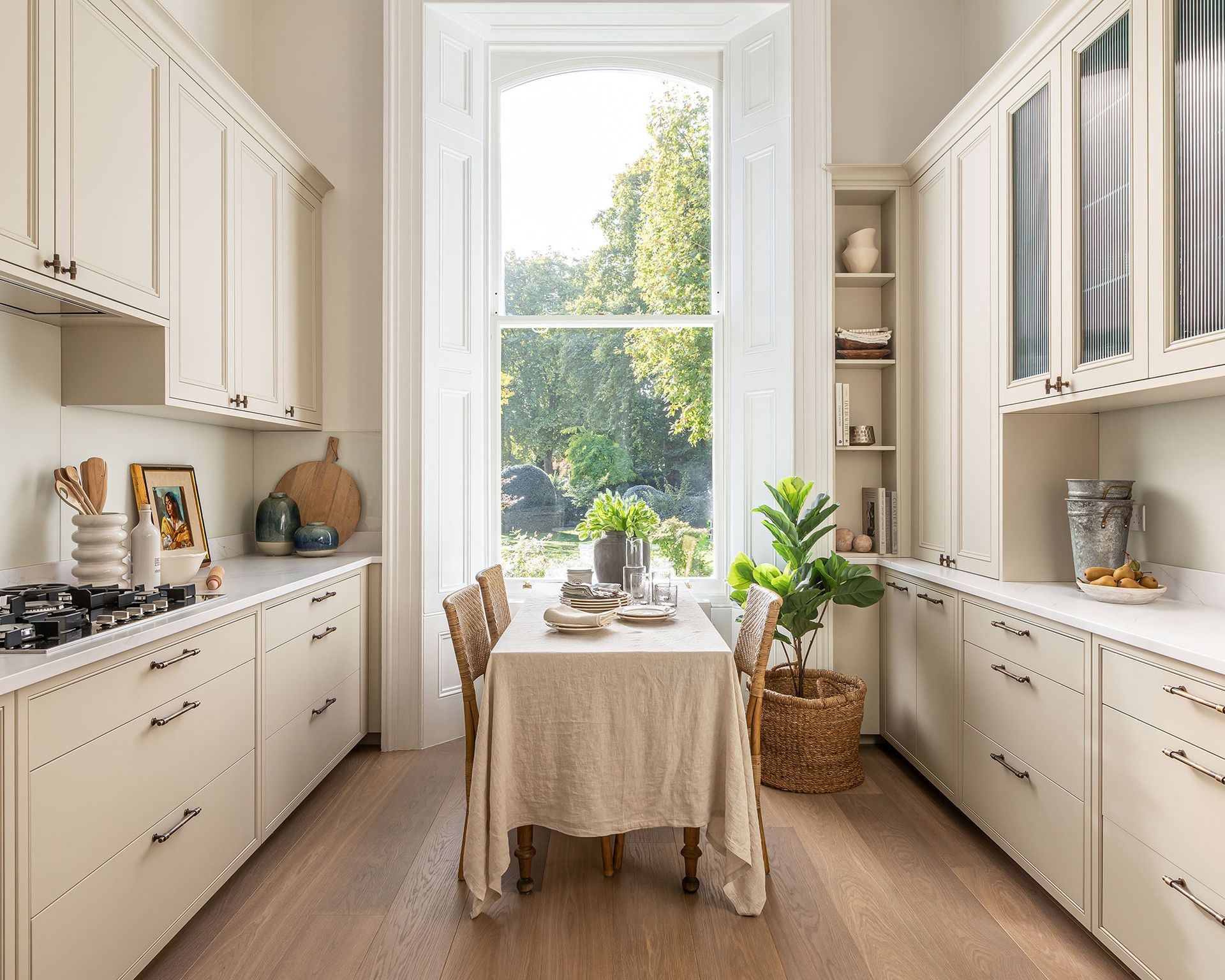 Quiet luxury and cozy minimalism are what counts for the 2023 neutral palette – and for kitchens, this translates to a color that's described as 'cashmere'. Moving away from clean, clinical whites, cashmere is a go-to color for injecting warmth and simplicity all at once. There is a range of shades that fall under the cashmere umbrella – from cashmere beige to cashmere grey. Different lighting conditions will also alter the look of each one.
'A cashmere kitchen is cozy, inviting, and luxurious, just like the natural fabric that inspired the look,' says Marianne Shillingford, creative director at Dulux. 'Living in the color space between grey and brown, this is the new super versatile neutral for kitchens when you want a calming, light, elegant and timeless look.'
Richard Davonport, managing director at Davonport couldn't agree more: 'Cashmere is a great choice for a kitchen color as it evokes softness and warmth to a space. It is not overpowering or too striking, plus it offers a sense of comfort and familiarity that will really make a room feel like home. The cashmere shade is a great alternative for homeowners who do not wish to have a harsh white kitchen or dull brown kitchen – tones that are at either end of the color scale in which cashmere sits. Whites and off-whites are slightly harsher and much cooler in tone, whereas cashmere has a richness and a warm feeling that makes it much less stark.'
3. Introduce mood-boosting yellow
Sunny yellow kitchens equal instant happiness. So, what easier way to add a big smile to your home every day than with uplifting yellow kitchen cabinets? All shades of yellow are a big hit with the home for 2023, whether it's rich mustard and deep ochre or saffron, fresh primrose and citrus lemon. Sunglasses at the ready.
'Soft mellow yellows, punchy and bright greens and soft delicate pinks, all give us a light and airy feeling, especially when the kitchen has lots of open shelves for displaying our greenery, flowers and special-loved objects – things that brighten up our homes and give us a feeling of new beginnings,' adds Parker at deVOL Kitchens. 'Our beautiful Scullery Yellow is a joy to watch emerge in so many new kitchens.'
4. Wow with white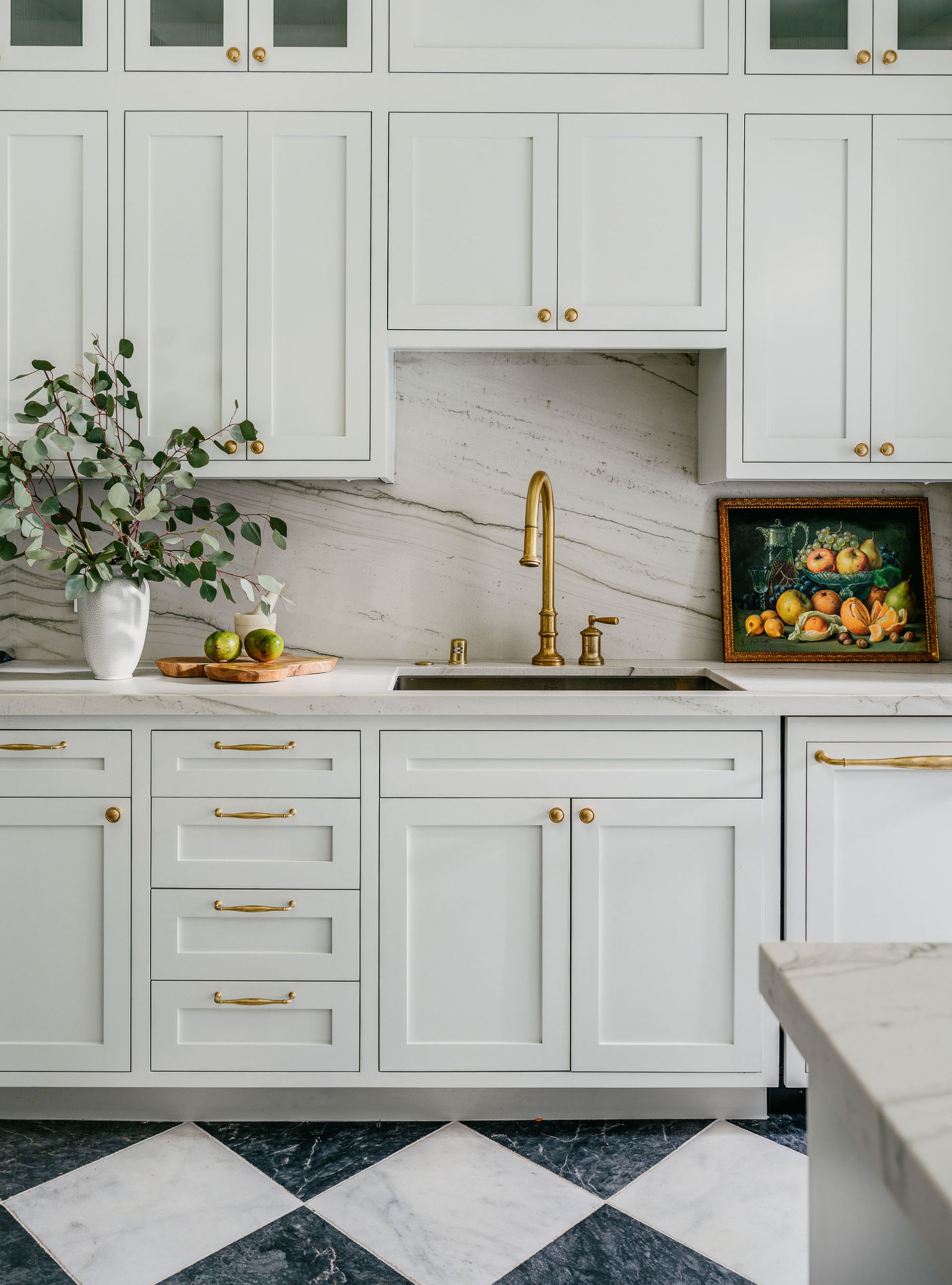 Bright white, off-white, soft white and cream will always be a popular choice for kitchen cabinets of every style, from ultra-modern to country cottages. The beauty of these laid-back neutrals is that they can be given a bespoke look with different worktop materials, brassware and wall colors. For 2023, neutrals will be warmer to harness our love for the Scandi look.
Warm neutrals, natural woods and textural layers – which are all defining features of a Scandi-scheme – will reign this season as we strive to create more comfort, authenticity and serenity in the home,' says Tom Howley, design director of the eponymous bespoke kitchen company. 'Throughout the past year, our design team has noticed clients leaning towards a combination of blonde and warm-toned woods, off-white cabinetry, and tactile stone surfaces in the kitchen. This Scandi-inspired trend will continue to evolve with the addition of reeded glass, patina finishes and natural stone flooring.'
In this San Francisco kitchen, designer Jaclyn Christensen used Benjamin Moore's Moonshine which is a deeper, warmer take on the classic bright white kitchen – warm and inviting but elevated and still liveable.
'White kitchens will always be a classic design choice as it works with so many aesthetics – from modern to more classic design and everything in between,' says Christensen, owner and principal designer of Jaclyn Christensen Design. 'Kitchens are typically the most important room in your home, so going with a classic color, knowing that the foundation of that can evolve over time, is a smart way to invest your money.'
5. Swap gray for green
There's no mistaking the popularity of green during the last 12 months. This fresh, positive shade has been all over our interior color radars and now it appears to be taking the top spot for kitchen cabinets too – swiping the crown from the gray palette which has dominated our homes for so long (too long, maybe). Green kitchens also echo our passion for greenery, indoor plants and a natural mood that has taken root in every room in the house, including the kitchen.
'Green is the new gray,' announces Martin Waller, founder of Andrew Martin. 'The austerity of the gray age is over – and now it's the age of Kermit, the Incredible Hulk and all things emerald, lime, forest, pistachio, jade and sage.' Green kitchens are certainly having something of a moment right now, say the experts.
'Perfect for your culinary hub, it's a fresh color with earthiness and depth that leaves you feeling nourished and full of life,' says Tom Howley. 'Mossy hues may pack a punch especially when combined with burnished brass hardware and sleek white worktops. Painting just your island can be a great way to incorporate color in an otherwise neutral kitchen, providing a bold, captivating focal point without committing to a full-on green space.'
'Sage green is set to be a popular choice with trend forecaster, WGSN, predicting that it will be a key color for fall 23/24 as consumers look to create a calm and serene home environment,' confirms Robert Newton, head of marketing at Symphony Group.
6. Make it mid blue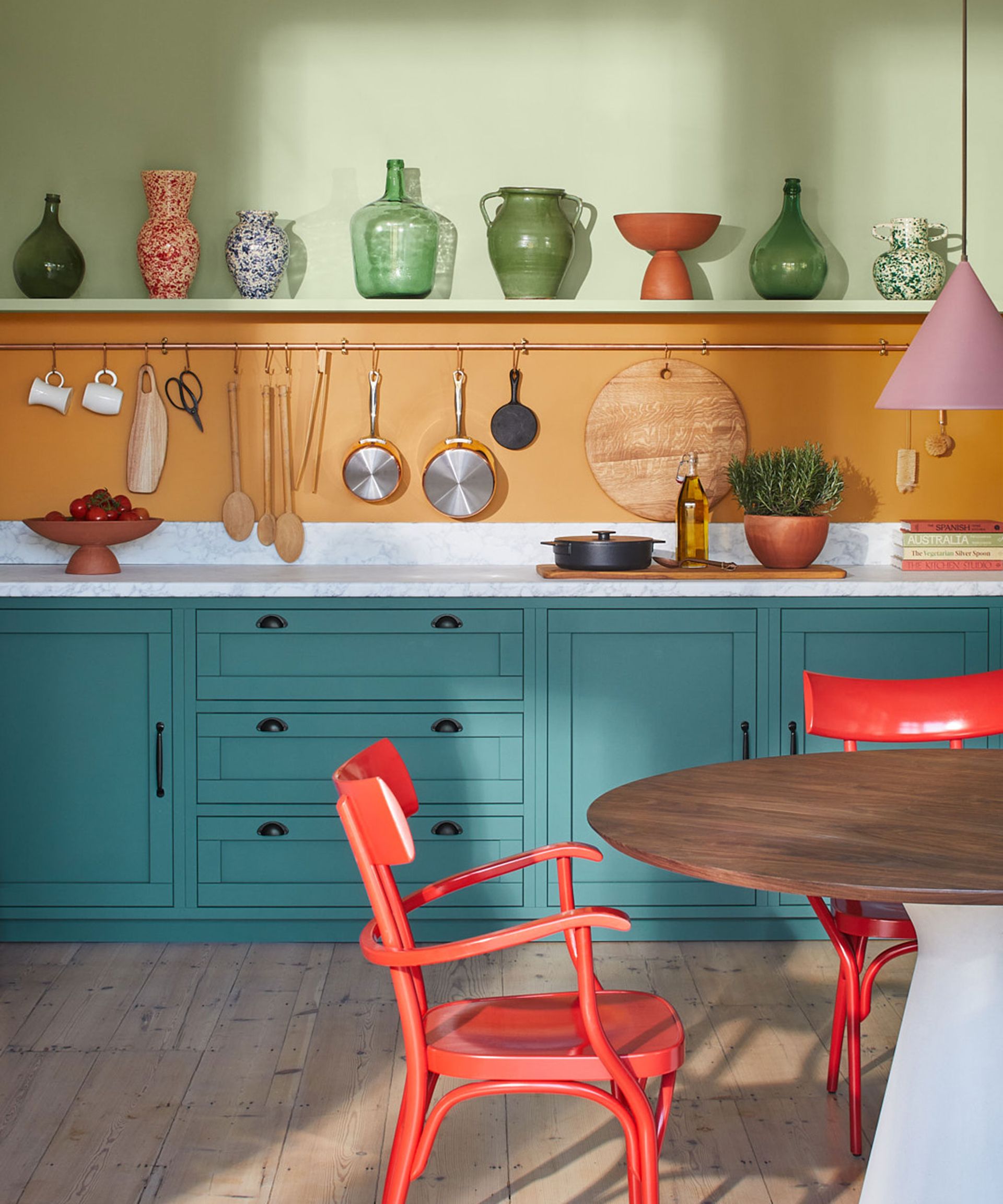 Deep indigo and royal blue offer a seriously sophisticated color palette for kitchen cabinets. While these are still good to go, it is the more mid-blue tones that are making headlines in 2023. These softer shades fit in with our continuing love affair with power-packed pastels throughout the home (more of this later) and can instill a hint of retro cool at the same time.
'Blue is the world's favorite color for a reason,' states Markwell at COAT. 'It's effortless and calming which is great for kitchens, especially in open-plan spaces where we live out our everyday lives.'
'Blue is increasingly replacing green in the interior as an alternative hue to satisfy our desire to remain connected to the natural world, partially driven by the trend for wild swimming and the healing properties of water,' adds Betsy Smith, color consultant at eco paint brand, Graphenstone. 'Expect to see more effortless, watery pale tints with fluid shapes and shiny reflective finishes – polished stones, glass and lustrous metals.'
Deep blues with a slightly grey tone are effortlessly chic although powder blue is driving forwards as a fashion-forward choice for the contemporary home too. 'Not only is it relaxing to live with,' adds Sarah Lloyd, interior and paint expert from Valspar, 'but it can also be paired with a range of other shades to create a distinctive style. Use chrome and black metalware in the cooking area for a loft-style, industrial feel or try neon orange cupboard handles to add a pop of vibrant color and playfulness.'
7. Think pink
Pink, often highlighted as the new neutral for our interiors, has made its way into the kitchen – and we've all fallen hard for this pretty yet punchy hue. In a palette of gorgeous shades, from blush to rose, candy and carnation, pink has proven itself as a color that's not just for the nursery and boudoir. Offset the power of pink with charcoal, ochre and sage accents for a kitchen with serious staying power.
'Painting a single feature dresser, chimney breast or selection of backboards in an elegant pastel can be a beautiful way to introduce spring color without overwhelming the space,' says Tom Howley. 'Imagine a bi-fold pantry where you open the white doors to reveal a pale pink interior or a glazed cabinet with soft, rosy tones filtering through. An excellent backdrop for showcasing your favorite glassware and characterful, seasonal crockery.'
8. Pick out playful pastels
Gelato-inspired pastel room ideas are everywhere and it's not just rosy pink and baby blue that are cropping up in the kitchen. Think soft lemon, spearmint and lilac offset with marbles, burnished metals and luxurious stones for a candy-colored scheme with grown-up design clout.
'Lilac is continuing to have its moment,' says Elizabeth Sherwin, creative director at Naked Kitchens. 'A bold step up for those more comfortable going for a classic neutral, lilac offers a playful and fresh alternative that works wonderfully throughout the seasons – uplifting in the summer months while ensuring you don't feel jaded in the winter. It pairs particularly well with natural elements such as wooden floors and rattan accessories as well as mixed metals such as chrome and copper.'
'Lilac has an extremely inviting, friendly energy and is great for creating a relaxed feel within a home,' adds Francesca Wezel, founder of Francesca's Paints. 'Associated with open-mindedness and sociability, it has the effect of making people feel at ease – perfect for use in a kitchen.'
9. Dare to go dark with charcoal
Gray kitchens have been in for a while, but it is the deeper, bolder charcoal shades that are staying around to make an impact.
'One of the primary reasons dark kitchens are on trend for 2023, is their ability to create a sense of depth and character,' says Mara Rypacek Miller, managing director of Industville.
'Dark-colored cabinetry adds a touch of mystery and allure, creating a strong design statement. Consider balance and contrast by pairing dark gray cabinets with lighter elements, such as kitchen countertops, backsplashes, or flooring for a visually striking composition. Metallic light fixtures, particularly copper, brass and pewter are perfect for dark kitchen cabinets – these finishes bring a touch of luxury and sophistication while effectively illuminating the space.'
10. Go for two-tone color
Using two different cabinet colors in a kitchen design solves many problems: you don't have to pick between favorite colors, it will double up on impact and this design trick is guaranteed to add character.
Different colors can be used effectively to zone various functions within a kitchen such as color-drenching a floor-to-ceiling appliance bank or highlighting an island with a cheery bright. Choosing a dark shade for base cabinets and a paler shade for wall units will also help to ground your design, a clever design strategy for smaller spaces. Introducing a natural wood finish is an alternative way to accent your colored kitchen cabinets if your interior design tastebuds won't stretch to two hues.
'Two-tone kitchen cabinetry can be very effective and offers the chance to really inject some personality,' says Simon Temprell, interior design manager at Neptune. 'You can use one color on the base cabinets with another above or utilize an island for a contrasting splash of color. At Neptune, we also offer the opportunity to paint the interior of your cabinets in a different color – a lovely surprise when you open the doors!'
FAQs
What is the most popular kitchen cabinet color?
White remains the most popular kitchen cabinet color for this year, although clinical pure whites are being replaced with warmer and more natural tones. White is timeless and will create an airy and refreshing ambiance that will never date. Light, neutral colors are also the most attractive to potential homeowners and white is said to increase interest and resale value if your property is on the market.
'White is very much the go-to color and we have found that people are happy with a tall white run of units to allow it to disappear in the background and then allow the island to become a prominent feature,' explains Allison Lynch, senior design consultant for Roundhouse. 'This keeps it bright, spacious and feels clean and simple. It also has a timeless appeal.'
What color cabinets are low maintenance?
Light gray kitchens can reflect light and make your kitchen feel brighter. While this color cannot completely disguise dust, dirt and smudges, these won't be as obvious as stark monochrome colors such as black and white. Scratches on grey cabinets are also less visible in comparison to other hues.
Sign up to the Homes & Gardens newsletter
Decor Ideas. Project Inspiration. Expert Advice. Delivered to your inbox.
Lara has worked in the ever-changing world of interiors and lifestyle journalism for many years. She cut her teeth in a busy newsroom of a kitchen and bathroom business title where she gained vast product knowledge and industry contacts that would prove invaluable. She now freelances for a variety of magazines, newspapers and online blogs and relishes the changing landscape of the interiors world