Black kitchen ideas – 14 tips for dramatically beautiful cooking spaces
Create an elegant but powerful space with black kitchen ideas, from marble islands to monochromatic schemes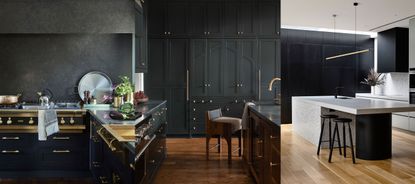 (Image credit: Officine Gullo / Heidi Caillier / Studio Tate )
Don't be afraid of shadows, because these black kitchen ideas will make that journey over to the dark side totally worth it.
If you're looking for kitchen ideas that dabble in both style-forward drama and calming poise, the undeniable chic of black is the perfect fit.
Black kitchen ideas
From stunning materials that will add depth to your space to the added extras that will make a dark kitchen dazzle, we found some stylish inspiration for your black kitchen, and asked the experts to explain why black should have a place on your list of top kitchen color ideas.
1. Make a luxurious statement with black marble
Carrara-style white and grey marble has been making its presence felt all over white kitchen ideas in recent years, but don't neglect its darker counterpart. Black marble can make a striking impact in a kitchen, whether it's through the white-flecked patterns of marquina, the gold lightning bolts of Noir Saint Laurent, or the luxurious crackle or Nero Portoro. In this example by Eggersmann Design, the stunning marble island acts as a dramatic centerpiece to an otherwise simple modern kitchen.
2. Layer up with black on black
If you can't get enough of the dark aesthetic, go all out with all black everything. 'A dark or black kitchen can work very well in monochromatic schemes,' says Gary Singer, Director of Eggersmann Design. 'By bringing in dark materials and layering the space with dark textures you can create a feeling of warmth and luxury.'
'Go bold and use black all over for a really sophisticated and luxurious look and feel,' adds Atkins. Remember however, to use varying tones of black like in this kitchen by Roundhouse, or even incorporate very dark grey kitchen ideas. 'Using a palette of different black materials and textures achieves a masterful lightness within the space and avoids the space looking too dark and heavy,' says Atkins.
3. Pack in a variety of finishes
To leave a twinkle in your eye, black kitchens need to be packed with visual interest. 'When working with a black kitchen, it's important to add different finishes and textures to make sure it doesn't look too one dimensional,' says Alex Main, Director of The Main Company, the team behind this Victorian-inspired kitchen.
'Glossy tiles, brushed metallics and matte cabinets all combine beautifully. Here, fluted glass and dark worktops also add to the overall look of the kitchen whilst the feature aged brass cabinet frontage adds a true wow-factor.'
Main may have dabbled in green kitchen ideas here, but it's also possible to pack texture into an all-black room. 'There is a huge choice of 'black' materials, from carbon oak veneer to gloss or satin lacquer, beautifully figured marbles and flamed granite to modern porcelains such as Kerlite, all of which can work beautifully together to create an all-black scheme,' says Atkins.
4. Illuminate black schemes with brass accents
'When choosing which black to use, it's important to look at how the pigments will pick up on accents and other finishes in the scheme' says Lauren Wright, a Designer at Roundhouse. 'Metallic finishes can work really well with deep rich colors, for example pairing brass accents with a green-black can evoke a warm rich scheme.'
Many of the experts we asked felt the same about bringing brass or other metals into a black scheme. 'Metal accents such as copper, brass, steel or pewter pair perfectly with dark work surfaces to give a kitchen a lavish and modern feel,' adds Stanley.
'Aged brass or brushed metallic accents will always work well against darker cabinetry,' says Main.
5. Combine with wood for natural style
If you're looking for a way to add some striking modernity to your wood kitchen cabinet ideas, consider pairing them with an array of black features.
'If metal accents don't suit your kitchen and you prefer natural finishes, black work surfaces look striking next to wooden cabinetry and accessories,' says Stanley. In this kitchen, Caesarstone's beautiful Black Tempal quartz is used for the backsplash and island, and paired with warm wooden cabinetry to add both contrast and another textural element to the kitchen.
6. Make the most of texture in black wood finishes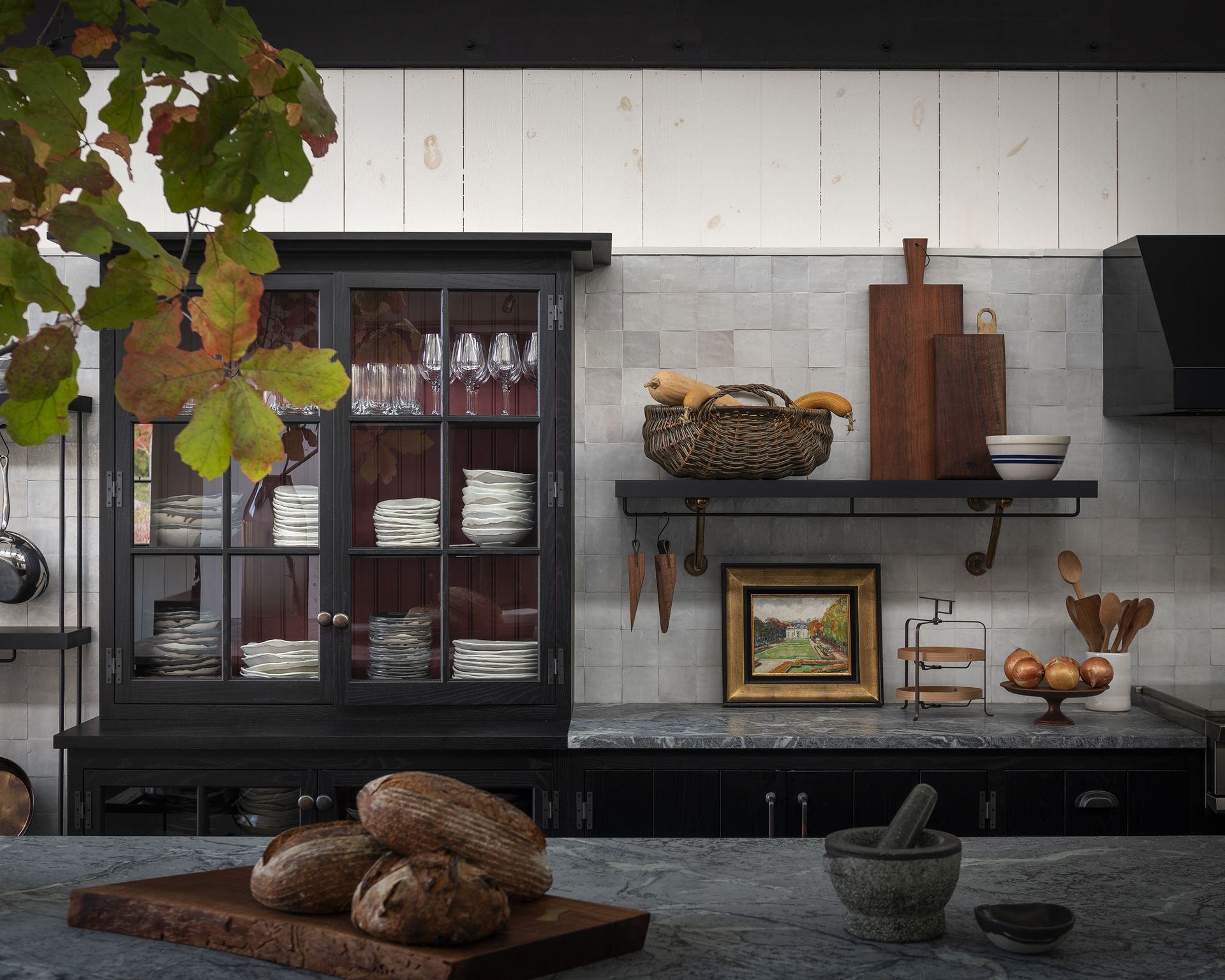 Wondering how much it costs to have kitchen cabinets painted? Stop right there and consider not painting them at all, and going for a more natural look.
'Instead of painting the cabinets, we had them stained a neutral black, which preserved the naturalness of the wood grain and texture,' says interior designer Richard Felix Ashman of this stunning kitchen in a converted Hudson Valley barn. 'We used solid ash, which accepts ebony stains beautifully. I suggest keeping sheens to a minimum on the paint or stain finish, for a natural feel, especially in a more rustic or traditional space.'
7. Go monochrome with a black and white kitchen
For a kitchen that juggles both contrast and balance, consider black and white kitchen ideas.
'Introduce dark accents with lighter shades such as white to create a monochrome color scheme,' recommends Atkins. 'For example, a black monolithic island can look really dramatic against an otherwise white kitchen, or a black main kitchen complemented by a white 'back' kitchen to demarcate different areas and usage.'
'I like black cabinets set against white walls and white tile for the clear, graphic quality,' says Felix Ashman. 'Even better is no upper cabinets, if one can forgo the storage.' This kitchen by Waterworks almost follows this strategy, but swaps black upper cabinets for white ones to keep the kitchen feeling open and bright around the eyeline.
8. Use black for an industrial chic look
'Dark kitchens create a unique atmosphere, and can be used to create an industrial and raw feel, as well as elegant and sleek sophisticated backdrops,' says Wright.
Charcoal blacks work really well for the former, creating a utilitarian aesthetic that can meld into industrial chic. Forgo painted kitchens for an exposed brick wall like in this example, where black units are paired with a black steel raised walkway in a double height space, as well as black metal pendant lights and a black barn-style door.
9. Combine black with dark colors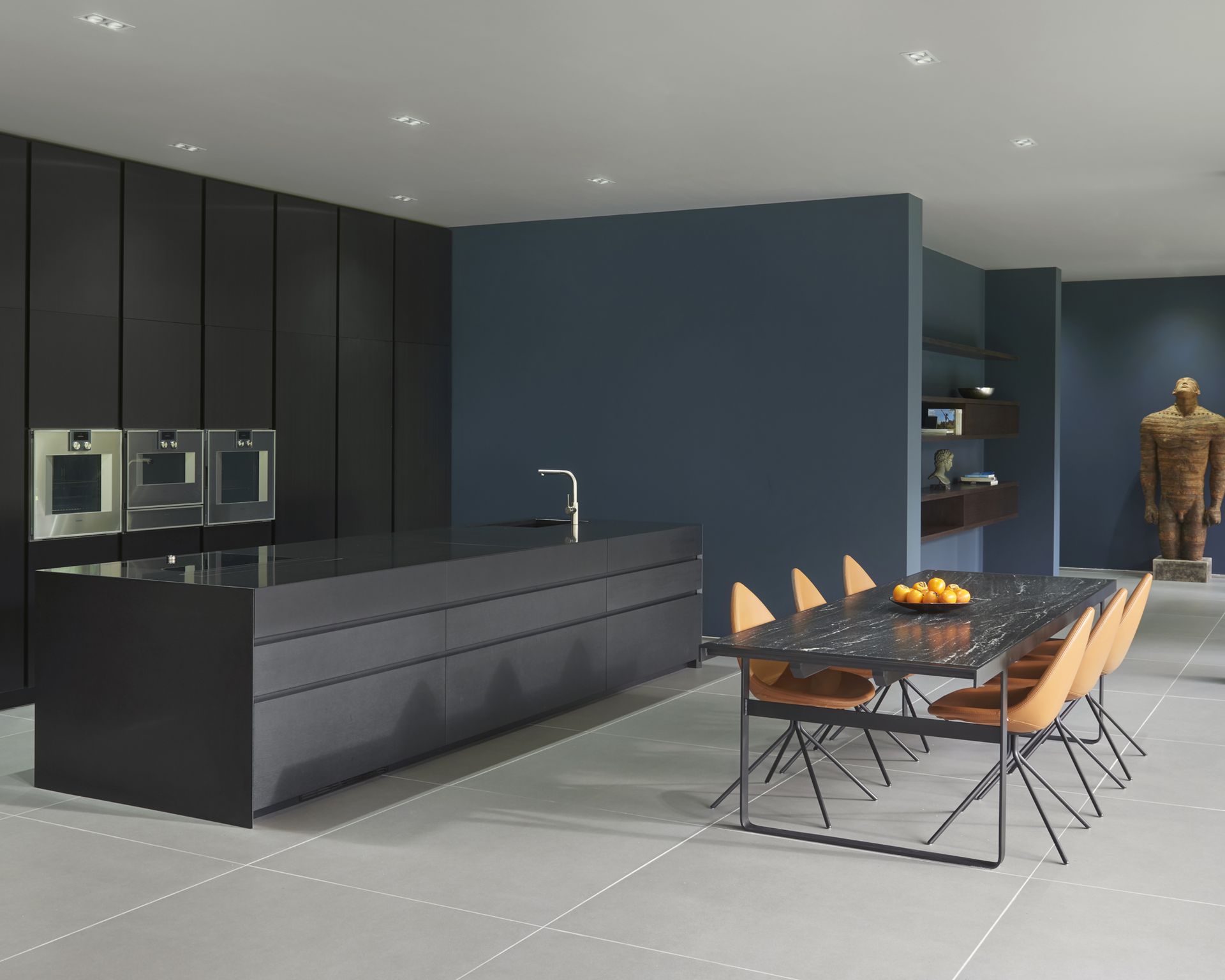 'As with art or photography, black can be used to emphasize other colors and finishes in the space, for instance colored bar stools or metallic lighting can pop,' says Wright. When pairing color with black in a kitchen keep it on the dark side.
'Black is a neutral shade and so can be used as the perfect backdrop to any color but deeper, darker accents work particularly well,' says Main.
'A neutral black coordinates with almost any color, but blue-black and green-black can be equally versatile, dependent on taste,' says Felix Ashman. This kitchen by DesignSpace London has done just that, pairing black cabinetry with blue kitchen ideas in the inky teal walls.
10. Finish the look with black appliances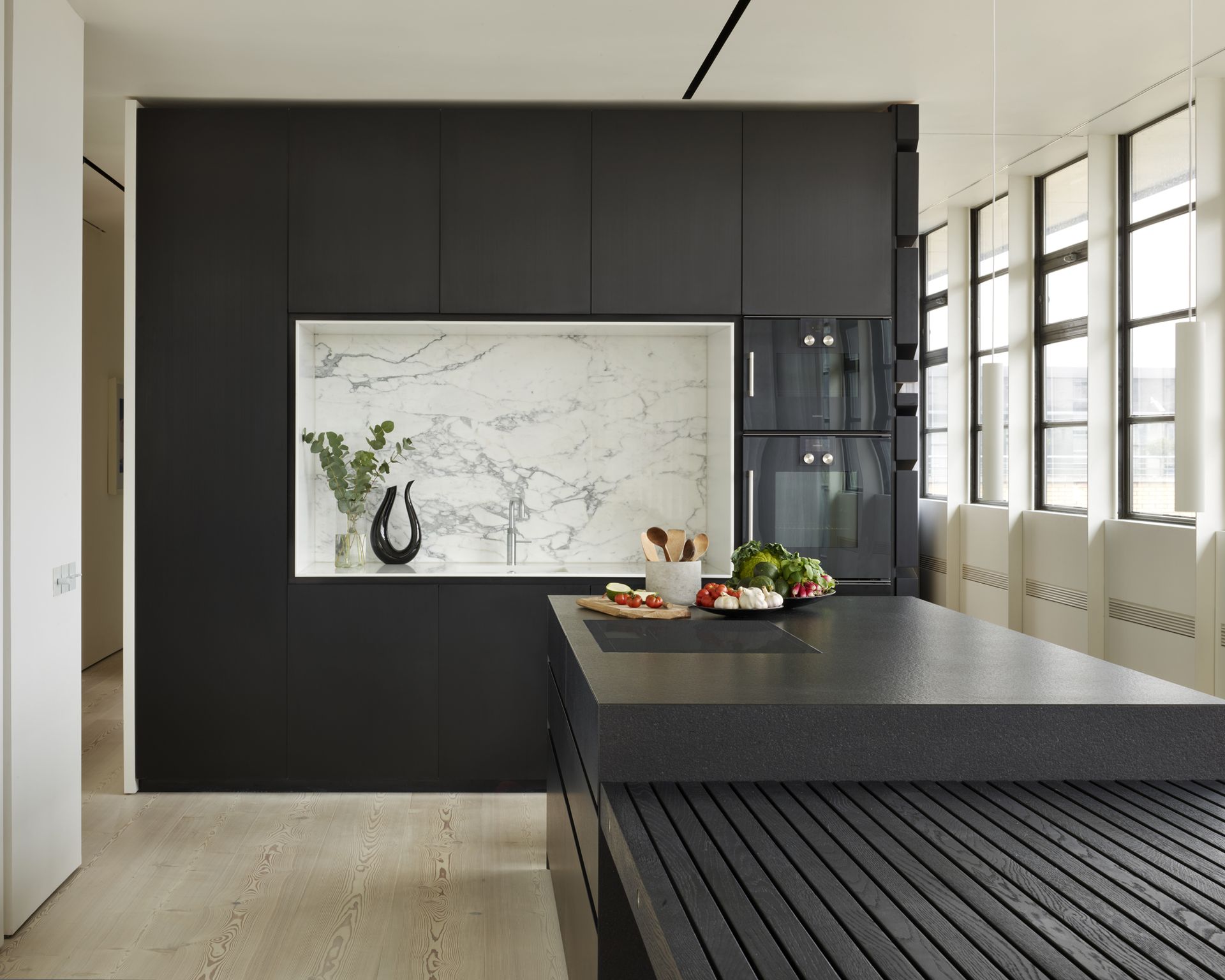 Your cabinets, worktops and paint aren't the only thing you'll need to think about colorwise in a kitchen. 'Many appliances are also available in black, creating a sleek seamless look,' says Atkins.
As one of the few colors regularly used for appliances, black kitchens are lucky to have color-coordinated gadgets to hand. Rather than putting them all behind neat cabinetry, feel free to show some of them off. In this kitchen by DesignSpace London, black glass-fronted cabinets create a pleasant texture contrast to the matte black cabinets.
11. Be bold with brass details
Sumptuous hotel interiors were the inspiration for this Officine Gullo kitchen. 'The units are painted a dark dramatic blue, which complements powder-blue walls,' says Viktor Skoglund of kitchen supplier Himlekok. 'The strong brass details accentuate the color of the cabinetry.'
12. Go back to black
This show-stopping kitchen has been masterminded by Melbourne-based interior architecture practice Studio Tate. 'To ensure a seamless flow between the external architecture and interiors, a reduced color palette of soft grey and black was chosen for the cabinetry,' says Alex Hopkins, Studio Tate. A cleverly-placed skylight stops the space from looking too dark or dreary
13. Add variations of black and grey
Finding the right dark kitchen cabinet ideas is vital to creating a kitchen that is both mesmerizing and intriguing.
With its moody colors and rich textures, this is a modern reinvigoration of classic Shaker-style cabinetry. The bespoke Roundhouse kitchen is finished in Farrow & Ball's Pitch Black, with statement brass handles and hinges to add a hint of elegance.
'The feature wall of polished plaster frames the wall cabinets, while the fluted glass adds interest and allows for the display of items,' says Paul Welburn, designer at Roundhouse.
14.Go for drama
This scheme by interior designer Heidi Caillier goes big on drama with units in Farrow & Ball's Studio Green, which appears almost black but has a magical depth to it. 'The kitchen is to the side of a huge, light room so I knew we needed to make it feel cozy. More interesting than classic white, dark surfaces were a way to make the kitchen feel like its own space.
Is a black kitchen a good idea?
Absolutely. There are a plethora of positive design qualities that black kitchens can bring, from drama to an unexpected sense of serenity. 'I feel that black, when used in interiors and architecture has the quality of feeling settled and calm, yet strong,' says Felix Ashman.
'Black is the ideal canvas and starting point,' adds Main. 'You really can make a black kitchen your own. It can be both modern and traditional, depending on how you finish your scheme and design the rest of the space.'
'The dramatic yet warm feel a dark work surface gives is, perhaps, why there is a growing trend for kitchens to feature this sleek look,' says Stanley.
What color goes with black in a kitchen?
'Black is a neutral color and will go with almost anything, you just have to plan your space out well and make sure everything comes together as you want it to,' says Main.
This decision is really down to personal preference, as black is never going to clash with any color you choose. What you'll need to consider is the kind of atmosphere you want to create. Black and white is a timeless combination that is not only chic, but great for smaller kitchens where you may want to ensure the space feels light and airy. Playing with a palette of darker tones will always be easiest, so think about dark blues and greens. That being said, wood also works really well in a variety of forms, from dark mahoganies to lighter oaks.
Sign up to the Homes & Gardens newsletter
Decor Ideas. Project Inspiration. Expert Advice. Delivered to your inbox.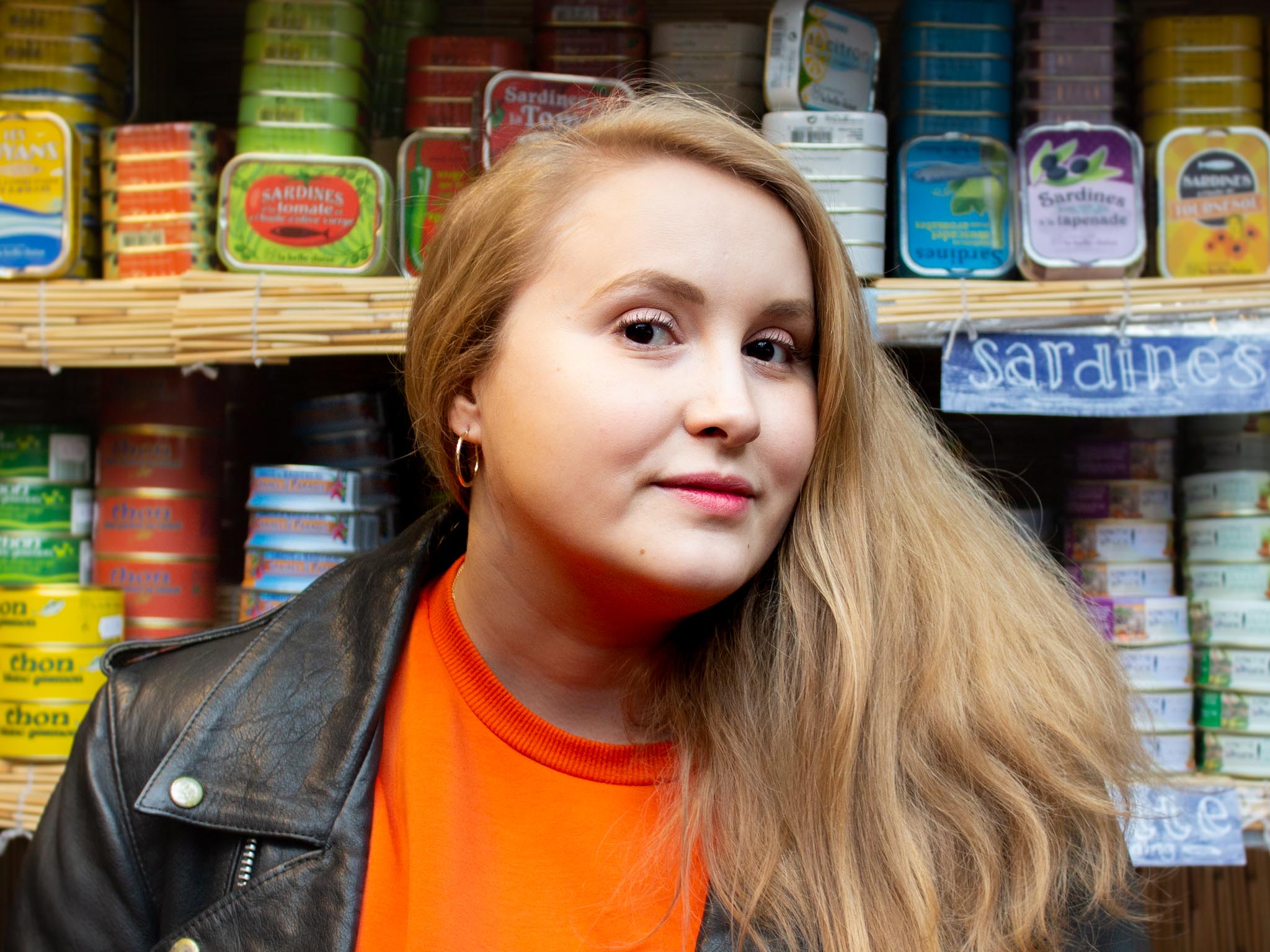 Ailis started out at British GQ, where a month of work experience turned into 18 months of working on all sorts of projects, writing about everything from motorsport to interiors, and helping to put together the GQ Food & Drink Awards. She then spent three years at the London Evening Standard, covering restaurants and bars. After a period of freelancing, writing about food, drink and homes for publications including Conde Nast Traveller, Luxury London and Departures, she started at Homes & Gardens as a Digital Writer, allowing her to fully indulge her love of good interior design. She is now a fully fledged food PR but still writes for Homes & Gardens as a contributing editor.