Kitchen color ideas – 25 of the best color schemes for your kitchen
Get creative in the kitchen with this season's hottest kitchen color ideas. These color schemes will give your kitchen a bold new look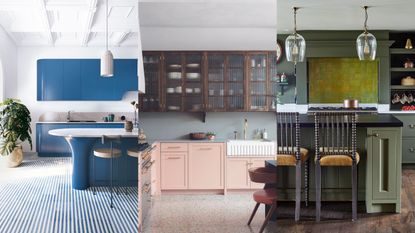 (Image credit: Future)
Sign up to the Homes & Gardens newsletter
Decor Ideas. Project Inspiration. Expert Advice. Delivered to your inbox.
Thank you for signing up to Homes & Gardens. You will receive a verification email shortly.
There was a problem. Please refresh the page and try again.
Finding the right kitchen color ideas that you will love for years to come has never been more important, with the kitchen now a multi-purpose room designed as much for living as it is for cooking.
Neutrals aren't for everyone, and the sizeable cost of a new kitchen shouldn't dictate that you play it safe. It's more a case of choosing how and where to introduce color, picking spots that can be easily updated, and introducing shades that mirror the color palette in the rest of your home – these are just a few kitchen ideas to choose from.
'It's amazing how a change of paint color or some new tiles can give a colorful kitchen or painted kitchen a completely fresh look, picking up on different accents within the home,' adds Rob Whitaker, creative director at Fired Earth.
Kitchens are rife with color opportunities, from appliances and flooring, to window treatments and cabinets. Start by deciding how much of permanent commitment you are willing to make to room color ideas. One of easiest and least expensive options is to paint a wall that can be easily updated should you tire of it.
Kitchen color ideas
For a classic, timeless kitchen idea, we sometimes err on the side of safety and choose a completely neutral scheme, forgetting that a little lift of color can cheer up a room immensely. Painted finishes work well for timeless schemes, and of course, can be updated at a later stage if you're confident enough with a paintbrush.
Our curated collection of the best kitchen color ideas and painted schemes will inspire you to give your kitchen a bold new look.
1. Go for a classic blue and white color combination
Blue kitchen ideas are a tried-and-tested color pairing that works beautiful in both country and modern kitchens.
Blue room ideas are perfectly suited to kitchens. It may be bold but this deep blue tone is timeless and simple to use. This shade sits happily with other hues of the color for a harmonious, layered look and is beautifully offset with pale tones and warm neutrals, as well as stark white or black.
Think about incorporating rough, touch finishes, too. Schemes with intense, solid color demand texture, like raw wood, battered metal, distressed paintwork and linen to introduce a laid-back element.
2. Go for green-on-green
Inspired by the natural world, green kitchen ideas are restful with a touch of heritage. Strong yet soothing, it brings an enveloping feel but can also sit quietly and allow bold kitchen furniture to shine.
'Mixing different shades of olive green works surprisingly well,' says Charu Gandhi, founder and director, Elicyon. 'I personally love painting a combination of wall and woodwork in olive green, or using a green tiled backsplash in a kitchen.'
3. Warm up with brown
Decorating with brown is no longer the detested color it once was. While rich caramel hues definitely belong to the neutral color family, they are anything but plain – there is a luxuriousness to them that is at once refined but also bold.
'We feel this tone is perfect for domestic spaces, such as kitchens and pantries, where you don't want the color to be a protagonist,' says Bruce Hodgson, founder, Artichoke. 'A client chose it for a recent project and it works really well in rooms that don't benefit from lots of natural light, as it manages to be warm and welcoming without overpowering.'
In this brown room, a warm tan, saturated with caramel tones, this hue manages to be neither too bright nor too overpowering.
4. Weave in earthy tones
Earthy tones are a top trend for this year, so incorporate rich and warming brown tones and clay shades into your kitchen color ideas and painted kitchen ideas.
This kitchen balances these paler earthy cabinet and pale worktops for a light touch. Your chosen kitchen countertop ideas are an integral part of your kitchen color scheme, even if you've chosen white.
In fact, white is a fabulous choice if the rest of your scheme is colorful, as it will create balance and order. In this scheme, designed by London-based Samantha Todhunter, the white seamlessly flows up the walls.
'In this kitchen, the joinery is painted in Farrow & Ball's Setting Plaster which is a favourite shade of mine, as it's pink without being pink. Painting units creates a great feature that sits against a canvas of clean white walls and countertop, finished with bold artwork that adds color in a confident yet cohesive way to create an easy sophistication.'
5. Don't hold back with black
'Dark colors and black kitchen ideas are becoming more mainstream in modern kitchens and, at Crown, we find that this adds drama, strength and solidity to the space. A versatile look, it also can portray an edginess in your interiors,' says color consultant Judy Smith at Crown.
She adds: 'Black also has the ability to put a contemporary spin on even the most traditional looking space or furniture.
'If you incorporate black into your kitchen scheme in a subtle way, such as painted cabinetry, it will give the scheme definition and add depth to the room without having to completely change the space.
'Black is a classic tone that can be easily brought into an interior scheme and used alongside existing pieces already inside the home.'
6. Go bold with yellow
'Known as the "heart of the home", the kitchen is the space in our homes where many of us tend to spend most of our time. It's a place to cook, snack, and perch as we mindlessly scroll on our phones and socialise.
'It's also one of the main rooms where the design and style can affect your property's value. Therefore we often suggest opting for colors that offer a more playful and punchy tone for the kitchen to bring about energy,' says home interior expert Natasha Bradley from Lick.
'Yellow affects our emotions and is a great choice for kitchens, particularly if there is a lack of natural light. It's bright and cheerful and brings positivity to the heart of the home.'
These vibrant kitchen cabinet ideas guarantee to give an instant pick-me-up every time a person walks into the room. Alternatively, opt for two-tone kitchen ideas for double the design impact.
7. Make your island pop
Natasha adds, 'Another recommendation which works extremely well if you've got an island is to change the color.'
This could either be with a totally different color, or by going for a brighter or darker version of a shade that's been used in the rest of the room. This is just one of many kitchen island ideas you can play about with.
The beauty of this trick is that it injects color but still gives you a light and breezy feel.
Painting your island, like Cali based interior designer Kate Lester has here, will work like an accent color does – you're just using it on a larger item. You can then link that color through into your accessories, like tableware, casserole dishes, lighting and rugs. To complete the Cali look, add in some rattan and natural wood.
8. Opt for a calming gray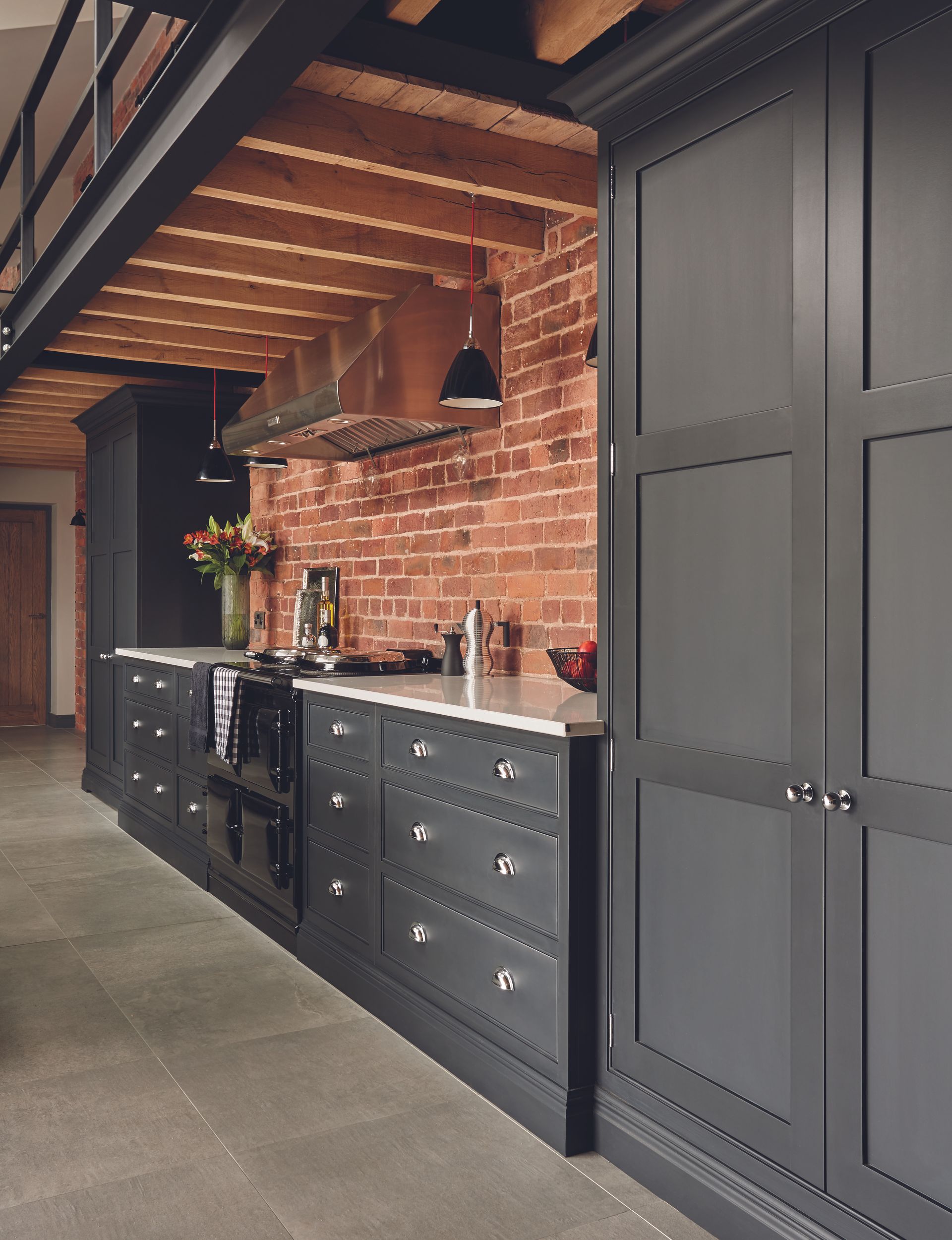 'When it comes to gray in the kitchen, it's a classic color, very timeless and safe. We often feel very secure in gray because it doesn't ask anything from us. If you are quite a hectic person, and you want your kitchen to blend into the background and be very elegant and subtle, it's a lovely option,' says Natasha from Lick.
She explains that one brand's most popular greys is Grey 07 – the darkest one – and the green undertone works very well with white walls.
This Tom Howley kitchen shows how this often cold color coupled with terracotta can create a space that feels warm and welcoming – a boost for anyone looking for gray kitchen ideas for a north-facing space.
'It's important that, when it comes to making a bold design choice, it fits within your home and with your tastes,' says Tom Howley, design director at Tom Howley.
'Rather than persuade the client to step away from a more traditional paint color to follow a trend, often we will speak with the client and find out their requirements and their likes. Once a decision has been made about stepping away from a more neutral color palette, it's all about deciding how much of a statement the client wants to make.
'Neutral color palettes in the kitchen will never disappear. Clients can look to add color and personality to their spaces through styling, accessorizing and even kitchen flooring.
'But for those clients that want to add a stronger injection of color, black, gray and blue kitchen ideas still remain very popular and can be contrasted with light color work surfaces and flooring.'
9. Color block horizontally
Color blocking is the pairing of two or three different colors to give a totally unique look, and is a great way to give a contemporary edge to more traditional rooms.
The blocking effect gives this cottage kitchen a modern twist, with blue and cream kitchen ideas paired to perfection.
10. Keep it classic with white
Natasha, from Lick, says: 'Classic for a reason, white paint is known for its light-reflecting properties, making your walls "recede" and opening up small spaces.
'Our top picks include the creamy White 03 - a soft white with yellow undertones that can open up your kitchen while keeping those warm, cozy vibes. If you want the ultimate in light reflection, White 01 is a brilliant white but with gray undertones that can boost the energy levels of any small kitchen ideas.
'White creates a feeling of calmness. When used in a kitchen, it can make the space feel clean, sophisticated, and elegant.' There's so much scope when it comes to white kitchen ideas, with endless options to choose from.
11. Add colorful splashes to neutrals
Judy adds: 'We often choose to keep kitchen units and appliances to tones of white and gray, with materials for floors and worktops like stainless steel, polished concrete and wood, because these are expensive items that we don't want to have to replace very often – yet they form a great neutral basis to which we can add personal touches.
'They are the perfect base for vibrant color that will add personality and style, yet which can be inexpensively changed and updated in the future.
'Really bright colors work well – shocking pink, orange, electric blue – and these can be painted on to cupboards if you prepare them first by sanding down and using a primer, behind a clear perspex backsplash, or as whole walls of color.'
This kitchen does exactly that, with a vibrant mismatched backsplash and pink pastel kitchen cabinet color, along with eye-catching accessories.
12. Black too stark? Try navy
Blue kitchens are perennially fashionable, and darker shades can give a dramatic edge. If you want to strike a balance, team it with a lighter worktop and a light wood floor to add a bit more brightness.
13. Have one statement wall
If you want to start experimenting with bold colors, a good way to do it is through a statement wall. This will give a splash of excitement, but won't overwhelm the entire room.
This modern kitchen idea keeps contemporary cabinets white, letting the feature wall speak for itself.
14. Join the dark side
Practicality and beauty go hand in hand in this kitchen from Neptune, whose colors and mood are evocative of old Dutch paintings.
Simple kitchen shelving ideas and a freestanding dresser, rather than wall-hung cabinets, offset the rich chocolate palette for an open, relaxed feel.
The dark walls work to absorb imperfections and even out textures, but there are still some tactile elements. Brooding, dark colors often work best when used dramatically and uncompromisingly. Painted kitchens with a rich brown-black on both walls and cabinetry create a bold statement that feels as historic as it does chic.
15. Go for green in your kitchen
Green is very much the color of the moment, and we predict that it isn't going anywhere anytime soon.
In this kitchen by Little Greene, Aquamarine is used on the island and lower half of the wall, then the color is taken up a notch on the door frame and island trim, then down again for the upper wall, resulting in a harmonious effect.
When it comes to green kitchen ideas, look for paler, cool shades like this for sunny rooms that get plenty of natural daylight; north-facing rooms or those with poor daylight will benefit from warmer tones.
16. Add color with tiles
Handmade and artisan kitchen tile ideas will bring a unique mix of color, pattern and texture to any kitchen scheme, adding instant character to walls and floors.
There's something about tiles – their tactile quality, the potential for adding color, pattern and personality – that few other surfaces can match. Decorative tiles fell out of favor for a while, but they are most definitely back and with a huge choice of forms and finishes.
Here, a selection of glazed tiles in an Azure blue sit prettily in an alcove space. They make an interesting foil to neutral colors and seamless finishes, enlivening your kitchen and making it feel totally yours.
17. Paint in a pink palette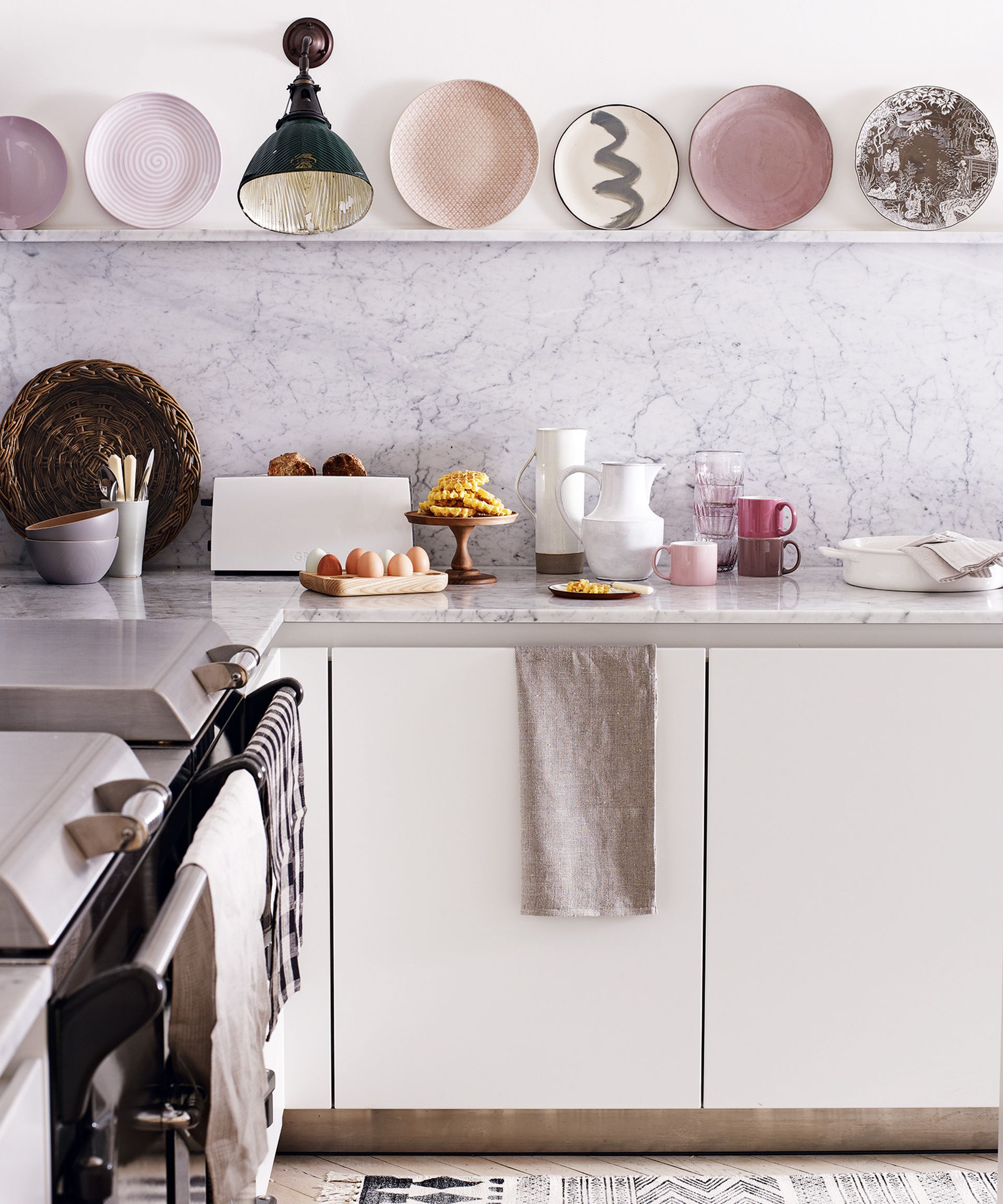 This muted color combination has given pink a whole new identity. No longer super-girly, the murkier tones of blush pink teamed with industrial gray have a stronger, gender-neutral appeal.
A slim shelf is ideal for displaying pretty plates above a worktop. Here, shades of dusky pink and mole tone beautifully with the pale gray marble surface below.
18. Decorate with a sea of blue
Making a color part of the scheme rather than the focus of it offers a more contemporary feel.
This kitchen backsplash idea looks every bit like it's been created using hand-made tiles but is actually a wallpaper, while subtle hints of ice blue and punchy red balance the look.
19. Create contrast with color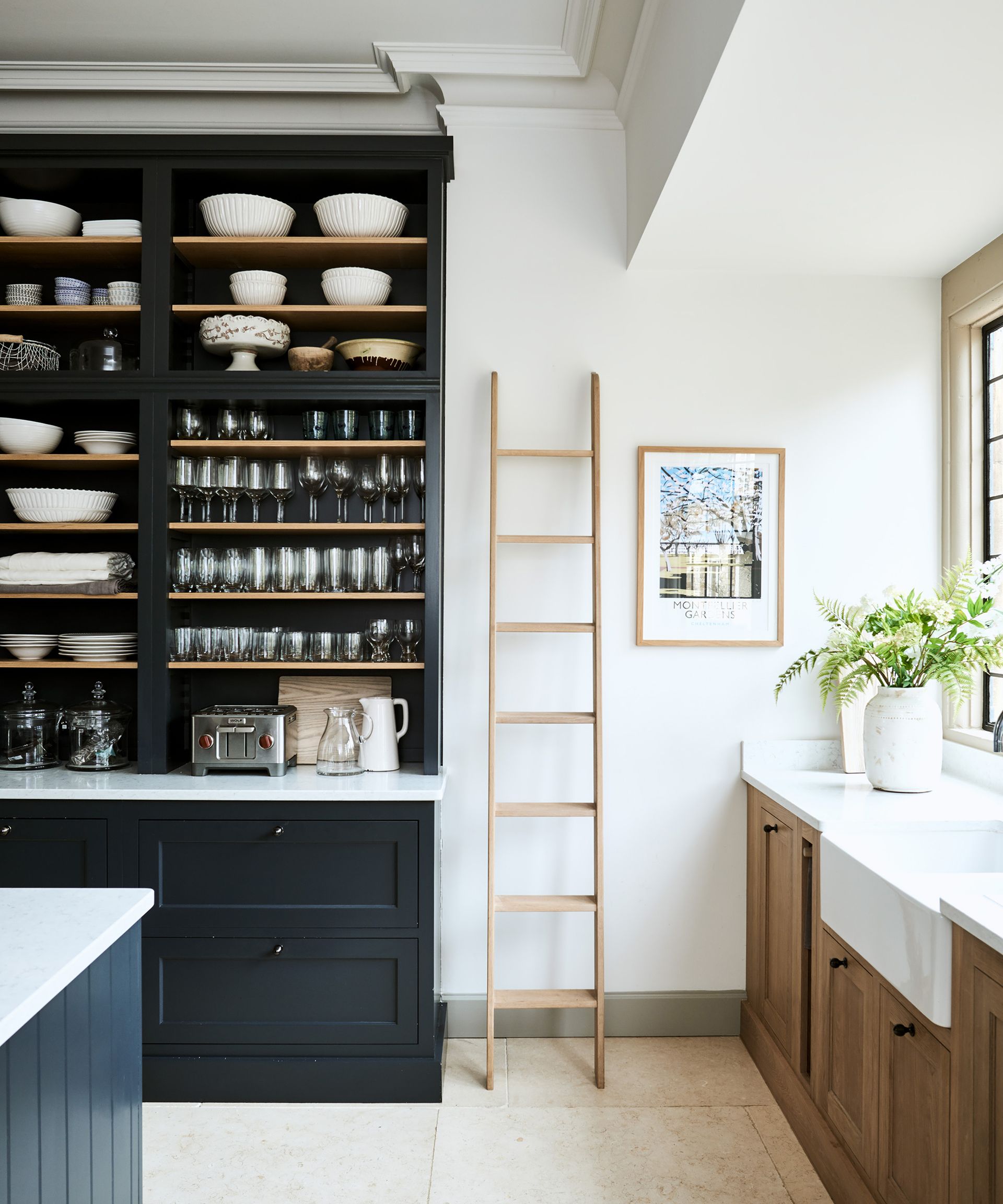 Contrasting black or deep gray with white is the most effective way to create impact in a predominantly white kitchen, but the key is to vary the proportions.
A 50/50 black and white kitchen split could feel cold; instead, pair dark cabinets with marble and another vital ingredient: texture. Grain-rich timber doors and accessories will break up the space beautifully, as shown in this Henley kitchen by Neptune.
20. Be brave with a daring color scheme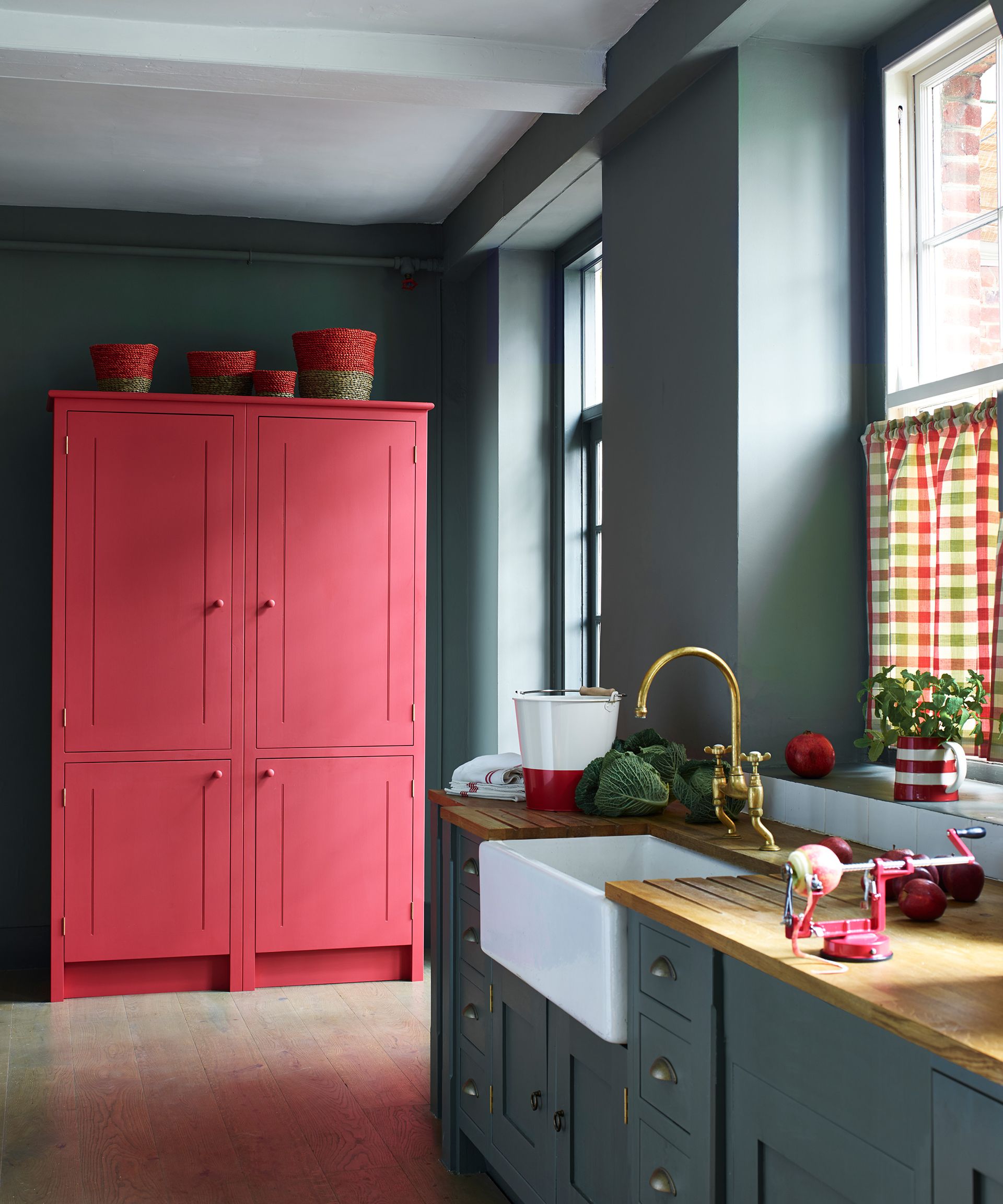 A bold red kitchen idea is often considered a daring choice for interiors, but used creatively it can introduce a welcome burst of energy and excitement.
A poppy-red kitchen cupboard is ideal for lifting a dark green-gray scheme, while accessories sporting the same shade create a sense of cohesion.
If you're looking for ideas for how to choose a kitchen color scheme that uses bold shades subtly, this is a great option.
21. Be cocooned in an emerald green kitchen
Green is having something of a resurgence in the kitchen design space. 'Shades of green are an increasingly popular choice for kitchens,' says Helen Shaw, Benjamin Moore's UK Director. 'At the center point of the color wheel, green can adapt to both cool and warm schemes, working to tie varying hues together.'
'The brief for this kitchen was to bring the greens of the garden indoors,' says designer Hubert Zandberg. The glazed kitchen wall tiles set off the industrial notes, and natural wood provides a richly textured look.
A well-lit room with clever kitchen lighting ideas will also help the color scheme stand out – take inspiration from the vintage-style pendant lights in this space.
22. Introduce shimmer and shine
With its warm, burnished lustre, brass is once again in the ascendant, lending a polished edge to interiors.
A dark background is ideal for showing off the gleaming beauty of brass. Here, it forms a counterpoint to a statement mirror-like panel that adds a glamorous note to a modern kitchen island.
23. Use toning colors to create a cohesive scheme
This kitchen has base cabinetry in a dark blue, but the use of a toning color on the walls – here a bright turquoise – creates a much bolder finish.
This is a clever technique, choosing painted kitchen cabinets that are easy to redecorate around, timelessly fashionable and easy to sell to future buyers, but adding pep with a wall color that can be quickly and easily changed when the scheme needs a switch up.
24. Be bold with a toned down red
Red kitchens are back in fashion – but they're far from brassy. Instead, toned down reds that edge towards terracotta or deep reds such as cherry are having a moment.
That doesn't mean that lipstick red can't be on your list – but this bold shade works best for flat-fronted, contemporary kitchens, while the earthier and berry shades are more suited to traditional spaces.
25. Go for a pure white scheme
White kitchen ideas are still the biggest selling 'color' in the kitchen market place, and there's no denying that choosing white cabinets does make it considerably easier to adapt and tweak color schemes at a later date. Avoid the 'clinical' look by making sure that there are some elements of natural materials in the room – perhaps wooden flooring, or a timber table top and chairs.
What are good colors for the kitchen?
Of course everyone has their own personal style , but what are the most popular kitchen color ideas?
'A trend that is growing in popularity is warm shades of grays,' explains Jamee Kong, head of design at DesignSpace London. 'Unlike some of the sharper colors, gray tones work well in both matt and gloss finishes and are very versatile. For example, matt warm gray tones could create a distressed look by bringing rustic charm to a design.'
Color is a powerful design tool – not only can it completely alter the mood of a kitchen, how much or how little you add will affect which parts of the room you're drawn towards. 'The rule of thumb is to use color sparingly and in clearly defined areas,' says Gordon Boyd, area sales manager for Nolte Küchen.
'Colors should serve a purpose rather than be used at random. Go for a basic color and then use another to accent certain areas. Alternatively, try corresponding pairs, such as shades of green or blue, or play with natural tones and add a more vibrant color to certain elements, for example a shelf, a sideboard or a bench.'
The shades you choose are just as important as how you use them. While it can be tempting to opt for your favorites, it's advisable to restrict strong colors to elements that are easy to update, such as installing a backsplash, and opting for those that have greater longevity across large areas.
Whether your kitchen design is starting from a preferred shade, taking its lead from an heirloom piece of furniture or statement appliance, or simply a color that echoes the style of your home, selecting a second or third tone can alter the look drastically.
'Choosing two colors that work well together means either choosing complementary colors – colors next to each other on a colour wheel – or choosing contrasting colors from opposite sides of the color wheel,' reveals David Mottershead, MD at Little Greene. 'Contrasting colors will be energizing, while complementary colors create a calm space.'
How do I choose a color scheme for my kitchen?
Choosing color is such a personal experience – in fact no one knows for sure whether we all even see the myriad shades in the same way. Mark Wilkinson, Founder of Mark Wilkinson Furniture, believed that the colors we choose automatically are naturally influenced by current fashions.
'The color in a kitchen – be it on walls or fittings – should last for at least five years, minimum, so try to look beyond immediate trends and choose a color that will keep you feeling good long term,' Mark advised.
The real secret of using color well is to use it carefully. While trends help to inspire, it's best not to follow them too slavishly. Take time to think about how color might affect the mood of your room, for instance, warm 'advancing' colors, such as reds and yellows tend to be energising and stimulating, while cooler colors that 'recede' including blues and greens will feel more calming and soothing.
Kitchens are rife with color opportunities, from appliances and flooring, to window treatments and cabinets.
Start by deciding how much of a permanent commitment you are willing to make. One of easiest and least expensive options is to paint a wall that can be easily updated should you tire of it.
A more permanent option is to opt for striking worktops. Solid surfaces such as Corian and Silestone are available in a wide palette. Glass backsplashes are another popular option, and can be supplied custom back painted in virtually any shade.
What colors make a kitchen look bigger?
While light colors are generally recommended for compact kitchens, remember that a small space also has less opportunity to express its personality, so introduce a pop of color where you can, or try pretty pastels. They can prove a great compromise between bright primary colors and boring neutrals. Dusty oyster pinks and pale yellows are currently in vogue and will lift the spirits in a sun-filled kitchen.
Hi-gloss finishes will also help to bounce the light around, helping to create a sense of openness. They'll need to be regularly wiped though to clear off finger marks so might not be best suited for family schemes. Matt finishes are popular right now, as are more textured ceramic-look doors. These will lend a little softness to the color and, best of all, require less cleaning.
Avoid cool colors in north facing kitchens as they tend to be too chilly for comfort. If your kitchen lacks natural daylight, consider going with the gloom by choosing dramatically dark colors. Jewel tones like deep emerald and rich garnet are on-trend and will lend character in the style of a private members club.
What are modern kitchen colors?
In the past, there may have been an all or nothing approach to color in the kitchen – remember shades of lime green and orange being so popular in the 1970s? The new palette is a little more restrained and considered, with pale blues, shades of grey and darker, inky shades proving popular.
'Hybrid greys – where the grey is mixed with another color – are on trend for 2022. For example, brown-grey or taupe will maintain grey's modern look but bring warmth to a scheme,' explains Kiran Noonan, Marketing Director at John Lewis of Hungerford.
Adding an accent color is as popular as ever and here, yellow comes into its own, particularly in play with darker shades of grey.
'The rule of thumb is to use color sparingly and in clearly defined areas,' says Gordon Boyd of Nolte Küchen. 'Go for a basic color then use an accent shade to highlight certain areas. Alternatively, try corresponding pairs, such as shades of green or blue, or play with natural tones and add a more vibrant splash to certain elements, for example a shelf, sideboard or bench.'
Painting your walls and also cabinets is an easy and modern way to transform a room, and when you inevitably get bored with your chosen color in years to come, it is an easy refresh job.
Gathering together paint cards is a good place to start and, as many cards and brochures now feature 'complementary' shades, they'll also help you to find accent and toning colors, too.
If you're planning to refresh an existing scheme or don't want to commit with your cabinetry then accessories are an effective way to add a pop of color. Pick an accent shade and then visit the high street, speak to an interior designer or go online to look for fabrics, china, glassware and small appliances in your chosen shade. A feature wall in the same color will help to bring the whole look together.
Sign up to the Homes & Gardens newsletter
Decor Ideas. Project Inspiration. Expert Advice. Delivered to your inbox.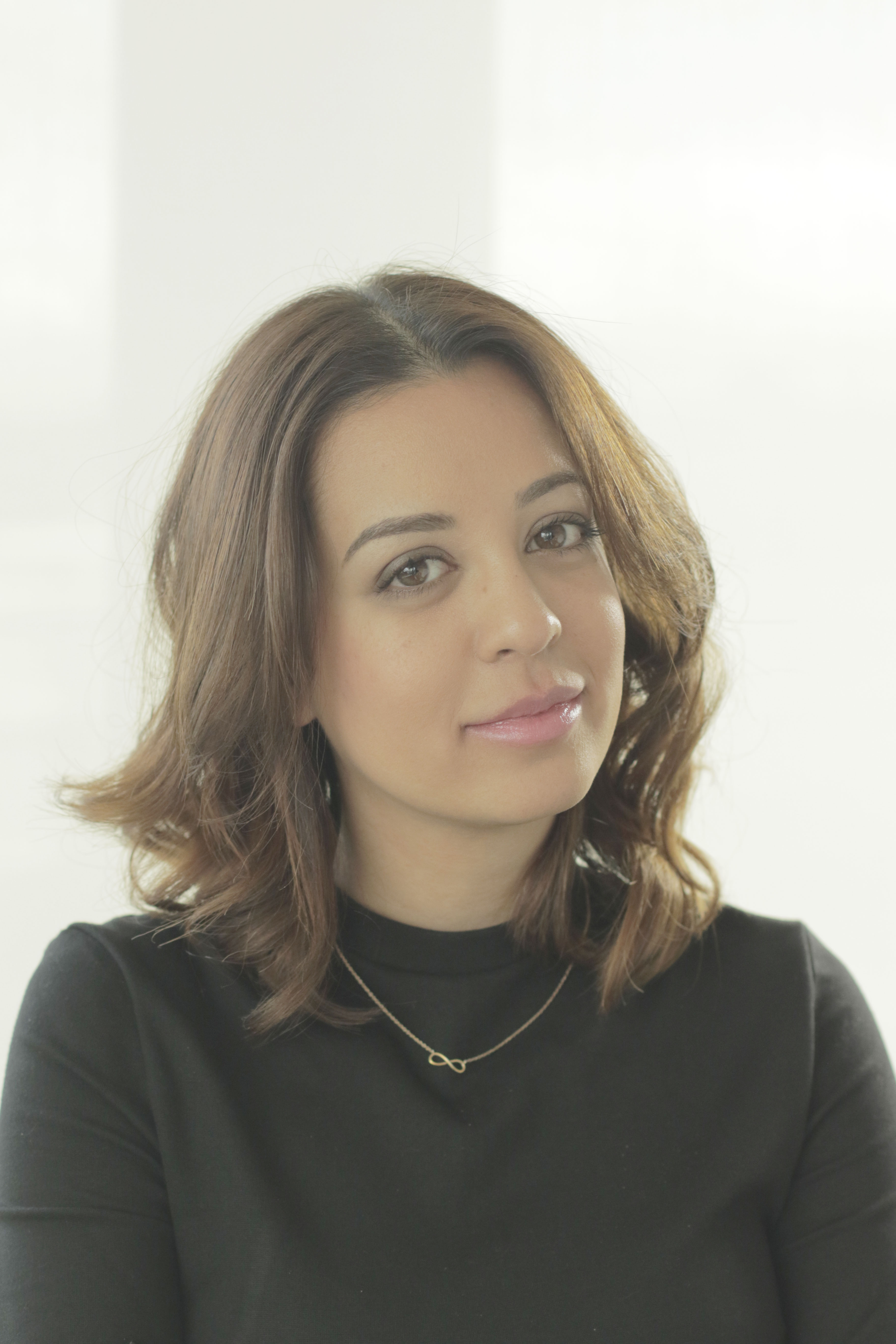 Jennifer is the Digital Editor at Homes & Gardens. Having worked in the interiors industry for a number of years, spanning many publications, she now hones her digital prowess on the 'best interiors website' in the world. Multi-skilled, Jennifer has worked in PR and marketing, and the occasional dabble in the social media, commercial and e-commerce space. Over the years, she has written about every area of the home, from compiling design houses from some of the best interior designers in the world to sourcing celebrity homes, reviewing appliances and even the odd news story or two.