Blue room ideas – 27 timeless and fresh ways to use blue at home
This timeless color is cool and calm and works well in both classical and contemporary schemes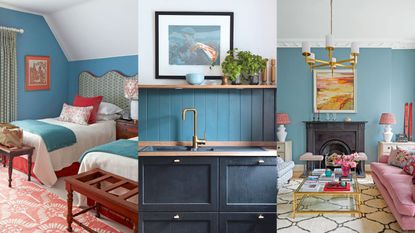 (Image credit: Future)
Blue room ideas – from sky blue through ocean blue and on to cobalt – bring serenity and tranquillity to any space because they are on the cooler end of the spectrum.
Because cool tones aren't overpowering – in fact, decorating with blue will often make a room feel like it is receding – room color ideas in these shades often help a small room appear to have more space, which can make them a great choice also for bathrooms and narrow hallways.
Jane Rockett, co-founder of Rockett St George, says of blue room ideas, 'Cool blues and deep navy tones promote calmness and are the perfect choice for your living room, bedroom or guest room – typically spaces that you go to for escape and respite.'
'Don't be frightened of using the color on a carpet, rug or runner; color lifts the spirit from the floor up, which is a room's main canvas,' says Lorna Haigh of Alternative Flooring. 'Work with on-trend gentler blues: duck egg blue is always popular, although we are seeing more teals being used with secondary popping colors.'
Blue room ideas
Whether you're looking for blue room ideas that are predominantly blue or just want to have touches of blue in accessorizing, you'll find ways for decorating with blue that suit here. Named one of the best colors to make a room feel happy by paint experts, blue tones are ideal for setting a welcoming, relaxing mood.
We have included blue ideas for quick remodels and inspiration for spaces that are being entirely renovated and, using the color wheel, show you how to use complementing and contrasting blue room ideas.
1. Create calm in a bedroom
Pale blue makes for a calming backdrop for a bedroom which can be instantly warmed up with reds, oranges, pinks and yellows. 'We are very careful when picking blues for a room that doesn't get too much natural light to make sure that the undertones are not too grey,' says Liv Wallers and Cath Beckett, co-founders of Yellow London.
Another way to ensure there's warmth is by introducing a pattern, adds interior designer Rosanna Bossom. 'I'd steer clear of geometric patterns for blue bedrooms and add some brown furniture. Brand-new shiny furniture can make a bedroom feel stark.'
In this scheme by Yellow London, Blue's Blue by Paint & Paper Library is tamed by pairing it with a pale aqua fabric while deep coral brings balance.
2. Add energy and vibrance with color
Greens and greys are classic combinations, agrees Dominic Myland, owner of paint company Mylands, but contrasting pinks and reds are increasing in popularity for a layered look. 'Bolder shades work well when used as an accent color, such as a wardrobe interior, woodwork or a favorite piece of furniture, while pale or deep blues can be used almost as a neutral, quietly anchoring a room with color.'
Cobalt with zesty green will bring vibrancy and energy as shown here with Proper Blue on walls and Sorrel Green on woodwork, by Mylands.
3. Go for a color clash
I don't think there are any hard and fast rules about blue, says Samantha Todhunter, founder of Samantha Todhunter Design. 'Some feel it has a froideur about it. I disagree, it is about the colours you work in with it that will make the difference. Working with shades of blue is endlessly interesting and playing with tones and textures can change it from a vibrant jewel box to subtle and serene.'
Here, Samantha Todhunter used a turquoise blue silk, which works well with the slightly tonal clash of the green stair carpet and teal blue upholstery.
4. Go for a classic blue and white bathroom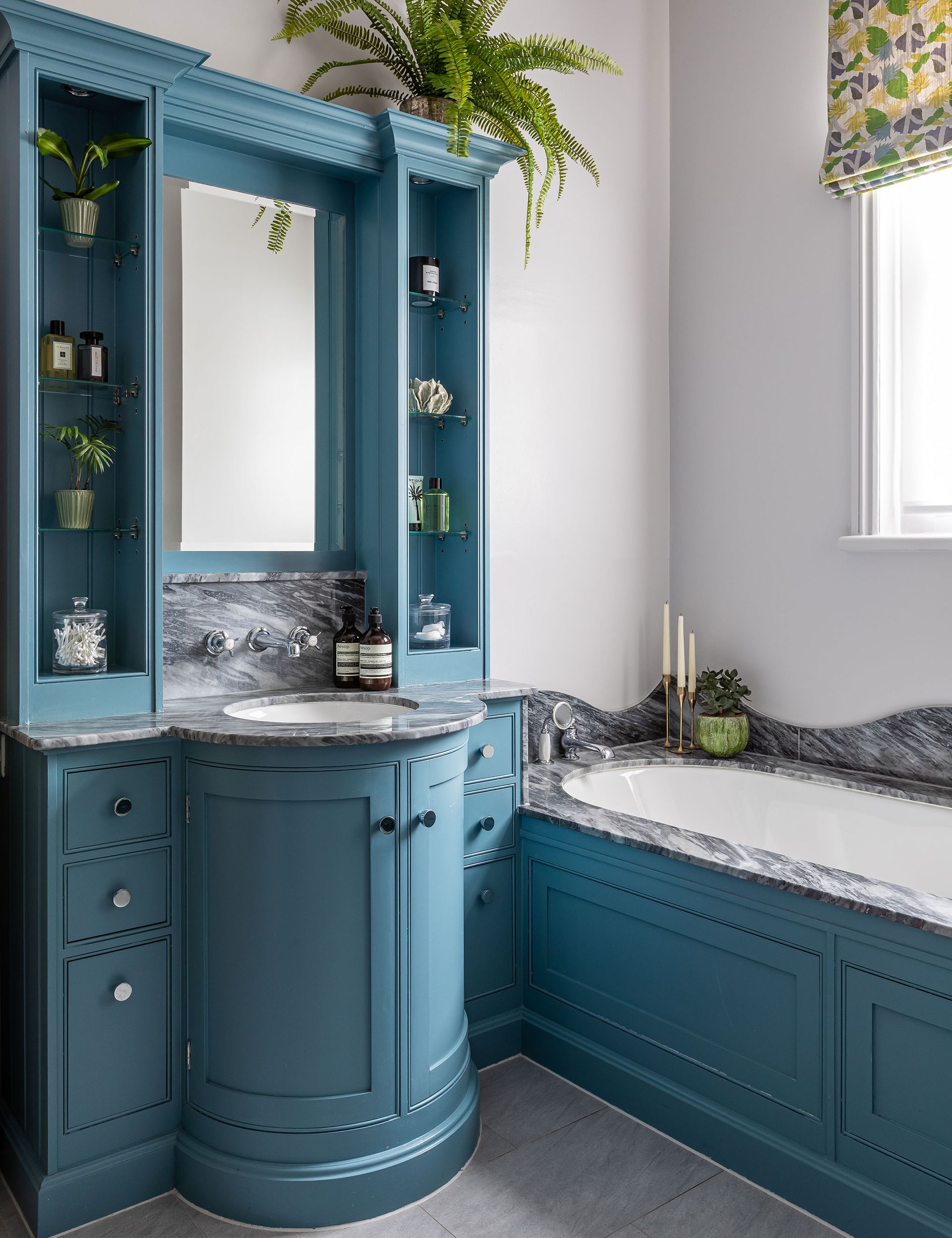 Decorating with blue and white is a tried-and-tested color combination that often works to perfection every time. However, when using blue as the predominant hue in a bathroom scheme, it can require warming up. The best way to do this is through the use of fabrics, accessories and brassware recommends Ali Johnson, co-founder of Otta Design. 'If blue and green isn't your scene then shades of mustards, oranges and pinks also work wonderfully to add warmth and energy to a blue bathroom.'
5. Take a bold approach
As always, don't fight the lack of natural light in a room and choose a more intense colour in those with north-facing aspects. If wanting to introduce an unusual blue shade, teal is a good option which sets off other hues in the room. 'It's an intense blue that allows you to layer in textures and finishes to offer relief and vibrance to a space,' says Scott Maddux, co-founder of Maddux Creative.
6. Pair blue with delicate pink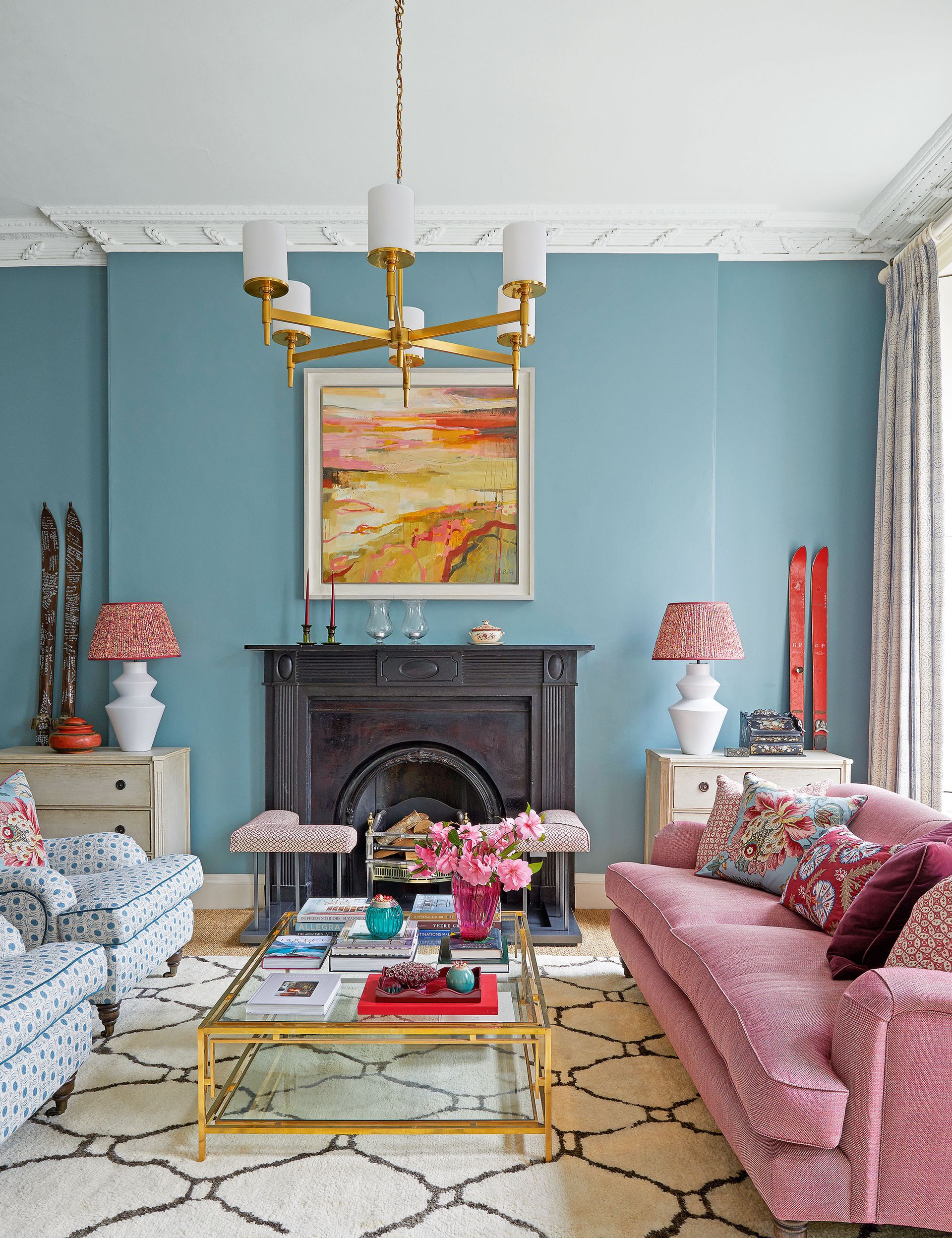 The beauty of blue is that it works with so many other colors, with pink and blue a particular favorite color combination of ours.
'Blue and pink is one of our favourite combinations as it can work on so many levels,' says Lucy Barlow, creative of Barlow & Barlow.
Interior designer Rachel Chudley agrees: 'I love to use soft, deep colors and materials in rooms – it is great to play around with these elements and introduce a couple of rough details to surprise.
7. Paint a backsplash blue
Blue kitchen ideas regularly top the list of most popular kitchen color choices, and for good reason. Blue is a safe choice that works with most kitchen styles, contemporary or traditional, no matter their size. It's calming and easy to live with too – a must in such a busy space.
'Blue also comes with positive attributes in color psychology, such as enthusiasm, sympathy, warmth, encouragement, spirituality, loyalty, and thoughtfulness,' believes Patrick O'Donnell of Farrow & Ball.

8. Match blue with white for a classic color pairing
'The best color combinations for rooms are those that stand the test of time, don't date and create an elegant finish. Blue and white is a classic pairing that has enduring appeal and will deliver schemes that are fresh and elegant every time,' says H&G's decorating editor Emma Thomas.
Perfect for blue living room ideas, fresh whites keep the room feeling bright and spacious.
9. Use mid blues for an elegant finish
Blue consistently tops the charts of our favorite colors but when it comes to decorating, its negative connotations of being cold and masculine – think about the phrases we use in everyday parlance including being 'in a blue mood' or 'feeling blue' – can make some feel nervous about using it as a leading color in the home.
But a major plus of blue room ideas that's worth bearing in mind is that they work well with northern hemisphere light which, for most of the year, is already quite blue.
It's a flexible shade, too. When paired with fresh white, such as in this Cape Cod living room scheme, you have a tried-and-tested color combination that speaks of sunny and sophisticated New England summers.
Just be sure to stick to the same tone of blue and then mix in stripes and patterns to keep the scheme cohesive.
10. Take a color cue from accessories
Mixing bold modern pieces with traditional accents is a well-established route to create an eclectic overall feel to a room. But look carefully and often you'll find that the artwork chosen can act as source of color inspiration for a room.
If you like a particular hue that a painter has used, take it as a design cue and base the scheme around that. The end result will make a treasured painting stand proud in the room.
11. Use blue with a contrasting color
'If you are worried that blue will be too cool for a room – perhaps you've moved home and have to house existing blue furniture that once sat in a sunnier space and are looking for blue couch living room ideas – know that, of course, adding colors from the opposite side of the color wheel will add instant warmth,' says Lucy Searle, Editor in Chief of Homes & Gardens.
'You needn't use large expanses of color, blue or otherwise, to add impact, as you can see in the room above.'
12. Add warmth to blue rooms with woody textures
In this house in the Hamptons village of Sag Harbor, interior designer Steven Gambrel has played on variations of a blue and grey color palette throughout, as well as picking out architectural details such as doors and windows by switching tempo and using matt and polished gloss.
Any risk of these blue room ideas coming across as cold is relieved by the natural elements including with chunky fiber rug on the floor and fluted antique wood side table.
Think about using an alternative paint finish to lift the overall effect on walls and give a color greater clarity. Venetian Plaster leaves a smooth finish which is layered with the multi-dimensional, two-tone appearance of marble surfaces, adding visual interest and charm. Watch out though, it's a considerably more laborious (and therefore expensive) skill than standard painting.
13. Create a splash of blue with a feature wall
An eye-catching geometric Pierre Frey wallpaper design, inspired by a batik motif, gives color and character to this home office. A floating wall is a great way to divide a large space and the addition of a patterned wallpaper adds impact and character. The white walls and accessories keep the feel fresh and bright.
14. Use blue in a hallway to create a serene feel
'Inspired by the considered simplicity of Japanese style, this contemporary hallway evokes a zen-like calm,' says Emma Thomas. 'Combining blue and white with pale woods in this way offers a softer, more organic take on decorating with these two colors.' For more inspiration, see our collection of blue hallway ideas.
15. Create a blue scheme instantly with accessories
In this entrance hallway scheme, interior decorator Beata Heuman has introduced blue room ideas with a playful injection of blue-green teal on the ornate painted sideboard table which is then carried on in the shades above the two bird lamps.
As the hallway is the first interior space that is seen, it often becomes the standard bearer of what's to come. Using a pop of color here is a useful way of whetting the appetite, advertising that there is more on the way, without overwhelming visitors and guests at first sight.
Instead of paint on the walls, coverings on the floors or at windows, use upholstered furniture such as sofas and armchairs as well as cushions and lampshades to set a color scheme in a room. It has the obvious advantage of being flexible and easily changed if the mood further down the line takes on a different taste.
16. Paint the ceiling blue for an intimate feel
Painting the ceiling in a darker color than the walls is a way to make a bedroom – particularly if it's quite large – feel cozier and more intimate. It'll create the illusion of a lower ceiling, as well as setting a dynamic contrast against white walls.
For this master bedroom, the South Carolinian decorator Cortney Bishop took her color inspiration from the views outside and wasn't deterred by using blue room ideas as the anchor for the space.
'All shades of blue run throughout this particular home,' she explains. 'For the master bedroom, it felt right to bring in other colors inspired by the view outside their window so, in addition to the blues, that included greens and earthy browns. These three colors presented a richness that evoke a sense of warmth and also very pleasing to the eye.'
17. Introduce texture with blue
Taking inspiration from shibori designs, this bedroom corner is all about texture. A beautiful artwork has been created by framing a Japanese-inspired Pierre Frey wallpaper in a smart reeded white wood frame. The blue and white palette has been continued throughout, layering the scheme with pale denim walls and deep indigo Ian Mankin fabric on the David Seyfried chair.
18. Match different blue tones for interest
Blue and white bedroom ideas are amongst the most restful of combinations.
'A calm sea of indigo blues makes for an inviting retreat,' says Emma Thomas. 'The small scale pattern in the wallpaper, a more textural alternative to paint, works well with the playful lampshade design. Mixing the blue patterns with white keeps the scheme crisp. Blue-tinted furniture continues the theme.
Wallpaper, Virginia White. Lamp Vaughan.
19. Pick a bold contrast to make blue punchy
In a warmer climate, such as that of the south of France or southern California, be braver with using deeper blue room ideas on the walls. The softer light, which is more often infused with sunlight than seen in northern climes, can take the stronger tones.
The Paris-based designer and architect India Mahdavi (who was responsible for painting Sketch's Gallery tearoom a popping shade of rose pink back in 2014) injected this room, which is part of a 22-room hotel in the Provencal town of Arles, with a vivid blast of turquoise. This is set off by the colorful display of bottles arranged on a postbox-red shelving unit.
India describes herself as a polychrome and a polyglot – as talented with the use of color and as she is with languages. She has said of her work with color: 'I like to mix and let them insult each other, have an argument.'
It's an approach that requires a very discerning eye so if in doubt, we recommend staying faithful to classic contrast on the color wheel.
20. Put blue on the floor for impact
Blue dining room ideas can be very elegant but if you feel the shade might be a little cool for your walls, limit it to the floor; here, a graphic design creates a bold, contemporary appeal that fits perfectly in this period property.
'A white backdrop allows the striking Bolon floor design to take center stage here. Blue also features in the curtains and chairs, with the limited color palette ensuring the look remains sophisticated,' says Emma Thomas.
21. Layer blue on blue
We love interior designer Anna Spiro's clever mix of color, pattern and materials. The textural indigo blue wallcovering used in this chic dining room instantly conjures a rich, saturated mood. And who wouldn't be delighted to take a seat on this sky blue upholstered sofa as dining seating? The crisp white piping and border detailing add an elegant finishing touch.
An upholstered chair in a geometric design adds another layer to the scheme, as does the bamboo chair and antique dining table. All mismatching pieces that happily sit together thanks to the use of a restrained palette. The crisp white curtains and marble table top help to keep the scheme fresh and light.
Image from A Life in Pattern by Anna Spiro, published by Thames & Hudson.
22. Choose a blue grey for a traditional appeal
Blue room ideas can work in light-starved hallways and entryways, bringing a freshness to these spaces.
'We love decorating with Pigeon by Farrow and Ball,' says Emma Sims-Hilditch, founder of Sims Hilditch. 'This paint color is a cozy and nostalgic blue grey. It is softer and bluer than more contemporary grey shades, we love using this color for our entrance areas, boot rooms, cloakrooms or darker spaces like studies and panelled rooms.'
23. Add bold panels of blue in curtains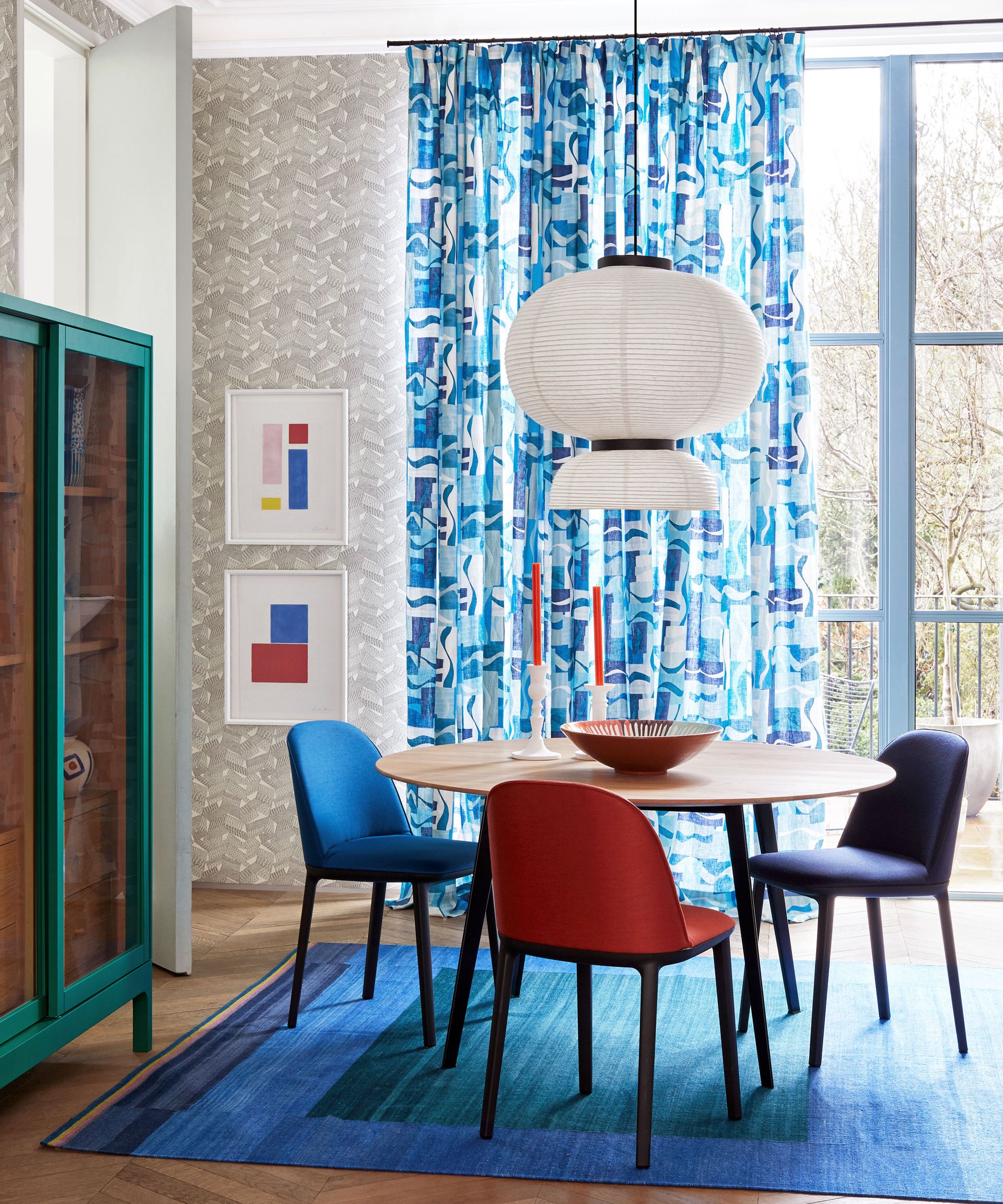 Add a little blue to a neutral scheme with curtains and blinds. Matched with white within the design and made from sheer fabrics, blue curtains can make a room feel light and airy. For a cozier appeal, you can of course choose lined curtains in deeper blues and heavier fabrics, such as velvet.
24. Work blue cabinetry into a kitchen renovation
'Green kitchens have seen the real surge in popularity recently, but I think blue kitchen ideas are the classic choice that you really can't go wrong with,' says Homes & Gardens' Editor in Chief Lucy Searle. 'Dark blue kitchens, like the one above, are perfect for larger spaces that you want to look traditional, formal and smart – and at the other end of the scale, powder blue cabinetry is pretty in a country kitchen. Just as with white kitchens, you won't go too far wrong with blue.'
25. Pick a strong blue for bathrooms
Pale blues are a tricky choice for a bathroom – unless the space is flooded with warm light all day long, it can feel cold and unwelcoming. A darker blue, however, succeeds in making a bathroom feel incredibly smart. A word of warning, though: blue bathroom ideas must go hand-in-hand with good bathroom lighting so that the space doesn't feel dreary at night.
26. Balance blue patterns and plains
'The brief here was to create a glamorous scheme with a nod to the nostalgia of 1930s Hollywood films,' says designer Sophie Eyeington. 'Geometric patterned Fired Earth tiles were used to highlight the bath and basin, with the look softened by the circular mirror and sphere lights.'
27. Create an intricate tiled effect with blue
Bring a sense of grandeur to your bathroom with a scenic statement wall. This Pierre Frey wallpaper panel echoes the traditional Portuguese azulejo tilework found in the palaces of Lisbon and Porto.
Is blue good for a room?
Blue is a good color for a room – and not just aesthetically. Our perception of blue has an affect on our moods, too. As fabric and wallpaper designer Vanessa Arbuthnott says in our feature on color psychology in interior design, 'It's been proven that students exposed to blue before undertaking an exam achieved greater results, making it the perfect color choice for a bedroom or study.'
That aside, it's true that blue is a calming, restful color that does promote a feeling of peace and tranquility that's perfect for any room.
Picking the right shade of blue will largely depend on when you use the room – if only a night, you can pick any shade you love – pale blues to enhance space or deep blues to create a cocooning effect. But if you use the room by day, too, you'll want to ensure the tone of blue you choose feels warm and welcoming, so experiment before settling on the final shade, considering blues with a hint of yellow toning for an inviting feel.
What color goes well with blue?
Blue goes well with most other colors, and is an easy color to coordinate with but these are the best matches – and those to avoid:
1. Blue and white – as you'll see above, it creates a crisp finish that's extremely elegant and timeless.
2. Blue and yellow – a little traditional for some tastes, nevertheless, yellow is a great match for warming blues up, and blues for cooling yellows down.
3. Blue and orange – blue and orange have the same effect on each other as blue and yellow, although the result is a more contemporary look.
4. Blue and pink – this is a lovely combination and works well as pastels or as much bolder shades.
5. Blue and green – for a room that feels rich and grown up, this is a fabulous combination that is perfect for rooms starved of pretty, verdant views.
6. Blue and grey – this is one to skip. Instead, match blue with black or brown for a much more elegant finish.
Sign up to the Homes & Gardens newsletter
Decor Ideas. Project Inspiration. Expert Advice. Delivered to your inbox.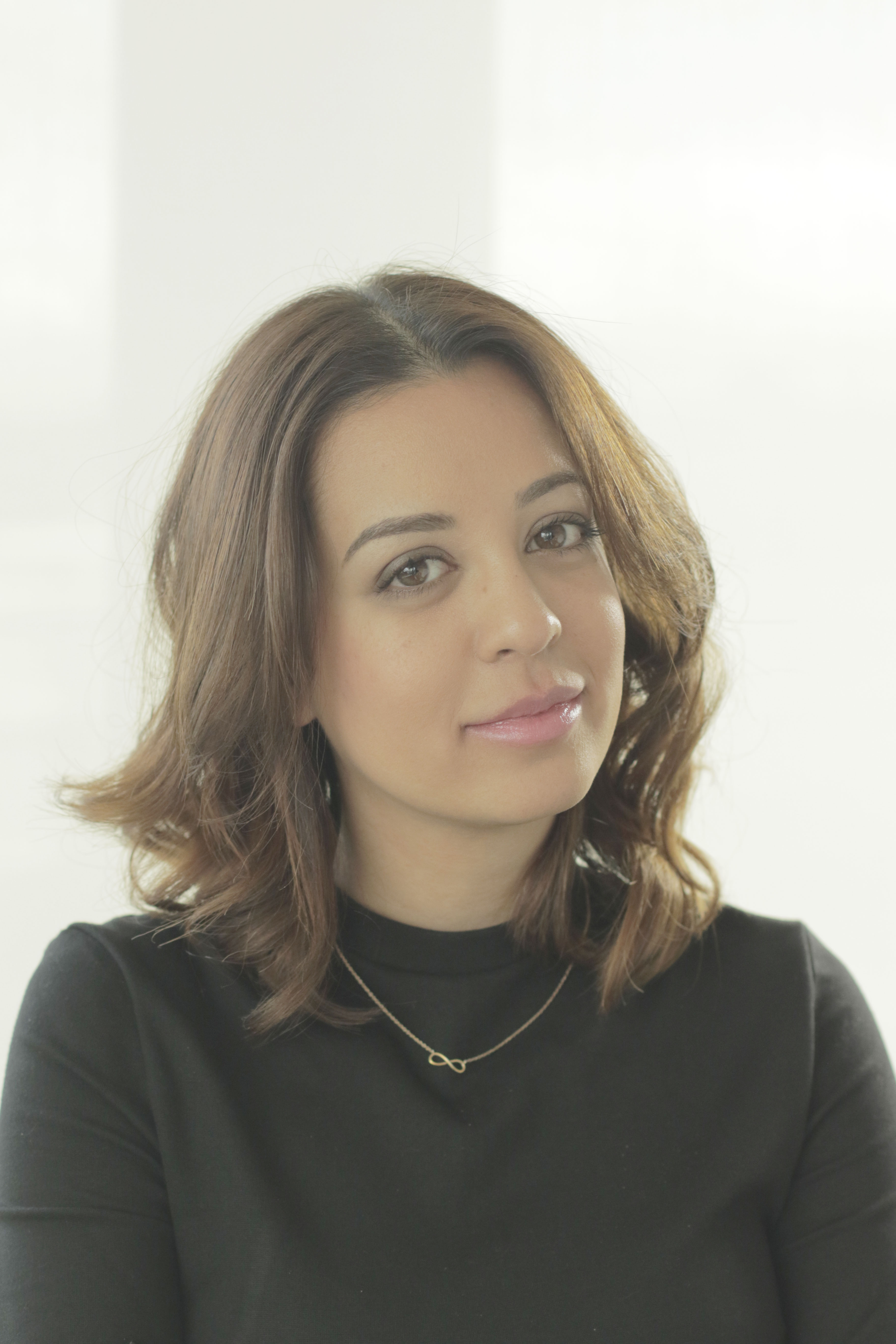 Jennifer is the Digital Editor at Homes & Gardens. Having worked in the interiors industry for a number of years, spanning many publications, she now hones her digital prowess on the 'best interiors website' in the world. Multi-skilled, Jennifer has worked in PR and marketing, and the occasional dabble in the social media, commercial and e-commerce space. Over the years, she has written about every area of the home, from compiling design houses from some of the best interior designers in the world to sourcing celebrity homes, reviewing appliances and even the odd news story or two.