Cape Cod living room ideas – timelessly elegant ways to style your space
Get inspired with these standout Cape Cod living room ideas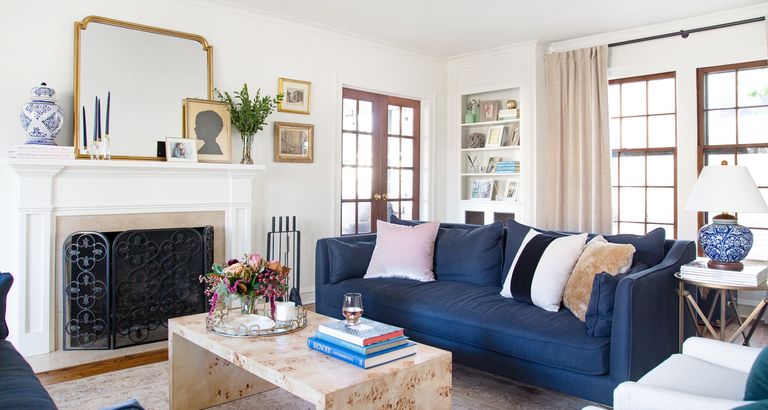 (Image credit: Havenly)
Cape Cod living rooms have an enduring appeal, and no wonder – since the British settlers built them in the 17th Century, Cape Cod homes have been the crown jewel of American architecture.
These residences have persisted in popularity, offering a home that's both simple and resistant against inclement weather. But, just because Cape Cod house style is simple in form doesn't mean it is boring. In fact, quite the opposite. There are plenty of ways to decorate a Cape Cod home and, if you're in need for a great place to start, where better place to look than your living room?
For many, the living room is the heart of any home, offering a place to gather with guests, spend quality time with family, or unwind after a particularly long day. And, as the focal point of your home, the living room can lay the groundwork for the rest of your space.
Read on for 10 stand-out Cape Cod living room ideas – and how to get the look in your own home.
See more: Living room ideas – 25 inspiring ways to decorate and furnish your space
1. Include ample seating
Since the living room is the epicenter of many homes, it's important to have ample space for the entire family – plus a few guests.
This space doubles down on seating, thanks to a set of couches and a few stools. With a palette of subtle neutral hues – plus the occasional woven materials – this living room strikes a nice balance between practical and coastal.
Cozy living room ideas – hibernate at home in a comfy, cocoon-like space
2. Remember the details
As the adage goes, the devil lies in the details — and your living room décor is no different.
Havenly designer Lisa Marie Driscoll infuses this space with subtle touches like caned cabinets, a light wood coffee table, and a chevron-tiled hearth. The result? A cozy and comfortable living space that emulates the traditional Cape Cod inspired aesthetic.
3. Make it symmetrical
Tap into the architecture style's rich, traditional history with some textbook design rules. This space is anchored with a wicker couch, plus symmetrical armchairs, side tables, lamps, and geometrical stools.
Small living room decor ideas – ways to plan and decorate a smaller space
4. Source wicker furniture
Another way to bring the coastal spirit to your Cape Cod living room? Wicker furniture.
Though this material dates back to the Victorian Era, it does have a beachy reputation. Plus, wicker woven is incredibly popular nowadays, making this living room décor idea equal parts traditional and trendy.
5. Add in contemporary accents
Just because Cape Cod homes date back to the 17th Century doesn't mean they can't look and feel contemporary.
Shelby Girard, vice president of creative and design at Havenly, struck a nice balance with streamlined sofas and sleek, modern accents.
6. Use coastal blues
Though Cape Cod homes can be found all across the United States of America, they're most common along the sandy beaches of New England.
If you want your Cape Cod living room to pay homage to its beachy roots — without festooning the space in sailboat motifs and artificial seashells — stick with a coastal blue and white color palette.
7. Keep it cozy
Cape Cod-style homes aren't all about looks; in the colonial era, they were designed to fend off harsh, winter weather.
If you're looking to create an inviting, cozy retreat during a rough snowstorm, consider experimenting with different materials. With a tactile sofa, wooden accents, and a plush rug, this room is no match for a whirling blizzard.
See: Country living room ideas – rustic rooms that are cosy and chic
8. Mix and match
Cape Cod homes are known for their simplicity, making them the perfect blank canvas to display your design style. If you don't want to settle for a single look, take a cue from Kevin Isbell.
Here, the designer deftly mixes a wicker couch with a rustic table, paneled walls, and rich, upholstered armchairs. In order to keep the room cohesive, Isbell sticks with a subdued palette.
9. Try a preppy palette
From polo shirts to monogrammed-mania, New England is known for its preppy flair. So, why not bring that spirit into your Cape Cod living room?
This space blends preppy patterns, a playful navy and coral palette, and traditional forms for a fresh take on coastal design.
See: Living room paint ideas – stylish ways with paint, and your questions answered
10. Keep it neutral
As this Cape Cod living room proves, you can never go wrong with an all-neutral palette.
The undeniably classic scheme, timeless silhouettes, and cheery detailing makes for a relaxed, yet refined, living room that pays homage to life along the coast.