Cape Cod living room ideas – timelessly elegant ways to style your space
Get inspired with these standout Cape Cod living room ideas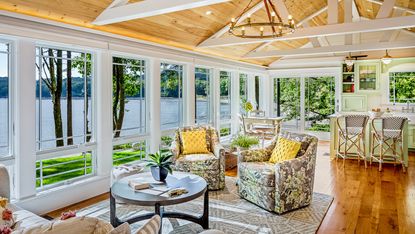 (Image credit: Rockport Building Partners / Sarah Szwajkos)
Cape Cod living rooms have an enduring appeal, and no wonder – since the British settlers built them in the 17th Century, Cape Cod homes have been the crown jewel of American architecture.
These residences have persisted in popularity, offering a home that's both simple and resistant against inclement weather. But, just because Cape Cod house style is simple in form doesn't mean it is boring. In fact, quite the opposite. There are plenty of ways to decorate a Cape Cod home and, if you're in need for a great place to start, where better place to look than your living room?
Cape Cod living room ideas: the fundamentals
For many, the living room is the heart of any home, offering a place to gather with guests, spend quality time with family, or unwind after a particularly long day. And, as the focal point of your home, the living room can lay the groundwork for the rest of your space.
We've spoken with interior designers for their Cape Cod living room ideas – and how to get the look in your own home. And for even more inspiration, our Living room ideas feature has even more ways to update your social space.
1. Make the most of the view
If you're fortunate enough to have a home with ocean or lakeside views, then reconfiguring the architecture can maximize the benefits. Open plan kitchen ideas can be a great place to start, as they incorporate living and dining areas at the heart of your home.
'The key to creating this living room was to make an incredibly inviting space that would feel cozy without detracting from those jaw-dropping ocean views.' explains Casey Leonard of Rockport Building Partners in Maine.
'We took the warmth of the wood to the floors and ceilings and then went floor-to-ceiling with windows. The contrast between the lighter-toned, warm woods and crisp white architectural details makes for a great balance between the traditional and modern cottage.'
2. Add a statement light
The centerpiece of this stunning room by Indianapolis-based designer Whittney Parkinson is the statement light fixture. Positioned at the apex of the room, the furniture pivots around this to create a beautifully ordered scheme that suits the simplicity of Cape Cod living room ideas and style.
'Positioning the vase, with its tall foliage display, beneath the light is very clever, as it creates a connection between the two and draws the room together visually,' says Andréa Childs, Editor of Country Homes & Interiors magazine. 'It's a great example of how living room lighting ideas can transform a space.'
3. Make it monochrome
By picking out architectural features such as windows and fireplaces in black, then combining them with white walls and ceiling, you can create a chic monochromatic background to your Cape Cod living room ideas.
Pared-back furniture pieces, such as these chic sofas and ottoman from King, keep the look sleek but still with an element of softness and easy comfort, which is key to the Cape Cod style. Minimalist living room ideas like this are best achieved if you're the clutter-free type – or have great storage!
4. Create a library-style living room
Dedicate a wall to library shelving and position a reading chair in front, to create a book nook area in your New England coastal style living room. It's just one way to bring to life your home library ideas.
This seaside home in New England has white wood walls with shiplap-style planks, trim and ceiling, along with the wood-burning fireplace. The built-in bookshelves beneath the stair create a beautifully tucked-in library.
5. Paint fitted cabinetry in shades of blue
This smart-casual sitting room created by British interior designer Emma Sims-Hilditch shows the benefits of built-in cabinetry and living room storage ideas for making the most of a space.
'The unit has been designed and measured to fit around the original ceiling beams and to accommodate the couch and artworks perfectly,' says Country Homes & Interiors Editor, Andréa Childs.
'Choosing a mid-blue tone introduces a classic Cape Cod color scheme to define the look.'
6. Add in antique pieces
New England coastal style is more of a feeling than an exact formula for design, which means you can interpret your Cape Cod living room ideas in a truly unique and personal way – such as decorating with antiques.
'It's a mix of laidback luxury, historical charm and modern-day touches that create an overall calm and approachable environment, evocative of the way people live when near the beach or a body of water,' explains Georgia Zikas of Georgia Zikas Design.
'There is an overall easiness to the design; no fuss and an emphasis on liveable fabrics, furnishings, and color palettes. This, alongside the incorporation of antiques or any pieces that connect to the history of New England, creates a truly unique and inviting design.'
7. Surprise with a playful element
'Classic architectural features like built-in shelves and a mullioned window create an inviting space that resonates with our need for familiarity and calm in changing and chaotic times,' says Kirsten Conner, Founder of Kirsten Conner Interior Design in Seattle.
'In this room, I brought in a classic traditional Chesterfield sofa in an enveloping sapphire velvet and paired it with fawn leather armchairs that beckon you to sit.
'Modern Traditional elements such as strong primary colors, abstracted Persian rug motifs and punchy crimson Currey & Company lamps modernize the feeling.
An unexpected element – a faux mohair upholstered bench in front of the fireplace – also adds an electric synergy to the mix.'
8. Pull in an accent color
In this elegant Cape Cod living room designed by Georgia Zikas, small touches of blue lift the softly tonal scheme.
Just a few blue touches – the base of the coffee table, a single throw cushion, and some subtle stripes – are all it takes to introduce a New England vibe to the room.
9. Include ample seating
Since the living room is the epicenter of many homes, it's important to have ample space for the entire family – plus a few guests.
This space doubles down on seating, thanks to a set of couches and a few stools. With a palette of subtle neutral hues – plus the occasional woven materials – this living room strikes a nice balance between practical and coastal.
The throw pillows and rug also introduce warm, cozy living room ideas to make this a comfy and inviting space.
10. Remember the details
As the adage goes, the devil lies in the details — and your living room décor is no different.
This light and bright room is a perfect example of white living room ideas, but Havenly designer Lisa Marie Driscoll infuses this space with subtle touches like caned cabinets, a light wood coffee table, and a chevron-tiled hearth for extra interest.
The result? A cozy and comfortable living space that emulates the traditional Cape Cod-inspired aesthetic.
11. Make it symmetrical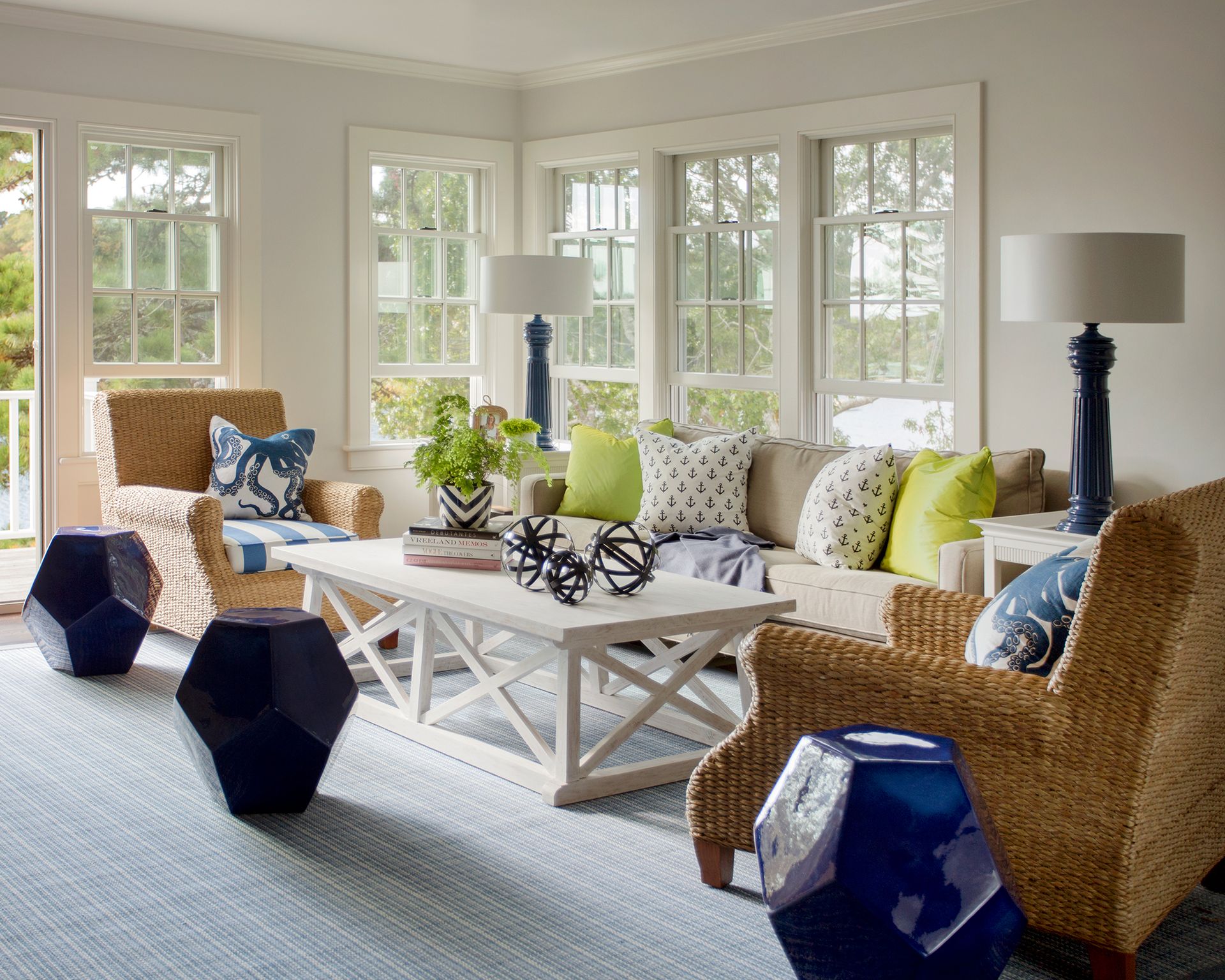 Tap into the architecture style's rich, traditional history with some textbook design rules. This space is anchored with a wicker couch, plus symmetrical armchairs, side tables, lamps, and geometrical stools.
Although this seating set-up is part of a larger open-concept space, it's actually a great example of small living room decor ideas as it takes up just a small area of the larger room.
12. Source wicker furniture
Another way to bring the coastal spirit to your Cape Cod living room? Wicker furniture.
Though this material dates back to the Victorian Era, it does have a beachy reputation which makes it ideal when you're considering coastal living room ideas. Plus, wicker woven is incredibly popular nowadays, making this living room décor idea equal parts traditional and trendy.
13. Add in contemporary accents
Just because Cape Cod homes date back to the 17th Century doesn't mean they can't look and feel contemporary.
Shelby Girard, vice president of creative and design at Havenly, struck a nice balance with streamlined sofas and sleek, modern accents.
It's the blue couch that forms the centerpiece of this scheme; a design classic that you can see more of in our blue couch living room ideas.
14. Use coastal blues
Though Cape Cod homes can be found all across the United States of America, they're most common along the sandy beaches of New England.
If you want your Cape Cod living room to pay homage to its beachy roots – without festooning the space in sailboat motifs and artificial seashells – stick with a coastal blue and white color palette.
Decorating with blue and white is about finding the balance between the two colors, and deciding which will be the hero shade in your scheme.
15. Keep it cozy
Cape Cod-style homes aren't all about looks; in the colonial era, they were designed to fend off harsh, winter weather.
If you're looking to create an inviting, cozy retreat during a rough snowstorm, consider experimenting with different materials. With a tactile sofa, wooden accents, and a plush rug, this room is no match for a whirling blizzard.
For more cozy and chic rooms, this time with a rustic twist, our country living room ideas is a packed gallery of design inspiration.
16. Mix and match
Cape Cod homes are known for their simplicity, making them the perfect blank canvas to display your design style. If you don't want to settle for a single look, take a cue from Kevin Isbell.
Here, the designer deftly mixes a wicker couch with a rustic table, living room paneling ideas, and rich, upholstered armchairs. In order to keep the room cohesive, Isbell sticks with a subdued palette.
17. Try a preppy palette
From polo shirts to monogrammed-mania, New England is known for its preppy flair. So, why not bring that spirit into your Cape Cod living room?
This space blends preppy patterns, a playful navy and coral palette, and traditional forms for a fresh take on coastal design.
Living room paint ideas has more stylish ways with paint, and will answer your questions about the best paint designs for your living space.
18. Keep it neutral
As this Cape Cod living room proves, you can never go wrong with an all-neutral palette. Versatile and easy to switch up with seasonal accessories should you choose, neutral living room ideas are the ultimate in no-fuss styling.
The undeniably classic scheme, timeless silhouettes, and cheery detailing makes for a relaxed, yet refined, living room that pays homage to life along the coast.
What design style is Cape Cod?
Cape Cod style dates back to New England in the 17th century, when Puritan settlers first arrived on US shores. They based the homes they built on those back in Britain, so Cape Cod homes tend to have a single story, with a steep roof, shingled exterior, symmetrical façade, and large chimney in the middle.
How do you style a Cape Cod house?
Cape Cod house interior style is informed by its New England setting, it's historical ancestry, and a nod to nautical colors and themes. The look tends to neutral schemes, with white, cream, taupe and shades of blue, from sky blue to navy, coming into the palette.
Furniture is simple and comfortable but elegant, with a mix of upholstery and wood.
Sign up to the Homes & Gardens newsletter
Decor Ideas. Project Inspiration. Expert Advice. Delivered to your inbox.
Kelsey Mulvey is a New York-born, San Francisco-based freelance journalist who covers lifestyle and design content. She started her writing career while studying magazine journalism at Boston University, where her work was syndicated by top digital publications like USA Today and MSN. Upon graduation, Kelsey covered lifestyle content The Wall Street Journal, Off Duty and Business Insider. In 2017, Kelsey started her freelance journalism career, where she contributes to design publications like AD PRO, Elle Decor, Wallpaper*, and more. W
With contributions from