Living room paneling ideas – 10 ways to add practical character to your space
Explore our collection of inspiring living room paneling ideas, from bold paint finishes to contrasting panel shapes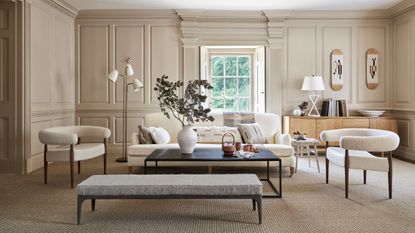 (Image credit: Davide Lovatti)
A beautiful, decorative feature for the home, living room paneling ideas can work well in both traditional and contemporary interiors, adding long-lasting character and charm to your space.
Living room paneling can add depth and luxurious texture, as well as being a practical addition to your walls for added durability, insulation and protection. Paneling ideas for walls are a perfect addition to living room decor, as the room needs to reflect your personal style as well be durable and timeless, with paneling effortlessly being able to provide all.
From modern paneling paint ideas on panels of all shapes and sizes, to traditional Shaker paneling designs, you can be both subtle and bold with your living room paneling ideas.
Living room paneling ideas
A feature that was once associated with traditional properties, living room wall paneling has since become much more than just an insulation method.
Living room panels are a popular decorative technique for wall décor ideas that can transform the look of a space. With there being an array of traditional and modern styles available, there is a an option to suit all home styles.
Whether you're updating your existing living room paneling with a fresh coat of paint, or building your own, new panels, we have gathered a collection of inspiring tips and ideas to help you make the most of the paneling in your living room space.
1. Use square paneling for a neat, geometric look
Square paneling, also known as Jacobean style paneling, creates a uniformed, symmetrical pattern through the elegant placement of squares.
The neat, grid effect provides a great platform for living room paint ideas, and creates an inviting, textured style that works well in both small and large spaces alike.
2. Frame your artwork
For ideas on how to display artwork, living room wall paneling provides the perfect platform to enhance your artwork.
Whether you create bespoke paneling for chosen pieces of artwork, or utilize the existing panel shapes in your interior space for enhanced gallery wall ideas, it can beautifully frame a painting or photo, creating an added element of depth and texture.
Framing your artwork in this way is also a great option for stair paneling ideas, as staircases often provide the perfect platform for a gallery wall.
3. Keep it minimal
For a more contemporary look, choose a sleek and minimal living room paneling effect.
In this living room, painted Black Blue No.95 by Farrow & Ball, the thin, horizontal wooden panel adds an understated element of texture.
Keeping it minimal with paneling is also a great way to subtly zone a living room space. Here, the panel creates a delicate separation between the low seating area and upper wall space with artwork and lighting.
4. Paint living room paneling a neutral color
For a timeless and sophisticated look, painting you living room paneling a neutral shade will ensure the design stands the test of time and is a surefire way to make your living room beautiful.
In this bright living room, the walls and panels have been painted a soft, off-white shade, adding emphasis to the paneled design compared to the bright white ceiling.
The overall effect provides a versatile backdrop that can grow with a living room space for years to come, perfect for neutral living room ideas.
5. Create a monochrome look
For an impactful look, incorporating living room paneling into a striking, monochromatic design can be a great way to add a contemporary twist to traditional living room ideas.
The blue paint used in this living room creates a bold, modern design that celebrates color and texture. The paneling here both stands out and blends in with the monochromatic color scheme, with the dark blue shade creating a sophisticated and striking atmosphere, ideal for blue living room ideas.
6. Use a unique fabric panel
Traditional wooden panels are known to add texture and depth to a space, but if you want to take this one step further, why not create a create a unique paneled design decorated with soft fabric?
Tactile and inviting, a fabric panel is a great for decorative room ideas, adding an enhanced element of texture and coziness to your living room space. Using fabric paneling also provides a great platform for mixing patterns and prints in interior design, creating a vibrant space rich with color and character.
Whether you decide to panel across the whole living room space, or create an eye-catching feature panel behind a seating area like in the living room above by Neptune, a fabric panel can create a unique design statement in your home.
7. Coordinate with your wallpaper
Coordinating your living space paneling with your wallpaper is a simple tip that is guaranteed to create a cohesive, stylish scheme, as well as being a great way to enhance your wallpaper ideas.
For inspiration, use the color wheel to help you pick a complementary shade or accent color to pair with your chosen wallpaper design.
8. Use exposed wood paneling for a rustic effect
A popular style of paneling for the home, especially for bathroom paneling ideas, slats create a clean and classic look, and can be mounted both vertically and horizontally.
In this living room, designed by KJM Interiors, the rustic, wooden planks create a relaxed atmosphere, adding natural texture and warmth to the neutral living room space. The horizontal placement of the paneling also enhances the size of the room, giving the illusion that the space is wider – a handy decorating tip for ceiling paneling ideas also.
9. Be bold with color
Using paint ideas and painting paneling a bold shade is a simple way to add color and personality to your living room space.
Helen Shaw, UK Director at Benjamin Moore, states 'picking the right color to decorate paneling is key; if you prefer a subtle and elegant aesthetic consider a tonal scheme by matching the wall color with the panel décor, or for more impactful finish pick out a complimentary or feature color to draw the eye'.
In this living room, the bright green paneling enhances the beautiful, patterned wallpaper, as well as creating a dynamic contrast with the red striped rug. Adding a modern twist to a traditional wooden design, being bold with paint for living room paneling ideas can create a unique, vibrant effect – a tip that also works well for modern hallway paneling ideas.
10. Pick large panels for a dramatic effect
In this living room, the large, gray painted panels complement the scale of the artwork and amplify the feeling of space, creating an added element of height and grandeur.
Picking the right shaped and sized panels that match your living room's proportions will help to create a balanced scheme that makes the most of the space.
How do you panel a living room?
Many living rooms have traditional paneling features which can simply be freshened up and painted to coordinate with your chosen scheme.
However, if you want to add paneling to your living room, there are a few tips to remember beforehand.
Helen Shaw, UK Director at Benjamin Moore states, 'careful planning is essential so you can ensure that the joins work and that you've thought of practical considerations such as how it will work in relation to plug sockets, fireplaces and doors.
'If you are going to update your space and add paneling, make sure you consider the type of paint you use. Surfaces need to be dust free and well prepared and primed to ensure that the final finish stands up to the demands of the environment'.
Selecting where you want your paneling and measuring your living room is the best place to start, you can then move on to consider factors such as the paneling style, material, paint choice and colors in order to create the perfect paneled design for your space.
Does paneling make a living room look smaller?
Using paneling in larger living rooms is a great way to make the space feel more inviting and cozy, however, not all paneling styles make a room look smaller.
Using large, vertical panels can give the illusion of added height to a space, with horizontal panels making a room feel wider.
There are many styles and shapes of paneling available, with an array of choices that suit both large and small living room spaces alike.
Sign up to the Homes & Gardens newsletter
Decor Ideas. Project Inspiration. Expert Advice. Delivered to your inbox.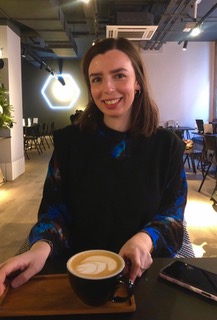 Zara joined Homes & Gardens in February 2022 as a Content Editor. After studying English Literature at University, she worked as an Ecommerce Website Editor, Content Writer and Buying Intern at multiple independent businesses within the luxury retail and lifestyle sectors. Her role at Homes & Gardens unites her love, experience and passion for the world of design and desire to create inspiring written content. She enjoys nothing more than discovering new trends, brands and products, whether that be in fashion, interior design or lifestyle.