Wall decor ideas – 18 wonderful ways to transform a blank wall
These stylish wall decor ideas, from artwork to fabric to mural masterpieces, will transform and bring character to all your rooms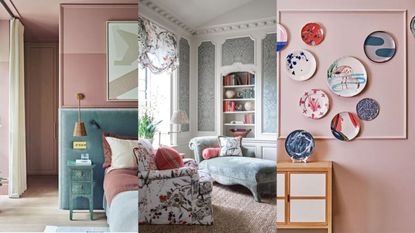 (Image credit: Mary Wadsworth/Irene Gunter / Nina Campbell / Future/Emma Lee)
Wall decor ideas are so wide-ranging it can be hard to know where to start. So, we have created a room-by-room, technique-by-technique guide to help you narrow down your options, for you to discover the latest trends, and for you to discover brand new innovations.
No matter your decorating style, we've got the tricks that can give life to your walls and bring out your true personality. Keep reading to discover the best wall decor ideas that are sure to add character, interest and intrigue to your home – we are looking way beyond wallpaper ideas and paint ideas.
Wall decor ideas
Looking for wall decor ideas to refresh a tired or blank space in your home? Those empty walls are filled with endless possibilities – and a few stylish wall decorations can make a house feel like a home. From accent wall ideas to whole room solutions, we bring you our favorite ideas.
1. Think practicality when considering wall decor
Wall decor ideas have to look pretty, inviting and alluring, of course, but they must also be practical, and this is never more true than in an entryway, which is a space that gets lots of wear and tear.
'Entryway wall decor ideas are best split between the upper and lower part of the wall,' advises Sarah Spiteri, Homes & Gardens' Editorial Director. 'This means considering very tough surfaces, such as wall paneling ideas for the lower part of the wall, and wallpaper or paint finishes from waist level upwards. Even then, I would ensure the paint or wallpaper chosen is wipeable as it will inevitably become scuffed, especially if you have children.'
2. Invent new architecture for living room walls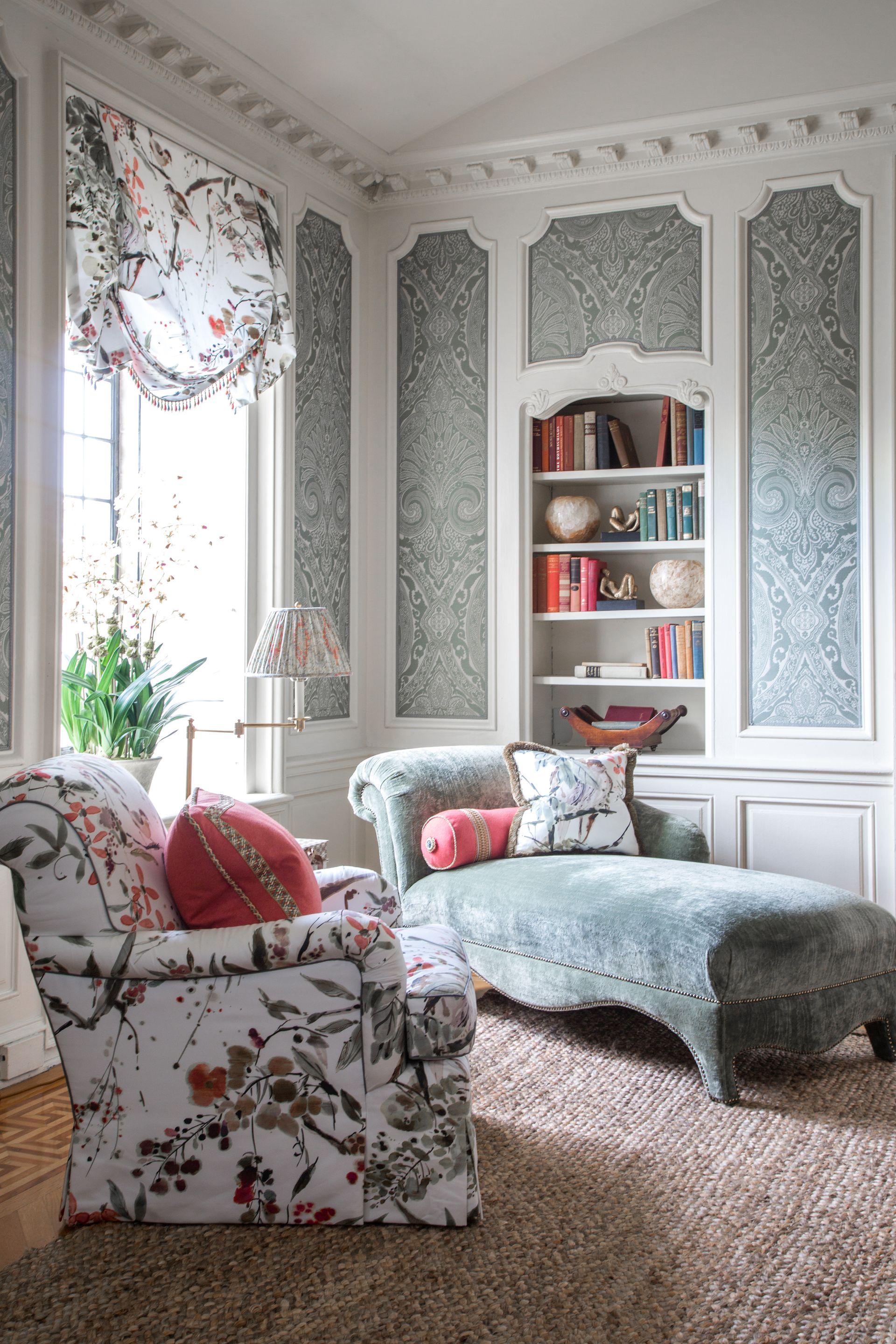 Very plain architecture can mean that living room walls are very one dimensional, even with the addition of wallpaper. However, have a carpenter create wall panels that complement the age of your home and the style of your decor, and you can totally transform your space.
Here, the curves within the panels creates added interest, as does the wallpaper, however the important technique to note here is that the vertical panel shapes make this Nina Campbell-designed living room's ceilings look higher and the room bigger.
3. Work a TV into your wall decor plans
Yes, you can combine TV wall ideas with attractive living room feature wall ideas, and while it can work when the TV is wall-mounted, the effect is far more impactful when the TV is incorporated into a storage and display unit, as in the apartment above.
'Kelling Designs has cleverly incorporated the TV into the wall decor system in this room, with contrasting paint colors used to help the TV blend away a little into the background, allowing the display of china to become the main focus,' says Jo Bailey, Deputy Editor, Homes & Gardens. 'With this kind of unit, doors could easily be integrated so that the TV is totally hidden when not in use, allowing the wall decor to take center stage.'
4. Choose color for the kitchen
Color has never been more en vogue in kitchens than now, as we look to create cook spaces that are as highly decorated as your living spaces are. You can introduce this through kitchen wall decor ideas that are beyond what we might have used in the past.
'Case in point: this Little Greene wallpaper, which is perfect for anyone searching for farmhouse kitchen wall decor ideas,' says Andrea Childs, Editor, Country Homes & Interiors. 'Matching the main accent colors in the wallpaper with the kitchen cabinet color heightens the impact.'
5. Embrace the trend for nature-inspired murals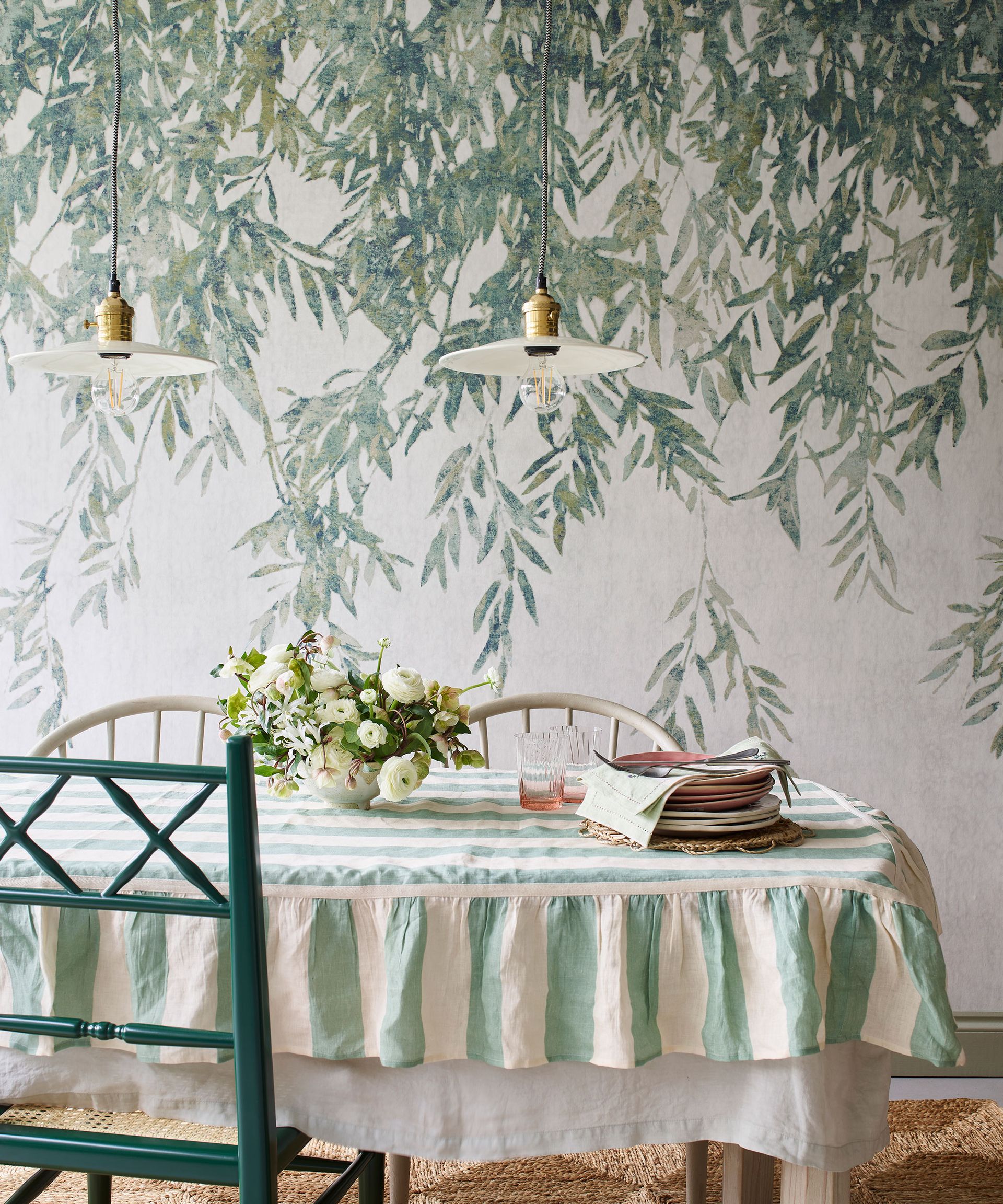 'Interior designers have enthusiastically embraced the trend for nature-inspired wall mural ideas, seen above in one of our decorating shoots and, perhaps more famously, in Gwyneth Paltrow's dining room created for her by interior designer Brigette Romanek,' says Lucy Searle, Homes & Gardens' Editor in Chief.
'Dining room wall ideas are the perfect spot for murals, since they create a real moment when you are entertaining guests. Dining rooms also tend not to be used all the time, so if you are using a decorative element with huge impact, it needn't be diluted with daily views.'
There are ready-to-hang mural designs available, but you can commission wallpaper and murals.
'Ask a mural artist to create a preliminary drawing, preferably to scale, so any alterations can be made at this stage,' says Helen Barnes, Murals and Tromp L'oeil Specialist. 'And remember that if you commission a design on a penal or a fabric canvas, it can be portable, too.'
6. Be bold in a bathroom
Interior designers generally urge their clients to be braver with powder room wall decor than they might be with other wall decor around the house, particularly bathroom walls, which generally need to be much more practical to cope with the damp conditions.
'Powder rooms are often featureless – sometimes without even a window – so why not?,' says Jen Ebert, Homes & Gardens' deputy editor. 'And because they are the one space you might like to decorate to surprise guests when they come to visit, you really ought to choose a more adventurous treatment. Since they tend to be small spaces, you might like to indulge in that beautiful wallpaper you can really only justify buying one roll of.'
7. Consider fabric walling for a bedroom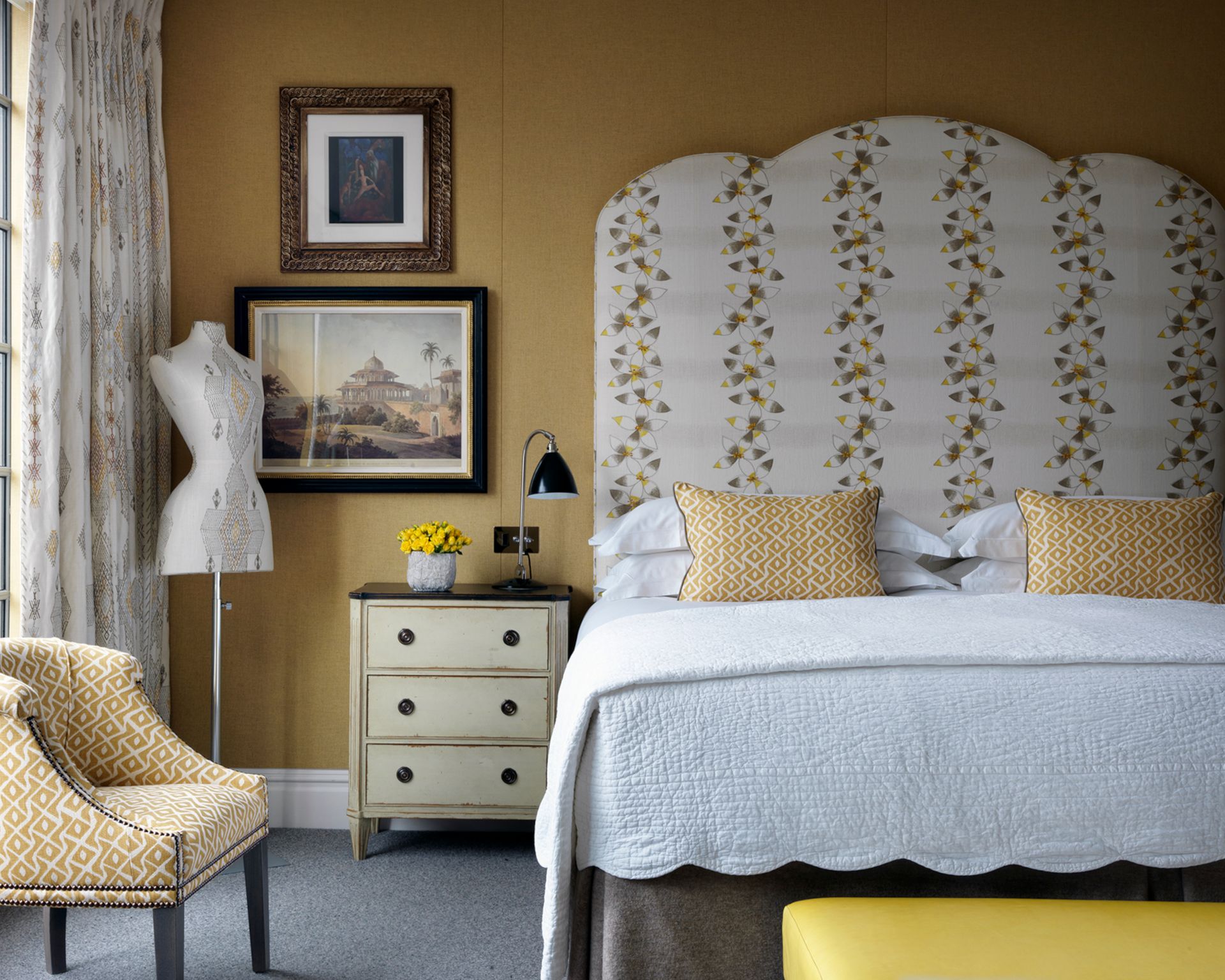 Installing fabric walling is once again becoming fashionable and is beloved of designers such as Kit Kemp, who decorated the bedroom above with a beautiful golden fabric.
'Bedroom wall decor ideas are perfectly suited to fabric walling,' explains Sarah Spiteri. 'It creates a very subtle texture and sheen that you want to reach out and touch, ideal for intimate spaces.'
8. Think above the bed, too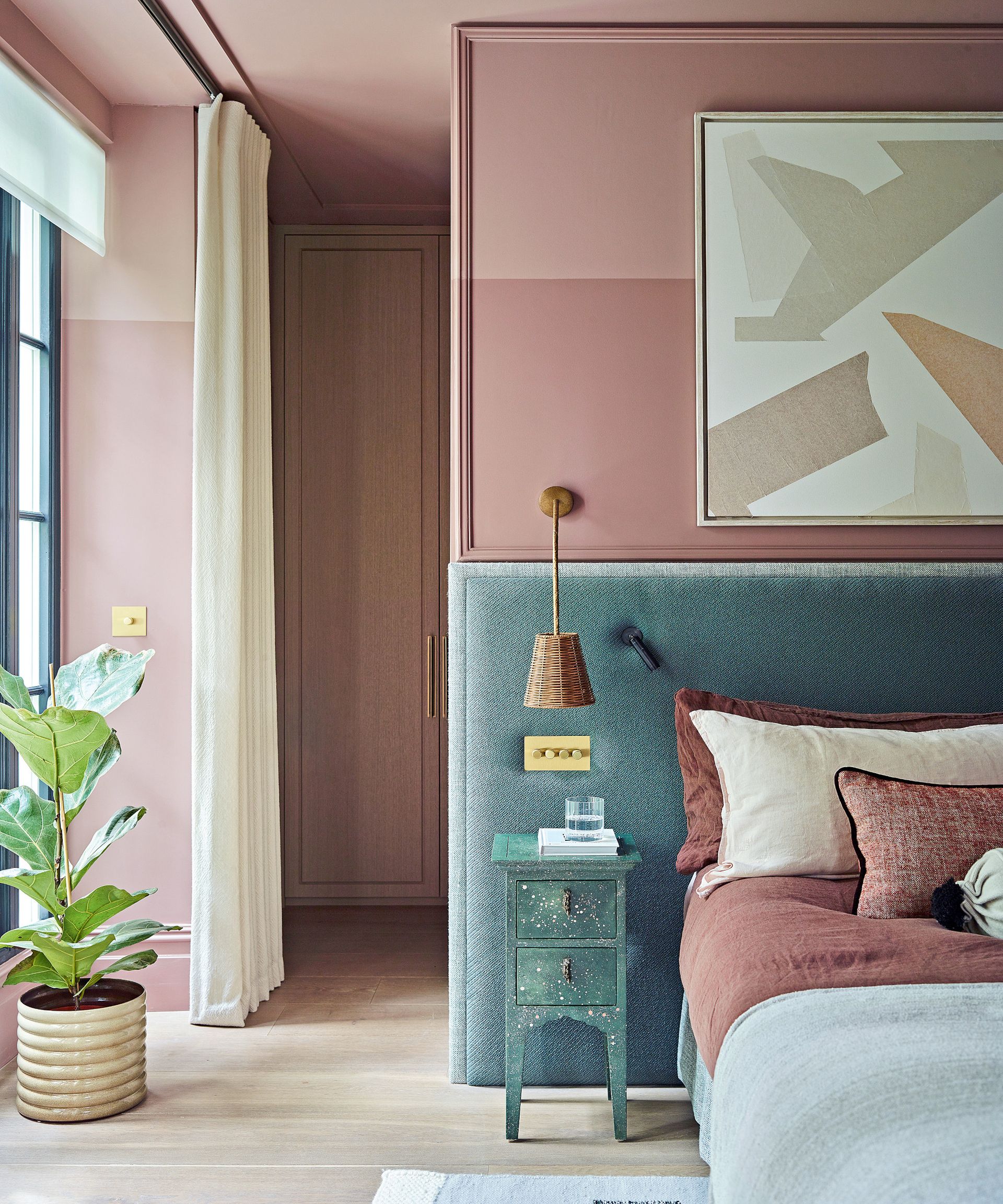 One easy wall decor treatment for a bedroom is an expansive headboard idea. However, there are more imaginative treatments that you can try, pretty simply.
Above the bed decor ideas such as the one above is the perfect example: the art is framed by the trim around the edge of the wall, while the use of different shades of pink adds further interest to the wall. The use of the lighter color above the dark helps to visually raise the ceiling, a trick to make a small bedroom look bigger, too.
9. Play with a room's proportions with wall decor
As we have said above, wall decor ideas can be used to correct or improve the proportions of a room. The office wall decor above does this as well as adding interest to a small, dark space.
'Shiplap wall ideas introduce vertical lines to a wall, which draws the eye upwards, creating a visual trick that makes a room feels taller,' says Jen Ebert. 'The higher up the wall the shiplap goes, the better the effect. However, putting a panel of bold wallpaper above the shiplap will add the color and character that shiplap can't.'
10. Reflect light with mirrors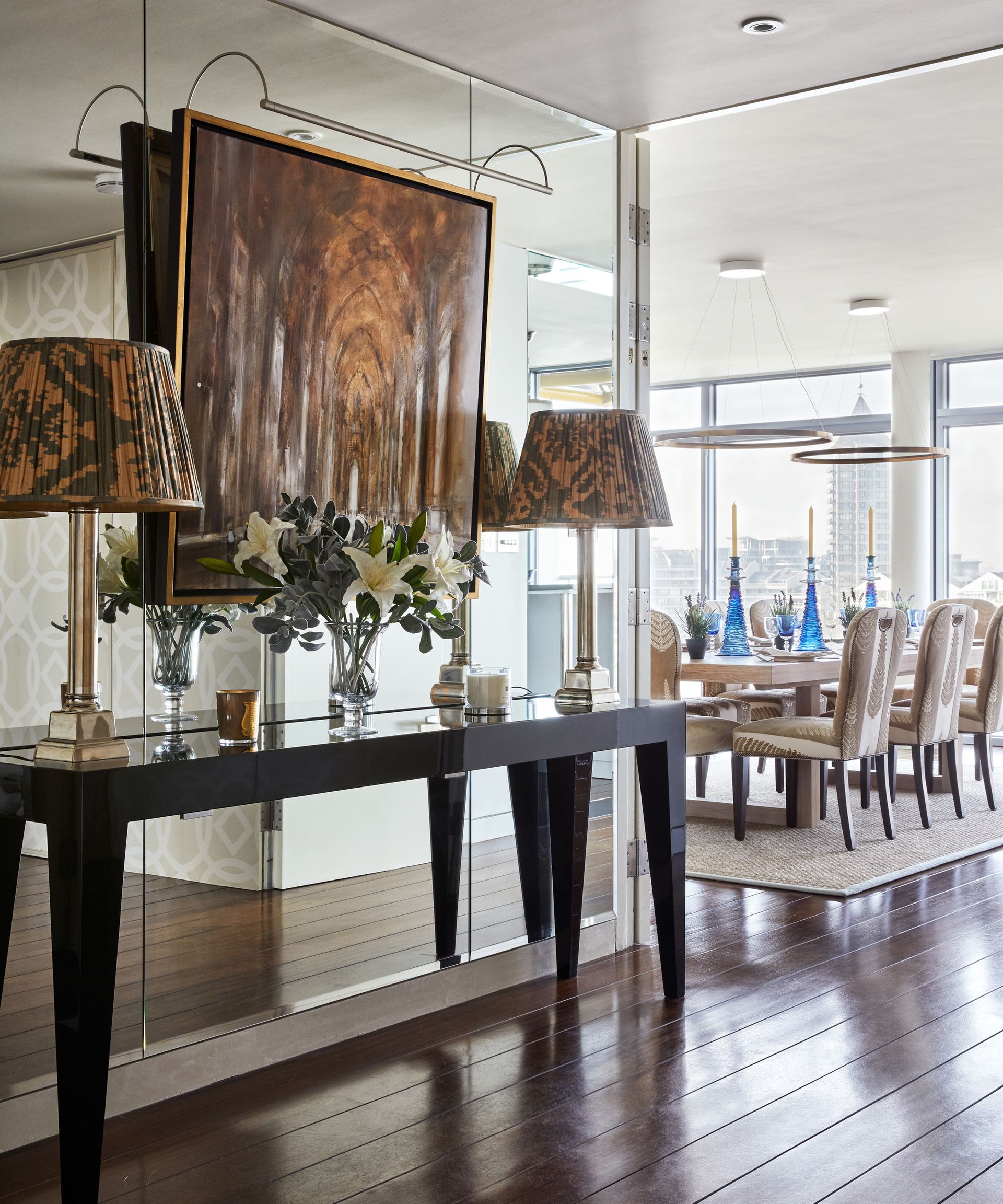 Everyone knows that decorating with mirrors is a good way to visually 'double' the sense of space in a room – but we also love a mirror for how it magnifies light and adds a magical mood. 'I always use mirrors with an antiqued effect, says Henriette Von Stockhausen, founder, VSP Interiors. 'It softens everything that it reflects. Sadly, it is more expensive but it really is worth it as it makes the room feel immediately more settled.
'Think carefully where mirrors are positioned, where they end and what will be reflected in them,' she adds. 'I don't use them in a dining as people don't like to see themselves reflected while eating or speaking. I wouldn't place a full-length mirror opposite a shower and never one behind a loo.'
11. Opt for large-scale art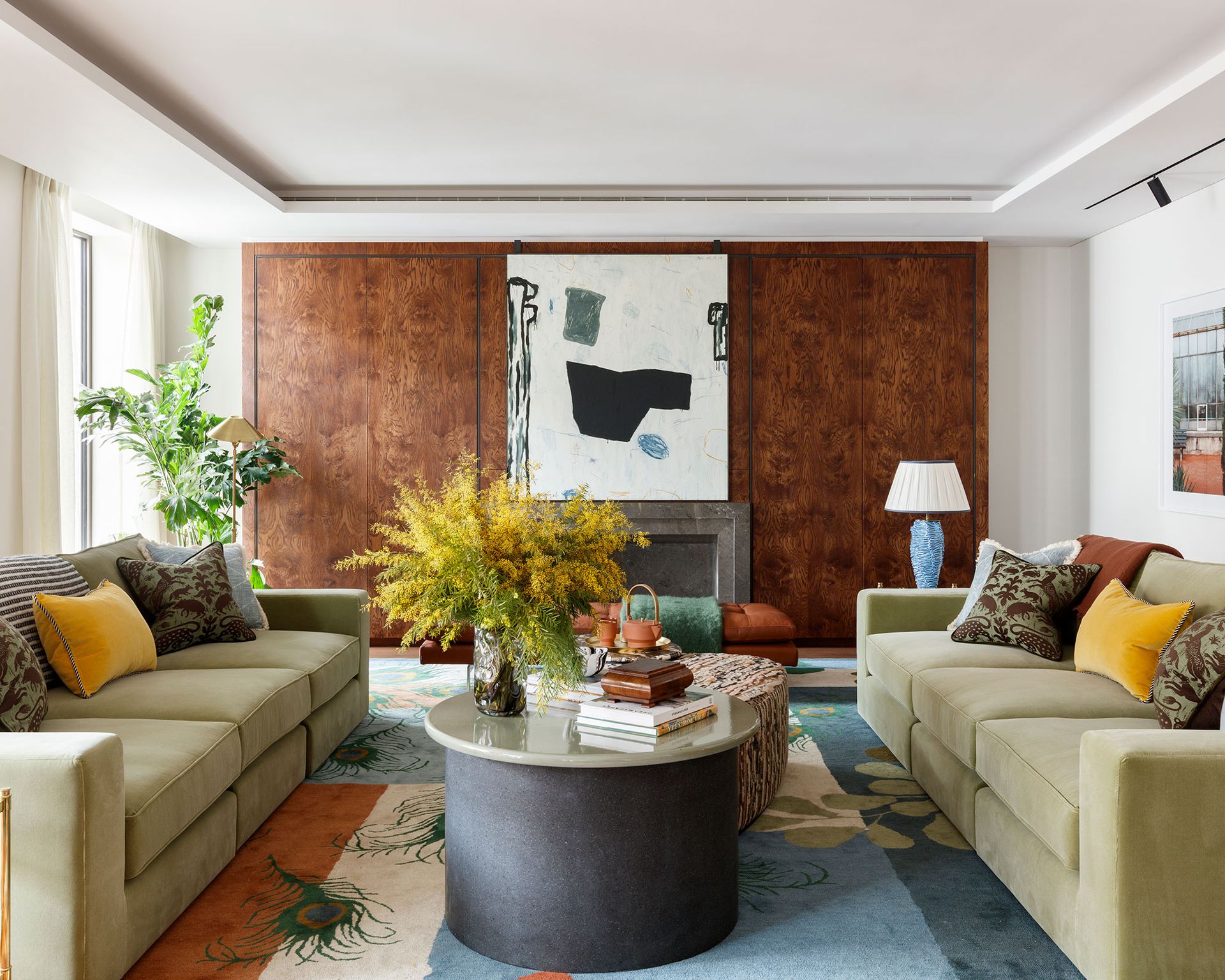 If you are looking for wall decor that is easily changeable, then consider decorating with art. Hanging a picture, such as an oversized painting, will command attention and set the tone – even in a relatively small space. Alternatively, opt for gallery wall ideas if you have a plethora of artwork to display.
'Bold and extrovert wall accessories look great against a contemporary background,' says Deborah Heath of Design By Deborah. 'But a wall of vivid color would swamp a watercolor and an oil painting may look dark and imposing on small delicately patterned wallpaper. It's matter of trial and error –and personal taste.'
12. Arrange books for an attractive focal point
Wall decor ideas don't have to be purely decorative, they can be functional, too.
'Books can bring culture and intelligence to any room,' as Cicero said, 'A room without books is like a body without a soul.'
One formal way of decorating with books is the classic library approach, that is by genre – fiction, non-fiction, history, art and so on. 'It's probably one of the most popular ways to organize a bookshelf in a domestic setting,' says Philip Blackwell, founder, Ultimate Library.
'Those looking for a more stylized result, which will have a greater impact on the overall look and feel of them too, will style a bookcase in blocks of color,' he adds. 'Some will go for one accent – we've done entire walls in Penguin paperbacks, from example – others will want a kaleidoscope effect with different pops of color.'
13. Take a world view with geographical wall decor
Whether vintage, wall sized or illustrative, a map can add interest and evoke happy memories of your favorite trips and destinations. Plus a map makes a perfect children's bedroom wallpaper idea.
This feature wall will have particular appeal for budding explorers, who can stick mementos on the map to show where they've been, or mark where they would like to go in the future.
14. Fashion a wall display with plates
If your best china is too good to eat off, or perhaps you have decorative antique plates hidden away in a cupboard, make a gallery wall display with them.
Hanging plates on a wall is easy: simply select a few varying sizes and patterns and measure up the placement of each piece on the wall before you go in with a hammer and nails, to make sure you get the spacing right.
Once you're happy, attach the plates to hanging wires – you can get ones especially designed for plates that will hold them firmly without damage – and hook onto the walls.
15. Dress your walls with decorate paneling
Originally installed to protect walls and hide damp, panelling is enjoying a style revival, and is perfect as farmhouse living room wall decor. We adore the instant character wall panelling can provide, especially in featureless rooms. And of course it is a practical way to keep scruffs at bay.
'Panelling is a useful way of introducing warmth and character to a room – there is something cozy about being surrounded by wood, says Bruce Hodgson, founder and creative director, Artichoke Interior Designs. If your budget doesn't stretch to wood panelling, high-quality MDF painted with an eggshell paint is a convincing alternative.
16. Display houseplants – on the wall
Shown off with imagination and ingenuity, the best indoor plants add natural charm to any scheme. Swap a mirror above the fireplace for a wall-hung pocket planter filled with a verdant display of ferns and trailing vines. Different heights add visual interest – mix up plants with different leaf shapes and colors for an abundant display.
A well-edited arrangement of houseplants will not only life the spirits and help purify the air, it's also great for adding color, style and an artistic flourish.
17. Introduce wall-to-wall style
If you want to add a unique touch to your home, a bespoke trompe l'oeil is a great wall decor option. You'll need to commission a specialist and be prepared to make a significant financial investment. Designs like these suit traditional schemes particularly well.
Although trompe l'oeil (meaning 'deceive the eye' due to the optically illusive nature of the art technique) is popular for large areas, such as dining and living rooms, it can add space and depth to smaller spaces, such as powder rooms.
Murals can incorporate specific themes, personal motifs or favored landscapes in any style. If your budget doesn't stretch to a hand-painted design, consider a tiled alternative or a mural wallpaper, which can be custom-made and can even feature your own photos.
18. Opt for an instant update with wall decals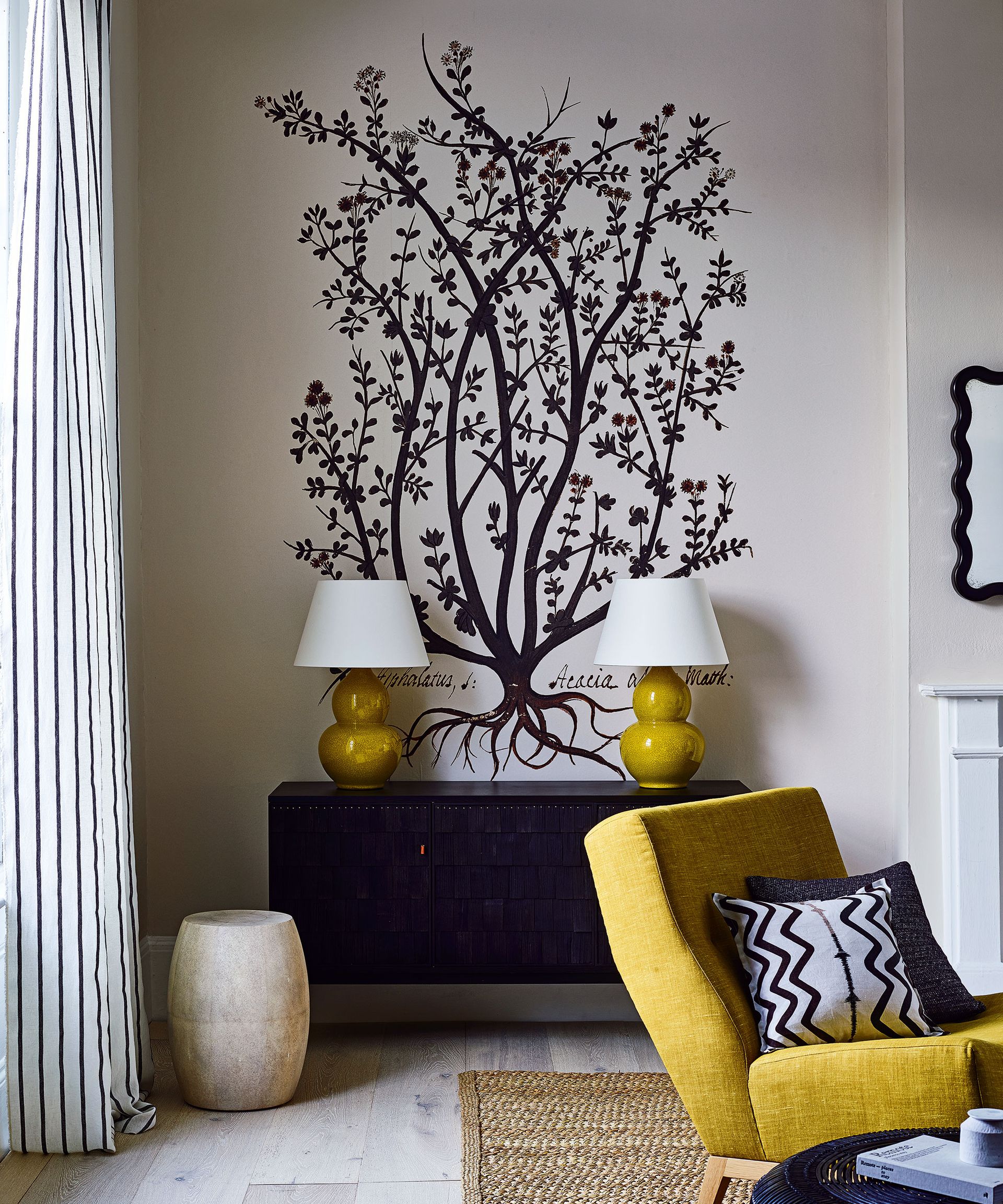 Instead of conventional artwork or feature wallpaper, why not choose wall stickers or decals (transfers) to make a statement? Options range from colorful designs, perfect for adding character to a child's bedroom, to sophisticated silhouettes, elegant monochromes, witty graphics and adhesive chalkboard, ideal for kitchen walls.
Think about where to place them – off-center or above a baseboard often looks more interesting than a centrally positioned design, which can appear lost in a large space. Consider the style of your interiors, too; simple graphics and block colors will suit minimalist layouts. Wall art can look fussy in a busy scheme, so remember to pare back on other accessories to enable your art to stand out.
What can you do with a blank wall?
Adding impact to your walls needn't be confined to the traditional methods of wallpapering or painting. There are plenty of ways to enliven your scheme, whether you opt for an easy-to-change option, such as witty wall stickers and whimsical decals, or invest in a bespoke solution, such as a striking mural or a delicate trope l'oeil. Whether your schemes are traditional or contemporary, there is a wealth of creative ways to let you walls do the talking.
Sign up to the Homes & Gardens newsletter
Decor Ideas. Project Inspiration. Expert Advice. Delivered to your inbox.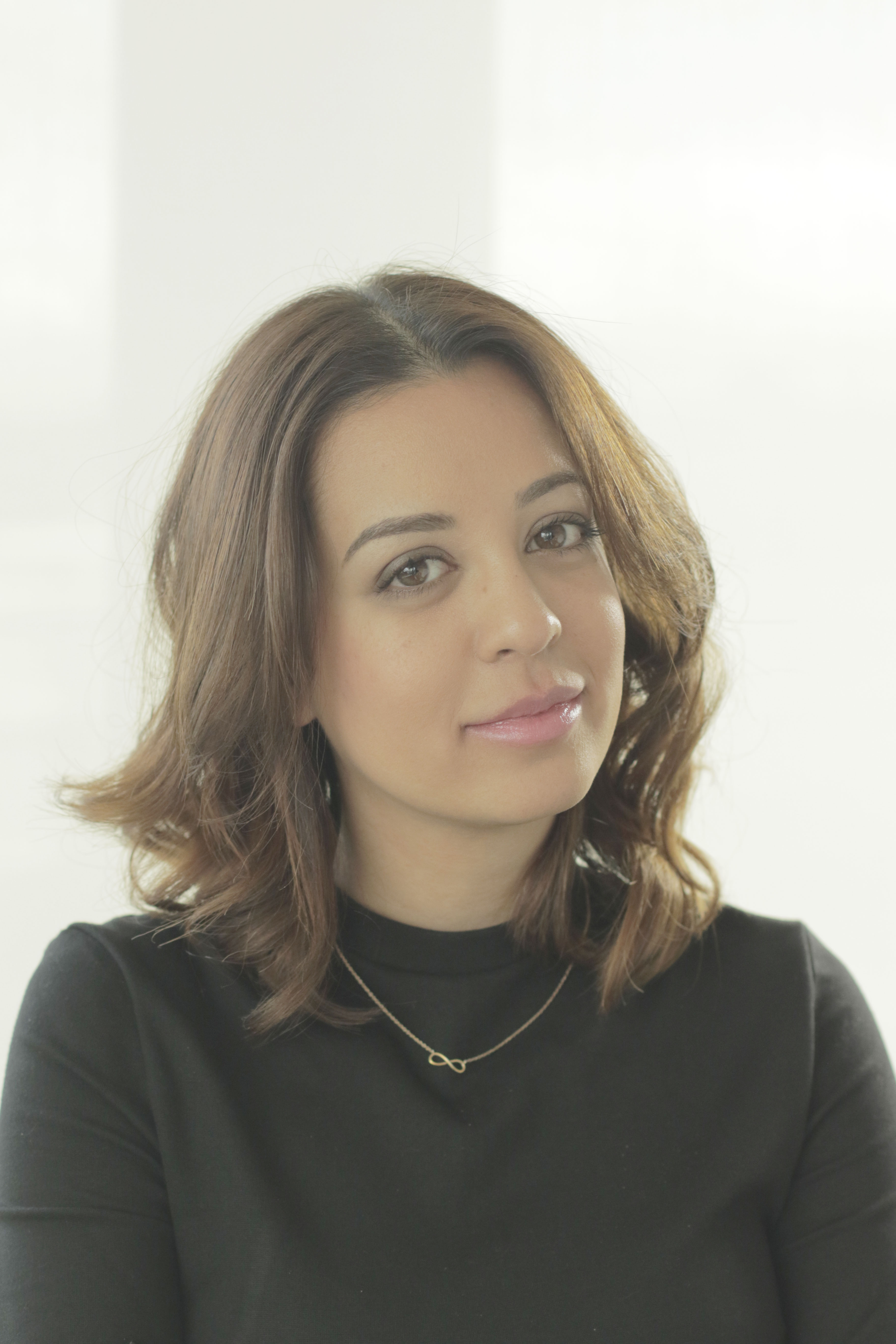 Jennifer is the Digital Editor at Homes & Gardens. Having worked in the interiors industry for a number of years, spanning many publications, she now hones her digital prowess on the 'best interiors website' in the world. Multi-skilled, Jennifer has worked in PR and marketing, and the occasional dabble in the social media, commercial and e-commerce space. Over the years, she has written about every area of the home, from compiling design houses from some of the best interior designers in the world to sourcing celebrity homes, reviewing appliances and even the odd news story or two.