Bathroom wall ideas — striking finishes for washroom walls
Step up the style stakes with these bathroom wall ideas, all artfully applied for a dynamic effect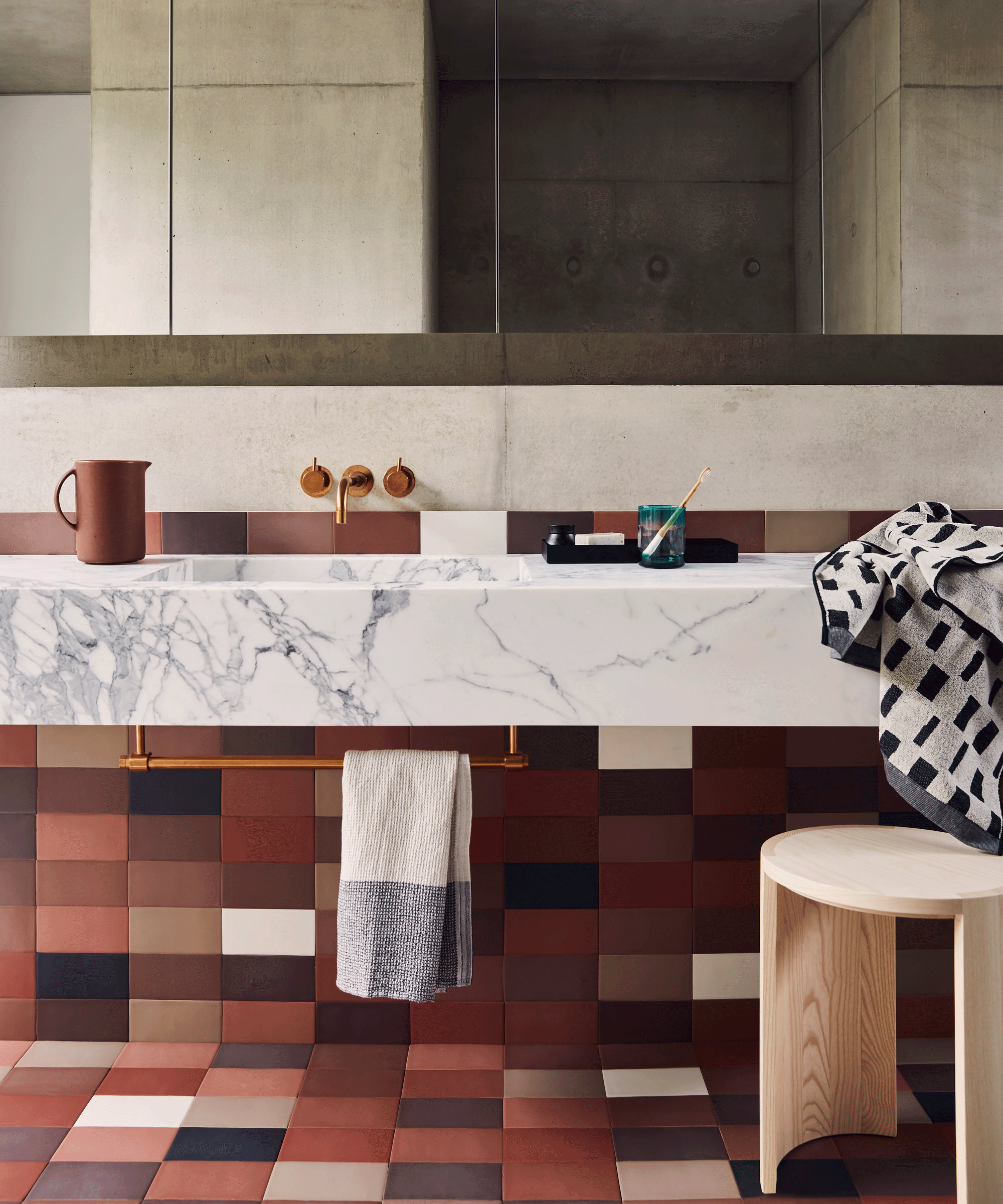 (Image credit: Future)
If you are looking for bathroom wall ideas that are a little more eye-catching than the usual choices, you are in the right place.
Here, we cover expected wall surfaces – albeit with more unusual presentations – and some more original looks and bathroom ideas, so that your space can feel truly unique, whatever its size and style.
Bathroom wall ideas
From tiles to tadelakt, wallpaper to the latest paint colors, these are the bathroom wall ideas we love most. Take inspiration from these and other bathroom pictures to plan your dream space.
1. Introduce 3D pattern for texture
Use 3D-patterned wall decor ideas to bring a textural dimension that softens a bathroom's hard surfaces – try CTD Architectural Tiles' Genesis range.
For this luxe space, architects Emil Humbert and Christophe Poyet of Humbert & Poyet collaborated with Atelier Tollis to create a striking backdrop.
'Based on our vision and drawings inspired by greenery, Atelier Tollis pressed a feather print into gold-leaf aluminium panels, lending an air of romance and movement,' explains Emil.
2. Go for a wall-to-floor tile blend
Carrying floor tiles up the walls gives the illusion of greater depth and is a popular space-boosting technique in small bathrooms.
Here, the modern grid-style installation of Barber & Osgerby's Lane tiles lends graphic warmth to industrial cement surfaces.
When considering bathroom tile ideas, be sure to check the tiles are suitable for both floor and wall use. Keeping stronger colors below eye level will reduce impact for a more serene atmosphere.
3. Add a mural for impact
Outsized murals trump repeat pattern for impact and drama.
'Upscaling really makes an image pop. Wall&Deco's incredible designs are 100% waterproof so can be used anywhere in the bathroom, including inside the shower,' says Kirsten Wain, designer, West One Bathrooms.
'Each print is rendered to fit the wall dimensions and can be adjusted to ensure focal parts of the design take prime position.'
4. Use wallpaper to bring in pattern
As a smaller room, the bathroom is ripe for embracing wallpaper in bold patterns and prints.
'People worry about durability and practicality but, with a little care, there's nothing to fear,' assures Jamie Watkins, co-founder, Divine Savages.
'We recommend utilizing tiling or painted paneling in areas prone to splashing. Paneling the lower half of the wall and then wallpapering above is a particularly sophisticated look.'
5. Use an interesting mix of materials
Having a mix of surface materials adds depth and interest to any bathroom design.
'We love to mix natural stone with manmade materials,' enthuses Hamish Smith, creative director at Ca' Pietra.
'While one material offers a luxe feel and naturally unique patterning, the other, take a ceramic tile for example, can bring solid color and perfect uniformity to the table.'
In the master bathroom above, shared color tones allow the natural and manmade surfaces to mix and match in perfect harmony.
6. Use paint in a bathroom as a dramatic backdrop
All too often, bathroom paint ideas feature the colors white or blue, but deep tones in a well-lit room can make for a space that feels like your own home spa.
A word of caution – darker colors will show up splashes more readily than lighter ones, so it's important to ensure that the finish you choose is water-resistant in areas that are likely to get wet occasionally.
7. Play around with repeat patterns
Enliven a neutral color palette by repeating the same pattern across different materials. Here, Greg Natale Studio has also played with scale, pitching outsized chevron timber doors against miniature chevron mosaics with striking results.
Beware, the devil is in the detail when it comes to installation. Precise pattern alignment is crucial but adding a break between materials, in this case the countertop, can aid neater connections.
8. Combine wood paneling with lime plaster
Wood or painted paneling isn't a new idea for bathroom walls – they are practical, and add texture and warmth to what can sometimes feel like a clinical space.
However, if traditional looking paneling isn't your thing, why not consider a more contemporary approach?
The bathroom of this London apartment by architects Chan and Earys has a combination of limed oak brushed timber planks and traditional lime plaster mixed with a natural green pigment on the walls and ceiling.
The resulting feel is soft and tactile, echoed in the curves of the avocado-green roll top bath.
9. Mix up tile styles
'With so many gorgeous tiles out there, choosing just one is sacrilege, and don't be afraid to mix up surface texture and formats as well,' advises Mandarin Stone's Louisa Morgan.
'Here, the lime terrazzo pieces in this contemporary floor tile links to green tones in the classic zellige-inspired wall tiles, creating a harmonious connection between the modern matt and traditional glossy surfaces.'
10. Create luxury with polished plaster
One way to create the look of a luxe spa with bathroom wall ideas is to go for an uneven polished plaster finish. This bathroom trend is a wonderful contrast to the more glossy elements of a bathroom – from brassware to tiles.
Moroccan tadelackt has a natural grittiness, which is tactile and textural, and makes for a striking contrast to even and shiny surfaces.
Installing it should be left to professionals, explains Jamie Blake of Blakes London. 'You're looking to add just enough movement in the plaster to create interest but not so much that the end result looks messy.'
11. Use architectural detail to create a unique look
Taking paneling a step forwards, this bathroom wall idea is a favorite amongst fans of country bathroom ideas.
This look can be recreated quite simply – for a carpenter, anyway – with materials such as MDF, which, when painted with water-resistant paint, and assuming the room is well ventilated, will stand up to damp conditions well.
12. Paint a picture with tiles
Bathrooms can benefit from feature walls, and although the focus is usually, quite rightly, on the wall behind the bath, if you have a particularly attractive vanity unit, you can steal the attention from the bath to let it shine with a stunning bathroom wall idea behind it.
If a mural is too contemporary for your tastes, this approach is perfect – a wall of tiles that create a loose mural.
Keep the color scheming simple if you choose to do this. The tiles themselves will contribute enough detailing and texture with their shapes, material and grout lines – the mural is just the icing on the cake.