Bathroom shelf ideas – 22 ideas that blend storage with style
These bathroom shelf ideas offer smart storage solutions whilst keeping your sanctuary space stylish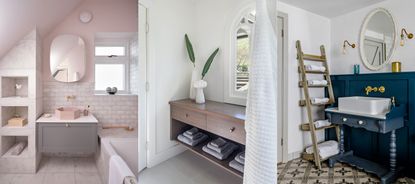 (Image credit: Ripples | Kimberly Harrison Interiors | Polly Eltes )
Bathroom shelf ideas provide the perfect platform for practical storage and decorative displays, creating the ideal balance between beauty and functionality.
Your bathroom should be a place for relaxation and calm, and bathroom shelf ideas can help to make the room feel organized and clutter-free.
When planning your bathroom storage ideas, shelving is an essential. Placing important, every-day items on shelves so they can be easily located first thing in the morning and last thing at night will only help to create a more inviting, well thought out environment.
As well as being practical, bathroom shelves can of course act as beautiful design features, ideal for adding personality to the space for your bathroom ideas. Whether you choose aesthetically pleasing shelving units, or decorate more simple designs with unique objects and ornaments, there are options to suit all bathrooms.
22 of the best bathroom shelf ideas
From luxurious heated towel rails to bath racks, shower caddies, and unveiling the hidden shelving you already have (but just didn't know about), these bathroom shelf ideas will help keep your washroom neat, tidy and stylish.
1. Use one central shelving unit
Great for small bathroom storage ideas where you want to have a zoned storage area, using a central shelving unit can keep all of your bathroom bits and bobs organized in one tidy space.
As shown in this beautiful bathroom by Alice Lane Interior Design, the sleek, black metal unit fits in perfectly with the modern bathroom design, defined by the striking Lee Jofa wallpaper by Kelly Wearstler.
Providing a home for both practical items such as towels and containers with toiletries, as well as more decorative pieces such as books and ornaments, this central shelving unit creates a stand-out storage and display space.
Large shelving units like this are often not associated with bathrooms, used more in living room and bedroom spaces, however, as shown in this design, they can work wonderfully for bathroom organization ideas, as well as for adding character to the space.
2. Make the most out of every inch of space
Whether it's an awkward alcove, or an area of empty wall space beside a sink, making the most out of every inch of space in your bathroom, and thinking cleverly about how you can create shelf storage, will ensure your designs are catered perfectly to the shape, size and style of your bathroom.
In this playful and pink bathroom by Ripples, the three recessed shelves create a striking display space and design feature, adding depth and a feeling of openness to the room. Fitting perfectly into this section of space beside the sink, the custom shelf design, finished in the same marble style tiles as the walls and flooring, creates a luxurious display space and storage area.
3. Embrace low shelving designs
Having low shelves and cabinets can not only make your bathroom feel more open and spacious, but positioning items on low shelving designs can make things easier to reach and locate, making your bathroom feel more inviting and easy to use.
James Lentaigne, Creative Director at Drummonds states, 'in the bathroom, it's important to keep toiletries easily accessible. Each area of the bathroom – sink, bath and shower – should feature some form of storage in order to keep toiletries close to hand when needed.'
In this bathroom, designed by Kimberley Harrison Interiors, the warming, dark wood shelving unit combines practical open and closed storage, a great option for bathroom cabinet ideas. Keeping the towels on this open shelf allows for them to be easily grabbed when needed, as well as adding softness to the wooden design. Low shelving designs like this also free up wall space, as shown in this bathroom, the low shelving allows for the decorative vases to take center-stage, with the bright white wall space remaining clutter free.
4. Use a modular shelving unit
A versatile option for your bathroom shelf ideas, a modular shelving design can be adapted and extended over time to cater to changing spaces, functions and bathroom designs, ideal for the modern home.
Designed by modular shelving experts, String Furniture, the shelf shown in this bathroom space creates a unique, modern take on a bathroom vanity unit. Created to fit perfectly around the sleek sink space, the shelf contains a cabinet, mirror, open shelving and hooks, forming a multifunctional storage space that is well suited for both small and large bathroom ideas alike.
5. Choose a unique shelf design
When it comes to thinking outside the box and choosing a unique bathroom shelf idea, what gets more unique that putting a ladder in your bathroom?
Ladder shelves have become increasingly popular to use as storage and display units throughout the home. Adding a unique design feature and focal point in a bathroom, a ladder shelf can also provide a practical area to store and display items.
As shown in this more traditional bathroom, great for country bathroom ideas, the ladder adds a warming, wooden texture to the space, as well as creating a unique, tiered shelving design that works beautifully as a towel storage idea.
6. Light up your shelving
Whether you position beautiful decorative wall lights over your shelves, or incorporate shelves with innovative, built in LED lights, as shown in the bathroom above by John Cullen Lighting, lighting up you shelving can make a real feature of your bathroom shelf ideas.
Barrie Cutchie, Design Director at BC Designs states, 'if you have decided to build alcove shelves into your bathroom to house plants or beautiful toiletries, one idea is to position wall lights that illuminate the space. Often, bathrooms have bright ceiling lights, or lights around vanity mirrors, but by utilizing lights to illuminate storage shelves, it can add a warming glow and soft light to your bathroom,' - one to consider for your bathroom lighting ideas.
7. Built-in shelves will help maximize space
If you're looking for small bathroom storage ideas and need to cram storage into every sensible corner of your bathroom, then built-in is best.
'Built-in storage makes the most of every inch of space and reduces bathroom clutter, allowing decorative elements to take center stage,' says Lentaigne.
Naturally, adding built-in shelves to a bathroom is most easily done at the design stage of a renovation.
If you're past that point, look for opportunities to incorporate space-maximizing shelving into the architecture.
In this bathroom, a tall alcove around the sink has been fitted with full-width, full-depth shelving to make a vacant space useful.
8. Open up your vanity unit
Using the space under your sink for storage ensures useful items are close at hand while also making the most of otherwise-dead floorspace.
Open bathroom vanity ideas not only make items even more accessible, but helps a small bathroom feel bigger.
'Many of Drummonds' classic vanity units feature a shelf below the basins which are perfect for storing towels or holding baskets to store toiletries, etc', says Lentaigne. 'Open shelving helps to create the perception of space, as opposed to built-in units.'
9. Think small
More so than in perhaps any other room, bathroom shelves come in all shapes and sizes – but even the smaller ones can make a big impact.
'Simply adding a clever accessory, such as a shower caddy, can eliminate the look of additional 'mess' around your shower', says George Holland, Bathroom Specialist at Victorian Plumbing.
'This, in turn, can even help your bathroom look bigger. The great thing about shower caddies is that, depending on the size you buy, everyone in your household can have their own individual shelf.'
10. Add a shelf above the sink
A shelf above the sink may seem superfluous if you have a vanity unit, or at least a bit of space around your basin. Not so, says Lentaigne.
'Storage in the form of shelves or cupboards above the washbasin works well, and prevents the surface of the vanity from becoming cluttered.'
Items like soap, hand lotion and toothbrushes really do need to be out in the open, so popping them on a purposeful shelf gives them a dedicated space, such as in this modern bathroom.
The shelf needn't take the place of a mirror either, and can be positioned just below.
11. Warm up your cottons with heated towel shelves
An open vanity unit is an excellent space for storing fluffy clean towels – having them out in full view makes them all the more inviting. To further excite the prospect, invest in a heated towel rack like the models offered by Rutland London.
'For those looking for the ultimate under-sink storage, it combines the benefits of a heated towel rail with the functionality of a basin stand to create a heated vanity suite with an integrated heated laundry rack', explains Gorden Riddoch, Rutland London's Managing Director.
'It's perfect for warming robes and towels over the colder winter months!'
12. Keep it 'barely-there' with glass shelving
In a small bathroom, wall-mounted shelving needs to be fairly unobtrusive. This means keeping shallow depths so that units don't jut out unnecessarily far, and a design that is an extension of its background.
If you're looking for storage options to complement your small bathroom ideas, glass makes for a great shelving choice. It's easy to clean, harmonizes well with most wall schemes and adds a barely-there look to your unit.
Crucially, it's a material that can withstand whatever a bathroom throws at it. 'You must ensure that every product you choose to place in your bathroom is moisture resistant and capable of withstanding the damp environment', warns Holland.
13. Turn your toilet into a shelving unit
'Toilet shelves allow you to maximize your storage space in any bathroom', says Holland. 'If your bathroom does not have enough natural storage space or cabinets to hold all your toiletries then you need to try toilet storage.'
While perhaps not the most glamorous location for a shelving unit, the awkward shape of your WC can be utilized to facilitate storage, making it one of the best bathroom storage tips.
Opt to wrap the cistern in an individual unit that creates a small shelf on top of it. Or conceal the cistern in a larger unit built into the wall, as demonstrated in the cloakroom idea above, creating an elongated mantel shelf with potential for additional cabinetry.
Alternatively, the space above the toilet can be used for small wall-fixed shelving units.
14. Make the most of existing features
Feel like you've run out of bathroom shelving space? There may well be a readymade shelf in your bathroom that you just haven't realized was there.
In this room, a built-in fireplace doubles as a decorative shelving unit and even has space for some more practical items if necessary.
You may not have a fireplace, but you likely have a window, so turn its sill into a functioning storage space.
15. Mix closed and open shelving
'If it is a family bathroom, storage for medicines and grown-up products needs to be at eye height away from the kids or better still, in a built-in or lockable cabinet', explains Lentaigne.
'The children's products need to be out in the open on shelving and easily accessible, but it is also good to have a cupboard space to squirrel these items away.'
Both closed units and open shelving have their place in the bathroom, so it's a good idea to incorporate both into any built-in storage.
In the bathroom shown above, a vanity unit that runs the length of the room features open shelving with easy reach for standing users, along with storage drawers that reach all the way to the floor.
16. Indulge in purely decorative shelving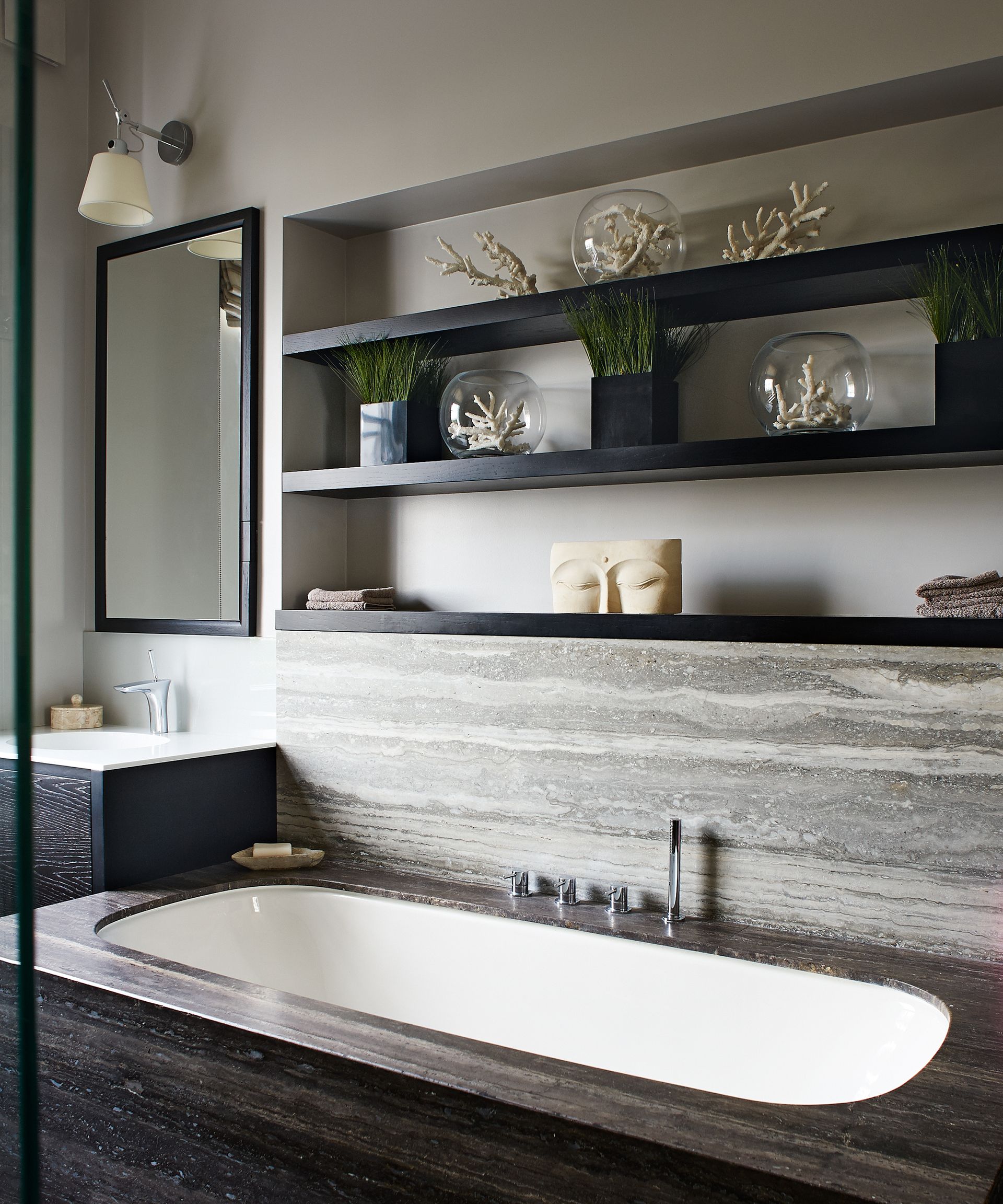 Making the most of potential storage space is important but so is having a little fun with your bathroom decor.
If you've got your storage needs sorted, dedicate a whole shelving unit to expressing your personal style. A solely decorative shelving unit can help turn a functional bathroom into a relaxing oasis.
Fill it with candles, bathroom art ideas, books and ornaments to help create a personal haven.
17. Get creative with freestanding shelves
While built-in shelving is great for maximizing space, if you like to change your bathroom layout from time to time, freestanding units are flexible and tend to offer a little more room to move in terms of slimmed-down design.
This dainty, wall-leaning shelving unit is a pared-back approach to storage that doubles as a statement piece in the room.
'They are ideal to add personality to your bathroom and have your own unique interior spin, whilst not damaging any walls as not all shelves need a drill to fit, making them simple and cheap to recreate at home,' says Holland.
18. Make bathtime better with a bath rack
When you're up to your neck in a bubble bath, there is nothing worse than realizing your shampoo is tucked neatly inside a cupboard on the other side of the room.
To keep everything within easy reach, bathers should get themselves either a bath rack, an accessory stand or, as demonstrated in this room, both.
A small shelving unit, like this accessory stand, doubles as a decorative table and can be easily moved around the room depending on your needs.
19. Double vanity means double storage
'For those restricted by smaller bathrooms, compact vanity suites will help to create extra storage space', says Riddoch.
'In bathrooms where space is in abundance, people can make a regal feature of their vanity and enjoy the extra under-sink storage space they have to offer.'
Doubling your vanity unit doesn't just mean the luxury of two sinks. It also doubles the amount of storage-ready space you can include in one piece of bathroom furniture.
20. Add a built-in shower alcove
Shelving that juts out of the wall isn't always ideal in a small shower space, so consider going inside the wall instead, as shown in the walk-in shower idea above.
'If the depth of the wall allows, it is good to have a built-in alcove to house shampoo, body wash, etc', says Lentaigne.
'Failing that, our bottle racks – available in a large and a small size – are perfect and can be positioned in exactly the right place for showering.'
21. Use shelves to add greenery
The color green has seen a huge usage increase in bathrooms recently, likely due to quarantined longings for the natural world.
Rather than repainting your walls, think about how shelving can introduce a little bit of the real thing into your bathroom. In this bathroom, a shelving unit has been turned into a miniature indoor plant nursery.
Choosing scented plants will also help create a multi-sensory environment for your bathroom.
22. Build a niche to hide pipework – and provide storage
For bathroom wall ideas, creating a false wall is often a must in a bathroom when you are attempting to introduce new pipework.
This false wall can provide an opportunity, though, to create an interesting architectural feature with a niche shelf inserted at a height that's just perfect for storing bath must-haves.
Received wisdom? Ensure the shelf slopes very gently downwards at the front to stop water pooling on it.
Can you put shelves in a bathroom?
Absolutely, you can definitely put shelves in a bathroom.
Holland states, 'it's easy to suddenly notice how messy and disorganized your bathroom has become, especially when working from home. That's where bathroom shelves come in. They make for great additions to bathrooms, working to free up space and create an open and welcoming environment.'
When planning your bathroom design, including shelving is essential to make sure your space remains organized and tidy, as well as creating platforms that you can get creative with decoration and styling.
What do you put on a bathroom shelf?
Bathroom shelves need to cater to both aesthetic and practical needs.
'As they don't hide products or cosmetics, they can be used to display colored linens and towels for a touch of style', says Holland. 'Feel free to get creative. There are no set rules for what must be on your shelf, it all depends on what your personal needs and wants are.'
Shelves are also, however, the best way to quickly access items while stuck in a compromising position, such as being soaking wet in the shower, or quickly needing to brush your teeth before rushing to work.
'Shower shelves are ideal for your day-to-day shower and bath items, such as shampoos, conditioners and body washes (and even snazzy loofahs),' adds Holland.
'Towel shelves, on the other hand, can create elegant storage spaces for essential shower items.'
How do I add storage to a small bathroom?
'When it comes to utilizing bathroom storage, every inch counts', says Holland. If you're in the process of designing a bathroom, consider units that will make the most of the space you do have.
'A well-designed vanity unit can provide you with ample amounts of storage', says Holland. Their deep cupboards, drawers and shelves will provide you with a place for everything. They also boast handy internal shelves, which can help organize toiletries and keep your bathroom clutter free.'
'Tall cabinets won't take up much room, but they offer tones of additional storage for all of your bathroom essentials. They're perfect for storing towels and keeping cleaning products out of reach of little ones.'
Sign up to the Homes & Gardens newsletter
Decor Ideas. Project Inspiration. Expert Advice. Delivered to your inbox.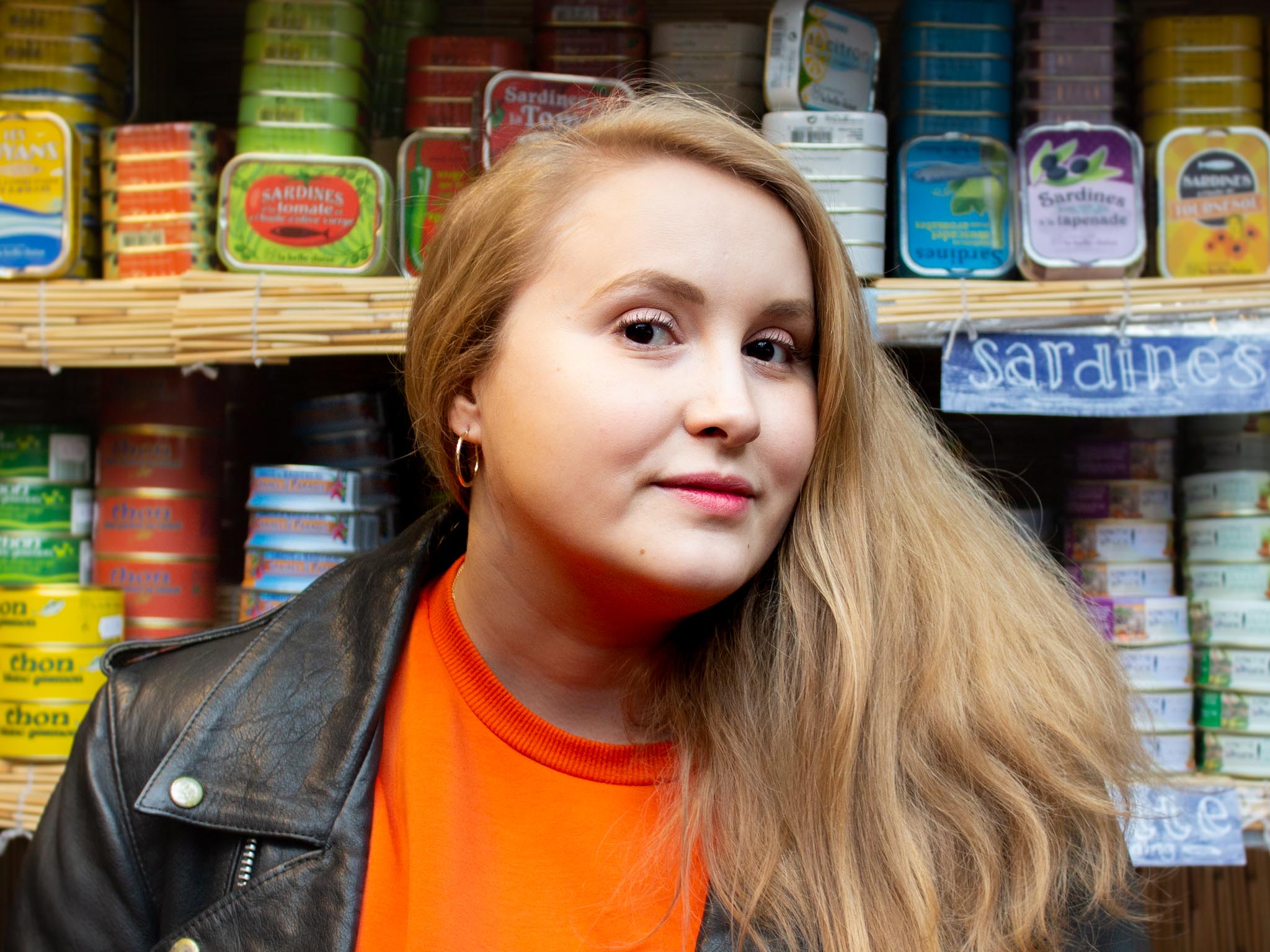 Ailis started out at British GQ, where a month of work experience turned into 18 months of working on all sorts of projects, writing about everything from motorsport to interiors, and helping to put together the GQ Food & Drink Awards. She then spent three years at the London Evening Standard, covering restaurants and bars. After a period of freelancing, writing about food, drink and homes for publications including Conde Nast Traveller, Luxury London and Departures, she started at Homes & Gardens as a Digital Writer, allowing her to fully indulge her love of good interior design. She is now a fully fledged food PR but still writes for Homes & Gardens as a contributing editor.