Towel storage ideas – 12 ways to neatly store and organize towels
From simple hooks to creative ceiling hangings, explore our favorite towel storage ideas for your bathroom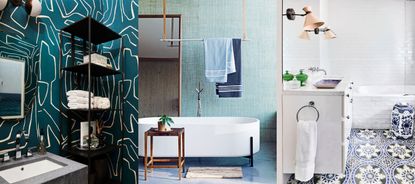 (Image credit: Alice Lane Interior Design, photography by Nicole Gerulat | Jake Curtis | Alecia Neo)
An essential item for every bathroom, clever towels storage ideas will always need to be integrated into a bathroom design.
Of course, colors and materials are important when choosing the types of towels you want in your space, but towel storage ideas will ensure that these necessary items are stored and displayed in harmony with your scheme. Carefully planning your bathroom storage ideas and bathroom shelf ideas is key for creating a functional and organized space.
Towels may not be on the top of your to do list when it comes to bathroom organization and storage ideas, but choosing unique ways to display the towels in your bathroom, from ceiling mounted rails, to beautiful storage baskets, can add the perfect finishing touch to your bathroom ideas.
Towel storage ideas – 12 tips for storing towels
To help with the towel storage ideas in your bathroom, we have gathered our favorite bathroom storage tips and designs that show a range of creative and practical towel storage solutions.
1. Keep it simple with wall hooks
An obvious choice for many bathrooms, hooks can offer practical and discreet storage for you towels.
Leanne Robey, Senior Designer at Ripples Bathrooms states, 'for a really simple fix, towel hooks are an inexpensive but effective option, and they even come in special finishes to perfectly match the rest of the brassware in your bathroom.'
In this light and bright bathroom, designed by Jessica Bennett of Alice Lane Interior Design, the two towels that hang from the small metal hooks beside the bath add subtle texture to the space. Using symmetry in interior design will always create a considered and elegant effect, and even though it has been used very subtly in this bathroom with the two towel hooks, the overall design thoughtfully considers both storage and style.
2. Use a heated towel rail
A multifunctional design that not only stores your towels but keeps them warm, cozy and dry, a heated towel rail can be a great investment for a bathroom space.
With an array of designs to choose from to perfectly integrate into your bathroom design, a towel rail can be easily fixed to a wall and store a large number of towels with ease.
3. Choose a unique, ceiling mounted design
If you want to make a statement with your towel storage ideas, why not install a unique, ceiling-mounted towel rail.
Perfect for positioning above a bath or beside a shower for large bathroom ideas, this modern storage solution is great for adding a sense of drama to your space.
In this bathroom, the rail has been crafted from smooth metal, with contrasting leather straps. This use of material adds a stylish element of texture to the bathroom space, and perfectly complements the light blue and warm wooden scheme. A design like this can also hang beautifully on its own when its not storing towels, acting as a striking decorative feature in the room.
4. Store and display towels with decorative objects
If you want to create a bathroom space rich with color, texture and character, why not combine your towel storage ideas with a unique decorative display.
In this bathroom, designed by Alice Lane Interior Design, she states of the process, 'we talked with the client about taking a risk in the bathroom space and enveloping the room in color and pattern. This Kelly Wearstler wallpaper hit the perfect note and embraced the modern California cool vibe for the clients.'
The overall design is fun and bold, and the sleek, black metal display unit has been beautifully organized with towels and accessories. For bathroom cabinet ideas, displaying essential, practical items such as towels with personal decorative pieces on creates a design feature that is both practical and individual.
5. Use a versatile, modular shelving unit
Great for creating a central storage space in your bathroom where you can keep all of your towels and toiletries together, using a versatile modular storage unit can adapt to your changing needs over time, as well as serve a variety of uses for bathroom organization.
In this sleek, minimalist bathroom space, the String Shelving unit creates a dedicated area for all bathroom accessories. Fitted with hooks, trays and shelves, the design is ideal for hanging towels.
Ideal for small bathroom ideas where you want to maximize on space and storage, a modular design can be built to meet your exact storage requirements and effortlessly integrate into your bathroom space.
6. Utilize the features of a traditional design
Many traditional sink designs are defined by an exposed metal frame, providing a practical area to hang and store towels – one to remember for traditional bathroom ideas.
In this bathroom, the beautiful Victorian console basin has a striking chrome frame that elegantly supports the twin sinks. The metal frame creates an inviting area to style with towels, adding a soft touch to the overall industrial style.
The matching towels elevate the overall feeling of symmetry in this bathroom, and create a welcoming, shared vanity space that is both practical and chic.
7. Create zones through different storage designs
'If you have a busy family bathroom where you need to store a lot of towels, creating dedicated zones across the whole bathroom can ensure that there are plenty of fresh towels for the whole family to use - great for family bathroom ideas,' says Lucy Searle, Global Editor in Chief of Homes & Gardens.
In this calming bathroom, the central towel storage space is the sleek heated towel rail, with additional, spare towels being stored in a textured, woven basket beneath the sink, and on the handy shelf beside the entrance.
These towel storage ideas make the most out of the space in this bathroom, creating multiple organized zones where towels are neatly stored and easy to find. Great for larger bathrooms where there is plenty of space, keeping your towels on show and to hand can also free up valuable cupboard space in other parts of the home.
8. Use an eye-catching towel ladder
A towel ladder can add both practicality and style to your bathroom space. A modern storage solution that reinvents a classic design, a towel ladder can store multiple towels, as well as other accessories such as dressing gowns and toiletries.
Often crafted from wood, a free-standing ladder can add a subtle statement to you bathroom, as well as adding inviting texture and warmth. What's more, a towel ladder can allow your towels to dry thoroughly, allowing you to use your towels correctly.
In this bathroom space by Neptune, the wooden ladder creates a beautiful contrast with the gray tiles, but is united with the light wood countertop on the basin. Offering practical storage for the white towels, the ladder is a versatile addition to this relaxed, calming bathroom space.
9. Add texture with woven wicker baskets
Woven baskets are a great way to add texture and natural material to your bathroom space - whilst serving a practical purpose too!
In this luxurious bathroom designed by Lucie Ayres from 22 Interiors, the woven basket creates a stylish area to store towels, as well as adding an element of softness to the modern, marble design. Ayres states of the design process for this clients home, 'we wanted to add softness at every opportunity, organic elements like hand made vases and a teak bench, as well as nature inspired tones that take that modern harsh edge off successfully.'
Simple elements such as the integration of baskets and storage chests in wicker and rattan to store your towels and other bathroom accessories can also help to create a calming, relaxed bathroom space.
10. Store towels out of sight with storage cabinets
For a clean and minimalist design, keeping your towels out of sight and using storage cabinets and draws will make your bathroom space feel sleek and sophisticated.
When designing a bathroom vanity, ensuring you create practical areas for storage will guarantee a long-lasting, functional design.
Leanne Robey states, 'incorporate a vanity unit with deep drawers in your bathroom design where towels can be neatly folded or rolled and tucked away out of site'.
No matter the size of your bathroom space or vanity unit, even having just the one draw is better than than none. In this larger bathroom design, the four draws beneath the beautiful marble countertop create an extensive storage space that is ideal for towels and bathroom accessories.
11. Build custom alcove shelves
A great way to maximize on alcove space and cozy corners in a bathroom, embracing alcove ideas and building bespoke shelves to store and display towels and other bathroom objects can add a unique decorative element to your bathroom space, as well as create a practical storage area.
In this bathroom, the three compact shelves have been painted to match the warming terracotta paint color on walls. Decorated with candles and sets of towels in a palette of neutral colors, the use of color and texture on this simple shelf design creates a beautiful focal point in the room.
'Knowing how to fold towels and choosing towels in colors that will perfectly complement your design will ensure that they serve both a practical and aesthetically pleasing purpose,' says Jennifer Ebert, Homes & Gardens' Digital Editor.
12. Use a classic towel ring
A simple towel storage idea that is always going to be effective, a towel ring can integrate into bathrooms of all styles, shapes and sizes.
Usually placed beside a basin to store just the one towel to dry your hands, towel rings can also be positioned across the bathroom, just like rails, to create zoned areas for other towels - ideal beside a shower or bath.
Rather than being fixed to the wall, in this bathroom, the towel ring has been fixed to the vanity cabinet, perfect if you do not have lots of free wall space or want to keep the design discreet.
What is the best way to store towels?
The best way to store towels completely depends on the design and size of your bathroom space.
As discussed, there are lots of ways to store towels in a bathroom, from large towel rails to storage baskets and hooks. When designing your bathroom, thinking cleverly about your storage ideas will ensure that everyday, simple items such as towels are organized and have a home.
If you are in need for towel storage ideas for a small bathroom, consider wall hooks, rails and shelving designs to make the most of the available wall space. For larger bathrooms, why not be adventurous with a towel ladder or ceiling mounted rail.
Two key things to remember when storing towels in a bathroom: create a practical area where they can hang to dry, as well as keeping spare, folded or rolled towels in the room so they can be easily located when required.
Sign up to the Homes & Gardens newsletter
Decor Ideas. Project Inspiration. Expert Advice. Delivered to your inbox.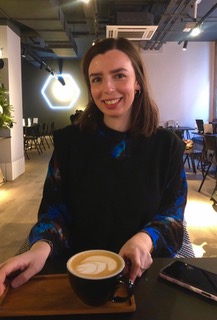 Zara joined Homes & Gardens in February 2022 as a Content Editor. After studying English Literature at University, she worked as an Ecommerce Website Editor, Content Writer and Buying Intern at multiple independent businesses within the luxury retail and lifestyle sectors. Her role at Homes & Gardens unites her love, experience and passion for the world of design and desire to create inspiring written content. She enjoys nothing more than discovering new trends, brands and products, whether that be in fashion, interior design or lifestyle.