Small bathroom ideas – 17 gorgeous decor solutions for compact washrooms
Want to make the most of your bijou bathroom? Take a look at our favorite small bathroom ideas for instant decor inspiration to help you create your dream washspace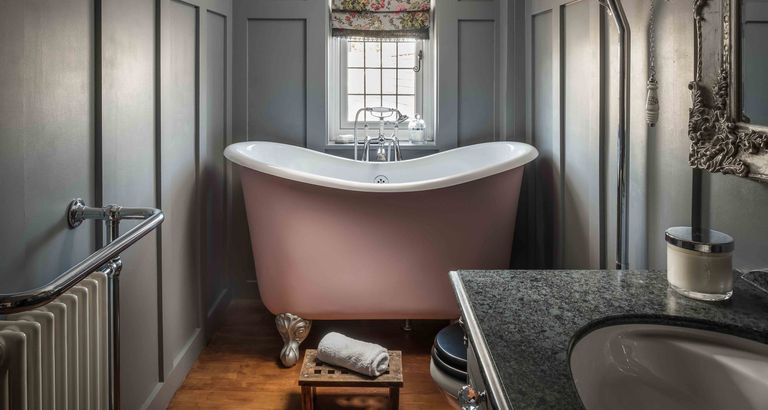 (Image credit: The Albion Bath Company)
Not all of us have the luxury of dedicating a spacious room in our homes to create a large bathroom, nor might we want to either.  With clever planning, as well as the use of smart storage options and stylish finishes, you can ensure that even the smallest of bathrooms can still feel spacious as well as proving to be practical. 
Up to recently, small bathrooms always required a compromise – often with the bathtub becoming the first victim in the battle for space, not to mention issues arising from lack of storage. 
But the latest modern furniture and fittings can still create a luxurious bathroom from minimal square footage. Shower baths remain a popular option in compact rooms, mini bathtubs are growing in popularity and the choices in scaled-down fixtures are greater than ever.
Whether you opt for a sleek streamlined look, or traditional detailing, there are plenty of ways to pack a decorative punch. 'Curved fittings serve to soften the hardness of large volumes of stone, creating a bathroom that's made for lingering,' says Clare Gaskin, director, Clare Gaskin Interiors.
What'e more, the latest bespoke glass screens help to create a more streamlined finish too, as specialists are able to template the glass to suit the space, with minimal brackets and no frames to create a more open feel.  
Scroll down for our pick of the best small bathroom ideas.
1. Use mirrors to make a small bathroom feel larger
Antique mirrored walls can be an effective way to create the illusion of a much wider space.
Also, if the passage between a master bedroom and its adjacent bathroom is wide enough, consider adding a shower enclosure. 'Ensure it sits seamlessly in the background by using clear glass – possibly with a modesty panel – and a flush-to-floor tray,' says Kirsten Wain of West One Bathrooms.
2. Make the most of an odd-shaped small bathroom
Awkward ceiling shapes in loft conversions can be cleverly incorporated into an ensuite bathroom with fixtures such as shower heads built into sloping walls. 
In this scheme, sandblasted glass panelling neatly partitions the bathroom from the sleeping area.
3. Simple solutions are more streamlined
'Architecturally and visually, it is best to keep a small bathroom feeling open by not crowding too many things into it,' explains Barbara Sallick, Co-founder, Waterworks. 'Edit your amenities often, hang your towels on bars or hooks, keep pattern to a minimum, and generally, make it simple.'
'The room will feel bigger if you use a pedestal sink rather than a bulky vanity, a clear glass door rather than shower curtain and reflective surfaces such as glossy ceramic tiles in a large scale,' adds Barbara.
4. Pick a bathtub that is made to fit
A small bathroom can cater to a tub – and a good-looking bathtub that is center stage-worthy, provided you pick a design that has been created specifically for the space. 
Thanks to its clean lines and simple design, this tiny tub from The Albion Bath Company is equally beautiful in a period home as it is in a contemporary-style space. 
See: Bathroom trends – inspiring new looks for your bathroom suite
5. Choose minimal fixtures
In a small space, it's important to avoid closing it off too much with excessive furniture. Opt for frameless glass when choosing a shower screen in a wet room to ensure the space remains light, bright and uncluttered. 
6. Hang a mirror to make your bathroom feel larger
Mirrors are an essential part of any cloakroom both practically and aesthetically. They bounce natural light around a room, making the room seem instantly larger and brighter. 
Ornate options look fantastic in guest cloakrooms and are great statement pieces. If you prefer to keep things simple, then a mirror with a bevelled edge is an effective but subtle detail.
7. Light a small bathroom to make it feel bigger and brighter
Bathroom lighting zones are a key consideration, as getting the lighting right can make all the difference to the ambience created in your bathroom. Try installing a dimmer switch so that you can control the intensity of light, depending on your mood. 
Spotlights, either recessed, fitted to a track, or as part of a multi-light fitting, will instantly brighten a room.
8. Be adventurous with small bathroom decor
A small bathroom or cloakroom need not be dull or boring. Small spaces can be elevated with bold decorating choices, like this compelling pictorial terrarium wallpaper and moody moss-green tongue-and-groove panelling.
9. Pick a cohesive style that suits your home's period
Many people shy away from classic styles as they assume that they can crowd a room and can be too oppressive, but this isn't the case. 
By using light colors and tones and embracing traditional fittings such as an Art Deco style, you can achieve a period look in your bathroom despite its small size.
10. Pick wall-mounted furniture to keep floors clear
Wall-mounted modular furniture remains a favorite for storage, due to its fuss-free, streamlined look. Available in a range of heights, widths and depths, it means that you can create semi-bespoke small bathroom storage that best suits your space. 
You'll find a wide range of colors, from soft hues to strong brave tones, available too, as well as plenty of different textures. 
11. Turn your bathroom into a wet room for a more open space
Transforming a small bathroom into a wet room is an excellent choice - you make the room look bigger by not closing it off with unnecessary screens. Installing bathroom tiles that stretch from the floor right up the walls can give the space a cozy cocooned look, too.
You can of course also consider incorporating a generous shower into a large tub instead – giving you the option of both.
12. Keep the decor simple but add elegant fixtures
In lieu of being able to enlarge room dimensions, the clever use of surface finishes can maximise the feeling of space. In a small dark space, you could keep the space light and bright with minimal patter or color.
'Use reflective finishes on joinery and recessed handles,' says Nick Stuttard, co-founder of London Projects. 'They reflect light back into the room and streamline surfaces, minimising any awkwardness in moving around a narrow space.'
13. Be brave with bold pattern
While wallpaper is an excellent option for adding pattern to a cloakroom, depending on the level of extraction you have in your bathroom, it may not be the best choice if you use to it to bathe or shower often. 
An excellent alternative to wallpaper is patterned tile, whether in a simple repeat or a mural-style design like this one by Surface View.
14. Invest in a vintage washbasin
Worried your bathroom design may look to contemporary and cold? Mix the old with the new for a relaxed, organic look. A vintage wash basin or compact vanity unit will offset the modern fixtures that are often necessary for a scaled-down scheme, giving the room a more lived-in look.
15. Choose luxe surfaces and accessories
'Cleverly chosen surfaces can completely transform the look and help you make the most of even the smallest space,' says Leila Roberts from Fired Earth. 
Luxurious, tactile finishes such as polished marble, make a space space feel a lot less utilitarian. The addition of accessories like decorative lighting and a beautiful mirror, also ramp up the feeling of luxury.
'Using large-format tiles means there are fewer grout joints, making walls and floors easier to clean, too,' Leila adds.
16. Pick a washbasin that's a decorative focus
Like a more traditional look? Demonstrating the perfect balance between classic design and contemporary color palettes, the vibrant blue hues of the Georgiana and Lorelei countertop washbasins will sit beautifully against any backdrop, from watercolour teals to contrasting, marble-effect dusty pinks, and will steal the limelight in a small bathroom – distracting from the rooms diminutive proportions.
17. Create a focus – with pattern
A small bathroom always runs the risk of being characterless but you can easily rectify this with a single wall of patterned tiles, placed strategically to draw attention to an end wall or a feature wall. 
'Whether it's stars or stripes, monochrome patterns or colours that pop... pattern and print play a big part in bringing personality into any home – it injects life into small spaces. Think that pattern tiles are just for contemporary spaces? Think again, and opt for a Victorian-inspired patterned tile, or a trellis pattern for a shower space to make it timeless,' says Hamish Smith, Ca' Pietra Creative Director.
How should I design a small bathroom?
If you're pondering how to design a small bathroom, the truth is that every aspect needs to be carefully considered. But that doesn't mean you need to compromise on style. 
Clever storage solutions can make all the difference, and thankfully there are now many compact options for bathrooms – from reduced-depth bathtubs and basins to slimline shower trays and frameless screens to enhance the illusion of space.
Also, bear in mind that wall-hung designs will optimise floorspace, and reflective surfaces can help bounce light around the room.
What is the best color for a small bathroom?
So, what's the best colour for a small bathroom? The truth is that it depends on your own space.
First, take account of the natural daylight in your small bathroom: if it is poor or if the bathroom is north- or east-facing, you would be better choose a bathroom color that reflects light and has a touch of warmth to it.
If your bathroom is flooded with daylight thanks to a large window, there's no reason not to choose a dark color.
Consider how the bathroom color will look on all four walls – in a small space, it may be over-powering if it is dark or bold; or it may make the room feel entirely characterless if it is pale – and this is where you need to be clever with adding pattern and texture to complement that color. 
What to avoid? A strong color and poor lighting, whether daylight or artificial light – the effect will be that the entire space with have a tinge of that shade, and when you look in your small bathroom mirror you might find your face reflects that shade – which is unflattering and not conducive to wellbeing.
What are the bathroom trends for 2021?
If you're looking for bathroom trends for 2021, you've come to the right place.
Bathrooms have undergone a huge leap in design of late, and thanks to the effect the pandemic has had on everyone's homes - with bathrooms becoming our stay-at-home spas - this trend is set to continue right through 2021 and beyond. 
Super practical, utilitarian, minimal designs have been replaced by softer lines, organic shapes and warmer colors being applied in small bathrooms, as well as large. 
Modern technology too is being utilised to the max with ink-jet printing technology allowing manufacturers to produce all kinds of tiles, from wood and stone-effect tiles that look so similar to the real thing that it's hard to tell the difference, as well colourful and intricate patterns.