50 small bathroom ideas – decor and design solutions for tiny washrooms
Our favorite small bathroom ideas will help you to make the most of your bijou bathroom with instant decor inspiration and clever design tips

(Image credit: Future)
These small bathroom ideas are designed to make a compact space feel not just bigger and well-functioning, but super-stylish too.
When it comes to small bathroom design, clever planning - which includes everything from layout, to fitting choices, to smart storage options - is key to ensuring that even a tiny bathroom can still feel spacious. Stylish finishes that are also practical are the icing on the cake.
Up to recently, small bathrooms always required a compromise – often with the bathtub becoming the first victim in the battle for space - not to mention issues arising from lack of storage.
But the latest modern furniture and fittings can still create a luxurious bathroom from minimal square footage. Shower baths remain a popular option in compact rooms, mini bathtubs are growing in popularity and the choices in scaled-down fixtures are greater than ever – there is a plethora of bathroom ideas for compact spaces to choose from.
Brilliant small bathroom ideas
Whether you opt for a sleek streamlined look, or traditional detailing, there are plenty of ways to pack a decorative punch with your small bathroom ideas.
1. Use a colored bath as a focal point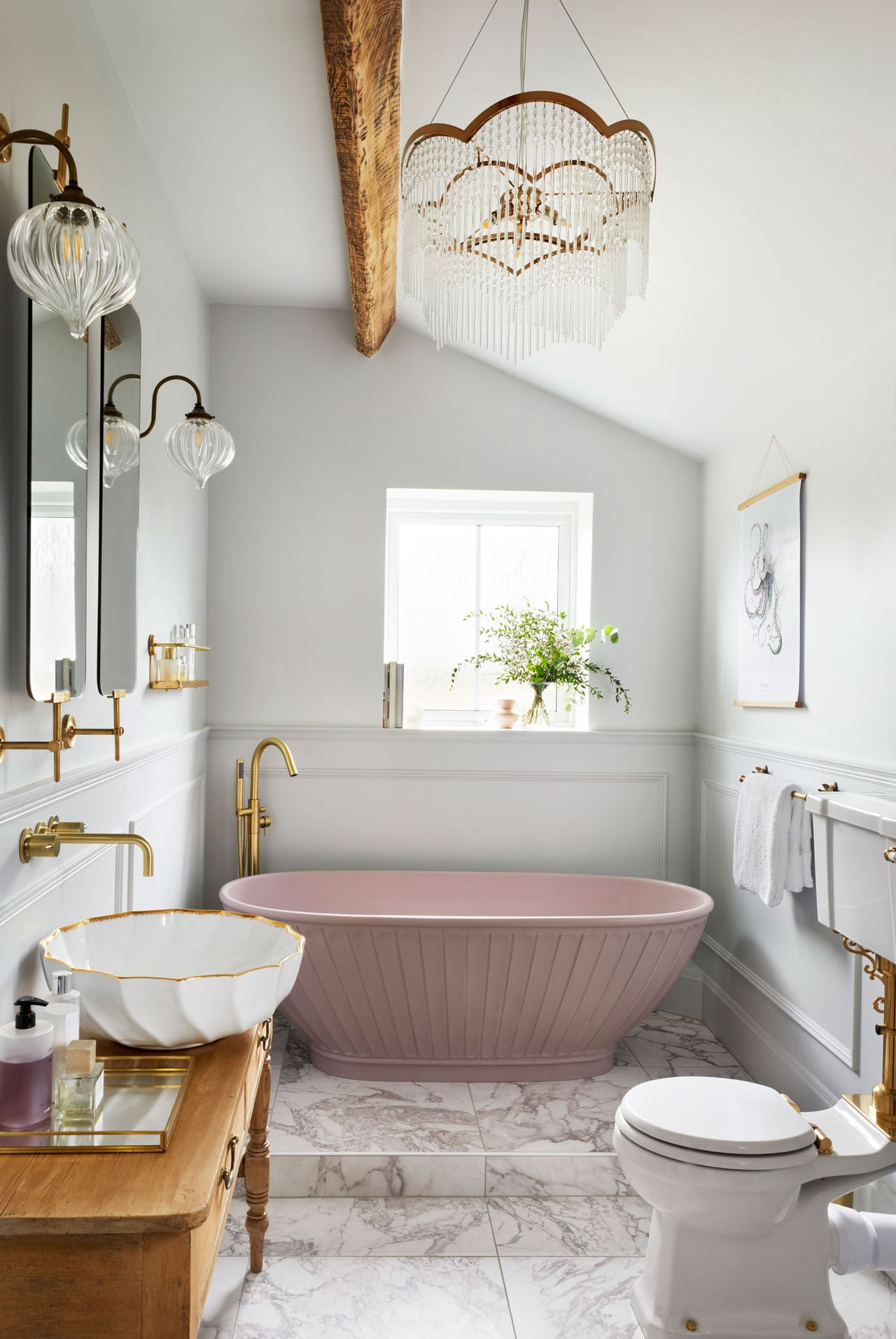 When space is tight, the key is to distract the eye, and this can be done by choosing a stunning bath in a color other than white. The vertical ribbed design seen here also helps visually.
Barrie Cutchie, Design Director at BC Designs, says: 'Bathroom design is all about color and a great way to slowly introduce it is through subtle pastel shades. A bath in a traditional-style design will add personality to your bathroom and a pastel shade will liven it up.
'Color also draws your eyes in and helps to create a striking focal point. The key to making a freestanding bath a success, no matter the size, is to allow 10cm between the edge and the walls. It creates a feeling of space and also makes cleaning it much easier.'
2. Make space for a niche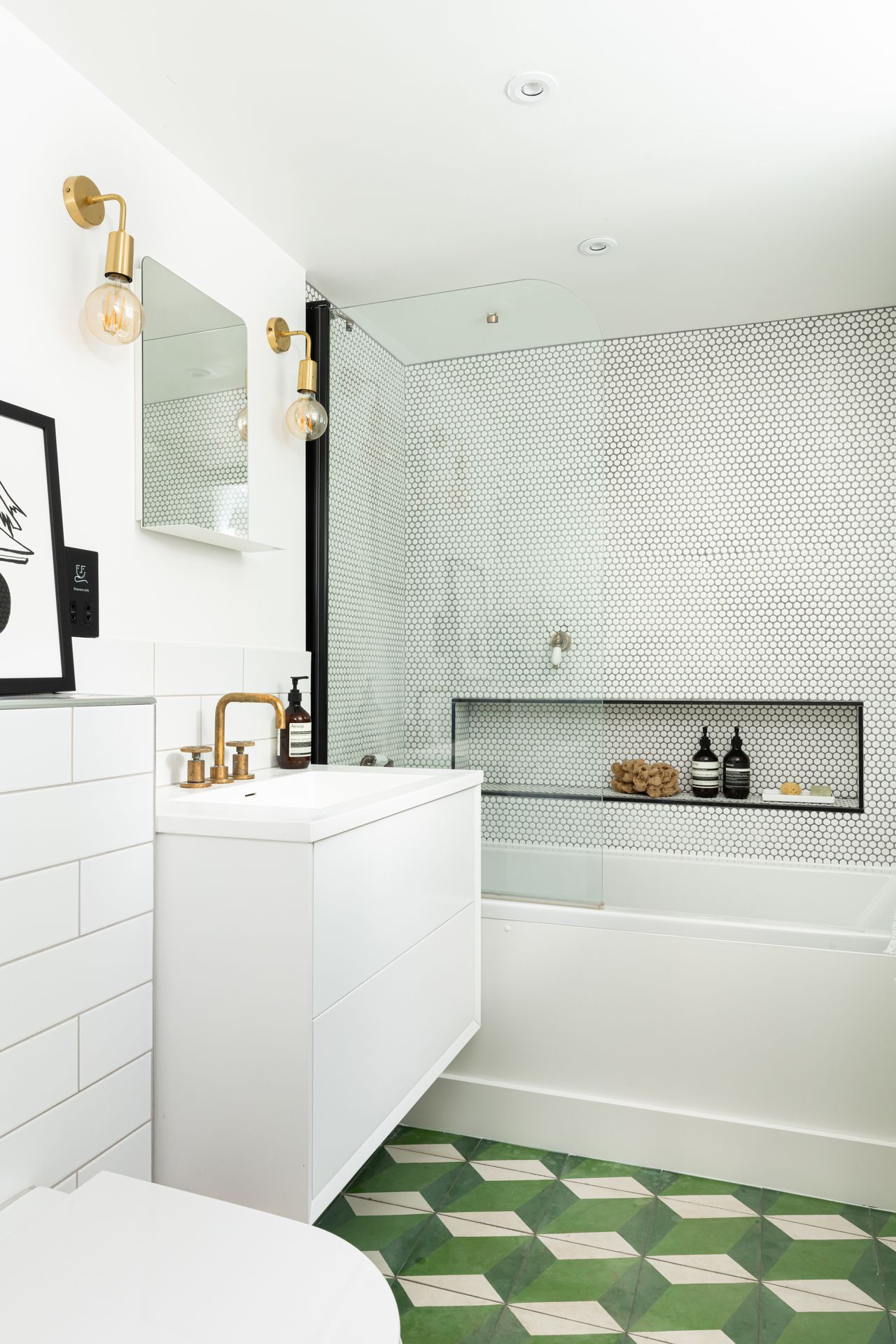 Tired of chasing slippery shampoo and body wash bottles around the shower floor? When designing a bathroom, consider including a shower niche into your design – ideal for both showers and baths. It's one of the best small bathroom storage ideas for saving space and it looks stylish.
'Avoid a floor of toiletries or an overcrowded caddy by installing a recessed shower shelf,' advises Jenna Choate, Founder of London-based design studio, Interior Fox.
'It's a practical and streamlined way to add storage space, without taking away elbow room. Make a feature out of the area by using a colored trim that contrasts against the wall tiles.'
3. Match wall and floor tiles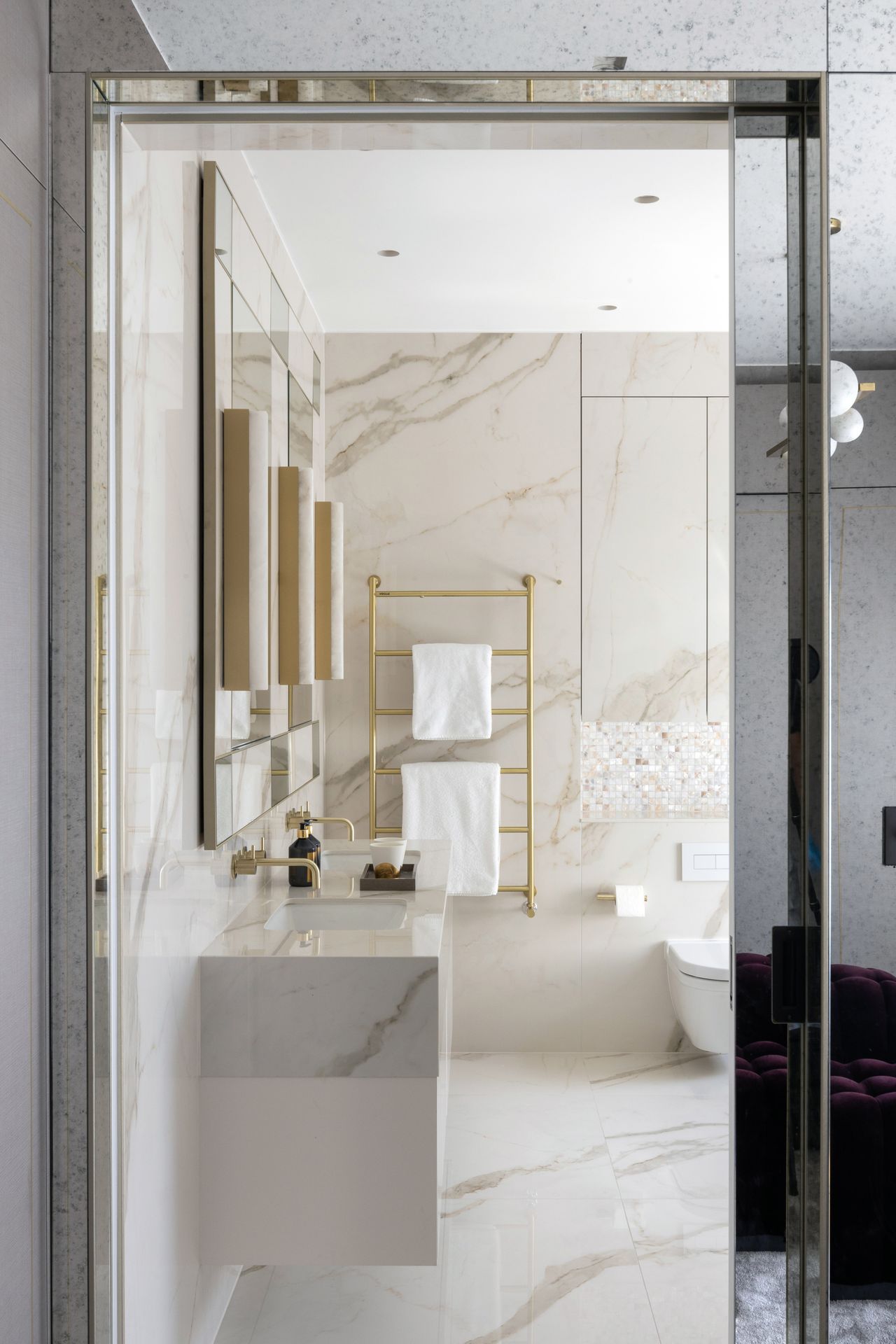 An all-encompassing look makes for an uber-stylish bathroom, and one that most definitely creates the feel of a luxury spa design. It also creates the illusion of space as seen in the ensuite bathroom above.
'Using the same tiles on the walls and the floor will enhance the feeling of space by creating a continuous look,' explains Jo Oliver, Director at The Stone & Ceramic Warehouse.
'Pale colored tiles can make a small bathroom look bigger as they reflect more light than darker colors, giving an airy and spacious feel.
'We've seen a huge increase in the popularity of slab or 'large format' porcelain tiles in recent years. These large-format designs mean fewer grout lines, and therefore less maintenance and cleaning. Slab tiles are ideal for creating a striking, high-end look, and can often make smaller rooms appear larger thanks to their seamless appearance.'
4. Paint walls and woodwork in the same shade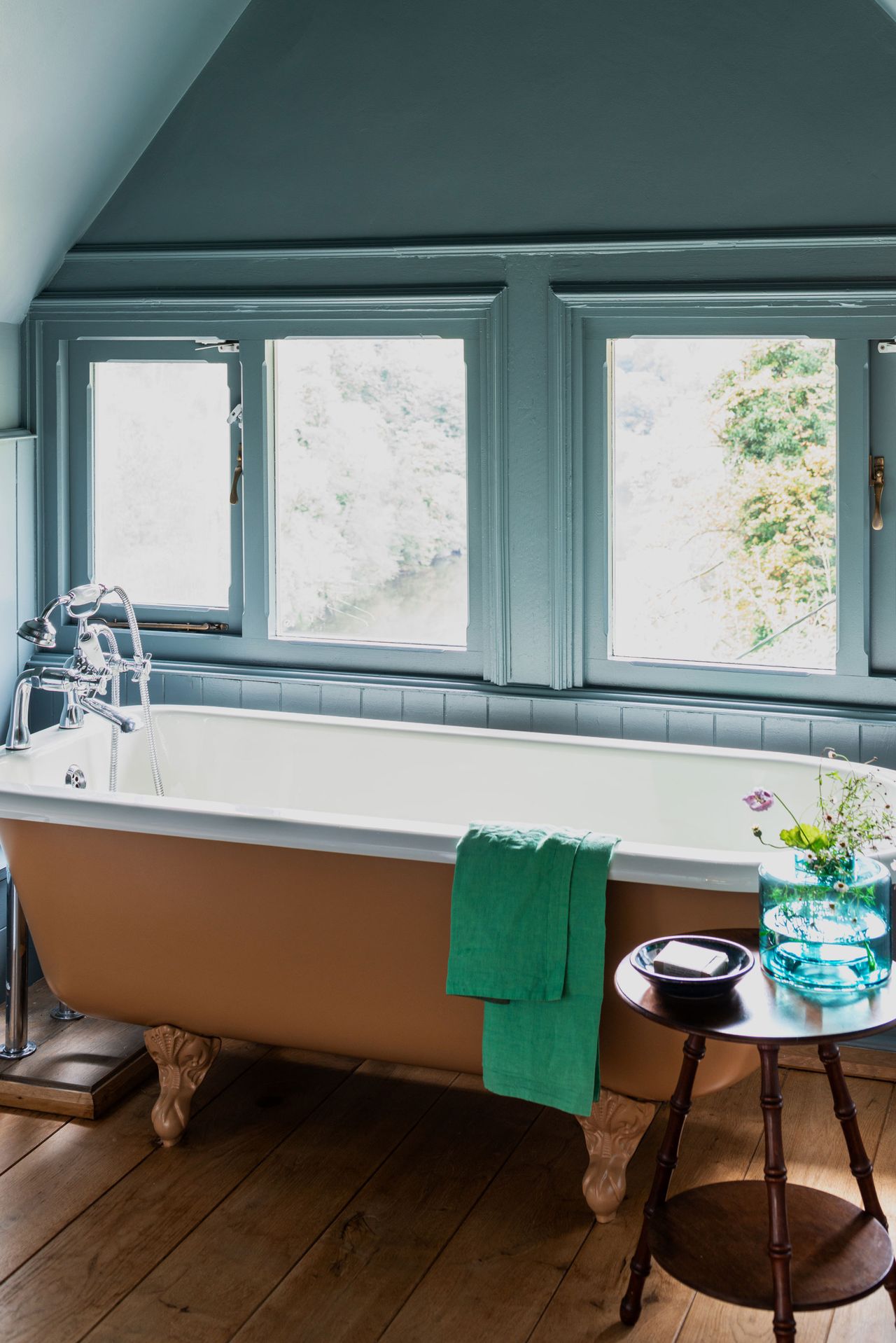 Paint is such a wonderful design tool, and you can use it in this instance to make a small bathroom feel larger.
When you paint the woodwork white, for example, it visually splits up the wall – from the skirting, window frames and any edging above like picture rails. By painting the whole area in one color you create a seamless feel that the eye can flow around without interruption.
Painting a bath in a color also distracts and if you're looking for small bathroom flooring ideas, wide planked floorboards will make a floor space appear larger. It's all about creating visual illusions.
5. Find space in the eaves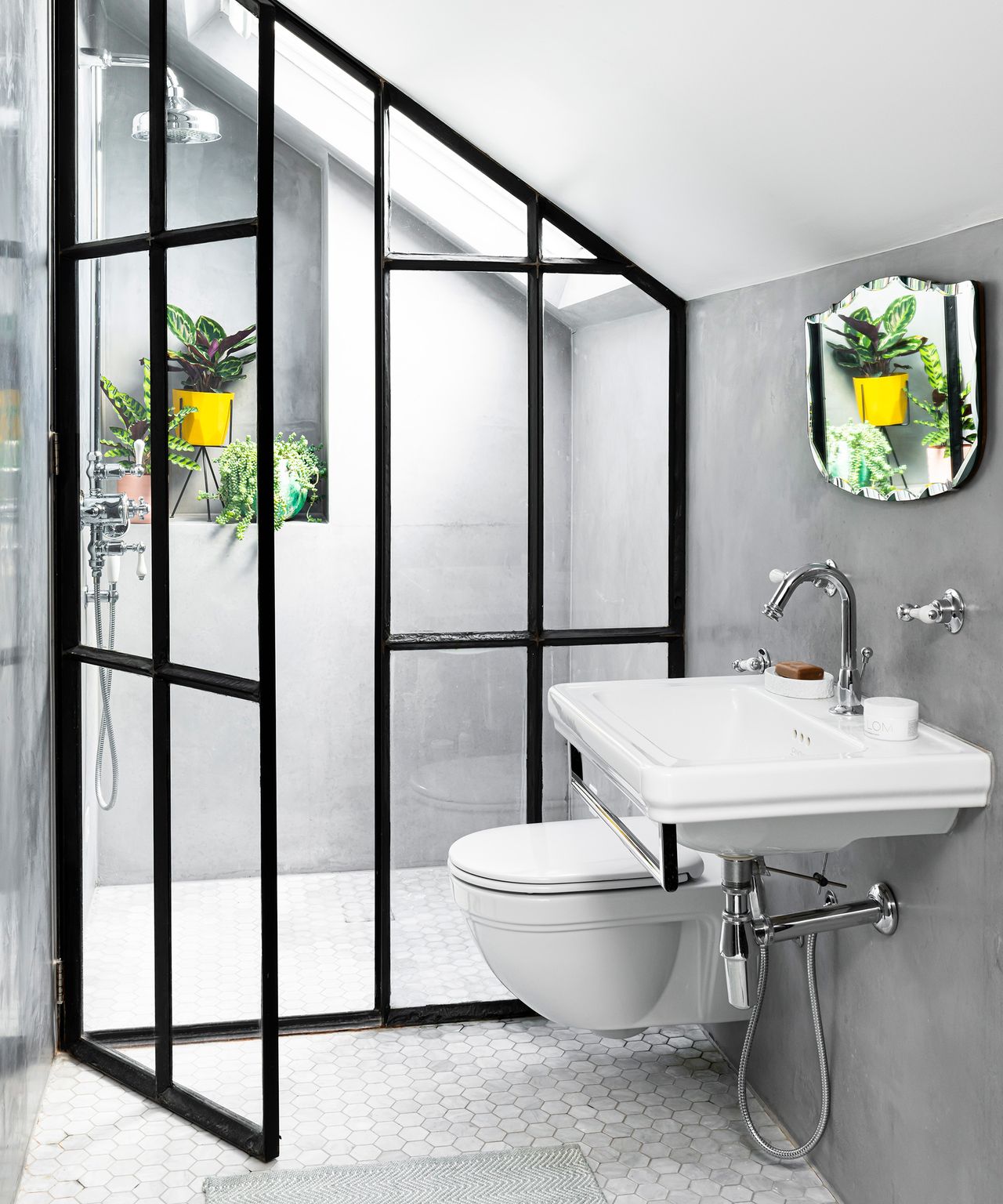 Embrace small and suddenly there's so much more scope for adding a compact bathroom. This neat little attic space has been planned into a loft conversion but it feels far from wedged in.
A stunning Crittall-style shower screen adds drama, while a skylight and pale scheme ensure this is a light, bright room. Finishes are crucial in a small space, so it pays here more than anywhere to go for bespoke fittings and high-spec tiles and brassware.
6. Create room for manoeuver with pocket doors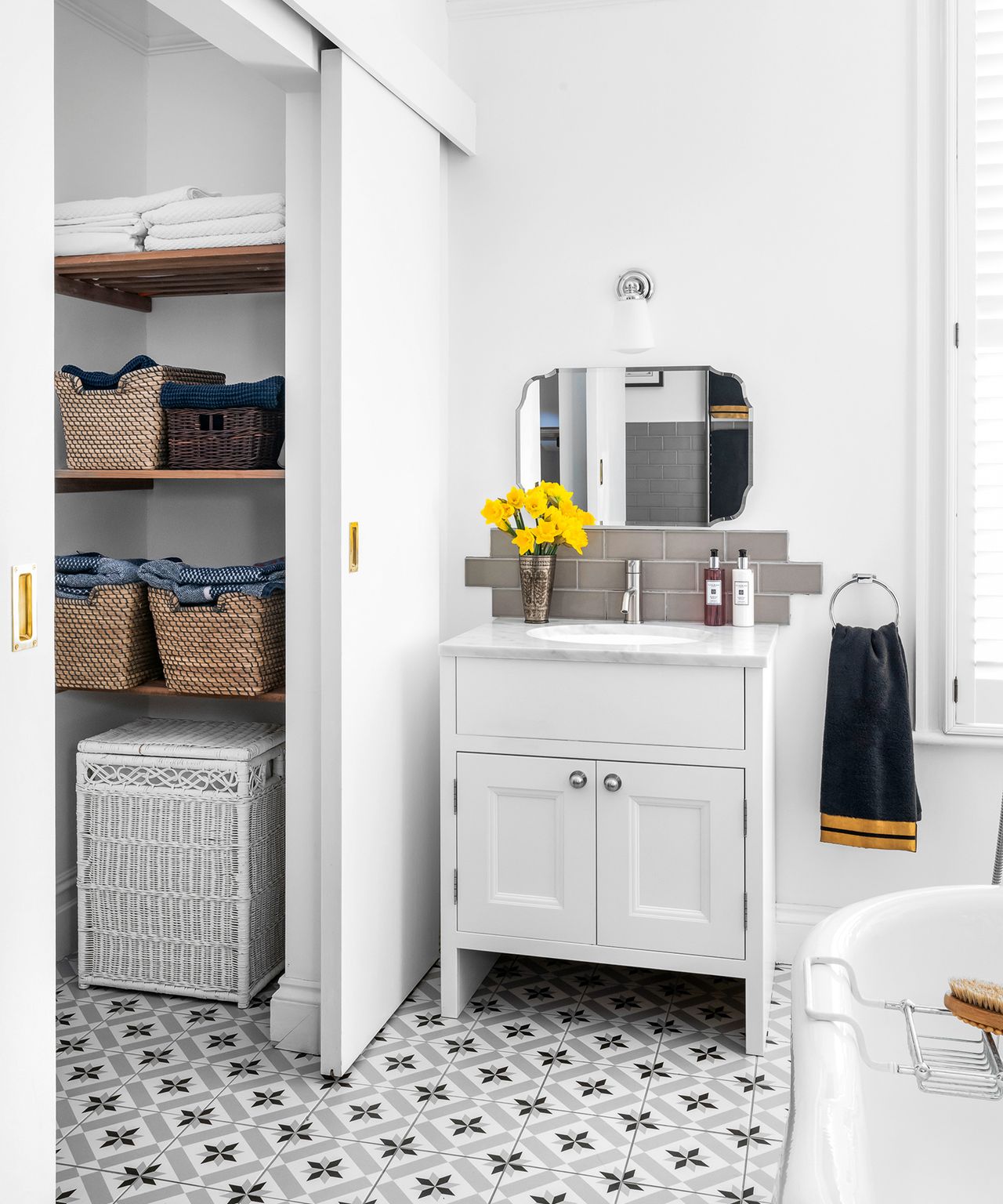 Where space is at a premium, pocket doors really are your friend. Here they have been used to divide an already small space to combine a bathroom with clever and compact laundry room ideas.
Being able to close the door on piles of washing is a must if you're planning a relaxing soak in the bath. However, because the doors slide into the wall cavity, there's much more room for manoeuvre should you need it.
7. Embrace deep colors in a small bathroom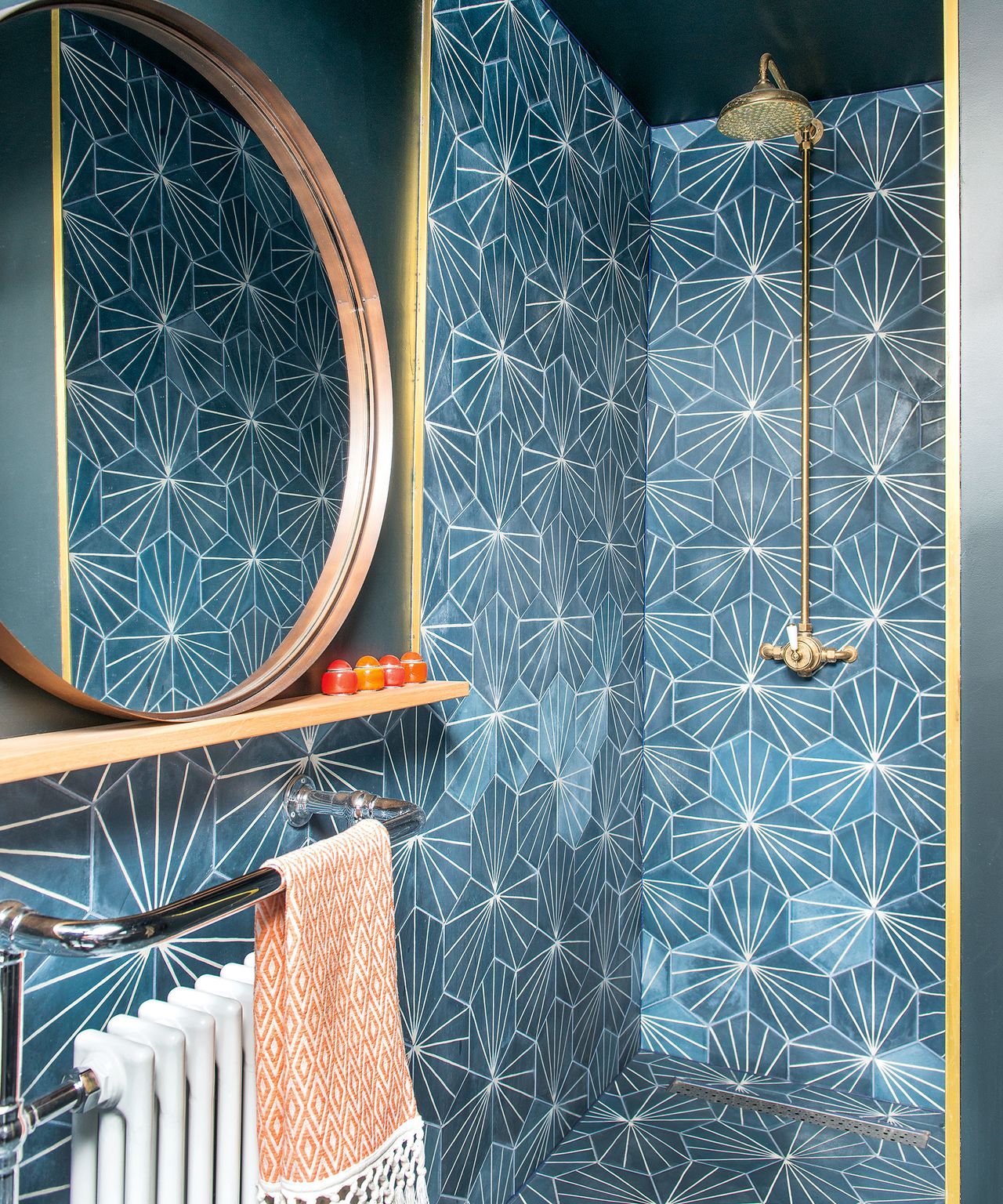 You rarely hear a small bathroom being described as cozy. Yet use the right bathroom color ideas and materials, and a warm, cocooning look can be achieved – creating a space you'll long to return to at the beginning or end of the day.
Here, every designer's favorite shower tile idea – the Lily Pad tile – has been used to maximalist effect. The jewel blue shade and brass and copper detailing give the space the opulence you might not previously have thought achievable in a small bathroom.
8. Make the most of a small bathroom layout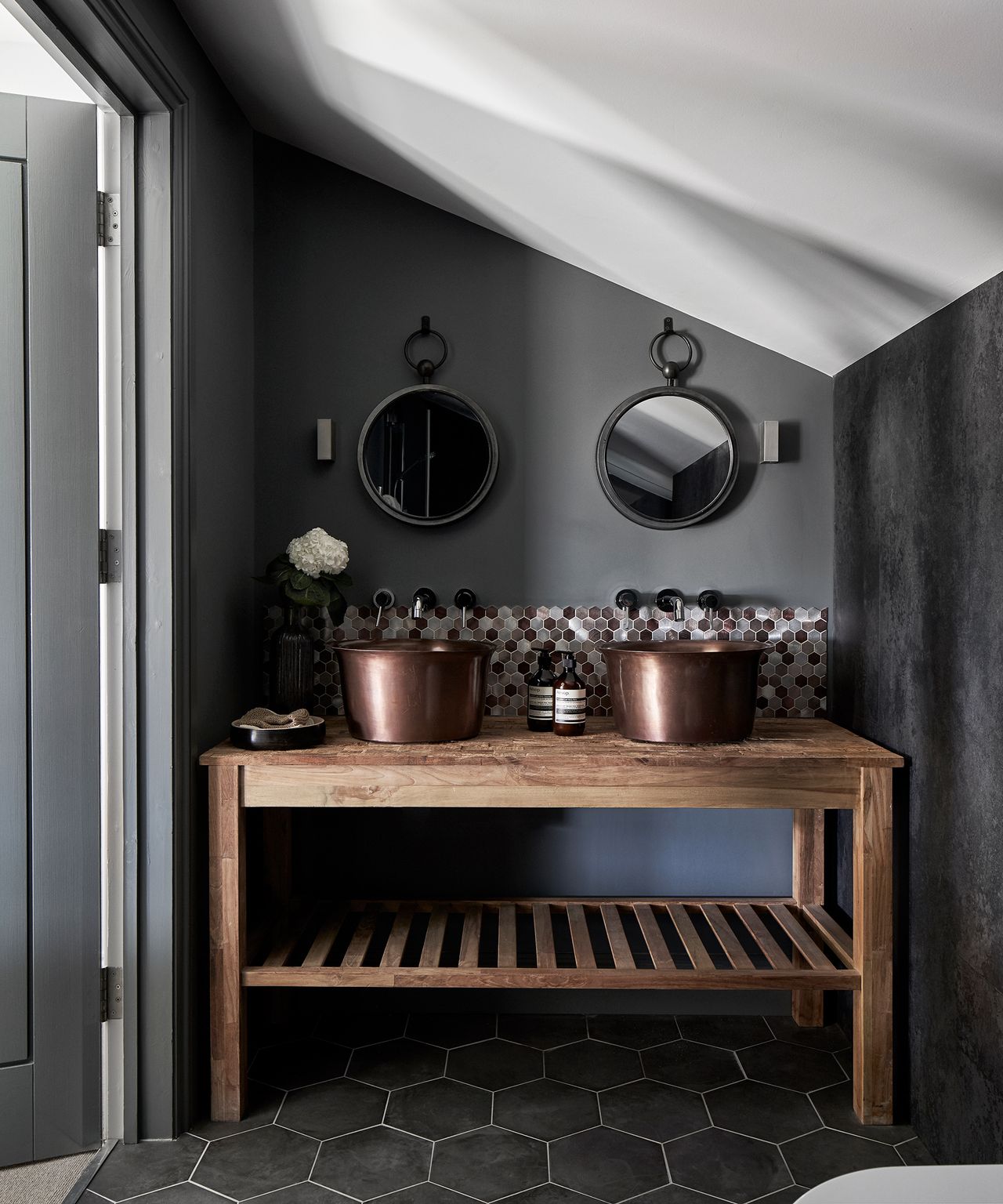 When it comes to designing a small bathroom, every inch counts. It is important to measure precisely and take into account doors, windows or sloped ceilings that may dictate your bathroom layout ideas.
Don't be afraid to play with pattern, even in awkward spaces. In this dark bathroom from Pippa Paton, the hexagonal tiled flooring and splashback give a cohesive look, creating a backdrop for this rustic vanity that not only fits perfectly into the alcove but also gives a subtle nod to the house's barn heritage.
9. Make a small bathroom a wet room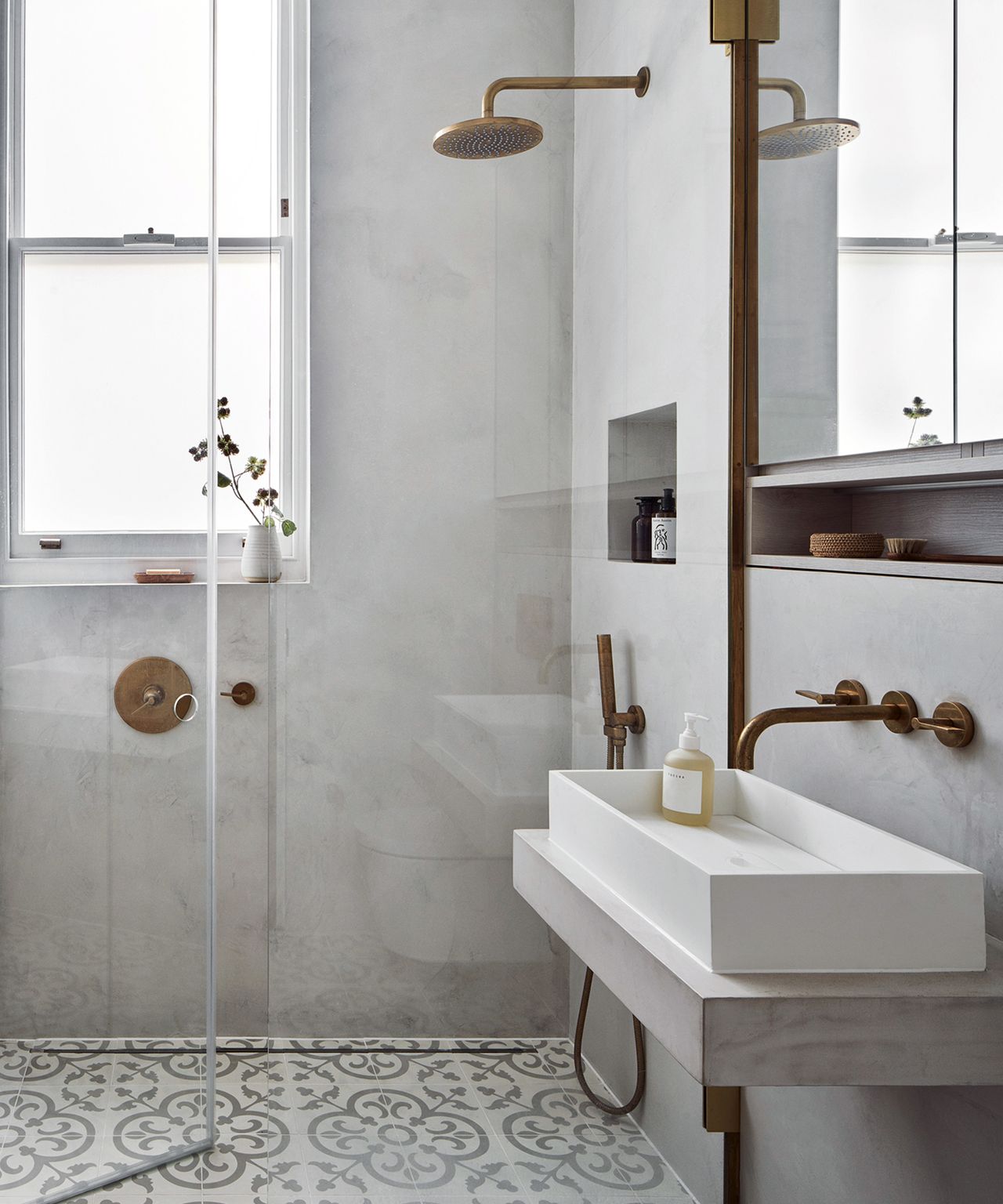 While it may be a more expensive option than a conventional shower, considering wet room ideas for your space could be worthwhile.
The main cost is tanking to make the area waterproof, but the result is a roomier space as you don't need a closed-off shower enclosure.
Instead, take note from this design by Katie McCrum which shows that you can have the same flooring throughout and a frameless shower screen 
to contain splashes without feeling too restrictive.
10. Plan small bathroom lighting early
In the early planning stages, it is important to get placements of every aspect of a small bathroom right and this includes picking your bathroom lighting ideas promptly.
'The most overlooked part 
of planning a bathroom is all the different types of lighting needed,' says Marketa Rypacek, managing director at Industville. Ensure you have overhead lighting, as well as task lighting around the mirror.
Consider where natural light comes into the space and remember that 
all bathroom lighting needs an appropriate IP rating.
11. Decorate a small bathroom with wallpaper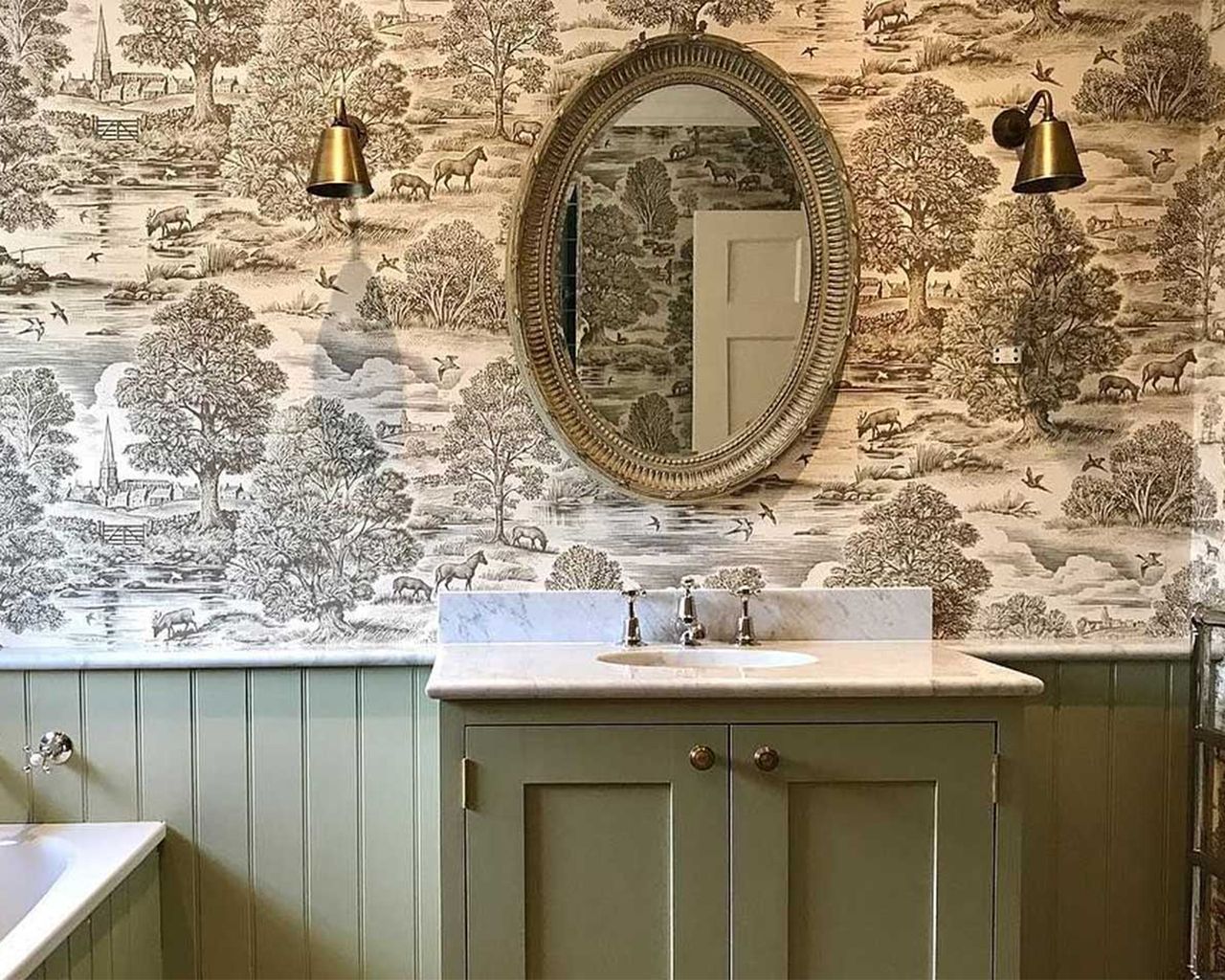 One easy way of injecting character into a country-style bathroom is with patterned wallpaper, like this design from F&P Interiors.
While it may not be the first choice, standard wallpaper can be applied as long as the room is well-ventilated with an extractor fan, so steam doesn't damage it.
Apply a strong adhesive underneath, and add a coat of decorator's varnish on top to help protect against moisture. Or, use vinyl wallpaper designed especially for bathrooms, though it's best to stick to tiles or panelling in wet zones such as around the bath or above a sink.
12. Use the right paint shade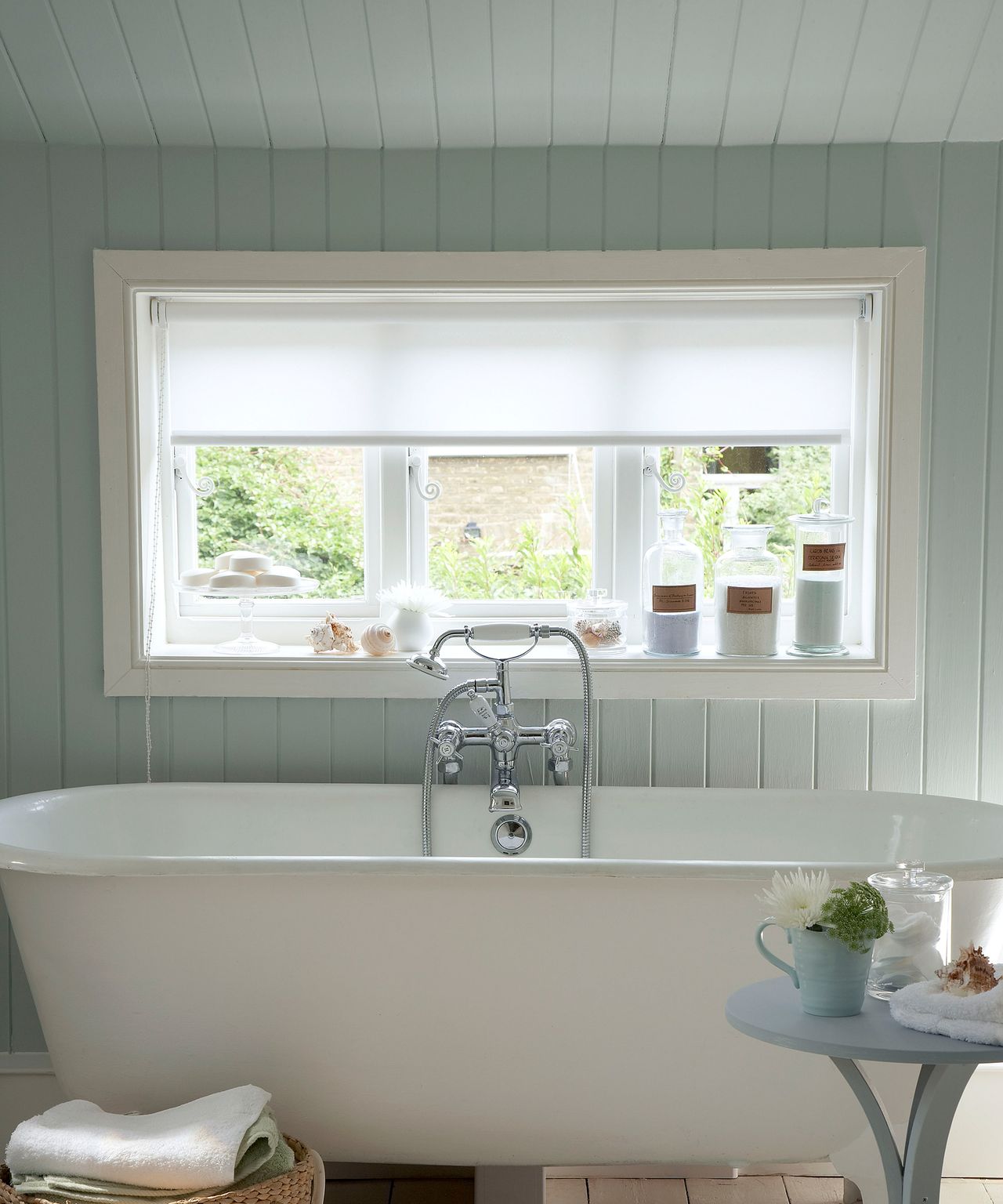 Many people use lighter, whiter shades in small bathrooms, hoping to open up the space. Although this approach works, it is also important to get the tone of paint right.
As a rule, cool undertones suit south-facing aspects while warmer shades work well in north-facing rooms – in both instances the shades help balance natural light entering the space. Results vary, so always test the bathroom paint ideas you are considering first to see how they look when applied to certain walls.
Here, the paint color - Salix 99 from Little Greene - flows seamlessly from walls to the eaves for an elegant finish.
13. Add a little luxury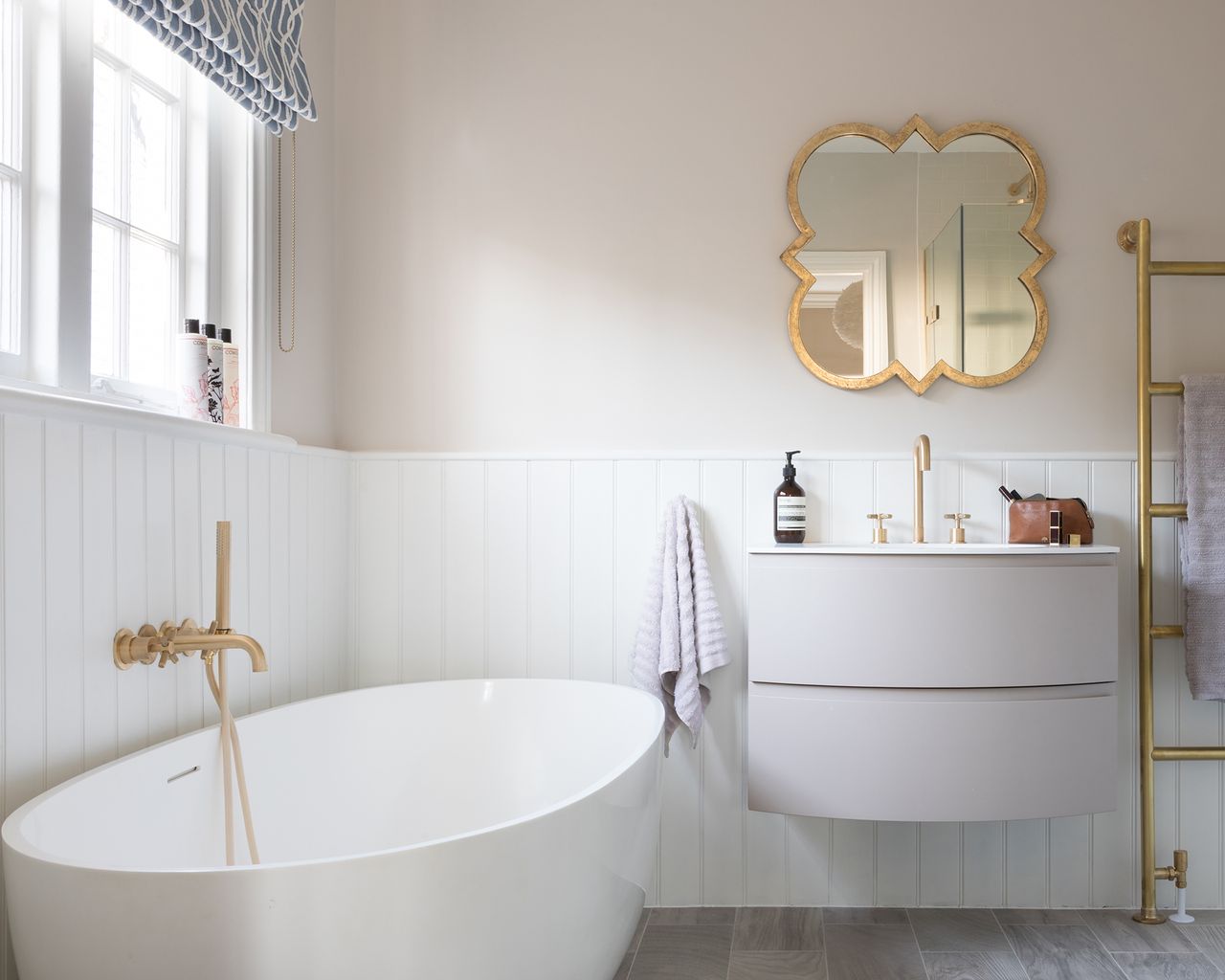 'If there is one room that needs a little luxury, it's your bathroom,' says Louise Ashdown, head of design at West One Bathrooms. 

She recommends using wall-mounted furniture to keep floor space clear in a small bathroom and sticking to a neutral palette 
if you want an elegant spa-like finish.
'This helps avoid breaking up the room with different colors, which will make it feel boxy,' she explains. And don't be shy of adding 
a little glamor to your spa bathroom ideas – it's these brushed gold fittings that really make this bathroom shine.
14. Choose quality finishes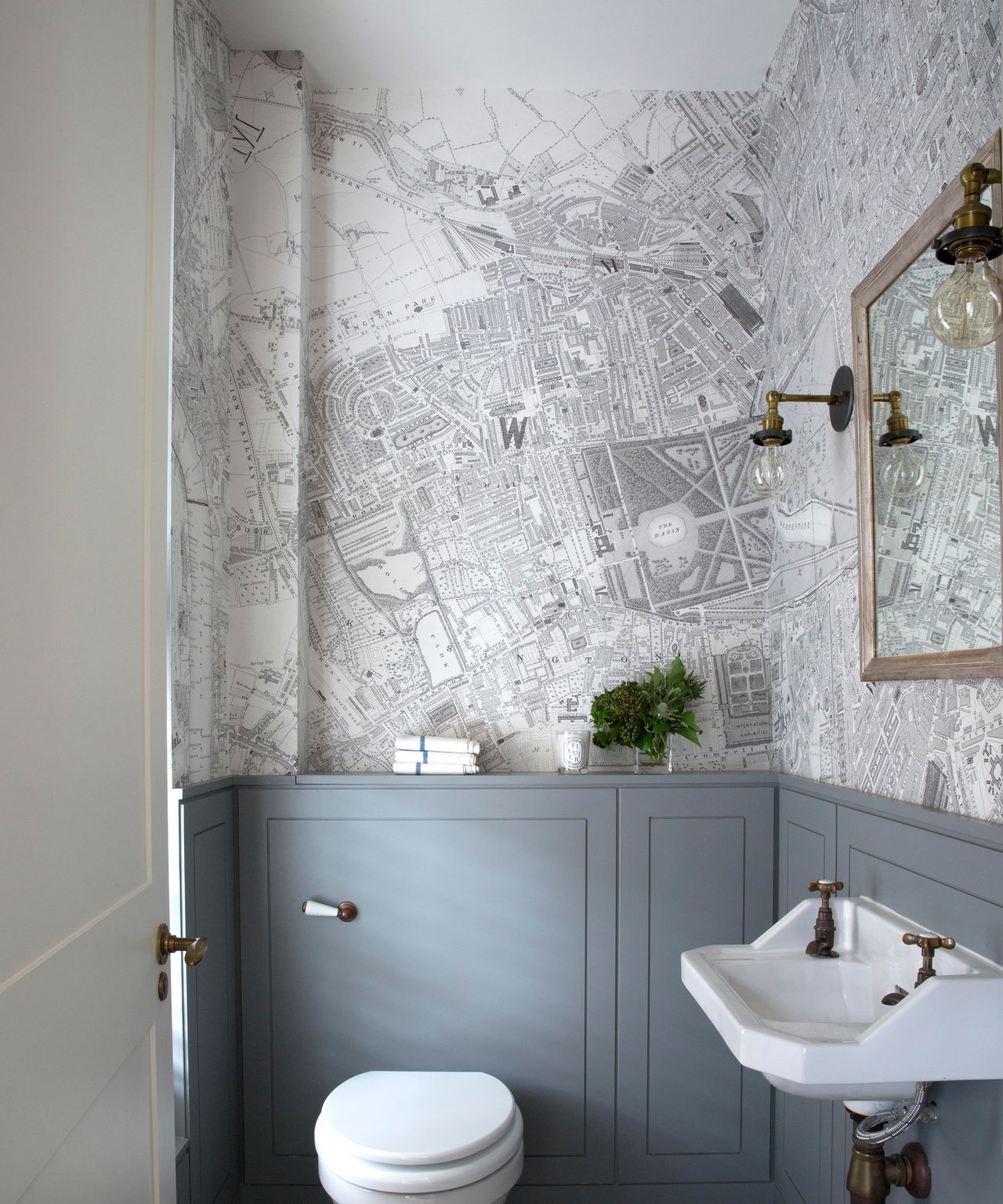 A plus side of designing a small bathroom is that you may be able to splash out on higher-quality materials and finishes than if you were having to decorate a larger room.
In this project from Wolf Lewitt, a bespoke map wallpaper was commissioned to fit the room and add interest. The unusual design has been paired with smart grey panelling, which helps to box in any unsightly pipework while also creating 
a handy shelf around the walls. Authentic encaustic tiles on 
the floor complete the look.
15. Create zones, even in a small bathroom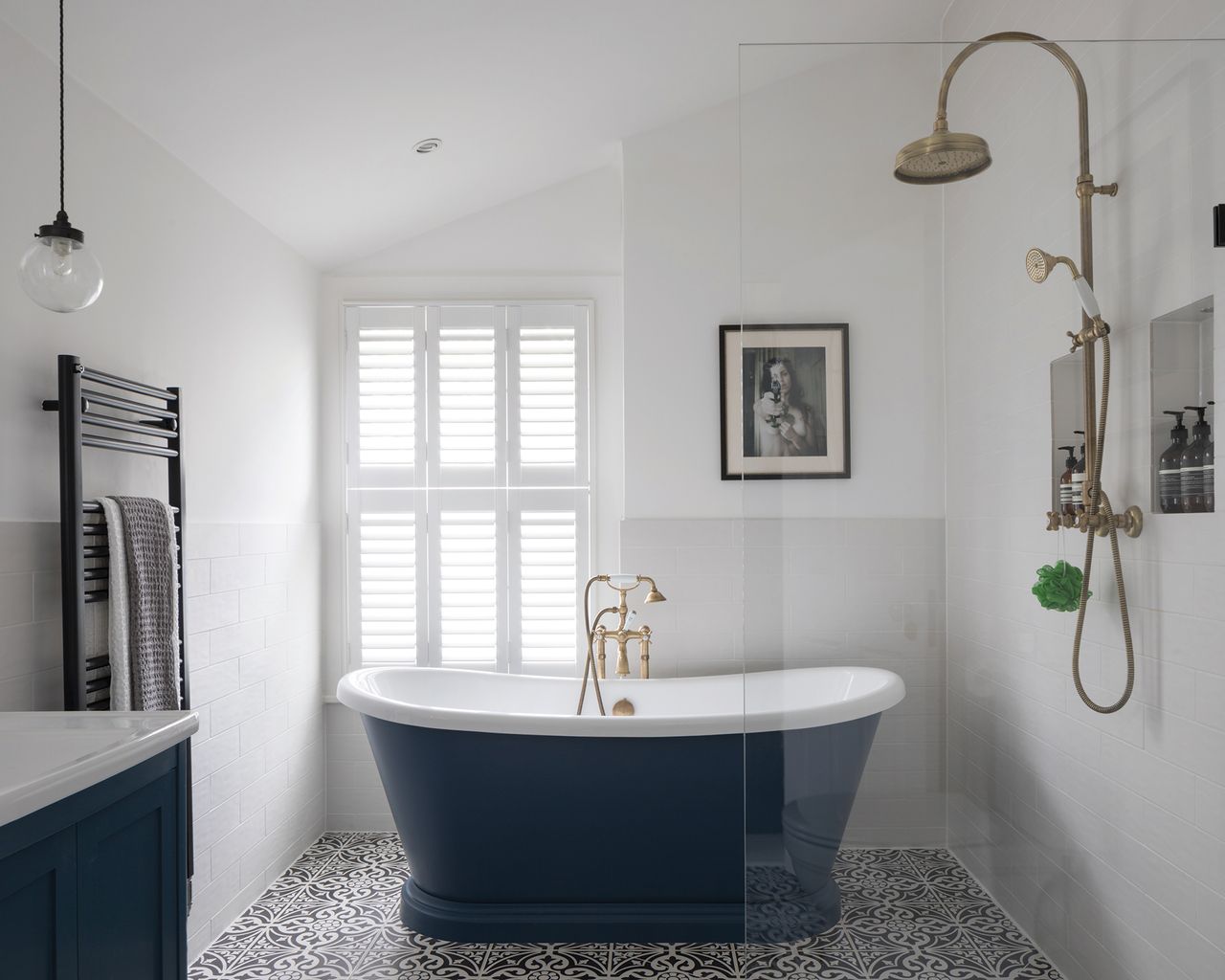 It might be worth reconfiguring a family bathroom into zones – such as the shower and bath on one side, with the basin and toilet on the other – so that someone could pop in and brush their teeth while you're doing bath time with the kids, for example.
'Choosing 
to have a wet room can actually be hugely beneficial when wanting a bath to sit in the same space,' says Sally Cutchie, marketing manager at BC Designs. 'If you opt for a painted bath, use exterior eggshell paint as this is extra durable around water,' she adds.
Different flooring can also be used to create zones – our bathroom floor tile ideas include tips for picking complementary designs.
16. Make a statement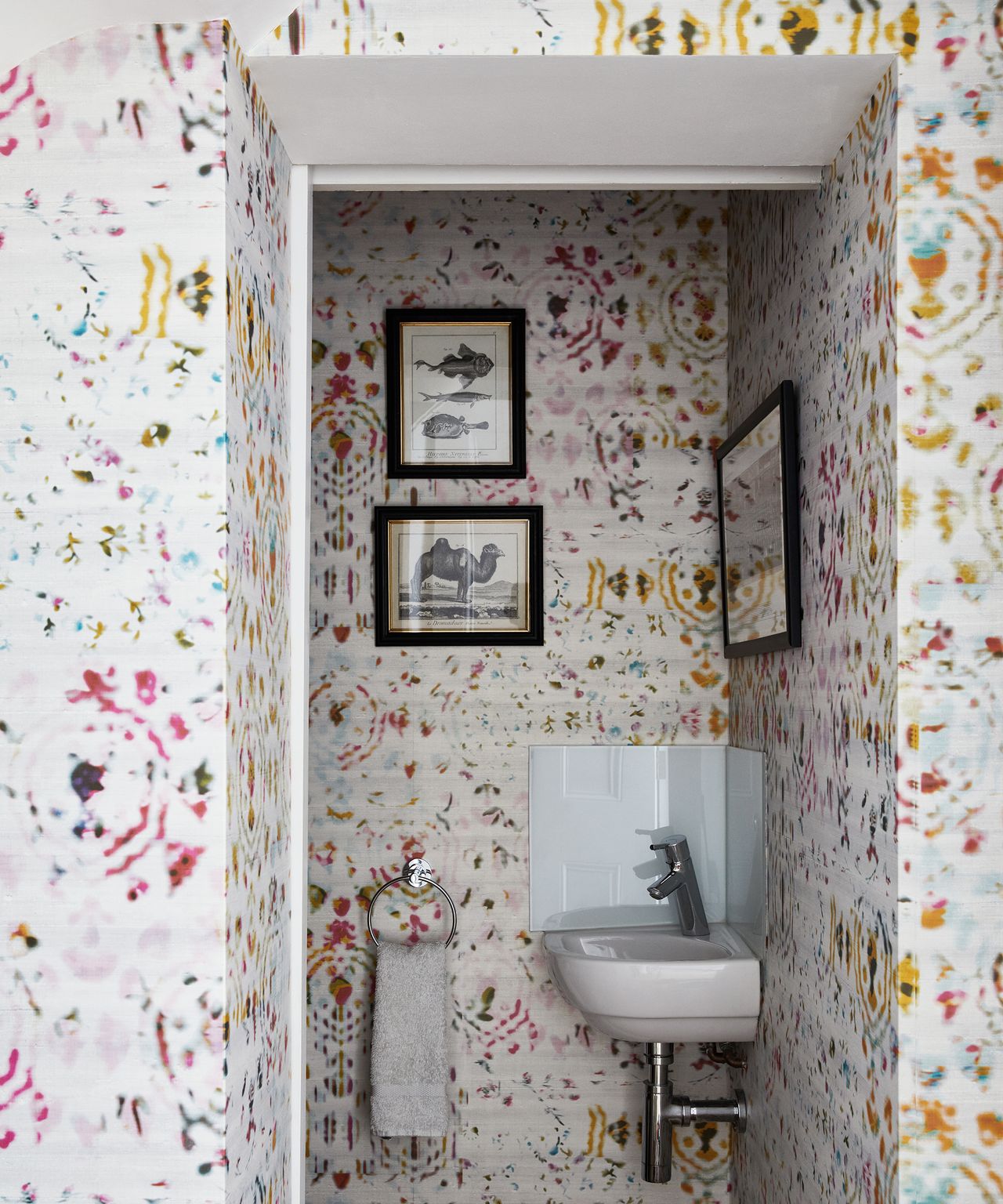 A powder room is usually one of the smallest rooms in your house but it's the one most of your guests will end up seeing. This can be an ideal opportunity to experiment with color and pattern and impress visitors with your flair for design.
Keep fixtures and fittings to a minimum, opting for a corner or reduced-depth basin, a monobloc mixer faucet and a simple towel holder. Then focus your efforts into adding impact through your powder room wall decor with a beautiful, bold wallpaper pattern or 
a few pieces of statement artwork.
17. Use optical illusions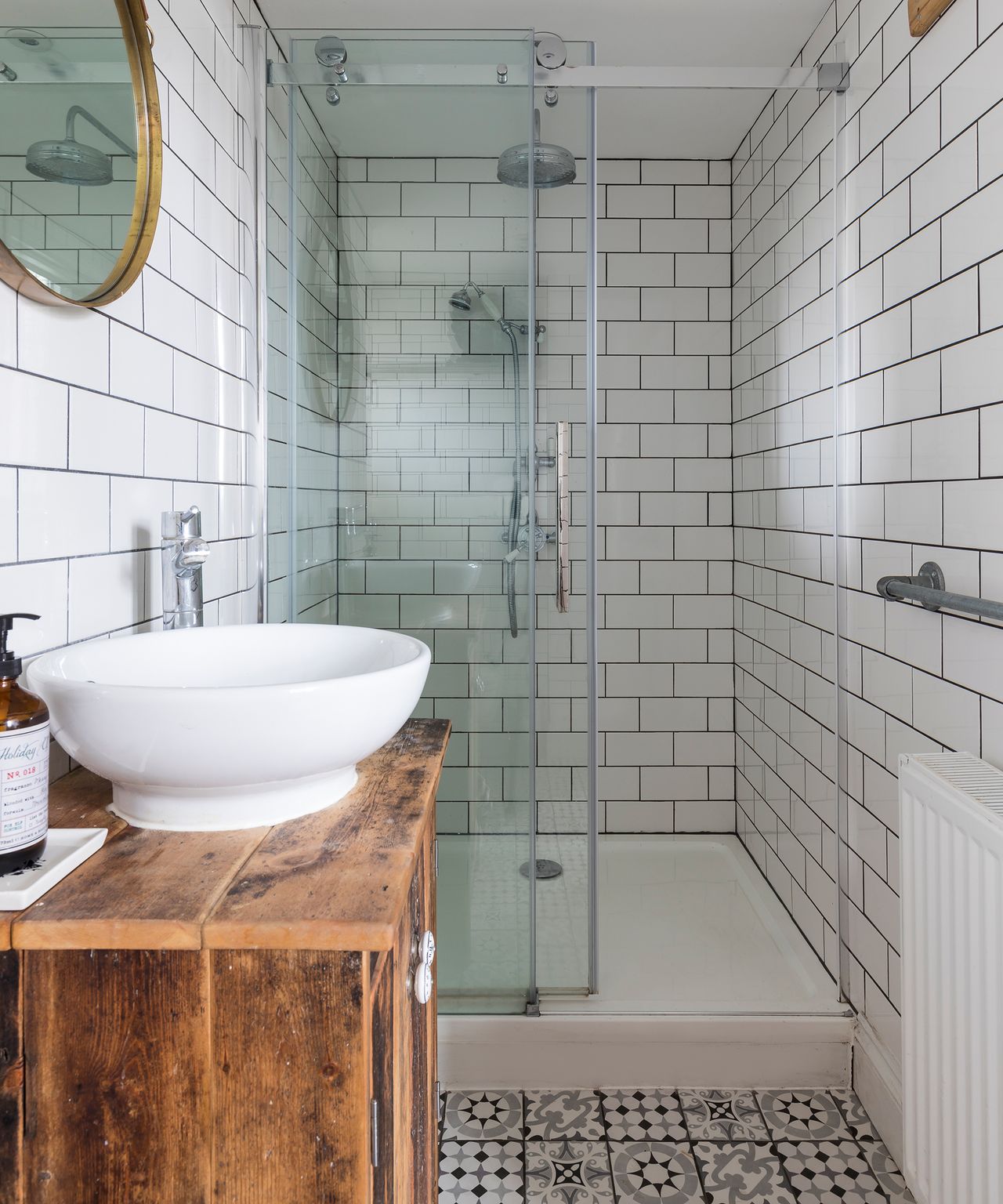 When choosing small bathroom tile ideas, use optical illusion to create a sense of space in your washroom. For example, horizontal lines can help widen the appearance of your room and these metro tiles are a timeless option.
To prevent tiles looking too bare 
or clinical, incorporate natural materials to add layers of texture and warmth to the space, such as real wood or plants. The gray bathroom tiles on the floor help pull together the scheme by bringing out the dark grouting on the walls.
18. Expose a brick wall to give a small bathroom character
In a narrow bathroom, avoid a corridor feel by giving opposite walls different finishes. Here, a rustic exposed brick wall has huge impact and brings visual warmth to what is so often a clinical and cold space.
Pop a feature at the end of the room to draw the eye through – this roll-top bath has been placed on a platform to highlight its importance (and possibly add some extra support to the floor below).
19. Build in storage to use space wisely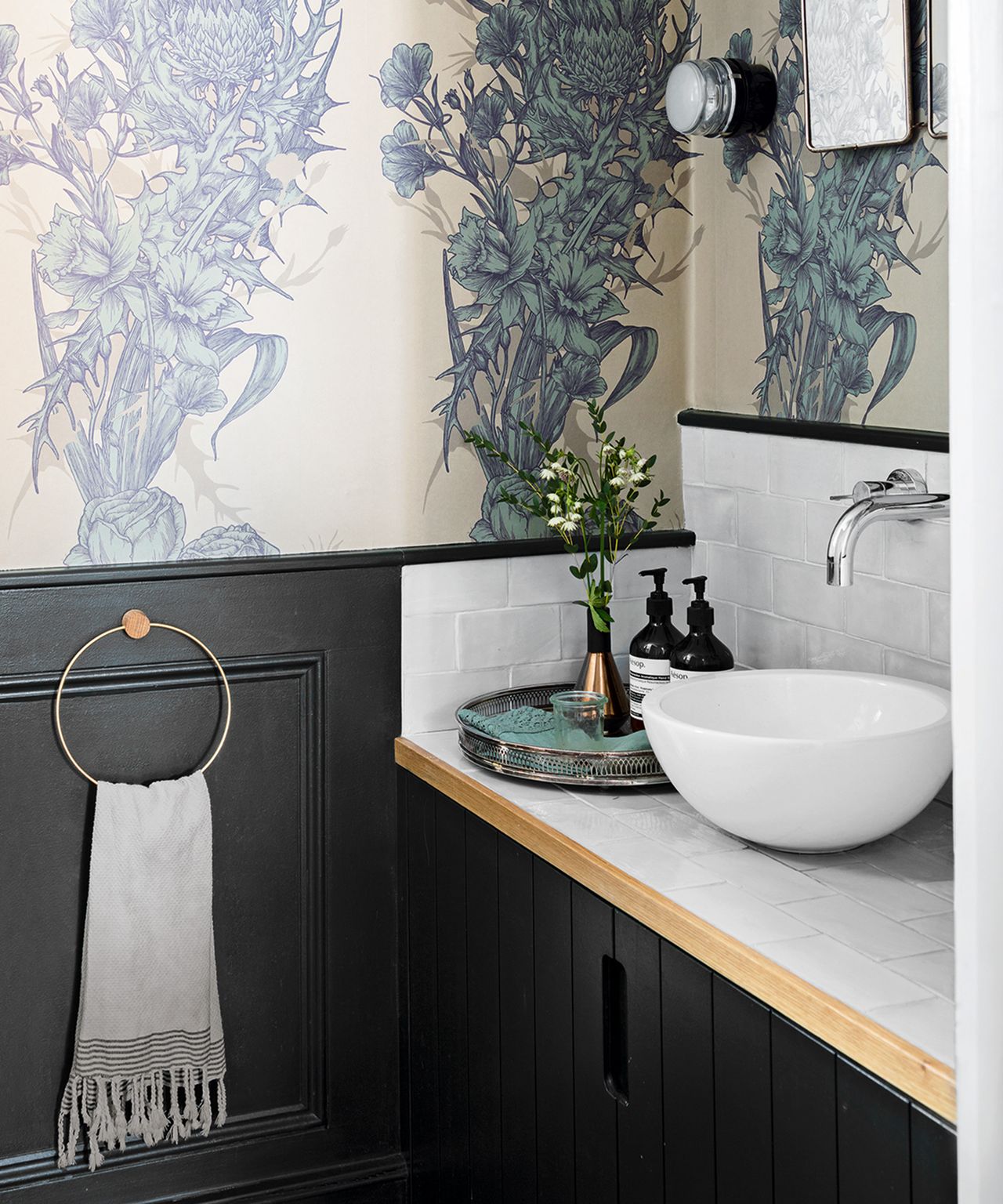 Good bathroom storage ideas can go a long way to making a small bathroom feel less cluttered and crammed in.
It may seem counterintuitive to put more things in to a small room. But shutting lotions, potions, loo rolls and even towels inside slim built-in cabinetry will streamline the space. To help your furniture blend in, panel the walls to the same height all around the room.
20. Wall mount to make a small bathroom feel larger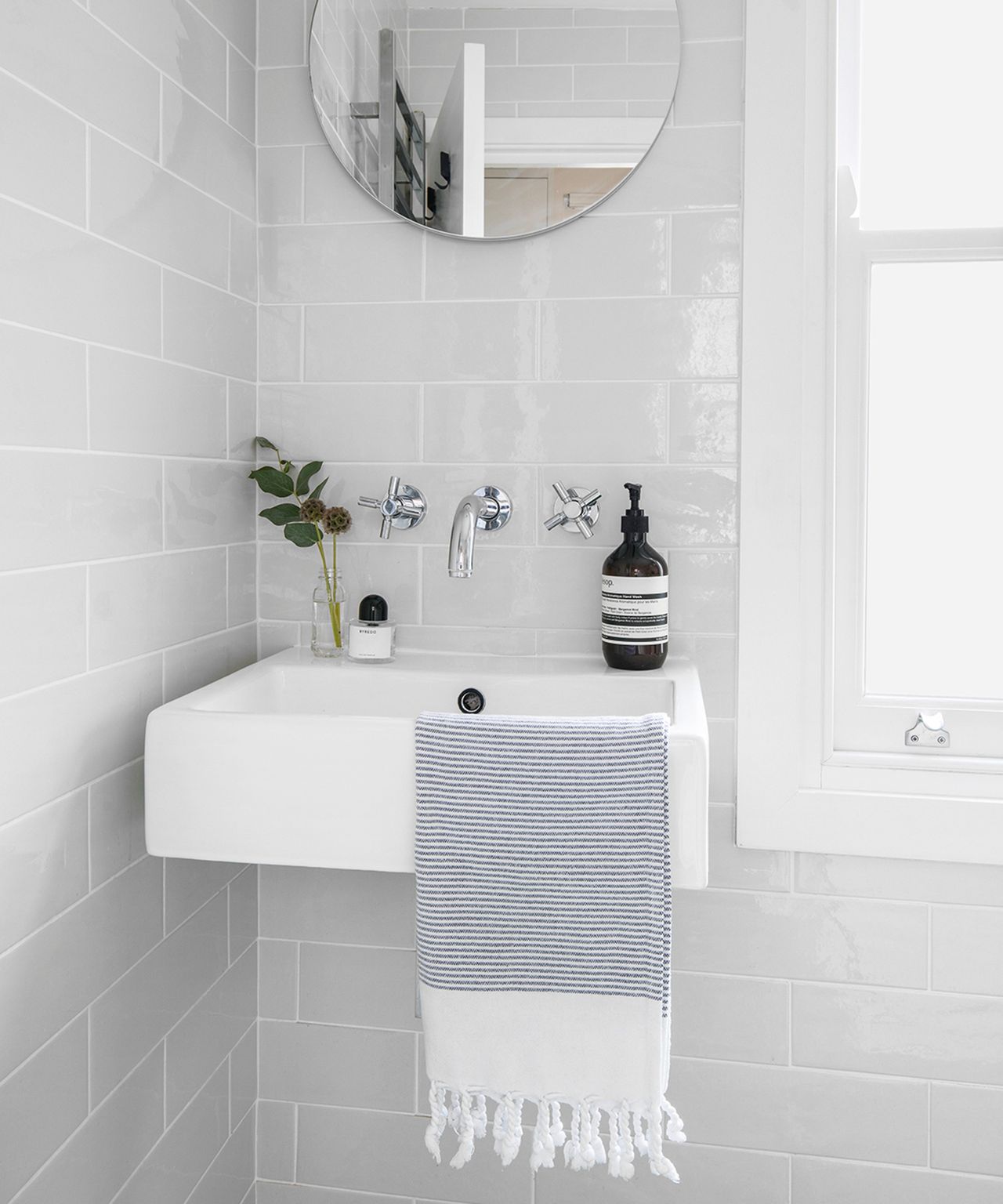 Conversely, if you don't have a lot of bathroom clutter to hide, try to keep furniture and sanitaryware to a minimum. Wall-mounted basins and WCs clear the floor area and have minimal impact on your walls, so they will make a small bathroom seem bigger. They're also much easier to keep clean.
Be inventive about where you place your sanitaryware, too. This basin fits perfectly in the gap between wall and window and because it's in a corner, it's less intrusive.
21. Use mirrors to make a small bathroom feel larger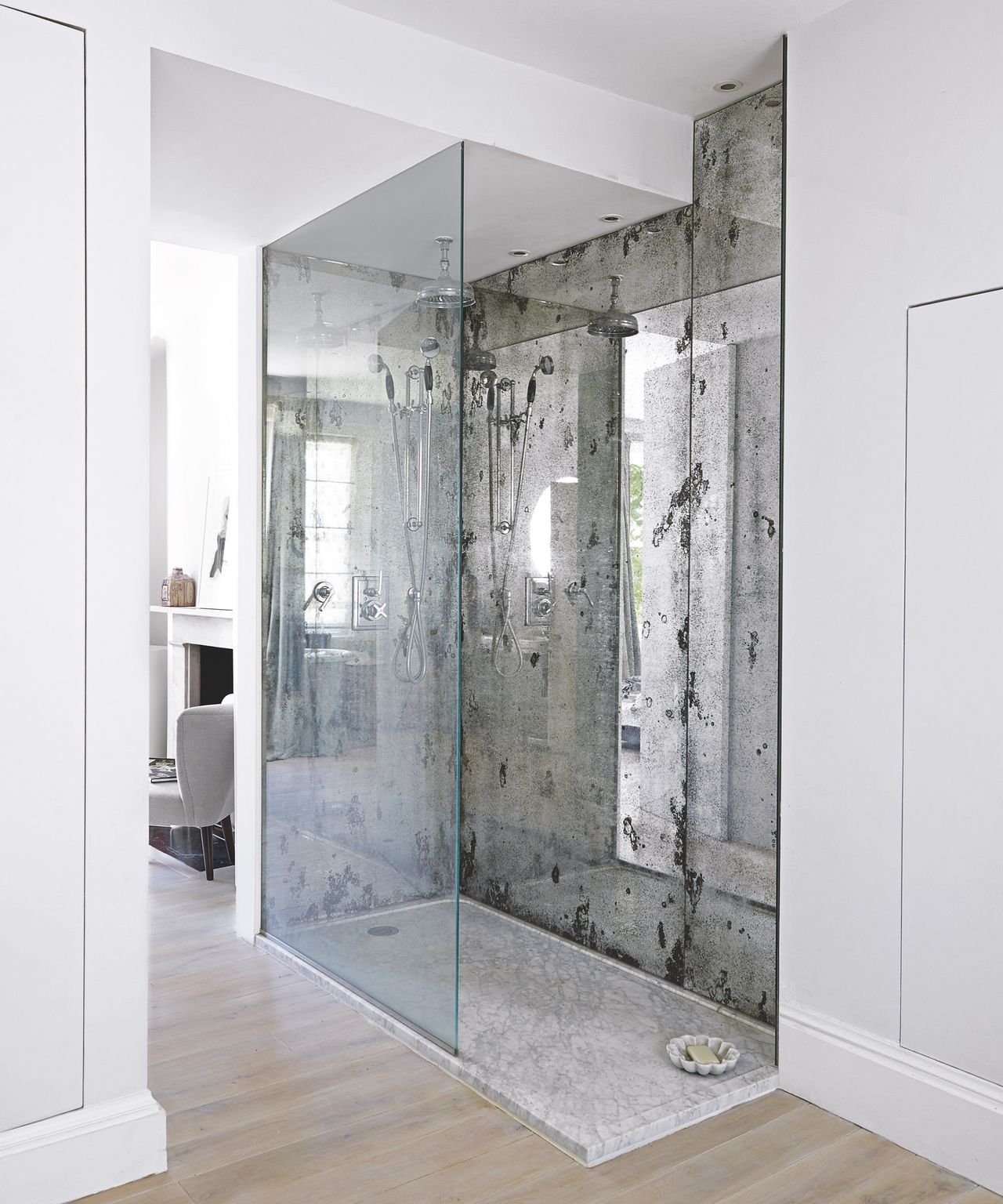 Antique mirrored walls can be an effective way to create the illusion of a much wider space.
Also, if the passage between a master bedroom and its adjacent small bathroom is wide enough, consider adding a shower enclosure.
'Ensure it sits seamlessly in the background by using clear glass – possibly with a modesty panel – and a flush-to-floor tray,' says Kirsten Wain of West One Bathrooms.
22. Make the most of an odd-shaped small bathroom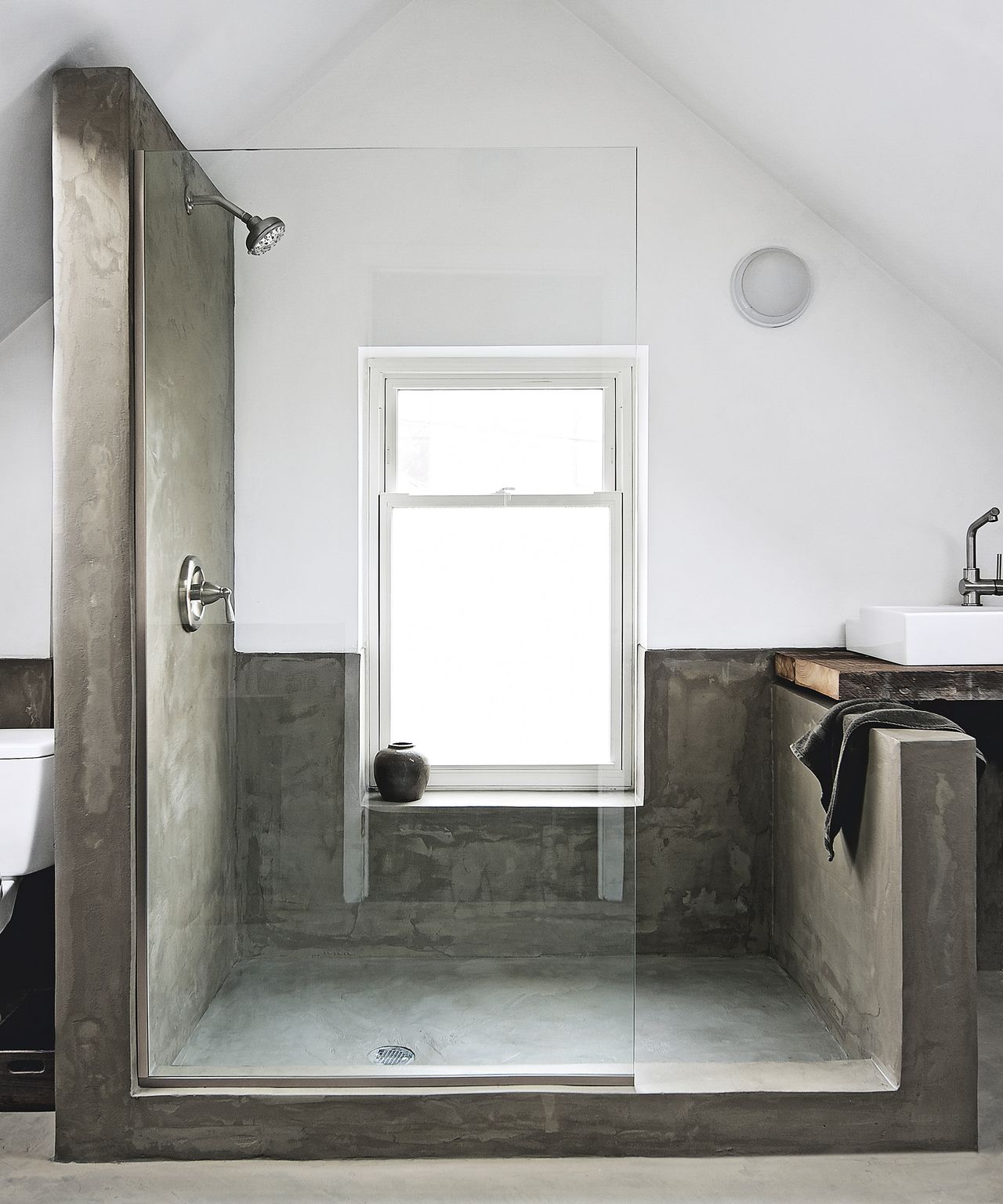 Awkward ceiling shapes in loft conversions can be cleverly turned into stylish walk-in shower ideas with fixtures such as shower heads built into sloping walls.
In this scheme, sandblasted glass panelling neatly partitions the bathroom from the sleeping area.
23. Simple solutions are more streamlined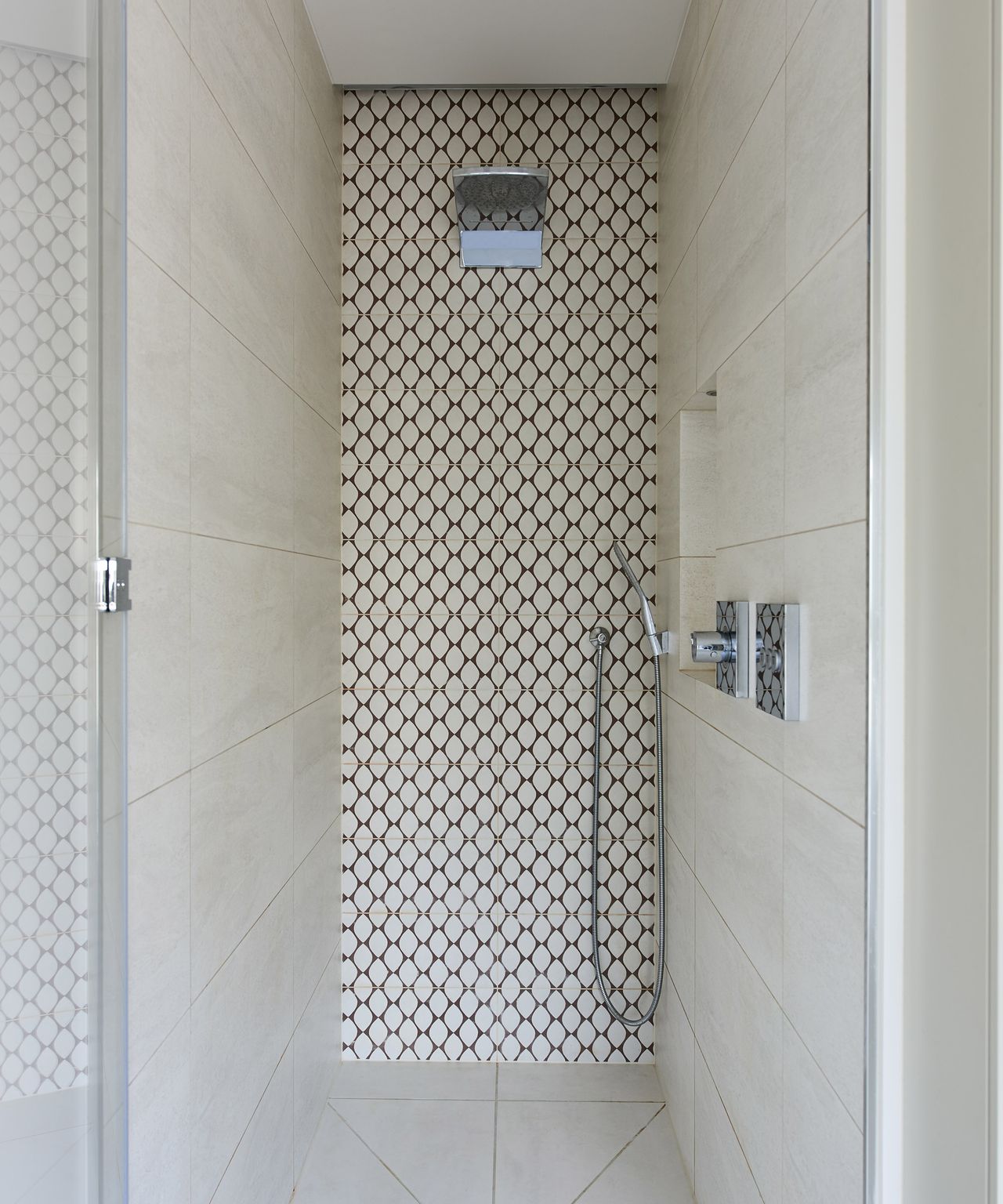 'Architecturally and visually, it is best to keep a small bathroom feeling open by not crowding too many things into it,' explains Barbara Sallick, Co-founder, Waterworks. 'Edit your amenities often, hang your towels on bars or hooks, keep pattern to a minimum, and generally, make it simple.
'The room will feel bigger if you use a pedestal sink rather than a bulky vanity, a clear glass door rather than shower curtain and reflective surfaces such as glossy ceramic tiles in a large scale,' adds Barbara.
This wet room idea is the perfect example of keeping things streamlined.
24. Pick a bathtub that is made to fit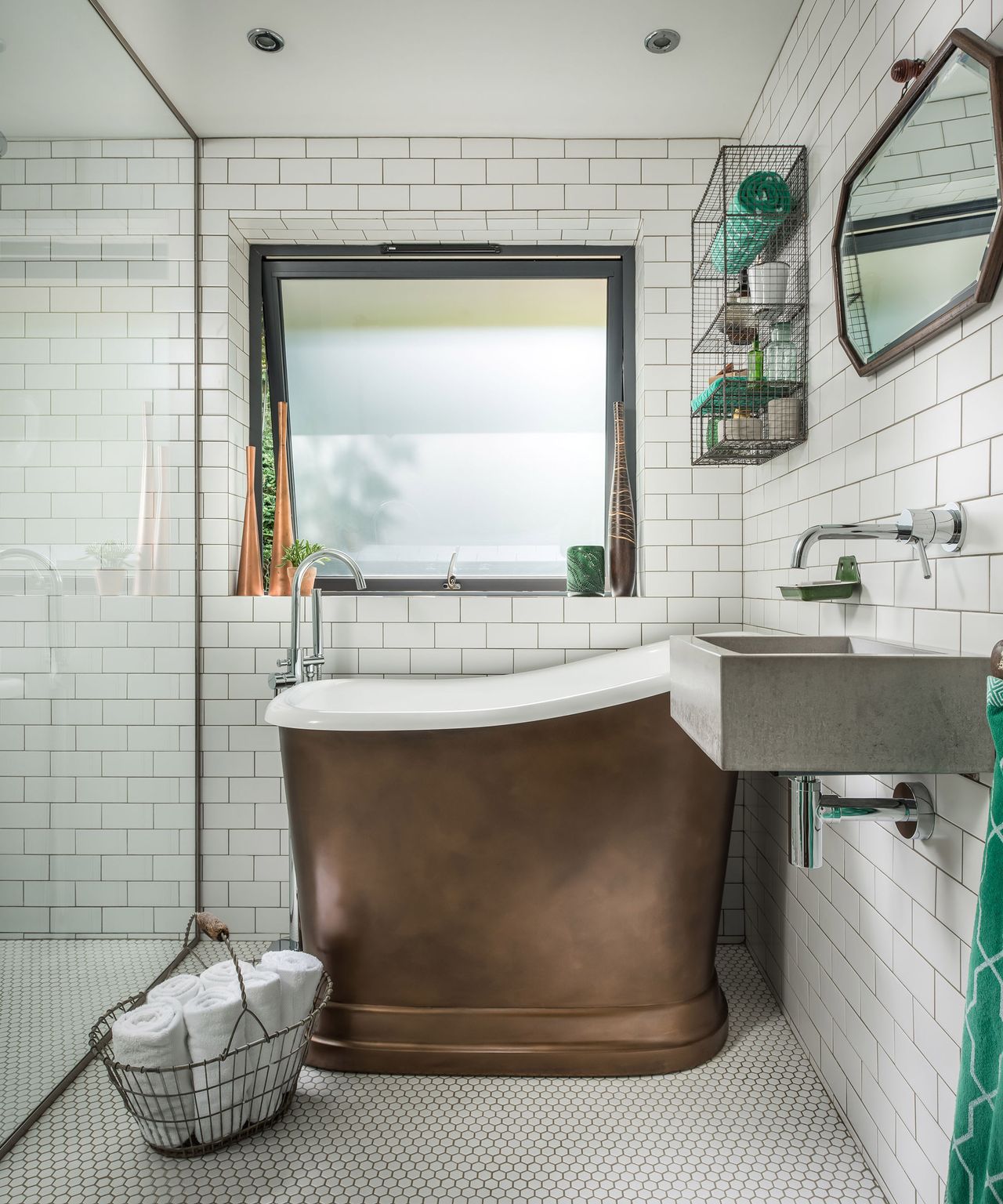 A small bathroom can cater to a tub – and a good-looking bathtub that is center stage-worthy - provided you pick a design that has been created specifically for the space.
There are plenty of reduced-width models to choose from. Thanks to its clean lines and simple design, this tiny slipper tub from The Albion Bath Company is equally beautiful in a period home as it is in a contemporary-style space.
Its Tubby design, meanwhile, comes in a 59inch/1500mm size while still boasting a double-ended roll-top look.
Also look out for built-in models that are attached to the wall but have the appearance of a freestanding bath from the front.
25. Choose minimal fixtures to boost a small bathroom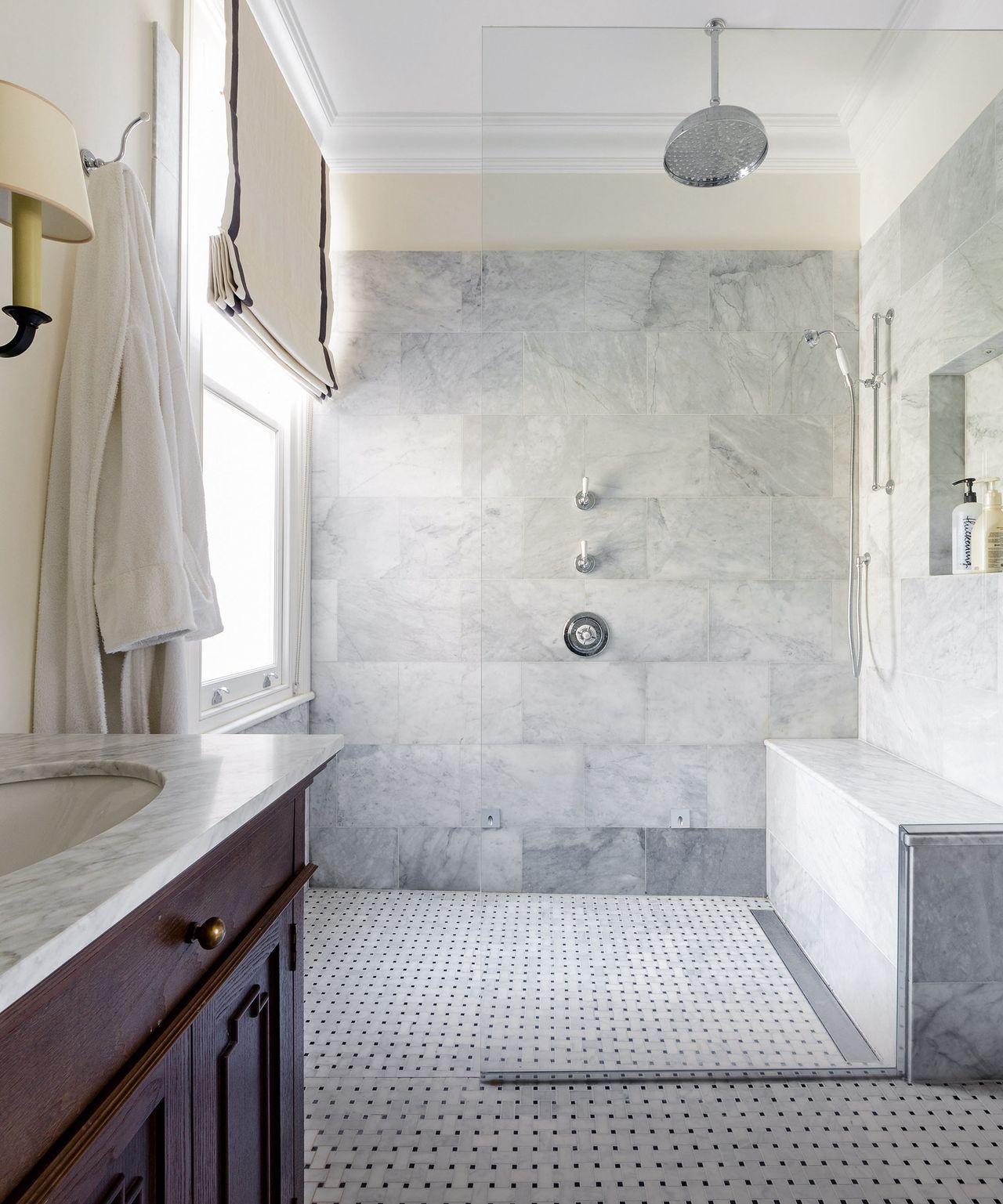 In a small space, it's important to avoid closing it off too much with excessive furniture. Opt for frameless glass when choosing a shower screen in a wet room to ensure the space remains light, bright and uncluttered.
26. Hang a mirror to make your bathroom feel larger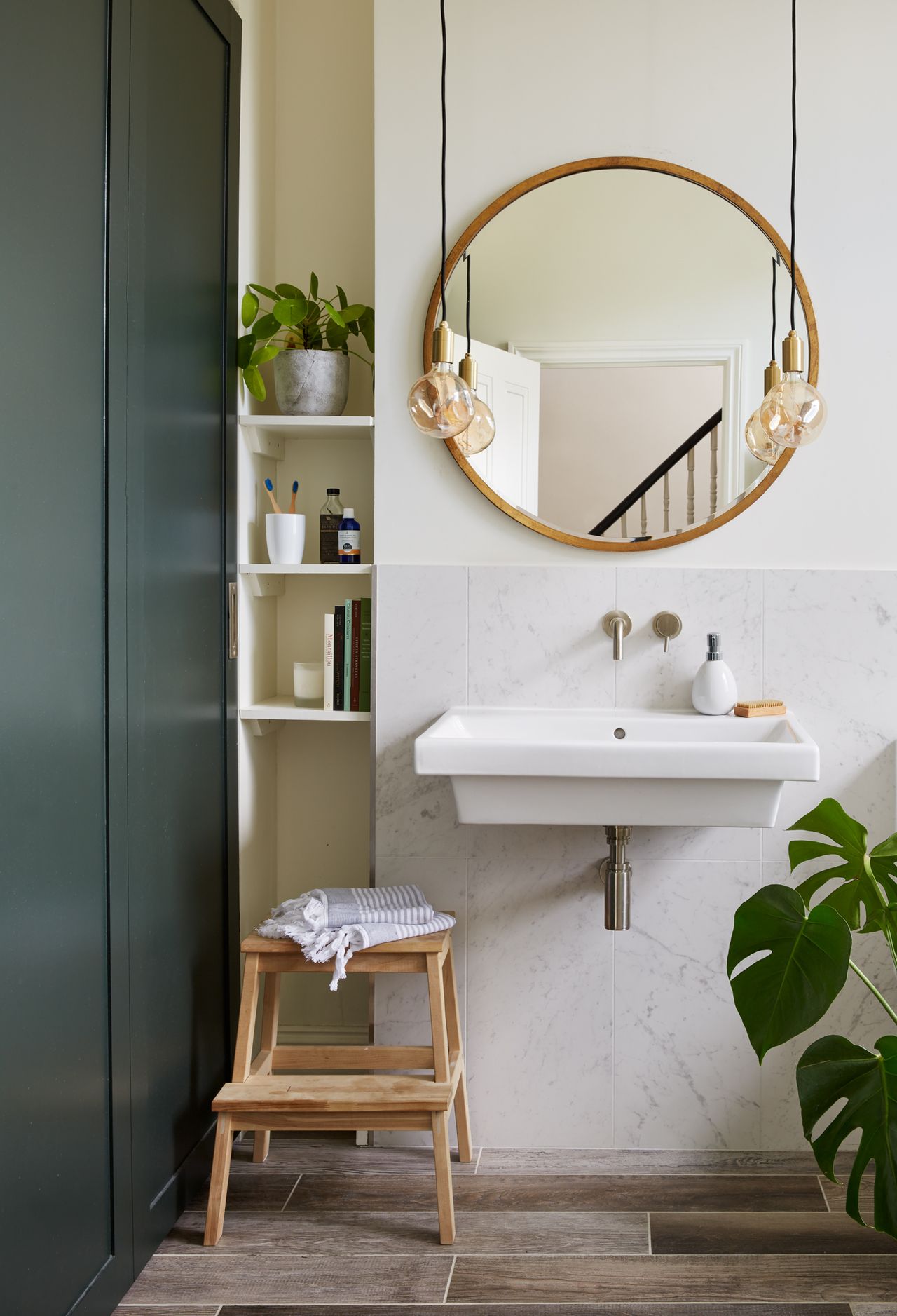 Decorating with mirrors is essential in any cloakroom, both practically and aesthetically. They bounce natural light around a room, making the room seem instantly larger and brighter.
Ornate options look fantastic in guest cloakrooms and are great statement pieces. If you prefer to keep things simple, then a mirror with a bevelled edge is an effective but subtle detail.
27. Light a small bathroom to make it feel bigger and brighter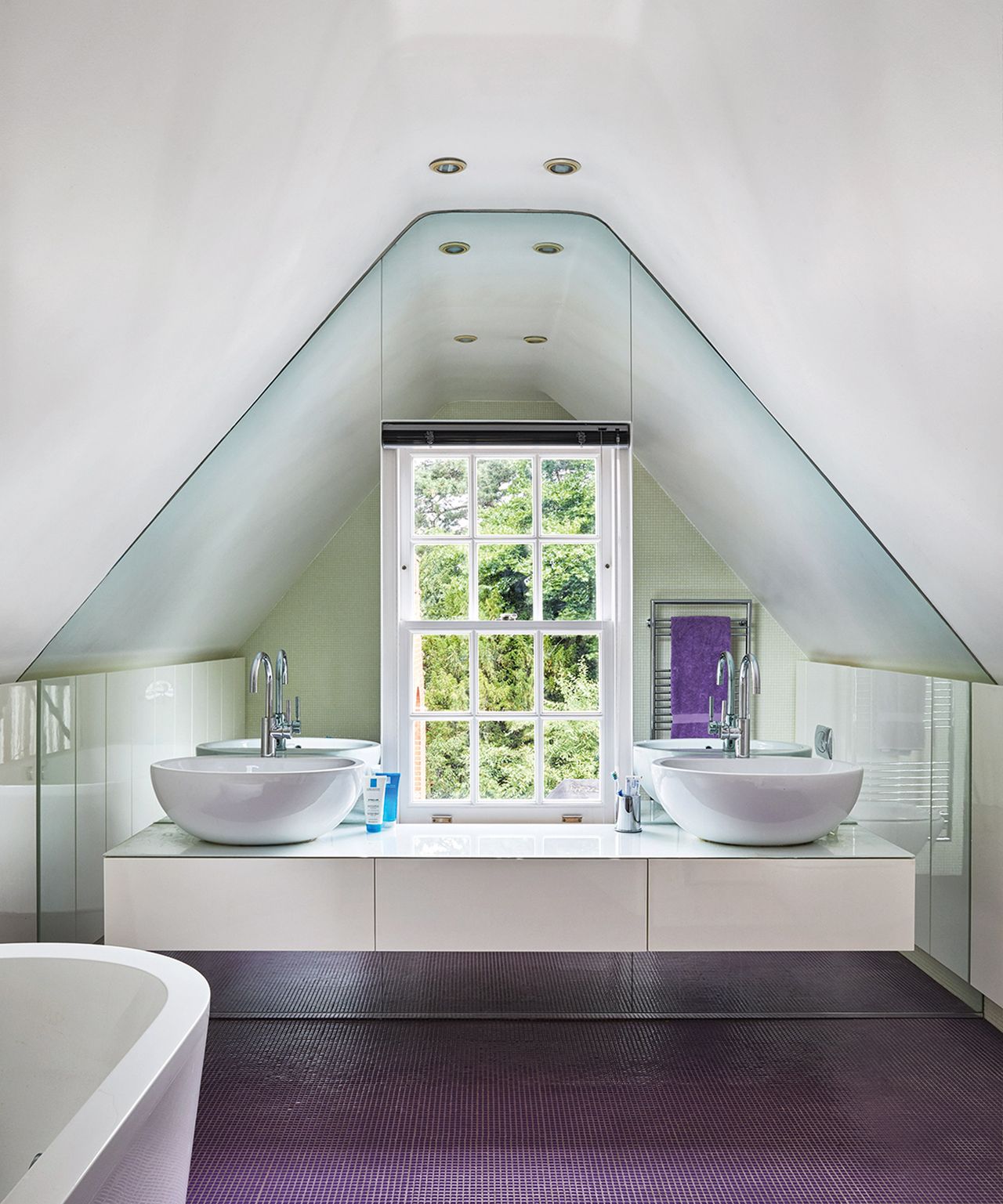 Bathroom lighting zones are a key consideration, as getting the lighting right can make all the difference to the ambience created in your bathroom. Try installing a dimmer switch so that you can control the intensity of light, depending on your mood.
For bathroom ceiling lighting ideas, spotlights, either recessed, fitted to a track, or as part of a multi-light fitting, will instantly brighten a room.
28. Be adventurous with small bathroom decor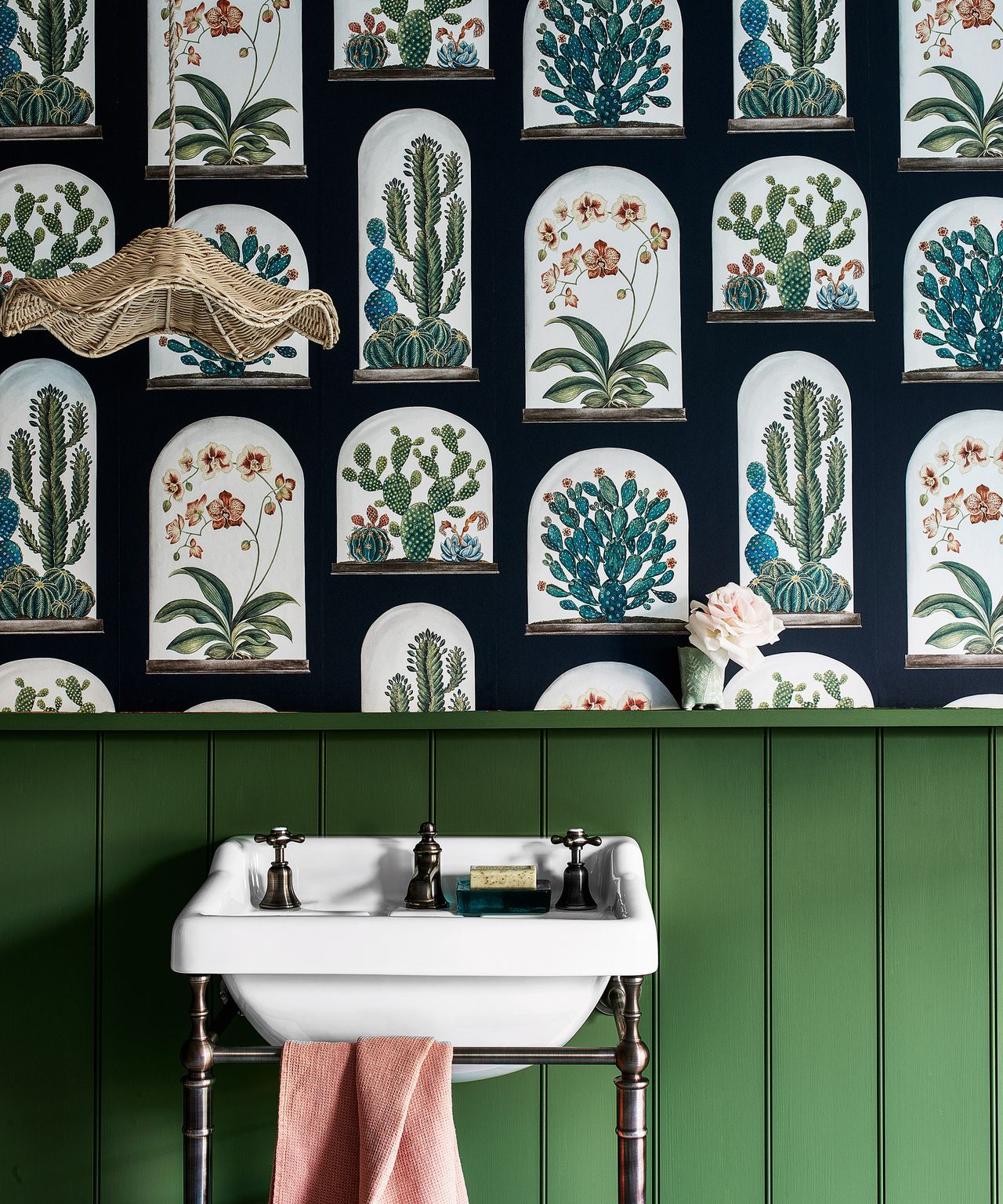 A small bathroom or cloakroom need not be dull or boring. Small spaces can be elevated with bold decorating choices, like this compelling pictorial terrarium wallpaper idea, used with moody moss-green tongue-and-groove panelling.
29. Pick a cohesive style that suits your home's period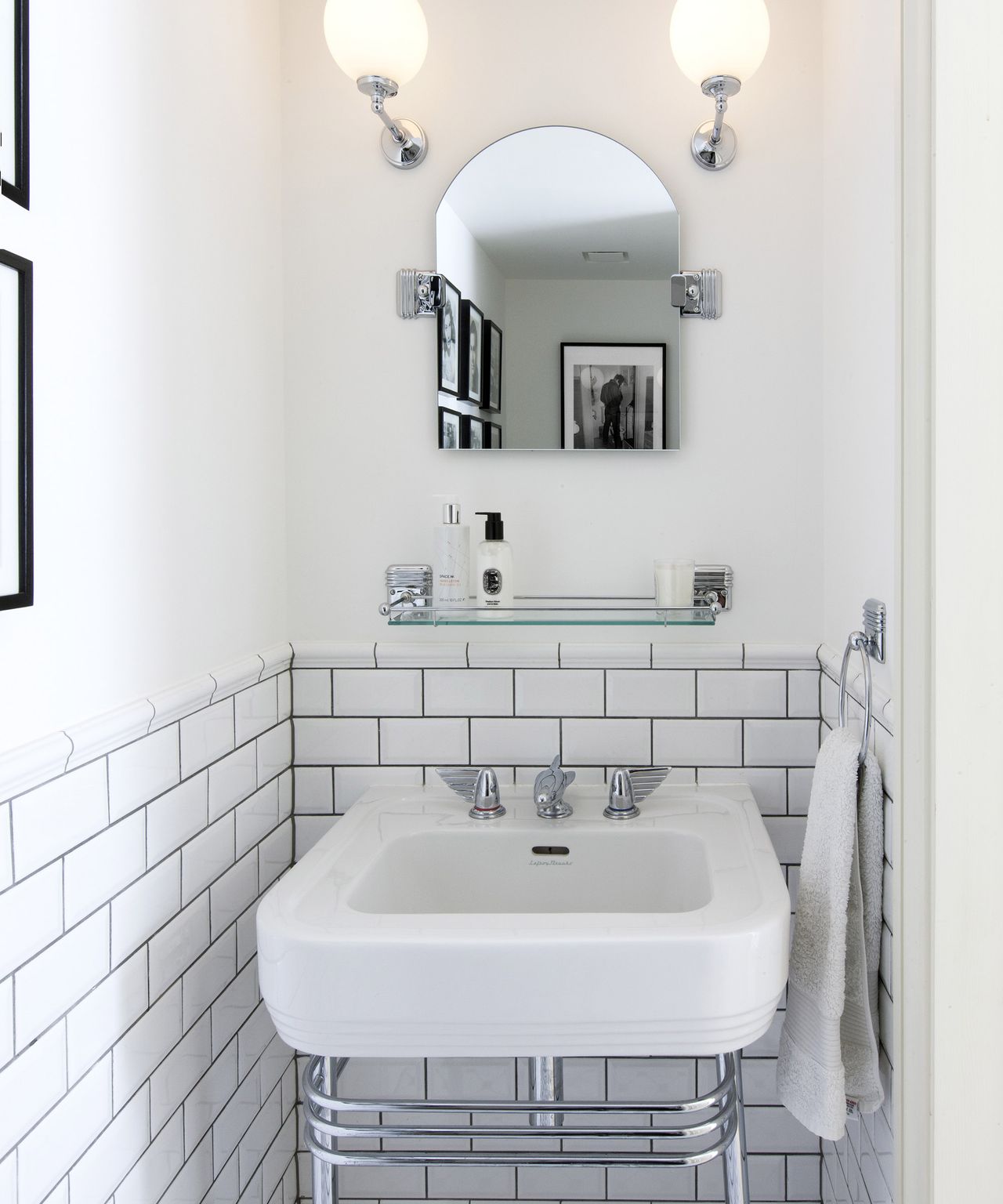 Many people shy away from classic styles as they assume that they can crowd a room and can be too oppressive, but this isn't the case.
By using light colors and tones and embracing traditional fittings such as an Art Deco style, you can achieve a period look in your bathroom despite its small size.
30. Keep floors clear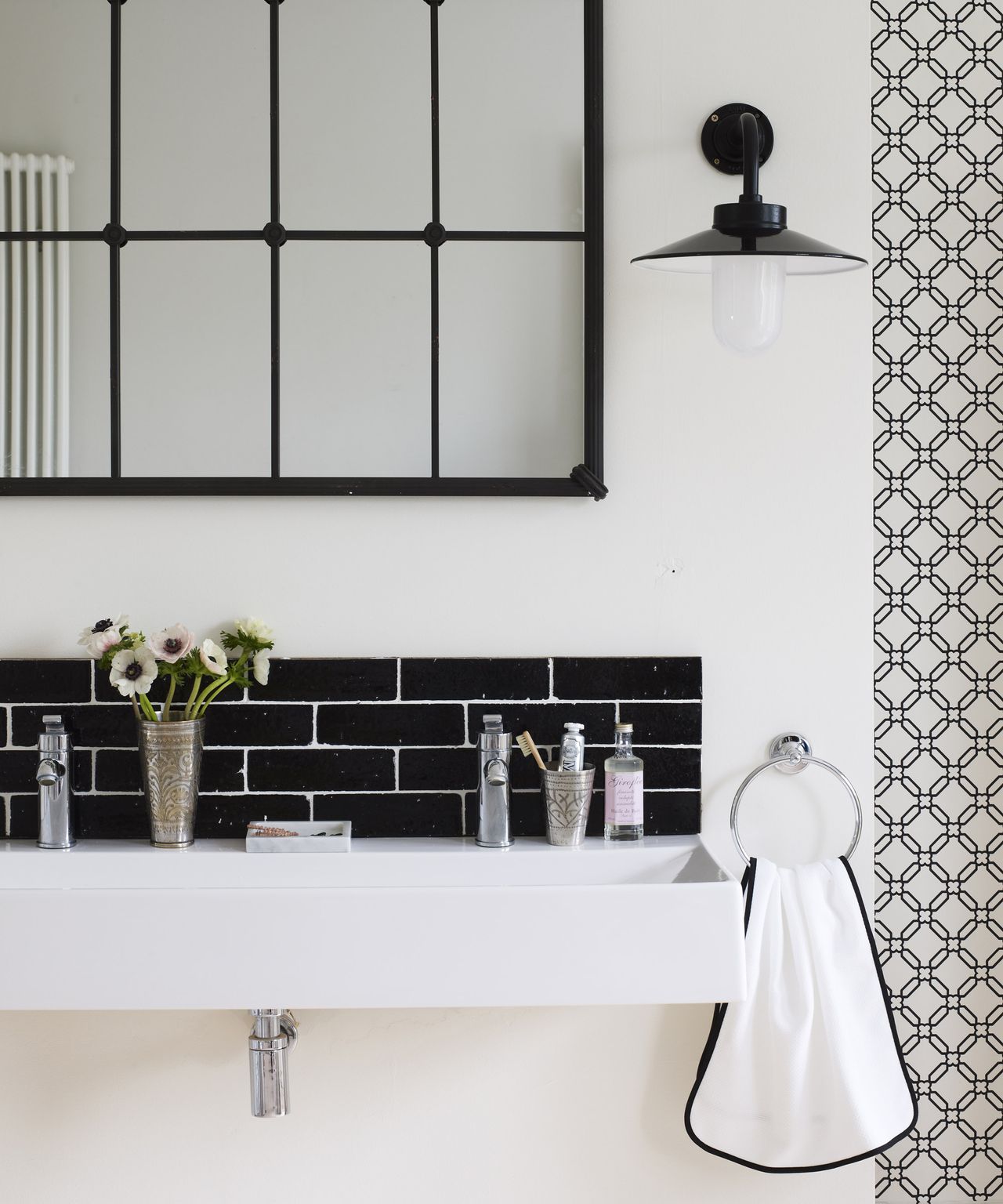 Wall-mounted modular furniture remains a favorite for storage, due to its fuss-free, streamlined look. Available in a range of heights, widths and depths, semi-bespoke small bathroom storage ideas allow you to create storage that best suits your space.
You'll find a wide range of colors, from soft hues to strong brave tones, available too, as well as plenty of different textures.
31. Be rid of shower enclosures for a more open space
Transforming a small bathroom into a wet room is an excellent choice – you make the room look bigger by not closing it off with unnecessary screens.
Bathroom tile ideas that stretch from the floor right up the walls can give the space a cozy cocooned look, too.
You can of course also consider incorporating a generous shower into a large tub instead – giving you the option of both.
32. Keep the decor simple but add elegant fixtures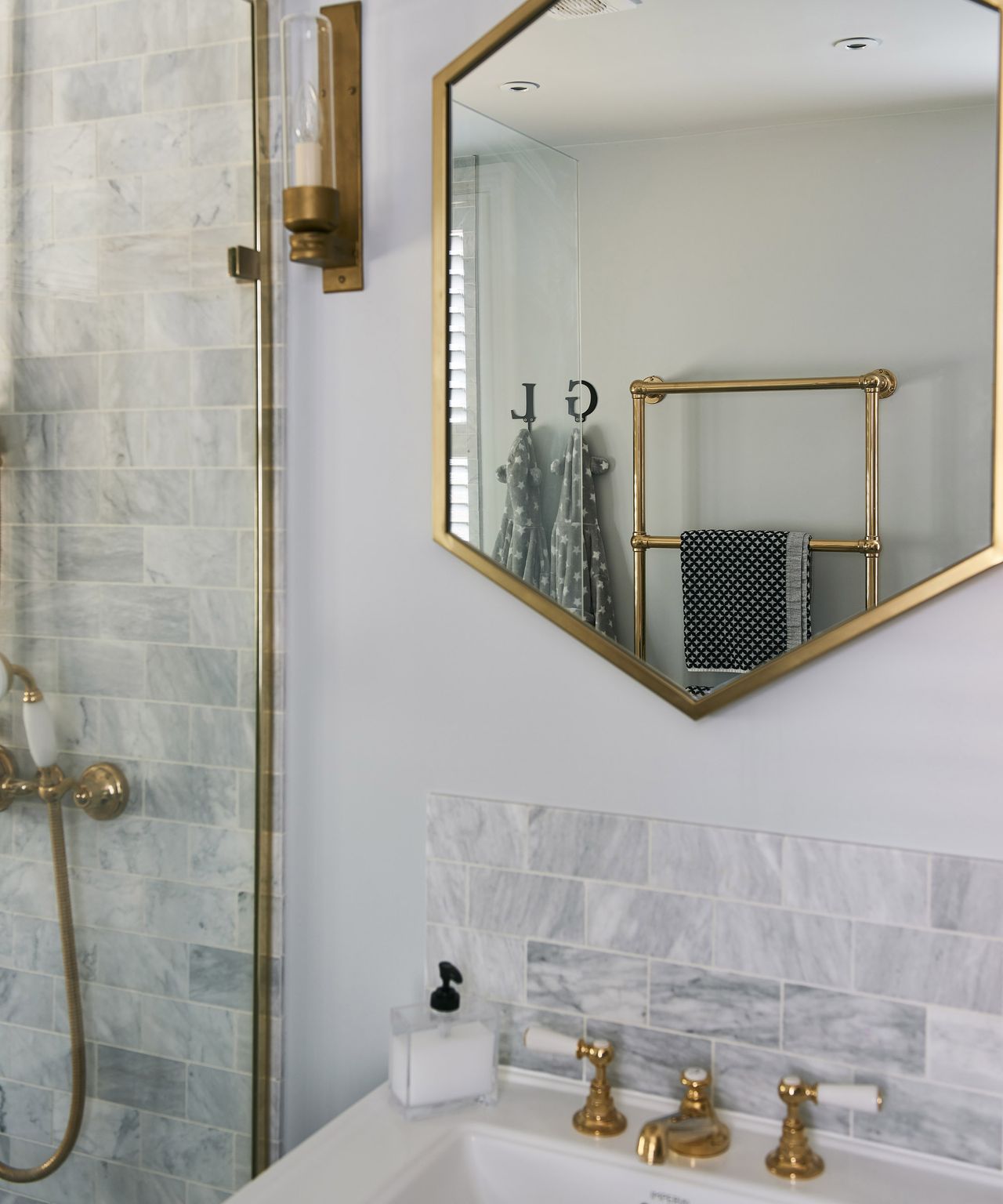 In lieu of being able to enlarge room dimensions, the clever use of surface finishes can maximize the feeling of space. In a small dark space, you could keep the space light and bright with minimal pattern or color.
'Use reflective finishes on joinery and recessed handles,' says Nick Stuttard, co-founder of London Projects. 'They reflect light back into the room and streamline surfaces, minimizing any awkwardness in moving around a narrow space.'
33. Be brave with bold pattern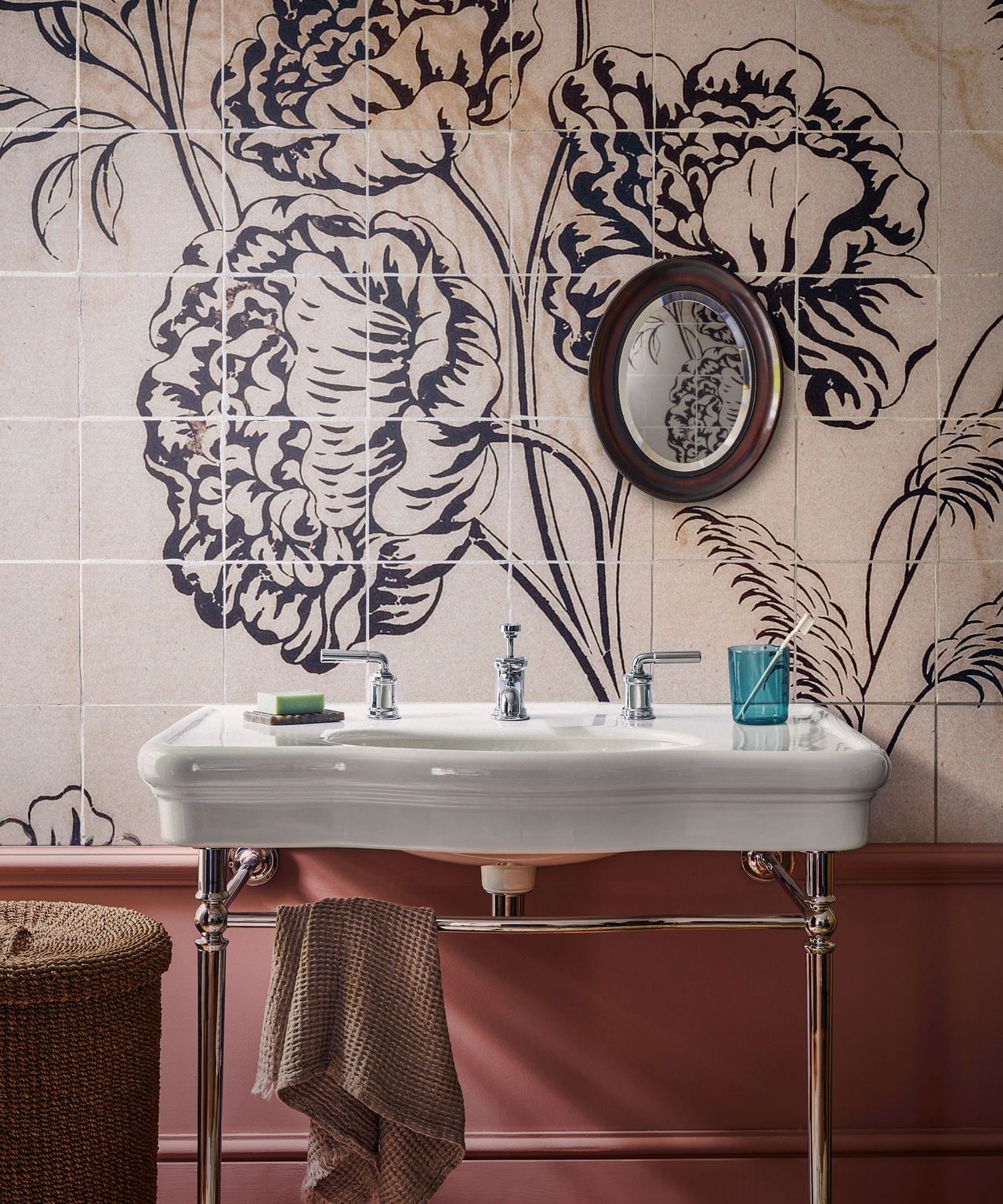 While wallpaper is an excellent option for adding pattern to a cloakroom, depending on the level of extraction you have in your bathroom, it may not be the best choice if you use to it to bathe or shower often.
An excellent alternative to wallpaper is patterned tile, whether in a simple repeat or a mural-style design like this one by Surface View.
34. Invest in a vintage washbasin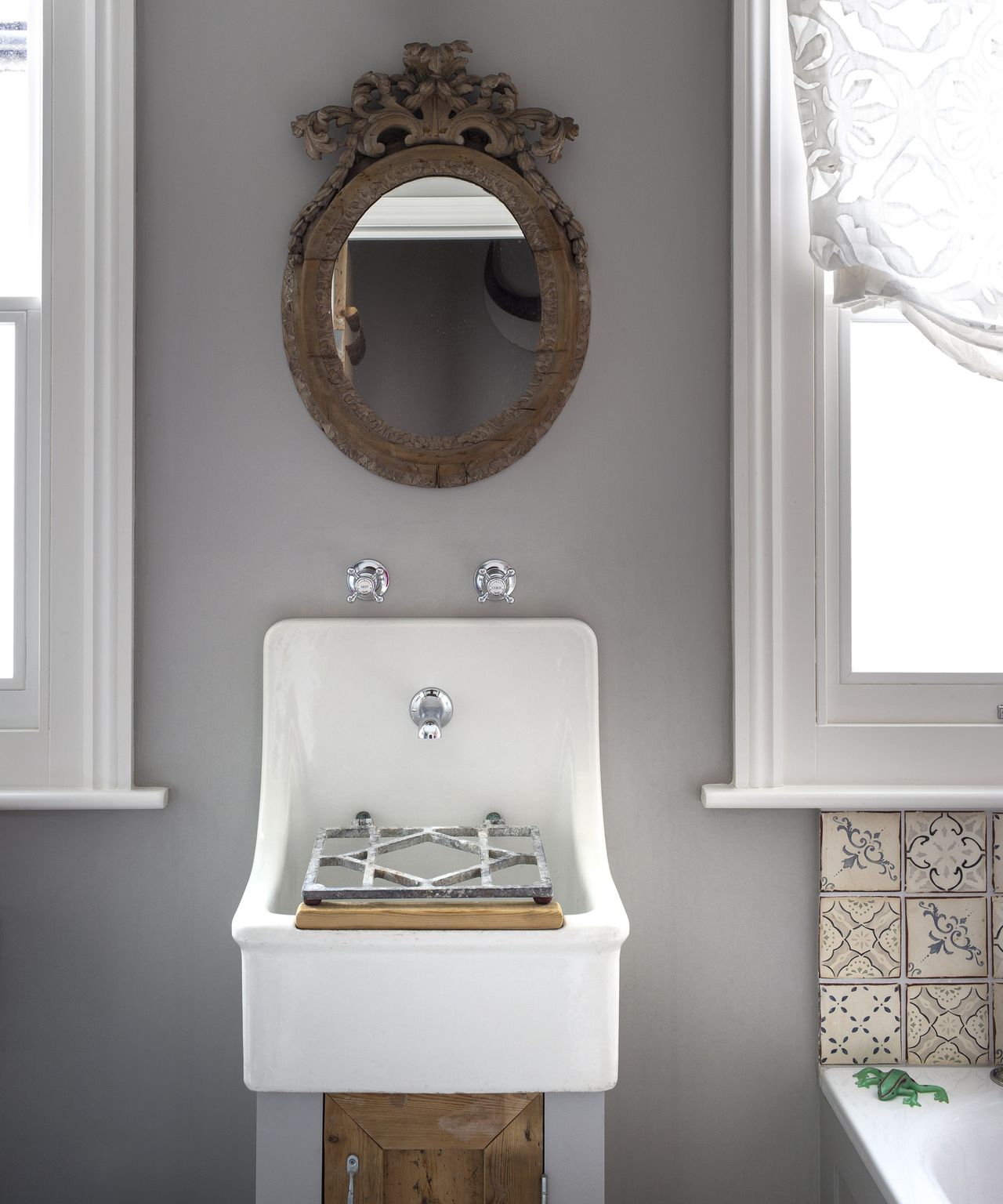 Worried your bathroom design may look to contemporary and cold? Mix the old with the new for a relaxed, organic look. A vintage wash basin or compact vanity unit will offset the modern fixtures that are often necessary for a scaled-down scheme, giving the room a more lived-in look.
35. Choose luxe surfaces and accessories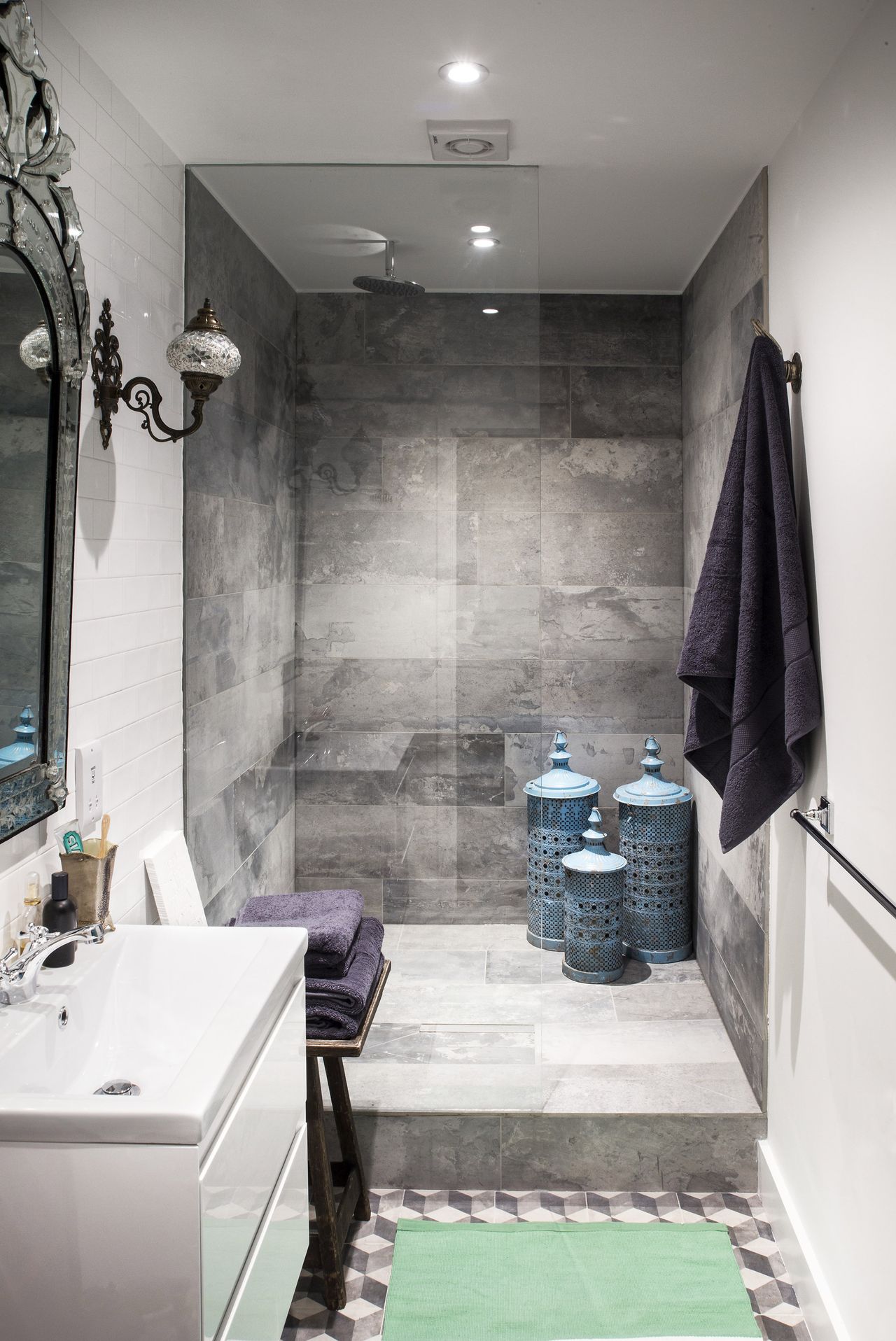 'Cleverly chosen surfaces can completely transform the look and help you make the most of even the smallest space,' says Leila Roberts from Fired Earth.
Luxurious, tactile finishes such as polished marble, make a space space feel a lot less utilitarian. The addition of accessories like decorative lighting and a beautiful mirror, also ramp up the feeling of luxury.
'Using large-format tiles means there are fewer grout joints, making walls and floors easier to clean, too,' Leila adds.
36. Pick a washbasin that's a decorative focus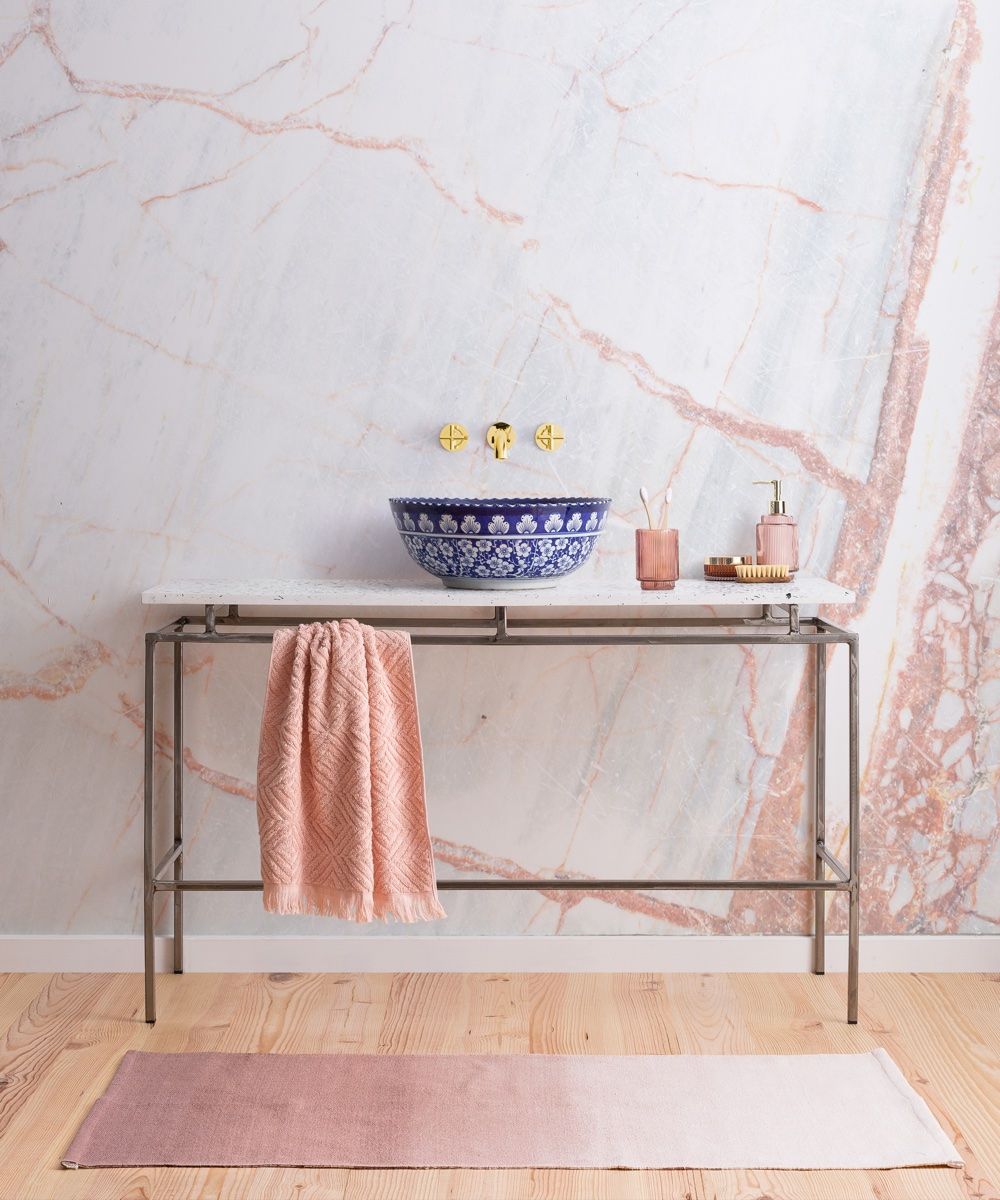 Like a more traditional look? Demonstrating the perfect balance between classic design and contemporary color palettes, the vibrant blue hues of the Georgiana and Lorelei countertop washbasins will sit beautifully against any backdrop.
Whether you pick watercolour teals or contrasting, marble-effect dusty pinks, these bathroom vanity ideas will steal the limelight in a small bathroom – distracting from the rooms diminutive proportions.
37. Create a focus – with pattern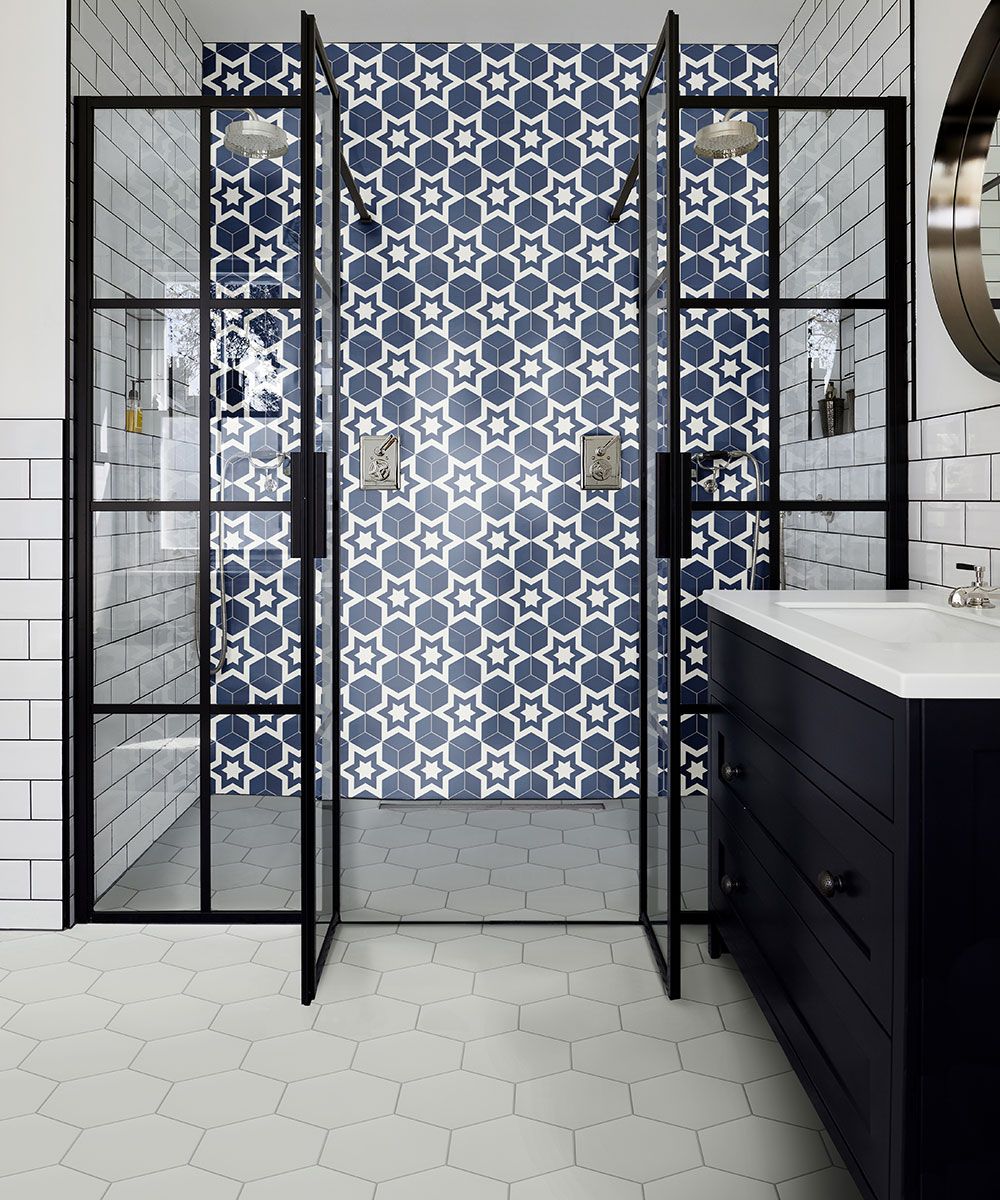 A small bathroom always runs the risk of being characterless but you can easily rectify this with a single wall of patterned tiles, placed strategically to draw attention to an end wall or a feature wall.
'Whether it's stars or stripes, monochrome patterns or colors that pop... pattern and print play a big part in bringing personality into any home – it injects life into small spaces,' says Hamish Smith, Ca' Pietra Creative Director. 'Think that pattern tiles are just for contemporary spaces? Think again and opt for a Victorian-inspired patterned tile, or a trellis pattern for a shower space to make it timeless.'
38. Draw the eye up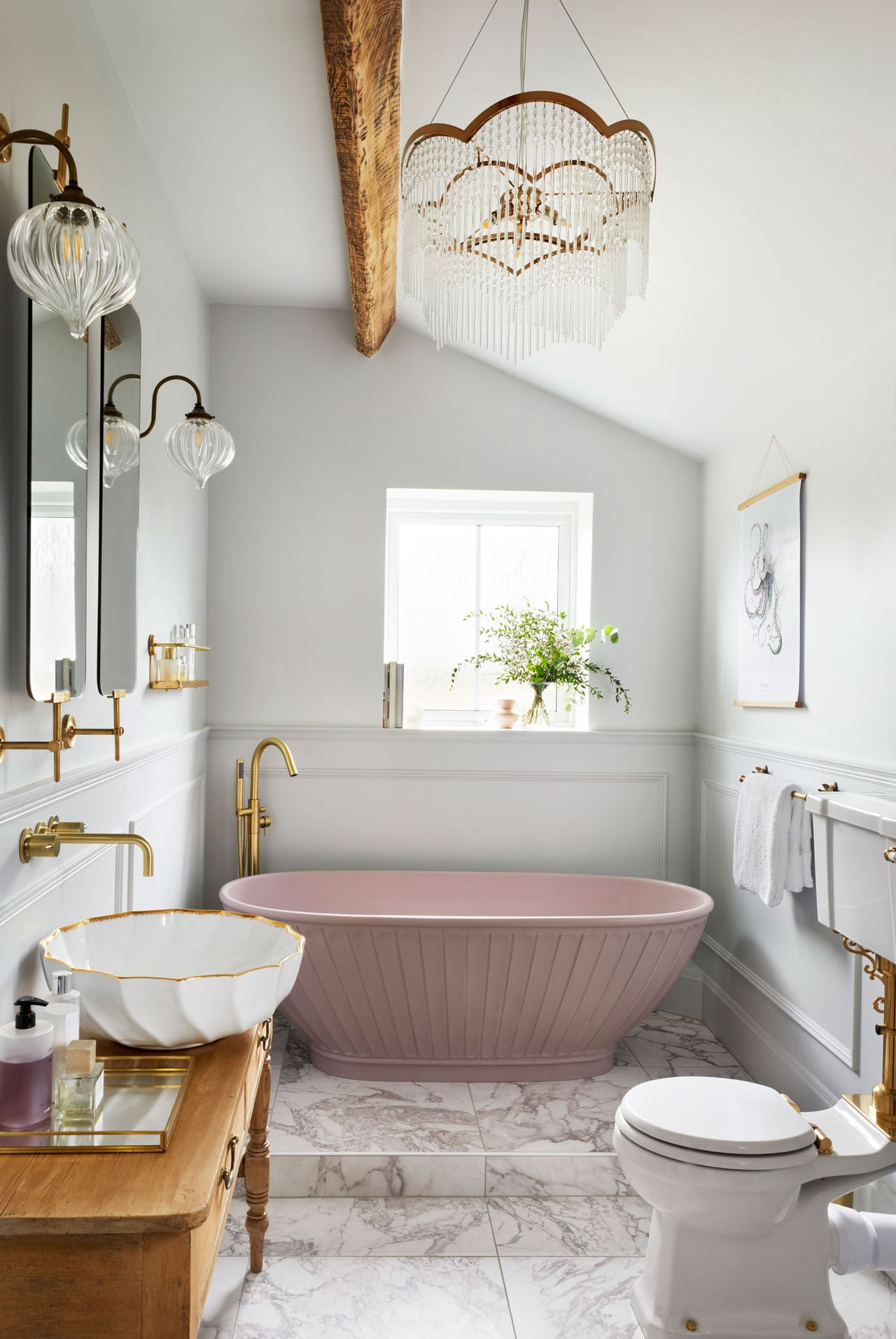 A saving grace of some small bathrooms is that, while they're not big on floor space, they can make up for it with ceiling height. If that's the case, add features that encourage you to look up and take in the roominess above.
The trick employed here is to simply hang a bathroom chandelier – being sure to check IP ratings.
39. Combine dark floors with pale walls
You may be surprised to learn that dark flooring can help to make your room look bigger. Once paired with the right cooling shade for wall colour, a space really can appear much bigger than it is.
The most obvious combination is black and white, as seen here. But you could also combine a deep gray or emerald green with blush. Or dark wood with pale sage green.
40. Squeeze in shelving to boost storage in a small bathroom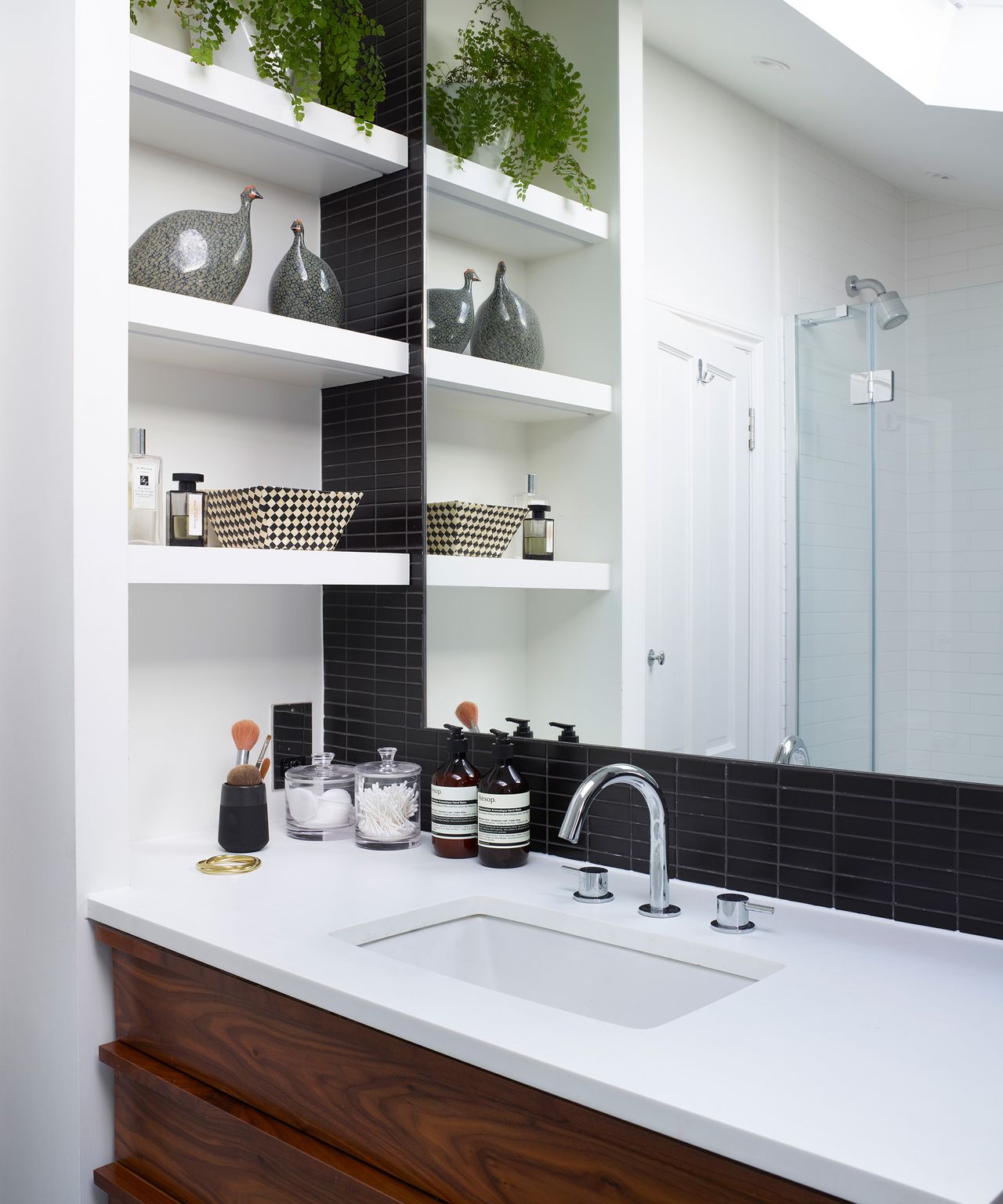 It doesn't matter how small your bathroom is. If you look carefully there are opportunities for space-saving storage everywhere. Take this little alcove of shelving in an attic bathroom.
Don't overload your shelves, however. Instead curate little vignettes and use house plants or ceramics to add pops of color.
41. Hang artwork wisely to distract from small bathroom proportions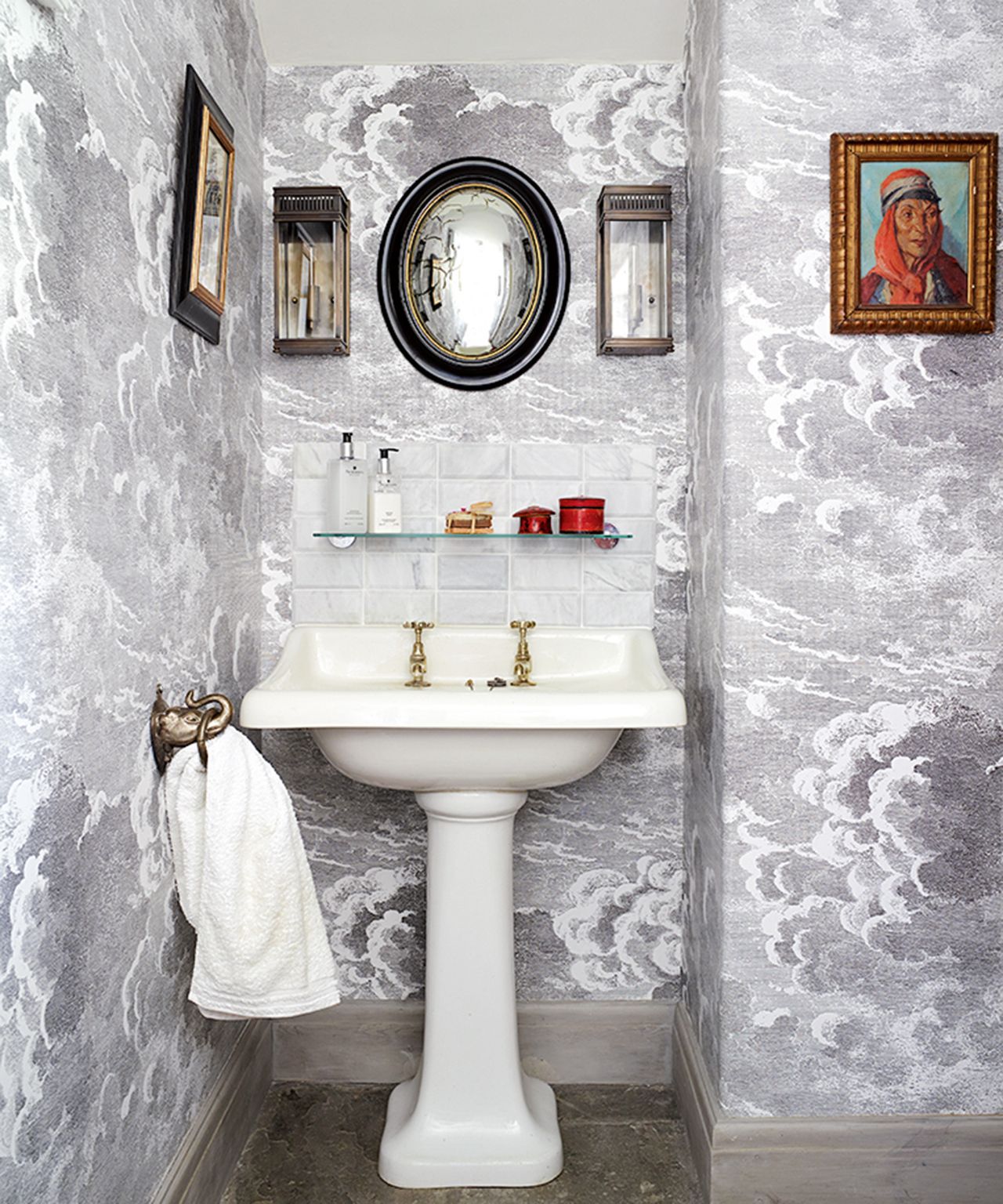 Wallpaper is one way to bring a small bathroom to life, and carefully positioned artwork is another. Here, the owner has used clever bathroom art ideas by hanging each canvas high, emphasising the clear wall space rather than the room's size.
42. Clash patterns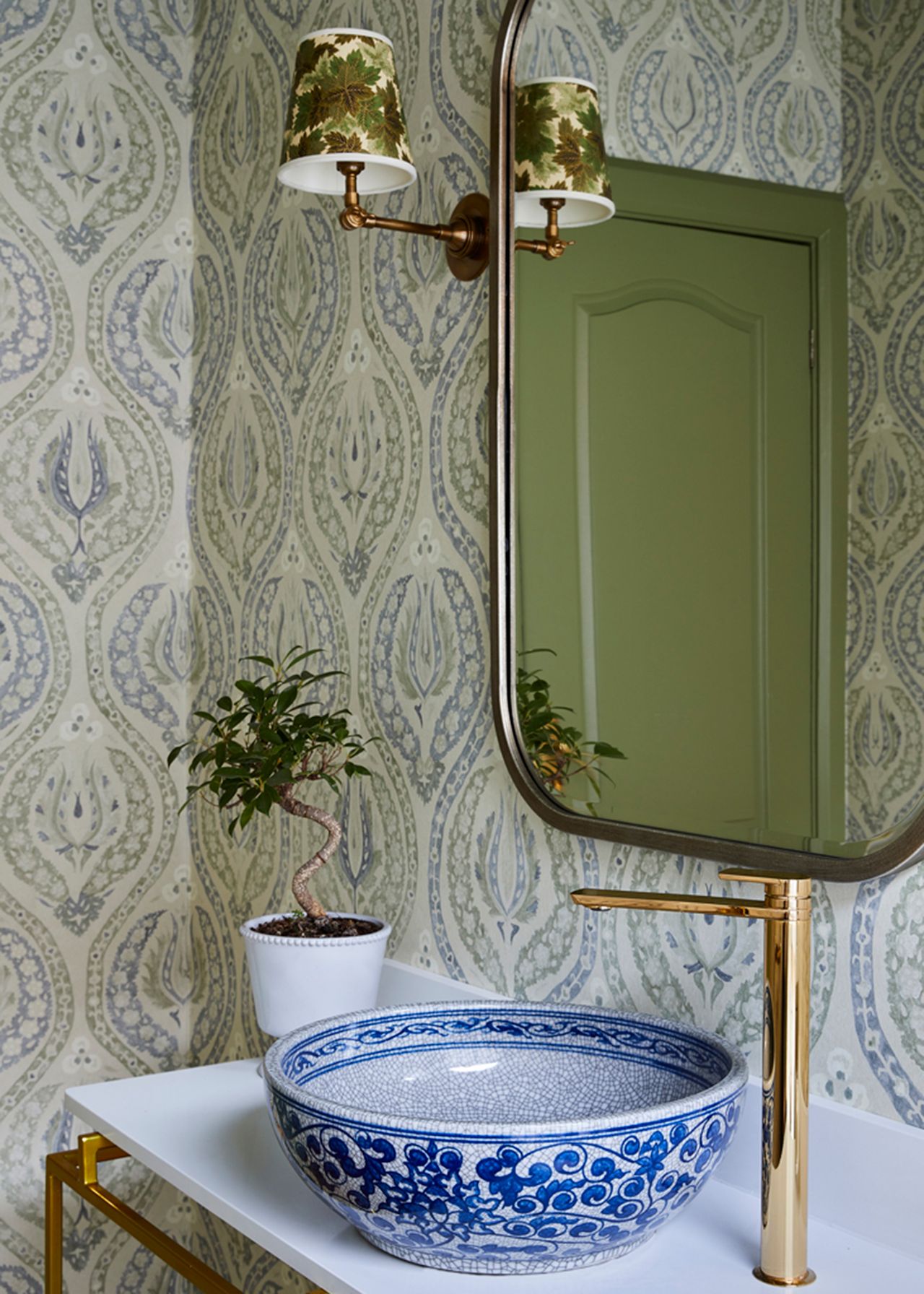 One way to detract from a room's scale is to give it energy and vibrancy through clashing patterns. A cloakroom like this is the perfect place to experiment.
Featuring Grecian inspired ogee wallpaper, warm brass accents and and a richly decorated basin by London Basin Company, it makes a big statement.
43. Shock with pink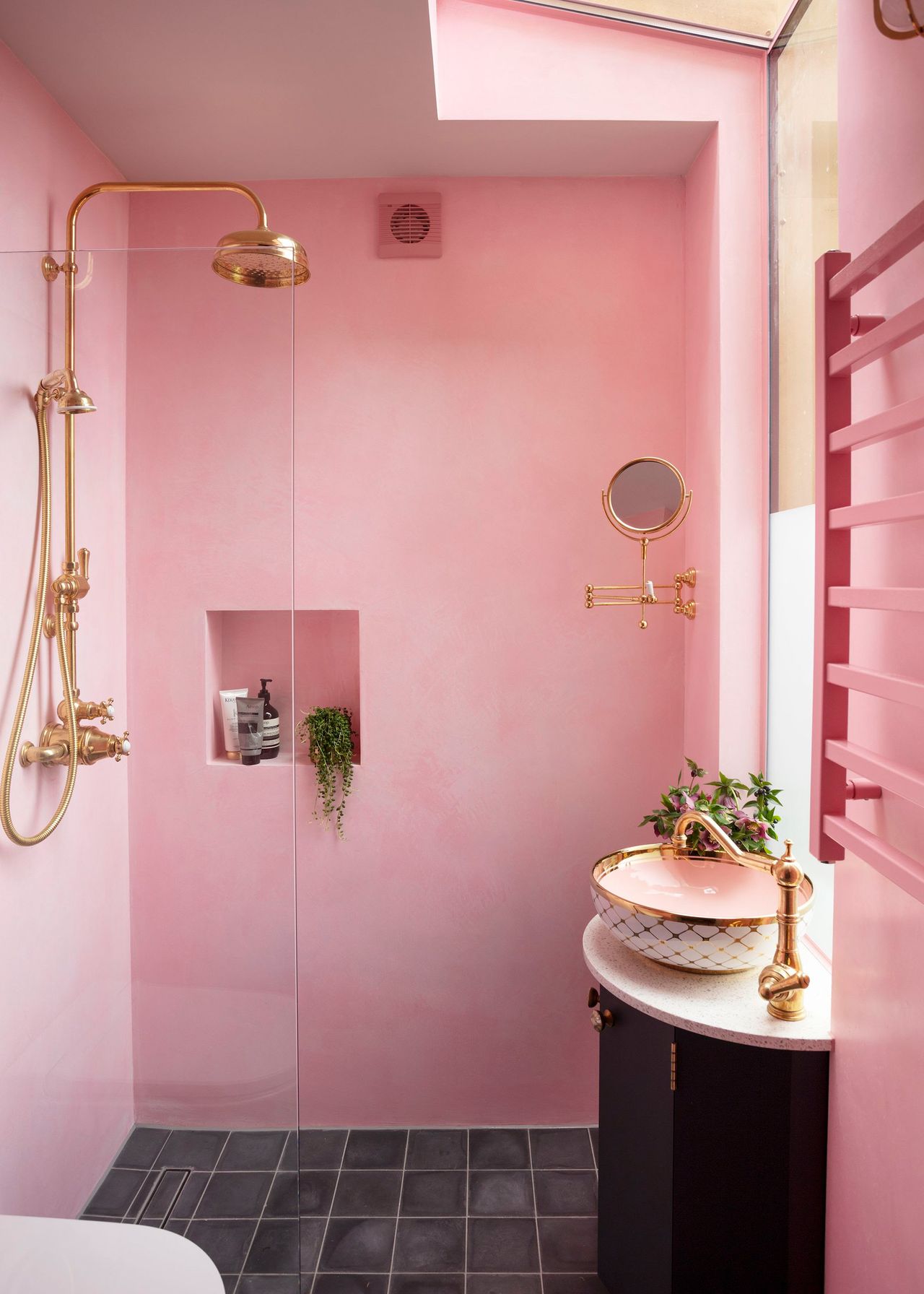 There's something both moreish and Moorish about this delicious pink shower room, which demonstrates how going bold in a small space can pay off.

The brass shower and taps from Perrin & Rowe will develop their own unique patina over time, enhancing the vintage bathroom vibe that's already been created with polished plaster walls.
44. Clad a wall or two with texture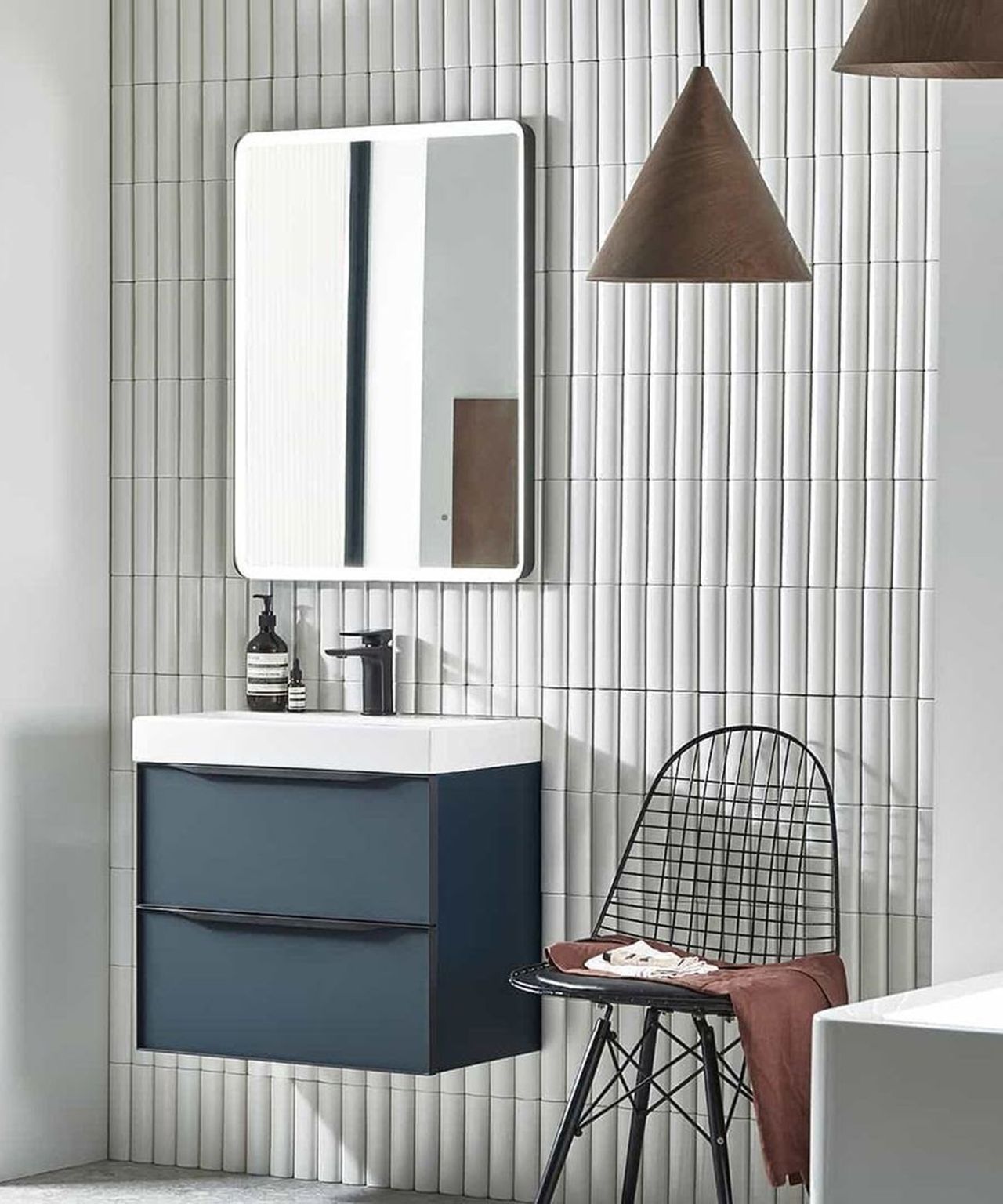 For those who fear color may overwhelm their small bathroom, introducing texture may be a more palatable way to introduce feature walls. Cladding is a good way to achieve this – you could pick roughly hewn timber cladding or, for something more modern, a fluted finish.
According to George Holland at Victorian Plumbing, 'Fluted cladding is a great choice for smaller bathrooms prone to lots of condensation. The fluted design helps eliminate wall moisture, especially when using water-resistant ribbed tiles.'
45. Reveal the floor to stretch space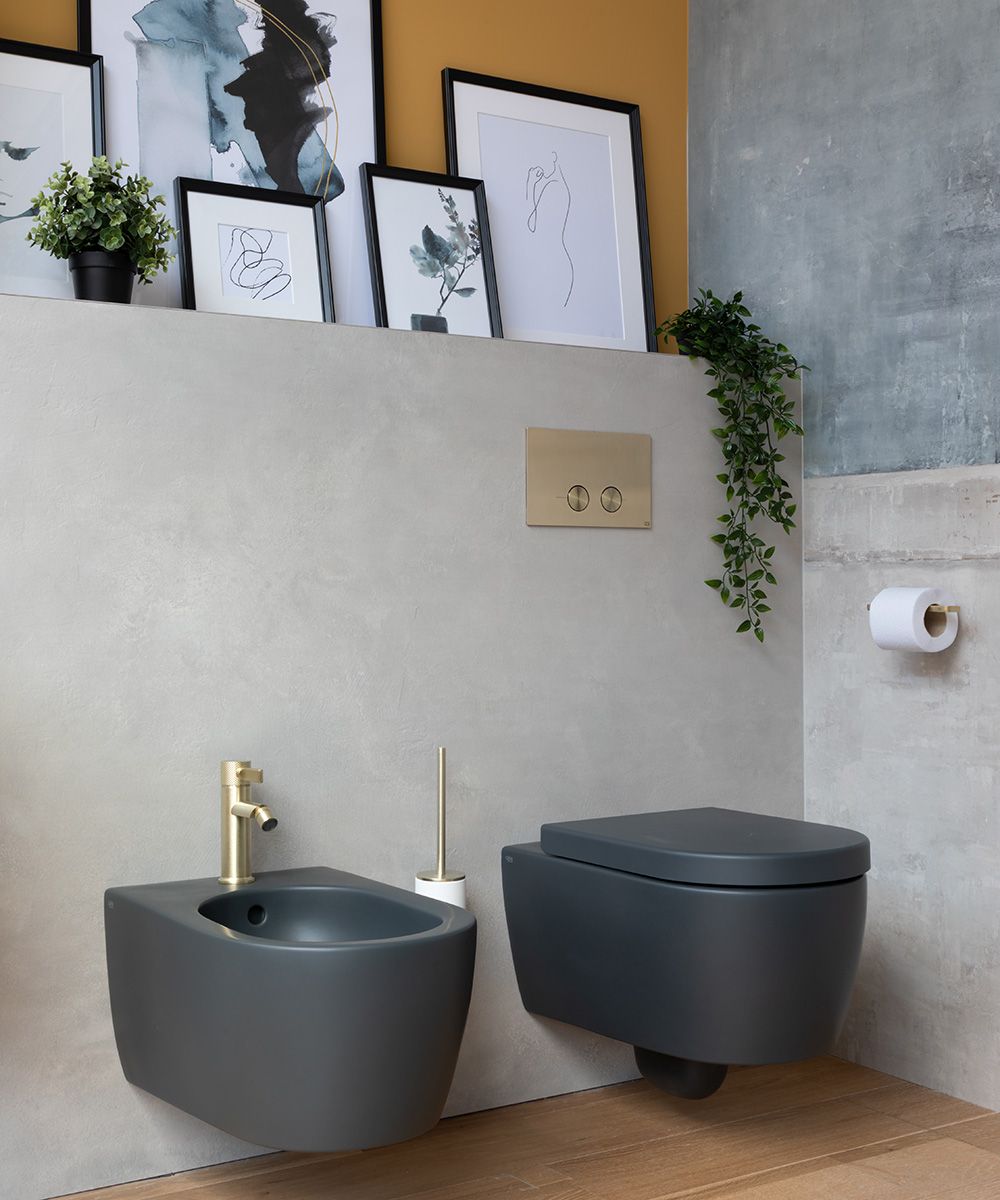 'When planning a small bathroom, it is important to create a sense of openness even if your actual space is limited,' advises Yousef Mansuri, Head of Design at C.P. Hart. 'Revealing as much floor as possible gives the impression of a larger room, so consider wall-mounting your basins, WCs and radiators. This will also make cleaning hard-to-reach areas much easier.
'Corner cisterns for wall-hung toilets are a great option for tight bathrooms, as they take up much less space than regular ones. Paired with a compact, wall-hung toilet (50 to 45cm depth) they can really maximize the space.'
46. Boost light levels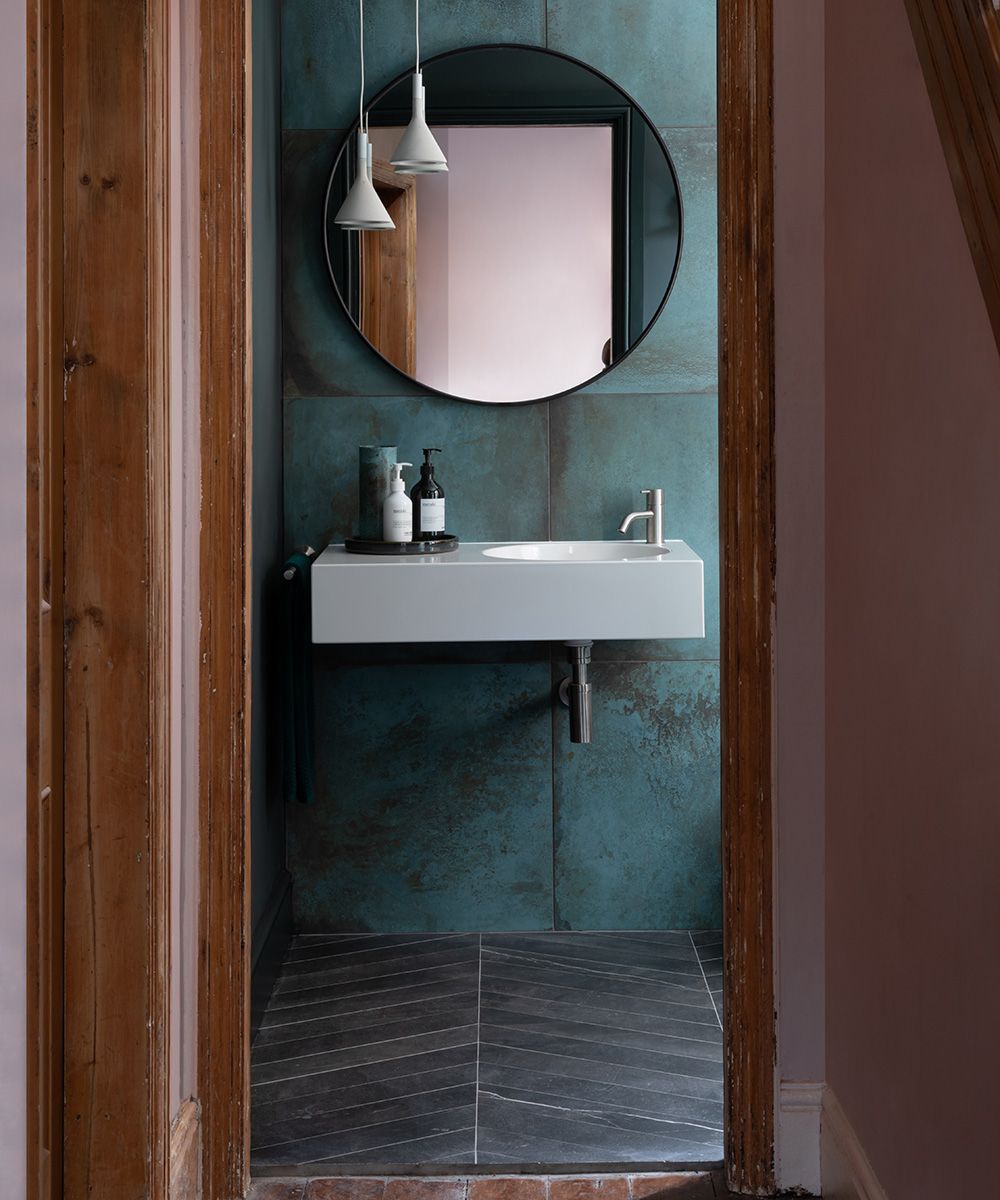 'Lighting zones are a key consideration in a cloakroom bathroom, as getting the lighting right can make all the difference to the ambience created,' continues Yousef Mansuri.
'I always recommend installing a dimmer switch, so that you can control the intensity of light depending on your mood. Mirrors are an essential part of any small space, both practically and aesthetically. They bounce natural light around a room, making the space seem instantly larger and brighter, while also providing a great statement piece.'
47. Clad a wall with mirrors to cheat a bigger bathroom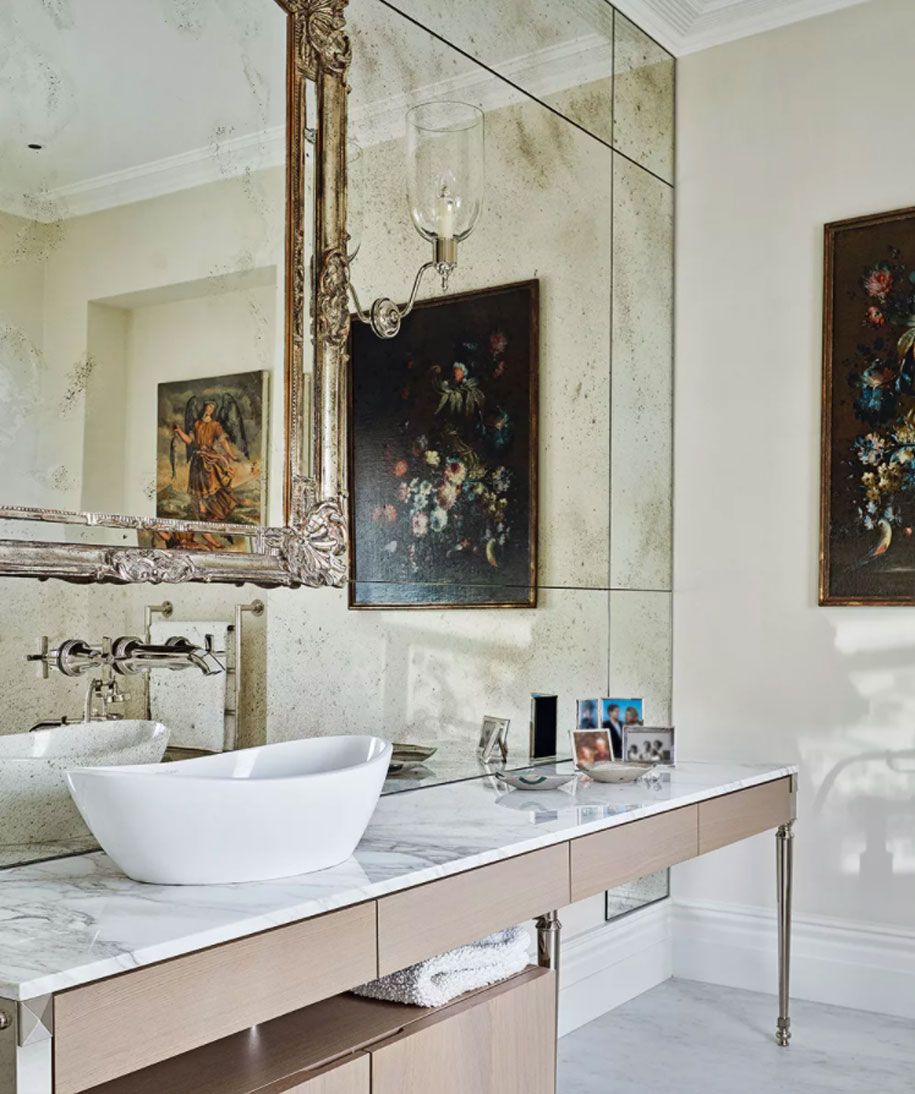 An easy and effective fix – mirrors really help exaggerate space, so simply hanging a large mirror in a small bathroom will make it feel far larger.
Combining a mirror with a dark or dramatic color scheme will help too. Shape the space you want with different kinds of frames – frameless mirrors will feel luxurious while round ones will make a room feel softer.
Expert tip – if you can't fit one big mirror in, put up smaller ones for a similar effect.
48. Use vertical space in a small bathroom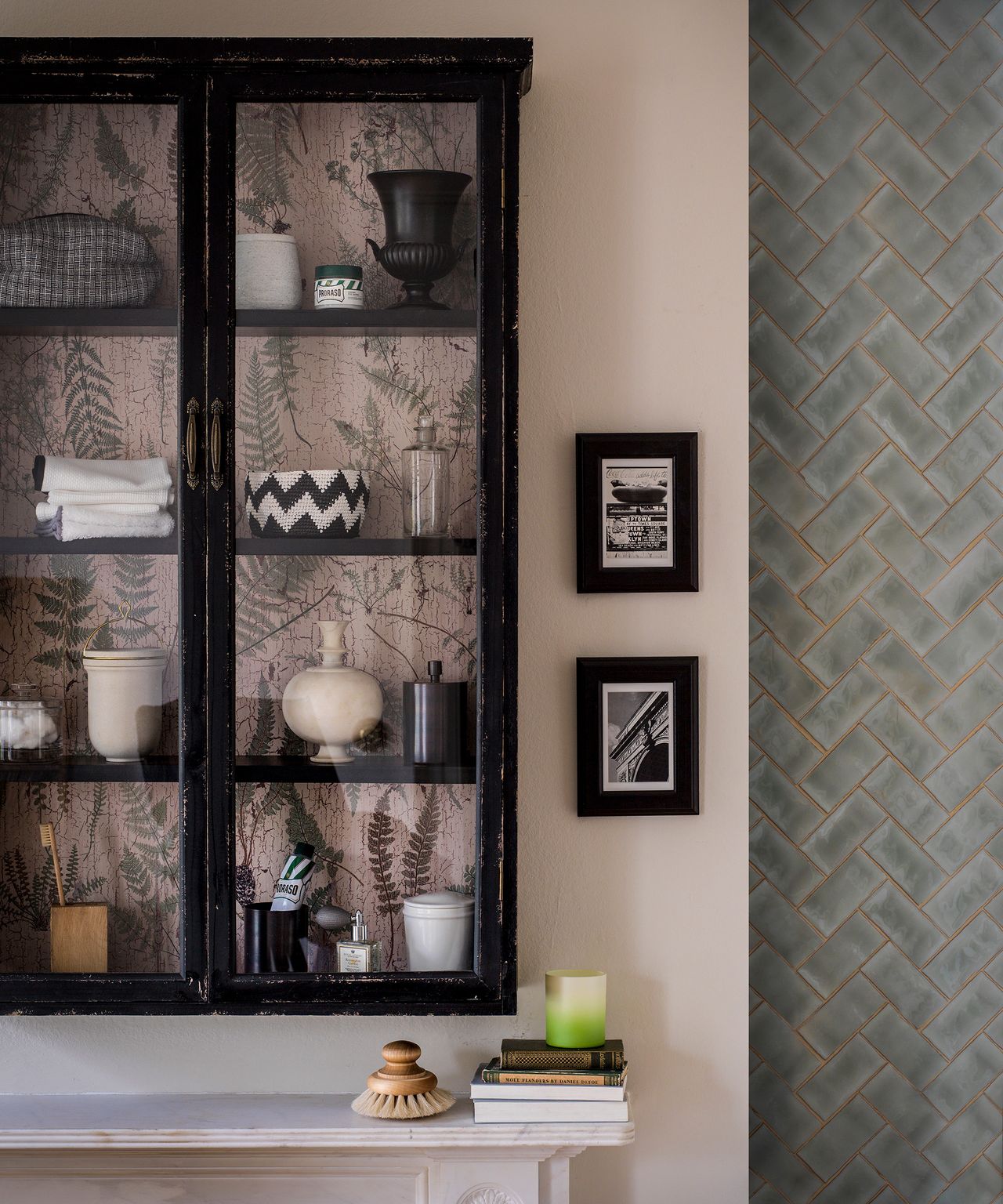 Instead of the usual bulky towel racks and rails, look for longer, thinner versions, designed to go up the walls. Invest in ladder shelves, or open shelves. This will add a relaxed feel to the space and the bathroom won't feel so boxy. Take advantage of dead space you wouldn't usually fill and stretch out your furnishings to save space.
Expert tip – tall and sleek corner fitting cabinets are an ideal small bathroom idea.
49. Stretch space in a small bathroom with wall lighting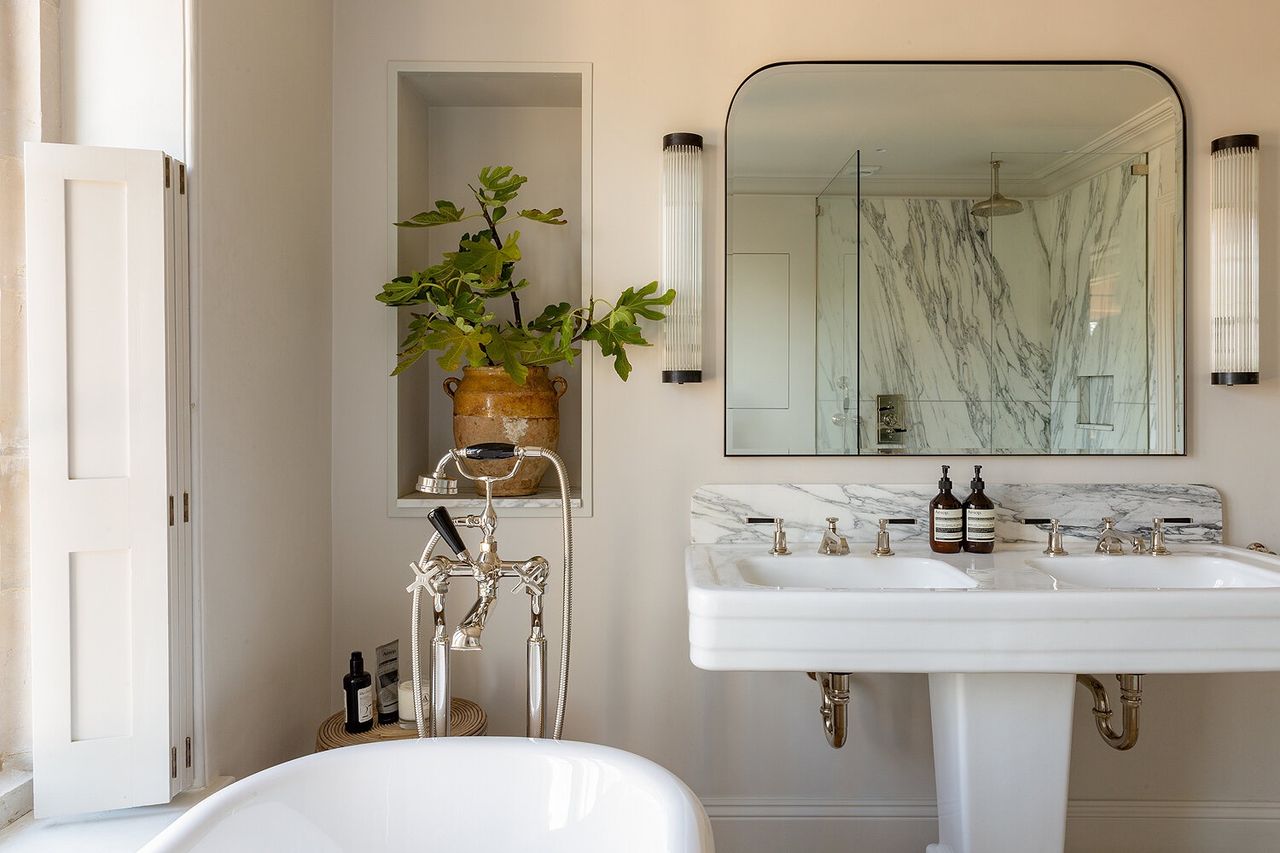 Lighting is often forgotten when it comes to bathroom design, and many people rely on the single ceiling bulb to do the job, but adding pools of light around the room – particularly with wall lights – is one of the easiest ways to make a small bathroom feel bigger.
Expert tip – a light around a mirror will make a room feel brighter and bigger still.
50. Go big with tiles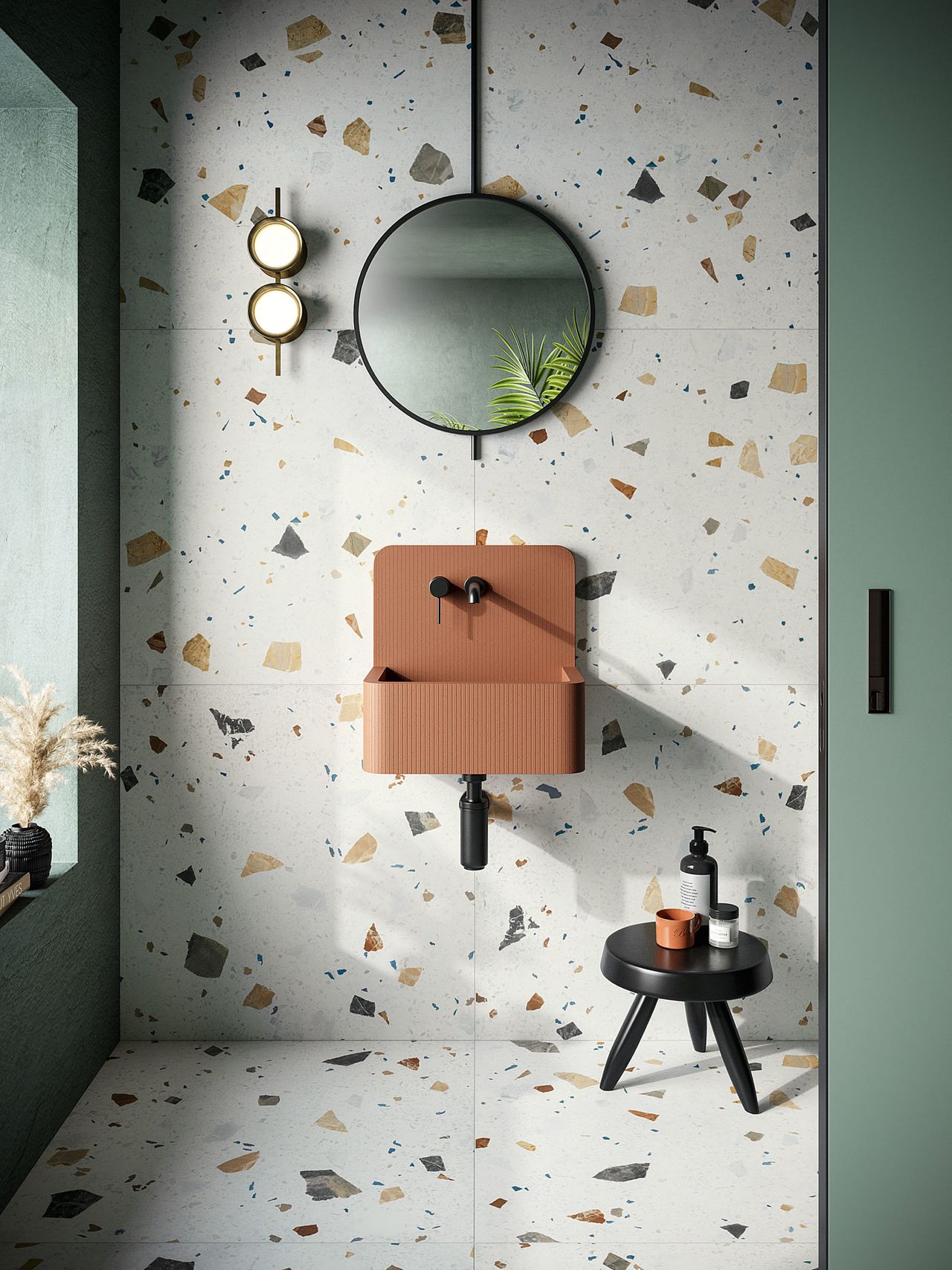 Think a small bathroom would need smaller tiles? When it comes to tiny bathrooms, the bigger the tiles the better. Smaller tiles mean more grout lines, which will make the space feel tight and grid-like. Wider tiles will make a bathroom feel bigger, especially if you choose light colors. Go big with tiles to create a real illusion of space.
Expert tip – if you do want to include smaller, mosaic-style tiles limit them to an area that's already small such as the shower or an alcove.
How do you design a small bathroom?
If you're pondering how to design a small bathroom, the truth is that every aspect needs to be carefully considered. But that doesn't mean you need to compromise on style.
Clever storage solutions can make all the difference, and thankfully there are now many compact options for bathrooms – from reduced-depth bathtubs and basins to slimline shower trays and frameless screens to enhance the illusion of space.
Also, bear in mind that wall-hung designs will optimise floorspace, and reflective surfaces can help bounce light around the room.
What is the best color for a small bathroom?
So, what's the best color for a small bathroom? The truth is that it depends on your own space.
First, take account of the natural daylight in your small bathroom: if it is poor or if the bathroom is north- or east-facing, you would be better choose a bathroom color that reflects light and has a touch of warmth to it.
If your bathroom is flooded with daylight thanks to a large window, there's no reason not to choose a dark color.
Consider how the bathroom color will look on all four walls – in a small space, it may be over-powering if it is dark or bold; or it may make the room feel entirely characterless if it is pale – and this is where you need to be clever with adding pattern and texture to complement that color.
What to avoid? A strong color and poor lighting, whether daylight or artificial light – the effect will be that the entire space with have a tinge of that shade, and when you look in your small bathroom mirror you might find your face reflects that shade – which is unflattering and not conducive to wellbeing.
Is it better to use small or large tiles in a small bathroom?
We asked the Ca' Pietra design team what their view was on using tiles in small bathrooms, and they offered some differing options.
'Some say that small mosaic tiles are the best way to go in a bijou bathroom whereas others advise to go for larger tiles to open the space up,' they explain.
'What it comes down to is whether or not you want to run with the cosiness of the room, emphasizing its small proportions and celebrating its cosiness. In which case, you can go for little tiles like our Yoga Penny or Brasserie mosaic tiles.'
'But, if you want to help a small bathroom appear larger, go for 30-60 cm plain-coloured tiles on both your walls and floors and they'll blur the boundaries so your floor space isn't so defined.'
What are the trends for small bathrooms in 2021?
Bathroom trends have undergone a huge leap in design of late, and thanks to the effect the pandemic has had on everyone's homes – with bathrooms becoming our stay-at-home spas - this trend is set to continue right through 2021 and beyond.
Super practical, utilitarian, minimal designs have been replaced by softer lines, organic shapes and warmer colors being applied in small bathrooms, as well as large.
Modern technology too is being utilised to the max with ink-jet printing technology allowing manufacturers to produce all kinds of tiles, from wood and stone-effect tiles that look so similar to the real thing that it's hard to tell the difference, as well colourful and intricate patterns.
Jennifer is the Digital Editor at Homes & Gardens. Having worked in the interiors industry for a number of years, spanning many publications, she now hones her digital prowess on the 'best interiors website' in the world. Multi-skilled, Jennifer has worked in PR and marketing, and the occasional dabble in the social media, commercial and e-commerce space.
Over the years, she has written about every area of the home, from compiling design houses from some of the best interior designers in the world to sourcing celebrity homes, reviewing appliances and even the odd news story or two.