Bathroom trends 2023 – 33 inspiring new looks for your bathroom
These bathroom trends will help you make your bathroom smart, luxurious and, above all, a place to retreat, relax and find time for yourself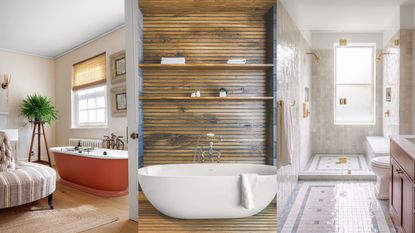 (Image credit: Nicola Harding and Studio Faeger / BC Designs / GRT Architects)
Bathroom trends come and go, but these timeless designs are very much here to stay for 2023 and beyond. From fluted finishes to forest green, these are the latest bathroom trends to take note of for your bathroom remodel – or simple room update.
While following – and applying – the latest trends isn't a guarantee of achieving a timeless look, these bathroom ideas and bathroom pictures are, we think, elegant enough to stand the test of time.
Best bathroom trends 2023 – the best designs of the future
Whether you are planning on updating your master bathroom, or small bathroom, we can help you with a vast array of bathroom ideas to suit your taste, from bathroom colors and materials to finishes and shapes.
Below, we look at the biggest trends in bathroom design to inspire your next bathroom redesign. Plus, we have selected the world's top bathroom and design experts to offer you unrivaled bathroom planning advice.
1. Create a space to linger
Bathroom trends for 2023 will see an increase in wellness spaces that are fully prepped for spa-style pampering.
A spa bathroom may not seem the obvious home for upholstered seating but if you are planning to enjoy serious R&R in there it makes perfect sense. Painting toenails, lotioning legs, flicking through a magazine, or waiting for a face mask to set – all moments where comfortable seating will prove far more decadent than perching on a cold toilet seat.
In this warm, inviting bathroom, a generous conversation seat encourages lingering in a big way. Reupholstered in vintage striped fabric in similar tones to the tadelakt walls, it's big enough to accommodate a shared pampering session or family catch-up at the end of the day.
2. Surround yourself with natural materials
'Surrounding yourself with natural materials such as wood is a great way to subliminally boost positive emotions,' says Barrie Cutchie, design director, BC Designs.
'It has been proven that spending time outdoors and within nature – where wood is plentiful – has a positive impact on our mental health, and by bringing it into the home, we can replicate those same benefits on a smaller scale.'
Here, natural teak has been introduced in a modern, slatted design that lends laid-back Japanese-influenced vibes. 'Teak's natural oil helps it to resist water and aging well, making it a great timber choice for bathrooms,' adds Barrie.
3. Quieten the mind with a white color scheme
Widely associated with calmness, a white bathroom color scheme will quieten the mind and soothe the soul. Steer away from clinical whites and go for off-white surfaces with tactile appeal, like these zellige tiles by Clé. The hand-cut edges, color variation, and undulating glaze celebrate imperfections and shimmer light through the space.
'We defined the "wet" and "dry" areas using a border and stopped the tile short of the ceiling to imply a frieze,' adds Rustam Mehta, co-founder and partner of GRT Architects. A built-in seat in the shower provides a place to linger amid the tranquil atmosphere.
4. Bring curves back
Move over slim profiles and hard angles – voluptuous curves are where the most desirable bathroom are heading for 2023.
Maximize the shape of an outsized mirror by continuing the line on molded plasterwork behind. 'Moldings that soften straight lines represent the best of contemporary biophilic design and provide a three-dimensional effect with purity and softness,' enthuses Sara Ramundo, product design manager, Devon&Devon.
Circular bathroom mirror ideas are obvious contenders to lead this smart surface approach but also consider lozenge and arched designs, which work particularly well in smaller bathrooms. Clean, crisp molded lines are key, so do seek out an experienced plasterer, ideally, one specializing in waterproof materials like tadelakt, which is ideal in moisture-rich spaces.
5. Introduce texture
Raw organic finishes look fabulous in bathrooms – giving them a tactility that is truly captivating.
Give your feet a tactile treat with reclaimed terracotta, the older the better. Repurposed from salvaged bricks, the terracotta flooring in this bathroom is a rustic, eco-friendly option that's lifted by vibrant jewel-green walls and light-boosting glass. 'What you can be sure of with terracotta is that it is warming, thanks to its rich Siena-style colors and earthy texture,' says Hamish Smith, creative director, Artisans of Devizes. 'We also love how it builds up a patina over time. In other words, the more you use it, the better, and more lived-in, it will look,' adds Hamish.
6. Use textiles in bathrooms
'Aesthetics are just as important as practical elements when it comes to creating an inviting bathroom,' says interior designer Henriette von Stockhausen of VSP Interiors, who adds that she is wary of cold, hard finishes.
'I tend to avoid floor tiles, except in wet room settings or in family bathrooms used by young children or teenagers where the floor might get drenched. In old houses that have their original floorboards, my preference is to keep these in place and lay an antique bathroom rug on top, which instantly makes the room feel warmer.'
If you are concerned about water damage, you may prefer to opt for a performance rug made from polypropylene or recycled plastic, designed to be water-resistant, hardwearing and easy to clean, such as those by Unnatural Flooring and Weaver Green.
7. Take a seat
Shower rooms should be more than just functional, they should also be beautiful, too. Forget fast, furious showering against the clock, the rising demand for seats and stools inside the showering area is shifting the emphasis from speed to chilled-out me-time. 'Seating in the shower adds a new level of comfort,' says Louisa Morgan, creative director, Mandarin Stone.
8. Mix concealed and open storage elements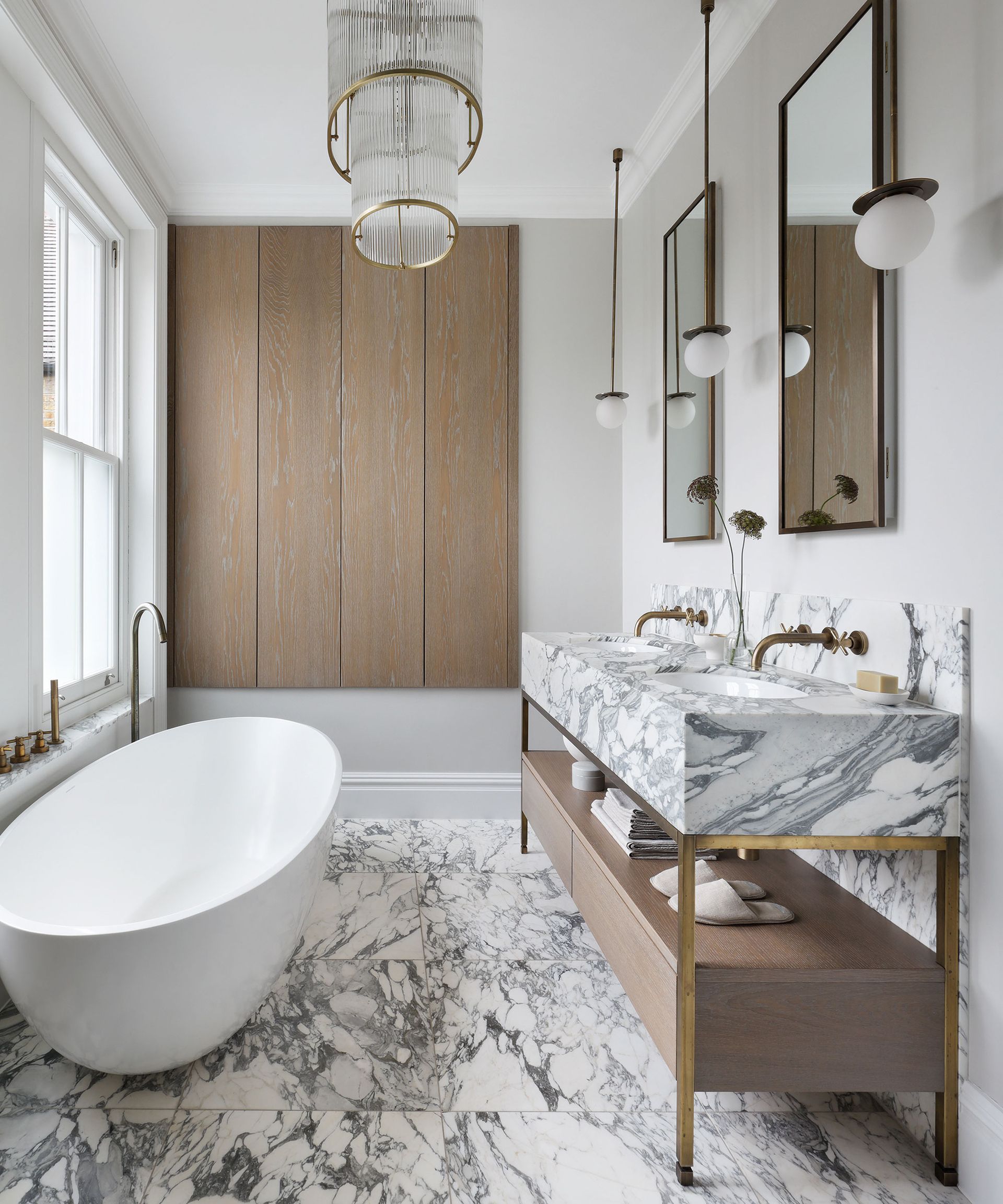 The latest way to bump up storage in the bathroom involves a two-pronged approach: concealed versus eye candy. 'Adding hidden bathroom storage solutions at the planning stage will keep the overall design sleek, while allowing the space to be functional,' says designer Lisa Persse of Porter Bathroom. 'In this bathroom bespoke cupboards look like wall paneling, concentrating the focus on the vanity unit.'
9. Introduce privacy with smoked glass
The 70s called – they want their smoked glass back. Insiders are heralding the revival of this 70s staple, and the focus is on shower screens.
'As well as being beautiful, smoked glass has a very cool retro edge that we love,' says Jordan Cluroe of 2LG Studio, at the launch of new enclosure brand Sealskin Duka. 'It works well in so many different design styles and offers a strong impact when paired with color,' he enthuses. There's also a bathroom privacy advantage in play – go smoked to feel less exposed in shared ensuite bathrooms.
10. Dress to impress
Dressing room tables are moving from bedroom to bathroom, bringing a touch of decadence in their wake. The most successful designs, like this one by Kate Marker Interiors, share stone and metallics with the bathroom for a cohesive scheme. Don't forget a shallow drawer for effortless bathroom organization.
11. Go for couture without compromise
A free-standing bath exudes style and creates a spa-like feel but is it enough? Now we've spent so much time at home, comfort is king. 'The comfort of an inset bath has never been championed in a free-standing version, until Bette created the Oval Couture bath and based it upon the Oval built-in bath,' says Louise Ashdown of West One Bathrooms. 'Ergonomically shaped for relaxing, we love the waterproof woven fabric exterior bathroom paneling.'
12. Pick and mix styles
Pattern mash-ups are big news in our living spaces and now the maximalist look is sneaking into our bathrooms, says designer Lisa Gilmore. 'I'm finding clients much more willing to have fun with bold patterns in their bathrooms, especially with mixing up bathroom wallpaper and tile,' she says. 'I like to treat them as little jewel boxes and encourage clients to step outside their comfort zones.'
13. Invest in a statement screen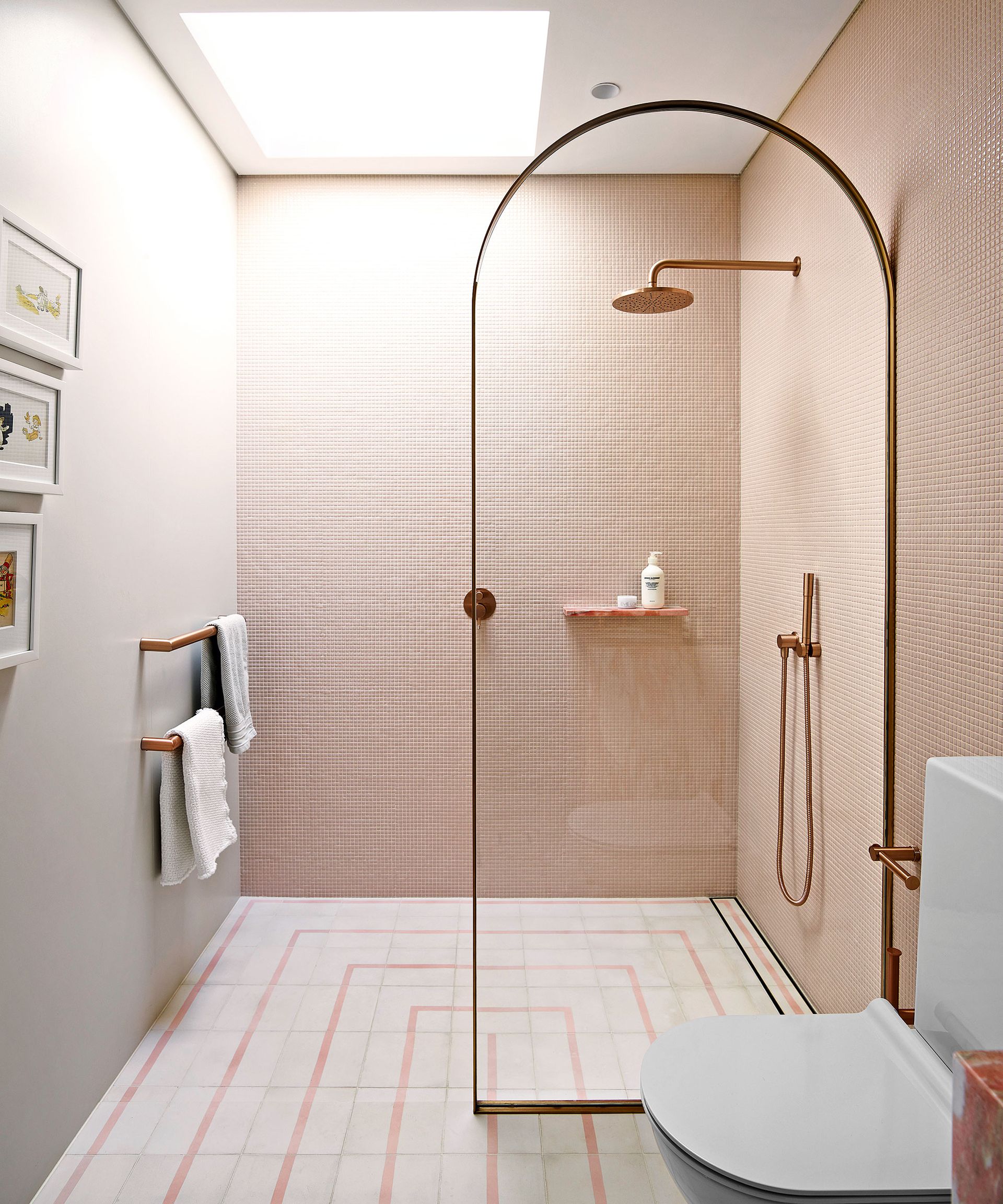 Forget frameless, barely-there glass, a new breed of showcase screen is stealing the spotlight in the bathroom. Designed to be seen and adored, these focal-point fittings boast bold frames that incorporate sculptural curves.
14. Double up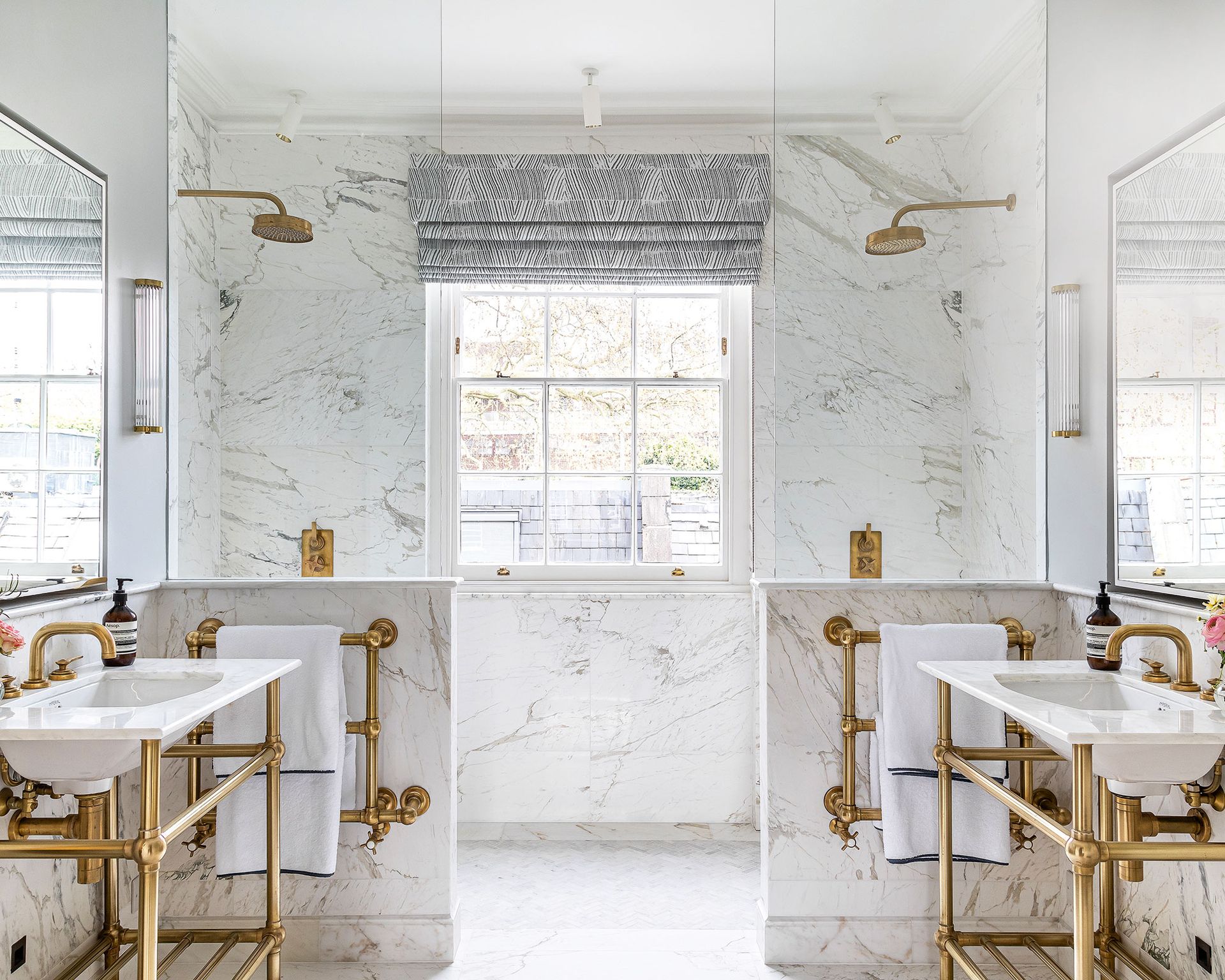 The main en suite has been gaining gravitas for several years now with many of us sacrificing a guest bedroom to achieve grander proportions for shared or Jack and Jill bathrooms. We're no longer stopping at 'his and hers' basins – now it's de rigueur to double up on everything. 'Separate basins are being joined by separate showers and even a towel rail each,' says Lucy Barlow, founder and creative director, Barlow & Barlow, who designed this space.
15. Create a cocooning effect
It's hardly a surprise, after the year that was 2022, that bathroom trends in 2023 are very much headed up by the trend for home spas.
From scented candles to luxury fittings, there are a host of new wellness bathroom ideas to create your very own retreat.
'Bathrooms can now be so much more than purely functional spaces,' explains Yousef Mansuri, head of design at C.P. Hart. 'More of our customers want to create an oasis of wellbeing at the heart of their home – somewhere that they can enjoy as a private retreat to de-stress and unwind.
'We call this trend "cocooning" because it's a way for people to wrap themselves in comfort and a quiet sense of luxury.'
Cocooning is a mood that can be created with simple moments that make us pause, such as the ritual of lighting a scented candle or wrapping ourselves in a warm robe. Or it can be fully enjoyed with fittings that offer spa-like experiences, such as massaging showers, hydrotherapy baths, and state-of-the-art steam rooms or saunas.
16. Blend styles in your space
Bathrooms are now less confined to clinical white, polished ceramic and a clean contemporary feel. Instead, people are becoming more confident about going busy and bold in bathroom and powder rooms.
Next year will be all about bringing the outside in with biophilia. Inspired by bathroom pictures like the one above, people will create spa-like sanctuaries with intricate murals and fuse vintage and modernity with stunning installations.
Victorian roll-top baths will remain a crucial component in a 2023 chic bathroom but this will be harmoniously blended with modern, sleek alcoves, bright tiles, and the latest tech.
17. Evoke luxury
Transforming an interior space into a seamless experience to create a more satisfying usage is key over the next twelve months. As homeowners, we tend to use our bathrooms at least twice a day, and studies have shown that the average female spends at least 29 minutes in this space each day, so it's become a necessity to ensure that bathroom design delivers an at-home spa-like atmosphere so we can linger for longer.
In addition to luxury tiles and spa-like nooks for storage, biophilia – the integration and inclusion of nature as a focal point – isn't going anywhere. The goal of creating a rich, sensory connotation with nature is still growing in popularity.
A biophilic bathroom design will boast certain patterns that reduce stress and improve creativity while featuring forms and materials that emulate those found in the great outdoors.
There are extensive ranges of luxurious showers and heads allowing the creation of an indulgent showering experience in your own home. The connection between water and well-being has never been easier with waterfall shower heads and walk-in showers to replace bulkier units.
18. Choose fluted finishes
A visual and tactile delight, ribbed surfaces have been given a contemporary twist in the bathroom. Reeded finishes are in the interior limelight. The look is reminiscent of Art Deco glamor – think pillar lights – and now fluting is being reinvented. Delicately ribbed surfaces on vanity units and cabinets provide subtle interest, and shower doors in decorative, vertically grooved glass offer instant privacy while allowing light to shine through.
19. Go green
In cabinetry or plants, this perennial hue can create a life-enhancing link with nature. The huge variety of eye-catching green bathroom tile ideas, furniture, and bathroom ceramics in verdant shades is providing an opportunity for strong new looks.
In soft shades, green evokes a natural sense of calm and harmony, while bolder and darker tones provide individuality and depth. Try walls of saturated color in paint or tiles, or a contemporary vanity unit or countertop basin.
20. Warm up with earth tones
Embrace natural pigments to turn up the heat in your bathroom scheme.
Alongside the mood for comfort comes the move towards warmer tones, including terracotta, rust, caramel, and biscuit. Look out for tiles in earthy colors and tactile finishes that make the perfect antidote to cold and clinical. Try contrasting them with black taps or a black basin to add definition. Untreated timber also works well, this time by echoing the natural, warm mood.
21. Take a minimalist approach
Far removed from the starkness of the past, today's pared-back bathroom layout ideas are equally relaxed, not sterile. Long gone are the days of clutter. Bathrooms are no longer a maximalist mess.
'Architecturally and visually, it is best to keep a bathroom feeling open by not crowding too many things into it. Edit your amenities often, hang your towels on bars or hooks, keep the pattern to a minimum, and generally, make it simple. The room will feel bigger if you use a pedestal or wall-mounted sink rather than a bulky vanity, a clear glass door rather than shower curtain, and reflective surfaces such as glossy ceramic tiles on a large scale,' says Barbara Sallick, co-founder, Waterworks.
22. Invest in luxe lighting
Statement bathroom lighting ideas are having a moment. Outsized or crystal, all-out glamor is the way to go. The latest innovations mean that you don't have to completely overhaul a scheme in order to make a difference. Don't be afraid to go big. It takes a little bravery, but you can afford to use larger lights than you might at first think sensible. Big chandeliers, drum pendants and giant floor lamps are all very much in vogue for those who like their lighting to make a statement or are inspired by luxury bathroom design.
23. Paper in botanicals
Embrace blooms and foliage in your smallest room for the biggest, boldest and brightest impact. Even if you don't live in a balmy equatorial climate, that doesn't have to stop you introducing a fun and tropical feel into your home with creative wallpaper ideas. Embrace lively color, add lush foliage and finish the look with quirky details.
24. Splash out on bathroom tech
Home automation is no longer a sci-fi thing of the future – it's here, right now, and the good news is it's useful, easy to use, and just a bit smarter than you might expect. Smart technology promises to put the control at your fingertips and to make your home work better for you, and now it has come to your bathroom. From de-misting mirrors, integrated charging and USB ports, LED temperature displays and automatic hand-wipe sensors, the bathroom is a haven for smart technology. The future is now.
25. Consider book-matched marble
'Marble is definitely enjoying its moment in the limelight. All bathrooms that we see being planned have some form of marble in it,' says Darren. 'It is a beautiful natural material that comes in a wide variety of colorings, markings and veinings. One can never find two pieces the same, which of course greatly adds to its appeal. Although "book-matching" and "vein-matching" are still popular in high-end properties, particularly for those who want something unique,' he continues.
'In general, people are being far more adventurous with marble presently than in the past, incorporating greens, blues, yellows, basically anything a bit out of the ordinary to make their own mark,' says Gary Walters, managing director of Stone Age.
26. Dramatize with an all-black color palette
The moody palettes that are de rigueur with on-trend paint brands are prompting a similarly gothic direction in bathroom colors. Keep the look modern and fresh by opting for textured porcelain tiles. This look is also going to be at the forefront of kitchen design for 2023.
'Advances in technology and product development have also allowed for new colors and finishes in ceramics, enabling homeowners to embrace adventurous design in the bathroom more than ever,' says Faye Froy, marketing manager, Burlington.
'Bathrooms are increasingly becoming places to relax and unwind in,' explains Faye. 'We're seeing an increase in customers looking for luxurious, deep baths for the ultimate in bathroom relaxation, with dramatic colors a popular choice for a bold statement in interior design.'
27. Hark back with swags and swagger
Whether it's a glamorous pooling of fabric or a classic louvered shutter, a window dressing plays a crucial role in the success of an interior scheme, and now bathrooms are taking note.
Swags might have been a thing on the 1970s, but as with most trends, they tend to come back around. Drapes may be an unusual choice for the bathroom. Steam and damp can of course be a problem for bathroom fabrics, but as long as your room is well-ventilated room, you should be safe. Well-chosen drapes can add drama and elegance to a bathroom, as well as warmth.
28. Be bold with color
Raring to embrace the return of colored sanitaryware? The current trend for embracing personality and color instead of safe neutral interiors is behind the revival of colored sanitaryware. Swoon stone vanity units are available in 10 different bathroom color ideas including new Seaweed Green, as shown above.
29. Make a statement with bold basins and consoles
Choosing a sink can arguably be one of the hardest tasks when considering how to design a bathroom because there needs to be a balance of thought to aesthetics, functionality, installation, and also budget.
There's a plethora of options too. The new year will see people put a clever spin on classic white ceramic with decorative basins featuring ripples, brightly colored matte versions, Miami vice-like pastels, or the addition of gold rims.
Designs will also include more alternatives to the ceramic basin using new materials such as glass, concrete, pressurized surfaces, and mineral cast basin.
If you prefer minimalist, Scandi designs, don't panic. 2023 will also emphasize our need to be at one with nature. The year of Brave New World color goes hand in hand with warmer-toned surfaces, real-looking wood, and more curved lines as opposed to cold and harsh surfaces normally found in the bathroom.
30. Marvel with marble
A recurring trend in interiors, marble has taken the world by storm over the past few years. Its crisp, clean and natural look with delicate pattern formations provide visual interest to our homes whilst still keeping it minimal, luxurious and tasteful. Cover your walls in marble tiles for a stylish statement or simply use it on the floor for luxury underfoot.
31. Divide with steel-frames
First invented in the 1880s, Crittall metal-framed windows were hugely popular in the Art Deco era. As with many design trends, it has come back around, but this time with a contemporary twist. Use it in bathrooms for windows or to frame shower screens.
32. Shimmer with metallic elements
'This trend is heavily influenced by the 1960s and 1970s when metals, and brass in particular, were used frequently. Metals are now having a revival in all design disciplines,' says Natalia Miyar.
'Chrome and steel are a popular choice for kitchens and bathrooms, however these metals can sometimes make a room feel cold and stark. Use less obvious choices and warmer metallic tones such as copper and brass. They create visual impact and change the mood from functional to indulgent.'
33. Embrace the trend for Japandi
Bring in elements of both styles for a balanced effect, with soft, Scandi curves set against clean lines and structured Japanese pieces. Contrasting textures are a great way to introduce a sense of depth to a scheme. Here, a subtle raffia wallcovering throws the smooth curves of the bath into eye-catching relief.
How many years should a bathroom last?
If you're wondering how many years a bathroom should last, it's estimated the average lifespan is around a decade, before it needs sprucing up a little. Although there's no reason why this can't be even longer if it's well looked after. It's only natural for us to want to switch things up once in a while, so the 10-year-mark is a good benchmark to use when thinking about longevity.
How can I modernize my bathroom cheaply?
There are many ways to modernize a bathroom cheaply, like simply giving the room a fresh lick of paint. This could be the walls, ceiling, or floor and why not go for a bold new shade to mix things up and keep it interesting? Alternatively, you could paint the tiles or experiment with some wallpaper, rather than going for a full-on makeover.
Sign up to the Homes & Gardens newsletter
Decor Ideas. Project Inspiration. Expert Advice. Delivered to your inbox.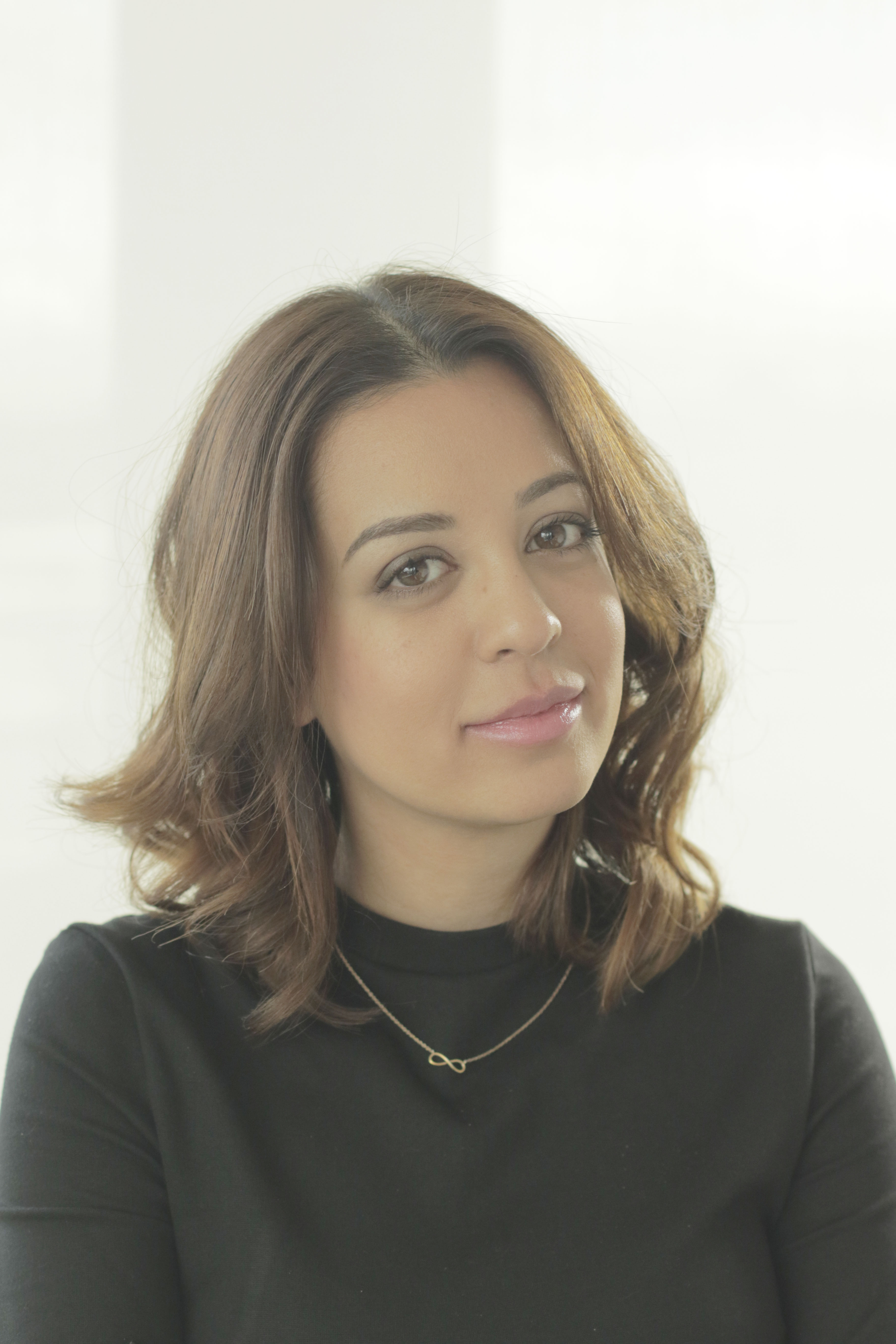 Jennifer is the Digital Editor at Homes & Gardens. Having worked in the interiors industry for a number of years, spanning many publications, she now hones her digital prowess on the 'best interiors website' in the world. Multi-skilled, Jennifer has worked in PR and marketing, and the occasional dabble in the social media, commercial and e-commerce space. Over the years, she has written about every area of the home, from compiling design houses from some of the best interior designers in the world to sourcing celebrity homes, reviewing appliances and even the odd news story or two.