Walk in shower ideas – 11 ways to add an element of luxury to your bathroom or wet room
Showers were first used by the Ancient Greeks, but fell out of use with the decline of the Greek and Roman empires. It wasn't until the 19th century – and reliable plumbing – that they returned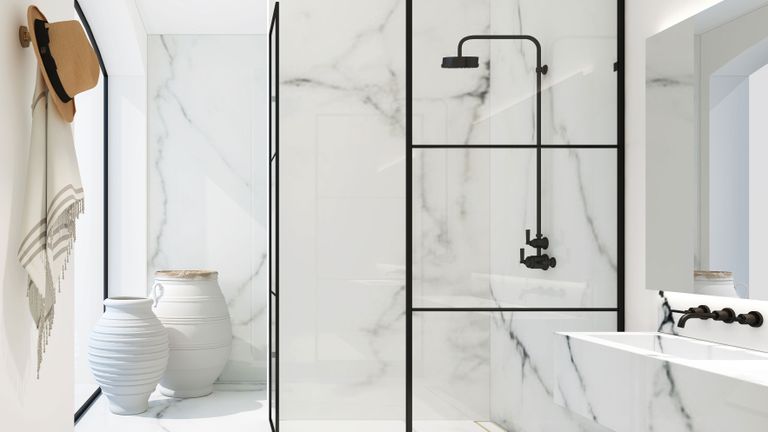 (Image credit: Majestic Shower Company)
Acting as a hybrid between an open-plan wet room and fully-enclosed shower cubicle, a walk-in shower offers easy, low-level access and a luxuriously spacious showering area.
A walk-in shower is the best way to create a statement space on a small footprint, as well as adding the space feel to an open-plan zone. Statement enclosures are becoming very popular as customers devote more space to their bathroom.  
See: Bathroom ideas – stand-out decor ideas for washrooms, ensuites and more
'There are several benefits to having a walk in shower,' says Rebecca Milnes, C.P. Hart Designer. 'Due to the lack of a proper enclosure, you'll be able to utilize a small or awkward corner where a bath or standard shower wouldn't fit. By tanking the room you're also future-proofing your home, as having waterproof surfaces will prove incredibly useful during bath time with small children.'
Read on to find out how to introduce a gorgeous walk in shower to your bathroom – no matter the size or budget.
What is a walk-in shower?   
A walk-in shower has no door but does include at least on shower screen. Walk-ins come in two main styles. A single entry, which as access at one end, and is great for installing in a corner or alcove. A double entry, or walk-through, designed sited centrally and can be accessed from either end. 
1. Use luxurious materials to create a statement walk in shower
There are few materials that can create a feeling of luxury in bathroom design that marble can. Elegant, understated and effortlessly beautiful, marble is usually used in bathrooms to create a statement finish, and although it is an expensive investment, it is a look that will last a lifetime. 
Consider the use of marble carefully for spaces where you are using it in swathes because no slab of marble is the same as another. 'What I love most with marble is the activity and coloration,' says interior designer Cara Woodhouse. 'I also adore the fact that all stones are different and have their one of a kind unique colors and veining. However, I always suggest going to a stone or tile showroom or a stone-yard to view full slabs before choosing your final stone.' 
See: Shower room ideas – looks and layouts for a bathroom focused on the shower
2. Build a walk in shower beneath the eaves or an alcove
When planning a walk in shower layout in a loft or attic room, make sure you position the shower where the room is at full height. It's surprising how little space is needed – and what can be achieved by building a walk in shower under the eaves. Be sure to check that your floor joists are up to the job, and have the room tanked to prevent leaks if you're crating a wet room.
3. Opt for a compact corner shower
Placing a walk in shower in a tucked away corner is a smart option for busy households where the main bathroom needs to be used by everyone. Consider a walk-in design with a sunken shower tray or complete wet room if you have children or live with anyone with mobility issues, to prevent any trips.
Although small, this space doesn't have to be dull, opt for dark and moody metro tiles and veined marble for a five-star boutique hotel aesthetic. The feather jacket is optional...
See: Bathroom layout ideas – the best layouts for bathrooms, ensuites and shower rooms
4. Think outside the box when it comes to layout
If you have a fairly large space to devote to a walk in shower room, then we suggest going for a substantial – and statement – design. 
This rather large walk in shower really commands attention. Featuring a double entry, twin shower heads and marble surrounds with recessed shelving, this luxurious design really is a showstopper.
5. Add a step up to the shower
Walk in showers look great with a flush shower tray, which creates a seamless and streamlined appearance. You can also go for a traditional wet room style floor where you tile the floor of the walk in shower, however you will need to ensure your room is completely watertight. This can be a significant upheaval, not to mention costly, too. Alternatively, a 'step up' to your walk in shower adds an extra dimension – and will act as a 'zone' to differentiate the space in your bathroom.
See: Wet room ideas – stylish ideas for tiling, showers and more in a bathroom
6. Choose a feature backsplash for a walk in shower
There's no greater example of how bathroom planning and interior design have become intertwined than the backsplash. And no, the backsplash isn't just for the kitchen – it can make for an intriguing look in the bathroom, too.
'A backsplash is a key decision in a project, especially in a bathroom,' explains Alex Beaugeard, design director at McCarron & Co. 'As vertical surfaces, they carry significant design weight and there is a real appetite to experiment at the moment. I'm seeing artwork installed behind glass and resin bronze as well as wallpapers.'
No matter what material you choose for your backsplash, be sure to make the most of it visually. Maximize the area of wall space for your backsplash and add lighting to help highlight subtle sparkle, delicate details hidden within the surface.
7. Use color in a small walk in shower 
Don't be afraid to use color in a small walk in shower room. A good bathroom color scheme is essential for creating the look, feel and design you want in your space – and you can use everything from tiles to sanitaryware to accessories to create a unique look. Adding a bright and beautiful – or dark and dramatic – hue to your walk in shower will really lift your whole home, bringing this functional space into line with the rest of your decor. 
8. Go for a statement tiles 
Embracing strong color, when designed as part of the flow of the rest of a home, can produce joyful results. While the tiles may be dramatic, the overall scheme can be timeless if you choose a color that truly resonates. Unsurprisingly, yellow – the Pantone Color of the Year 2021 is an obvious choice for this walk in shower room.
'Boldly colored and patterned tiles can add such personality, dynamism and impact to walk in showers, really lifting the space,' enthuses Caz Myers, director, Caz Myers Design.
9. Work with seamless glass door frames
Don't opt for a dated, step-in enclosure. Instead look for ultra-clean lines and minimalist styling with a sleek glass screen. Invest in the slimmest frames you can afford (frameless, if possible) and thick glass. 
Paired with a flush floor these frameless, clear glass panels help to make even the smallest of spaces feel less claustrophobic and therefore a more calming showering experience.
10. Add interest with a patterned tile
Much like paint effects, the walk in shower tiles you choose can alter the look of a room, making it feel bigger than it actually is or adding visual interest to a dull space. However, unlike paint, tiles can be a costly expense so it is vital that you get it right first time. 
The options of bathroom tiles are endless and it's a great place to really show off your personality but the one thing to remember when it comes to floor tiles for a wet room is to go for a design with a raised matt finish, for an anti-slip surface. 
11. Invest in luxurious accessories
'Team your minimalist enclosure with a statement shower head for a really boutique finish,' suggests David Osbourne, managing director at Roman Showers. Oversized shower heads in square profiles are the latest trends and make a fantastic focal point. 
'Enhance the luxe factor with a three-way shower set, complete with spa-style jets,' adds bathroom.com's Lucy Powell. But remember to check that your water pressure is up to the task – some plumbing systems can be fitted with booster pumps to increase performance.
How much does it cost to put in a walk in shower?
How much a walk in shower cost depends on the design you go for, the materials you use and whether or not you need to have your space tanked. 
For a simple, tray and screen design you can make that happen from around $1,000 for a pre-fab unit – but if you are after a luxurious design, the prices go up from there. For something fully customized you could pay anywhere between $10,000 and $50,000. 
You have to add in the cost of installation too. This depends on how much plumbing work you need doing, but it could cost between $2,000 and $5,000 if pipes need changing. You might have to add to that the cost of waterproofing the space which will be around $2,000 plus. This will also depend on the size of your space.
If you are opting for a fully marble-clad design, expect to pay upwards of $50,000 minimum.
Does a walk in shower add value?
Stealing a little bit of extra space can transform a bathroom with luxury proportions. Wet rooms and walk in showers are becoming increasingly desirable, and they're a great way to add value to your home.
Are walk in showers practical?
Walk in showers are an incredibly practical choice for a bathroom. They are particularly good for busy households with children, people with disabilities and the elderly. What's more, they often take up less square footage than a bathtub, making them an ideal option for a small bathroom.