Planning shower design for a small bathroom? You need these 6 space-boosting tricks
A bathroom with a low ceiling doesn't have to feel small and cramped if you stick to key design tips, according to one expert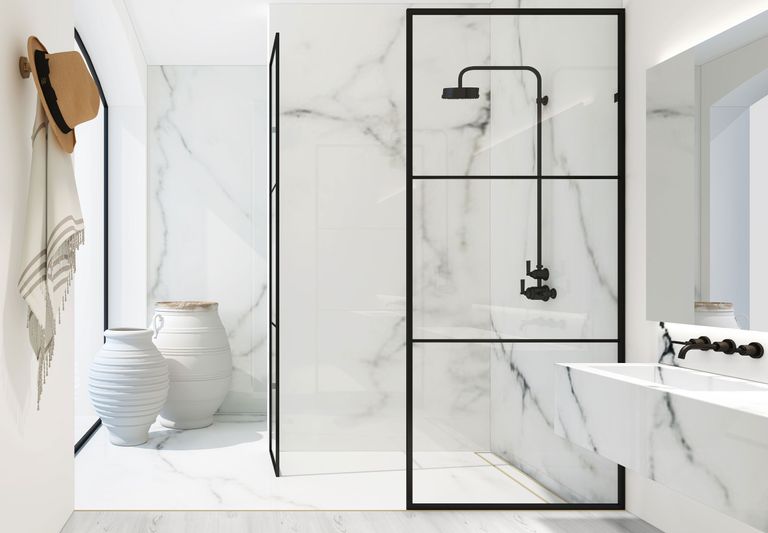 (Image credit: Future)
A shower room or small bathroom can feel cramped and unwelcoming, particularly if it has low ceilings. But there is no need to compromise on style and comfort – there are many ways to make it feel more spacious, according to Yousef Mansuri, head of design at bathroom experts CP Hart, and there is one particular trick that will help. 
Take note if you are in the planning stages and looking for small bathroom ideas.
1. Fit a flush shower head and tray to boost headroom
'A low ceiling requires careful showerhead positioning,' he explains. 'A flush-to-ceiling shower can help gain extra headroom, as will a low-level shower tray,' says Yousef Mansuri.
A ceiling-mounted shower head – also known as a rain shower – is the perfect shower design for a small bathroom, and very desirable because it gives the bather a more immersive and often more luxurious experience. 
While it may need more extensive plumbing work compared to standard shower head, it is a great solution for low ceilings and comes in a range of models including ones with adjustable nozzles and changeable colored lighting.
See: Shower room ideas – looks and layouts for a bathroom focused on the shower
2. Enhance space with a glass shower screen
There are other tricks to help maximize space in a small shower room or bathroom. Using a glass screen will help trick the eye into thinking the room is bigger and also creates a smart, streamlined look. 
3. Pick wall-hung fittings to make a small space look bigger
Choosing the right sanitaryware is also key to making the bathroom feel larger. Wall-hung fittings allow you to see right to the walls beneath them, giving a better sense of space, adds Yousef. 
'A stud wall is built out by at least 12-20cm to hide cistern and pipes but if you have a partition wall already, for example it's a newly created en-suite, you can utilise the interior voids.'
4. Create more wall space with niches
Floating shelves are great for having essentials to hand without taking too much space. Creating a niche or ledge above the sink if you don't have room for a vanity is a happy compromise. Also building large niches into the shower walls means you have an easy and clever spot to hold all your bathing needs.
5. Swap a shower room for a wet room for tiny spaces
If you are short of space, a wet room can be a game-changer although there has to be consideration given to ensuring the room is completely waterproof. 'Wet room floors give the illusion of extra space as there is no break in the floor type. Underfloor heating can free up wall space for other fittings,' says Yousef.
See: Wet room ideas – stylish ideas for tiling, showers and more in a bathroom
6. Hang a large mirror
Hanging a large mirror is another way to get the illusion of space and it helps bounce around light in the room, making it look brighter and larger.
See: Mirror ideas – more ways to make rooms look bigger and brighter
With clever tricks like these, any small bathroom can be as stylish as one that is twice the size.