Outdoor bathroom ideas – 11 ways to make bathing in the yard beautiful
The popularity of outdoor bathrooms, of showering in the sun and bathing under the stars is up. These ideas will inspire your space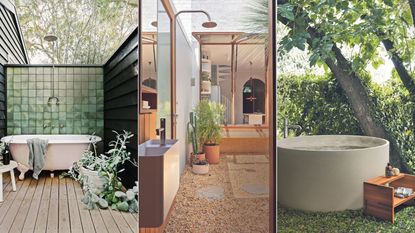 (Image credit: The Woods / Adele McNab Architecture / Kitchen Architecture)
If you have the weather for it, an outdoor bathroom can be the ultimate in luxury. That said, having an outdoor bathroom is practical, too, if you live near the beach or have a pool: everyone can bathe and dry off without tracking sand or lawn cuttings into the house.
Although an integral part of your backyard landscaping, you can still bring your very best bathroom ideas to one that's situated in the yard – or even on a roof.
For those with space, think: outdoor bathtubs; for those with less room, you might want to check out our outdoor shower ideas. In all cases, ensure the designs can withstand cold weather, as well as those wonderful summer days. These are the very best.
Outdoor bathroom ideas
Like any water feature ideas, practicalities such as piping water to your outdoor bathroom and draining it away again must be considered from the outset. Location is important, too. You might not want a tub on your main patio, but you will want it to be somewhere sheltered and away from neighboring houses, though the best privacy hedges, best privacy shrubs and careful selection of trees for privacy can mitigate this.
1. Nestle a family sized tub next to the house for ease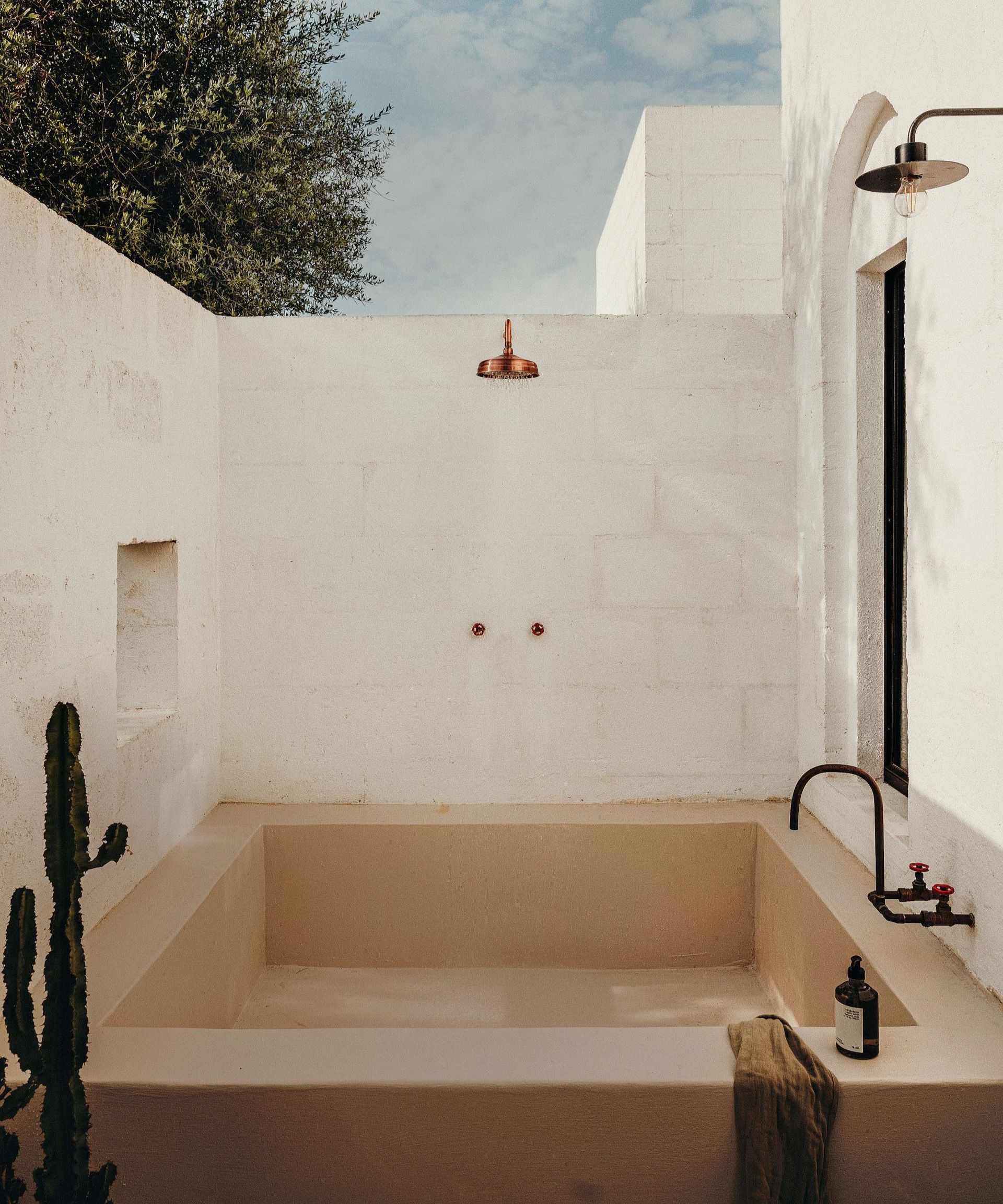 Looking for backyard staycation ideas? Take inspiration from the Europeans.
Connecting an outdoor bathroom to indoor utilities, such as the existing hot water supply, will help keep installation costs down. This simply executed outdoor bathroom in Puglia, Italy, is plumbed directly through the exterior wall of the property, so the hot water has less far to travel.
'Using seamless traditional finishes, such as pink-tinted cocciopesto plaster on the bath and lime-washed sandstone walls, achieves an outdoor bathing space that connects quietly with the home and its surroundings,' says interior designer Andrew Trotter.
2. Sink a hot tub into a deck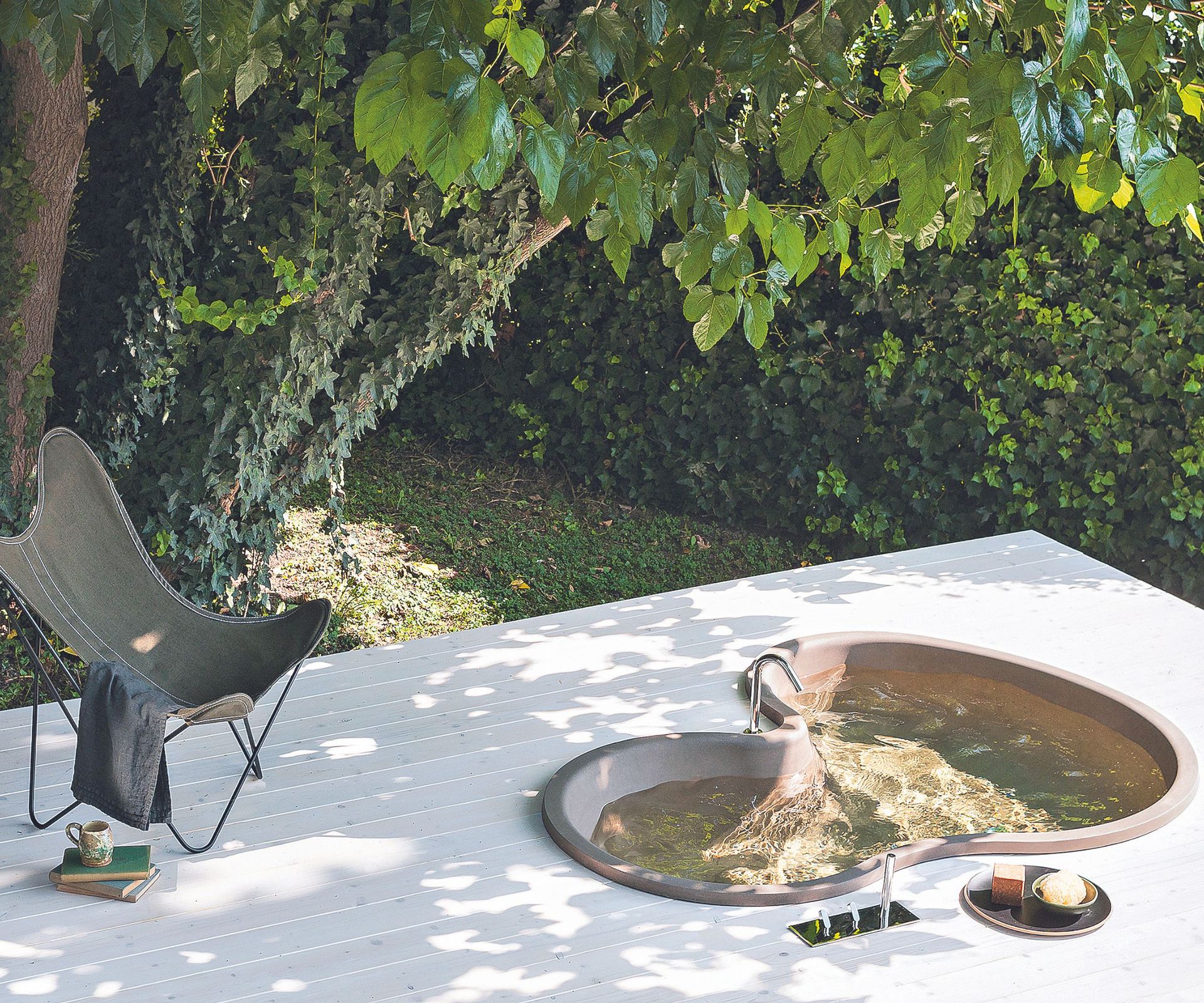 If pool ideas are too much for your space, how about a sunken bath, which channels a spa-style hot tub feel, without the need for harsh chemicals? Make it part of your deck ideas, and installation can also make it easier to hide necessary pipework and drainage below.
Agape's freestanding outdoor bath has the overflow integrated within its drain for a neat look. It can be supplied without an external structure to suit this built-in installation style.
'We love the luxury look of a sunken tub. Include a pull-out spray to make it easier to rinse the bath clean after use,' says Louise Ashdown, head of design, West One Bathrooms.
Perfect for a courtyard garden, too.
3. Roof your outdoor bathroom for year-round use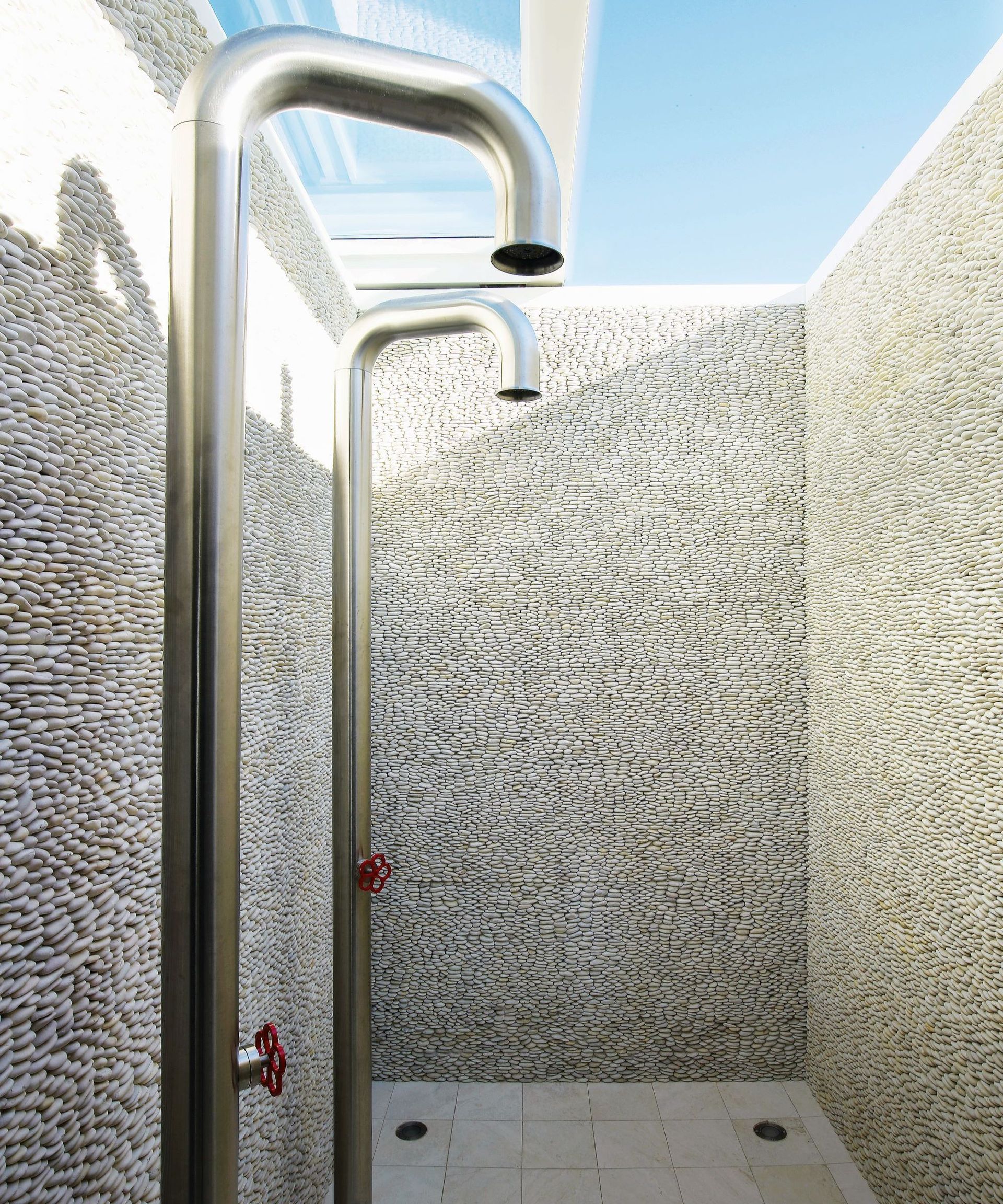 Concerned that showering outdoors will prove little more than a pipe dream for most of the year? New York-based West Chin Architects devised the perfect solution for this outdoor shower at a Long Island beach house, which has a retractable skylight that can be closed when blue skies turn grey.
Walls clad in stacked river pebbles and travertine flooring enhance the connection to nature, whether the roof is open or shut, while two of freestanding shower columns in stainless steel lend a smart industrial touch.
Pipe shower columns by Marcel Wanders, Boffi.
4. Put an outdoor bathroom in the perfect spot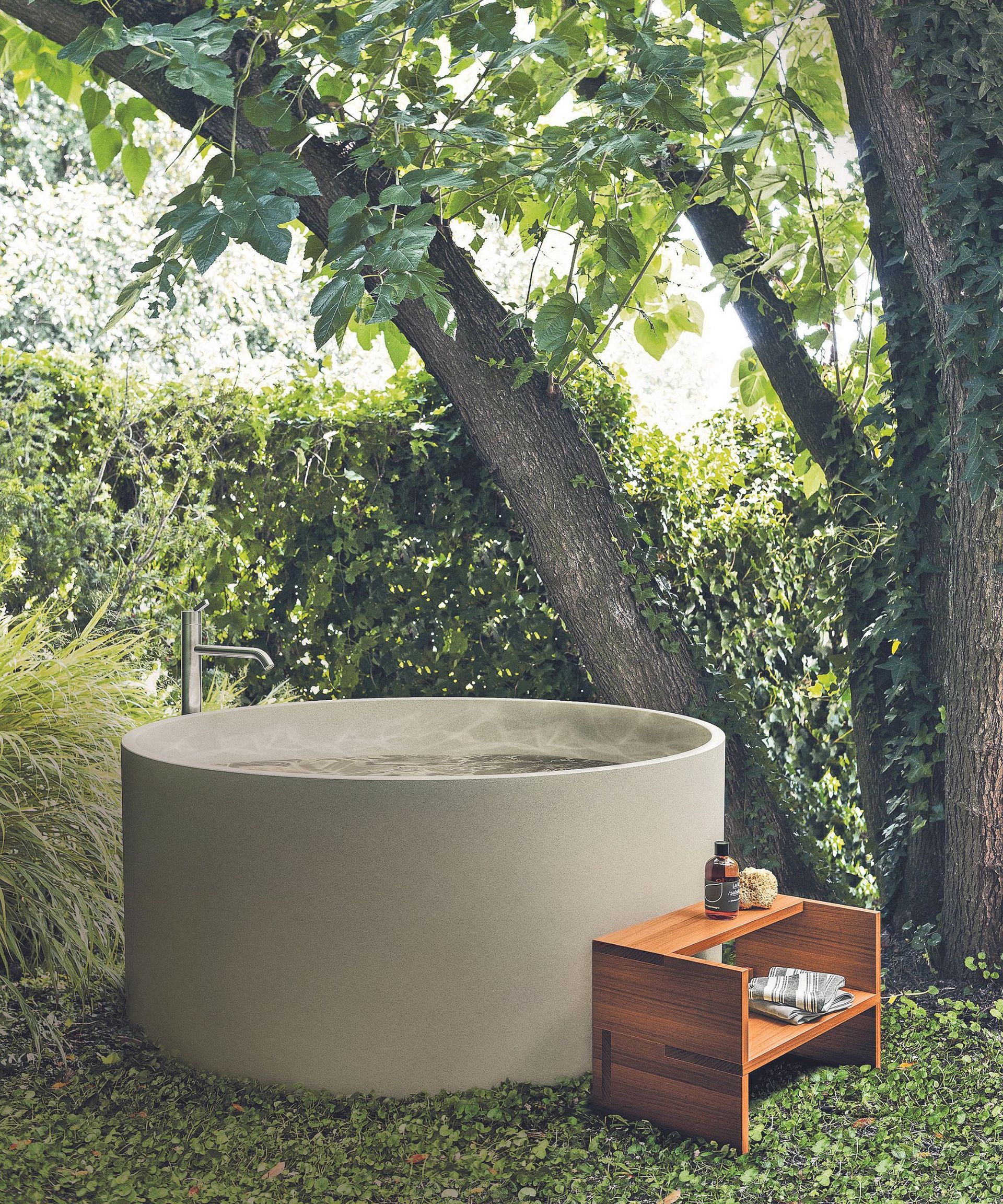 Identifying the ideal location for an outdoor bath calls for careful planning.
'Plumbing access is often the biggest influence on a practical level, but for enjoyment you should think about what time of day you plan to use it, in relation to where the sun will be in the sky and any shading you may require,' advises Pierce Coyne, design manager, Kitchen Architecture.
'The perfect spot shouldn't be overlooked, or so far from the house that you're put off making the trip.'
6. Find a sheltered spot for your outdoor bathroom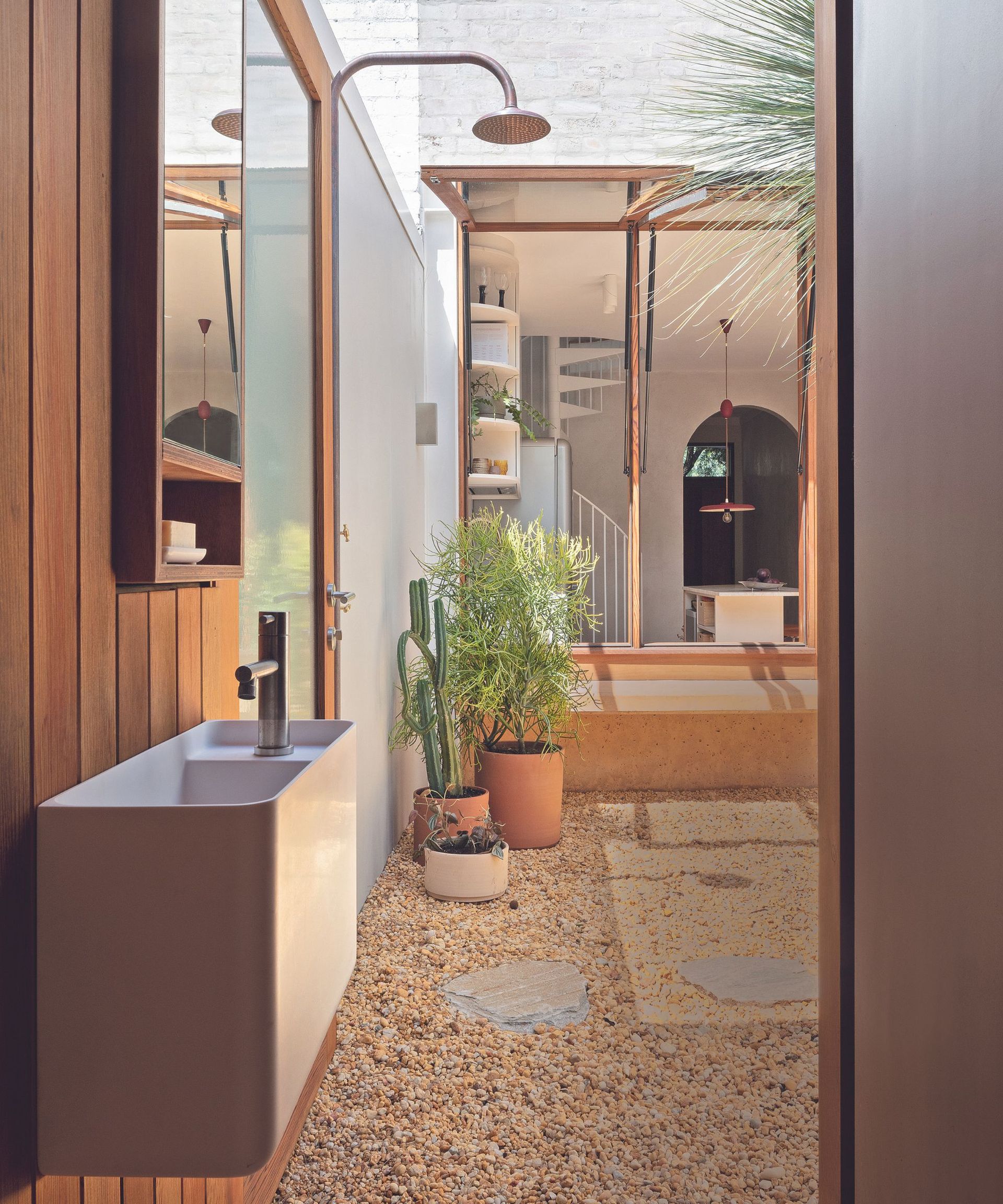 An internal courtyard offers the perfect suntrap for an outdoor bathroom, protected from prevailing winds.
Here, direct access to an indoor bathroom provides extra facilities and privacy when required. The wall-mounted shower is made from unlacquered brass and copper, which will not rust or corrode, and requires minimal maintenance.
'The shower is outside the bathroom for enjoyment under the open sky, and the courtyard is designed to be kept open to the internal living spaces to allow free movement throughout,' explains architect Adele McNab.
Eden outdoor shower in copper, Brooklyn Copper Co. Consider your shower floor ideas: stone is often the best option, though drains can be hidden beneath gravel, as above.
New Zealand born, Sydney based, Adele McNab is a registered Architect with both the Architects Registration Board in New South Wales, Australia and New Zealand. Adele graduated from Unitec School of Architecture with a Bachelor and Masters degree in architecture. While studying in New Zealand, Adele worked for an architecture practice specializing in hotels throughout NZ and the Pacific Islands. As a Graduate Architect Adele moved to Australia working at Stafford Architects for seven years as Project Architect for high end residential projects across Sydney and New Zealand.
7. Add a colorful focal point with tiles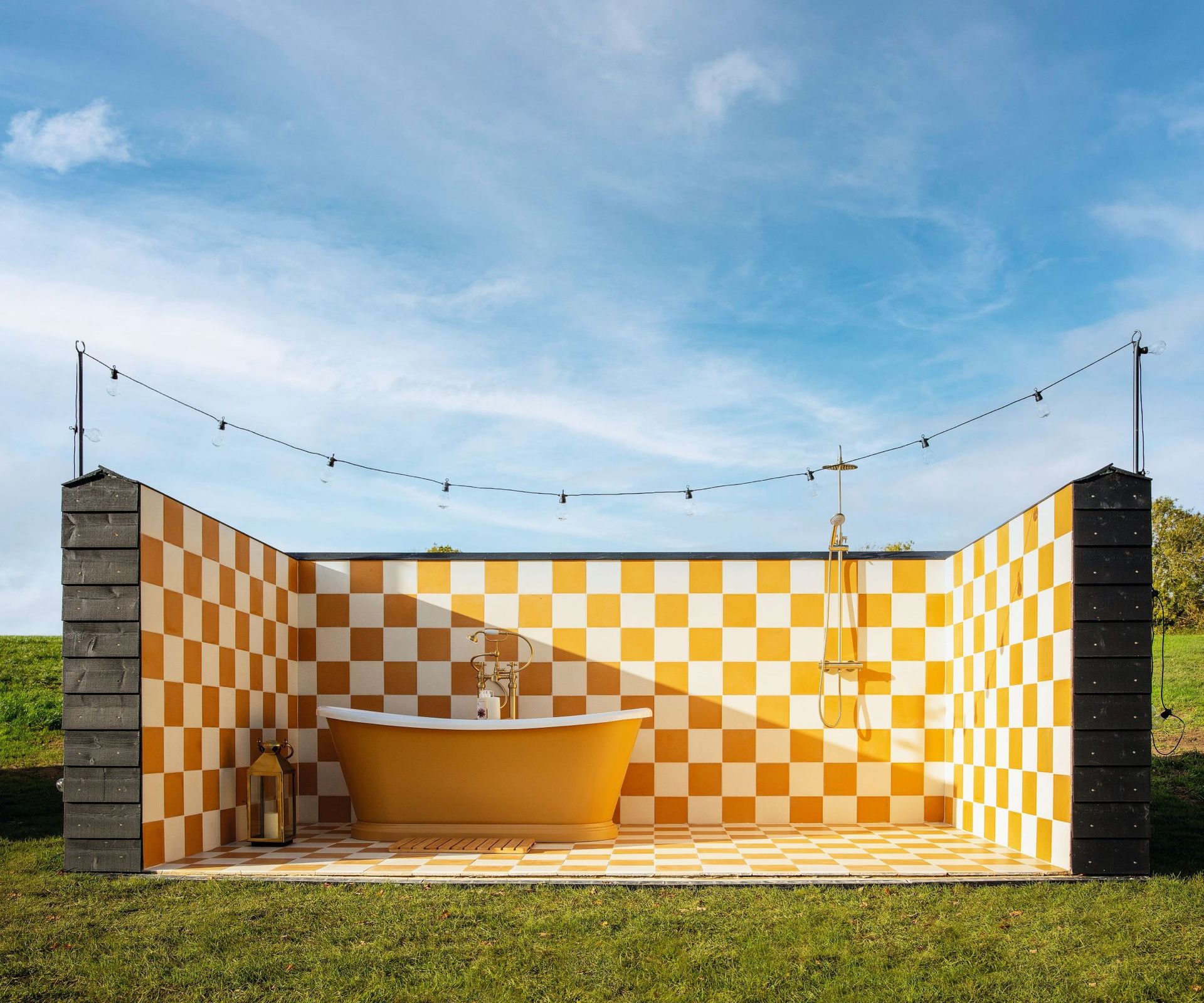 Take outdoor bathing to the next level by creating a fully tiled 'room' that's easy to keep clean and unforgettable.
'There really is nothing better than bathing outside, overlooking an amazing view,' enthuses Cat Earp, owner of boutique shepherd hut retreat Aller Dorset in the UK (above).
'We put outdoor baths in our original huts as a nice alternative to hot tubs, and they were a huge hit. For our latest huts we wanted to make them even better – tiling the whole space really makes it feel like a bathroom without a roof,' she says.
Just ensure your bathroom tile ideas are suitable for exterior use.
Boat bath, from BC Designs. Encaustic cement tiles in Dirty White and Mustard, Otto 6 Tiles and Design.
8. Make outdoor bathtime a couples retreat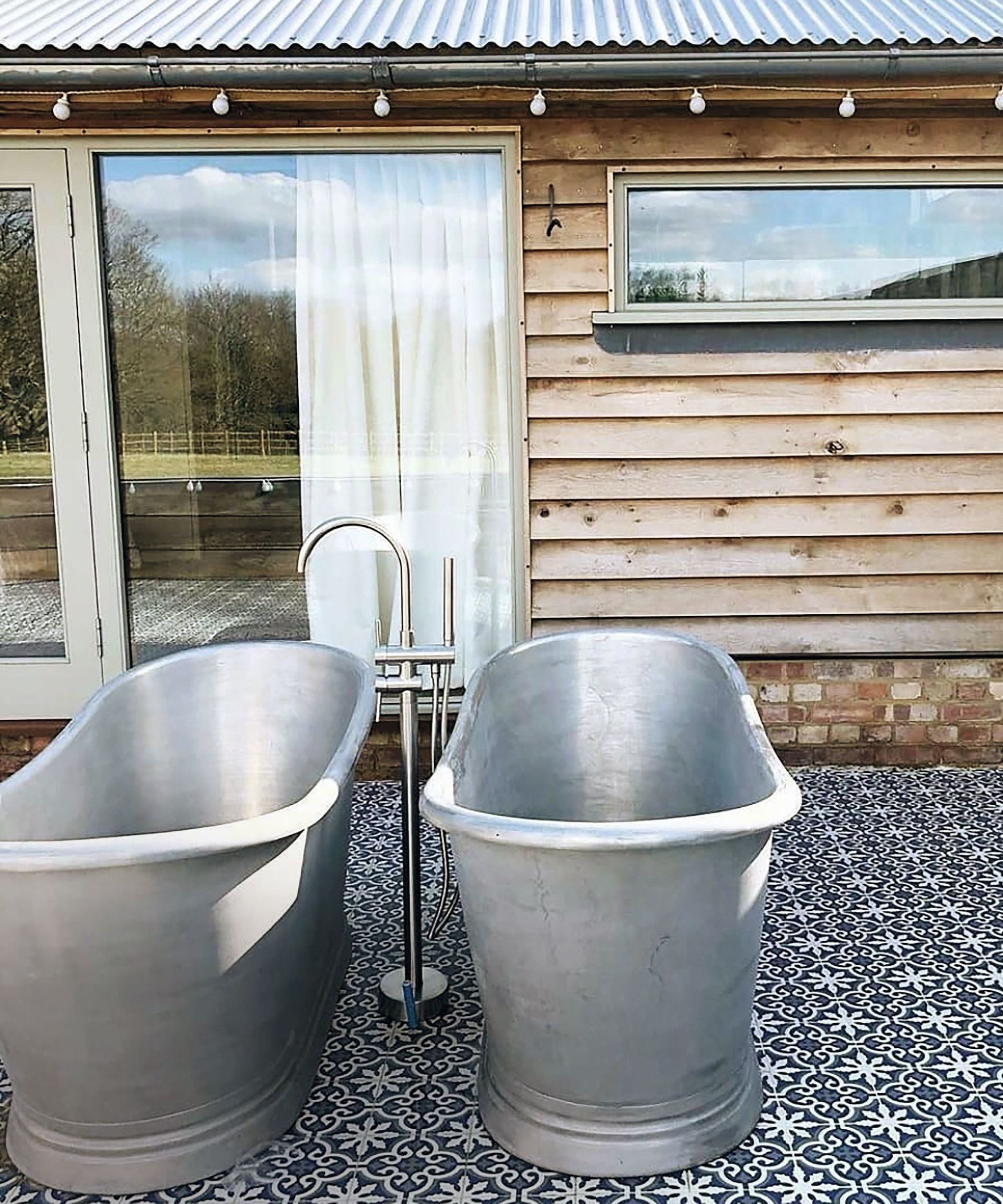 Installing two outdoor baths may seem extravagant but it can prove a more hygienic way to enjoy the sociable benefits of a hot tub.
'This boat bath duo is the perfect set-up for watching the sunset in company, without having to squeeze into the same tub or share water,' says Barrie Cutchie, design director, BC Designs.
'Tin is a great material for outdoor baths – it retains heat well and can be left outdoors year round.'
9. Find space for an outdoor bathroom on the roof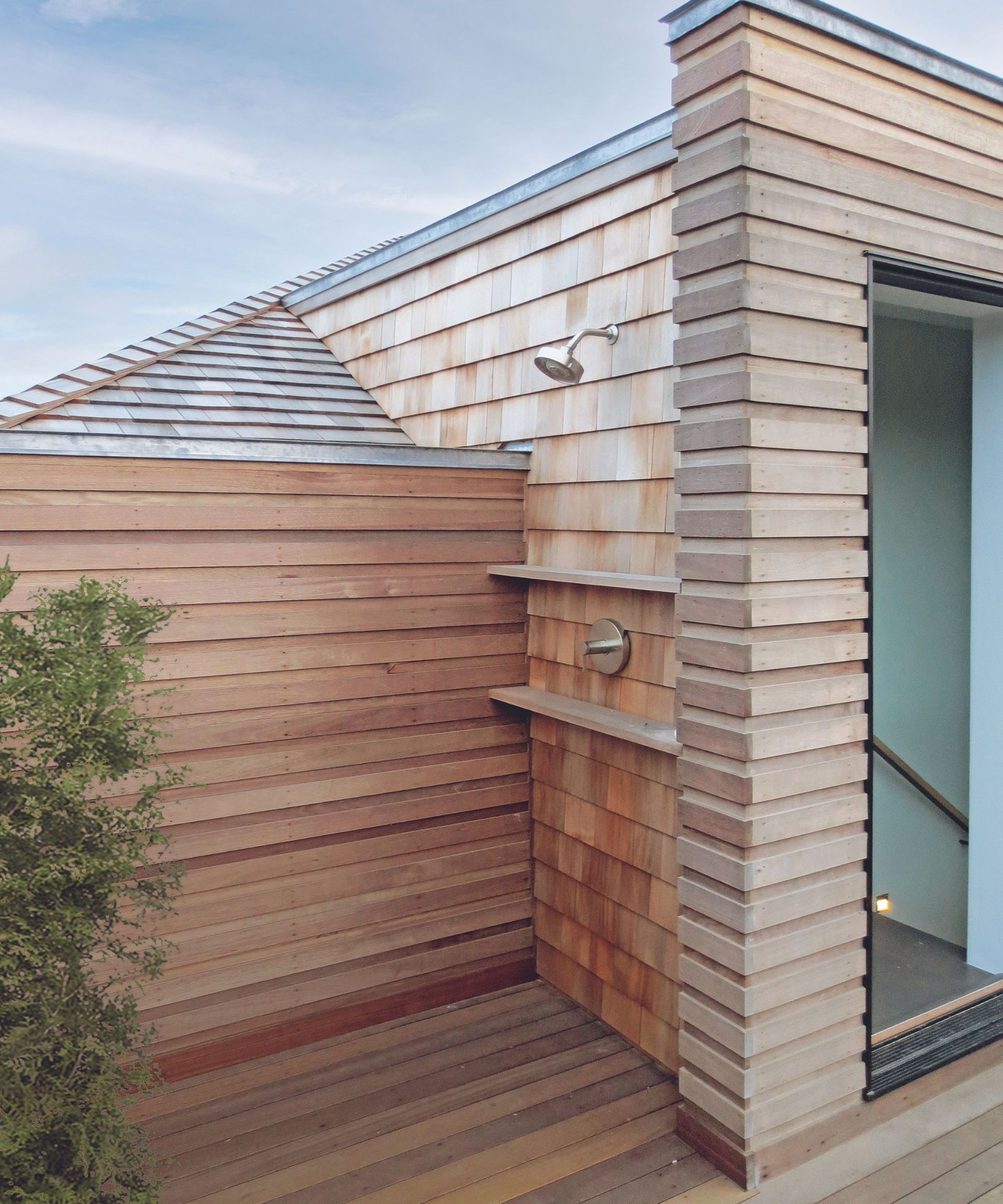 Outdoor bathrooms are not reserved for homes with big yards – they can also work as part of your roof garden ideas.
Installing an outdoor shower up high is a great way to mitigate the sense of feeling exposed, says architect Philip J Consalvo of PJC Architecture.
Here, the main bedroom has direct access to a private roof deck. 'The owners can enjoy showering outside without worrying about being overlooked,' he says.
After graduating from Pratt Institute, Philip J. Consalvo, AIA, began his career at Fox & Fowle Architects (now FXCollaborative). He established PJC Architecture in 1998, and has now been practicing for 25 years, completing renovations and construction projects for residential, corporate, commercial, and non-profit clients across a range of budgets from modest to high-end, approaching each with an unwavering attention to detail. Philip is licensed to practice architecture in New York and New Jersey.
10. Plan for privacy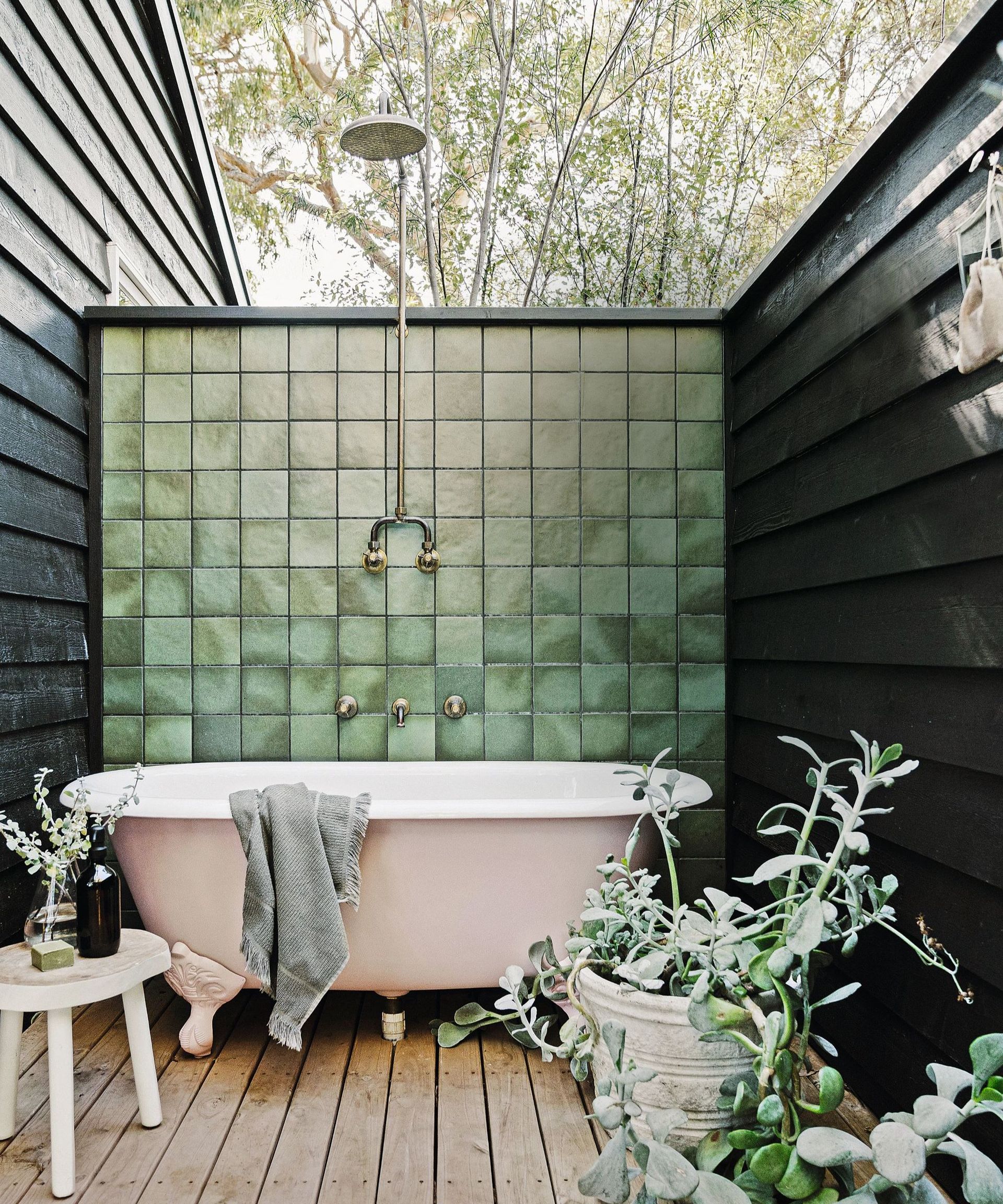 Garden screening ideas don't have to just be created from foliage. Enclosing an outdoor bath on three sides will create a more intimate setting, without restricting the view above.
Choose a tiled backdrop in rich earthy greens for easy maintenance and a visual connection to nature.
Here, at The Woods rental cabins in Victoria, Australia, owner Stephanie King has installed an antique bath with shower on each private deck.
'We have added a linen curtain to seal off the space for privacy, so it's not too risqué and our guests can fully relax while bathing under the 100-year-old gumtrees,' adds Stephanie.
11. Put your outdoor bathroom amongst nature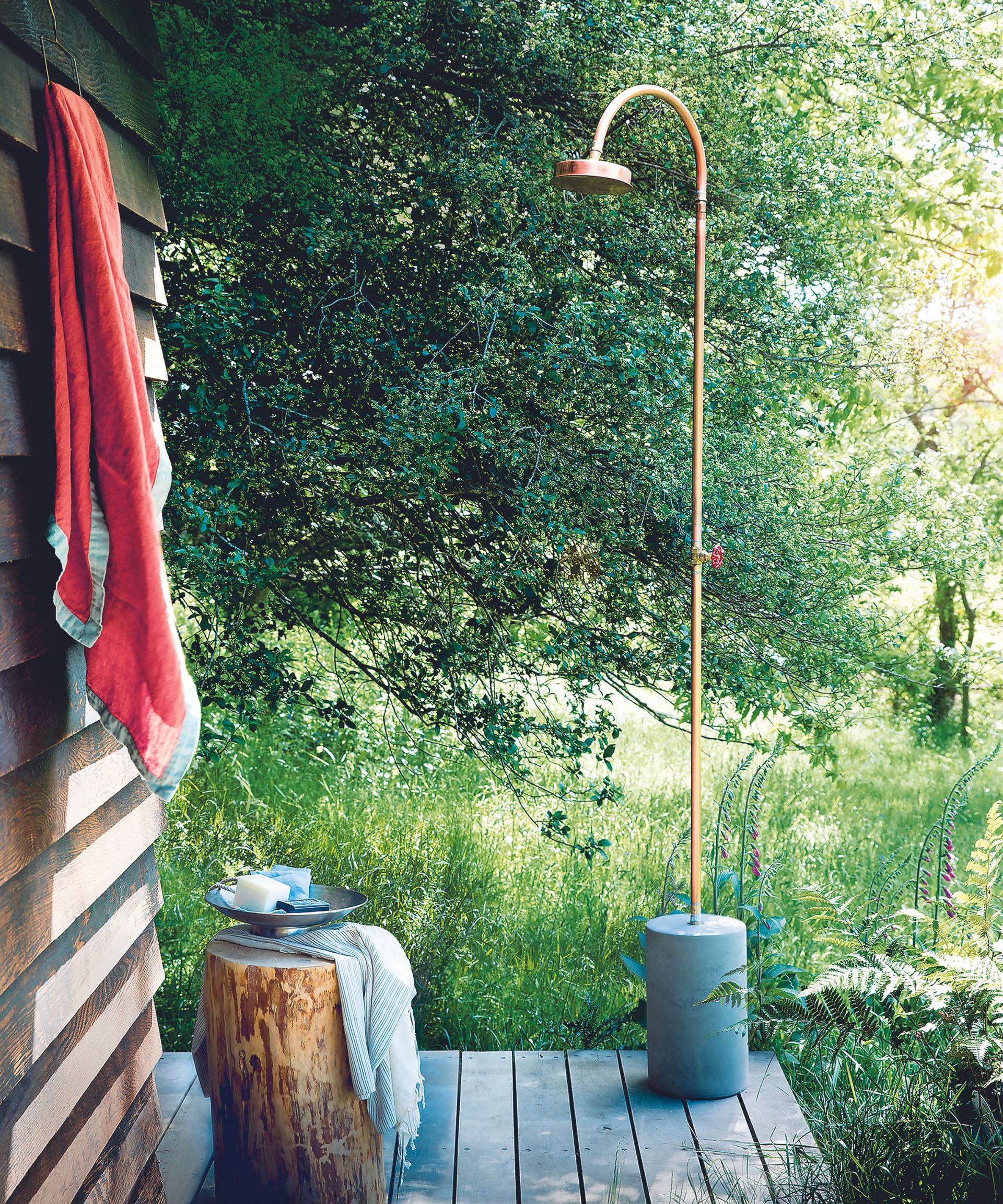 Whether you are looking to combine an outdoor bathroom with wildflower garden ideas or want to plan a dry garden with a space to cool off, nestle it amongst nature with little additional adornment.
FAQs
How much does it cost to build an outdoor bathroom?
Outdoor bathrooms can cost as little as a few hundred dollars at their simplest but if you want to combine them, perhaps with your pool house ideas, including a roof and heating, you are more likely to spend $15 to $20,000.
---
You'll note that none of these outdoor bathrooms has a toilet. There is a distinct difference here, since a toilet will require a building to house it, meaning it is no longer 'outdoors' in the sense of the word that we mean here. These outdoor bathroom ideas are as much about bathing as they are about relaxation and socializing as they are about practicality.
Sign up to the Homes & Gardens newsletter
Decor Ideas. Project Inspiration. Expert Advice. Delivered to your inbox.
Linda graduated from university with a First in Journalism, Film and Broadcasting. Her career began on a trade title for the kitchen and bathroom industry, and she has worked for Homes & Gardens, and sister-brands Livingetc, Country Homes & Interiors and Ideal Home, since 2006, covering interiors topics, though kitchens and bathrooms are her specialism.