Garden screening ideas – 21 ways to add privacy or zone your garden
Use clever garden screening ideas to provide privacy in an overlooked or exposed yard, disguise unsightly areas, or create separate garden rooms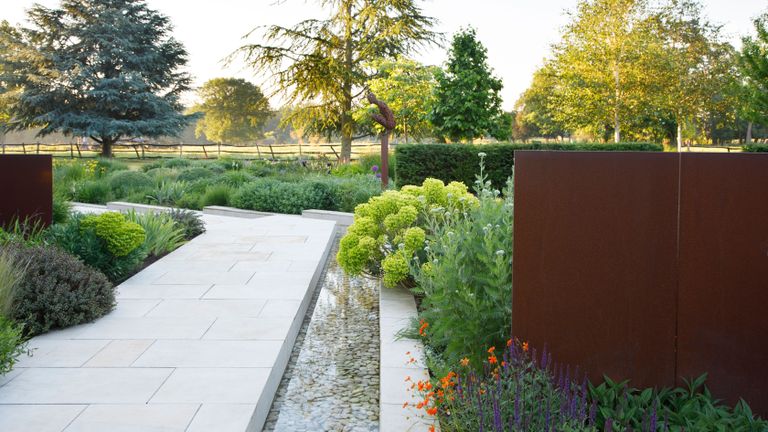 (Image credit: Annaick Guitteny)
Contributions from
There can be many reasons for incorporating garden screening ideas in your outdoor area, from disguising unsightly storage corners or areas, providing privacy or shade, adding a sense of intimacy, or creating distinct garden 'rooms'.
Depending on the reason why you are looking for garden screening ideas, the answer may be as simple as investing in some strategic planting, to building a garden structure to prevent an area of your yard from being overlooked from neighboring properties.
Incorporate screening into your garden ideas so that you can either add to the sense of discovery in different areas of your garden, or enjoy your outdoor oasis in seclusion.
Garden screening ideas
In an ideal world we wouldn't need garden screening ideas – our gardens would be private sanctuaries where we can potter, entertain and relax away from prying eyes.
But being overlooked is the reality for most people living in urban areas with houses on either side, or with gardens immediately backing onto an outside space.
You may also want to use screening as an important element of your garden design to create a sense of a journey through the space.
Use some of these design ideas to enhance your outdoor space.
1. Use living walls to screen boundary walls
The use of living wall ideas for garden screening ideas can have a two-fold benefit – hiding unsightly or plain boundary walls, as well as adding another planting dimension to your yard.
'Using vertical garden ideas offers the opportunity to make the most of every space in your garden – there is a plethora of possibilities, and living walls are especially useful in small gardens, courtyards and balconies, to use every perspective,' says gardening writer Leigh Clapp.
Living walls are planted more densely than a garden bed and can provide a tapestry of color and form. 'Use reliable, long-living, disease resistant plants that are light with shallow roots, as they will have restricted root space. For a year-round effect select mostly evergreens, then highlight with seasonal color,' adds Leigh.
2. Garden screening ideas as design features
The use of screens to loosely partition and create 'open' rooms, artfully divided, is a design trick employed by garden designer by Anthea Harrison in this beautiful country garden.
Decorative lazer-cut and solid Corten steel screens gently restrain the garden's more formal elements, while funnelling the view towards specific focal points or garden vistas, and also act as features in themselves.
3. Divide and screen areas with arbours and arches
Arbours, arches and tunnels can become lovely focal points adorned in profusely flowering vines or flowering climbers. They also act as garden screening ideas, dividing different areas of the garden, and indicating an entry point to a separate garden room which can have its own discrete feel and planting palette.
An arbour nestled among dense, colorful planting creates an illusion of space, which can be particularly effective in small garden ideas.
4. Create a garden journey with screening planting
If there is enough room, divide areas with planted barriers for a feeling of a journey through the garden to hidden areas.
You can create an illusion of space with planting. Curving pathways running between a profusion of flowers and plants can be more interesting and create mystery, generating a surprise around every turn.
5. Garden screening to disguise unsightly areas
The most practical use of garden screening is to hide out of view the less sightly elements of your garden, such as storage or composting areas.
'Most small gardens in particular have to be practical as well as visually appealing. They often serve as a room outside as well as a garden.
'Creating attractive storage outside can contribute hugely towards making your garden a truly unique space and one that lends itself to use all year round,' explains garden designer Kate Gould.
There is a wide choice of garden screening ideas to disguise a less attractive corner or element of the garden, depending on where it is located and the surrounding area. A decorative trellis panel smothered in evergreen climbers, or edibles can serve both a beautiful and practical purpose.
6. Architectural salvage for screening areas
Architectural salvage opens up a wealth of possibilities, and reclaimed sections of stone walls or follies can be reused as screens to create divisions between garden rooms.
This folly stone wall includes a quatrefoil window through which you can glimpse a further seating area of the garden.
7. Create a garden screening structure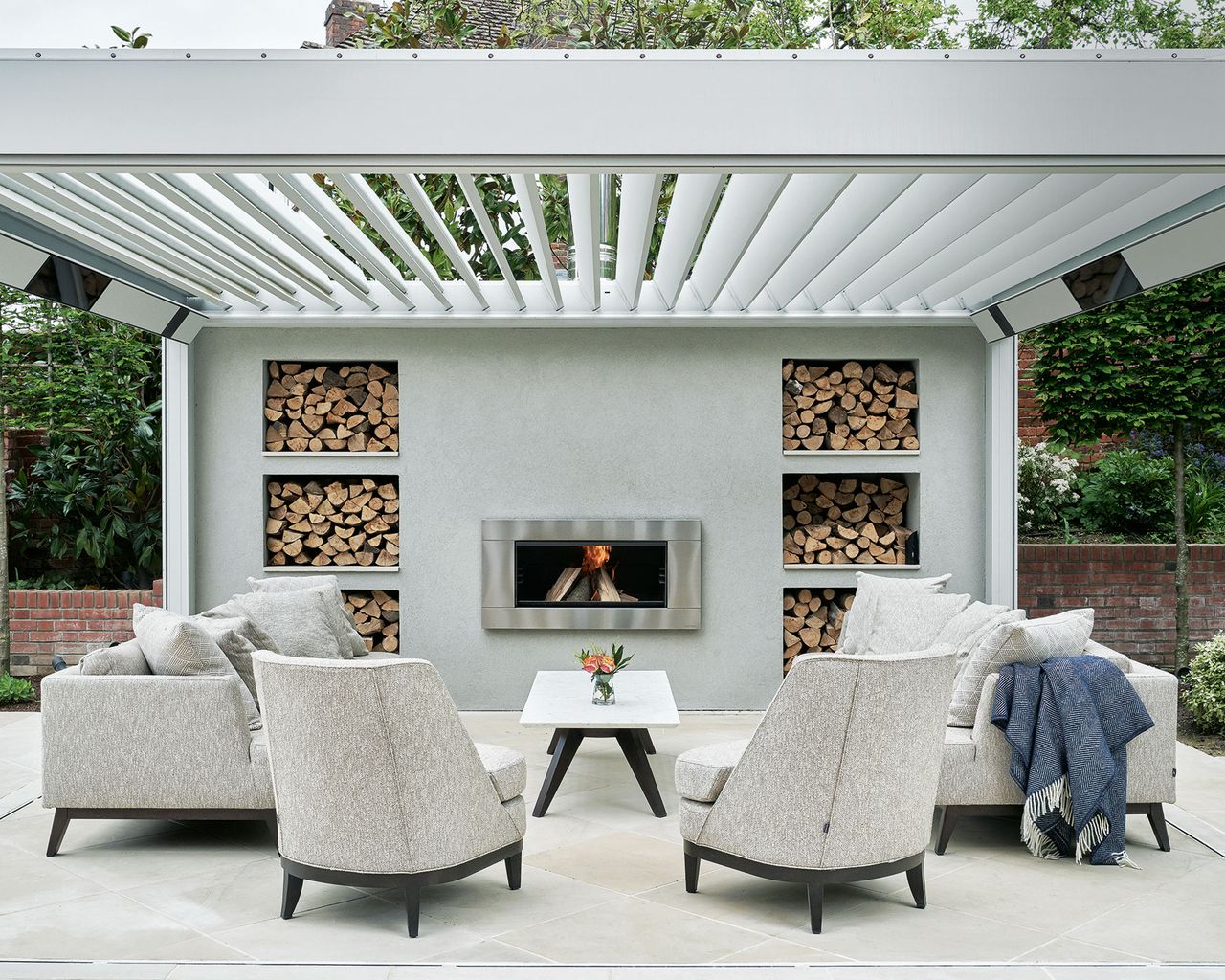 'Creating a sense of enclosure, cosiness and privacy is a big contribution which an overhead structure, such as a pergola can make,' explains garden designer Barry Chambers.
'Added to this, it could be concealing you from neighboring windows, or with plant cover and panels or trellises, a screen can also provide shelter from the breeze,' he adds.
'If the best spot in your backyard for a seating area is overlooked, a smart structure is the quickest and lowest maintenance way to create garden screening,' says Homes & Gardens Editor in Chief Lucy Searle.
'The smart pergola roof idea above is in the spirit of the garden screening idea I have in my own city garden, the sunniest part of which is overlooked by my neighbors. By using angled louvers, you can keep out prying eyes and create dappled shade, which is perfect for a seating or dining area. It's also a wonderful way to create a focal point in a large space.'
8. Add color and garden screening with a pretty awning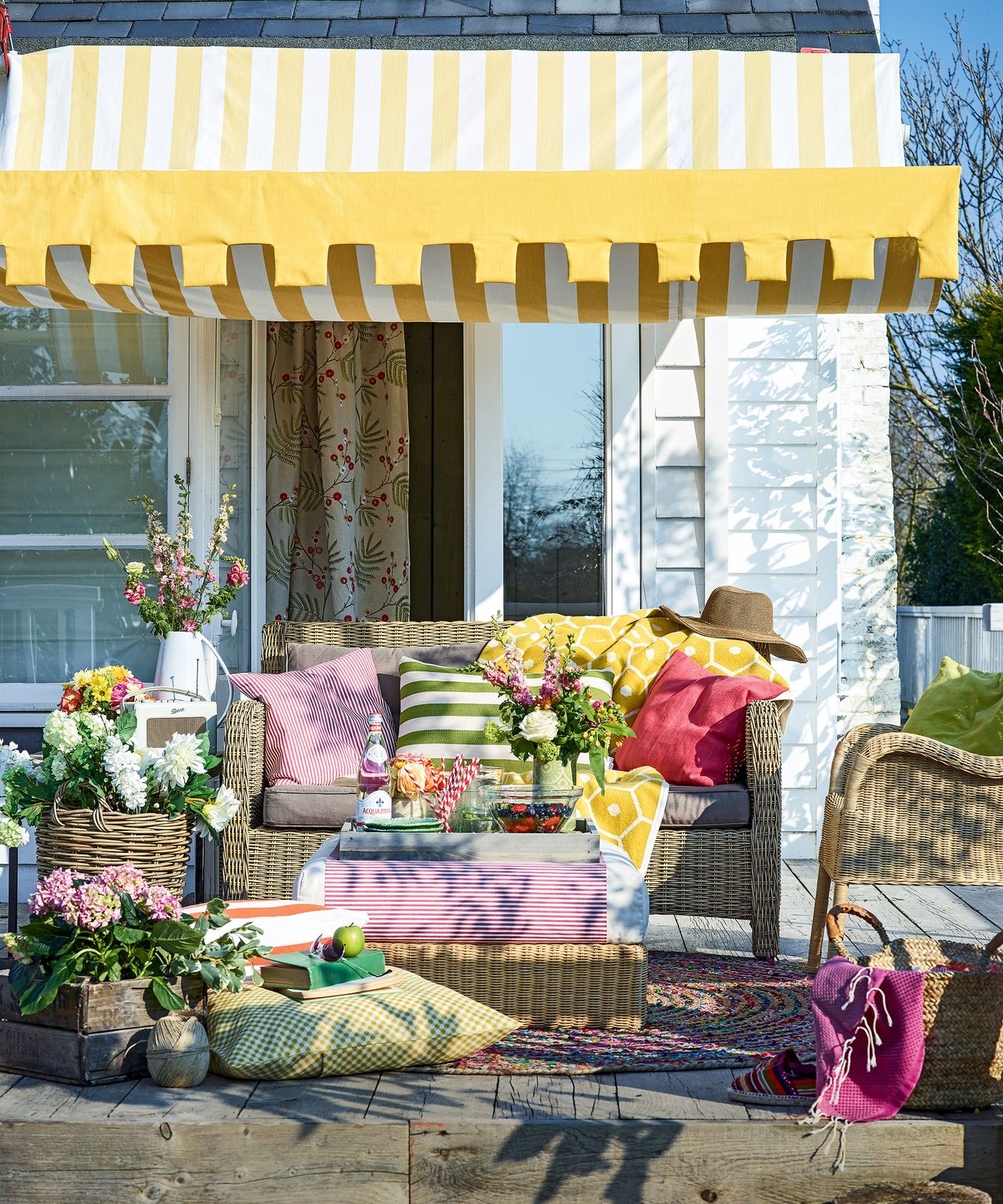 If you are looking for patio cover ideas that offer color, shade and screening, the solution may not be planting, but a garden awning. Those that extend outwards above your head by more than a 6ft can offer some privacy, but you can also find awnings that extend down to the ground on either side that will provide garden privacy and screening from the weather, too.
9. Choose trellis for subtle garden screening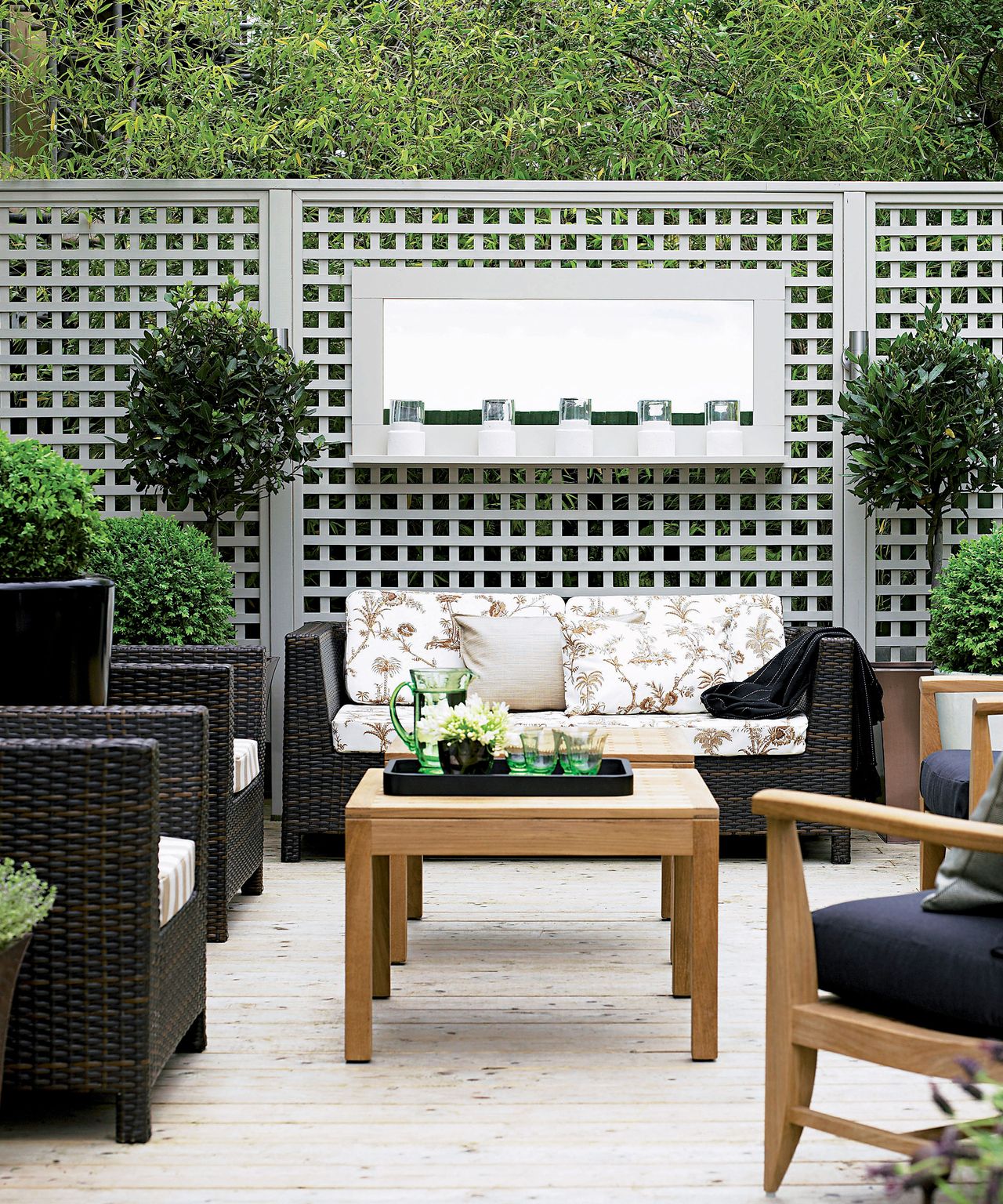 'Adding trellis to the top of a fence will of course offer extra screening and privacy in a backyard, but there are other ways to use trellis ideas cleverly,' says H&G's garden expert Rachel Crow.
'One of those ways is perfectly illustrated above, where the trellis provides screening that isn't entirely opaque. The benefit of this is that you can either simply divide a backyard by zone, for example, a kids' play area from an adults' seating area, while still being able to see into the other area. Or, you can make the most of a "borrowed view", perhaps a beautiful woodland to the back of your yard, which can help to make a small garden look bigger.
10. Plant lush shrubs for privacy
Whether you are starting a planting scheme from scratch or want to add garden screening ideas to an existing garden, choosing the best shrubs for privacy is one of the best ways to please both garden users and wildlife.
These include laurel, as above, holly, rhododendron, privet, laurel, photinia, honeysuckle and forsythia, some of which have made our best fast-growing shrubs list, too – a bonus if you want garden privacy ideas fast.
11. Hide a garden screening structure with planting
A tall wall, whether brick or rendered blocks, is a great way to increase garden screening and security at the same time, but it can look stark and uninviting, which may not be the effect you want to create. The best way to disguise this type of garden privacy device is to match it with evergreen climbers, which will soften the structure, provide shelter for wildlife and – if you plant flowering climbers – color and scent, too.
12. Plant ornamental grasses for summer garden screening
While some people like to spend as much time as possible in their gardens year round, others tend to see their outdoor space as a spring/summer attraction.
If you are in the latter camp then tall, airy 'see-through' plants like bamboos or ornamental grasses around a seating or sunbathing area will provide sufficient screening, and still allow light to filter through without the need for more heavy duty garden fence ideas.
Likewise, a medium-sized feature tree planted in the sightline of a bedroom will provide privacy for your house. Just don't plant it too close to the building itself. An upright ornamental cherry would make an attractive and effective shield, as would an ornamental pear such as Pyrus 'Chanticleer'.
13. Create garden screening with trees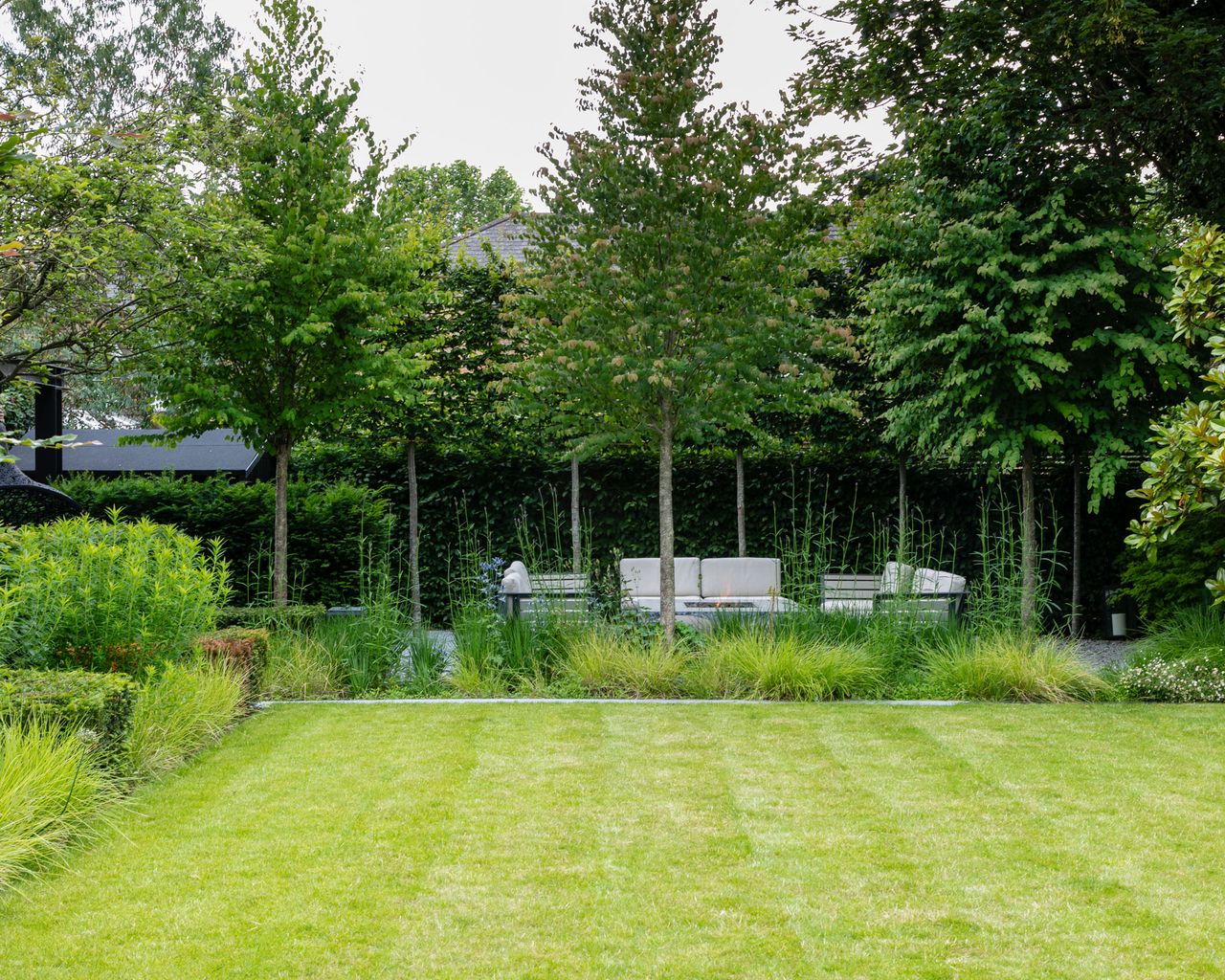 Planting trees for privacy and screening in a backyard is the best way to create a hidden spot. But if you are worried that having trees will mean sacrificing light, worry not – there are two techniques that will help.
By cutting a few of the bigger branches right back to the trunk, you will allow more light through and prevent vigorous regrowth, which is also important to preserve space in small gardens.
You can also try something called 'lifting your tree's skirt', which simply involves removing lower foliage, as in the garden above.
14. Create tall boundaries with hedges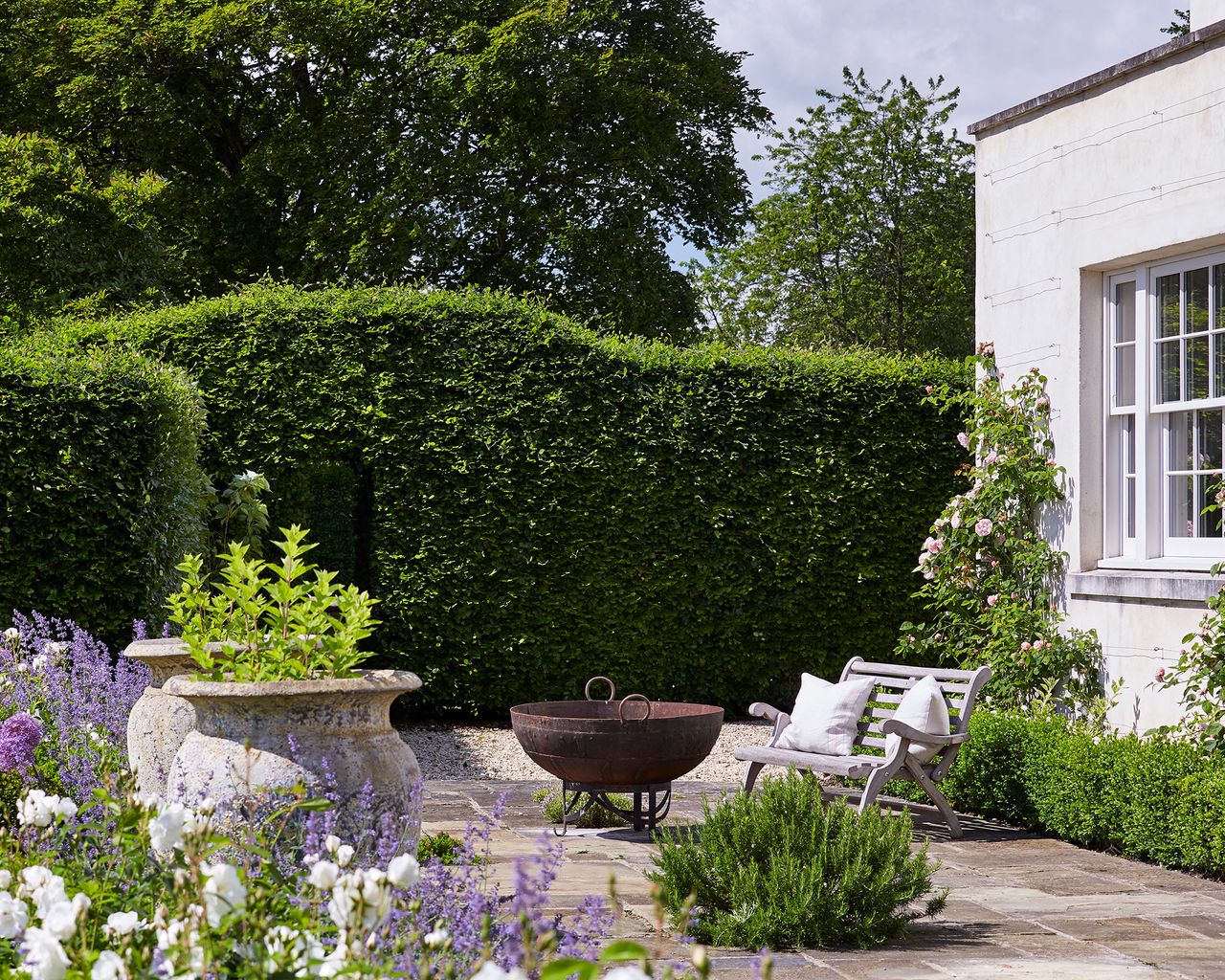 Finding effective garden screening ideas can seem daunting, but that doesn't mean you have to give in and accept that your every move will be observed forever. There are plenty of ways to improve privacy without resorting to tall fences or towering garden wall ideas.
A good place to start is with your boundaries. Some backyards are defined by low walls or 'see-through' fences that offer very little cover. The ideal solution is to establish the best privacy hedges, using fast-growing species.
Deciduous hedges are best planted from late fall to early spring using bare-rooted plants. Evergreen hedges, using container grown plants, should be planted from mid to late spring.
15. Build a sheltered structure on an exterior wall
A dining or lounge space close to the house can take inspiration from these porch ideas with the addition of a covering structure attached to an exterior wall.
'Every garden has those places you automatically drift to, as well as natural areas of shade, light and privacy,' explains award-winning landscape and garden designer Sarah Eberle. Sarah Eberle
'Climbing plants for pergolas and walkways might seem like a romantic option that also offers an element of privacy, but the truth is that many quickly grow out of control, damaging supporting structures, so it's important to choose non-vigorous species. Pillar roses work well and so does clematis, but this needs to be paired with something evergreen, such as Akebia quinata.'
16. Go underground
Sunken gardens make great retreats and are especially useful garden privacy ideas when designing urban plots or looking for long garden ideas, where boundary fences may cast unwanted shade.
Lowering a terrace by just 18-20 inches makes it easier to create a sense of privacy with garden screening ideas, such as planting or awnings; if you want to go lower, ask a landscape architect to check the water table level and advise on drainage.
In a sloping garden, carve out terraces and create an outdoor room on the lowest level.
17. Enforce border controls
Lining paths or patios with perennials, grasses and bamboos is a good way to hide seating areas from view.
Plants that die down in winter offer privacy during summer when you are relaxing outside, but will not block out light during the rest of the year.
By placing seats strategically, you may find flowers and foliage do not need to be very tall to make an effective screen.
18. Opt for a cover up
Garden shade ideas and garden screening ideas can be synonymous. A sail shade suspended over a seating area will not only block direct views from upper storey windows, but will also give protection from sunlight and showers.
The frame can be adorned with climbers, to enhance the enclosed feel. Check that they will grow tall enough to cover the structure, and fix wires to the uprights for the stems to cling to.
19. Build a summerhouse or pavilion
Position a summerhouse or pavilion so that it backs onto the garden boundary where it is most overlooked; the building's roof and walls will create a visual barrier and a private space in front.
Concealing the structure behind trees or large shrubs can increase the sense of seclusion, especially if it is reached by a journey through the garden via charming garden path.
Where there is no space for a building, alternative garden privacy ideas such as an arbor seat next to a boundary will have a similar effect.
20. Install a water feature for garden noise screening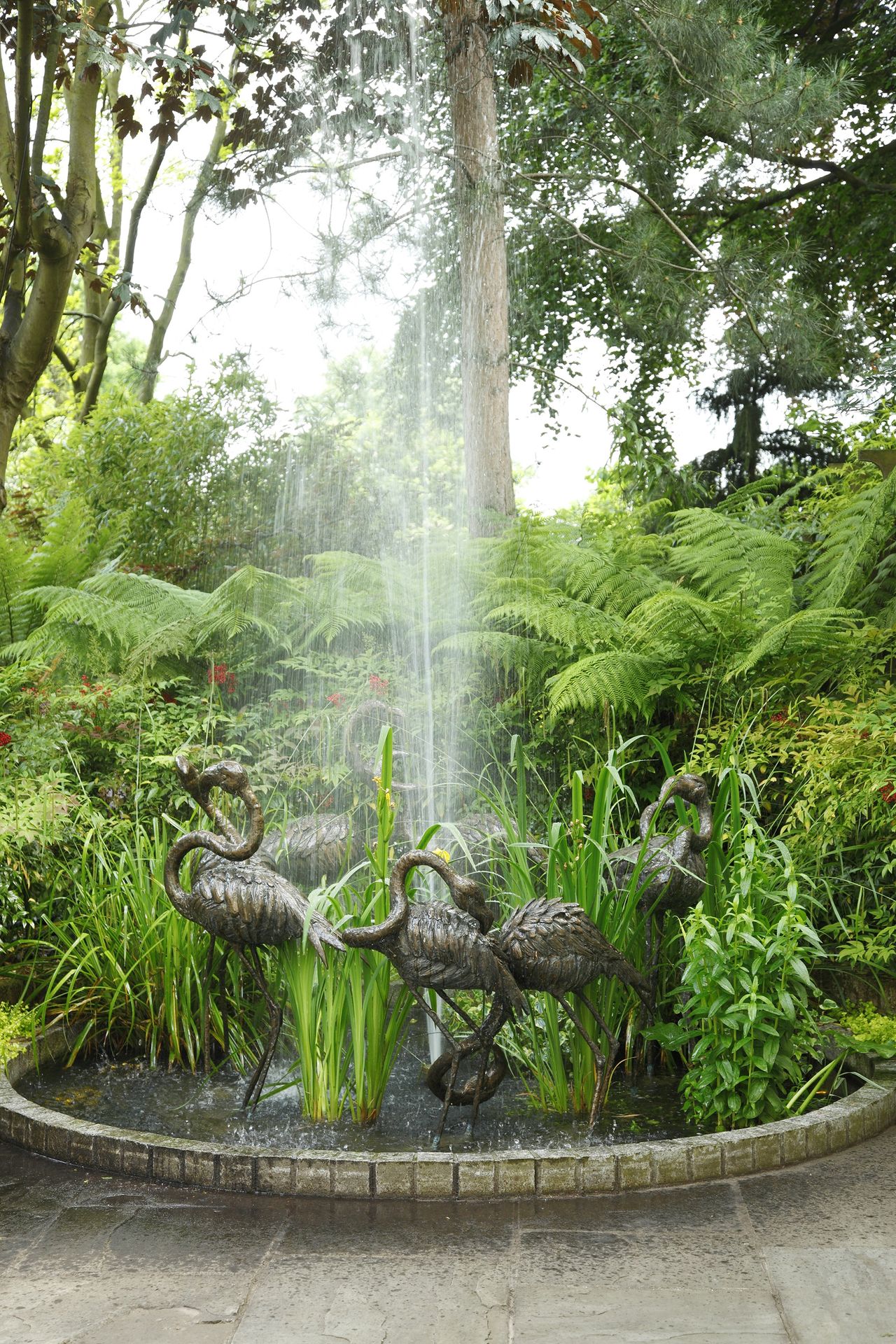 Although water feature ideas may not be the first thing that springs to mind when you think of garden screening ideas, screening noise in a garden is crucial for a tranquil ambience.
Water spouts and fountains help to drown out the sound of traffic and noisy neighbors, and ensure your conversations are not easily overheard.
The most effective water features produce just the right level of sound – soothing rather than irritating – and form an integral part of the garden design.
21. Step into the woods
Trees offer unlimited scope for providing screening privacy. A small copse planted at the end of a garden will form a quiet refuge. In a large, open space, use ornamental trees to screen off a sheltered area with a dramatic view – and edge it with hedges or low walls.
In smaller gardens, three or four trees with slim trunks, such as Himalayan birches, are the best trees for a small garden because they create a snug wooded retreat.
How can I get privacy in my garden?
Garden zoning is one of the most effective garden screening ideas.
Consider the sight line – where are you trying to get privacy from? Then block these areas off to create private spots.
To do this, play with planting – layers of tall grasses help to softly zone a private area in your garden. Screening helps, too. Choose a material which sits in your garden style, perhaps bamboo, metal or wood.
If you're trying to block off sight from above, then adding a pergola is a great way to achieve privacy. Rush matting at the top, or growing climbers such as ivy or clematis, will allow light to filter in but not wandering eyes.
How can I stop neighbors overlooking my garden?
Tempting though it may be to block yourself off from the world, high panel fencing often isn't the answer. For starters, erecting a fence more than 6ft (2m) high will not only annoy your neighbors but may require planning permission. Secondly, doing so will likely shade out some of your garden, and reduce your planting options.
So instead of reaching for the fencing, try and make the best use of what you already have. Take a stroll around your garden to identify where any privacy issues might lie. Is there any part of your plot where you cannot be seen at all? If so, ask yourself whether you are currently making the best use of this precious space. It's also worth considering exactly when privacy is most important to you.
Ultimately, with a bit of thought, a few simple techniques and clever use of garden privacy ideas, you can enjoy your time in the garden without an audience – and will not have to sacrifice light to do so.
What plants make the best privacy screens?
Use these raised garden bed ideas around the perimeter of your space. Filled with tall plants like bamboo, ornamental grasses and Carex pendula they will naturally create privacy. Like net curtains, they'll provide a screen between you and the outside world without casting too much shade.
Jennifer is the Digital Editor at Homes & Gardens. Having worked in the interiors industry for a number of years, spanning many publications, she now hones her digital prowess on the 'best interiors website' in the world. Multi-skilled, Jennifer has worked in PR and marketing, and the occasional dabble in the social media, commercial and e-commerce space. Over the years, she has written about every area of the home, from compiling design houses from some of the best interior designers in the world to sourcing celebrity homes, reviewing appliances and even the odd news story or two.
With contributions from