Garden wall ideas – create a boundary or define a space with a vertical structure
A garden wall isn't just functional, it can also be beautiful...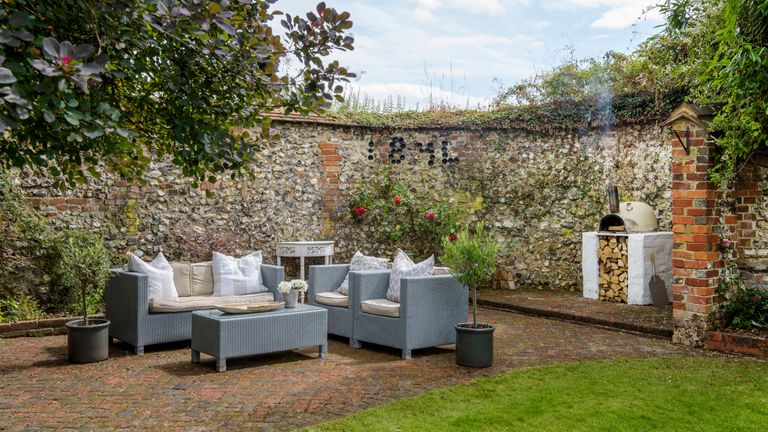 (Image credit: Future / Polly Eltes)
Our garden walls have taken many forms over the past few decades. From concrete stone verticals and painted fences to elaborate trellis designs and living walls abundant with fauna and foliage, our garden walls have certainly had a dressing up – or dressing down – in some instances. 
With the majority of us forced to spend more time in our homes, the garden wall has never been more so important than it is now. Even the late, great Shakespeare hired someone to play in wall in A Midsummer Night's Dream. And, if the most famous wall of all, The Great Wall of China could talk, I am sure that it would have an interesting story to tell.
So you see, there are many things to be learnt from the walls we put up – each and everyone tells a story. But if you are stuck for garden wall ideas and inspiration, then you've landed on the right page. 
Below, you'll find our favorite garden wall ideas – plus tons of design advice. 
1. Introduce a living wall
Living, or green, walls, once the domain of temporary, designer installations have become the must-have decorative design solution for residential gardens.
Colorful, verdant and providing aesthetic and ecological benefits, they make use of  vertical surfaces for planting – particularly useful where space may be limited but  worthy as an impactful design feature in their own right. 
In urban areas, green walls can help keep buildings cool, improve air quality and reduce noise pollution, as well as provide a habitat for wildlife. They also help keep rain water away from exterior walls and provide insulation.
2. Add a coat of paint
Feature walls are big in interiors so why not on exteriors? Give a blank wall or  garden building a new look by painting it a deep, rich hue and using it as a dramatic backdrop for plants and pots. 
Choose colors according to the amount of sunlight or shade the wall receives, just as you would inside the house. This smokey charcoal hue brings the woven, steel and wood accessories to life.  
Use galvanized planters filled with herbs and decorative zinc watering cans – which can be  been hung on the walls – to catch the light. 
3. Find the perfect fence
They define the edges of our garden, provide security and protection as well as privacy. With the range of choice on offer, there is so much a well chosen fence can do for your outdoor space.  
Having a well-maintained fence is a great way to ensure that your sell your house quickly and secure a top price for your property. Style is just as important as quality however, and choosing the right material and look is an important consideration.   
There is an increasing demand for unfussy horizontal linear designs as opposed to the rustic look. Regardless of the size of the garden, clear boundaries will give a sense of privacy as well as a smart finish to your space, and a garden fence is an attractive and relatively maintenance-free way of achieving this.  
Fencing also provides an ideal backdrop for plants, as well as protecting the garden from the extremes of winter weather. 
4. Link your garden by a thread of reused stones
With a huge focus on sustainability in 2021, it comes as no surprise that many of us are looking to areas in our homes and gardens that we can repurpose and reclaim.
Stone, often found in quarries and salvage yards, can be reused to build a garden walls that is not only beautifully rustic and visually appealing, but the wildlife living amid the stones will only add to the narrative. These kind of garden walls provide sheltered homes for newts, frogs and insects. 
Here, the wall rises from small to tall, some stones so thin that are almost slate, closely packed like sliced bread. Others, round and rough, are tumbled together and covered by ivy, with just enough rock peeping through to keep the homespun spirit alive. 
5. Do away with a traditional wall
If traditional fencing or stone walls is not on your agenda, worry not. A neat box hedge could be the answer to your garden wall prayers. 
Hedges offer lots of design possibilities and are also great for creating garden rooms. Understandably, it can be hard to get excited about hedges. They quietly do their thing, defining the boundaries of our gardens and providing a useful backdrop to other planting. But they can be so much more. It's possible to make a feature of hedging by incorporating it into your garden's design and capitalising on the extra planting opportunities a hedge offers.   
'When it comes to design, they play a vital role,' advises horticulturist and author Louise Curley. 'You can use hedges to divide your space into different garden rooms; taller ones will help you create secret places, or you can cut a hole into a hedge to capture a view – either taking the eye beyond the garden or giving a glimpse into a hidden corners.'  
If you after something more classic in design, then the knife-edge precision in a hedge is an awesome thing, as if the line the gardener drew on their plan had been magnified a thousand times. Who can help but admire the workmanship which can produce a living straight line, a perfect wall of uniform, black-green yew. 
6. Increase your plantable space by growing plants vertically
Is your garden on the small side? Vertical planting is the solution. 
One of the main ways you can maximize the pleasure you get from your garden is to ensure that every single surface of the walls and fences are put to good use. Far too many of these potential growing spaces are left bare, when they could be transformed into a stylish feature. 
New planting products such as wall mountable pouches now allow you to hang a  curtain-like fall of planting over almost any wall, and that includes interior walls (given you have a space which gets enough light). 
They are instant focal points and can be planted with pretty much any choice of plants; think herbs or colorful trailing plants on a previously unloved garden wall.  
7. Let light in with a trellis
For a little extra privacy, add a trellis above an existing wall. Trellises and other frameworks can be erected to encourage delicate plants to grow in the directions you want. 
Traditionally climbing plants have been used to swathe walls with color – and edible climbers such as blackberries and raspberries can be trained against a sunny wall. Trees and shrubs can also be 'espaliered' – pruned carefully so that their branches grow right against the walls – offering big harvests without encroaching on garden space. 
Alternatively, tall free-standing planters can be placed in front of bare walls to bring extra life to tired areas.
8. Be sympathetic to your existing structures
Any garden structure should be considered in relation to the house. That's not to say it needs to match – the old meets new is very popular in the garden right now – but your choice should be sympathetic. 
Here the design and materials of a contemporary horizontal slat fence complement the run of modern steel-frame doors, with the simple organic shapes of climbing plants softening the linear effect.
How can I make my garden walls look nice?
Vertical gardening is all the rage and is a sensational way of transforming a blank wall into a piece of living art. In its simplest form a green wall consists of trailing or climbing plants planted in wall-mounted containers or pockets, sometimes with a sheet of polythene behind.
When it comes to choosing plants, think useful as well as decorative. A vertical herb garden that features bushy and trailing thymes with oregano, chives and tumbling nasturtiums, which can all be snipped for cooking and salads, is a good option.
Regular and even watering is essential and you'll get the best results if you can include an irrigation drip system at the same time as you construct the wall.
How do I brighten a garden brick wall?
Color is the best way to brighten a brick wall, be that paint, flowers or foliage. 
Varying color and texture will bring an exposed brick wall up-to-date. Remember, lighter colors tend to dominate so keep dark tones on the bottom for a grounding effect. 
There is also a tempting array of wall-mounted planting options now available to encourage us all to get the best from every square centimetre of our plots. Troughs, pouches, tubs and other containers can be affixed to garden walls and fence posts with sturdy brackets and filled with trailing flowers. 
How can I hide an unsightly garden wall?
It is relatively easy to hide an unsightly garden wall. If in doubt, consider using plants and foliage to add interest. 
As well as being visually striking, there are many other benefits to living walls. Green walls keep buildings cool, improve air quality, reduce noise and are a magnet for wildlife.
A large range of herbaceous perennials, grasses, small shrubs, herbs and even fruit and vegetables can be used. Be creative and experimental – try including scented plants, seasonal flowers and bulbs – but check you're your chosen plants will suit the aspect, microclimate and conditions of the wall they will be grown on.