Best fast-growing hedges: 10 ideas for speedy structure and boundaries
Fast-growing hedges are perfect for demarcating a boundary, adding interest or creating privacy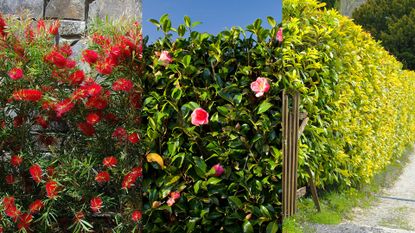 (Image credit: Getty )
Fast-growing hedges offer a quick way to transform and reinvent your garden. Whether you are in search of something to define the boundaries of your property, to provide privacy and screening or to help support your local wildlife, hedges are a versatile addition to the garden.
They can also be used to provide your backyard ideas with structure and shape, helping to add height or visual interest – you could even try topiary for which fast-growing hedges are ideal.
'Fast-growing hedges can be sheared into geometric shapes or allowed to grow naturally. Always select a plant that has the desired shape and mature size to help minimize pruning,' says garden expert Melinda Myers, 'If you like the formal sheared look consider plants that tolerate this type of pruning. For an informal or natural look that would befit cottage garden ideas, keep pruning to a minimum. Consider hedging plants that also provide flowers, fall color and fruit if it fits in your landscape design.'
Fast-growing hedges
When you want to add a hedge to your garden, the thought of having to wait a decade for it to establish is probably not what you had in mind. On the other hand, fully grown hedges are an expensive purchase, especially if you want to have a long section of hedge between yourself and a neighbor's property.
Therefore, fast-growing hedges are an ideal solution that will quickly establish and grow – your only challenge will be to keep them in check, however this is easily done with regular pruning and shaping. Pruning at regular intervals will also keep your hedge looking beautifully manicured.
Hedges are also a great choice for creating boundaries and should be factored in when you're thinking about how to plan a garden. 'Plant fast-growing hedges for your boundaries – they are good for wildlife and the environment by absorbing pollution. Use mixed wildlife hedging in rural areas and dense evergreens in the urban environment,' recommends Period Living garden expert Leigh Clapp.
1. Best plant to create purple fast-growing hedges
Often known as 'the purple bush', loropetalum shrubs make for eye-catching fast-growing hedges. Its beautiful purple leaves offer a stunning contrast to the other brown and greens that define the garden.
Growing in hardiness zones 7 to 11 without any additional care, these pretty fast-growing hedges do best when they are planted in full sun, as it is the light from the sun that causes its leaves to be that beautiful purple shade. Loropetalum will also be more likely to thrive in gardens that are subject to long, hot summers, so are best avoided in cooler areas. However, if you live in cooler regions, there are still plenty of fast-growing hedges that you can plant in your garden.
2. The best fast growing hedges for sweet scent
Mock orange, also known as Philadelphus, are adored for their dainty sweet-smelling flowers which bloom in summer. A brilliant addition to sensory garden ideas, mock orange shrubs are a reasonably hardy shrub and can be grown anywhere from zones 4 to 7. Plus it is relatively easy to care for.
Growing more than two feet per year, mock orange are exceptionally fast-growing hedges and if left unchecked will quickly reach more than 12 foot tall. As with all fast-growing hedges pruning is vital.
'Mock orange is a deservedly popular medium-sized deciduous shrub with highly perfumed cascades of pure white flowers for many weeks through May to July,' says Leigh Clapp, 'It grows in sun or part shade in any fertile, well-drained soil, including coastal gardens.'
3. Best fast-growing hedges for winter color
A favorite of winter garden ideas, cornus, or as it is more commonly known red twig dogwood, makes for a vibrant display on its own or as part of a hedge.
Creating a bank of crimson stems, these fast-growing hedges look just as good in winter as they do in the height of spring – in fact, they may even look better. 'During the summer, it blooms flowers and berries. It has red bark that looks beautiful year-round,' says Emilly Barbosa Fernandes, expert small space gardener and consultant at HouseGrail.
With it's dense twiggy structure, it is also great to use as part of garden privacy ideas, plus since dogwood are very easy to propagate – simply cut a branch that's about the thickness of a pencil and put in a pot of quickly – it is a very affordable to quickly grow your hedges.
4. Best fast-growing hedges for year-round privacy
If you're trying to select the best hedges or best trees for privacy and screening in a backyard, then opting for an evergreen variety is a must. The shrubby honeysuckle is an excellent choice for fast-growing hedges, as its dense leaves and branches provide year-round greenery and screening.
'The shrubby honeysuckle can grow between 15-23 inches in a year, so if you don't want a tall shrub, make sure to keep it trimmed,' says Emilly. 'The shrubby honeysuckle is an evergreen that becomes denser as you clip it. It has tiny leaves that may produce flowers in the spring and berries in the autumn.'
It is worth noting that shrubby honeysuckle can be invasive so if you decide to grow it in your garden, then it's vital that you keep it in check with regular pruning.
5. Best fast-growing hedges for fragrant and statement blooms
These pretty fast-growing hedges are loved for their colorful and sweet smelling flowers. 'Lilac is a beautiful addition to the garden with its sweet fragrant smell and draping lavender blooms that cascades from the shrub,' says Tammy Sons from TN Nursery.
For the best chance of a healthy plant, pick a spot with fertile, well-drained soil and lots of sun. In the right conditions, lilacs can grow around two feet per year, plus they are fairly hardy and will thrive in zones 3 through to 7.
'The lilac makes a great choice if you're looking for fast-growing hedges,' says Emilly Barbosa Fernandes, 'but if you don't trim it back, it will grow out of control'. Therefore, it is vital that you know how to prune lilac before adding these fast-growing hedges into your garden.
6. Prettiest fast-growing hedges
If you want fast-growing hedges that also bring beauty to the garden, then camellia hedges are perfect. Blossoming with beautiful rose-like flowers in late winter or early spring, they create a stunning addition to winter garden ideas and will help to brighten those darker days.
Camellias are also some of the best winter plants for pots and borders and as an evergreen, they keep their leaves all year round. This means that when they are grown as a hedge they are perfect to incorporate into your garden privacy ideas.
As with any addition to your garden, knowing how to care for them is vital. With camellias, there is particular importance on knowing how to prune camellias as this will keep these fast-growing hedges under control and looking their best.
7. Best fast-growing hedges for early spring color
Forsythia is a great choice for fast-growing hedges. It's one of the hardiest fast-growing hedges, being tolerant to both drought and salt and hardy from zones 5 through to 8. It will reach heights of up to 10 feet and will grow approximately two feet per year.
Regardless of its durability, it is the flowers that sway homeowners towards these fast-growing hedges. 'One of the first spring bloomers, they erupt in lemony yellow clusters that welcome the coming season,' says Tammy Sons. However, be careful when pruning as the flowers grow on last year's growth. Therefore, it is important to prune at the end of the flowering period rather than wait until the following fall.
8. Best fast-growing hedges for greenery
Laurel is a classic choice to create a quintessential green hedge in your garden. With its large glossy green leaves, it creates a dense border which is ideal for use in front yard landscaping ideas.
'The laurel grows roughly 11 inches per year and can be grown as both hedging plants and topiary. If you're looking for flowers in the summer, the cherry laurel is a good choice,' says Emilly.
Smartly clipped laurel hedges and topiary are characteristic of English garden ideas and offer a good alternative to the slower-growing box hedges.
9. Best fast-growing hedges for wildlife
If you're looking for fast-growing hedges that will help to encourage wildlife into your garden, then the hawthorn is your best option. 'One of the most common hedgerow shrubs across the UK but also grows well in the North American states,' says Leigh Clapp. The hawthorn will grow between one and two feet per year meaning it will quickly establish itself as a defined part of your garden.
Also known as the thornapple, it is descended from the rose family and is loved for its pretty nectar-rich flowers and bright red-orange fall berries. 'The Hawthorn provides food for some 150 different insect species and is tolerant of pollution and exposed sites,' continues Leigh Clapp. This makes hawthorn the ideal addition to your favorite wildlife garden ideas.
If grown at the border of your property, the thorny branches on these fast-growing hedges also brings with it an element of added security to your home while simultaneously offering a safe space for birds to nest come spring.
10. Best fast-growing flowering hedge for color
One of our favorite fast-growing flowering trees, Callistemon also makes for a beautiful fast-growing hedge. Growing approximately a foot per year, this stunning plant explodes in an array of vibrant, feathering flowers in spring, and makes for the perfect accompaniment for other tropical garden ideas.
You can also use all of these fast-growing hedging ideas to obscure or complement the harder landscaping in your garden, such as garden wall ideas. Growing a hedge will create a softer and more natural backdrop to your garden as well as offering beneficial food and habitat for wildlife. Pick fast-growing hedges with beautiful flowers for added interest.
What is a good privacy hedge?
Camellia, laurel and hawthorn are all good privacy hedges. These fast-growing hedges are all evergreen and reach a good height.
Evergreen shrubs and evergreen trees for gardens make for the best hedges for privacy as you don't want your privacy to be compromised when the leaves fall off in fall. You will also want to select fast-growing hedges to ensure that you aren't waiting years to achieve the level of privacy you desire.
When should you plant hedges?
You should plant hedges in late fall, however, you can plant them up until late winter, though avoid planting if the ground is water-logged, frozen or frost is imminent.
The optimum planting time for individual fast-growing hedges will vary depending on the species you purchase, so you should always double check the planting directions.
Sign up to the Homes & Gardens newsletter
Decor Ideas. Project Inspiration. Expert Advice. Delivered to your inbox.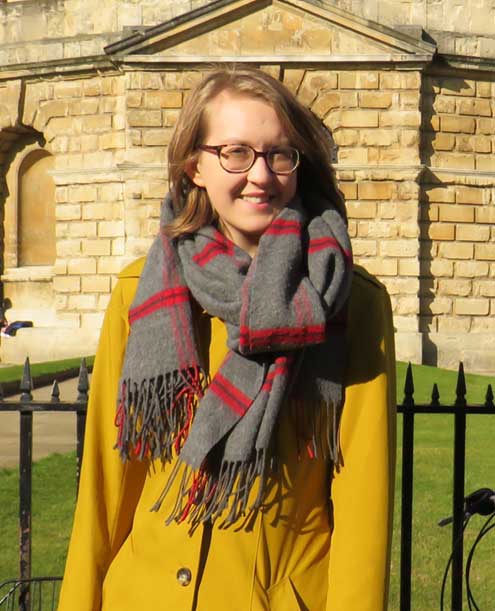 Content Editor and Sub-editor
Having graduated with a first class degree in English Literature, Holly started her career as a features writer and sub-editor at Period Living magazine, Homes & Gardens' sister title. Working on Period Living brought with it insight into the complexities of owning and caring for period homes, from interior decorating through to choosing the right windows and the challenges of extending. This has led to a passion for traditional interiors, particularly the country-look. Writing for the Homes & Gardens website as a content editor, alongside regular features for Period Living and Country Homes & Interiors magazines, has enabled her to broaden her writing to incorporate her interests in gardening, wildlife and nature.