Sensory garden ideas – create an outdoor space filled with sounds, scents and textures
Let us show you how to plant yourself happy with sensory garden ideas that will stimulate all the senses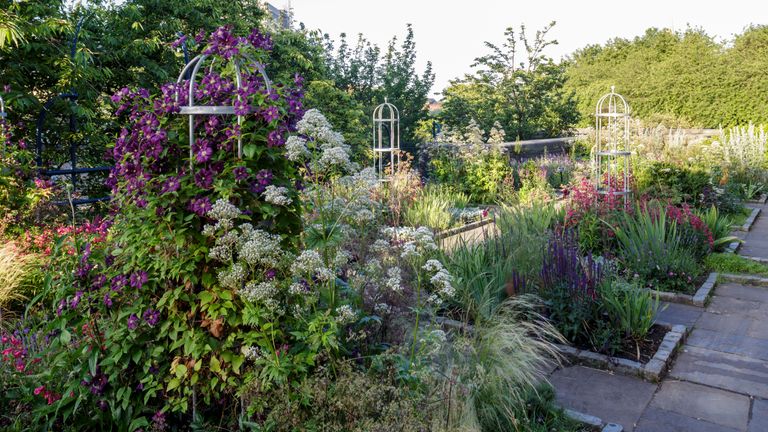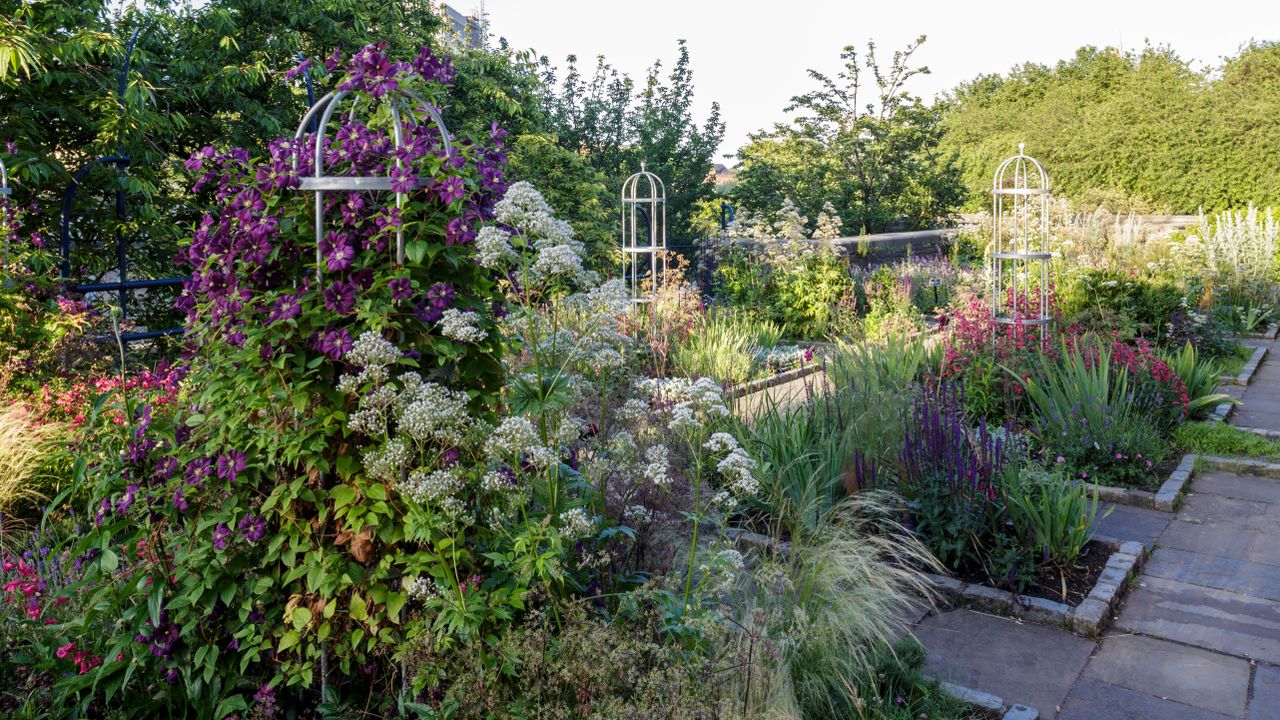 (Image credit: Future / Mark Bolton Photography)
By Jennifer Ebert published
Let us show you how to plant yourself happy with sensory garden ideas that will stimulate all the senses.
Sensory gardens are intimate outdoor spaces filled with enticing sounds, scents and textures, designed to delight. All gardens provide sensory experiences, but garden ideas with sensory at their heart will have a concentration of different elements that stimulate the five basic senses of sight, sound, touch, smell and taste.
These gardens are sometimes stimulating, sometimes calming, and offer tangible, visceral experiences that can evoke emotions and aid relaxation.
While sensory gardens are for everyone, they are particularly beneficial to children, and those who are disabled or suffering with mental health problems.
1. Pick the best plants for a sensory garden
Aromatherapist Nicolle Mitchell believes herbs can have real effects on the body and mind when their scents are inhaled. For example, she says, rosemary can ease fatigue and help you focus; and lavender can help induce sleep and ease depression, making these excellent plants to choose for a sensory garden.
2. Use scent to relive stress
As well as the benefits mentioned above of rosemary and lavender, Kathi Keville, author of The Aromatherapy Garden, describes the scientific case for the relaxing, stress-relieving scents of herbs including chamomile and marjoram; the stimulating aromas of basil, peppermint and sage; and the surprising passion-invoking properties of liquorice-scented plants, among others.
3. Consider the seasons when planting for a sensory experience
There are plenty of other fragrant plants to consider apart from herbs. Catherine Cutler, who created the Perfume Garden at The Eden Project in Cornwall, recommends thinking about the seasons and including something for every time of year. 'Some of the best scents come in winter,' she explains, 'such as the shrub daphne 'Jacqueline Postill'. For flower scent, try sweet peas, roses and jasmine, and pinks, which are remarkably sturdy and produce a wonderful, heady, clove-like scent,' she continues.
4. Plant fragrant flowers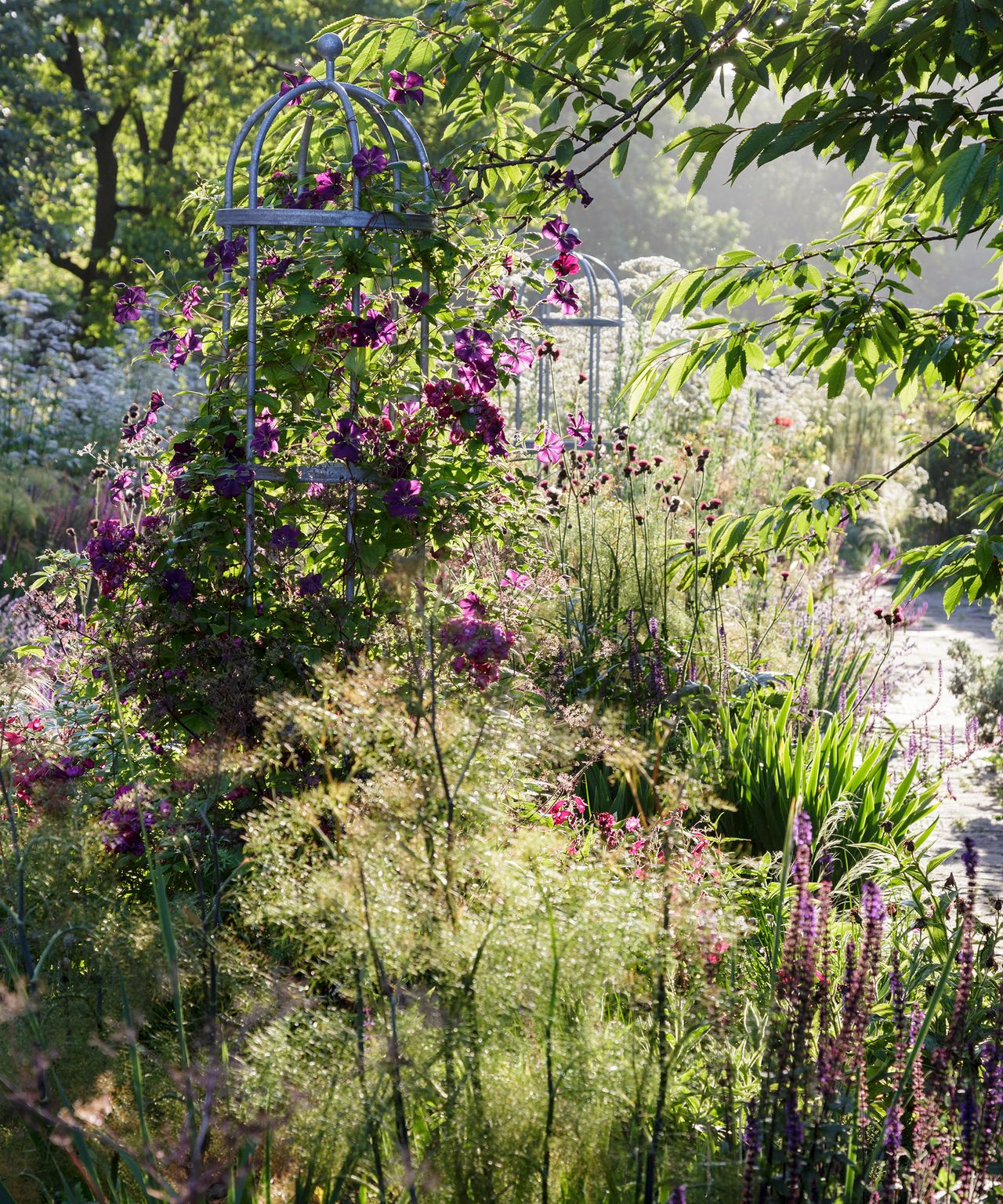 'For larger gardens, my top choice is Cercidiphyllum japonicum (katsura tree), which gives off an incredible candyfloss scent in autumn,' says Catherine Cutler. 'Other great plants for a perfume garden include mock orange, a shrub with strongly fragrant flowers, and fun, more unusual herbs such as apple mint, pineapple sage and curry plant.
The RHS recommends chameleon plant, Houttuynia cordata 'Chameleon', a shrub whose leaves smell of lemon; and chocolate cosmos, which has a vanilla scent that children adore.'
5. Introduce a sensory space in a small garden
There is no need for acres of land to make a garden that will appeal to all the senses and promote health and happiness. Garden decorating ideas such as a scented hanging basket, a collection of tactile plants in containers, or a simple herb-edged pathway are just as capable of providing you with invigorating experiences in a small garden as well as large.
6. Be at one with the wind
To encourage people to explore your sensory garden with their hands, place trees within reach of paths and seats so the bark can be easily stroked. Some plants simply beg to be touched, such as Stachys byzantine (lamb's ears), the leaves of which are soft like felt.
7. Make it visually pleasing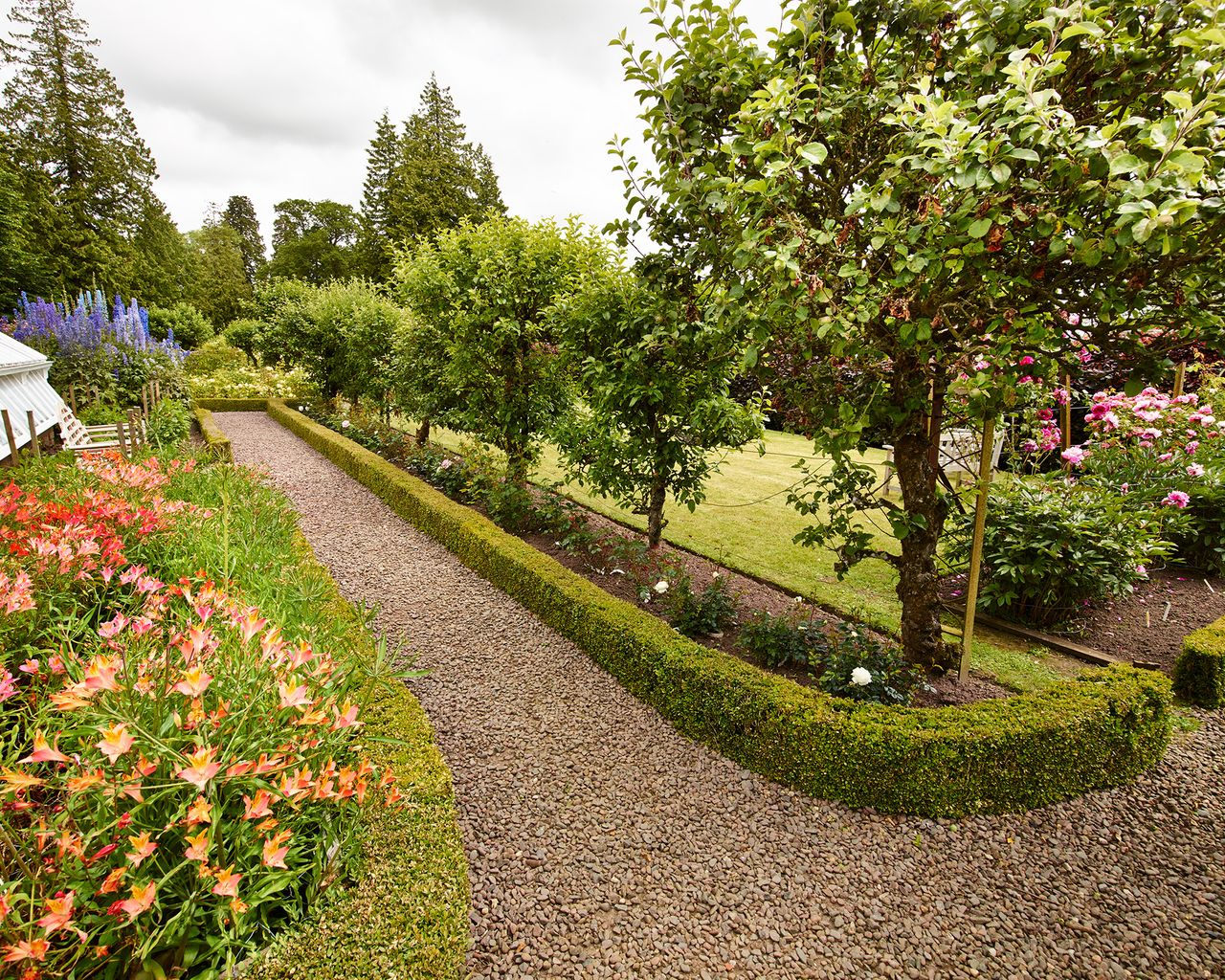 For visual interest, use different textured path surfaces, introducing pattern with decking or paving and gravel. You can also consider sight-driven elements like flags, sculpture or topiary. When decorating a garden wall, encourage wildlife with feeders for birds and choose nectar-rich plants for butterflies.
8. Enhance with color
When it comes to color, it is generally believed that 'hot' colors such as red and orange are stimulating, while greens and blues are calming, so aim to zone different areas of your garden with this in mind.
9. Invite night-friendly focal points
If the garden is going to be used in the evening, you can add mesmerising outdoor lighting ideas. Consider a fire pit too, and use plants such as four o'clocks and night-scented stock, which come into their own as the sun goes down.
10. Invest in a pond or water feature
Water trickling or gently flowing is the soundtrack to a relaxing garden and a wonderful addition to a sensory garden. A water feature, such as a small fountain or spout, encourages people to dip their hands or feet in, and children to splash and play.
11. Enhance sound and texture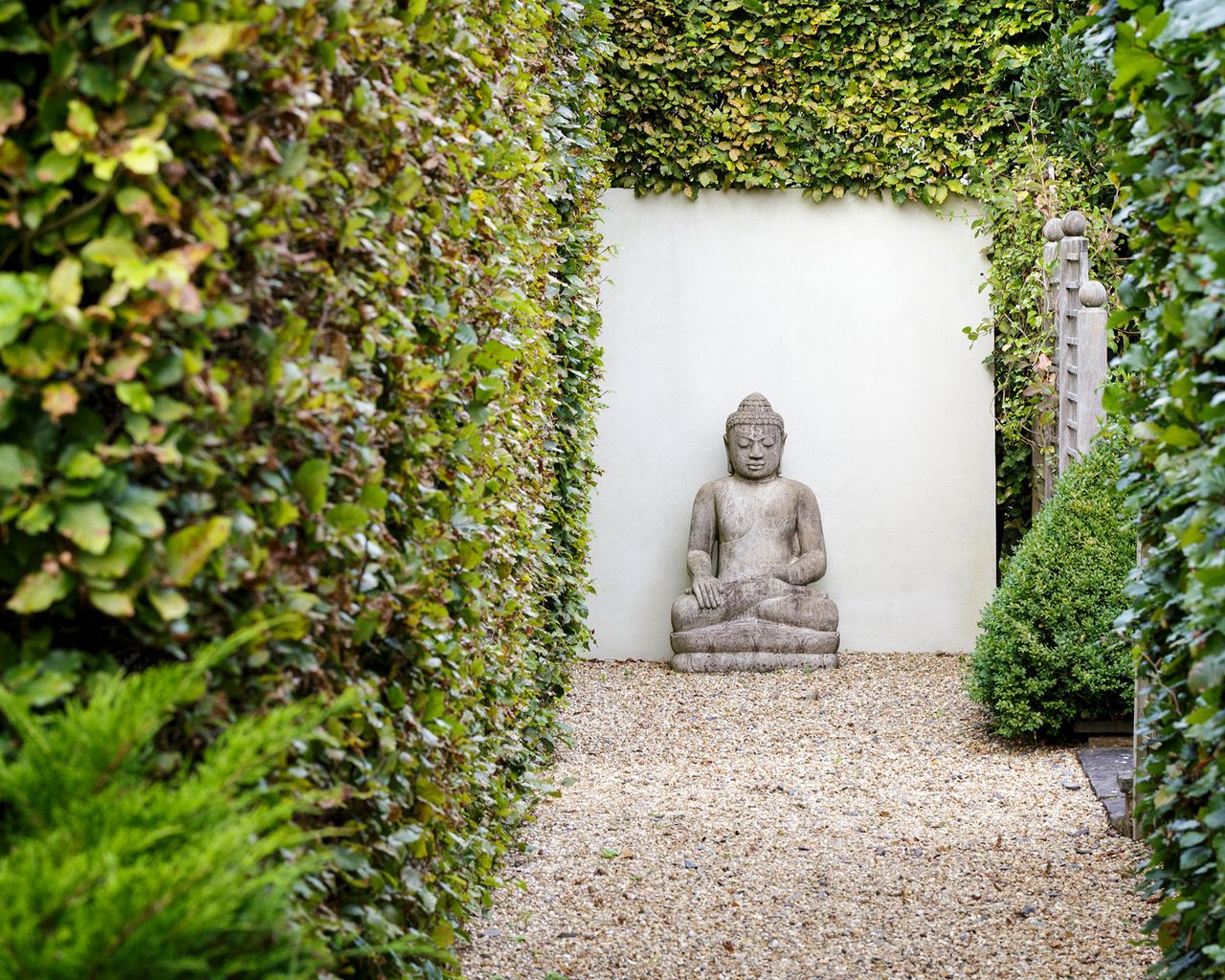 Incorporate plenty of gravel paths to encourage movement from one area to another to create a pleasant crunchy sound underfoot – you could even opt for colored stones to add further stimulation.
What should a sensory garden include?
Many sensory gardens are just walks or pathways, with low scented plants such as herbs in between stepping stones. A winding route works well as it invites you to slow down and look around.
Another excellent sensory design is a keyhole garden, with a narrow entry opening into a larger space where you can rest while immersed in planting. Whatever the design, include comfortable seating in a part of the garden that is shaded.
Choose landscaping materials with a tactile element, such as smooth pebbles. A water feature will stimulate both touch and sound.
For sound, investigate wind sculptures and sound fences – rows of tubes that make a melody when a stick is dragged along them – or deer scarers, the tip-tapping water features from Asia and used in zen garden ideas.
What plants are good for a sensory garden?
For a calming natural soundscape, choose bamboo, trees like weeping birch and plant ornamental grasses such as Briza maxima and miscanthus, to enjoy their leaves rustling in the breeze.
Scent is one of the most vivid senses, which can improve mood and trigger memories and strong feelings. To capture these benefits, use fragrant plants, but plant them at intervals so the different scents will not be overwhelming. For taste, add 'pick and eat' possibilities with pots of strawberries or stepover apple trees.
How do you make a small sensory garden?
If you want to create a small or DIY sensory garden, then it is best to plan zones that concentrate on different senses. You could create a listening corner by placing a seat next to a soothing water feature, accompanied by the gentle buzz of insects. Or plant a raised garden bed or containers with herbs, allowing easy access to rub or sniff their aromatic leaves and flowers. To activate the sense of touch, think about textures underfoot, from cool grass to crunchy gravel.
But if you only have room for a couple of pots, then your best option is scented pelargoniums, the leaves of which release aromas of lemon or rose when rubbed. And make sure there are no toxic, thorny or irritant plants – the Royal Horticultural Society has a list on its website.
Jennifer is the Digital Editor at Homes & Gardens. Having worked in the interiors industry for a number of years, spanning many publications, she now hones her digital prowess on the 'best interiors website' in the world. Multi-skilled, Jennifer has worked in PR and marketing, and the occasional dabble in the social media, commercial and e-commerce space.
Over the years, she has written about every area of the home, from compiling design houses from some of the best interior designers in the world to sourcing celebrity homes, reviewing appliances and even the odd news story or two.