Shade garden ideas – simple design and planting tips for your outdoor room
A cooling spot for relaxing, entertaining or designed purely as a retreat, will make your garden a joy to use all day long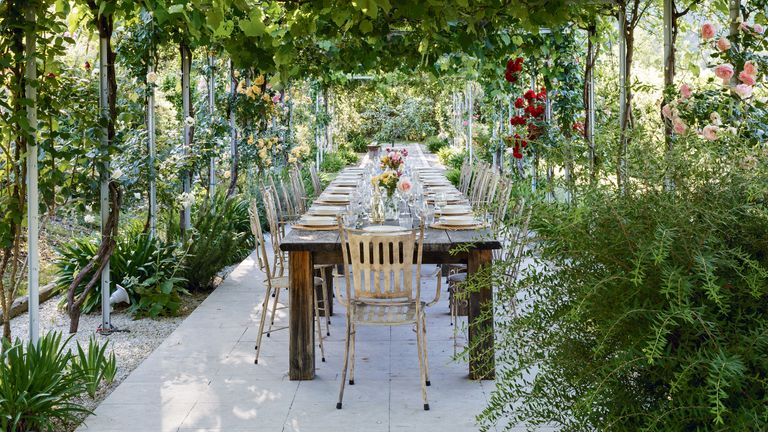 (Image credit: Future / Mark Bolton )
While a shade garden may present many unwanted challenges, it also provides a wonderful opportunity to shelter from the glaring sun, create privacy in the garden, and plant unusual flora and fauna. The design possibilities with to get creative with shade garden are endless.
Think about a shaded spot as a multi-sensory experience of sight, sound and scent. Trickling water or swaying grass will feel cooling, while foliage is good at absorbing heat.
Our solutions for creating shade in the garden will make an outdoor dining or seating areas a please to use on the bright days of summer. Take a look at these shade garden ideas for more advice and inspiration.
1. Create garden shade with a parasol
If you have limited outdoor space, then flexibility is key when it comes to creating shade in the garden. 'Permanent fixtures, such as a tree or pergola, can rob an interior of light, so parasols, sails and retractable awnings are a better choice,' says Laure Chaudanson, Helen Green Design.
2. Invest in an architectural element
Any garden structure should be considered in relation to the house. That's not to say it needs to match exactly – old meets new is very popular right now – but your choice should be sympathetic. Here, the design of the contemporary pergola complements the garden furniture and flooring.
3. Enhance shade with tree cover
Every garden has those places you automatically drift to, as well as natural areas of shade and light. Many houses have an east-west and south-west aspect, and parasols or sails can move with the sun, but you don't want to be always chasing the shade. If you have a big space with a terrace, you will want dappled coverage here for midday. Trees provide excellent coverage without blocking too much sun, and can be trimmed back to suit your needs.
4. Keep cool with a temporary canopy
Temporary structures allow for a bit of fun and the chance to dress up the garden for a particular event. For example, an 'Indian Summer' theme would call for bright colors and stripes on parasols and canopies.
If you are after a similar design, you are in luck. Simple to construct using tent poles and guy ropes, a candy-striped canopy provides a charming alternative to a garden parasol.
5. Drape a pergola with foliage
A dining space close to the house can be covered by a structure attached to an exterior wall. The oak pergola in this garden has a cover of roses and vines that provides color throughout summer and into fall.
Climbing plants for pergolas and walkways might seem like a romantic option, but the truth is that many quickly grow out of control, damaging supporting structures, so it's important to choose non-vigorous species.
See: Garden wall ideas – create a boundary or define a space with a vertical structure
6. Pitch up a colorful canopy
A simple fabric canopy creates shade wherever needed, and choosing a bright color and pattern will make it a feature in a large garden, too. Outdoor fabrics have the benefit of being shower-proof, and stain, UV and fade-resistant, but an improvised shade in a sturdy interiors fabric will stand up to occasional use, too.
7. Set up a picture-perfect pergola
In the Mediterranean they do shade well out of necessity, so look at pictures of gardens there for ideas to suit all sizes and budgets.
8. Use an adjustable parasol or sail
A freestanding parasol is a smart choice that won't encroach on the space or the view. Good-quality shades are built to last, but be sure to store under cover in winter.
9. Brighten a shaded spot in your garden
It's no surprise that shade gardens can be a little gloomy at the best of time, but that doesn't mean you are resigned to darkness. Use flowering shade lovers, colorful containers and garden lighting to brighten the space.
Even the most minimal garden light fixtures will illuminate a shaded garden. Direct the flow of light in the late afternoon to highlight plant forms, seating areas and patios to make the space more usable.
10. Install a retractable awning
A retractable awning brings much-needed shade to the interior, as well as to a patio or terrace. Choose from neutrals for a discreet look or add a splash of colorful character with a cheery yellow and white striped design like the one shown here.
What can I do with shady areas in my garden?
Almost all gardens will have a shady spot somewhere. North-facing gardens have the area closest to the house in shade for most of the day. East-facing gardens are sunny in the morning, whereas west-facing gardens get more sun in the afternoon and evening.
There is one huge benefit to having a shaded garden – privacy. Living walls that act as screens, pergola-covered terraces and tall trees are just some of the design features that will transform a shady space into a private garden sanctuary.
What grows well in a shady garden?
As well as many evergreens, the best plants for growing in shady gardens are: Heuchera (Coral Bells), Tiarella cordifolia (Foamflower), Lamium maculatum (Dead nettle), Digitailis (Foxglove) and Hakonechloa (Japanese grass).
Some shady spots are easier to plant than others – you'll be dazzled by the choice for dappled shade but frustrated by the limited range for deep shade. Despite this, there are attractive plants that will grow in the darkest corner.
When looking for plants, study the pot labels. You'll find some varieties that will only tolerate shade and other that prefer shade and actually thrive in the gloom. That's why it's vital to identify the type of shade you're dealing with. You might have a flowerbed under a tree, a border at the base of a wall, or a north-facing patio. A deciduous tree will cast dappled shade, whereas the area underneath an evergreen will be in deep shade.
Before you plant up your shady corner or border, there are a few ways you can improve the conditions to ensure great results. If you're dealing with a dry area, dig in compost or leaf mould. Water new plants throughout and then add a layer of mulch to help lock in that moisture.
Improve drainage in damp areas by digging in grit and compost to improve soil structure. If shade is cast by trees, thin out the canopy to let more light in and cut out some of the lower branches. You'll soon be looking at a planting display that will shine out in the shadiest of gardens.