Pergola ideas – 10 wonderful ways a pergola will add shade, privacy and style your backyard
An easy choice for inviting privacy and romance to your garden, here's your guide to the perfect pergola ideas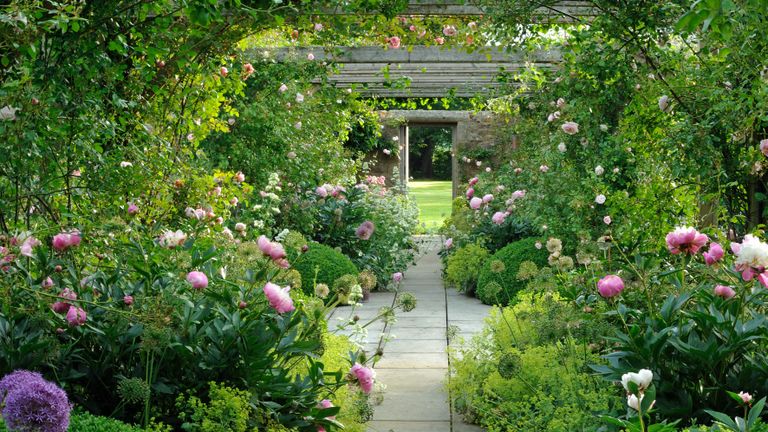 (Image credit: Future / Val Corbett)
Planning a pergola? A covered arbor that adds privacy, shade and scent is a tantalising project for many of us this season – our expert pergola ideas are here to help. 
From overlooked urban gardens to cavernous country space, we all crave intimacy and intrigue whatever our garden size. A pergola is a simple way to create an enclosed space with fragrance if the right plants are incorporated. Providing vertical interest is important in a compact space and pergolas are ideal for scented blooms and creeping vines. 
Pergola ideas – how to use a pergola
Read on to discover our curated selection of the best pergolas for all garden ideas and styles.
1. Make sure your pergola is the perfect size for the space
Create an impressive focal point and help define an area in your garden with these pretty pergola ideas. But first, it's important to consider size. If your pergola is too small it will feel claustrophobic; too large and it might dominate your space.   
2. Pick the perfect position for a pergola or arbor
The best place for a pergola will depend on the layout of your backyard and your reasons for including it in your garden. Garden designer Katrina Kieffer-Wells thinks pergolas work well in both sunny and shady spots depending what time of day you will use it the most. 
'If you have a south-facing garden a partially enclosed pergola can create a tranquil retreat and offer respite on a hot summer's day,' she says. 'In shady gardens, they can make a cozy night-time feature with the addition of ambient lights and hanging drapes.'
3. How will you use a pergola?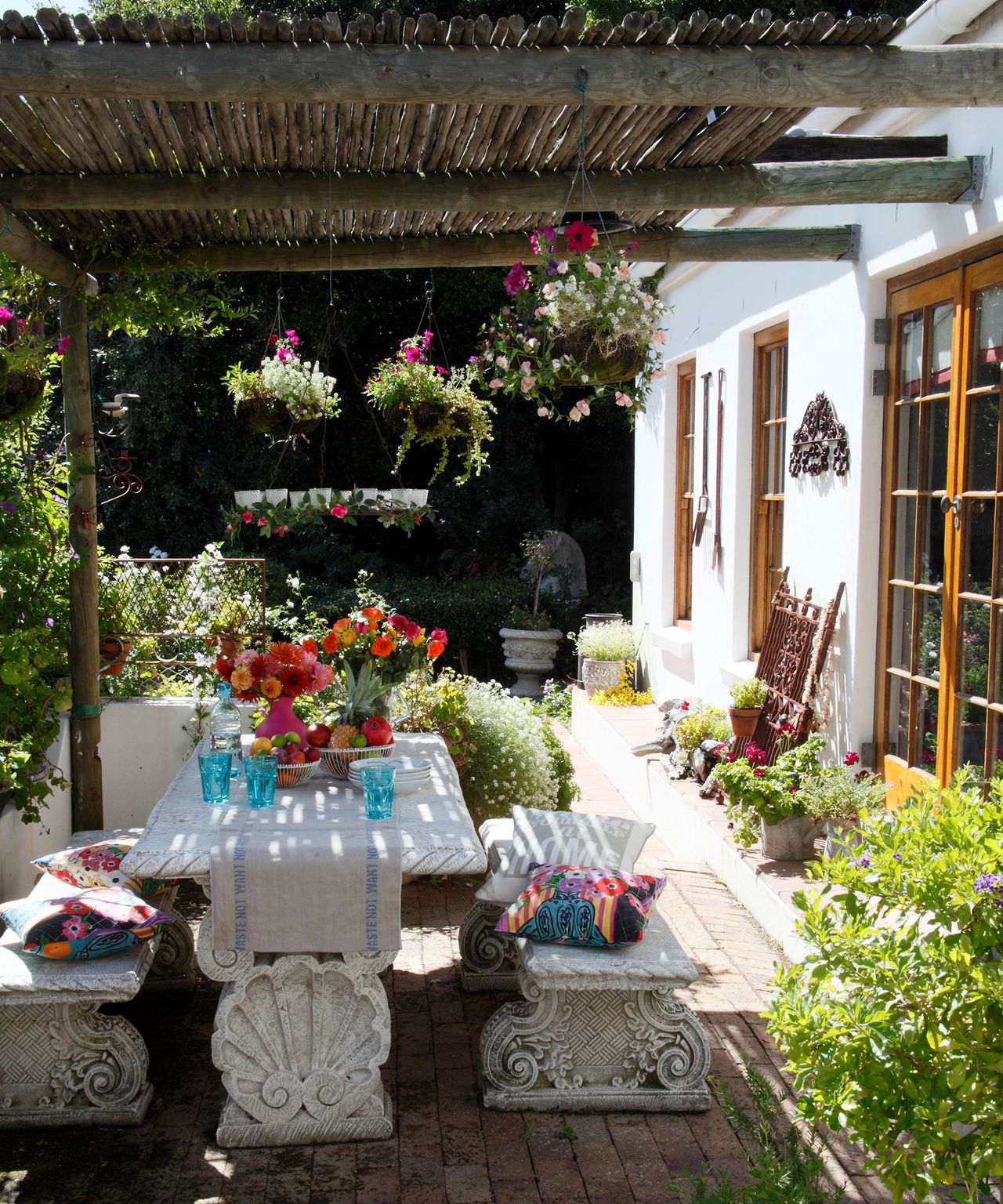 Get the proportions right. 'Anything too small and it will feel claustrophobic, too large and it might dominate the space,' says Katrina Kieffer-Wells MSGD. 'Consider what you want to do under the pergola and make sure you have enough space to do it. Measure any outdoor furniture you are planning to place within the structure and ensure that you allow enough room for people to move around comfortably.'
Here, a shade garden has been transformed into a sun-baked seating area with scented climbers and hanging baskets brimming with colorful perennials. 
4. Go for a shady pergola idea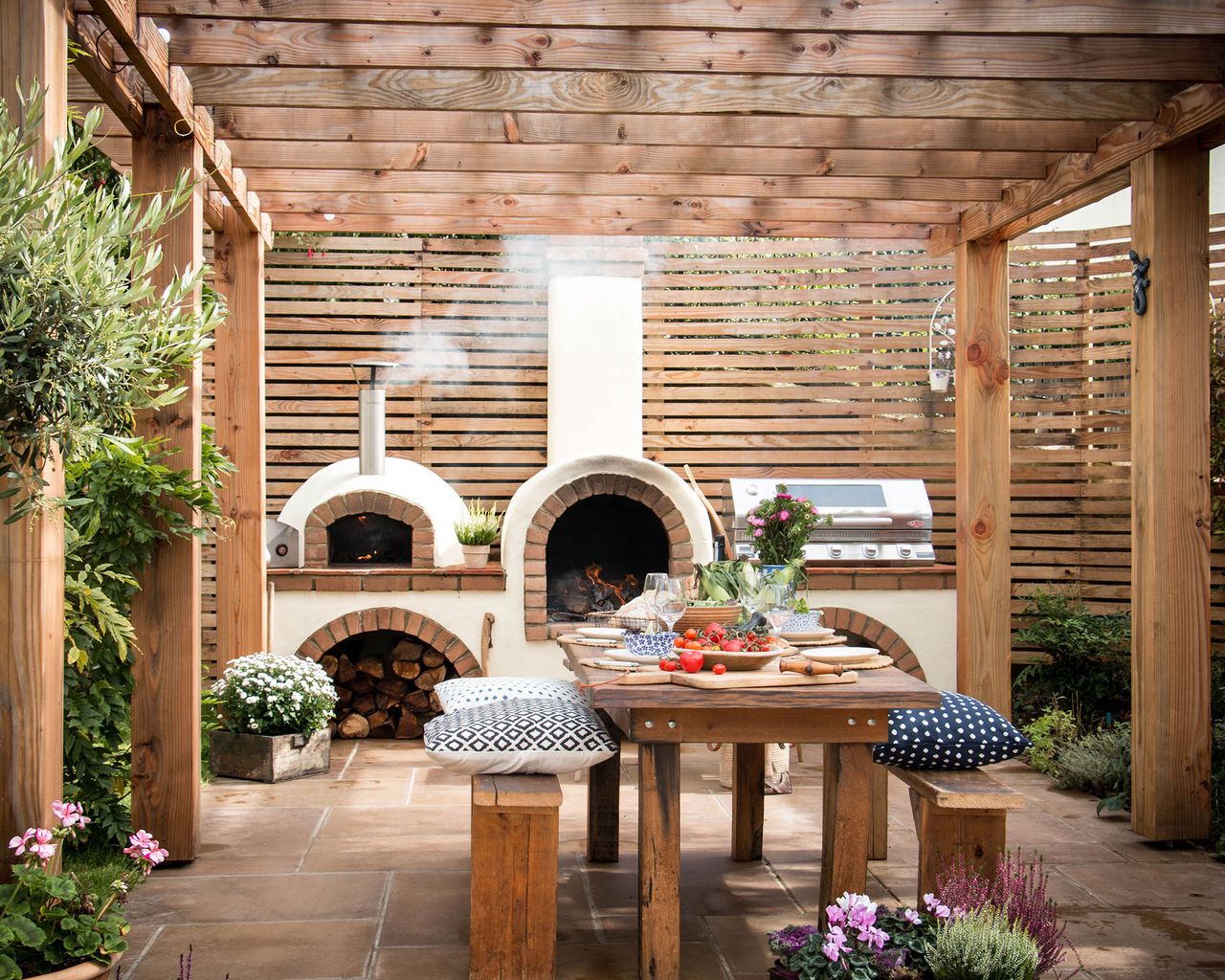 Although the dream of catching some rays while cooking outdoors sounds good, it's much more practical and comfortable to include some shade. 
'If you garden doesn't have a covered spot that offers protection from the sun, you can create a pergola and grow wisteria and wives that will provide beautiful dappled light and relief from the heat,' says Wayne Cocker, director, South Hams Fencing and Landscaping.
5. Use a pergola to create a 'zone' in your garden
Garden designer Charlotte Rowe isn't a fan of pergolas being too close to a property as they can block light to the house. She recommends creating a 'bespoke' zone using a pergola or arbor away from your house.
'Pergolas are often places to retreat to, so site them somewhere you will enjoy sitting and where it will not be detrimental to neighbor's views,' adds garden designer Kate Gould.
6. Evoke a sense of romance with a pretty pergola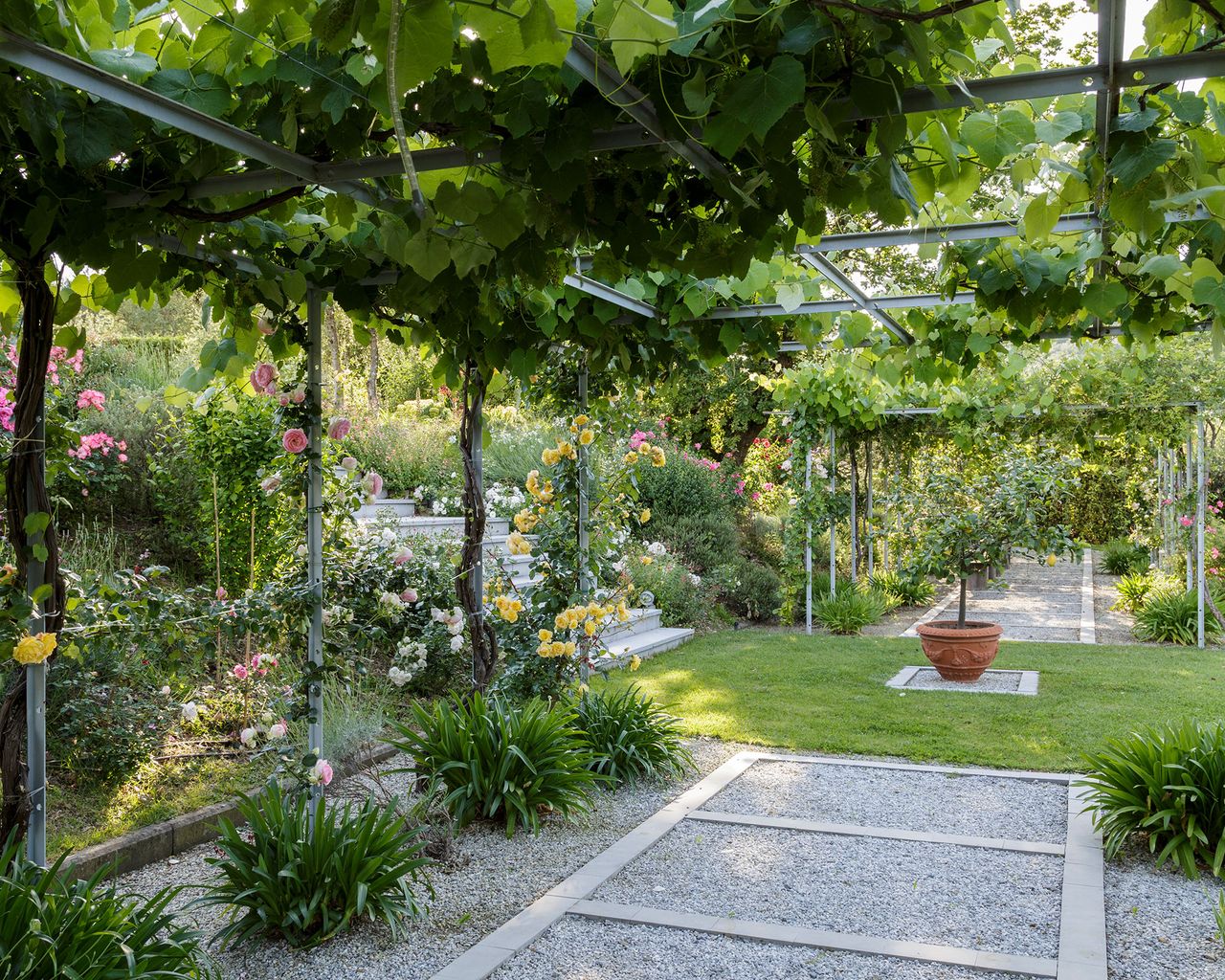 You can create a sense of romance with your chosen placement. Garden designer and consultant Rebecca Smith recommends a pergola that arches over a path through the garden to create a shaded and scented tunnel. 'In a long backyard, a pergola placed at the end of the garden can create a 'destination' for different times of day and can also help screen a garage or garden shed,' she says.
7. Use the right materials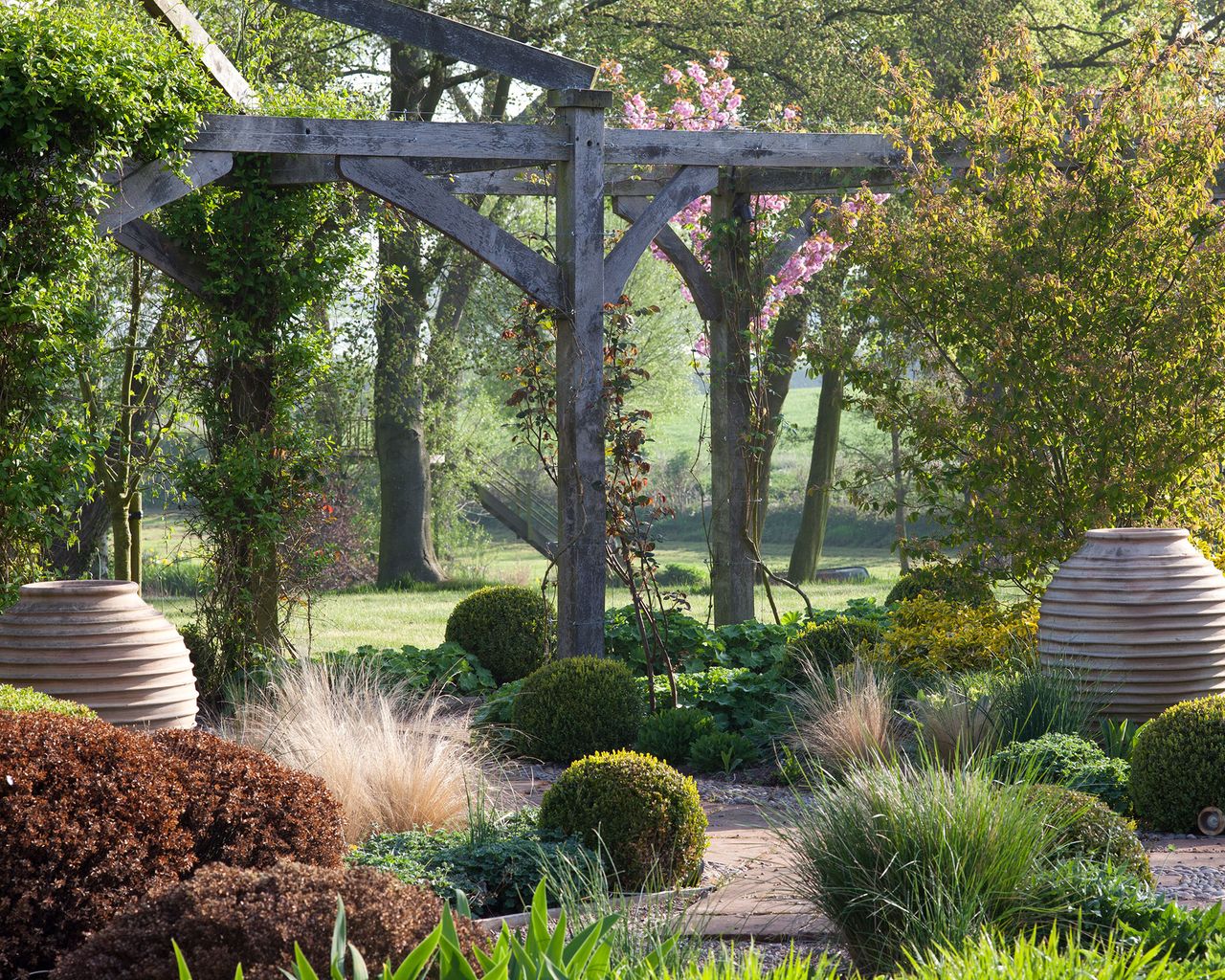 Wood is generally considered to be the go-to for pergolas – western red cedar, iroko or oak are all popular choices right now. 'Sometimes we use metal or even charred oak if we are going for a slight more contemporary feel,' says Charlotte Rowe. Whatever material you choose, it's crucial that it is specified and built by a professional as it will have to withstand the weather and the weight of the plants.
8. Set up a secluded spot for al fresco dining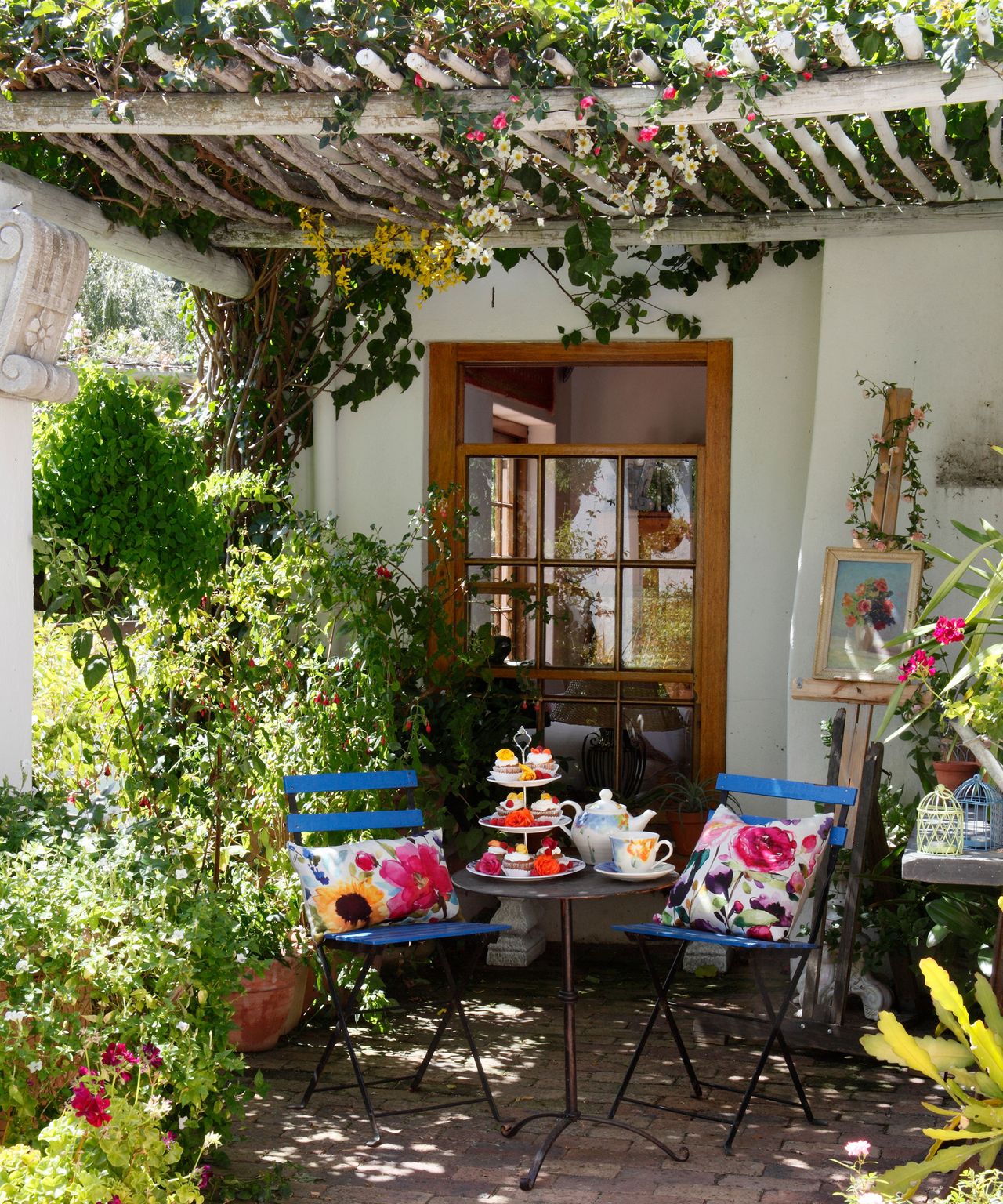 'Cantilevering a pergola over an outdoor kitchen looks lovely and with supports only on one side allows for freer movement around and underneath it,' says Kate Gould.
9. Dress a pergola with wisteria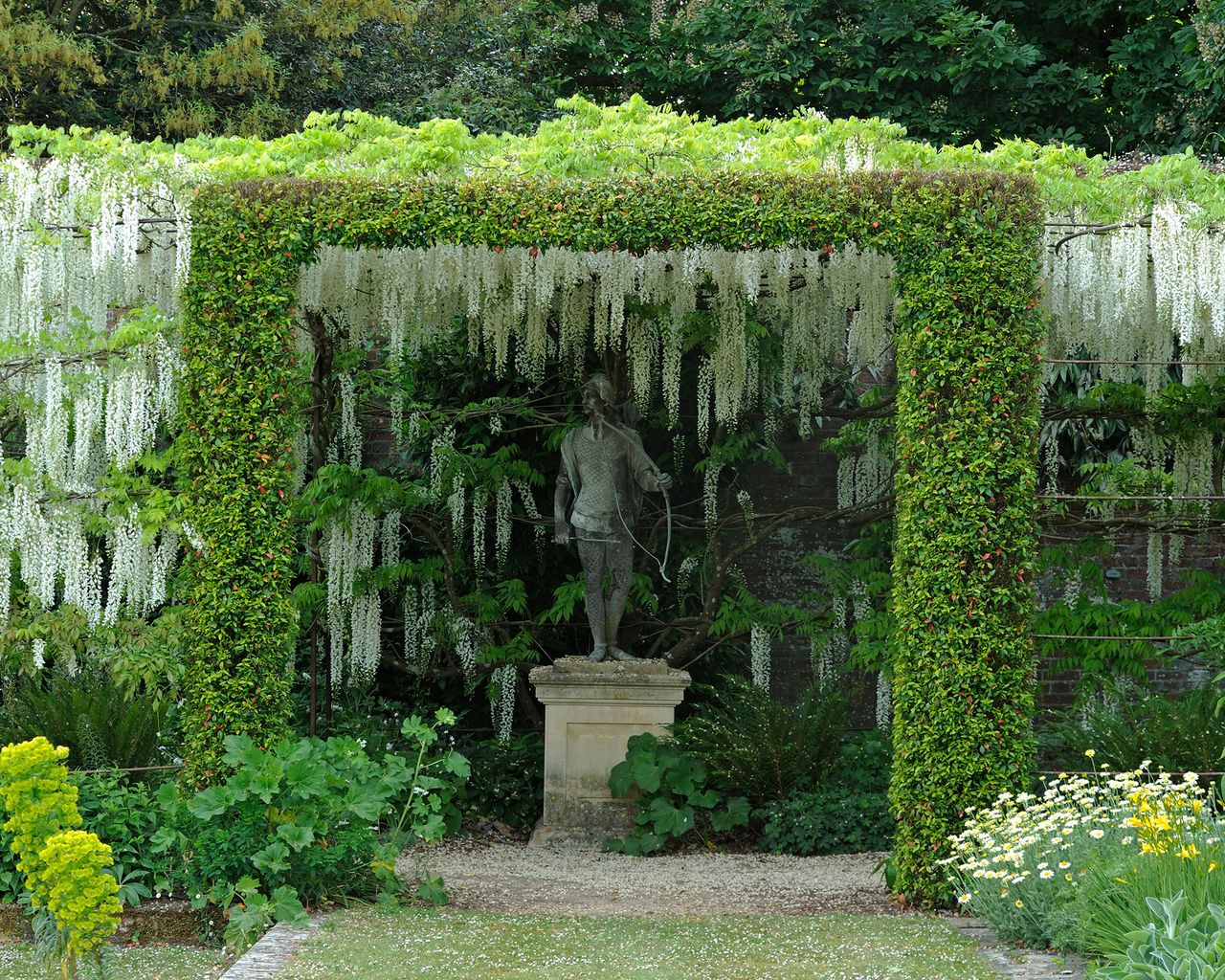 The wisteria family has around ten species; favorites are Wisteria sinensis and Wisteria floribunda. There are deciduous, with sweetly-scented flowers in shades of white, purple, blue or pink. Wisterias need sufficient sunlight to flower well – not less than six hours a day – and grow best in a south or west-facing position. 
Once established, wisterias are vigorous, but can take a few years to get going. A pergola has to be sturdy to take the weight of a mature wisteria. The final result is simply beautiful – a froth of pure white flowers and fern-like foliage that looks stunning in quite dense shade.
10. Indulge in poolside shade with a well-placed pergola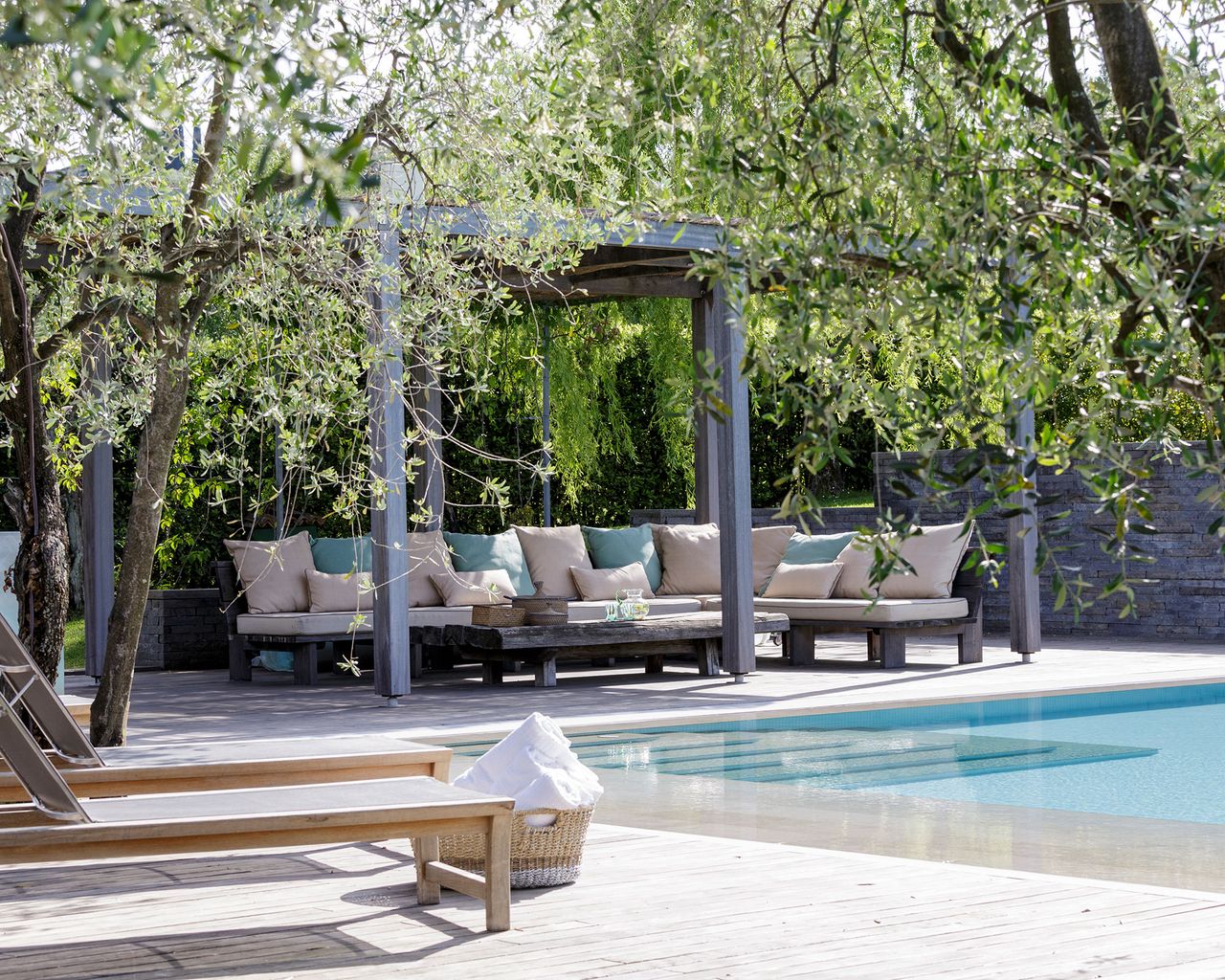 Take inspiration from Mediterranean garden ideas to create the perfect place for poolside lounging. Drape your pergola with grape vines for dappled sunlight and a truly tropical feel. Alternatively, plant fragrant flowers like jasmine and lavender – as their perfumes are released, they'll conjure up happy memories of sun-drenched escapes to sunnier climes.   
What is the point of having a pergola?
It is important to think what a pergola will bring to the use and look of a garden. Is it to be used to create a shady spot for summer lunches or perhaps to screen a terrace from neighbors? 
Garden designer Rebecca Smith MSGD advises playing around with bamboo stakes beforehand. She says, 'Will the pergola block a nice view from an upstairs room or will it help to hide an eyesore? It is much better to play around with the site before committing to the build to ensure the pergola is in the best plant.' 
Garden designer Kate Gould highlights further considerations. 'It is easy to assume that you can do anything you like in your garden, but there are elements that may require planning permission and pergolas often fall into this category if you live in a Conservation Area or if your property is listed.'
Do pergolas block sun?
A covered pergola is a great way to block the sun. However, they are not built for protection from the rain. Only invest in a pergola if you really think you need one. Often people think that they will give lots of shelter from the rain when in fact they don't and are in fact more useful for providing shade from the sun.